Between 1905 and 1910 British Posters focused on Ireland and the issue of Home Rule.
The characters:
Sir Henry Campbell-Bannerman: Liberal PM – Sir Henry Campbell-Bannerman was the first man to be given official use of the title 'Prime Minister'. Known as CB, he was a firm believer in free trade, Irish Home Rule and the improvement of social conditions.
John Redmond:
John Redmond was an Irish nationalist MP who achieved the passing of an act in 1914 that granted 'Home Rule' – a devolved parliament – to Ireland. He sought only limited self-government, believing his country should not be wholly separated from the British Empire. His lifelong aim was to reconcile unionists with nationalists and Ireland with England. Home Rule was never implemented due to the outbreak of World War One. Ireland was instead partitioned into two separate states.
Herbert Henry Asquith: He is the only Prime Minister to have taken office on foreign soil. When he succeeded Campbell-Bannerman Edward VII was in Biarritz and Asquith travelled there for the official 'kissing-hands' with the monarch.
Music hall style poster showing John Redmond as a ventriloquist with Bannerman as his mannequin, balanced on his knee.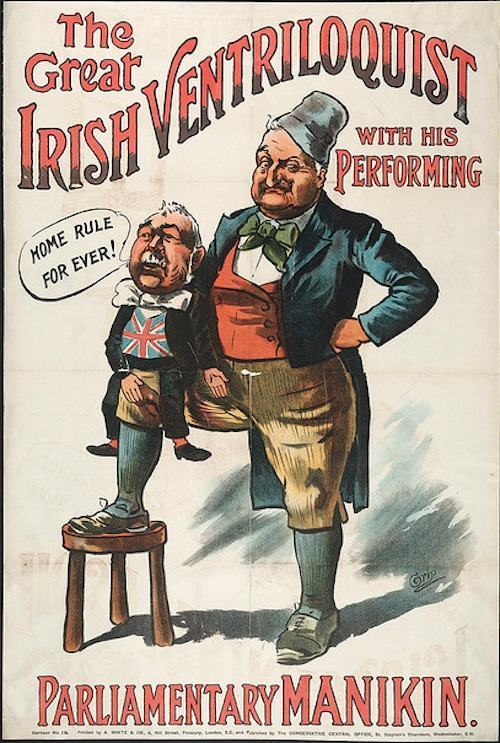 Bannerman is shown in a brass bed, a Union flag hanging like a curtain to the left. He it sitting up, dressed in a nightshirt and night cap, staring at a realistically-portayed drowned black cat, which is walking across the bed towards him. It has red rolling eyes, and bricks attached to its paws reading "1886" and "1895".
Campbell-Bannerman stands at the top of a flight of steps (called Radicalism, Inefficient Army and Navy, Home Rule, and Disunited Empire) that lead from the sunlight down into a dark and fetid pool called "Ruin". He appears to be trying to persuade John Bull to walk down the steps in front of him.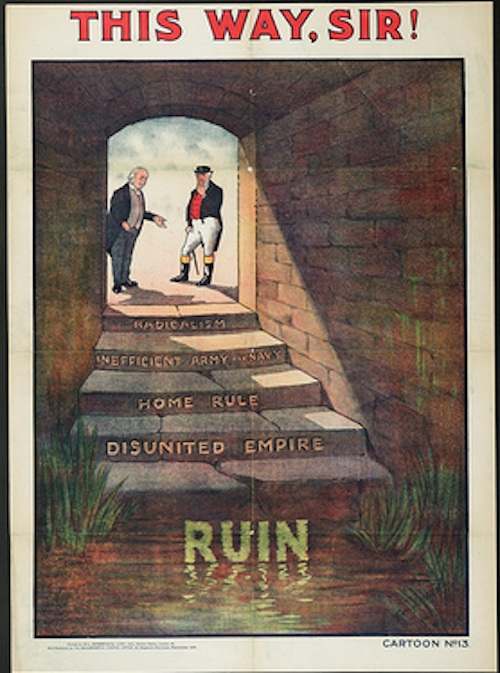 John Bull is seen standing on an outline map of the British Isles (he stands squarely between London and the Midlands), facing a "Tory peer"-type who is dressed in hunting clothes, ermine-trimmed robes, and a monocle, and carrying a shotgun. The peer has one foot in Northern Ireland, and one in Scotland. John Bull is taking off his jacket, ready for a fight. The caption under the picture reads "Vote Liberal and back up John Bull".
Full colour lithograph depicting John Redmond, dressed in Kelly green with a waistcoat covered in shamrocks, standing on some money bags containing US dollars, and reaching up for a jar on a shelf above him called "Home Rule". John Bull is seen emerging from a door behind Redmond, brandishing a walking stick.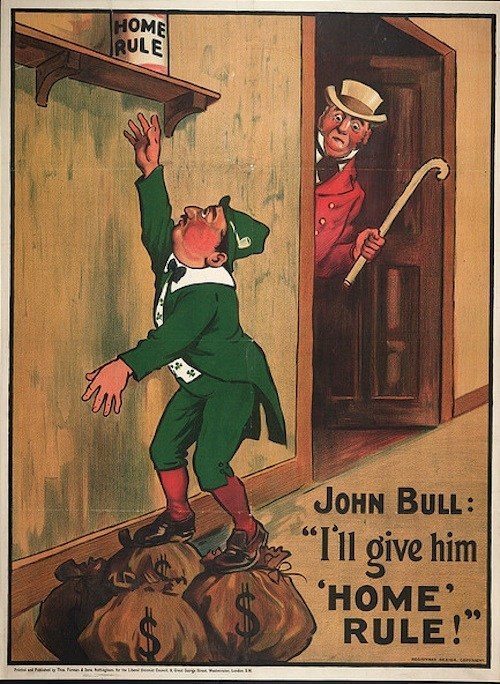 Lithograph depicting Asquith as a hare being chased across a field by two greyhounds (John Redmond and Keir-Hardie), produced for the Conservative and Unionist parties in December 1910.
Black and red ink on white lithograph depicting Redmond as a cat ("Irish American Party"), toying with Asquith as the mouse of "Government", produced by the Unionist Party, December 1910.
Lithograph in black and red ink on white paper showing a caricature of John Redmond armed with a club called "Home Rule" with a large money bag containing US dollars in each hand, produced for the Unionist Party in December 1910.