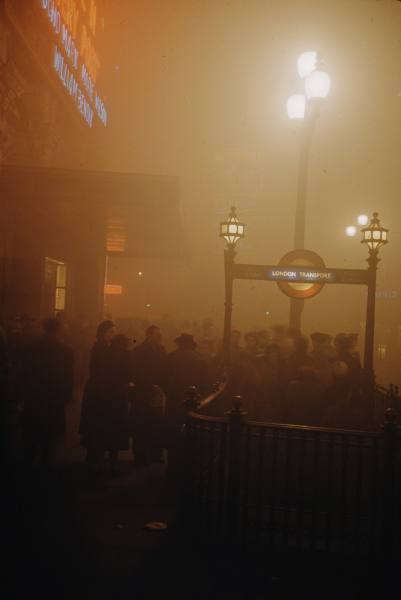 ON This Day In Photos: December 5 1952: a cold fog hit London. It trapped the air pollution. A Ministry of Health report estimated that 4,075 more people had died than would have been expected to under normal conditions. Other estimates say the pea souper killed 12,000 Londoners.
Londoners knew all about smog, or thought they did. One city dweller, HA Des Voeux, had invented the term "smog" to describe the fog intensified by smoke in the capital in the early 20th century. But even for war-hardened Londoners in a dreary city this was something else.
On December 5 1952, the fog engulfed London. The temperature fell to freezing. Londoners burned more coal to stay warm. The smoke mixed with the trapped air, forming a deadly blend of carbon dioxide, hydrochloric acid, and sulphur dioxide.
With little breeze to stir the dense fog, the filthy acidic air hanged like a pall over the lower parts of London. On Hampstead Heath, by Vale of Health and higher lands, the sun shone. People could look down on the thick smog below. But there was no panic. No media outcry.
At Sadler's Wells, the opera La Traviata was abandoned after the first act because the theatre was so full of smog. The audience were coughing and the people at the back couldn't see the stage. At White City the greyhound racing was halted when the dogs couldn't see the hare. "A Mallard duck flying blindly across London smashed into Victoria station and crash-landed onto platform 6."
Many people – mostly the old and vulnerable – choked to death.
Finally, on December 9, a wind came. The smog dispersed.
In 1956 – a mere four years later (!) – The Government passed the Clean Air Act, enabling local authorities to force smokeless coal burning in their areas. Smokeless zones would bring cleaner air into the cities…
[imagebrowser id=3872 template=fancy]