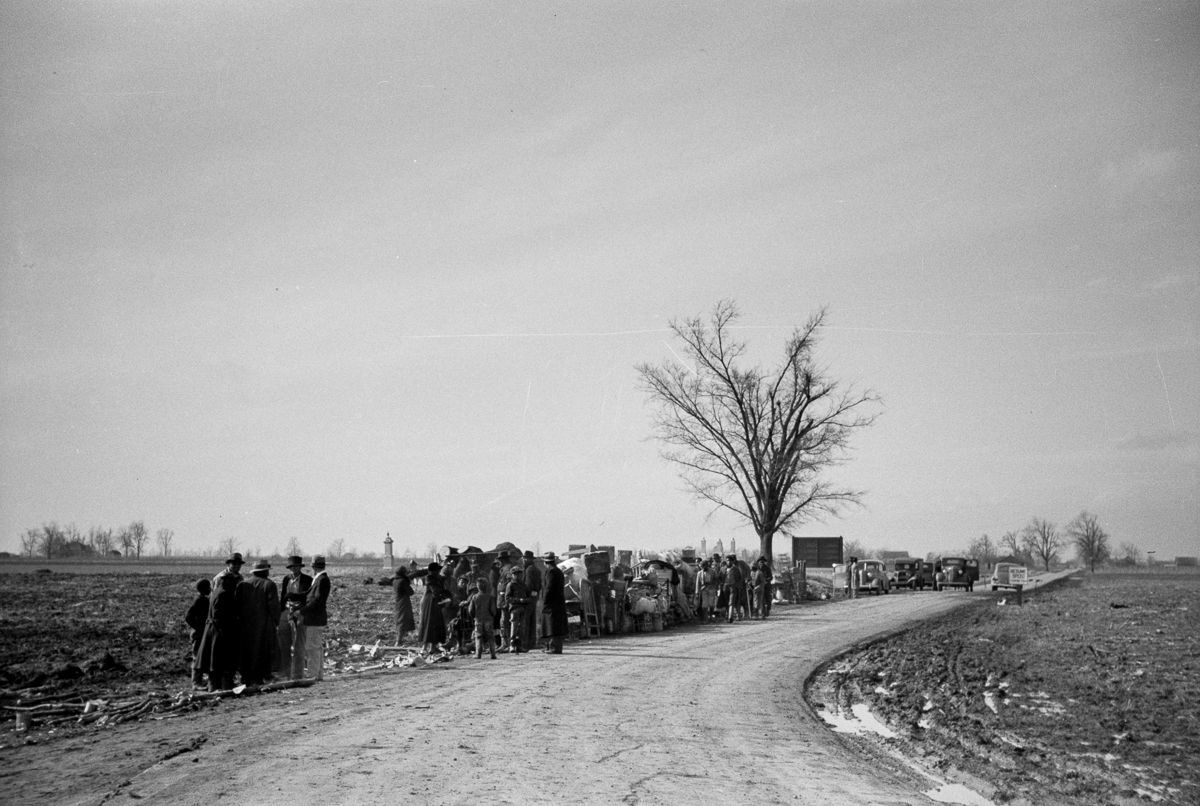 In January 1939,  hundreds of sharecropper families were camped out on the roadside in the Bootheel in southeastern Missouri.
In the pursuit of improved conditions, many sharecroppers began to form unions, beginning in Tallapoosa County, Alabama in 1931. Landlords responded with denial, harassment and violence.
The Great Depression had reduced demand for the cotton crop, leaving landowners with less profit and less work for the sharecroppers. The federal government, via the Agricultural Adjustment Act of the New Deal, paid landowners for their lost income, stipulating that a portion of the money had to be given to the sharecroppers. Landowners refused. Some landowners replaced tenants with day wage labourers by using a loophole, and kept the government money owed to the sharecroppers for themselves. Some sharecroppers were evicted from their homes.
Word spread of looming mass evictions. The Reverend Owen Whitfield (October 14, 1891 – August 1965), a sharecropper and vice president of the Southern Tenant Farmers' Union, organised a public protest to bring attention to the issue. They would show everyone their plight.
Whitfield addressed an audience of sharecroppers on January 7 at the Sikeston First Baptist Church. "Where we goin' to go?," he asked. The response was loud. "61 highway!" they shouted. Whitfield assured them that right was on their side. Just as the Lord had freed Moses and the Israelites from Egyptian tyranny, so they would find their freedom. "We also must make an exodus," he told them. "It's history repeatin' itself in 1939!" "You've got no place to go," he concluded, "and the only thing left for us is to move quietly like good citizens to the highway." It was time to testify, to make people "see what we're up against." The sharecroppers' walked out. In full view of passing motorists, their plight gained attention.
As the story rode higher on the news cycle, the Farm Security Administration photographer Arthur Rothstein was sent to take photographs, which you can see here. President President Franklin Delano Roosevelt ordered his Secretary of Agriculture Henry Wallace to "do everything within our power to assist the families of the sharecroppers, farm tenants and farm labourers in southern Missouri who 'went out on the road'." First Lady Eleanor Roosevelt addressed their struggle in her 'My Day' nationally syndicated newspaper column.
On January 13, the camps were declared unsanitary and a threat to public health. The Highway Patrol forcibly moved the protestors out of sight, including sending them to the marshy Birds Point Floodway in New Madrid County, where they were "guarded" by police.  The inhabitants called it "Homeless Junction".
When the FSA attempted to send aid and supplies, the local authorities one more dispersed the demonstrators. But some sharecroppers raised enough money from their supporters to purchase 93 acres of land and establish the community of Cropperville. And in January 1941, the FSA completed the construction of 10 settlements around the Bootheel, with almost 600 homes, plus community buildings, wells, utilities and land.