It's not too hard to think Ray insane, rather then cheerful. But maybe his smile is just a way of communicating a shared sense of humanity.
French writer Antoine de Saint-Exupéry, (29 June 1900 – 31 July 1944) recalled how a smile saved his life when he was reporting on the Spanish Civil War.
The essential, most often, has no weight. The essential there, was apparently nothing but a smile. A smile is often the essential. One is paid with a smile. One is rewarded by a smile. And the quality of a smile might make one die.
He is captured by militia. They take him to a guardroom at gunpoint.
I almost wished for a sign of hostility, as a human contact. But … they gazed at me without any reaction, as if they were looking at a Chinese fish in an aquarium…

In order to load myself with the weight of real presence, I felt a strange need to cry out something about myself, which would impose upon them the truth of my existence — my age for instance! That is impressive, the age of a man! That summarizes all his life…

Then the miracle happened. Oh! a very discreet miracle. I had no cigarette. As one of my guards was smoking, I asked him, by gesture, showing the vestige of a smile, if he would give me one. The man first stretched himself, slowly passed his hand across his brow, raised his eyes, no longer to my tie but to my face, and, to my great astonishment, he also attempted a smile. It was like the dawning of the day.
Of course a smile can look like a smirk. The signifier of a sociable mind can appear mocking, more smug shot than mug shot. Maybe the criminal knows something? Maybe, like Bert Martin, the cowboy arrested for horse stealing, they know they are keeping a secret. After 11 months making brooms in the Nebraska choky, Bert revealed himself to be a woman named Lena.
We can also see defiance in these 'mugs' mugging up for the new fangled police camera.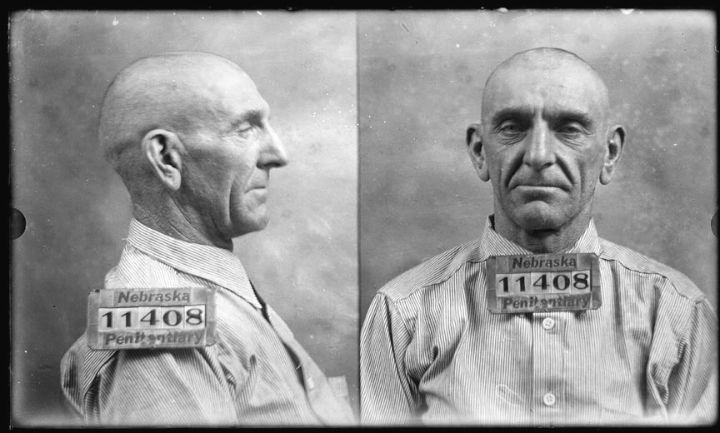 Via: Mashable