I'm grateful to British academic Matthew Worley for having enlightened me as to the identity of "Mrs Scully", whose name was among those printed on the You're Gonna Wake Up us-and-them t-shirt first sold in Sex at 430 King's Road in the autumn of 1974.
Regular readers will know I have previously investigated the many strands of the "In" and "Out" lists on the shirt created by The Clash manager Bernie Rhodes with the late Malcolm McLaren and their friend Gerry Goldstein (the full name of the shirt is per Rhodes' handwritten title: You're Gonna Wake Up One Morning And Know What Side Of The Bed You've Been Lying On!).
During his research for a paper discussing the links between punk's projection of unusual sexual practices and the Marquis de Sade, Worley has turned up a series of reports in The Times about the September 1974 High Court prosecution of John and Joan Scully and their lodger Eric Smith for variously keeping a disorderly house, living off immoral earnings and distributing obscene material (in the form of the femdom magazine Mistress).
The articles convey the prurient attitudes against which McLaren in particular railed at the time. Coincident with their publication he reopened 430 King's Road as Sex (it had previously been Let It Rock) with his partner Vivienne Westwood, and You're Gonna Wake Up was featured as a form of manifesto for the project, which aimed to blow the lid off British sexual repression.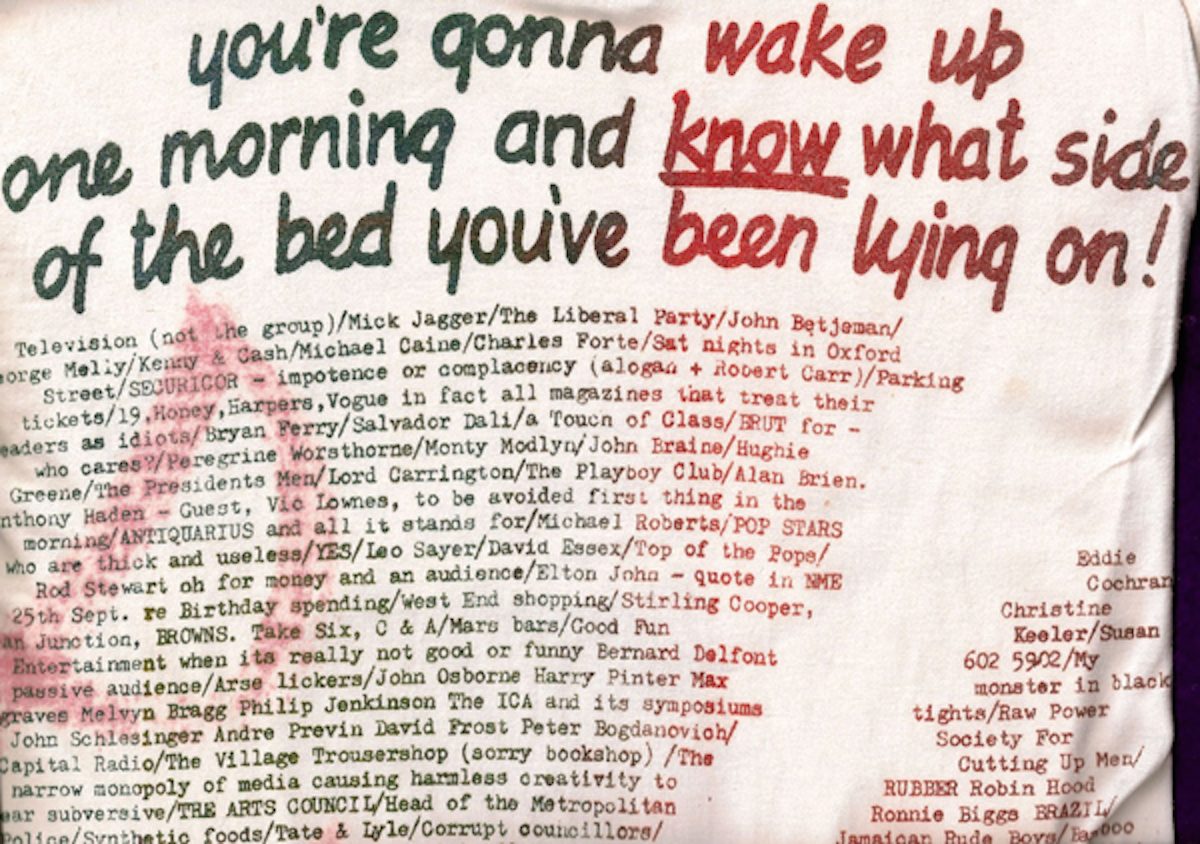 On the shirt Joan Scully is referred to as "Mrs Scully love goddess from Shepherd's Bush and her house slaves". Search magazine, rather than Mistress, is mentioned. This may have been intended as a separate listing for the American paranormal/UFO-obsessed/conspiracy theory journal which had been published since the 1950s.
During the trial Joan Scully was depicted as the villain of the piece and received a hefty £750 fine and a suspended sentence. Her husband, a plumber, meanwhile, escaped relatively lightly with a £100 penalty while the lodger Smith, who was also fined £100, was described as Scully's "slave…a meek little man".
Together with some implications of police corruption which were apparently hastily brushed aside, the case made for an Ortonesque affair which enabled the readers of the lofty Times to relish every kinky detail.
I have now updated my most recent post on the connections to be found on You're Gonna Wake Up to include the new information regarding Mrs Scully. It can be viewed here.
I recommend Matthew Worley's book No Future: Punk, Politics And British Youth Culture 1976-1984; copies are available here.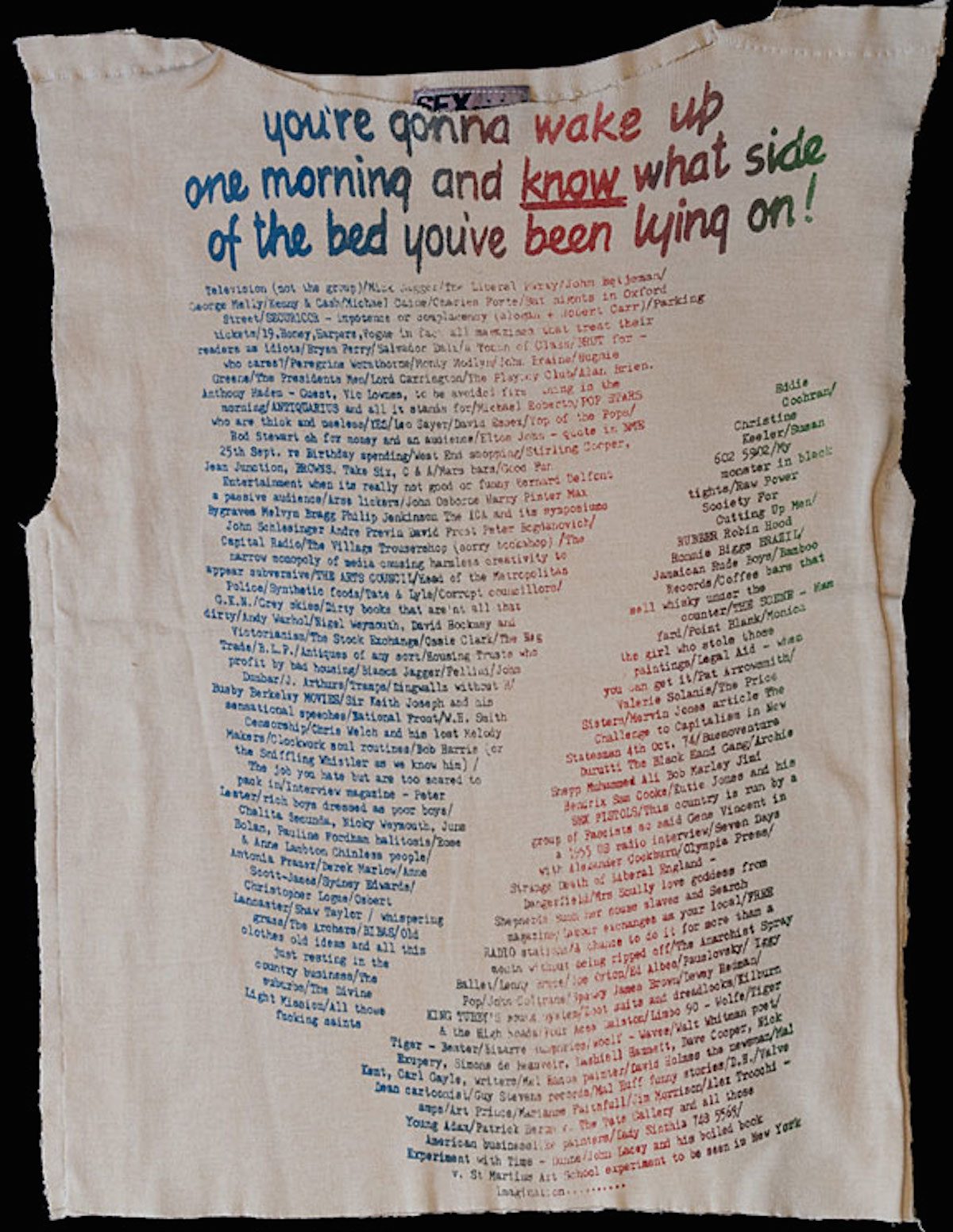 PS: The T-shirt featured the following lists:
(Hates):Television (not the group)/George Melly Kenny & Cash/Michael Caine/Charles Forte/Sat nights in Oxford Street/SECURICOR impotence or complacency (slogan & Robert Carr)/Parking tickts/19, Honey, Harpers, Vogue in fact all magazines that treat their readers as idiots/Bryan Ferry/Salvador Dali/A Touch of Class/BRUT for – who cares?/The Presidents Nen/Lord Carrington/The Playboy Club/Alan Brien, Anthony Handen-Guest, vic Lownes, to be avoided first thing in the morning/ANTIQUARIUS and all it stands for/Michael Roberts/POP STARS who are thick and useless/YES/Leo Sayer/David Essex/Top of the Pops/Rod Stewart oh for money and an audience/Elton John – quote in NME 25 Sept re birthday spending/West End shopping/Stirling Cooper, Jean Junction, BROWNS, Take Six, C&A,/Mars bars/Good Fun Entertainment when it's really not good or not funnyBernard Delfont/a passive audience/arse lickers/John Osborne Harry Pinter Max Bygraves Melvyn Bragg Phillip Jenkinson the ICA and its symposiums John Schelsinger Andre Previn David Frost Peter Bogdanovich/Capital Radio/The Village Trousershop (sorry bookshop)/The narrow monopoly of media causing harmless creativity to appear subversive/THE ARTS COUNCIL/Head of the Metropolitan Police/Synthetic foods/Tate &Lyle/Corrupt councillors/G.K.N./Grey skies/Dirty books that aren't all that dirty/Andy Warhol/Nigel Waymouth David Hockney & Victorianism/The Stock Exchange/Ossie Clark/The Rag Trade/E.L.P./Antiques of any sort/Housing Trusts who profit by bad housing/Bianca Jagger/Fellini/John Dunbar/J. Artur's/Tramps/Dingwalls without H/Busby Berkeley MOVIES/Sir Keith Joseph and his sensational speeches/National Front/W.H. Smith/Censorship/Chris Welsh and his lost Melody Makers/Clockwork soul routines/Bob Harris (or the Sniffling Whistler as we know him)/The job you hate but are too scared to pack in/Interview magazine – Peter Lester/rich boys dressed as poor boys/Chelita Secunda, Nicky Weymouth, June Bolan, Pauline Fordham halitosis/Pose & Anne Lambton Chinless people/Antonia Frazer/Derek Marlow/Anne Scott-James/Sydney Edwards/Christopher Logue/Osbert Lancaster/Shaw Taylor – whispering grass/The Archers/BIBAS/Old clothes old ideas and all this resting in the country business/The suburbs/The Divine Light Mission/All those fucking saints.

(Loves):Eddie Cochran/Christine Keeler/Susan 602 2509/My monster in black lights/Raw Power/Society For Cutting Up Men/RUBBER Robin Hood Ronnie Biggs BRAZIL/Jamaican Rude Boys/Bamboo Records/Coffee bars that sell whisky under the counter/THE SCENE – Ham Yard/Point Blank/Monica the girl who stole those paintings/Legal Aid – when you can get it/Pat Arrowsmith/Valerie Solanis/The Price Sisters/Melvin Jones article The Challenge To Capitalism in New Statesman 4th Oct. 74/Buenoventura Durutti The Black Hand Gang/Archie Shepp Muhammed Ali Bob Marley Jimi Hendrix Sam Cooke/Kutie Jones and his SEX PISTOLS/This country is run by a group of fascists so said Gene Vincent in a 1955 US radio interview/Seven Days with Alexander cockburn/Olympia Press/Strange Death of Liberal England – Dangerfield/Mrs Scully love goddess from Shephards Bush her house slaves and Search magazine/Labour Exchanges as our local/FREE RADIO stations/A chance to do it for more than a month without being ripped off/The Anarchist Spray Ballet/Lenny Bruce/Joe Orton/Ed Albee/Pauslovsky/Iggy Pop/John Coltrane/Spunky James Brown/Dewey Redman/KING TUBBY'S sound system/Zoot suits and dreadlocks/Kilburn & the High Roads/Four Aces Dalstron/Limbo 90 – Wolfe/Tiger Tiger – Bester/Bizarre Humphries/Woolf – Waves/Walt Whitman poet/Exupery, Simone de Beauvoir, Dashiell Hammett, Dave Cooper, Nick Kent, Carl Gayle writers/Mel Ramos painter/David Holmes the newsman/Mal Dean cartoonist/Guy Stevens records/Mal Huff funny stories/D.H./Valve amps/Art Prince/Marianne Faithfull/Jim Morrison/Alex Trocchi _ Young Adam/Patrick Heron v. The Tate Gallery and all those American businesslike painters/Lady Sinthia 908 5569/Experiment with Time – Dunne/John Lacey and his boiled book v. St Martins's Art School experiment to be seen in New York. Imagination…