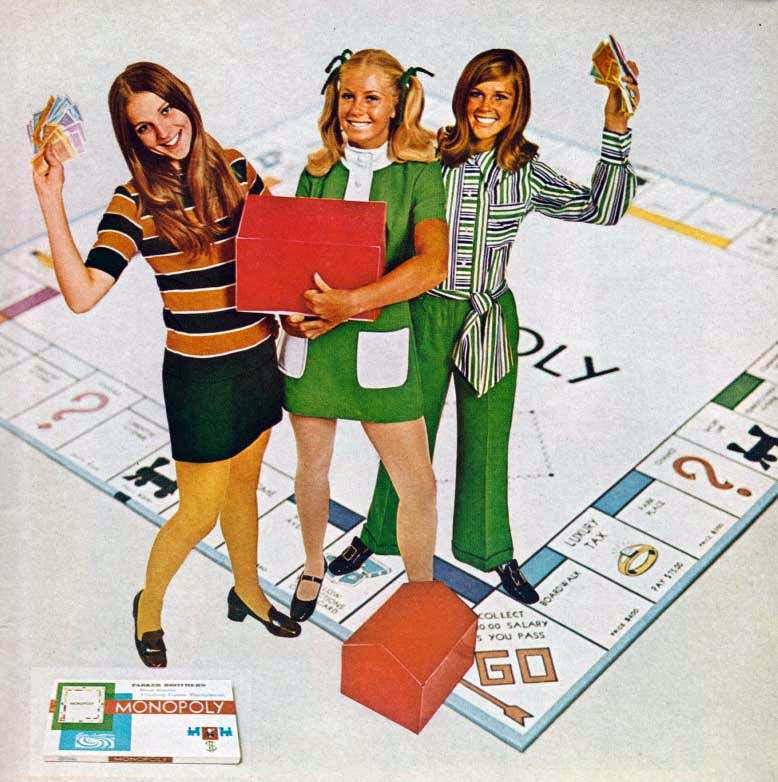 1969 was the year of the Moon Landing and Woodstock, but it was also the year of an infinitely less significant event: the Parker Brothers fashion spread.  That year, the board game company began a mad dash for cash by trying appeal to the up and coming Boomer teenagers/young adults,  Their advertisements got a bit mod and shagadelic (a year or two behind the curve, perhaps).
"First you qualify as a Swinger, then a Super Swinger, and finally a Fantastic Flipper, the most expert category of all."
And here's another advert for hip, swingin' Parker Brothers board games a-go-go.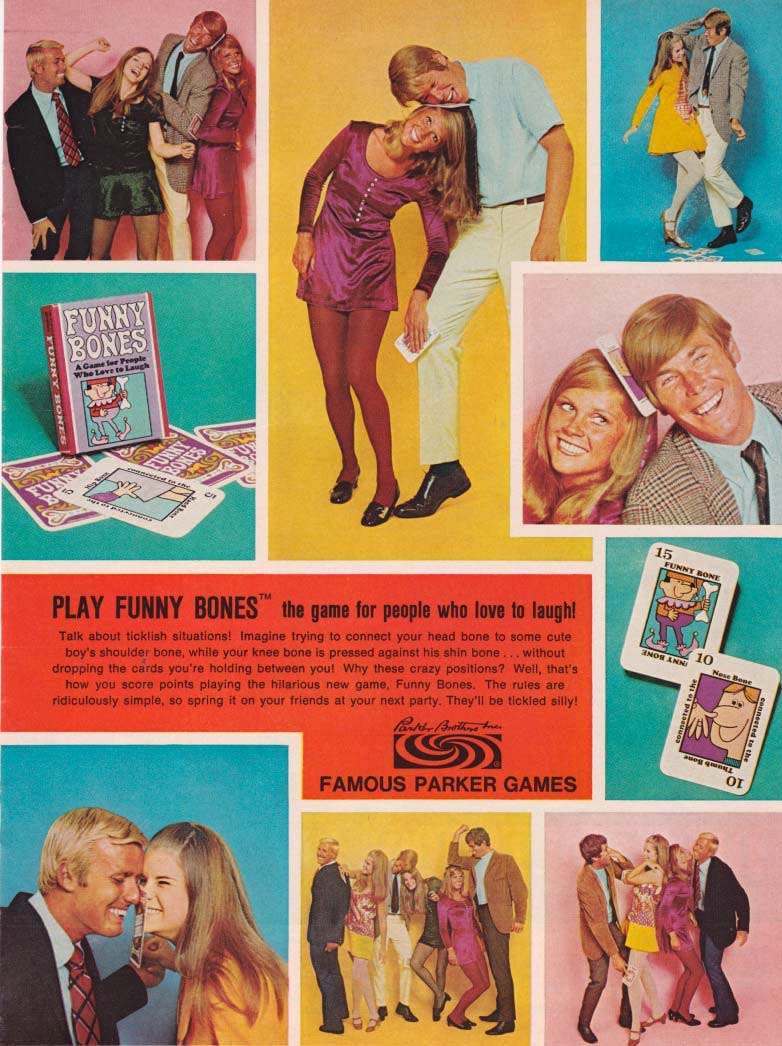 "Talk about ticklish situations! Imagine trying to connect your head bone to some cute boy's shoulder bone while your knee bone is pressed against his shin bone…."
Sounds like more of a flimsy excuse to get shagging, but then, in 1969 what wasn't an excuse for shagging?
Here, for your viewing pleasure, is a magazine piece on girls' fashion and their new PB's hip board games called "Games Girls Play".  It's a mashup made in heaven for 60s nostalgia buffs.   Enjoy!
The opening page features the game "Instant Insanity".  The object was to stack the cubes in a column so that each side of the stack shows each of the four colors.  Sounds lame, but it was actually fairly popular (nothing like the Rubik's cube, but successful enough).
For each fashion spread below, I've transcribed the accompanying text  – because that's half the joy.  I love it when adverts try to sound hip, especially in the late Sixties with lots of clevr misspellings, oh-so-cool-dashes, CRAZY CAPS and insane punctuation!!??!!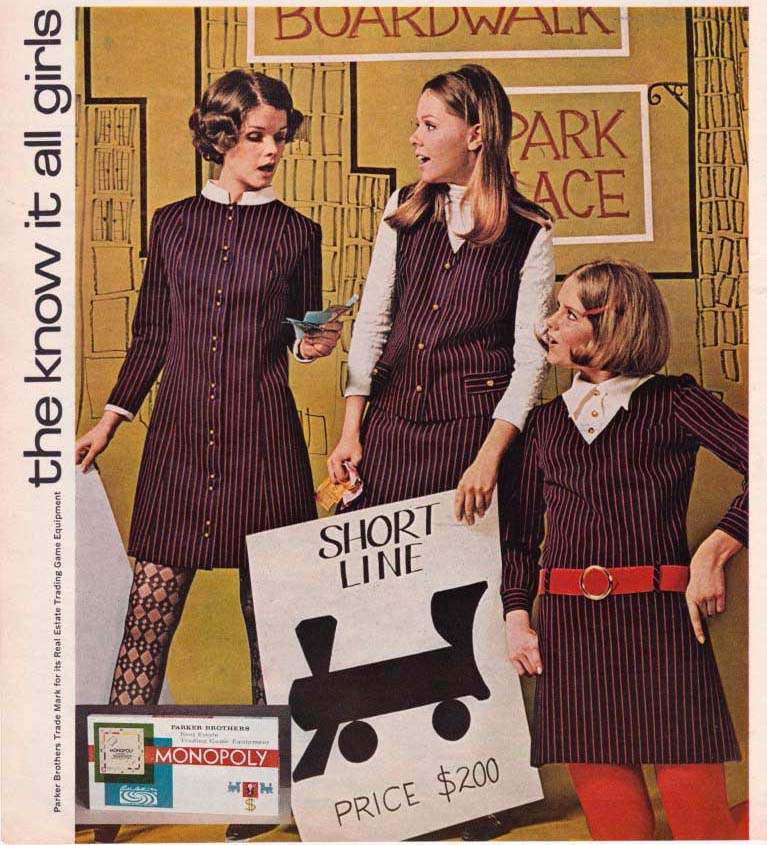 "Want to own a railroad? Or how about the electric company? Or – do you want to build some houses on Park Place?  Think you need lots of money for this?  Well, all this can be easily arranged.  What you do is play Monopoly, Parker Brothers' real estate trading game!  There are some hazards of cours.  Like you might have to go to jail.  But there's fun and profit too – like collecting $200 as you pass go.  Isn't big business wonderful?  The KNOW GIRLS know their business when it comes to real estate stripes."
Take note, that the girls in these fashion pics are called "the Know Girls" throughout.
"Done any detecting lately?  You know, like private eye type?  Well, here's your big chance to solve a case…. play Clue, Parker Brothers' detective game.  You'll luv the suspects – like good ole Col. Mustard and Mrs. Peacock (she's blue, of course)….. Of course the Know Girls have investigated this scene too.  They sure are clued in on what-to-wear, and their who-done-it duds do look great!"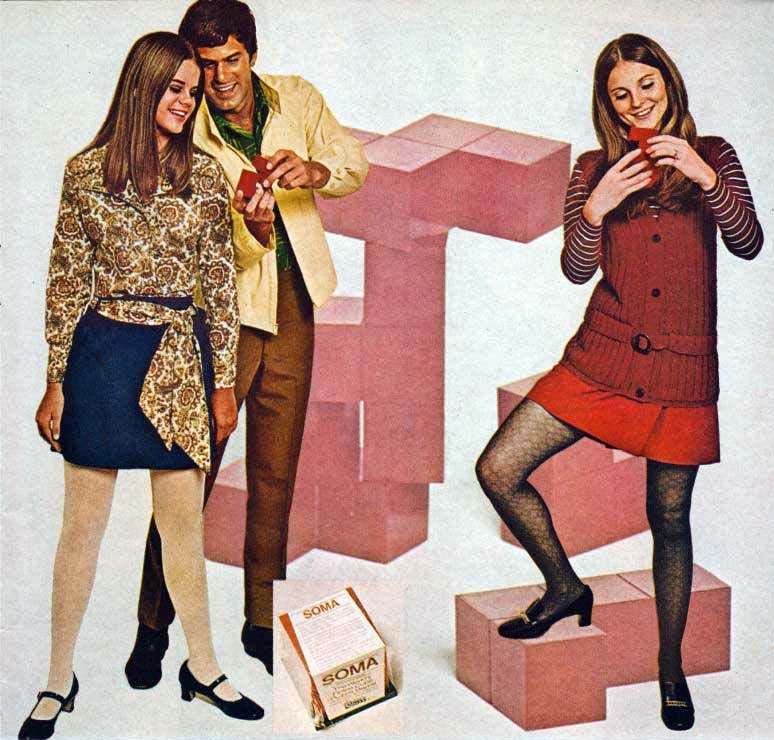 "Do ya wanna play??? Well, why not? Spend your time in Koratron treated clads that keep their shape and try to figure out what goes on with Soma, Parker Brothers' piece-it-together game sensation.  fit the cubes together and POW! a put-together that says fun anywhere!"
"What's the word? Think you know your old ABC's and can put 'em together to spell something – FAST??!!  Find out for sure, speedy – try playing Spill and Spell!  It's a cube crossword that sets you searching for words.  Even you wordy ones will want to get in on the game.  Go on!  Take a spill – what can you spell?  Your playful clads spell LOOK AT ME while sayin' "the waist is in."  Get that time-gone-by look for a ridge NOW look.  Small pretty prints put you in the winner's circle with a big A!"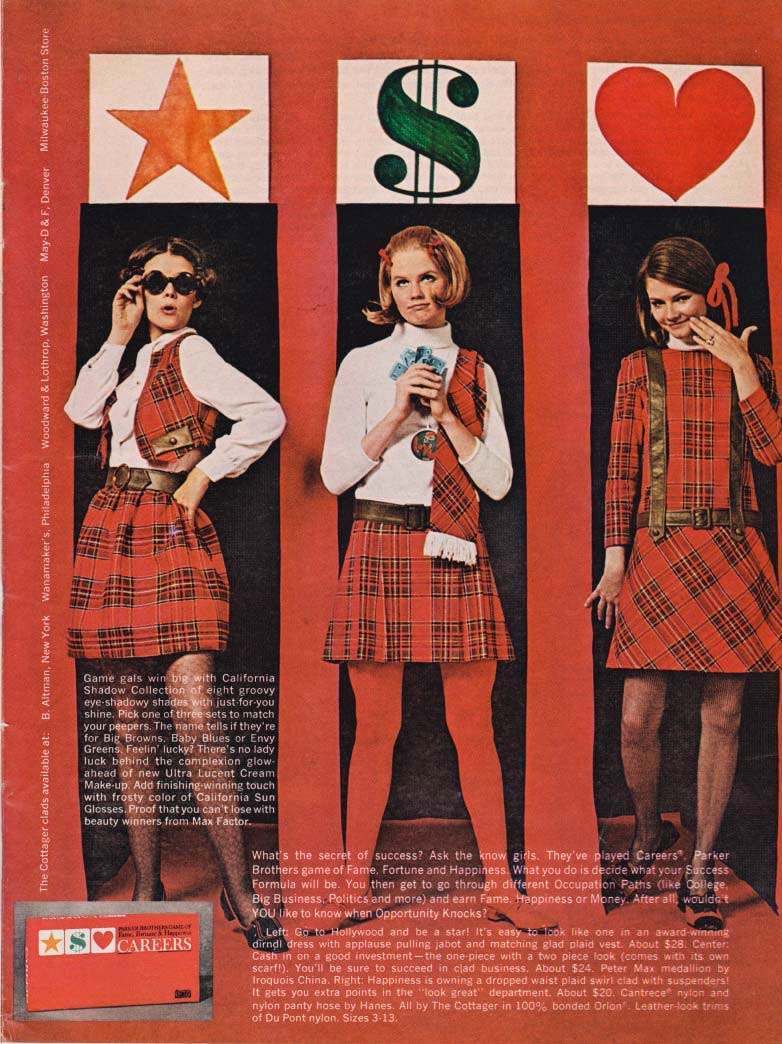 "What's the secret of success? Ask the Know Girls.  They've played Careers, Parker Brothers game of Fame, Fortune, and Happiness.  What you do is decide what your Success Formula will be.  You then get to go through different Occupation Paths (like College, Big Business, Politics and more) and earn Fame, Happiness or Money.  After all, wouldn't YOU like to know hen Opportunity Knocks?"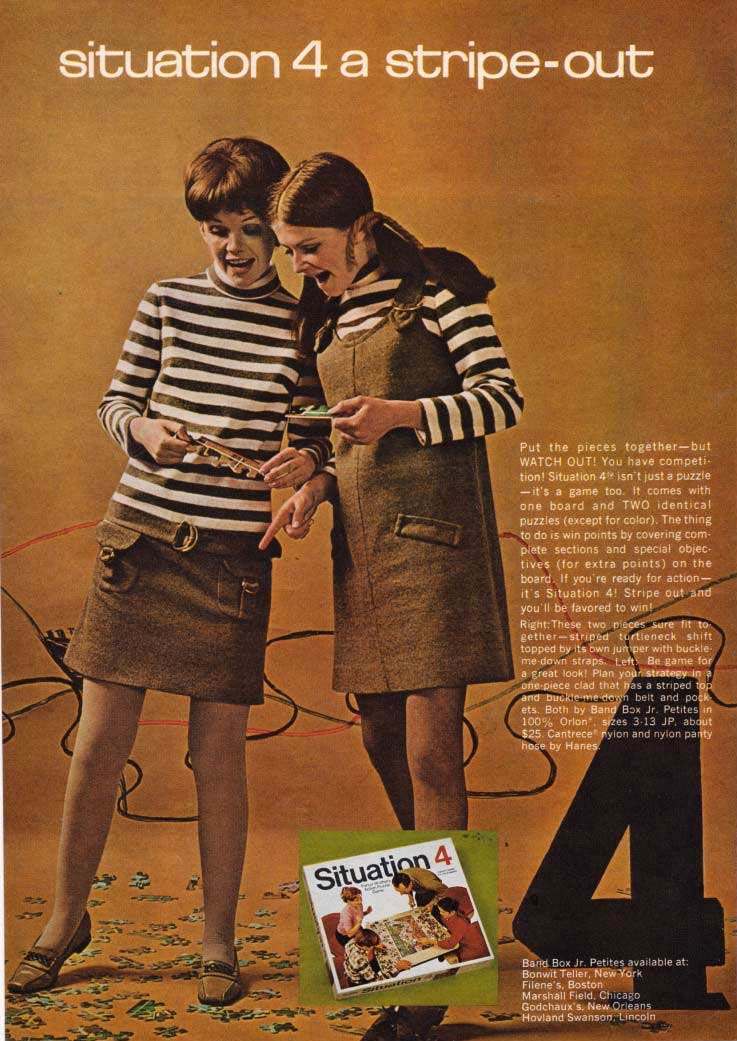 "Put the pieces together – but WATCH OUT!  You have competition!  Situation 4 isn't just a puzzle – it's a game too.  It comes with one board and TWO identical puzzles (except for color).  The thing to do is win points by covering complete sections and special objectives (for extra points) on the board.  If you're ready for action – it's Situation 4!  Stripe out and you'll be favored to win!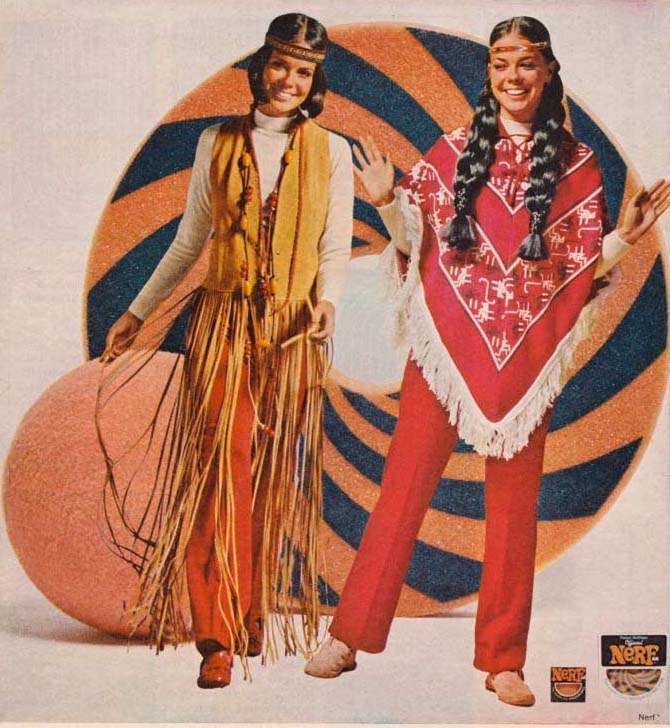 "Have a ball with Nerf Ball and Nerf Disk – fab foam rubber games from Parker Brothers.  Ball and Disk make playing fun.  Nerf Ball's the world's first indoor ball!  Imagine, your own game of wastebasket-ball or Nerfmitten played inside instead of out!  Forget being rained out forever.  To really keep you grinning, Nerf Disk – the newest darting object for inner space – sets the pace for fun.  Throw it, catch it, spin it.  The idea's to keep the fun soaring.  Natch, the fun and games'll keep up when you enter the winner's circle in your game garbs with fringe benefits."
And, finally, The Know Girls summon Satan's Infernal Legion.  The peppy swingin' write-up for this one is noticeably absent.