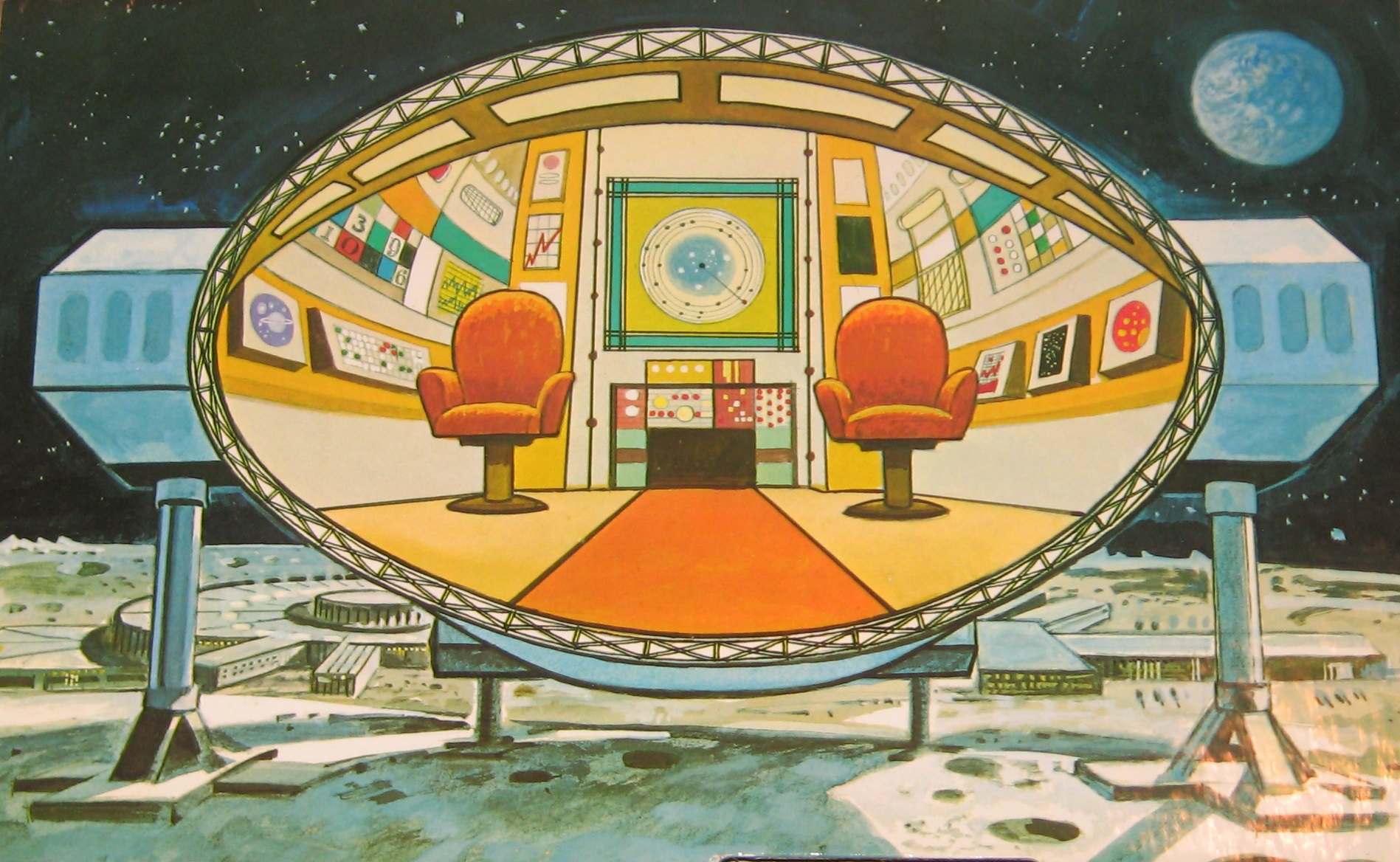 Last week here on Flashbak, I remembered "Fotonovels" or "Photostories," and tagged those publications as one way that kids of previous generations could remember the experience of their favorite movie or TV program in the pre-VCR age.
Today, I remember another popular item from the same time and having roughly the same purpose: the Colorform Adventure Set, or "Cartoon Kit" as it was sometimes known.  In broad terms, Colorforms sets consist of vinyl-sheet figures, ships, or objects, and a cardboard background upon which they can be set, and re-set.
Colorforms were first created in 1951, and in 1957 the company began to license popular entertainment characters such as Popeye for their sets.
In the year 2000, the Toy Industry of America named Colorforms one of the best toys of the 20th century, and in 2011, Time Magazine named them as one of the 100 best toys "ever."
Colorforms often came with brochures or booklets demonstrating for kids "one of the many" scenes they could make with their new toy.  And parents were informed, likewise that "your child now joins millions of others in the same age group in a happy growing experience."
For Colorforms, according to the booklet, possess "rare educational value" helping your child with six important skills: "Finger dexterity," "sense of spatial relationship," "size matching," "building ability," "color sense" and "sense of neatness and order."
When I grew up in the seventies, Colorforms proved a key and constant element of childhood, and today I want to feature pictures from my home collection, and some of my very favorite sets.
Basically every sci-fi franchise you could think of in the 1970s and 1980s had Colorforms sets to accompany them, from Star Trek (1966 – 1969) and Battlestar Galactica (1978 – 1979) to Planet of the Apes (1968) and Gremlins (1984). I had as many as I could get my hands on, and I've managed to keep several sets across the decades.
Here are five examples of the Colorforms adventure sets, circa 1966 – 1980.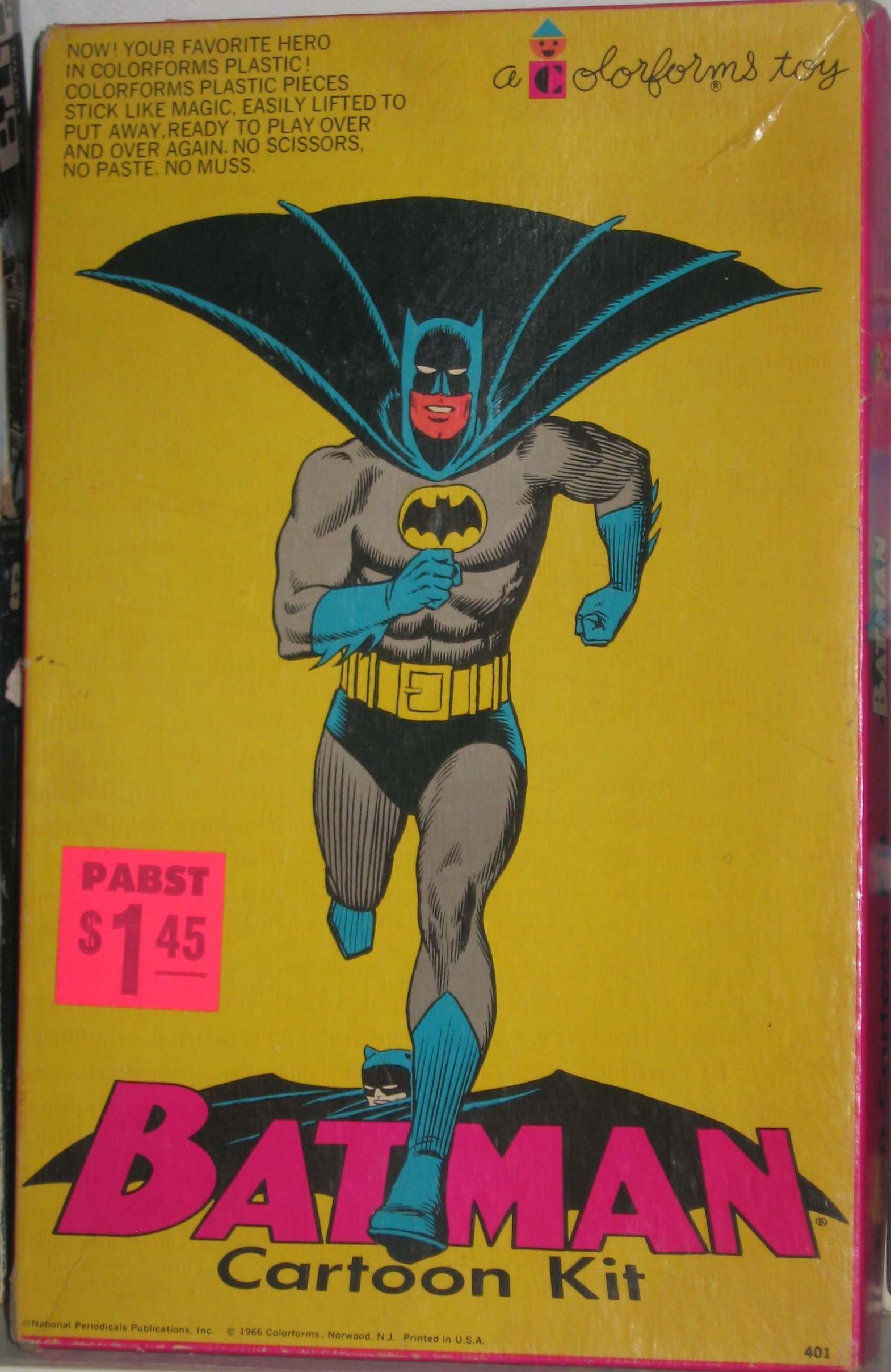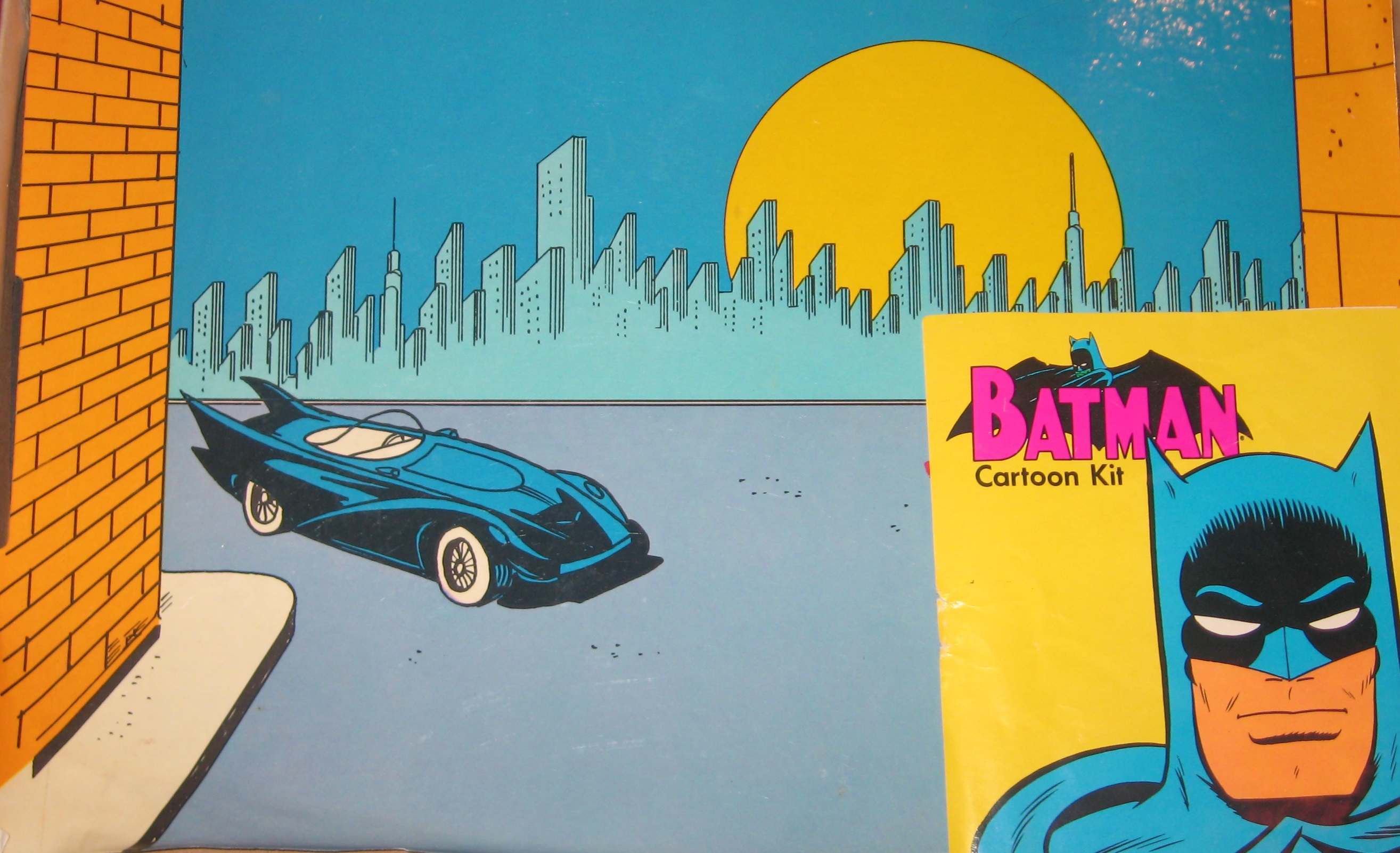 Batman Cartoon Kit (1966)
"Now! Your favorite hero in Colorforms plastic! Colorforms plastic pieces stick like magic, easily lifted to put away, ready to play over and over again. No scissors. No paste. No muss."
This kit features a backdrop of the Batmobile and Gotham City. Figures included are Batman, Robin, the Joker and the Penguin.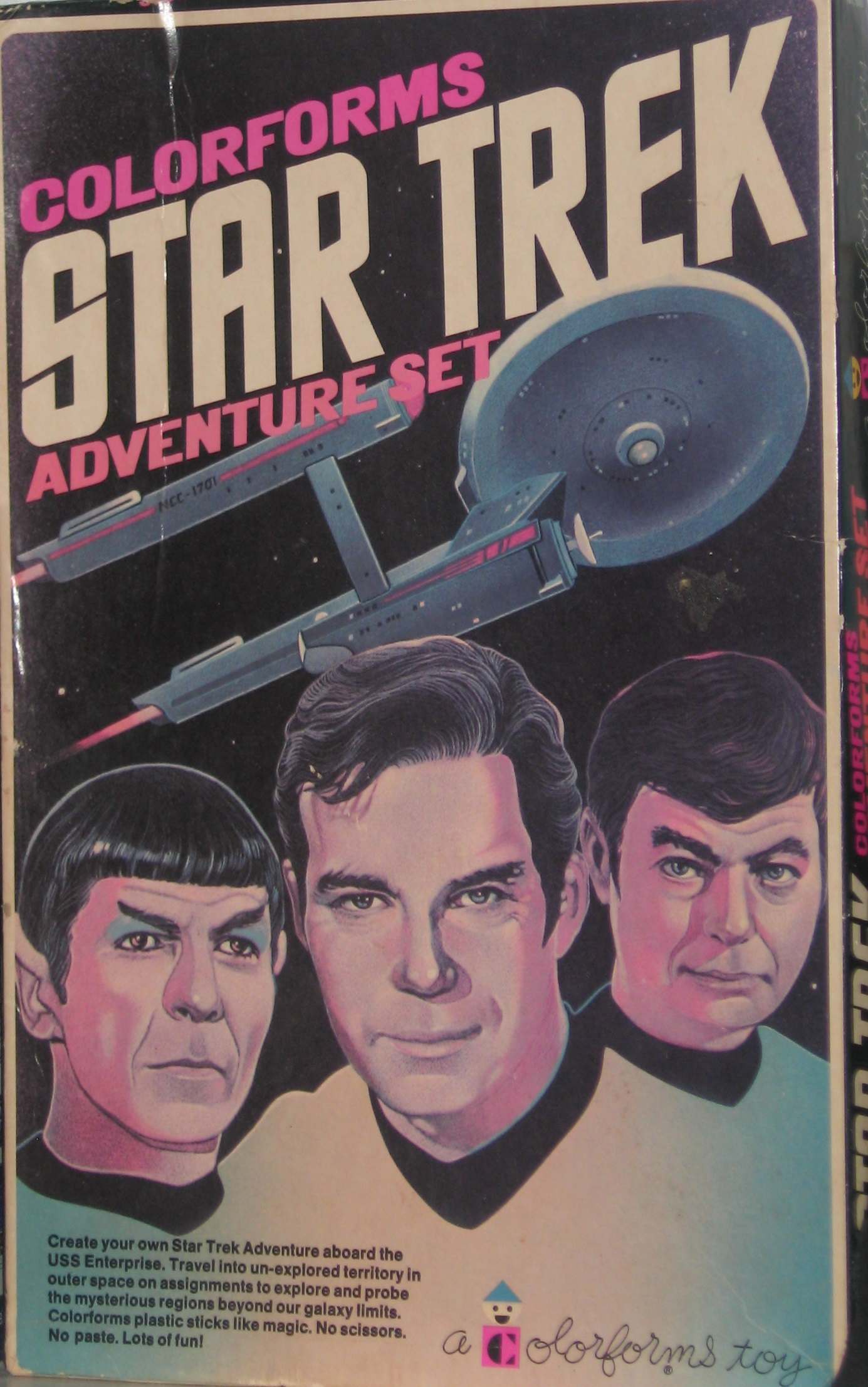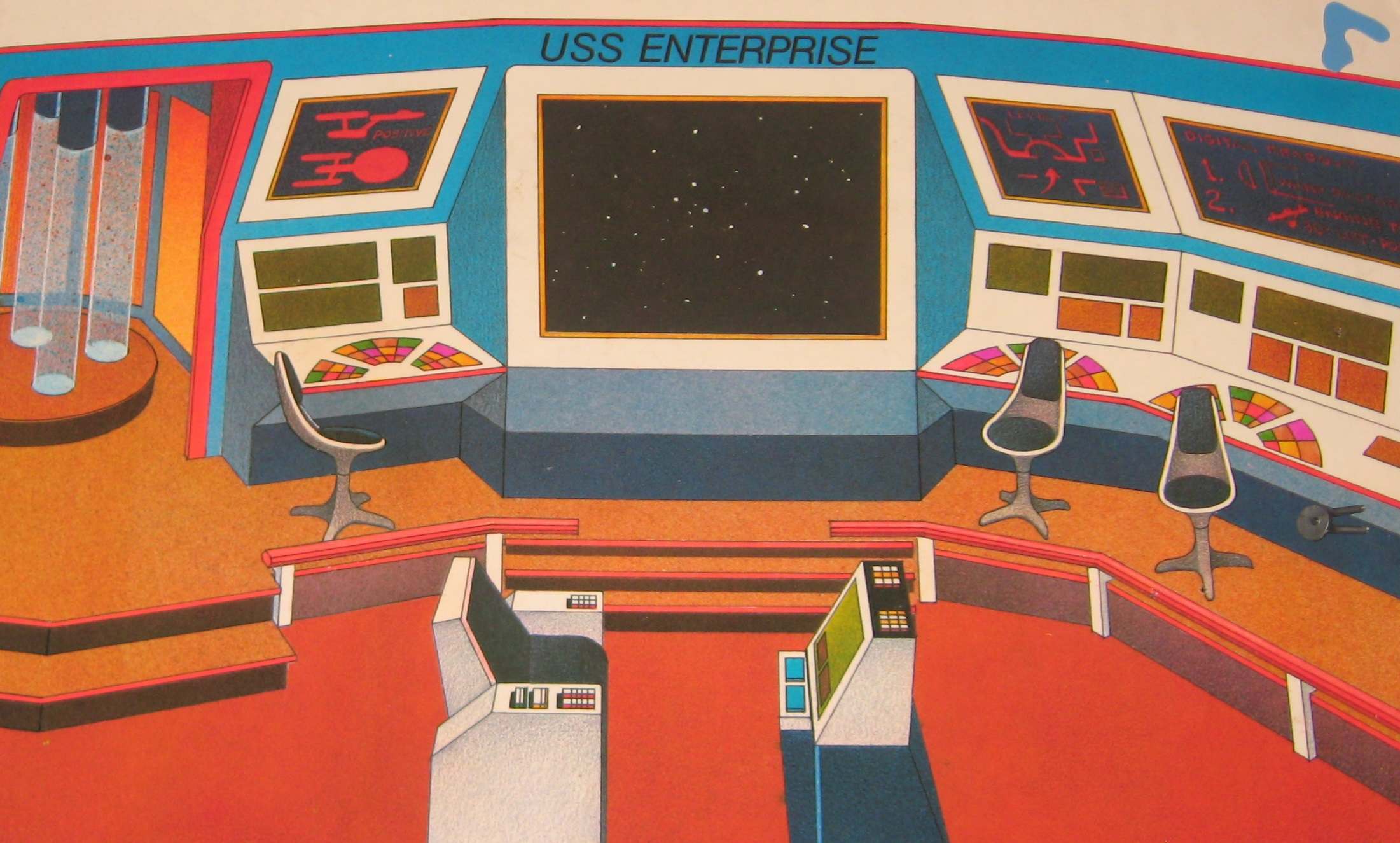 Star Trek Colorforms Adventure Set
"Create your own Star Trek adventure aboard the U.S.S. Enterprise. Travel into un-explored territory in outer space on assignments to explore and probe the mysterious regions beyond our galaxy limits."
This set features a (not terribly) accurate backdrop of the U.S.S. Enterprise bridge, including the Captain's chair, and a transporter room (just next to the main view-screen)!
Vinyl figures include, Kirk, Spock, Bones and Lt Uhura, as well as a strange variation on Balok, the alien seen in the episode "The Corbomite Maneuver."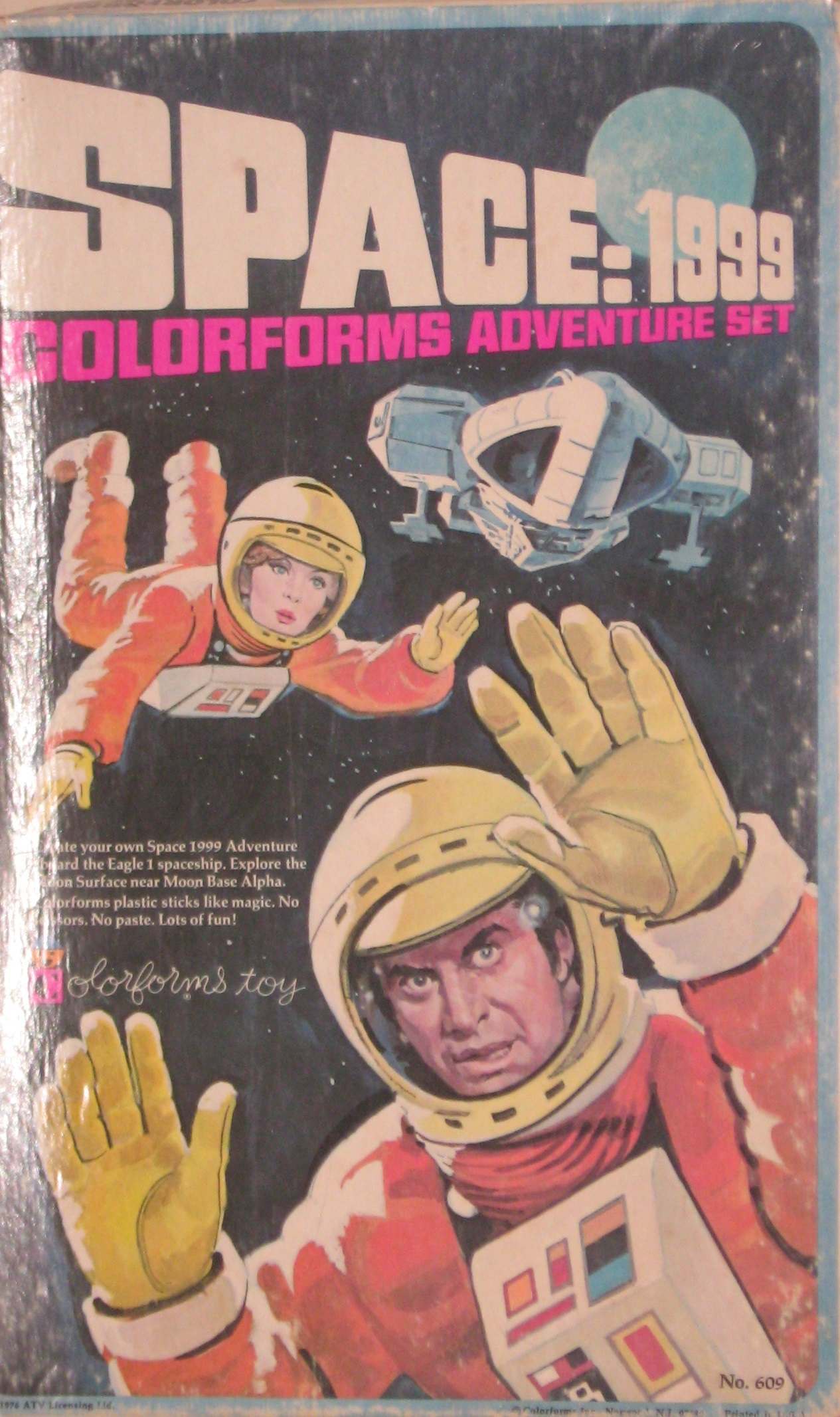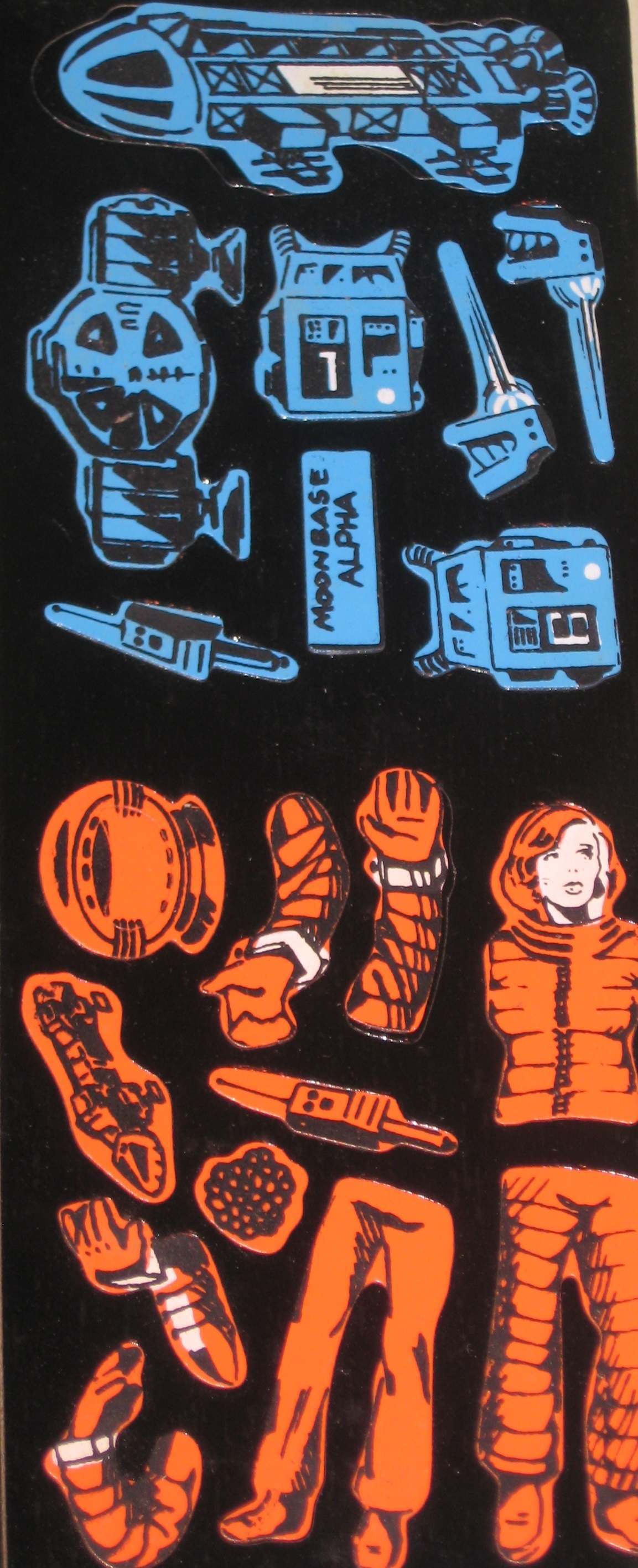 Space: 1999 Colorforms Adventure Set (1976)
"Create your own Space: 1999 Adventure aboard the Eagle 1 spaceship. Explore the Moon Surface near Moon Base Alpha."
This set based on the Gerry and Sylvia Anderson space spectacular features a cut-away view of an Eagle interior (with the Main Mission screen, oddly, placed where the door to another cabin should be).
The set also features likenesses of Commander Koenig (Martin Landau) and Dr. Helena Russell (Barbara Bain) in both standard unisex uniforms and space suits.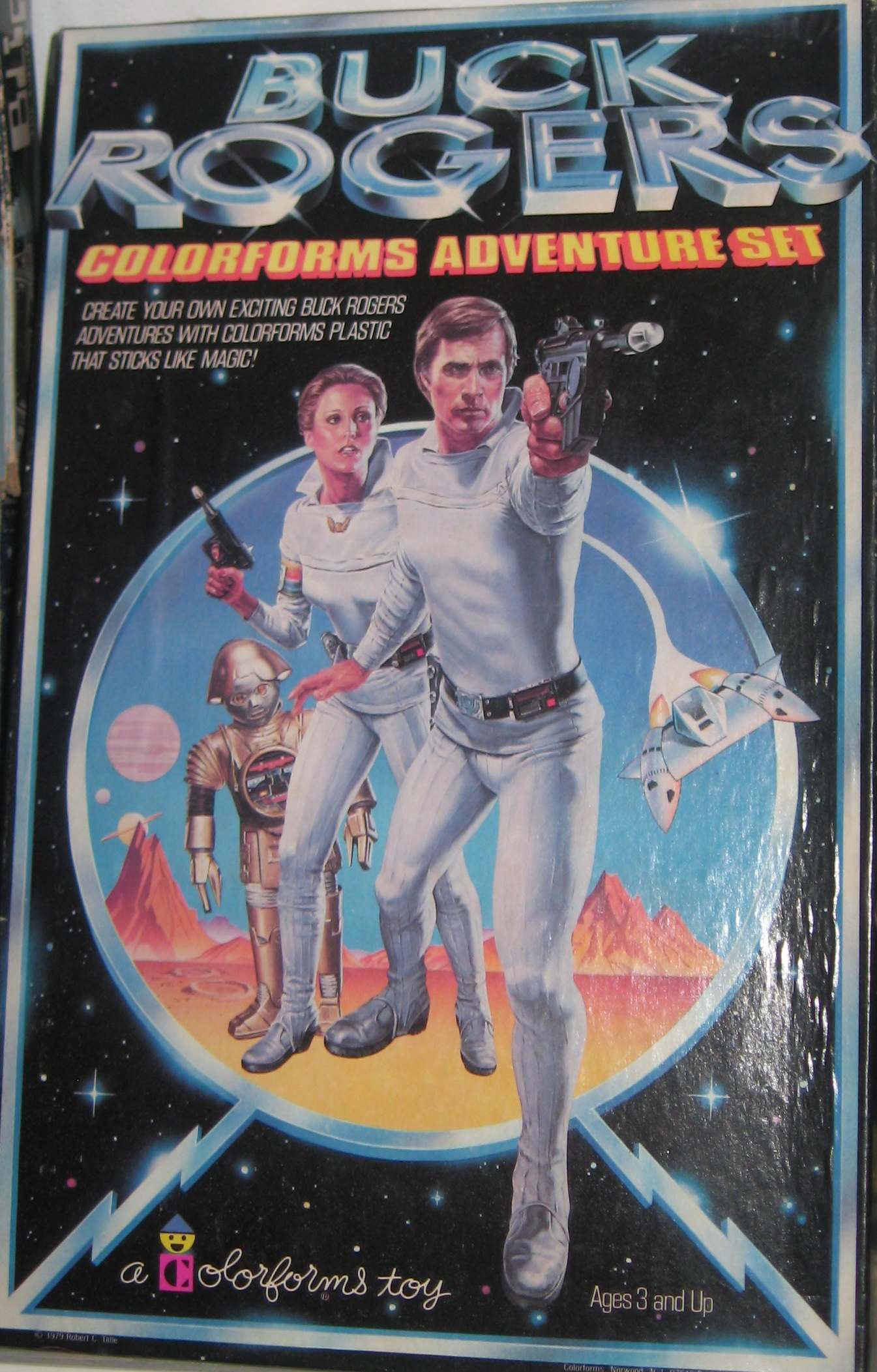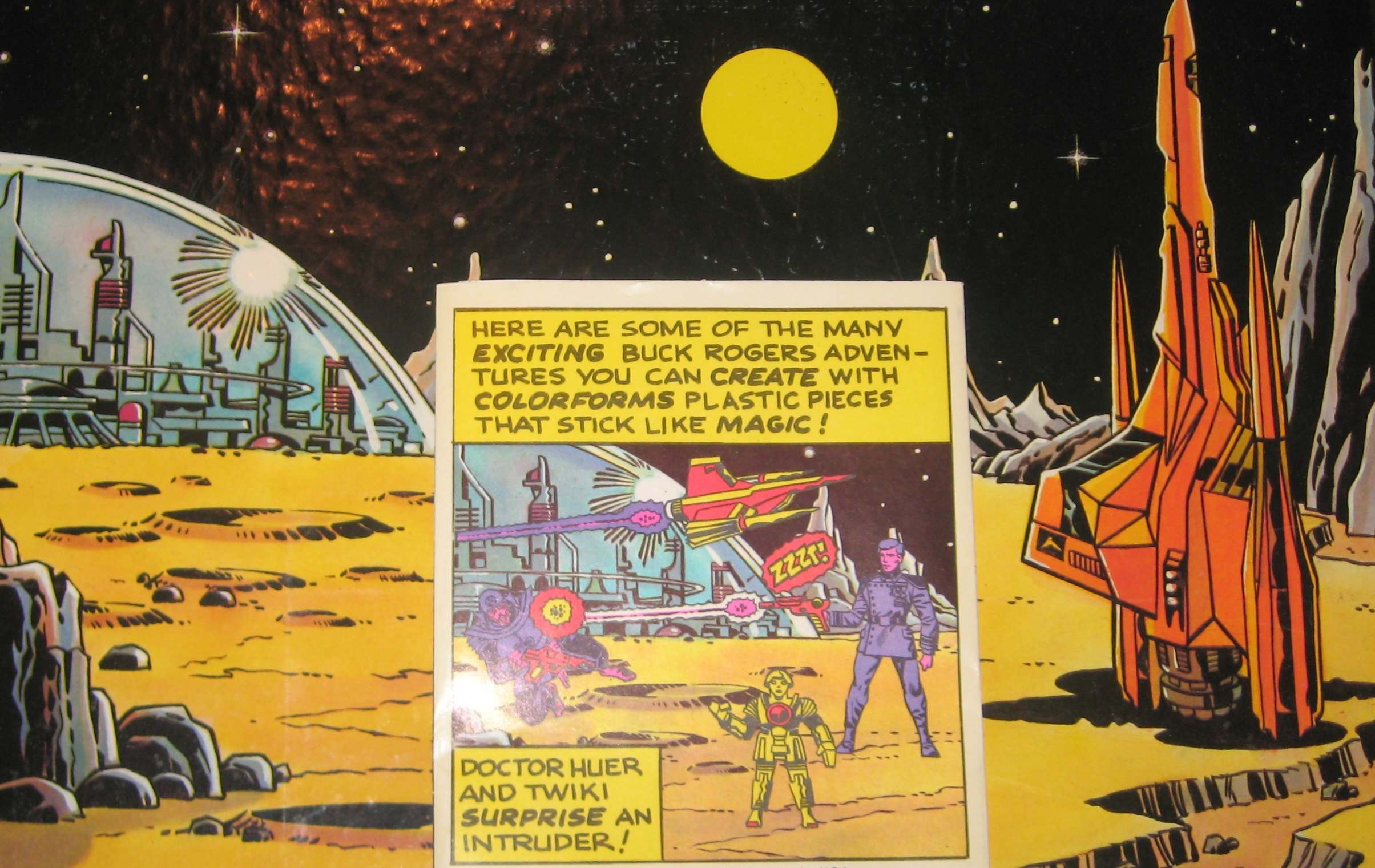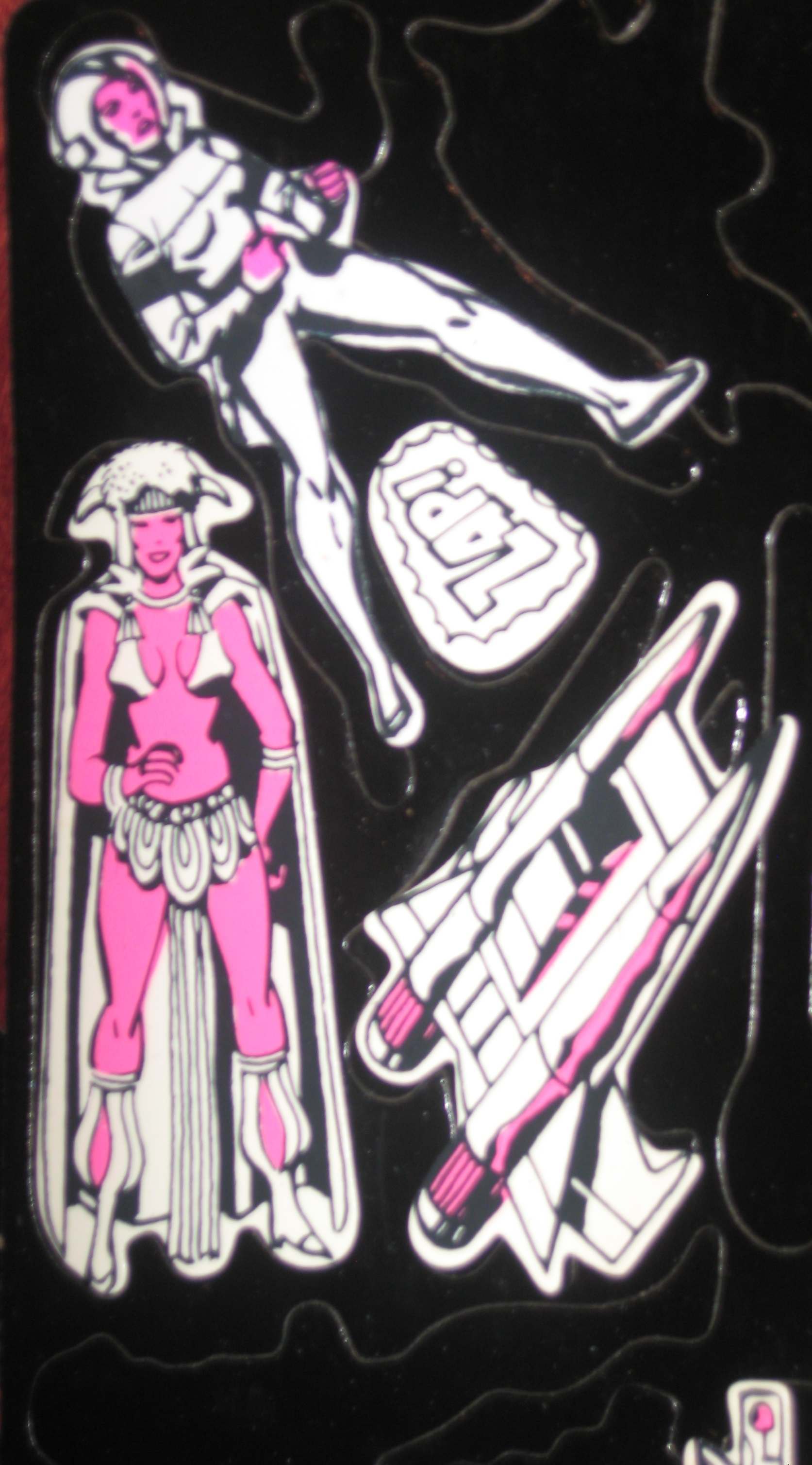 Buck Rogers in the 25th Century Colorforms Adventure Set (1979)
"Create your own exciting Buck Rogers adventures with Colorforms plastic that sticks like magic!"
This Colorforms kit comes with a Buck Rogers comic strip, and vinyl-sheet figures of Buck, Dr. Huer, Wilma, Twiki, Princess Ardala, Tigerman, Killer Kane and a Draconian soldier.
The backdrop is a strange planetary surface, with a Marauder standing vertically on the far right side. In the TV series, the ship never landed or took off in this configuration.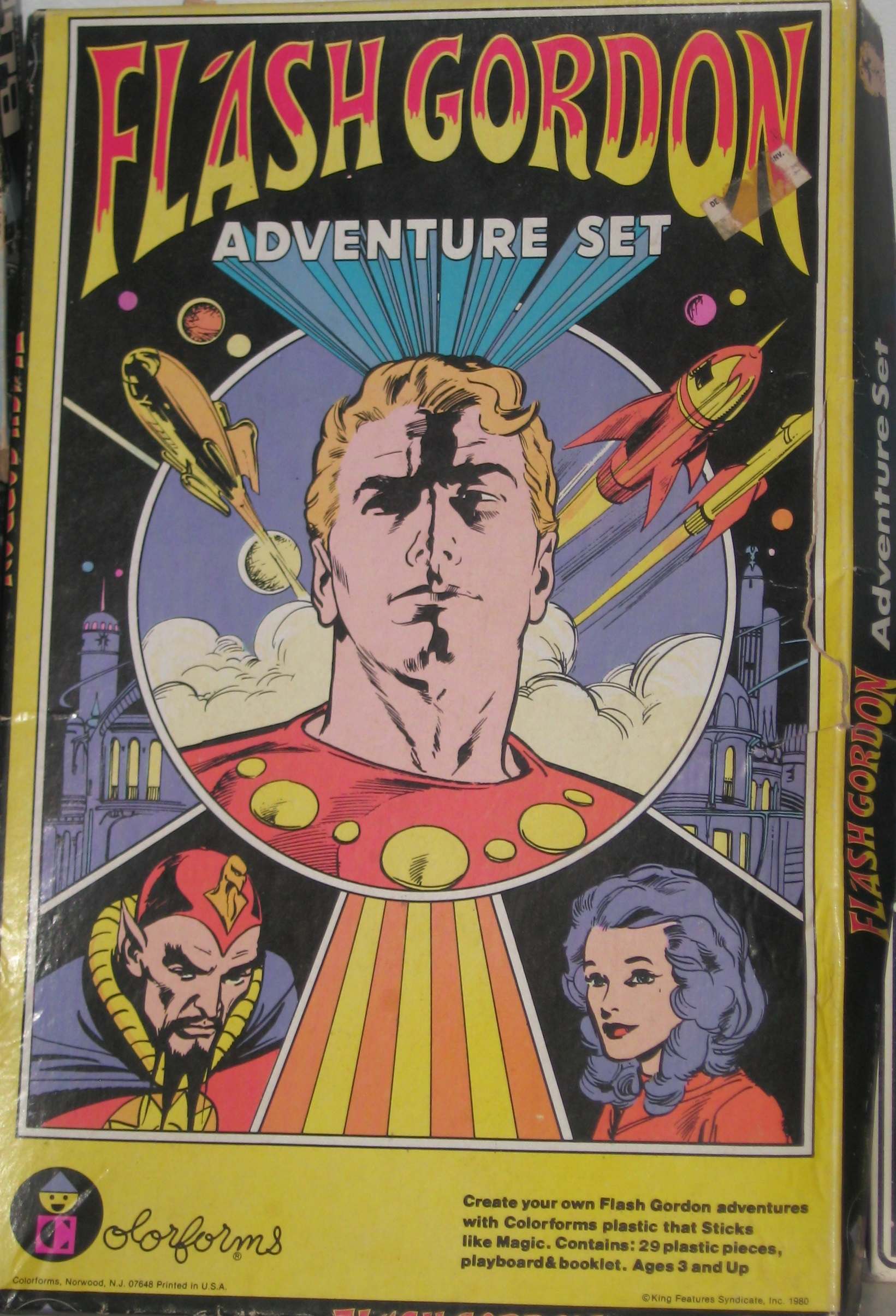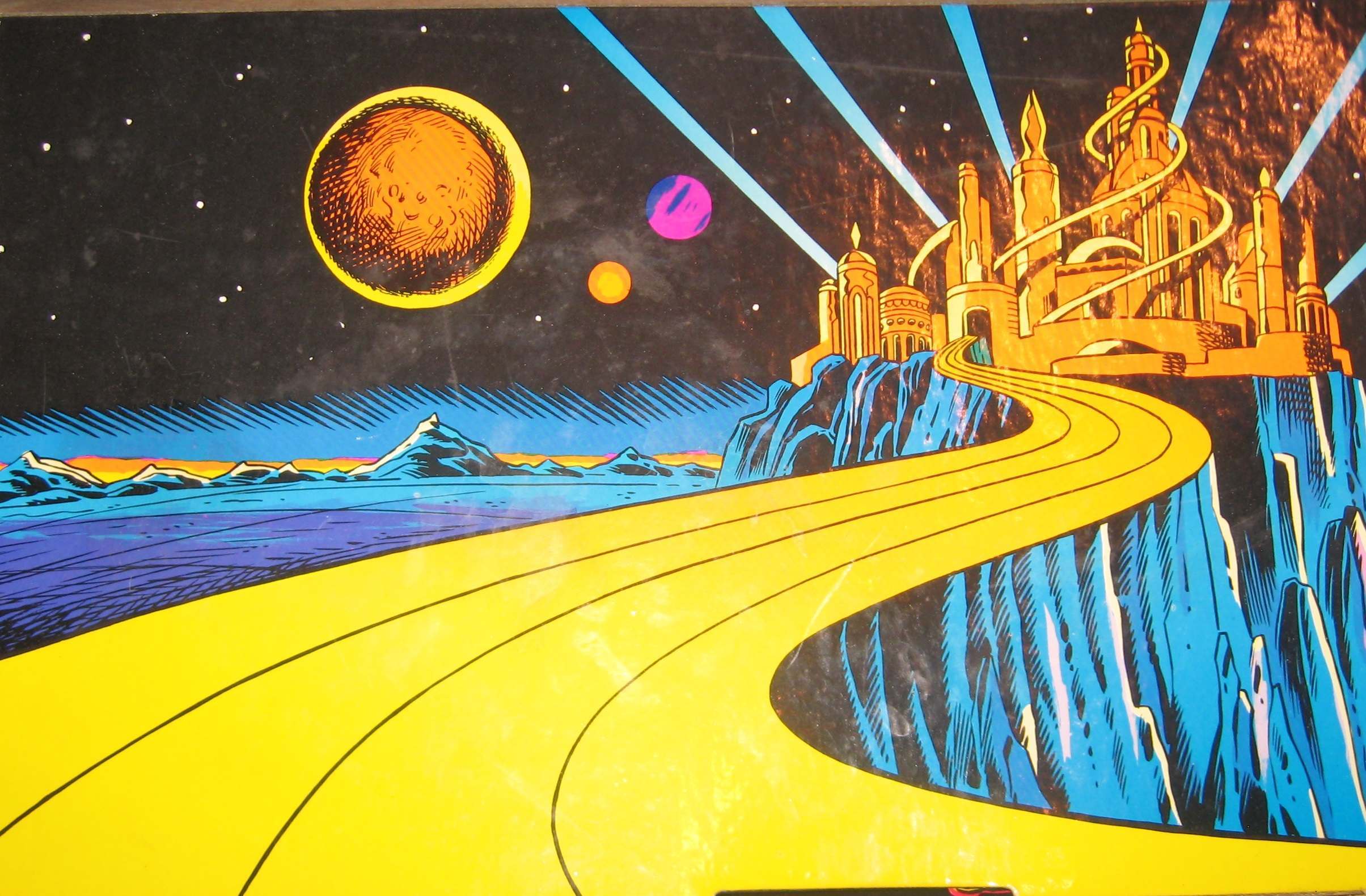 Flash Gordon Adventure Set (1980)
"Create your own Flash Gordon adventures with Colorforms plastic that Sticks like Magic."
Although not based on the Dino De Laurentiis film but rather the Buster Crabbe serials, this 1930s Flash Gordon kit is still an amazing collectible. Vinyl figures include Ming the Merciless in blue, his laser-armed soldiers, plus Dale Arden and Dr. Zarkoff.