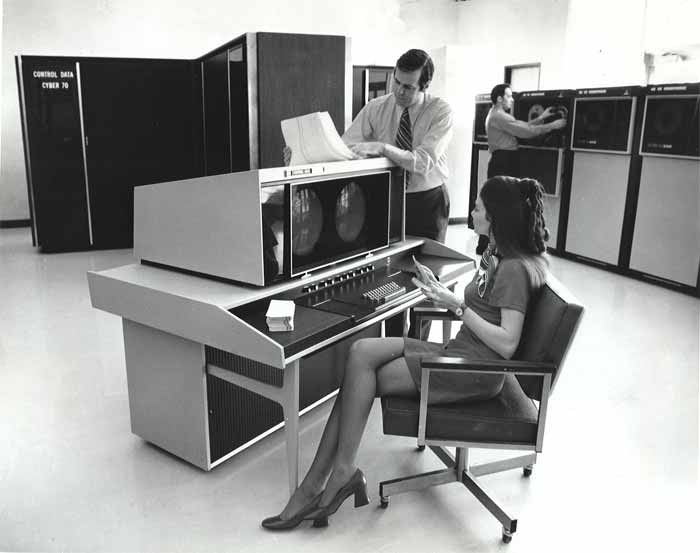 Is there a better way to start out the week than with a generous helping of old-school miniskirts?  That's our philosophy anyway, so we plan to bring you offerings of vintage minis at the start of each work week.   To start with, let's have a look at miniskirts and computers.  Most of these photographs are from the start of the Seventies, when computers were big and skirts were small.  Enjoy!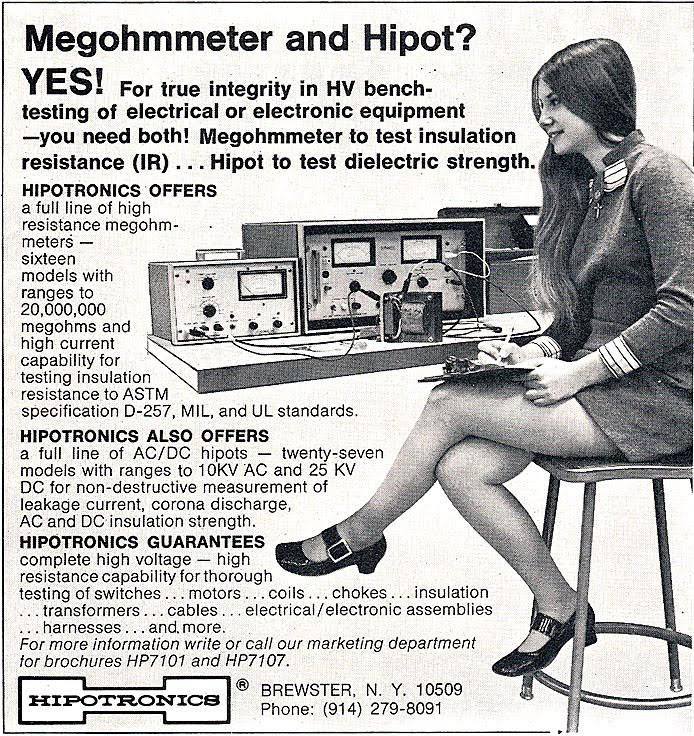 I was going to theme this week's edition of Miniskirt Monday "Miniskirts and Megohmeters"; but, quite frankly, there's not a lot of pictures of megohmeters alongside lasses in short skirts.  Maybe another day.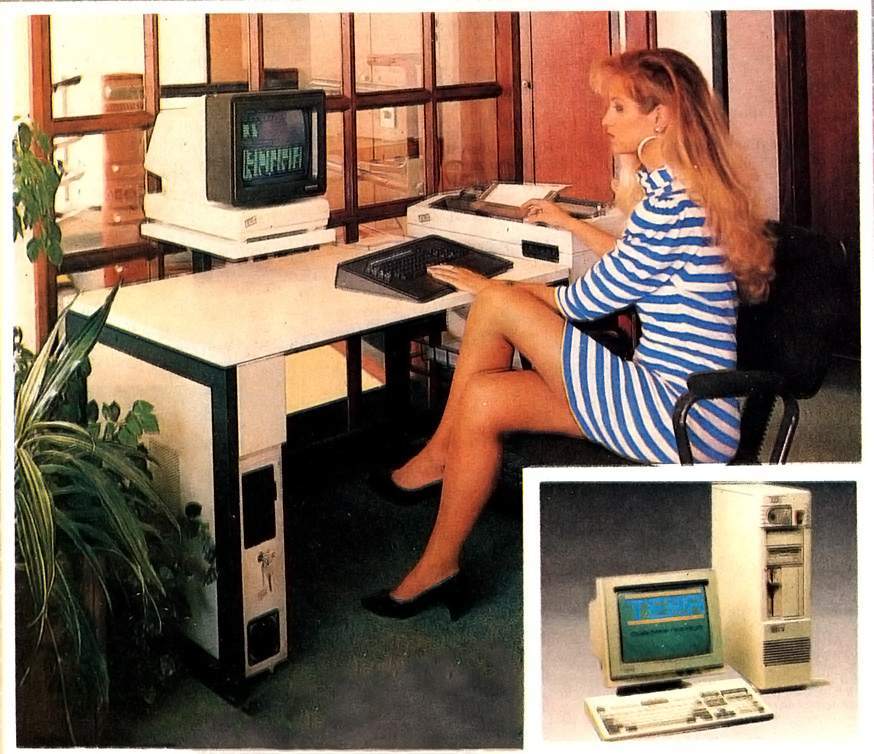 Many of you may recall that all desks used to have a "modesty screen" on the front (for secretaries in skirts).  No such screen for this girl.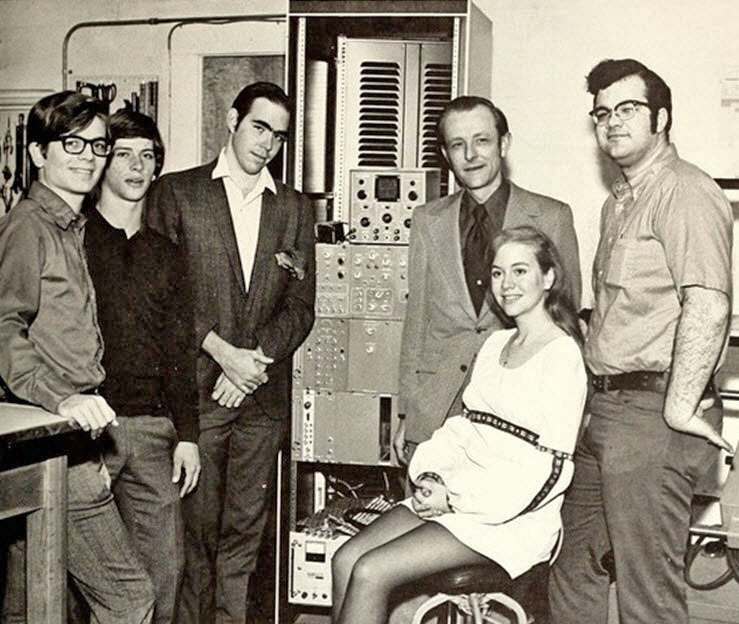 Mr. Unibrow thinks he's going to score with the lovely.  Nope.
You can almost smell the BO in this picture.  That poor girl.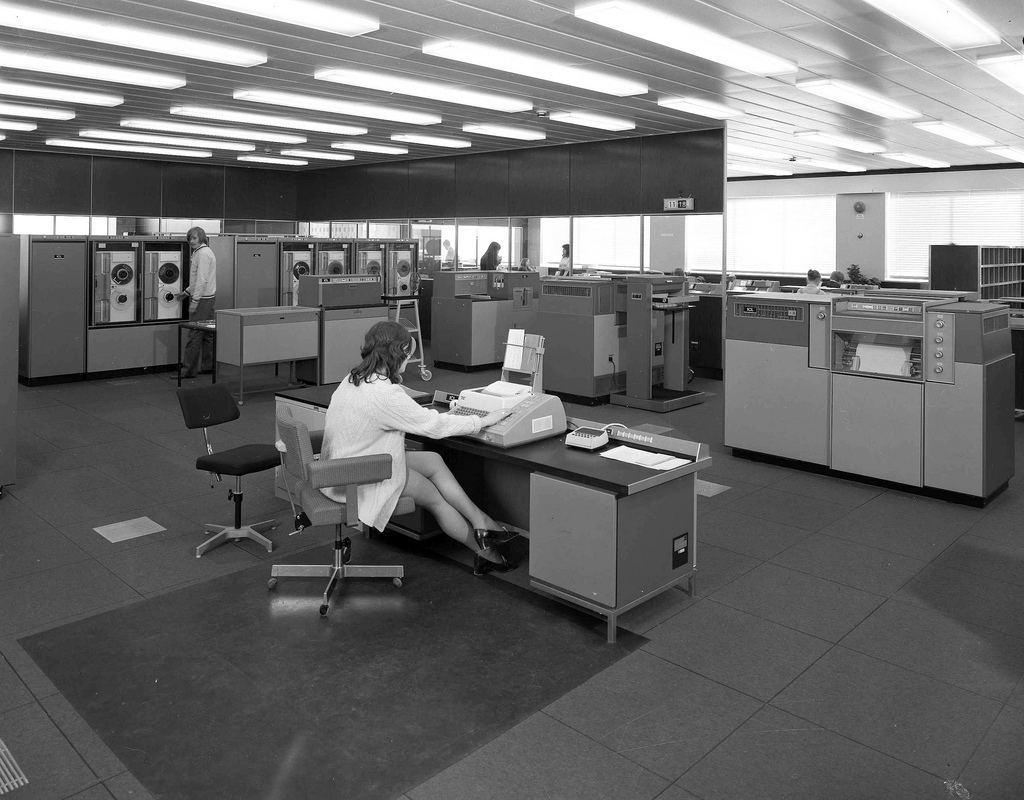 You may recognize a few of these images from a previous article: When Computers Were Giant.
The next three photographs of three paleo-computers are nearly identical; all that changes is the mini.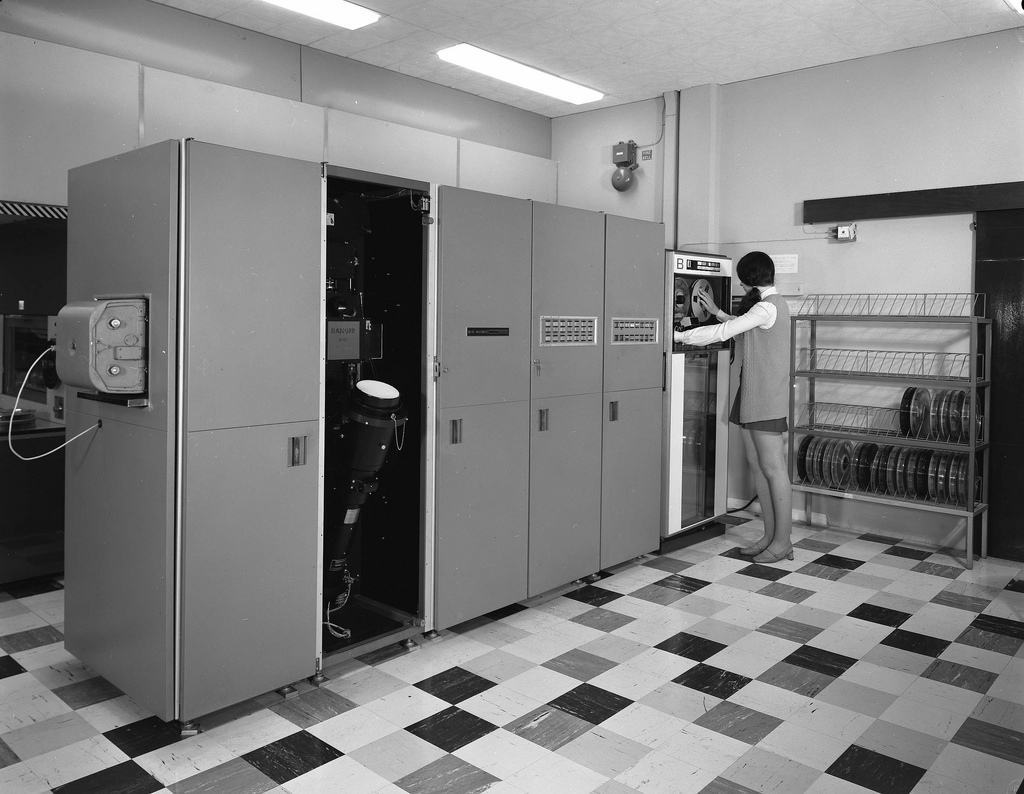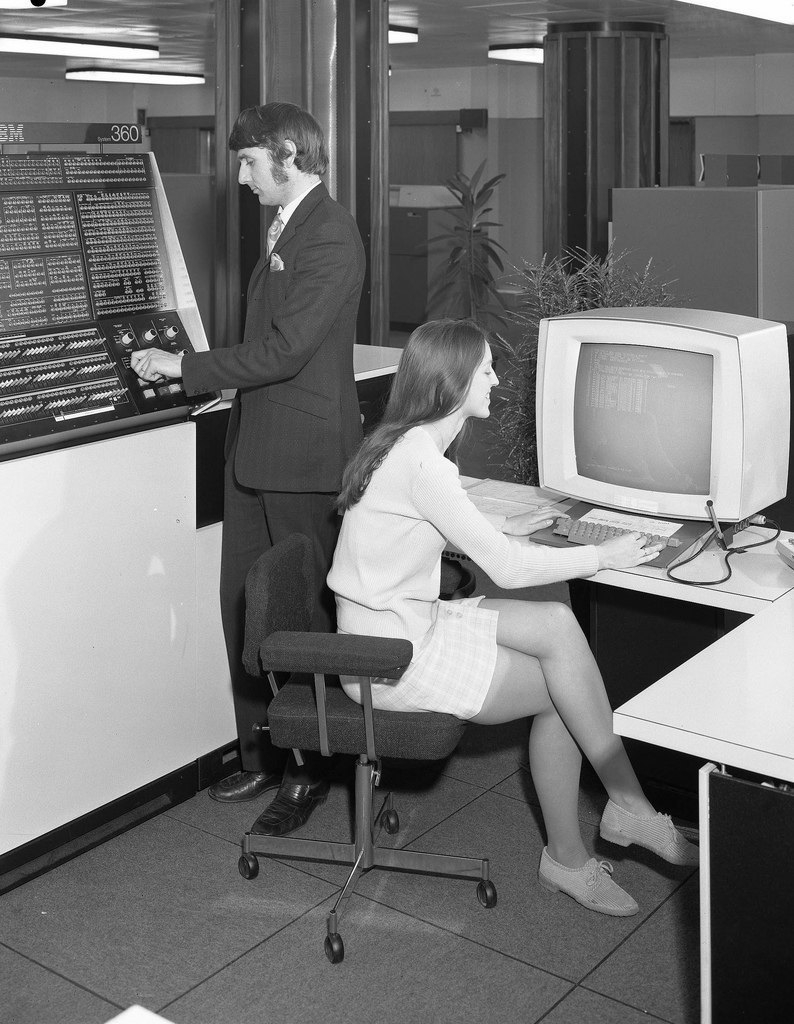 I have to admit, although these computers pale in comparison to modern day technology, they sure looked a lot more impressive.  You probably felt like you were at the helm of starfleet back then.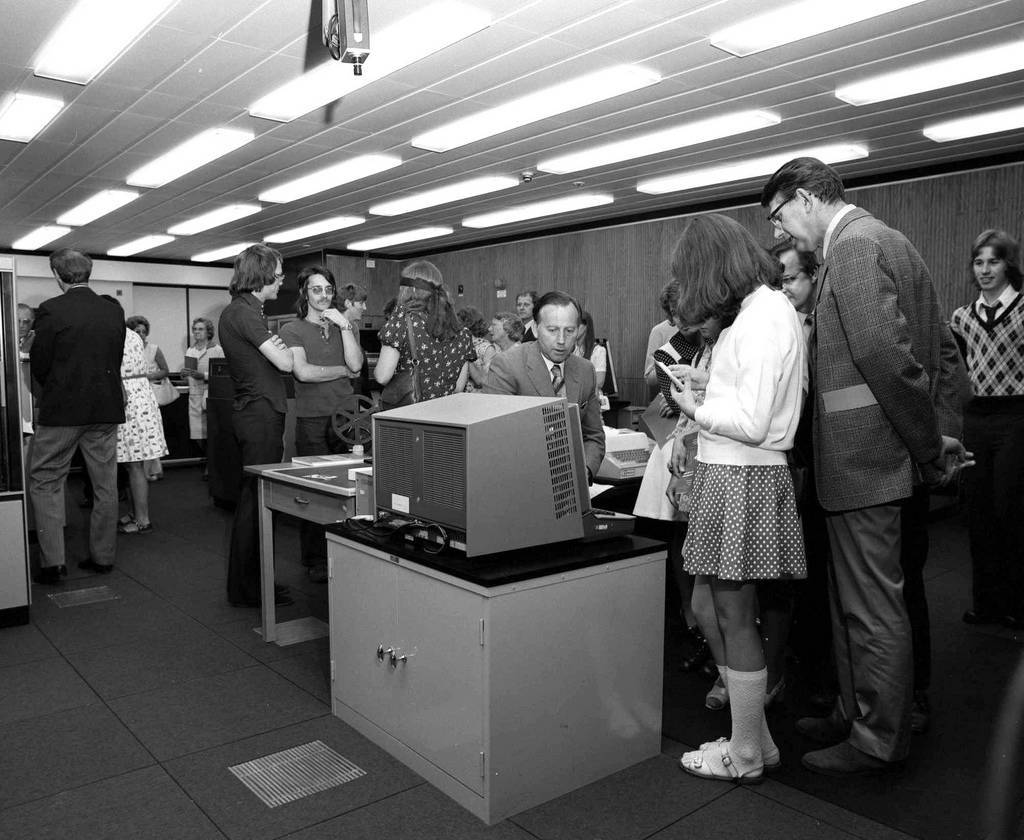 Many lessons were learned by these girls on this occasion.  Not about computing, but about politely fending off lecherous computer nerds.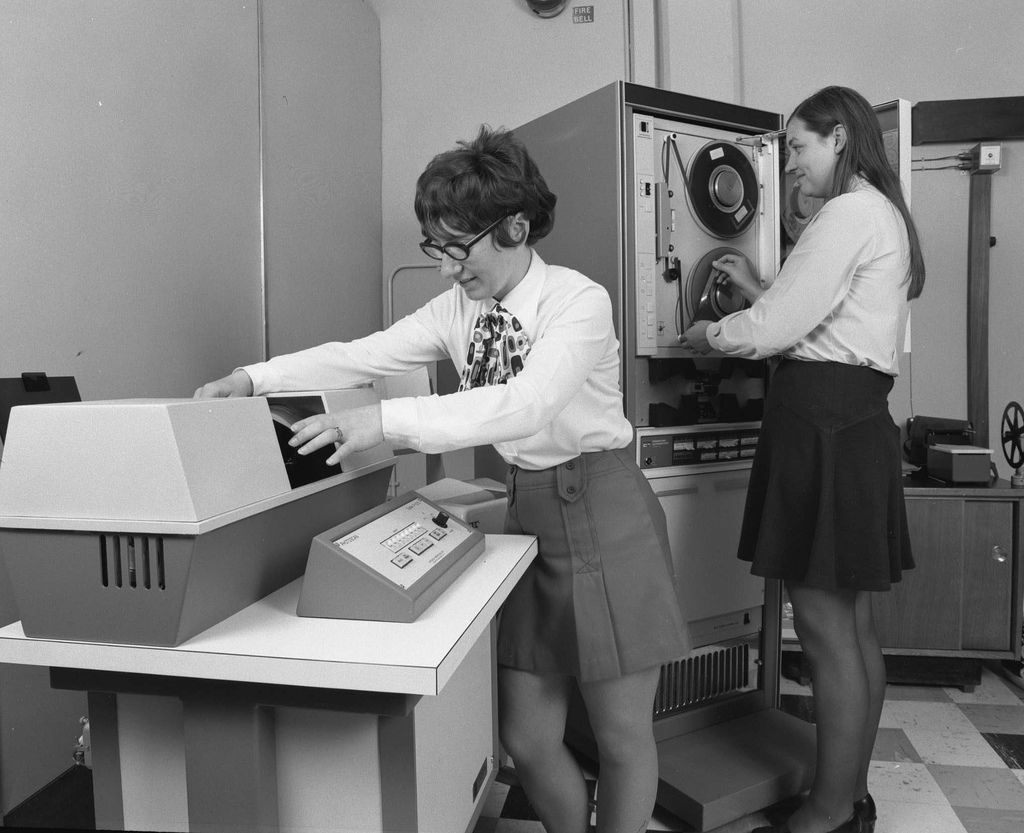 Sometimes the computers had more exotic curves than the models; but, a miniskirt is a miniskirt.  No complaints here.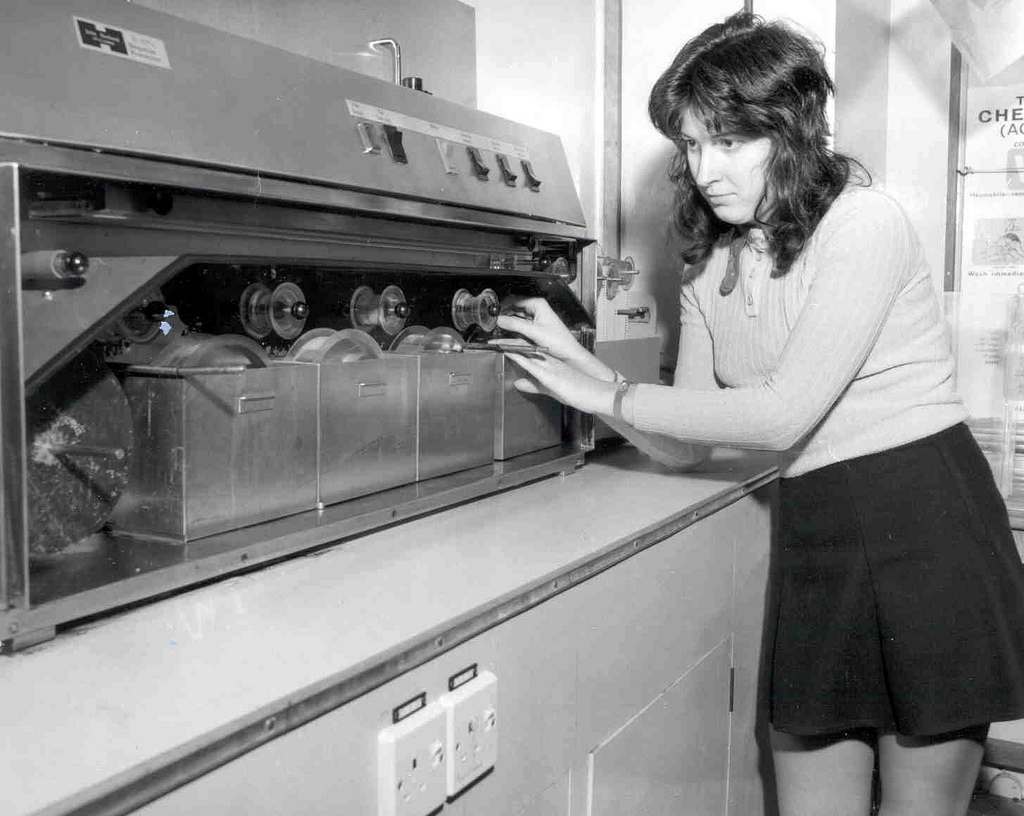 This old computer equipment required a lot adjustments from the ladies.  I suppose the men were comfortably tucked away in their offices drinking Scotch.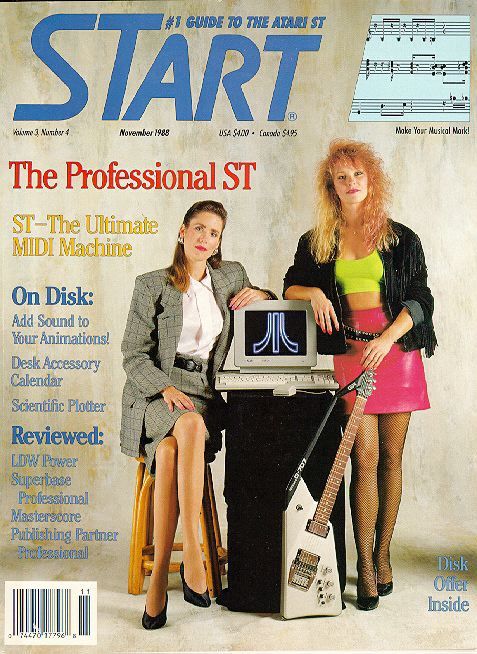 It's the 80s and computers and miniskirts still go great together.  A timeless combination.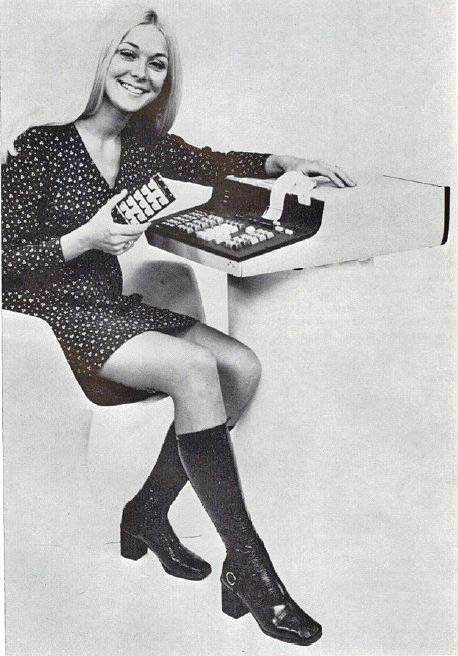 For the price of a mid-sized car, you too could own an electronic calculator!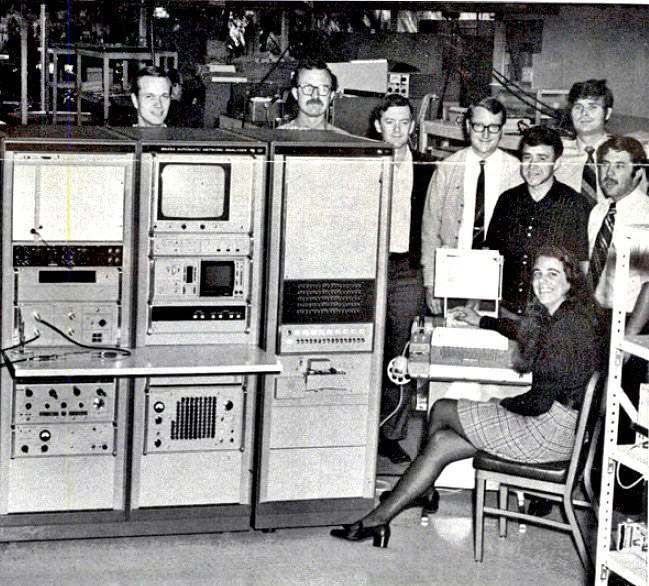 The ladies were vastly outnumbered in the electrical engineering field in the 70s.  (Last I checked, that hasn't changed much.)
Sex Sells…. Lasergraphic Plotters.
What the hell is this?  A Gitmo rectal thermometer?
(I kid.  It's actually a king-sized model of a handheld voltmeter that did good business for HP (now Agilent) back in the day.)
I love how they really tried to sex-up their plotting systems.
These two guys are clearly the Starsky & Hutch of the computer engineering department.  You can sense their frustration as they make their move on these two hotties, while the bespectacled gal in the middle cramps their style.
Back in the day, you had to use a little sex to sell your Frigidaire-sized computer because there's nothing sexy about a machine that gets your quarterly financials done.
Nowadays, the industry doesn't need to use sex as a selling hook because it's a foregone conclusion that you're buying a computer solely for porn.
Hope you enjoyed these.  Same time next week!