British Pathé has published its vast collection of 85,000 historical films dating from 1896 to 1976 on YouTube.  For my mind the best ones are videos of how things used to be made, like dolls, rock and wallpaper.
But the most gorgeous video shows craftsmen and women making globes at a factory in Willesden, London, in 1955. It's fabulous.
Speaking over jaunty holiday camp music, the narrator tells us we are watching goings on at a North London firm of geographers but, rather frustratingly, doesn't tell us who. That's a pity.
Pathe produced an earlier video of what might well be the same globe making factory in 1949. In both films, the narrator informs us: "While the rest of the mankind does its best to blow the world up, they like building a new one."
A spot of research identifies some of the people featured in the 1955 video: Iris Rose, Jean Palmer, Ted Hoskins, Jerry Truin, Sheila Hewitt, Florrie Gentry, Ivy White and Mary Carswell. The company is most likely Messrs George Philip and Son Ltd, of 98 Victoria Road, Willesden Junction, London, NW10, with a showroom at 32 Fleet Street, London, EC4. George Philip and Son Ltd boasted a rich history and a knack for opportune marketing. In 23 MARCH 1918, The Spectator magazine carried the following advertorial:
The Allies' Gains on the Western Front, 1914-17 (2s. net), a very useful and well-executed map of North-Eastern France and Belgium, on a scale of ten miles to an inch. The successive lines taken up by the enemy are clearly marked and the principal battlefields are boldly indicated. Thus the map, which is printed in colours, summarizes the course of the war. The zone from which. the enemy has been driven is considerably larger than many people suppose ; they are unconsciously misled by the newspaper maps of small sections of the front. On the back of the map are printed numerous official photographs.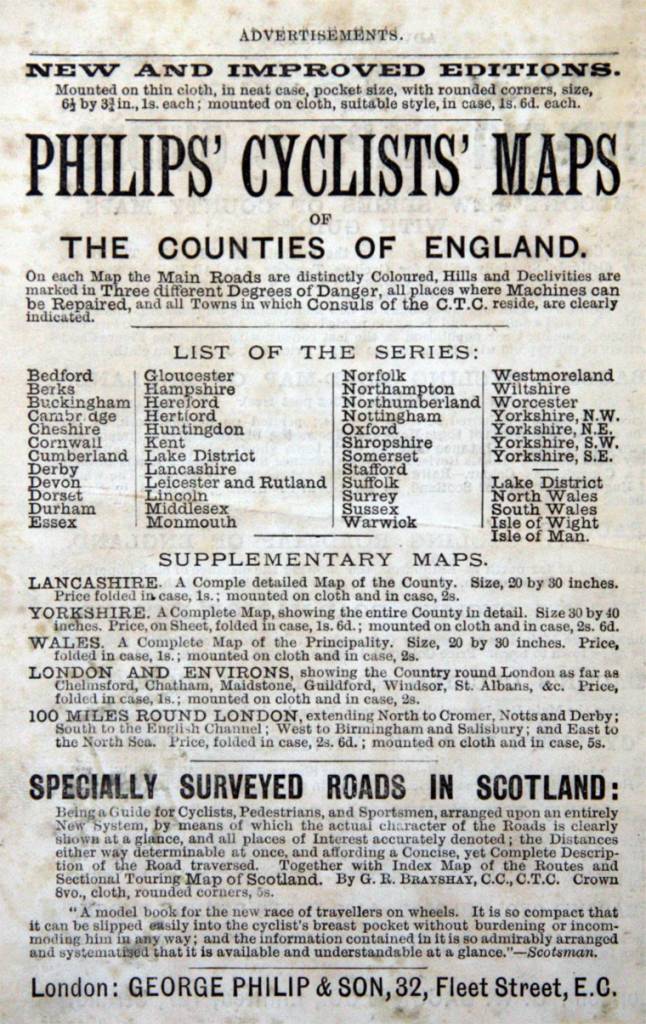 George Philip and Son specialized in maps and atlases. Founded in 1834 by cartographer George Philip (born: Huntly, Aberdeen, Scotland in 1800), the company aimed to promote education for all.
That Philip's took so long to start making globes is a little surprising – they made their first in 1902 when the company relocated to the London Geographical Institute, a large factory for map, atlas, and globe production in London.
In 'A Companion to the Globes' (1829) R.T Linnington enlarged on the role of globes in the culture of the day.
"I have, in a room lately built in Pembroke Hall, erected a sphere of 18 feet diameter, wherein 30 persons may sit conveniently; the entrance into it is over the South Pole by six steps; the frame of the sphere consists of a number of iron meridians, not complete semicircles, the northern ends of which are screwed to a large round plate of brass ends, with a hole in the centre of it; through this hole, from a beam in the ceiling, comes the North Pole, a round iron rod, about 3 inches long, and supports the upper parts of the sphere to its proper elevation for the latitude of Cambridge; the lower parts of the sphere, so much of it as is in visible in the England, is cut off; and the lower or southern ends of the meridian, or truncated semicircles, terminate on, and are screwed down to, a strong circle of oak, of about 13 feet diameter, which when the sphere is put into motion runs upon large rollers of lignum vitae, in the manner that the tops of some windmills are made to turn around.

"Upon the iron meridians is fixed a zodiac of tin, painted blue, whereon the ecliptic and heliocentric orbits of the planets are drawn, and the constellations and stars traced: the great and little bear, and draco, are already painted in their places round the North Pole; the rest of the constellations are proposed to follow: the whole is turned round with a small winch, with as little labour as it takes to wind up a Jack, though the weight of the iron, tin, and wooden circle, is about a thousand pounds. When it is made use of, a planetarium will be placed in the middle there off. The whole, with the floor, is well supported by a frame of large timbers."
Thanks to the excellent Grace's Guide To British Industrial History, we can reproduce a biography of George's career:
In 1819 – George  went to Liverpool where his brother, Robert, was a nonconformist minister. As a prolific writer of devotional books, Robert was familiar with the local book-selling trade and through Robert's introduction George became assistant to the leading Liverpool bookseller, William Grapel.

In 1834 – George set up his own business as bookseller and stationer in Paradise Street. He was soon producing books, particularly maps and educational works, and within the first year had to move to larger premises, the Atlas Buildings in South Castle Street. He placed orders with well-known cartographers, notably John Bartholomew the elder, August Petermann, and William Hughes, for maps on copper plates which he printed and had hand-coloured by tinters.

His maps ranged from the expensive Imperial Library Atlas (1864) to an atlas costing as little as 3d. and, although the bulk of his production was for the commercial, and particularly the educational market, he also produced important scientific maps, notably of North America, especially the Arctic and Pacific Northwest, and of the West Indies.

Nothing is known of Philip's marriage other than that he had one son, also George (1823–1902).

In 1848 – George II was admitted as a partner in the business. It is likely that Philip took into his care his nephew, Thomas Dash Philip (1829–1913), after the death of his father, Philip's brother John, in 1837 (such care for his family was typical — he also supported his sister in her old age).

In 1851 – Thomas joined the firm, assumed control of the retail book-selling and school supply departments in 1854, and became a partner in the newly formed additional company, Philip, Son and Nephew, in 1859.

In 1851–2 – A London house was opened at 32 Fleet Street (later also 30 and 31 Fleet Street), to promote sales of the firm's geographical and educational publications at home and abroad. The Fleet Street premises had been owned by the publisher John Murray and with them Philip acquired Murray's trademark of the ship. The firm's rapid growth was helped by new technology — notably power-driven lithographic presses and the machine-colouring of maps (used effectively on his county maps of 1862); and by the separation of printing, housed in the purpose-built Caxton Buildings in Liverpool, from publishing and sales, still at South Castle Street and after in Hope Street.

1870 – Further expansion was prompted by the demand from board schools for general textbooks, school stationery and equipment, and specialist atlases and wall maps. The firm also supplied atlases and textbooks for many overseas countries in several languages, beginning with an atlas for Australian schools in 1865 and for New Zealand in 1869.

1879 – Philip retired from the business, to The Retreat, Bickley, Kent.

1882 – George Philip died on 3 October, at Huntly House, Lilley Road, Fairfield, Liverpool, the home of one of his executors, James Askins Crowe, merchant. He was shrewd and canny, energetic, innovative and ready to take advantage of opportunity. His son exploited the same markets as his father and promoted several educational publications, notably the Systematic Atlas (1894), initiated and edited by the eminent geographers E. G. Ravenstein, John Scott Keltie, and Halford Mackinder which combined new ideas of scientific geography with high technical standards.

1929 – Listed Exhibitor – British Industries Fair. Publishers of Maps, Atlases and Globes, and of Geographical, Educational and Nautical Works. Specialists in Map Compiling and Printing for Advertising and other purposes. (Stand No. R.142)

1947 – Listed Exhibitor – British Industries Fair. Publishers of Maps, Atlases, Charts, Globes, Relief Models and Geographical, Educational and Nautical Works. (Olympia, 1st Floor, Stand No. H.2165)
George Philip and Son remained a flourishing family firm until, in April 1988, it was sold to the Octopus Publishing Co, part of Reed International Group of Companies, London; it continued to trade as George Philip Ltd.
And so the wonderful video of how they made globes in 1955.