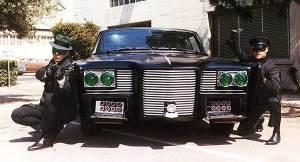 Let's face facts: the Batmobile is absolutely the gold standard in terms of superhero automobiles.
And the 1966 Batmobile — re-engineered from a Lincoln Futura for the Adam West Batman (1966 – 1969) series on ABC — is still widely associated with the character and mythos despite feature film revamps in the Tim Burton Batman movies of the late 1980s and early 1990s, and the recent Dark Knight Trilogy.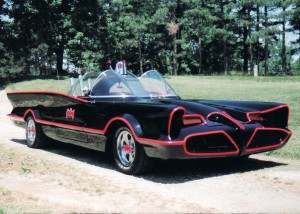 Beyond the Batmobile, however, there have been a number of awesome TV superhero cars that have, at the very least, gotten their costumed owners around the town in fine style.
More than that, these cars have been useful tools in the on-going war against super criminals and other rogues.
Below then, are five ultra-cool superhero cars from TV history not driven by Batman.
Finally, a note about nomenclature.  The following choices are cars associated with superheroes, not merely with crime-fighters.  In other words, you won't see Knight Rider's KITT, the General Lee, or the A-Team van on this particular list because they don't hail, specifically, from a superhero franchise.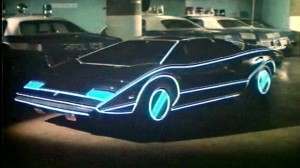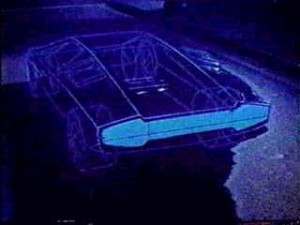 5. The Autocar (Automan [1983])
Automan is the first "truly automatic man," a hologram and superhero (Chuck Wagner) created by Walter Nebicher (Desi Arnaz Jr.) of the LAPD.  Automan's sidekick is Cursor, a useful device that can "rezz-up" a variety of transportation options for the superhero, including an Autocopter, an Autocycle, and of course, the Autocar.
The Autocar is actually a Lamborghini Countach LP400, but kitted up with neon lights so as to more closely resemble something out of Disney's Tron (1982).  Uniquely, you never have to worry about parking the Autocar, since it can be de-rezzed and re-rezzed at the drivers convenience.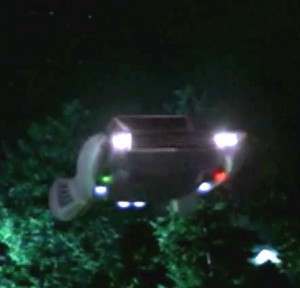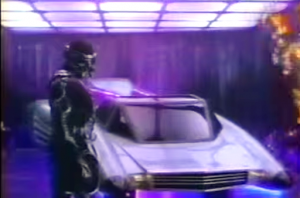 4. The Chrysalid (M.A.N.T.I.S. [1994-1995])
Millionaire philanthropist Miles Hawkins (Carl Lumbly) — secretly the superhero M.A.N.T.I.S. (Mechanically Augmented Neuro Transmitter Inerception System) — drives (flies?) this cool hovercraft, the Chrysalid while fighting crime in Port Columbia.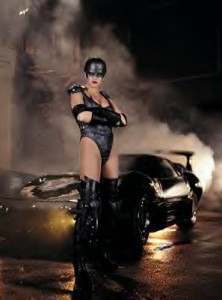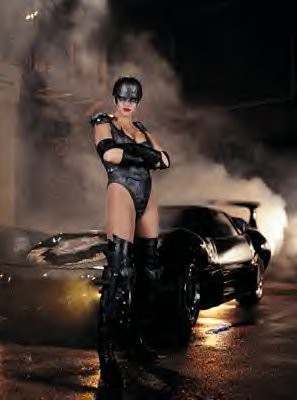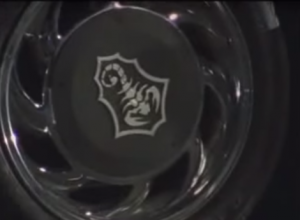 3. The Scorpion Mobile (Black Scorpion [2001])
The Black Scorpion TV series starring Michelle Lintell and produced by Roger Corman proved a horrible embarrassment in terms of quality.  But the series did familiarize viewers with the Scorpion-mobile, a black sports car that could "auto transform" (by speaking the word "yo.") into an everyday, white corvette.  The Scorpion mobile could also create 3D Maps, featured defensive shields, and operated on voice command.  The car was outfitted with a neat Scorpion logo on the hubcaps, and also on the hood.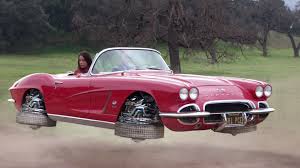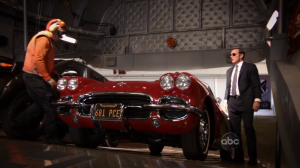 2. Lola (Agents of S.H.I.E.L.D. [2013])
This kitted up 1962 Chevrolet Corvette is actually a flying car, developed by Howard Stark (Iron Man"s Dad…) and equipped with machine guns, the world's first GPS system, and even flame throwers.  Don't mess with Lola, or you'll face the wrath of Agent Coulson (Clark Gregg).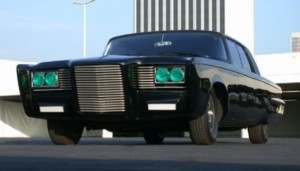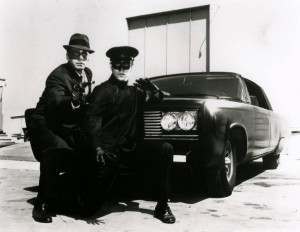 1. The Black Beauty (The Green Hornet [1966-1967]).
This 1966 Black Chrysler Imperial comes equipped with green head-lights, rocket launchers, gas guns, and even retractable brooms which can sweep away evidence of the car's presence on the road.
Capable of running in either silent running mode or self-destruct mode, the Green Hornet's car — a real beauty, no doubt — was constructed by Dean Jeffries and, in this author's opinion is the most awesome superhero car not driven by a man dressed as a bat.
In terms of not-so-cool TV superhero cars, one might consider Electro Woman's three-wheeled Electro Car ((from Electro Woman and Dyna-Girl) which looks more like a boat run aground than a souped-up crime-fighter, or perhaps The Monster Squad's (1976s) black van, which has a siren on top, and some skulls on the side…but not much else that distinguishes it.