German electronica pioneers and innovators Kraftwerk were among the first users of technology to produce elektronische musik. Records like Autobahn, Radio-Activity and Electric Café changed the direction of contemporary culture. Now not only peculiar, unique and hermetic German quartets (the band's KlingKlang studio has no telephone; robots perform as their on-stage doubles) but most pop music is full of electric sounds.
In the 1970s, it was not always wanted. "Spineless, emotionless sound with no variety, less taste… [and] damn little attempt to pull off anything experimental, artistically satisfying or new," wrote Keith Ging in Melody Maker, who had seen Kraftwerk on their 1975 British tour. "For God's sake, keep the robots out of music." (Had he written that about the now ubiquitous Auto-Tune, history would be kinder.)
Was the electronic sound a fudge, a clever ruse to evade musicianship? Not a bit of it.
This is Kraftwerk at Rockpalast, 1970. Featuring Florian Schneider, Ralf Hütter, Klaus Dinger and Michael Rother.
They could play the drums, guitars and, er, flutes like other bands, albeit with errors a computer programme can erase.
The Guardian claims Krafwerk's neon-lit appearance on a 1975 episode of the BBC TV show Tomorrow's World as "the germinating moment for British dance music". The show's presenter, Richard Bater, told viewers new to synthpop:  "The sounds are created in their studio in Dusseldorf then reprogrammed and then recreated onstage with the minimum of fuss… Next year, Kraftwerk hope to eliminate the keyboard altogether and create jackets with electronic lapels that can be played by touch."
So influential are Kraftwerk that in 2015, Aston University in Birmingham, UK,  staged "the first ever international academic conference on Kraftwerk", the German Man Machine band. Industrielle Volksmusik for the Twenty-First Century: Kraftwerk and the Birth of Electronic Music in Germany investigated the "cultural-historical origins of the man-machine" and the "cultural studies of cycling".
The band were represented by former member and electronic percussionist Wolfgang Flür (born 17 July 1947). Papers debated were thus:
Ulrich Adelt, "Moving Up: Kraftwerk and 'Kosmische Musik'"
Sean Albiez, "Kraftwerk in the Context of the 20th-Century Avant-Garde"
Heinrich Deisl, "Searching for Modernity: Socio-Historical Perspectives on Techno Music and 'Das Deutsche'"
Pertti Grönholm, "Nostalgia For The Modern: Re-Imagining the Past Futures in the Concept of Kraftwerk"
Alexander Harden, "Kraftwerk and the Issue of Post-Human Authenticity"
Stephen Mallinder, "Kraftwerk: Modernity and Movement"
Alexei Monroe, "Trans-Slovene Expressions: Kraftwerk on the Sunny Side of the Alps"
David Pattie, "Ralf und Florian, Krautrock and Germany"
Hillegonda Rietveld, "Europe Endless: Geopolitical Retro-Futurism?"
Melanie Schiller, "Fun Fun Fun on the Autobahn: Kraftwerk Challenging Germanness"
Uwe Schütte "We Are the Robots! On the Cultural-Historical Origins of the Man-Machine"
Johannes Springer, "Kraftwerk and the Cultural Studies of Cycling"
Nick Stevenson, "Cabaret Voltaire and Dada Modernity"
David Stubbs, "The Archaeological Years: Kraftwerk before Autobahn"
You might laugh at the flatline Teutonic tautness of it all. What band is more quintessentially German than Kraftwerk, with all that emotional-free pragmatism and vorsprung durch technik sounds?
But the Futuristic Four can play for laughs. Kraftwerk's Florian Schneider and Ralf Hütter, who formed the band in Düsseldorf at the start of the 1970s, became the eponymous stars of the very short-lived sitcom (only the pilot episode was made) "Ralf and Florian".
If the Fab Four (that's The Beatles) could play it for laughs and perform comedic skits, then so too could the Germans. British journalist Paul Morley posited the notion that Kraftwerk are as big as John, Paul, George and Ringo in the 2013 film of the Kraftwerk's residency at London's Tate Modern, a replay of their 2012 MOMA residency, Krawtwerk: Pop Art.
They aren't. After all, who's your favourite member of Kraftwerk? But Morley was right on one thing: you can hear Kraftwerk's ghosts everywhere.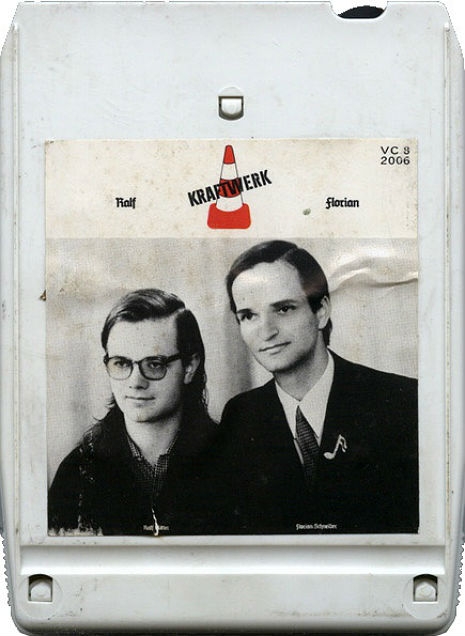 From the MOMA press release:
Kraftwerk–Retrospective 1 2 3 4 5 6 7 8, performed live on eight consecutive evenings from April 10 through 17, by Kraftwerk, the avant-garde electronic music pioneers. Each evening will consist of a live performance, in the Museum's Donald B. and Catherine C. Marron Atrium, of works from one of the group's eight albums, created over four decades, followed by a selection of original compositions from their catalogue adapted specifically for this exhibition's format, to showcase both Kraftwerk's historical contributions and contemporary influences on sound and image culture.
Autobahn (1974) and continuing through Radio-Activity (1975), Trans Europe Express (1977), The Man-Machine (1978),Computer World (1981), Electric Café/Techno Pop(1986), The Mix (1991) and finally, Tour de France(2003).
The band's music endures. You can hear traces of it in dance, techno, hip-hop and more. Here's Kraftwerk playing their hit Die Roboter on German TV in 1978:
Great performance. But maybe surpassed by this one:
And what better way to explore the groups high-brow European roots than with The Knoblauch Klezmer Band's performance of Das Modell?
Kraftwerk covers are plenty.
DJ Food notes on the album seen above: "The first in a mix series featuring cover versions, sample-heavy tracks or songs that obviously owe a debt to the Dusseldorf quartet. Each mix is laced with spoken word, interviews or info about Kraftwerk, too."
Tracklist:
01: Michael Bailey – Solid Steel intro
02: Fearless 4 – Rockin' It
03: Pelding – It's More Fun to Compute
04: Trouble Funk – Trouble Funk Express
05: Makoto Inoue – Europe Endless / Neon lights
06: The Divine Comedy – Radioactivity
07: Senor Coconut – Trans Europe Express
08: Senor Coconut – The Man Machine
09: Souxsie & the Banshees – Hall Of Mirrors
10: Senor Coconut – The Robots
11: Balanescu Quartet -The Robots
12: Tafkafb – Waltz Mit Der Robot
13: Apoptygma Berzerk – Ohm Sweet Ohm
14: Frenchbloke & Son – Neon Love (Cha Cha Cha)
15: Jason Moran – Planet Rock
16: Tremelo Beer Gut – Das Model
17: Big Black – The Model
18: Rammstein – Das Model
19: Ride – The Model
20: Frenchbloke & Son – Sexy Model
21: Buffalo Daughter – Autobahn
22: Dark Side of the Autobahn
23: Rot Front Trikont – The Robots
24: Senor Coconut – Showroom Dummies
25: Girls On Top – I Want To Dance With Numbers
26: Afrika Bambaataa & The Soul Sonic Force – Planet Rock (Elecktric Music Classic Mix)
27: Coptic Rain -The Robots
28: Erasure – Blue Savannah (Der Deutsche mix)
29: DMX Krew – Showroom Dummies
30: Melt Banana – Showroom Dummies
31: Aqua Vista – The Model
32: Senor Coconut – Home Computer
33: Senor Coconut – Tour De France
34: Elakelaiset Poro – Reindeer/Robots
Not forgetting the pocket calculator remix: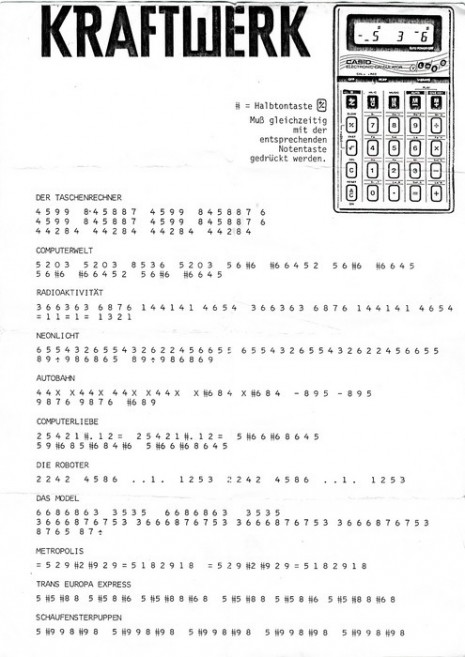 And for all you buffs, here's an original version of Pocket Calculator performed on Italian TV in 1981:
And, yeah, you can dance to Kraftwerk. This from Detroit cable TV program The New Dance Show (1991):

And the bands visuals are tremendous:
More here.