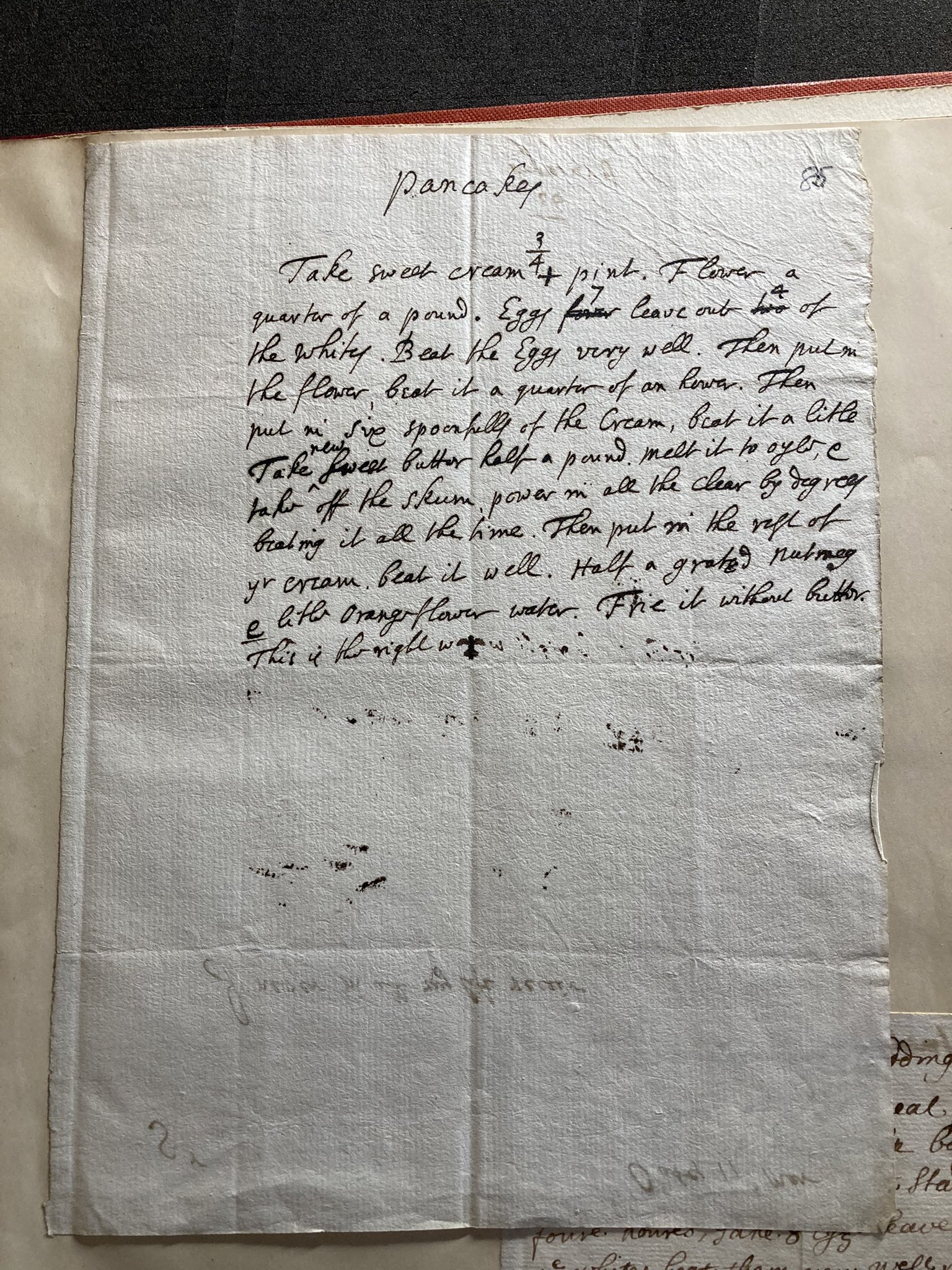 Philosopher John Locke (9 August 1632 – 28 October 1704) advised us to "live by the light of your own reason". On no account should the rule of others go unchallenged. So when he says his pancakes are the best, we should put his recipe to the test.
Or, rather, Marissa Nicosia did. "When David Armitage posted this recipe for pancakes in the Bodleian collection on Twitter," she writes, "I knew that I wanted to try it." She will, to paraphrase Locke, "attain the knowledge of breakfasts that cannot be looked upon as the peculiar possession of any sort of men".
John Locke's pancake recipe can be used as part of a feast of the famous, alongside Ernest Hemingway's  favourite hamburger recipe, Liberace's food for seven dining rooms, the Duchess of Windsor's wartime tasters and washed down with Alice Cooper's Alcohol Cookbook.
Transcription:
John Locke's Perfect Pancakes

Take sweet cream 3/4 + pint. Flower a
quarter of a pound. Eggs four 7 leave out two 4 of
the whites. Beat the Eggs very well. Then put in
the flower, beat it a quarter of an hower. Then
put in six spoonfulls of the Cream, beat it a litle
Take new sweet butter half a pound. Melt it to oyle, &
take off the skum, power in all the clear by degrees
beating it all the time. Then put in the rest of
your cream. beat it well. Half a grated nutmeg
& litle orangeflower water. Frie it without butter.
This is the right way
You might baulk at half a grated nutmeg. It is delicious stuff, of course. Although a word of warning: varying considerably from person to person, nutmeg intoxication may occur with side effects, such as delirium, anxiety, confusion, headaches, nausea, dizziness, dry mouth, eye irritation, and amnesia. But if you are after that sort of intoxicating rush from your food, you could check out Alice B. Toklas' reading her 1954 recipe for hashish fudge.
Nicosia says Locke's version is "a bit fluffier and fattier than a classic French crêpe", albeit with "far less rise than my favourite American breakfast version". They exist "somewhere between a classic English pancake and a Scotch pancake".
Eat liberally…
Via: Rare Cooking