In June 1973, Creem magazine issued a directive: "PUT DOWN those needles and quaaludes, kiddo, and pick up the jug!" It was time to get into Alice Cooper's Alcohol Cookbook and Timetable for World Conquest."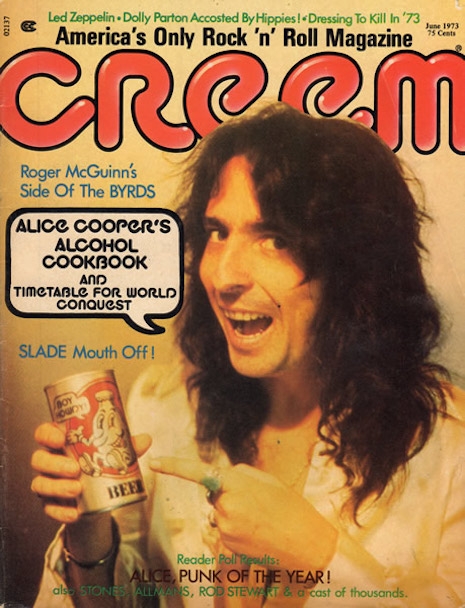 As Oliver Hall writes, "By '73, the late, great Glen Buxton, who contributed four recipes to this cookbook, had already been hospitalized for pancreatitis and forbidden to drink ever again—not the most seductive advertisement for a cold glass of Buxton's Bomber."
So here are Alice Cooper's 23 recipes (22 drinks plus one hangover tincture) for all you anti-drugs purists.
THANK god the age of drug sickies is over. Those bread 'n' butter boys, Alice Cooper, have proved exemplary leadership into the genial asskicking renaissance of alkiedom. They stand for booze almost as much as great music, and though they may total Porsches, puke up pop tabs and bite off their fans' thumbs, none of 'em will ever make the cover of The Rolling Stone by ODing in a Continental opium den. All-American lushes to a man; they want you to follow their good example.

So PUT DOWN those needles and Quaaludes, kiddo, and pick up the jug! It's the surest, fastest way to glean all the chrome hotcha charisma of Alice himself for your very own; just stumble around drunk off your ass all the time and instant stardom is assured. Stan Cornyn will break down your door with a recording contract and all the boys and girls on your block will want to ball you. You can start with (Unpaid Plug) Budweiser beer which is the Cooper crew's staple suds, consumed by the gallon day in and day out. For those intrepid souls and old alkies with a tolerance who want to, machete their way into the exotic recesses of classic Alice Cooper toxicity, the band has provided us with the following truly lethal recipes, each and every one employing spirituous fermenti in a diabolic manner unique to Alice's taste and lifestyle on the road and at home.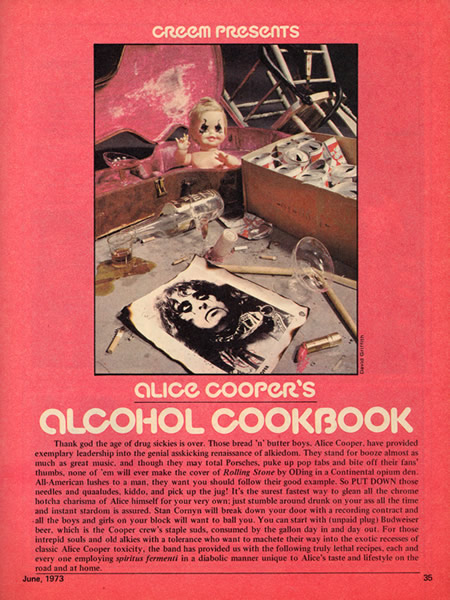 So toss a groupie on the barbie and star blending.
ALICE COOPER
Pinacolada A La Cooper (For 6)
10 ounces dark (151 proof) Rum
1/6 Fresh Pineapple, chipped into sections
16 ounces fresh coconut milk
Pour the rum into a bowl. Soak the pineapple in the rum. Pour into blender, adding two more ounces of rum. Add the coconut milk, then 2 ounces fresh pineapple juice and 1 tray of ice. Blend until you freeze it. Garnish with pineapple wedge and cherry

Velvet Hammer
1 ounce gin
1 ounce apricot brandy
1 ounce dry vermouth
1 dash of Maraschino liquor
1 dash orange bitters
Stir with ice, strain into standard cock-tail glass

Royal Setup (For pre-concert)
2 ounces Crown Royal
8 ounces of Coke
1 ice cube
Drink until you feel prepared to face 20,000 screaming teenage maniacs.

Lizard Skin
Hollow out a half of a large orange. Pour in one large jigger of brandy, flame brandy, extinguish after a moment; drink.

Tunafish Malted (For hangovers)
1 can of tunafish
2 scoops of Pistachio Ice Cream
4 ounces of Cream
Blend. Drink. Go back to bed
MICHAEL BRUCE
Night Of the Living Dead
2/3 jigger of 90 proof rum
1 1/3 jiggers of 86 proof Gold Seal rum
2/3 jigger of 86 proof White Label rum
2/3 jigger pineapple juice
2/3 jigger papaya juice
juice of 1 lime
1 teaspoon of powdered sugar
Shake well with ice and pour into a tall glass. Decorate with pineapple and cherry and float on top Demerara Rum, 151 proof. Sprinkle with powdered sugar and attack.

H-Bomb
1/4 yellow chartreuse
1/4 green chartreuse
1/4 brandy
1/4 bourbon whiskey
Shake well with ice and strain into glass. Beware of alcoholic fallout.

Mai Mai Massacre
1 ounce light Puerto Rico Rum
1 ounce light Jamaican Rum
1/2 ounce orange Curacao
1/4 ounce Orageat syrup
dash of juice of a whole lime
Mix and pour; leave no trace of a struggle.

Alice Cooper Ass-Kick
Squeeze 1/2 lime into a 12 ounce glass and drop in the rind. Add ice cubes and 1 1/2 jiggers vodka, and fill with ginger beer. Stir and serve.

Certified Gold
Combine in tumbler the juice of 1/2 lemon, 1 jigger raspberry syrup and 1 jigger brandy. Fill with chilled champagne and celebrate.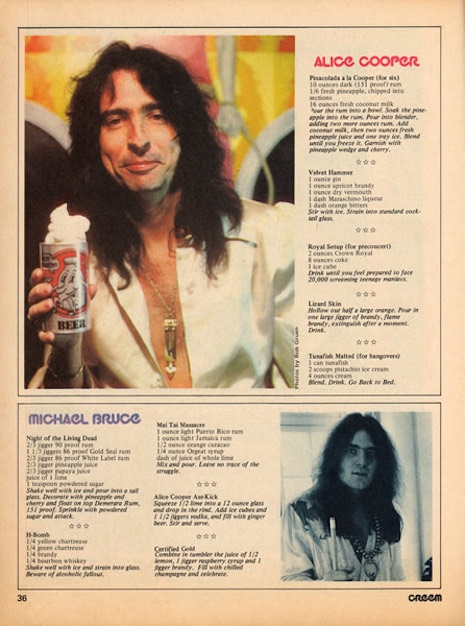 DENNIS DUNNAWAY
Dunaway's Devil
2/3 Jigger brandy
1/3 jigger green Creme de Menthe
1 pinch of red pepper
Shake brandy and Creme de Menthe. Strain into glass. Sprinkle red pepper on top.

Kiss of Death
1/3 rye whiskey
1/3 dry vermouth
1/6 Dubonnet
1/6 orange juice
1 orange slice
Stir well with ice and strain into glass.

Gold Cadillac
3/4 ounce Creme de Cacao
1 ounce 100 proof vodka
3/4 ounce Cointreau
2 ounces fresh orange juice
3/4 ounce Galliano
3 or 4 ounces of vanilla ice cream
handfull of ice
Blend until smooth.

Alexander The Great
1 ounce brandy
1 ounce dark Creme de Cacao
2 or 3 ounces of cream
Blend it. Serve with powdered Nutmeg on top.
NEAL SMITH
Greenwich Mansion Dip
1/2 Apple brandy
1/2 white creme de menthe
3 dashes Pernod
Shake well with ice, and strain into glass.v

Billion Dollar Baby
1 1/2 ounces whiskey
1/2 ounces carcao
1 dash grenadine
1 white egg
Shake with ice as thought all five Coopers had turned all the up and were playing right between your ears. Strain into cocktail glass.

Creme De Banana
1 chilled shot glass
Drink by the shot until you get there.

Evil Eye
2/3 Pernod
1/3 peppermint
Shake well with ice and strain into glass.

Stinging Whip
1/2 Brandy
1/4 sweet vermouth
1/4 dry vermouth
3 dashes curacao
1 dash Pernod
Mix and Sip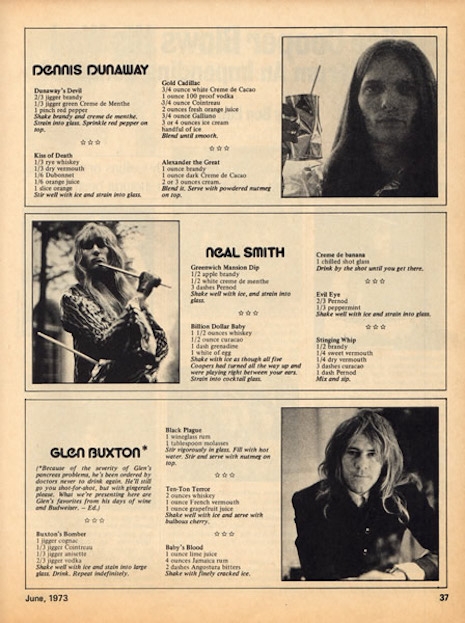 GLEN BUXTON *
(Because of the severity of Glen's pancreas problems, he's been ordered by doctors to never drink again. He'll still go you shot-for-shot, but with ginger ale please. What we're presenting here are Glen's favorites from his days of wine and Budweiser.)

Buxton's Bomber
1 jigger cognac
1/3 jigger Cointreau
1/3 jigger anisette
2/3 jigger vodka
Shake well with ice and strain into large glass. Drink. Repeat indefinitely.

Black Plague
1 wineglass rum
1 tablespoon of molasses
Stir vigorously in glass. Fill with hot water. Stir and serve with nutmeg on top.

Ten-Ton Terror
2 ounces whiskey
1 ounce French vermouth
1 ounce grapefruit juice
Shake well with ice and serve with bulbous cherry.

Baby's Blood
1 ounce lime juice
4 ounces Jamaica rum
1 dashes Angostura
Shake with finely cracked ice.
Via: AliceCooper Archive, Dangerous Minds