John G. Zimmerman's early black and white photography is celebrated in a new book, America in Black and White. 
Zimmerman (1927-2002) was a star of American magazine photography, shooting covers and working as a photojournalist for the likes of LIFE, Time, Ebony and Sports Illustrated. He was a great innovator, adapting one of Charles A. Hulcher Co's cameras to create vivid high-speed shots of athletes in action.
But in this gallery we'll focus on Zimmerman's work in the 1950s.
 

From 1952-1955, Zimmerman photographed a series of assignments for Ebony depicting the lives of African Americans in the Midwest and the Jim Crow south. These photographs are a lesser-known yet notable part of Zimmerman's early work. The subject matter ranges from the first all black supermarket in Detroit, boxing legend Joe Louis, to sharecropper Matt Ingram's quest for justice.
In 1951, Matt Ingram, a black tenant farmer in Yanceyville, North Carolina, 'was charged with assault with intent to rape a white girl, although he was around 70 feet away from her at the time. He was eventually convicted of assault, however, based on her fear of his supposed "reckless eyeballing".'
A seventeen-year-old white woman named Willa Jean Boswell testified that she was scared when her neighbor Ingram looked at her from a distance of about 65 feet. Prosecutors demanded a conviction of assault with intent to rape that was reduced to assault on a female by the judge, leading to a two-year sentence. He was defended by a white lawyer, Ernest Frederick Upchurch, Sr.

At the appeal in Superior Court, the judge instructed the jury that Ingram was guilty if he used "intentional threats or menace of violence such as looking at a person in a leering manner, that is, in some sort of sly or threatening or suggestive manner…he causes another to reasonably apprehend imminent danger" The all-white jury again returned a conviction, leading to a six-month sentence of labor on the roads, suspended for five years.

However, after pressure from the NAACP and African-American media like Ebony, the state supreme court vacated the conviction because: "it cannot be said that a pedestrian may be assaulted by a look, however frightening, from a person riding in an automobile some distance away. …He may have looked with lustful eyes but there was the absence of any overt act." The look alone no longer represented grounds for conviction. People continued to be convicted of assault if there was "reasonable apprehension" of danger, such as a body movement, movement in the direction of the person under observation and so on.

Ingram spent over two years in prison while his 3 trials took two-and-a-half years to resolve. [State v. Ingram, 74 S.E.2d 532 (N.C. 1953]

Ingram was married to Linwood Jeffress Ingram (1910-2003). The couple had nine children. He died in 1973.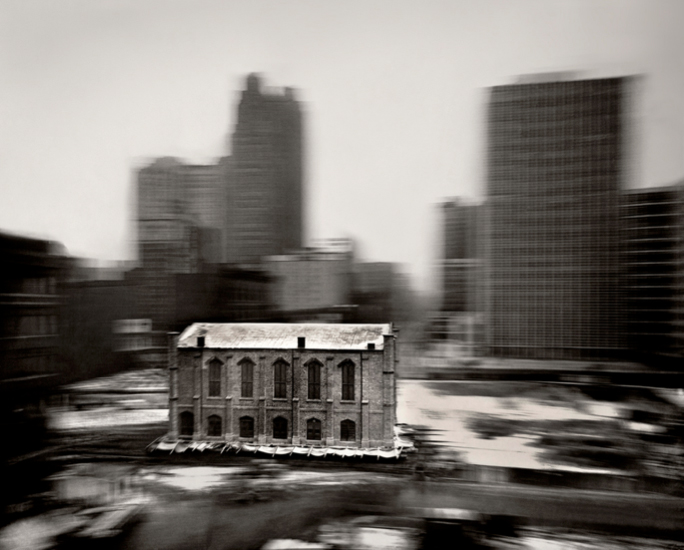 While the Ebony assignments are straight-forward photojournalism, Zimmerman also created pictures during this time that pushed the boundaries of photojournalism. In 1955, LIFE assigned him to document Detroit's old Mariners' Church being moved to a new location across town. The move took four weeks to complete yet Zimmerman created a photo that gives the effect of the church hurtling through downtown Detroit at top speed. The use of technology to show on film what the naked eye could never see became a hallmark of Zimmerman's mature work.
You can buy this terrific book here.