Before the iPhone, there was the EyePhone.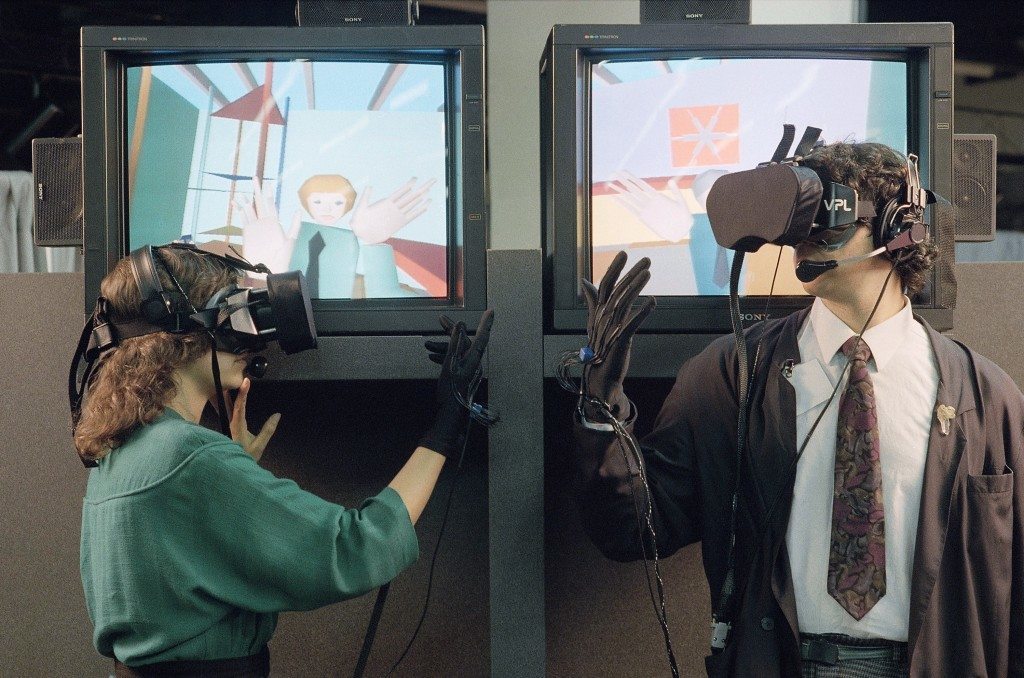 In this photograph from June 7 1989, two people demonstrate the EyePhone system which uses special goggles and a DataGlove" which allows them to see and move objects around in a computer created environment. The EyePhone, developed by VPL Research, was on display at the Texpo Telecommunications Show held in San Francisco.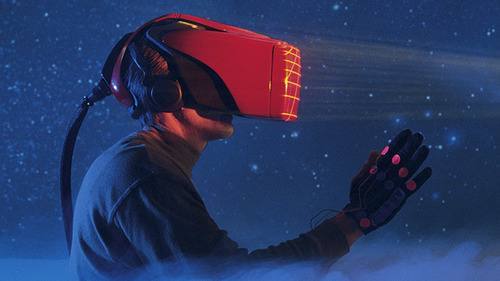 The initial problem with the Eyephones stemmed from the limitations of 1980s technology; a 1990 article in InfoWorld explains the headset could only generate five or six frames per second, vastly slower than the 30 frames per second generated by common television sets at the time. The price was also a major deterrent to continued experimentation—the entire Eyephones system, including the computers required to run it, cost upwards of $250,000. Beyond the pricetag, the bulkiness of the Eyephones didn't make sense on a consumer level; they weren't comfortable to wear and they looked as silly as they felt. Though "virtual reality" remained the buzzword of computer technology through the early 1990s, these limitations caused investors to lose interest and move onto the then-burgeoning field of mobile technology.
From the VPL website:
VPL Research was a company founded in 1984 by Jaron Lanier, who is often regarded as the person who coined the term virtual reality. He is also credited with further popularising the term. The company was started in the corner of Lanier's cottage, in Palo Alto, a city in the San Francisco Bay Area, made famous for its dense population of high-tech companies and technology enthusiasts…VPL Research, however, filed for bankruptcy in 1990 and in 1999, all of its patents were bought by Sun Microsystems.
But did virtual reality catch on? Yes, says Lanier:
Lanier is still in the game in part because virtual reality has become, virtually, reality these days. "If you look out the window," he says pointing to the traffic flowing around Union Square, "there's no vehicle that wasn't designed in a virtual-reality system first. And every vehicle of every kind built—plane, train—is first put in a virtual-reality machine and people experience driving it [as if it were real] first."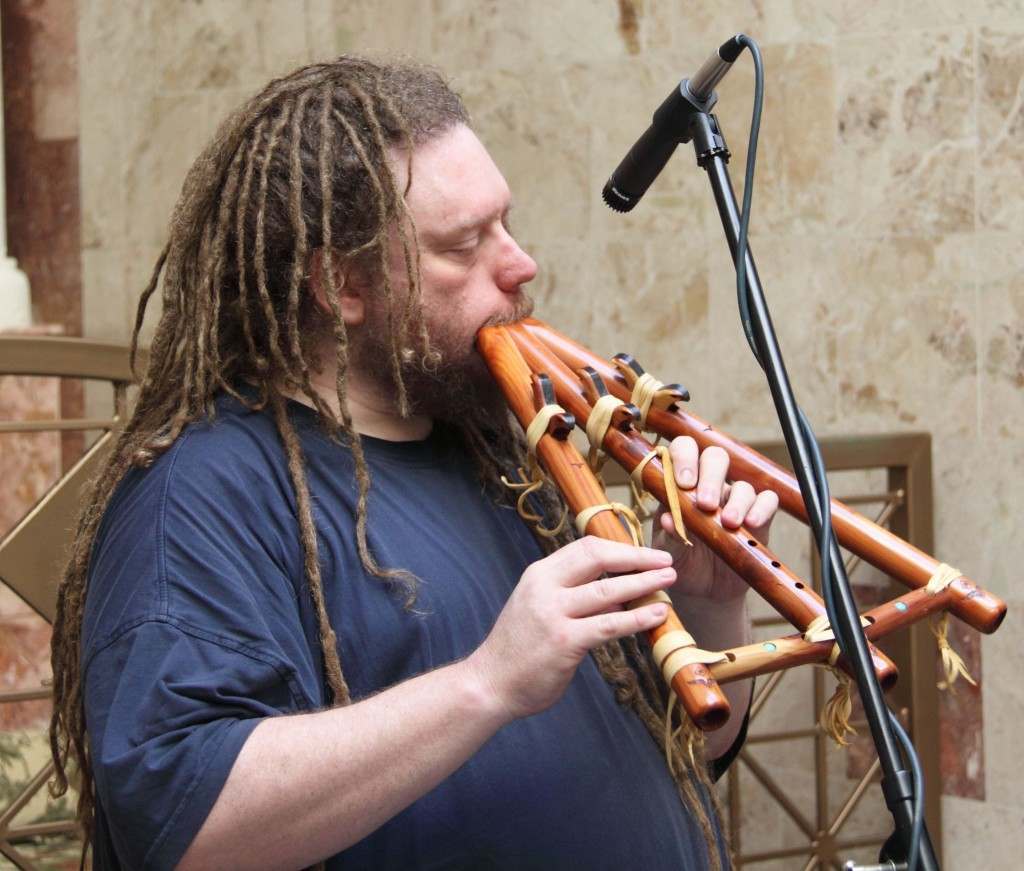 But in 1988, virtual reality was more exciting:
Before you enter the Virtual Reality you'll see a pile of clothing that you have to put on in order to perceive a different world than the physical world. The clothing consists of mostly a pair of glasses and a pair of gloves. Exactly what clothing there will be it's too early to say because there are a lot of different variations that are possible and it's really too early to predict which will be the most popular ones. A minimal kind of Virtual Reality outfit would have a pair of glasses and a glove that you put on.

The glasses allow you to perceive the visual world of Virtual Reality.
Instead of having transparent lenses, they have visual displays that are rather like small three-dimensional televisions. They're much more sophisticated than small televisions, of course, because they have to present a three-dimensional world to you that's convincing, and there's some technology involved in accomplishing that, but that's a good metaphor. When you put them on you suddenly see a world that surrounds you – you see the virtual world. It's fully three-dimensional and it surrounds you, and as you move your head to look around, the images that you see inside the eye glasses are shifted in such a way that an illusion is created that while you're moving around the virtual world is standing still.

The images come from a very powerful special computer which I like to call the Home Reality Engine. It will be sitting there in your room and will plug into the phone outlet. I'll say some more words about the Home Reality Engine in a second, but let's stay with the glasses for now.

There's another thing that the glasses do. At the end of the stems they have little headphone speakers very much like a Walkman, which allow you to hear the sounds of the virtual world. There's nothing too unusual there; they're just exactly like your everyday Walkman speakers. The sounds you hear on them are a little bit unusual in that they're processed to have three-dimensional quality; they come from certain directions.

The glasses do one other thing too; they have sensors in them that can sense your facial expression. This is very important because you are a part of the Virtual Reality and the clothing that you wear has to sense as much as it can about your body. It uses that information to control the virtual version of your body, which both you and other people perceive as being you in the Virtual Reality.

So, for instance, you might choose to become a cat in Virtual Reality, or really anything. If you're a cat you might very well be wired, so to speak, so that when you smile in the real world the cat that you are in Virtual Reality smiles. As your eyes dart around looking, the eyes of the cat dart around as well. And so the eye glasses also have a function in sensing your face.

The headset, the eyeglasses – they're sometimes called eyephones -you have to remember that we're witnessing the birth of a culture here, so a lot of terms aren't really settled down into being a particular way just yet. I think we have to give the community of people working in Virtual Reality a chance to jostle about these different possibilities before we decide definitely what things are called and exactly what they'll do. But this is a very plausible setup here that I'm describing.

You wear gloves on your hands. These allow you to reach out and feel things that aren't really there. The inside of the surface of the glove has tactile stimulators so that when the Home Reality Engine can tell that your hand is touching a virtual object (even though there's no object there) you'll actually feel the object.

The second function of the gloves is that they actually allow you to interact with objects. You can pick up an object and do things with it, just like you would with a real object. You can pick up a virtual baseball and throw it. So it allows you to do things to the world.

It does more than that; the glove also measures how your hand is moving. This is very important so that in the virtual world you can see a version of your hand to see your movements. It's important that you wear clothing that not only transfers sensations to you but measures what your body is doing. The computer that's running the Virtual Reality will use your body's movements to control whatever body you choose to have in Virtual Reality, which might be human or might be something quite different. You might very well be a mountain range or a galaxy or a pebble on the floor. A piano… I've considered being a piano. I'm interested in being musical instruments quite a lot. Also, you can have musical instruments that play reality in all kinds of ways aside from making sound in Virtual Reality. That's another way of describing arbitrary physics. With a saxophone you'll be able to play cities and dancing lights, and you'll be able to play the herding of buffalo's plains made of crystal, and you'll be able to play your own body and change yourself as you play the saxophone. You could become a comet in the sky one moment and then gradually unfold into a spider that's bigger than the planet that looks down at all your friends from high above.

Then, of course, there's the Home Reality Engine. The Home Reality Engine is a computer that by 1989 standards is a very powerful computer but in the future will just be a regular computer. It has a lot of jobs to do. It has to be repainting the graphics that your eyes see, and calculating the sounds that your ears hear, and calculating the textures that your skin feels, all the time quickly enough so that the world is realistic. That's a very big task. It has to communicate with other Home Reality Engines in other people's houses so that you can share realities with other people, and that's a very big task. It's quite a special computer and it makes a Macintosh look like a little speck.
The future is yet to come…