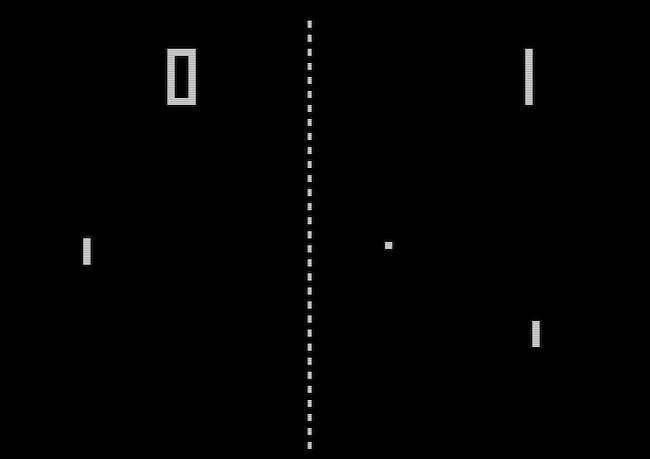 HAPPY 40th Atari! Amber Frost reminds us that "40 years ago today, with only a $500 out-of-pocket investment, engineers Nolan Bushnell and Ted Dabney introduced PONG to the market on the Atari game system. From those two humble lines and a single, noble dot came a great pioneer in computer, arcade, and console gaming. Atari is even where Steve Jobs and Steve Wozniak of Apple got their start."
PONG was table-tennis of the future – in black-and-white!
Conceived by Atari co-founder Nolan Bushnell and designed by Al Alcorn, Pong was a smash success, giving birth to the video game industry.
The game took the components of the coin-op PONG game and put them on a home-user-friendly chip:
Consumer sales and marketing was an entirely new direction for Atari who had up till that time only dealt in the coin-op area.  Distribution would be the key, and Atari didn't have any on the retail level.  Atari needed help and found it in the form of Sears Roebuck & Co.  Well…. just barely.  It was gentleman from of all places, Sporting Goods within Sears who was the one who made the decision.     His name was Tom Quinn and it was he who gambled on the new product to add to Sears catalog, a home version of Pong which had become so popular in the bar scene.  During a demonstration of the Home version of Pong at Sears headquarters Al Alcorn ran into several problems with the unit, but quick thinking and some skilled tinkering quickly solved a channel setting issue in the rats nest of wires inside the base of the demo home Pong and Sears was sold.

I had one. And it was fantastic.  Here's what happened next:

1981: Atari International Asteroids Tournament – The countdown has started for the ATARI International Asteroids Tournament. Seated at the controls of the ATARI Video Computer System, built into Atari's modular game stations, contestants will vie for top scores on ATARI's latest home video game program, Asteroids – 01/01/1981.

1981: Pele – Middlesex Hospital Children's Ward – Great Brazilian football star Pele, 40 (real name Edson Arantes de Nascimento), plays doctor.30/04/1981

1982: A dozen new game cartridges, including the popular Pac Man, are being developed for the Atari Video Computer System in February 1982. Date: 01/02/1982.

1982: Soccer – Football League Division One – Wolverhampton Wanderers v Ipswich Town: Ipswich Town's Eric Gates and Kevin O'Callaghan enjoy a game of TV tennis in their hotel on the morning of the match – 27/02/1982.

1983: Soccer – Atari Soccer Six Indoor Tournament – National Exhibition Centre, Birmingham – Birmingham City's Alan Curbishley (left) with the Atari Trophy after victory in the Atari Soccer Six Indoor Tournament. With him are (l-r) Mick Harford, Colin Brazier, Kevin Dillon, Tony Coton, Ian Handysides and Jim Hagan. 27/01/1983

1983: Namco Limited of Tokyo Chairman Masaya Nakamura, left, and James J. Morgan, chairman of Atari Inc. of the USA, joke during a signing ceremony Thursday, Nov. 3, 1983, in Sunnyvale, California. The agreement gives Atari the worldwide rights to sell home versions of Namco's video games such as Ms. Pac Man and Pole Position.03/11/1983
In this June 5, 1984, photo, a woman in Chicago demonstrates Atari's new game, Mind Link, which utilizes a headband that picks up electrical impulse from the movement of the forehead and transmits them to a receiver attached to a video game or home computer console.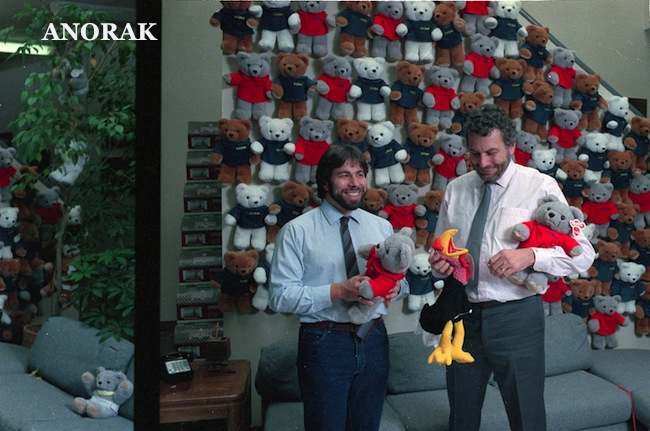 1986: Steve Wozniak, creator of Apple's first computer, left, and Nolan Bushnell, founder of Atari Inc., play with stuffed toys at Bushnell's AXLON Inc. offices in Sunnyvale, Calif., on May 1, 1986. Wozniak and Bushnell, pioneers of the personal computer and video game, have joined forces to build electronic children's toys. 01/05/1986
The story of PONG – the game that began the revolution: