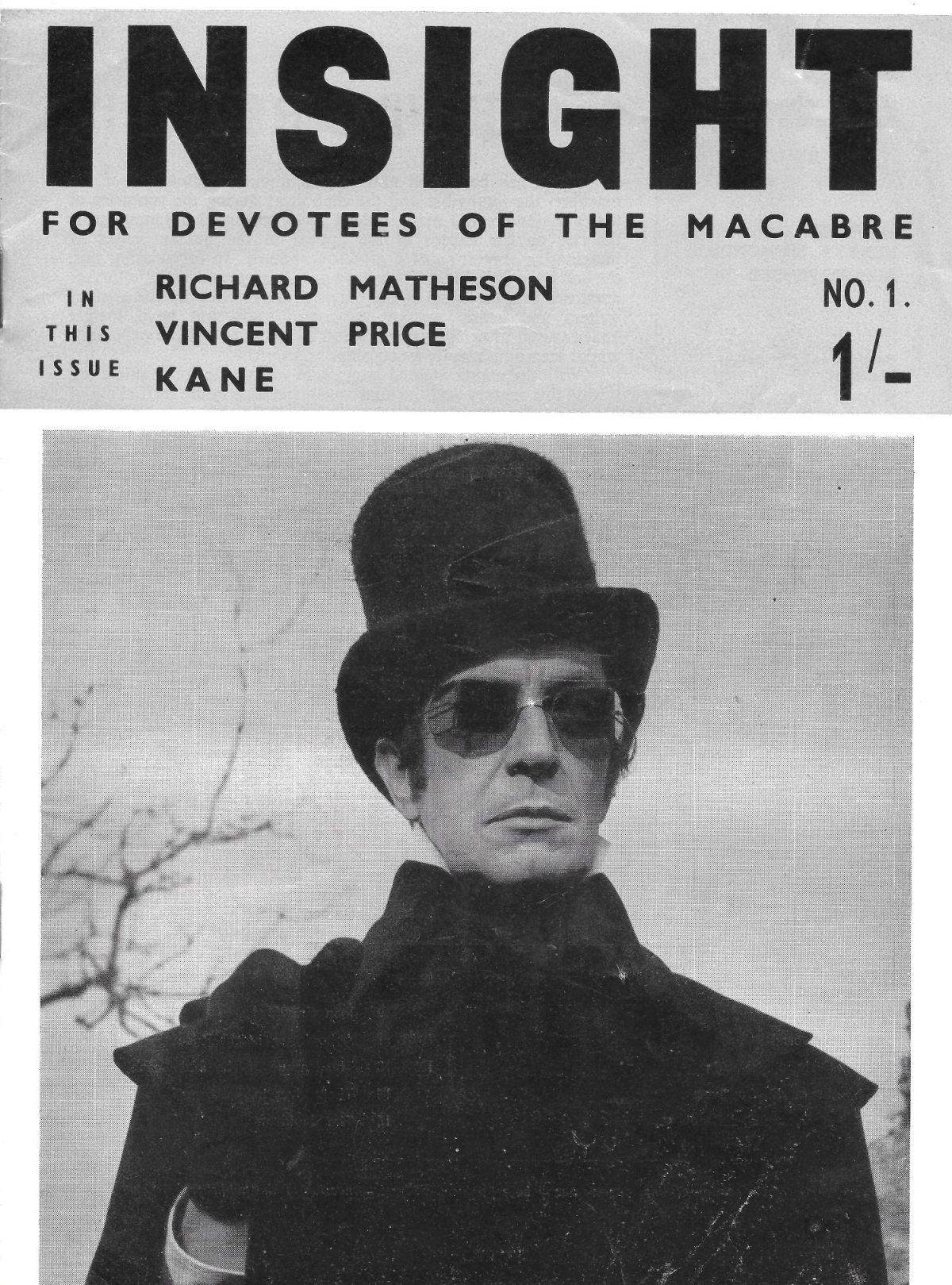 Well, here ya go: two young fan boys produced a little cult magazine or rather a fanzine for devotees of the macabre in 1965. The magazine was called Insight. Sixteen B&W pages, 7 x 9.5 inches. Sadly, it lasted only two issues. The young fans or in fact editors behind the venture were Henry K. Simmonds and Jeremy Pender, who produced Insight from a terraced house on Harbut Road, Battersea, London.
Geeing-up the interest in an opening editorial Simmonds and Pender explained their mission as an investigation into "the function of the macabre" in particular "to institute further enquiries into the roots and magnetism exercised by the various writers and artists…whose accomplishments we consider noteworthy." In other words a fanzine focussed on specifically American horror movies, books, writers, and whatever else Simmonds and Pender liked.
The first issue contained a brief appraisal of Richard Matheson, author of The Incredible Shrinking Man, I Am Legend, and The Shores of Space; a quick look-back at the ole B&W B-movie The Unearthly; a selection of book reviews with some choice names; a long essay on the life and work of Vincent Price; and a kinda gossip-column full of titbits and questions like "Has Ray Bradbury lost his sting?"
The magazine's title was misleading as their was little "insight" in the various articles contained within. Something the editors apologised for in the second issue. That second issue contained articles on Roger Corman, Sam Fuller's Shock Corridor, and a whole bunch of other books. There was even some movie news ("Dennis Wheatley's Superb The Devil Rides Out is at long last being filmed…") and an advert for a movie "Originally banned by the censor, NOFERATU is now available for outright purchase…"
If produced today, Insight would be a blog with two thumbs-up reviews and lotsa photos of Vincent Price, or Roger Corman, and possibly Peter Cushing or Christopher Lee. It's a shame Simmonds and Pender didn't get to #3. Sometimes longevity counts more than quality.