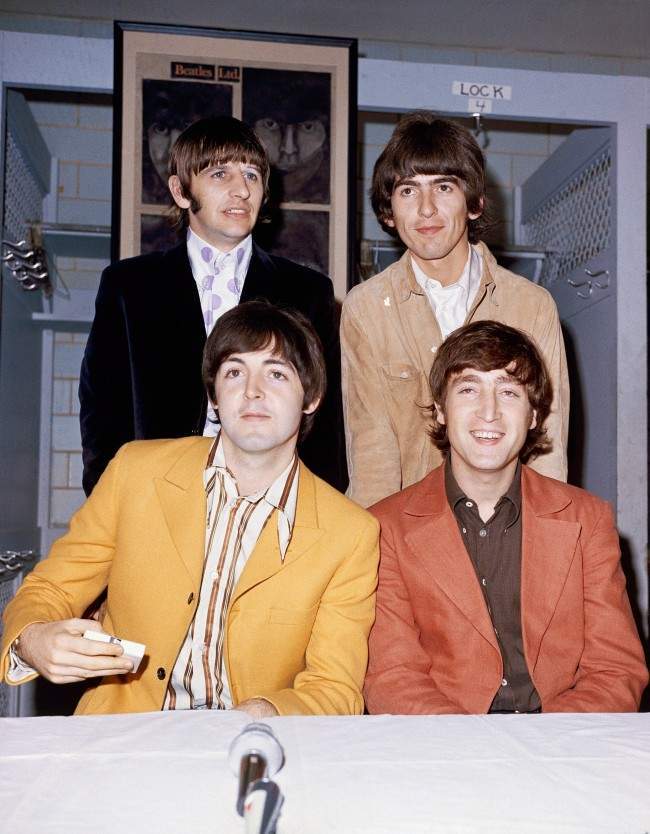 ON March 4, 1966, John Lennon, 25, was talking to Maureen Cleave, reporting for the London Evening Standard. The article was entitled How Does A Beatle Live? John Lennon Lives Like This. It was behind-the-scnes look at John. The article spoke of his status:
When John Lennon's Rolls-Royce, with its black wheels and its black windows, goes past, people say: 'It's the Queen,' or 'It's The Beatles.' With her they share the security of a stable life at the top. They all tick over in the public esteem-she in Buckingham Palace, they in the Weybridge-Esher area. Only Paul remains in London.
John was a King:
He is much the same as he was before. He still peers down his nose, arrogant as an eagle, although contact lenses have righted the short sight that originally caused the expression. He looks more like Henry VIII than ever now that his face has filled out-he is just as imperious, just as unpredictable, indolent, disorganised, childish, vague, charming and quick-witted.
The article went on to talk of the music:
His enthusiasm is undiminished and he insists on its being shared. George has put him on to this Indian music. "You're not listening, are you?" he shouts after 20 minutes of the record. "It's amazing this — so cool. Don't the Indians appear cool to you? Are you listening? This music is thousands of years old; it makes me laugh, the British going over there and telling them what to do. Quite amazing." And he switched on the television set.
He made a witty comment:
Experience has sown few seeds of doubt in him: not that his mind is closed, but it's closed round whatever he believes at the time. "Christianity will go," he said. "It will vanish and shrink. I needn't argue about that; I'm right and I will be proved right. We're more popular than Jesus now; I don't know which will go first — rock 'n' roll or Christianity. Jesus was all right but his disciples were thick and ordinary. It's them twisting it that ruins it for me." He is reading extensively about religion.
The next paragraph read:
He shops in lightning swoops on Asprey's these days and there is some fine wine in his cellar, but he is still quite unselfconscious. He is far too lazy to keep up appearances, even if he had worked out what the appearances should be-which he has not.
But the quote about Jesus would appear in the the August issue of American teen fanzine Datebook.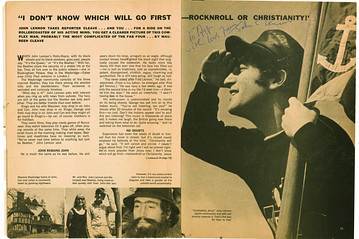 The Beatles were scheduled to tour the US. People read the quote. They got upset. More than 30 US radio stations banned The Beatles' records.
Photo: Birmingham disc jockeys Tommy Charles, left, and Doug Layton of Radio Station WAQY rip and break materials representing the British singing group the "Beatles" on August 8, 1966. The broadcasters started a "Ban the Beatles" campaign after Beatle John Lennon was quoted as saying his group is more popular than Jesus. Charles took exception to the statement as "absurd and sacrilegious."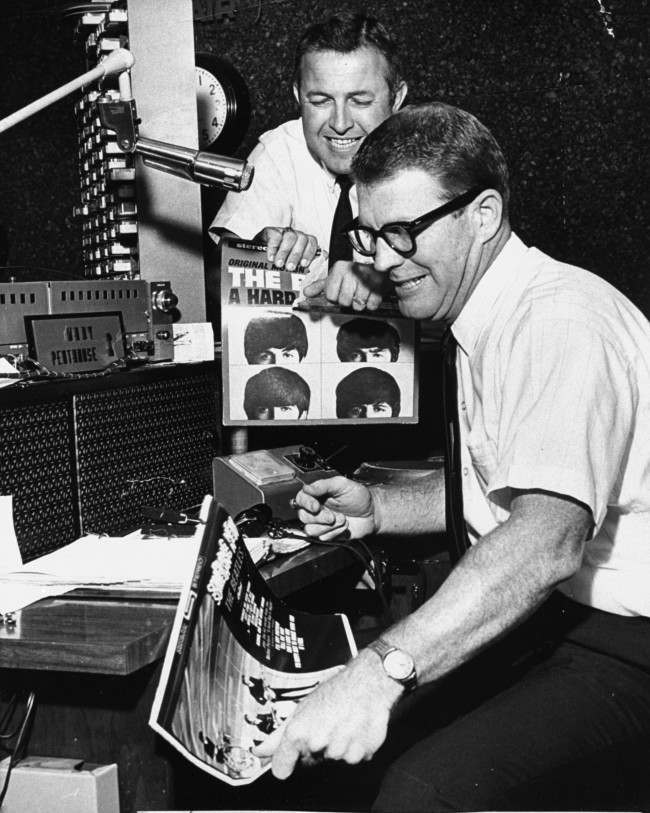 Their manger Brian Epstein made a statement in New York. Maybe the Bible Belters would listen to the gay Jew who managed the band and thereby see sense? It was worth a shot.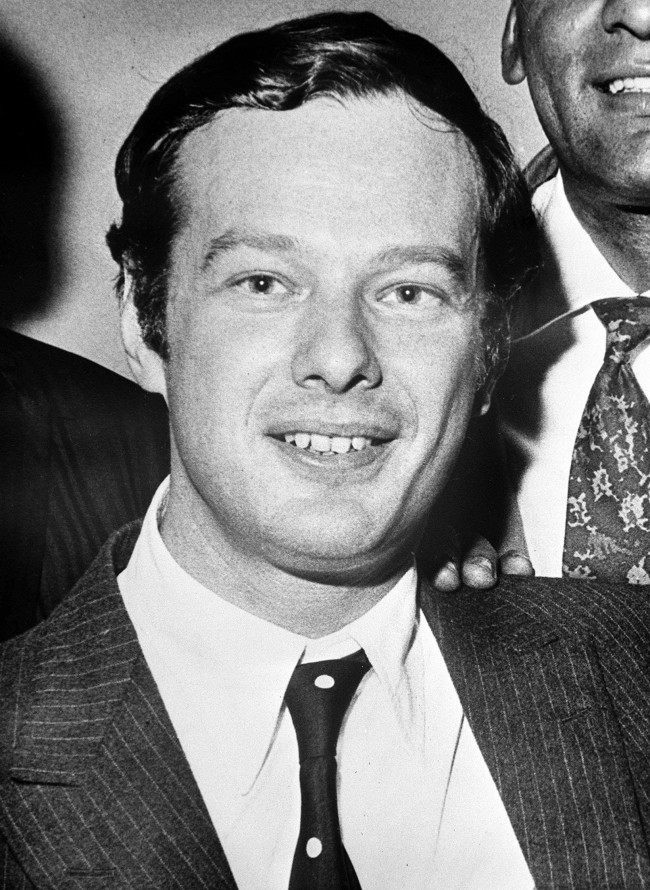 He said:
* The quote which John Lennon made to a London columnist nearly three months ago has been quoted and misrepresented entirely out of context of the article, which was in fact highly complimentary to Lennon as a person and was understood by him to be exclusive to the Evening Standard. It was not anticipated that it would be displayed out of context and in such a manner as it was in an American teenage magazine.

Lennon didn't mean to boast about the Beatles' fame. He meant to point out that the Beatles' effect appeared to be a more immediate one upon, certainly, the younger generation. John is deeply concerned and regrets that people with certain religious beliefs should have been offended.

Q: We're wondering whether you're going to change the itinerary of The Beatles to avoid areas where the radio stations are now burning their records and their pictures?

This is highly unlikely. I've spoken to many of the promoters this morning. When I leave here, I have a meeting with several of the promoters who are anxious that the concerts should not be cancelled, at all. Actually, if any of the promoters were so concerned and wish that the concerts be cancelled, I wouldn't, in fact, stand in their way.
And on it went.
Photo: Around three thousand Costa Ricans burn an effigy of the Beatles, British pop-singers, during a protest, on August 9, 1966. Demonstration took place in front of San Jose's Our Lady of Solitude Catholic Church.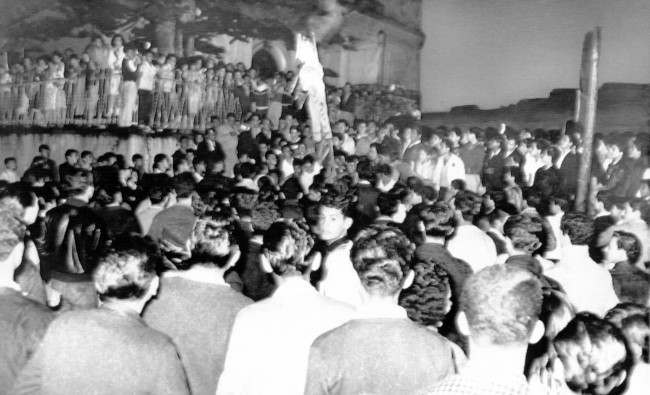 Photo: The Beatles appear to have lost their popularity at Beaver Meadows, a small community in northeastern Pennsylvania according to the sign, '"God Forever, Beatles Never', posted along Route 93, near Hazleton on August 10, 1966.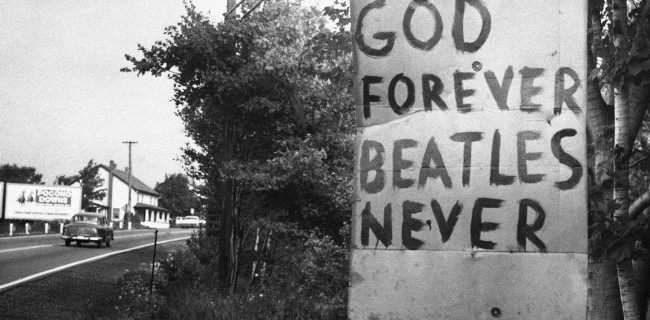 Photo: John Lennon, one of the members of the Beatles is shown as a state trooper aids him through a crowd of newsmen at Logan International Airport in Boston, Aug. 11, 1966 as he and other members transferred planes after a flight from London.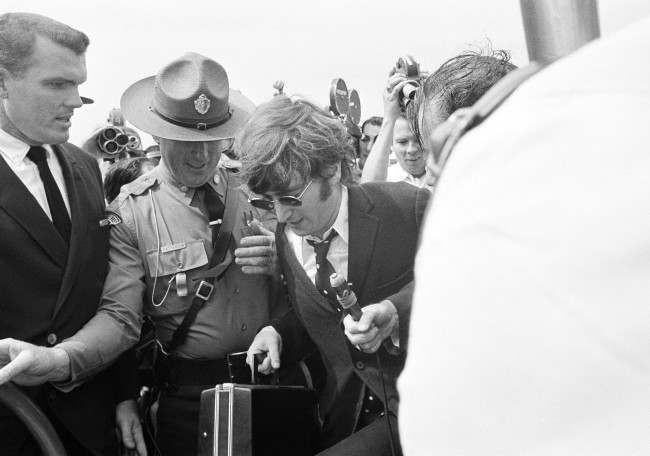 Photo: The Beatles went up in smoke near Fort Oglethorpe, Ga., on August 12, 1966. The Beatlemania bonfire, planned by Chuck Smith, 13, was in protest against John Lennon's remark.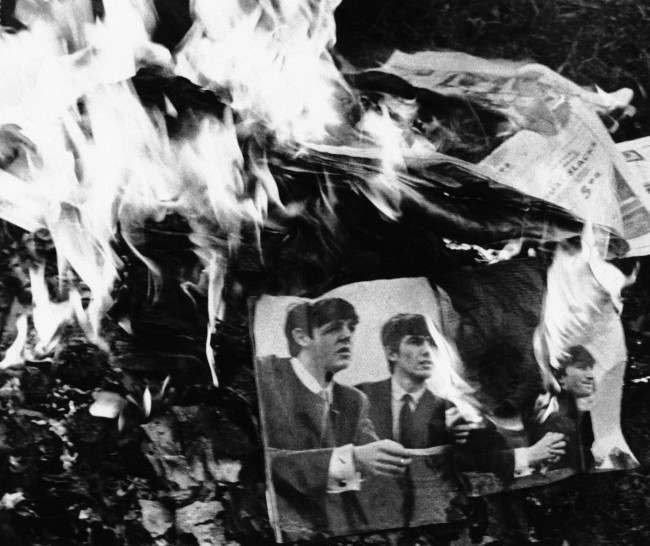 Said Lennon in Chicago on August 12th:
"We could've just sort of hidden in England and said, 'We're not going, we're not going!' You know, that occured to me when I heard it all. I couldn't remember saying it. I couldn't remember the article. I was panicking, saying, 'I'm not going at all,' you know. But if they sort of straighten it out, it will be worth it, and good… "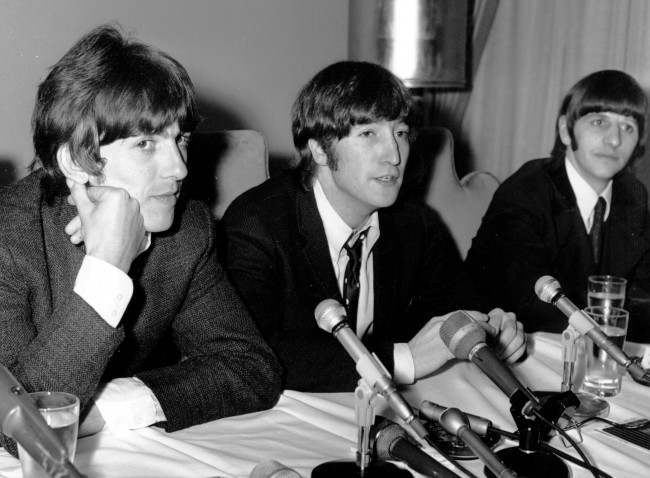 "When it came out in England it was a bit of a blab-mouthed saying anyway… A few people wrote into the papers, and a few wrote back saying, 'So what, he said that. Who is he anyway,' or they said, 'So, he can have his own opinion.' And then it just vanished. It was very small. But… you know, when it gets over here and then it's put into a kid's magazine, and just parts of it or whatever was put in, it just loses its meaning or its context immediately… and everybody starts making their own versions of it."
On August 19th 1966, The Beatles flew to Memphis Tennessee for two shows at Mid-South Coliseum.
Beatles' Press Officer Tony Barrow recalled:
"Once we did get down to that area, the southern states… a firecracker was let off during the concert in Memphis and everybody, all of us at the side of the stage, including the three Beatles on stage, all looked immediately at John Lennon. We would not at that moment have been surprised to see that guy go down. John had half-heartedly joked about the Memphis concert in an earlier press conference, and when we got there everything seemed to be controlled and calm, but underneath somehow, there was this nasty atmosphere. It was a very tense and pressured kind of day."
But tickets sold well. The band were interviewed:
Q: "What difference has all this row made to this tour, do you think? Any at all?"
JOHN: (opens his mouth widely to speak, and comically freezes with his mouth open)

RINGO: (laughs)

PAUL: "Umm, I don't think it's made much. It's made it more hectic. It's made all the press conferences mean a bit more. People said to us last time we came, all our answers were a bit flippant, and they said 'Why isn't it this time?' And the thing is the questions are a bit more serious this time. It hasn't affected any of the bookings. The people coming to the concerts have been the same, except for the first show in Memphis which was a bit down, you know. But, uhh, so what."

Q: "The disc jockey, Tommy Charles, who started this row off, has said that he won't play your records until you've grown up a little. How do you feel about that?"

JOHN: "Well, I don't mind if he never plays them again, you know."

PAUL: "See, this is the thing. Everyone seems to think that when they hear us say things like this that we're childish. You can't say things like that unless you're a silly little child."

GEORGE: "And if he (Charles) was grown up, he wouldn't have done the thing 'cuz he only did it for a stunt, anyway. So I mean, who is he to say about growing up? Who is he?"

JOHN: (demandingly) "Who!!"

PAUL: (jokingly to George) "Who is this guy?"

JOHN: (smiling) "Other than that, it's great."

PAUL: "Quite a swinging tour."

Q: "Do you feel that Americans are out to get you… that this is all developing into something of a witch hunt?"

PAUL: "No. We thought it might be that kind of thing. I think a lot of people in England did, because there's this thing about, you know, when America gets violent and gets very hung-up on a thing, it tends to have this sort of 'Ku Klux Klan' thing around it."
In December 1966, John told Look magazine:
"I said we were more popular than Jesus, which is a fact. I believe Jesus was right, Buddha was right, and all of those people like that are right. They're all saying the same thing, and I believe it. I believe what Jesus actually said — the basic things he laid down about love and goodness — and not what people say he said."
John's wife Cynthia boted in her 1978 book, A Twist Of Lennon:
"His views were totally misconstrued. John was very bewildered and frightened by the reaction that his words created in the States. Beatle albums were burnt in a mass orgy of self-righteous indignation. Letters arrived at the house full of threats, hate and venom." 
 Back to that original interview:
He can sleep almost indefinitely, is probably the laziest person in England. "Physically lazy," he said. "I don't mind writing or reading or watching or speaking, but sex is the only physical thing I can be bothered with any more." Occasionally he is driven to London in the Rolls by an ex-Welsh guardsman called Anthony; Anthony has a moustache that intrigues him. 
It never was a fair fight. The Beatles or militant Christianity? Which side would the cool kids choose..?
Suffolk Downs in Boston: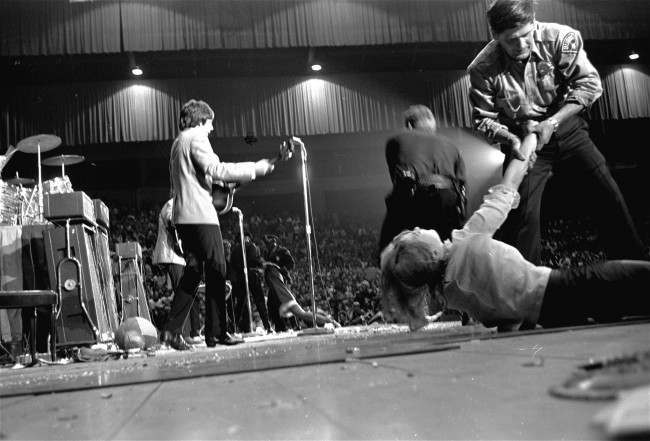 Philadelphia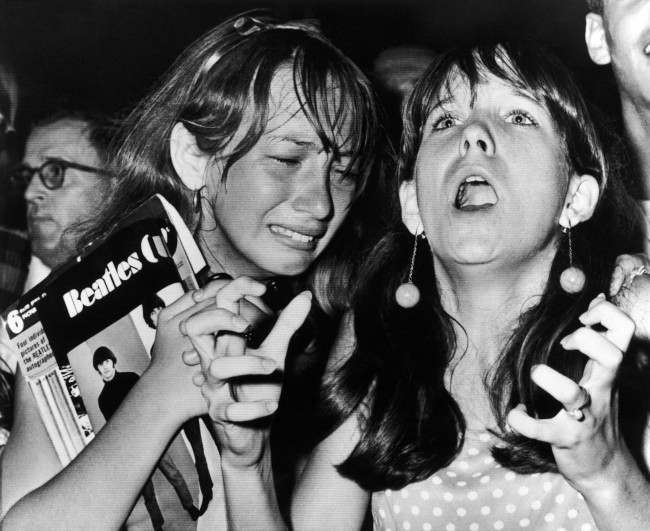 Chicago