The classic book Poems of Childhood (1904) by Eugene Field (September 2, 1850 – November 4, 1895) features illustrations by the prolific Maxfield Parrish ((July 25, 1870 – March 30, 1966). The eight illustrations are painted oil on stretched paper. The poems are very much of their era.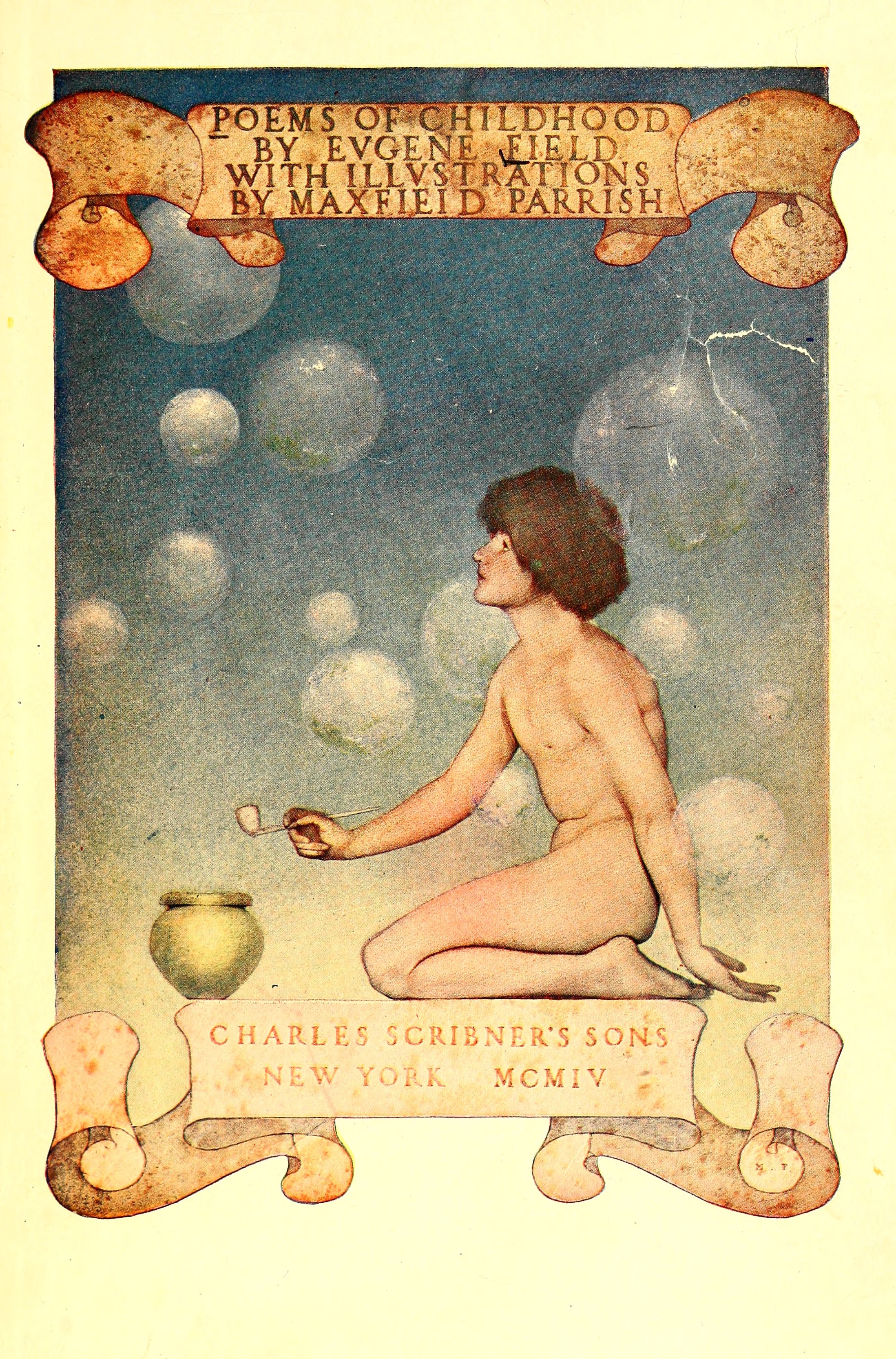 WITH big tin trumpet and little red drum,
Marching like soldiers, the children come!
⁠It 's this way and that way they circle and file—
⁠My! but that music of theirs is fine!
⁠This way and that way, and after a while
⁠They march straight into this heart of mine!
A sturdy old heart, but it has to succumb
To the blare of that trumpet and beat of that drum!
There are marshmallows, gumdrops, and peppermint canes,
⁠With stripings of scarlet or gold,
And you carry away of the treasure that rains
⁠As much as your apron can hold!
Wynken and Blynken are two little eyes,
And Nod is a little head,
And the wooden shoe that sailed the skies
Is a wee one's trundle-bed.
A little peach in the orchard grew,—
A little peach of emerald hue;
Warmed by the sun and wet by the dew,
It grew.
One day, passing that orchard through,
That little peach dawned on the view
Of Johnny Jones and his sister Sue—
Them two.
Up at that peach a club they threw—
Down from the stem on which it grew
Fell that peach of emerald hue.
Mon Dieu!
John took a bite and Sue a chew,
And then the trouble began to brew,—
Trouble the doctor couldn't subdue.
Too true!
Under the turf where the daisies grew
They planted John and his sister Sue,
And their little souls to the angels flew,—
Boo hoo!
What of that peach of the emerald hue,
Warmed by the sun, and wet by the dew?
Ah, well, its mission on earth is through.
Adieu!
For the Dinkey-Bird's bravuras
⁠And staccatos are so sweet—
His roulades, appoggiaturas,
⁠And robustos so complete,
That the youth of every nation—
⁠Be they near or far away—
Have especial delectation
⁠In that gladsome roundelay.
Off! scamper to bed — you shall ride him to-night!
For, as soon as you've fallen asleep,
With a jubilant neigh he shall bear you away
Over forest and hillside and deep!
So they gossip at their play,
Heedless of the fleeting day;
One speaks of the Long Ago
Where his dead hopes buried lie;
One with chubby cheeks aglow
Prattles of the By and By;
Side by side, they build their blocks —
Shuffle-Shoon and Amber-Locks.
Once, when I licked a feller 'at had just moved on our street,
An' father sent me up to bed without a bite to eat,
I woke up in the dark an saw things standin' in a row, 15
A-lookin' at me cross-eyed an' p'intin' at me—so!
Oh, my! I wuz so skeered 'at time I never slep' a mite—
It's almost alluz when I'm bad I see things at night!
We've some great illustrations for sale in the Flashbak Shop.