Take care when harvesting the mandrake "because its roots resembled the human form; when pulled from the ground, its shrieks could cause madness".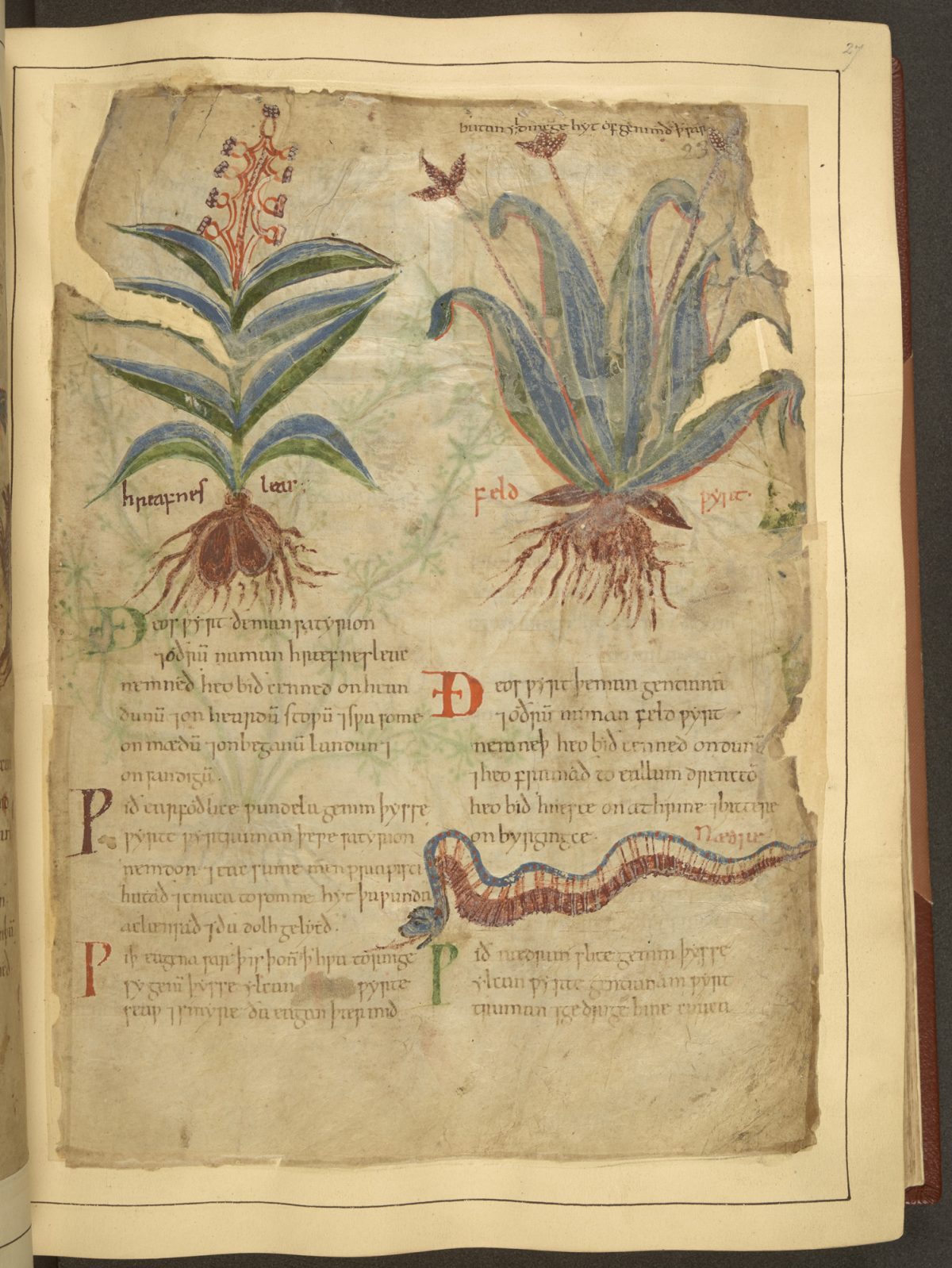 Thanks to the British Library's curation and modern tech (praise be the scanner), the entire 1000-year-old Cotton MS Vitellius C III is online. Written in an Old English translation of "a text which used to be attributed to a 4th-century writer known as Pseudo-Apuleius, now recognized as several different Late Antique authors whose texts were subsequently combined", the work features colorful illustrations of plants and their associated medicinal properties. Each illustration is linked to descriptions of ailments the plant or creature can be used to treat, where they can be found and how to prepare the medicine. It is the only surviving illustrated Old English herbal – and it's lucky to have survived at all it having been singed by fire in 1731.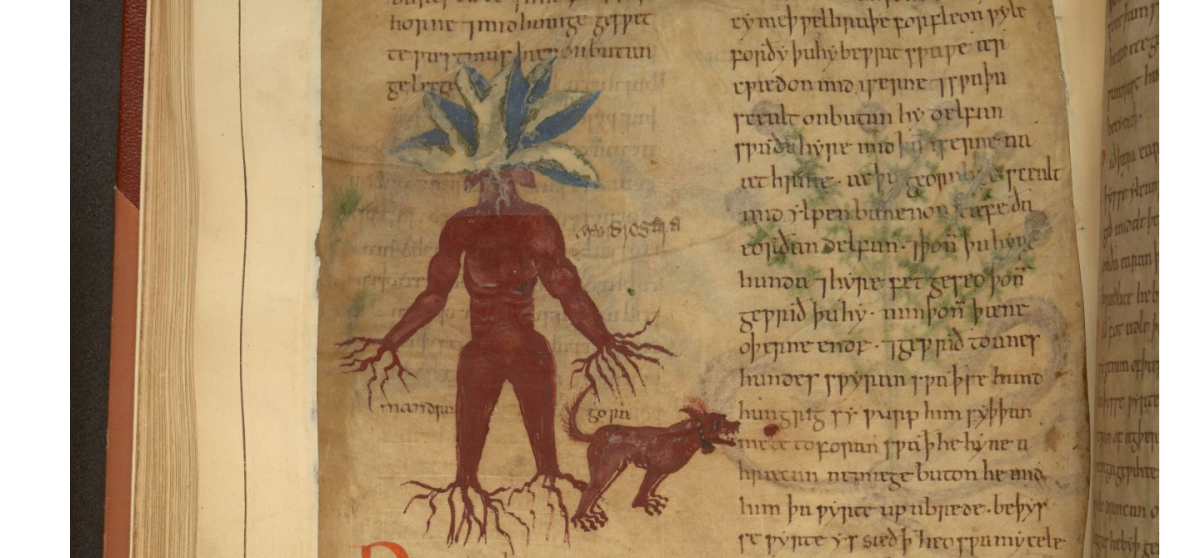 It's not all plants. Rubbing a powdered badger on wounds can heal them:
The manuscript also includes Old English translations of Late Antique texts on the medicinal properties of badgers (framed as a fictional letter between Octavian and a king of Egypt) and another on medicines derived from parts of four-legged animals. Together, the herbal and the text on four-legged animals are now known as part of the so-called 'Pseudo-Apuleius Complex' of texts.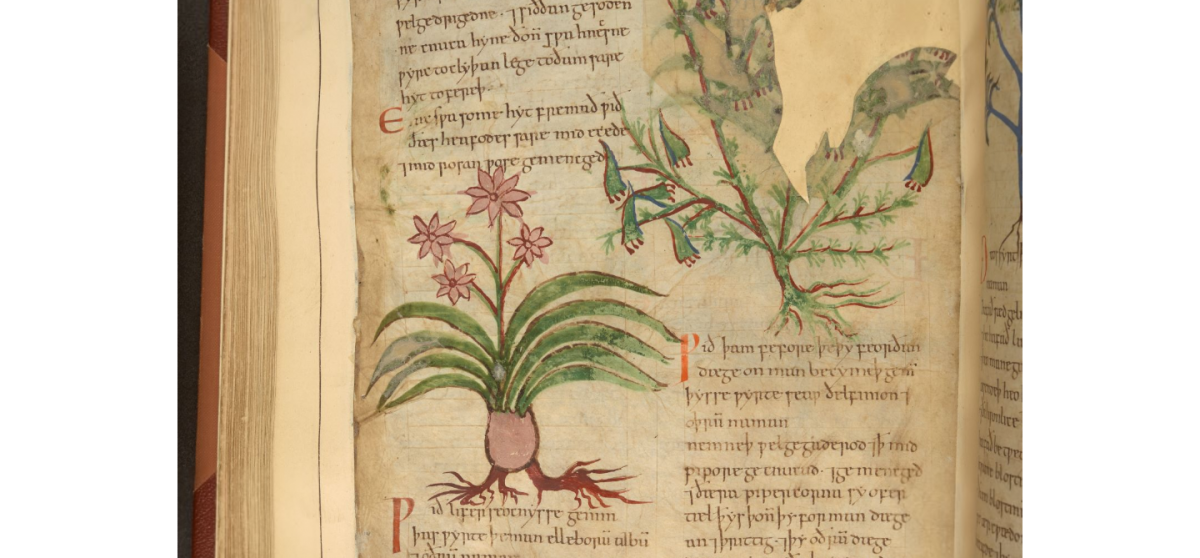 As Claire Voon writes: "The text to this Old English herbal was previously translated into modern English by Anne Van Arsdall in her book Medieval Herbal Remedies: The Old English Herbarium and Anglo-Saxon Medicine, first published in 2002."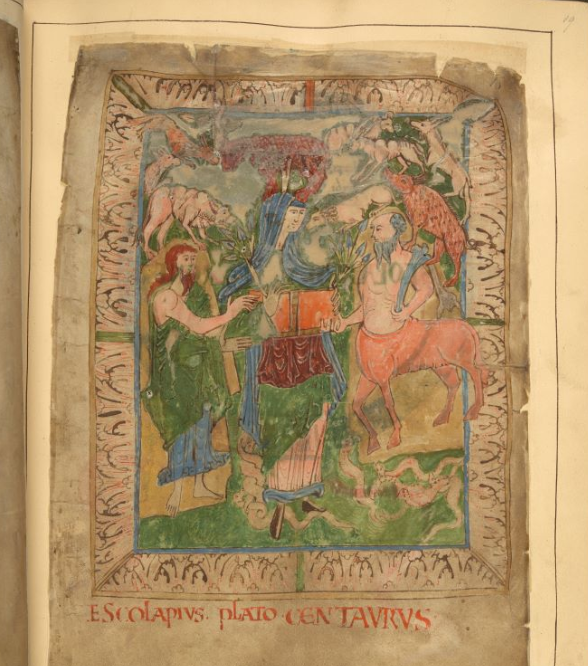 The Mandrake plant (image 2 above) is prized (via).
This plant called mandrake is large and glorious to see, and it is beneficial. You must gather it in this manner: when you approach the plant, and you will recognize it because it shines at night like a lantern, when you first see its head, mark around it quickly with an iron tool lest it flee from you. Its power is so great and powerful that it wants to flee quickly when an impure person approaches it.

Because of this, you must mark around it with an iron tool, and then you must dig around it, being careful not to touch it with the iron; however you can dig the earth strenuously with an ivory staff. When you see its hands and feet, fasten them. Take the other end and fasten it around a dog's neck (make sure the dog is hungry). Throw some meat in front of him so that he cannot reach it unless he snatches the plant up with him. About this plant it is said that it has such great power, whatever pulls it up will quickly be deceived in the same way. Because of this, as soon as you see that it has been pulled up, and you have power over it, immediately seize it, twist it, and wring the juice from its leaves into a glass bottle.
Take care when harvesting "because its roots resembled the human form; when pulled from the ground, its shrieks could cause madness". Mandrake is good for:
1. For headache and for sleeplessness, take the juice and smear it on the face, and use the plant in the same way to relieve headache. You will be surprised at how quickly sleep will come.

2. For earache, take the juice of the same plant mixed with oil of spikenard and put it into the ears. You will be surprised at how quickly it cures.

3. For gout, even if it is severe, take three pennies' weight from either the right and left hand or from either hand of this plant and powder it. Give it to drink in wine for seven days, and the person will be cured; not just that the swelling will go down, but it will also relieve nerve spasms and cure pain, both in a wonderful manner.

4. For insanity, that is for possession by devils, take three pennies' weight from the body of the mandrake plant and give it to drink as easily as the person is able in warm water. He will be quickly cured.

5. Again, for nerve spasms, take one ounce by weight from the body of this plant and pound it into powder. Mix it with oil and then smear it on whomever has the aforementioned condition.

6. If anyone perceives any grievous evil in the home, take the mandrake plant to the center of the house – as much as one has of it – and it will expel all the evil.