Its beak caught firmly
In the clam shell,
The snipe cannot
Fly away
Of an autumn evening
–  Yadoya no Meshimori (1754–1830)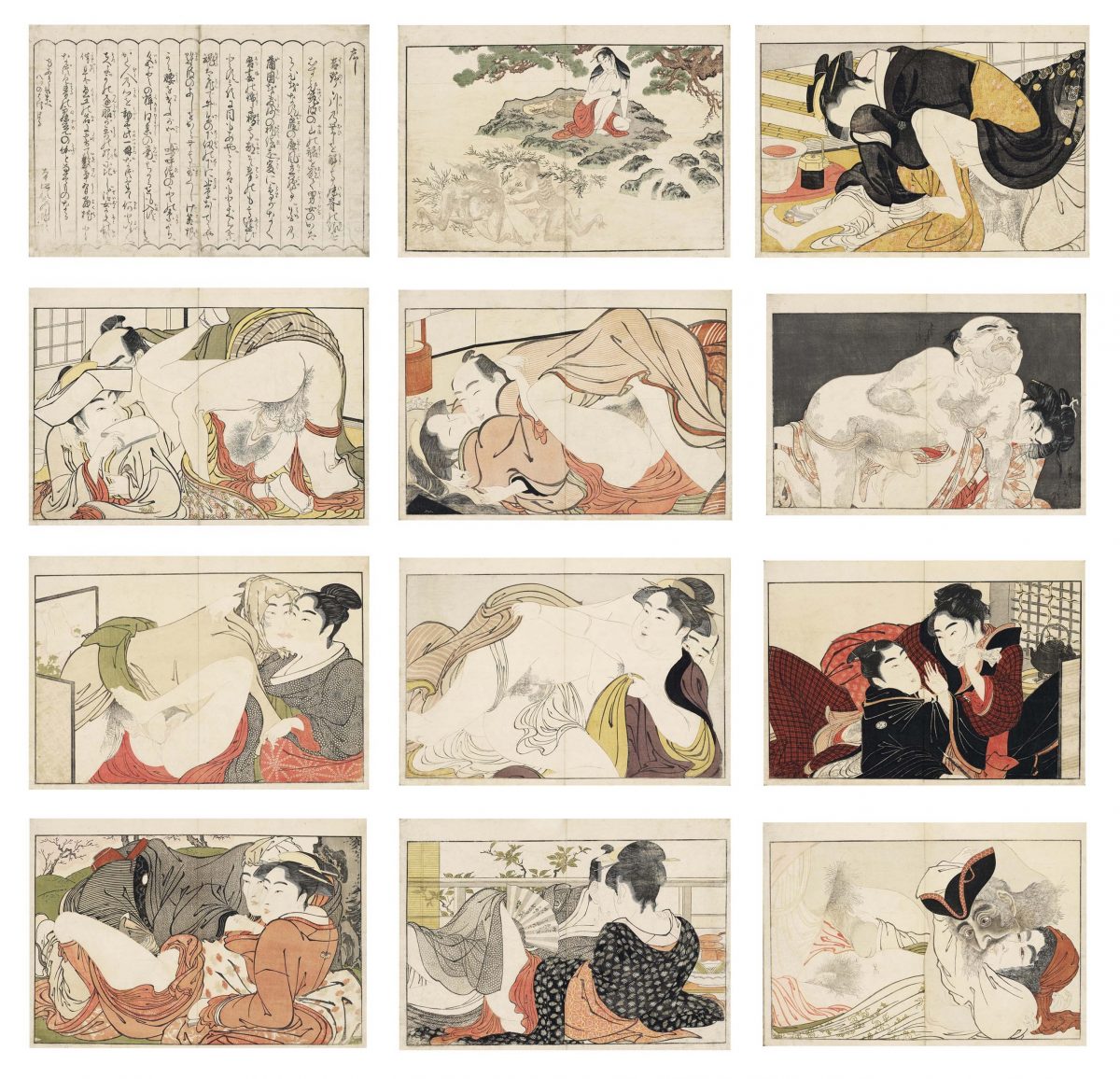 Utamakura ('Poems of the Pillow') is an illustrated book of sexually explicit shunga pictures, celebrations of sexual please and intimacy. Published in 1788, the 12 prints were created by Japanese ukiyo-e artist Kitagawa Utamaro. (c. 1753 – 31 October 1806). Very little is known about the artist. We don't know his date of birth. He left no letters, diaries and there is no mention of him in official records. There are no known pictures of him. But perhaps that's him in the sublime 11th panel of his erotic book, his eye looking out at us from beneath his lover's hair?
Immersed in the intimate world of courtesans, geishas and their on-the-clock lovers in the red-light district of Ed0 (now Tokyo), Utamaro's figures are possessed of a cool, dignified elegance. You see the dreamy swirls and flow of movement before the details strikes you and you get to wonder about the meaning of what you see.
Each bold line matters and conveys an idea. As Vincent Van Gogh, an avid collector and copyist of Japanese art stated in a letter to his brother:
I envy the Japanese the extreme clarity that everything in their work has. It's never dull, and never appears to be done too hastily. Their work is as simple as breathing, and they do a figure with a few confident strokes with the same ease as if it was as simple as buttoning your waistcoat. Ah, I must manage to do a figure with a few strokes. That will keep me busy all winter. Once I have that, I'll be able to do people strolling along the boulevards, the streets, a host of new subjects. While I've been writing you this letter, I've drawn a good dozen of them. I'm on the track of finding it. But it's very complicated, because what I'm after is that in a few strokes the figure of a man, a woman, a kid, a horse, a dog, will have a head, a body, legs, arms that will fit together.
A little warning: some of the images below are NSFW.
The Preface translated:
Loosening the sash of Yoshino River, forging a bond 'twixt Imo and Se mountains, spreading the skirts of Mount Tsukuba – thus do lovers plight their troth. Enveloping themselves in a screen of mist, spreading a quilt of flowers, reaching for a pillow … We hereby print pillow pictures in brocades of the East as a plaything of spring at court. With one glance the eye is startled, the heart throbs, the spirit leaps [Ide], pausing below the sash, pressing, pressing, entwining the legs like the reeds of Naniwa, from the jewel-comb box of Hakone onwards, it is akin to using the hips. Ah! Rather than some amateur at drawing, the brush of one who is skilled in the art of love, without pressing too hard, this is the way to move the hearts of men. And so, what name shall I give this volume? Why yes, likening it to a poem by Bishop Henjō, borrowing the title of a letter by Lady Sei, and even coming close to the name of the artist, I call it Ehon utamakura, "Poem of the Pillow" — a companion to awakening in spring perhaps.
First spring, 1788
Honjo no Shitsubuka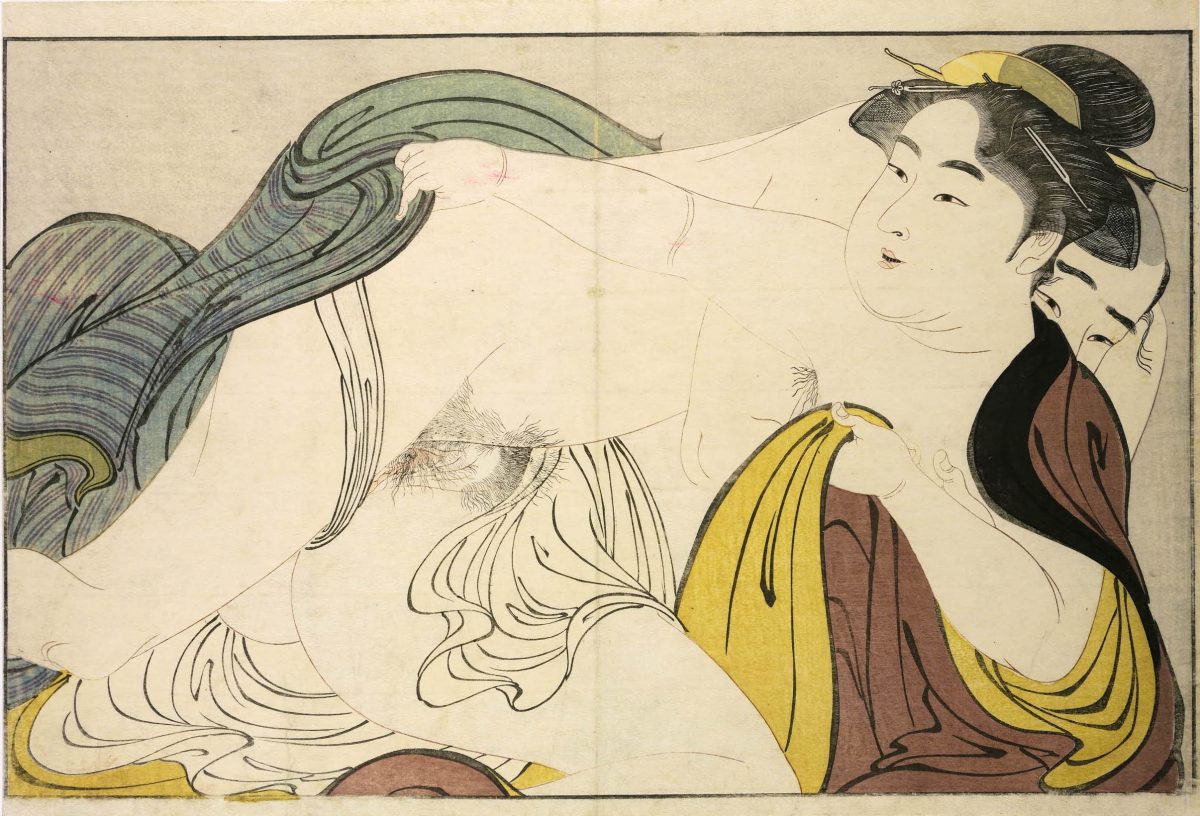 Via: British Museum,