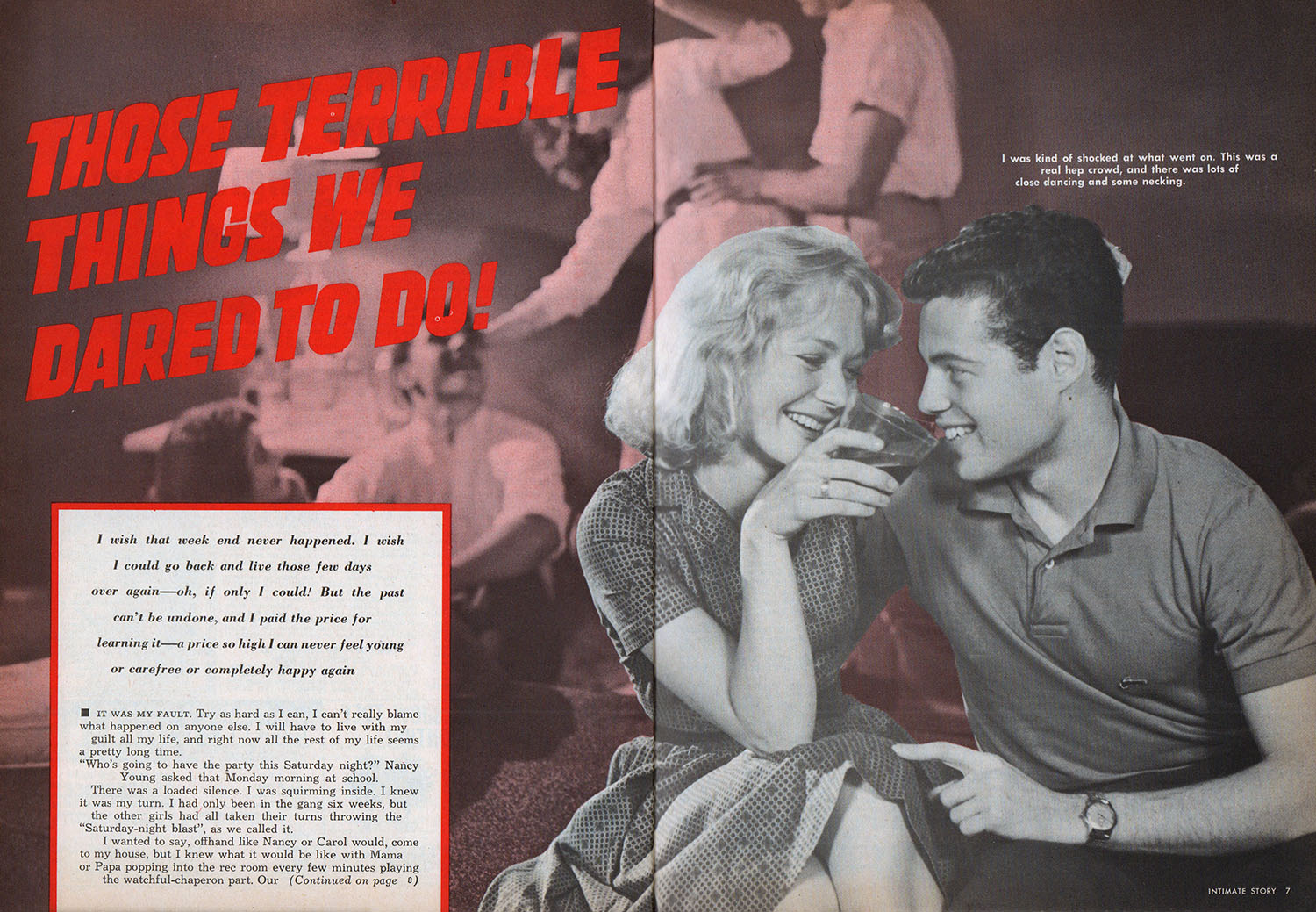 It started in 1919 with True Story and immediately spread to countless imitators. The confession magazine – a periodical directed at working class women, full of tales of sin, suffering and sorrow. Each story followed the same basic formula: "sin-suffer-repent": the heroine violates standards of behavior, suffers as a consequence, learns her lesson and resolves to live in light of it, unembittered by her pain. (Source: Creating Rosie the Riveter: Class, Gender, and Propaganda During World War II by Maureen Honey, 1984).
As tragic as each story was, they are fairly hilarious to read today.  Let's check out some stories from magazines such as My Romance, True Confessions, Secrets. and, of course, the original, True Story.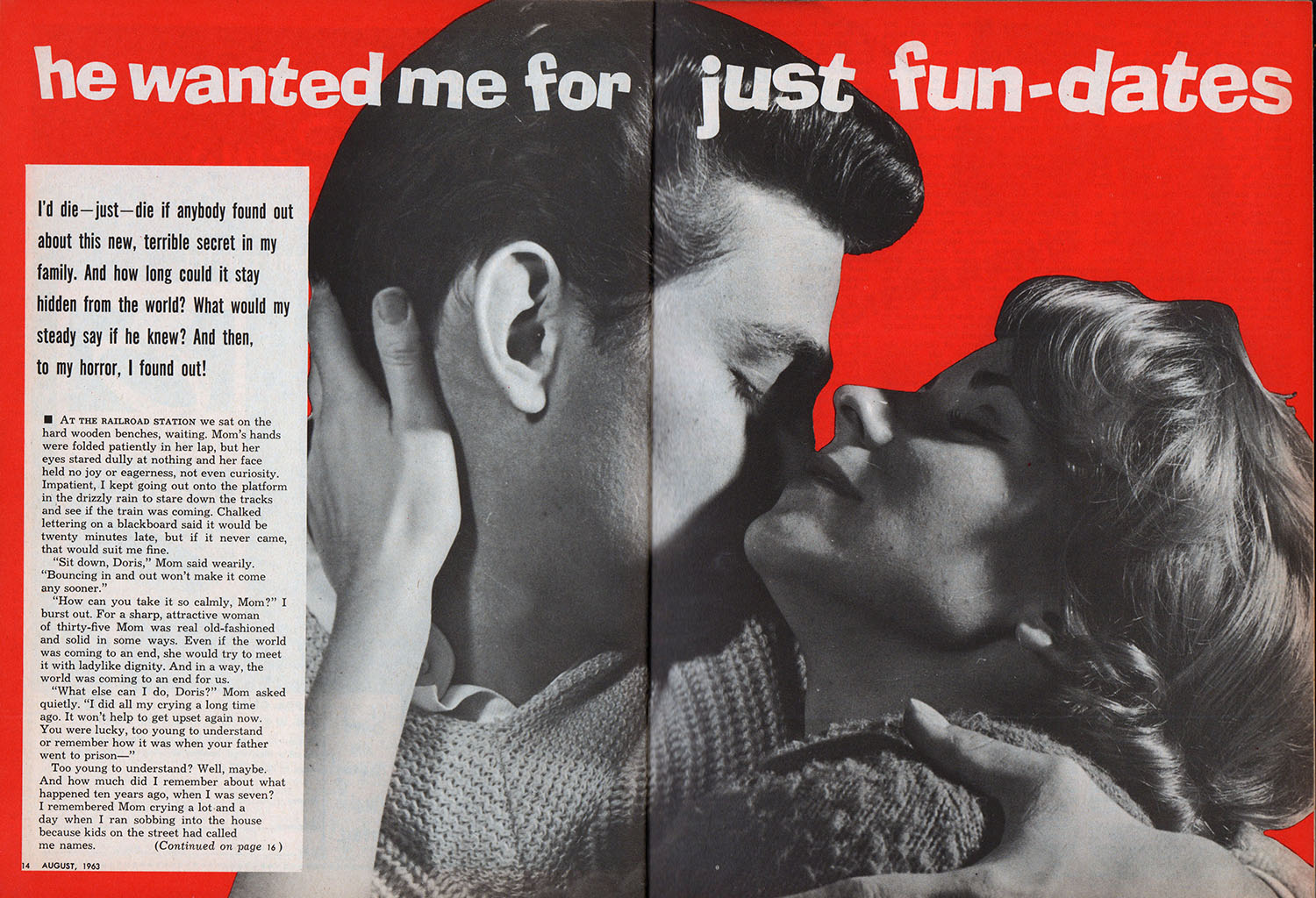 A textbook perfect example of the confession story: "I'd die – just die – if anybody found out about this new, terrible secret in my family.  And how long could it stay hidden from the world? What would my steady say if he knew?  And then, to my horror, I found out!"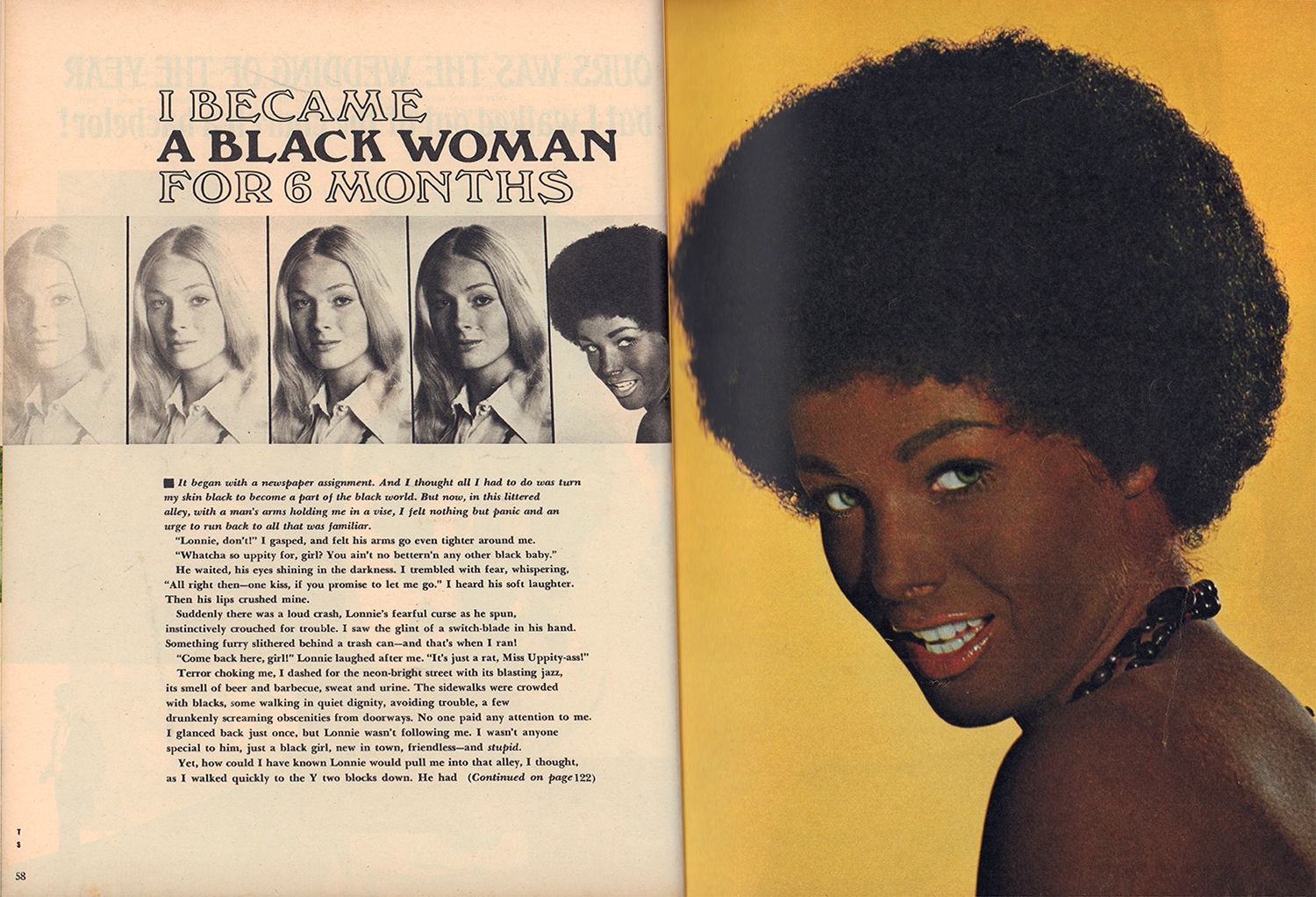 In this story a white journalist goes undercover as a black woman – only to find out that all those blaxploitation films were accurate. No sooner does she put on the afro wig, she is being bitch-slapped by pimps!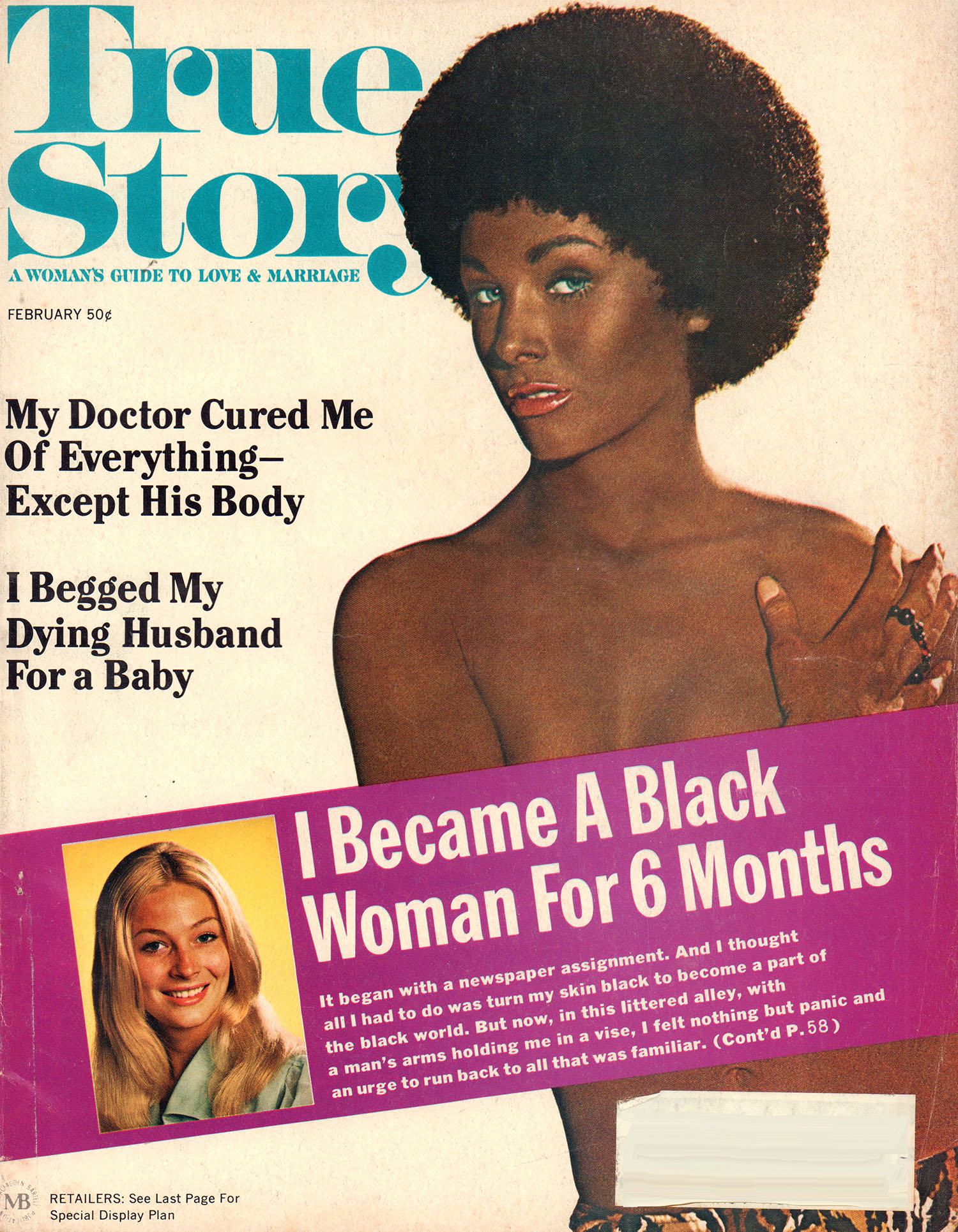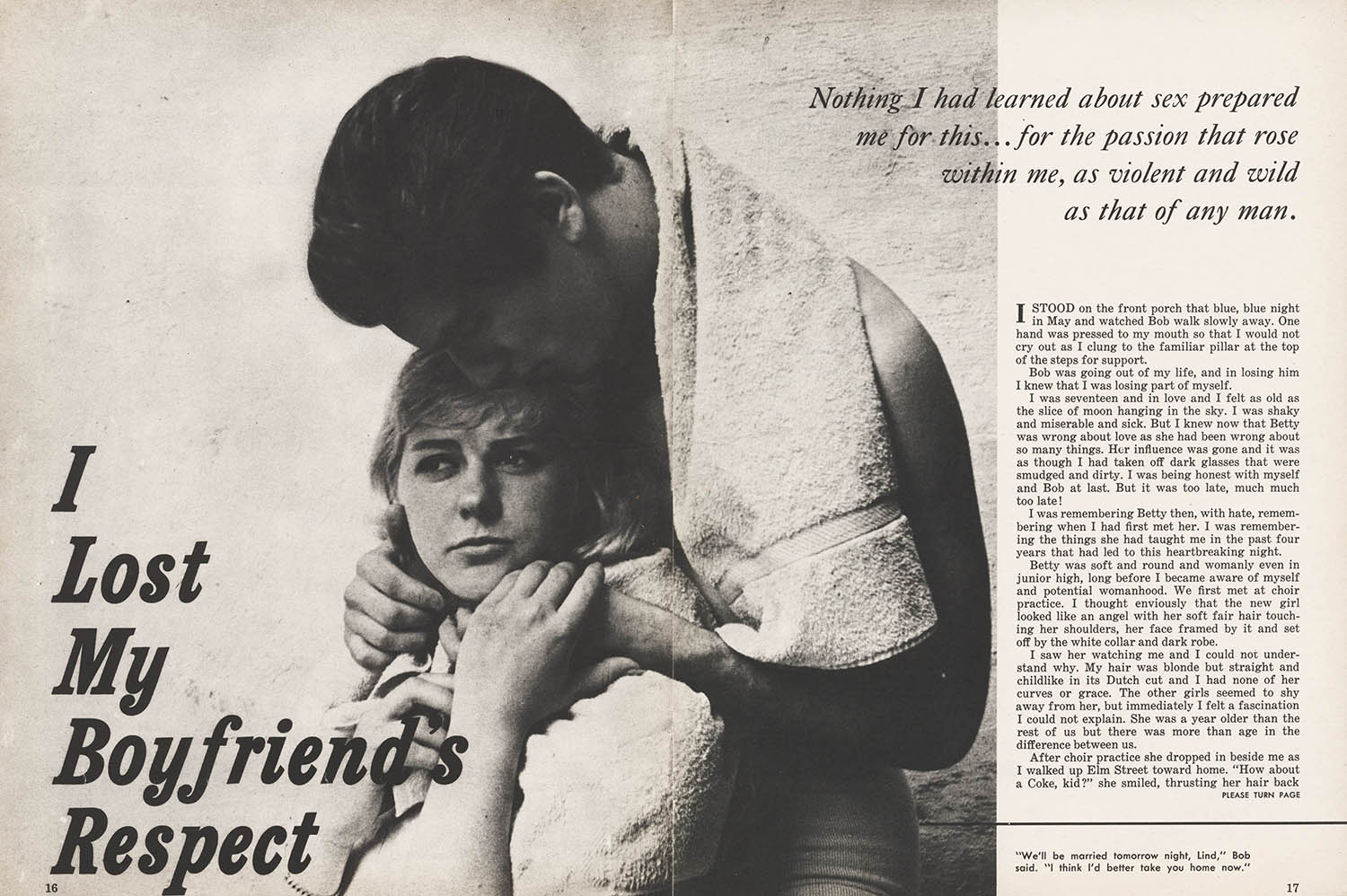 "I Lost My Boyfriend's Respect" – this just wouldn't work as a sensational headline today.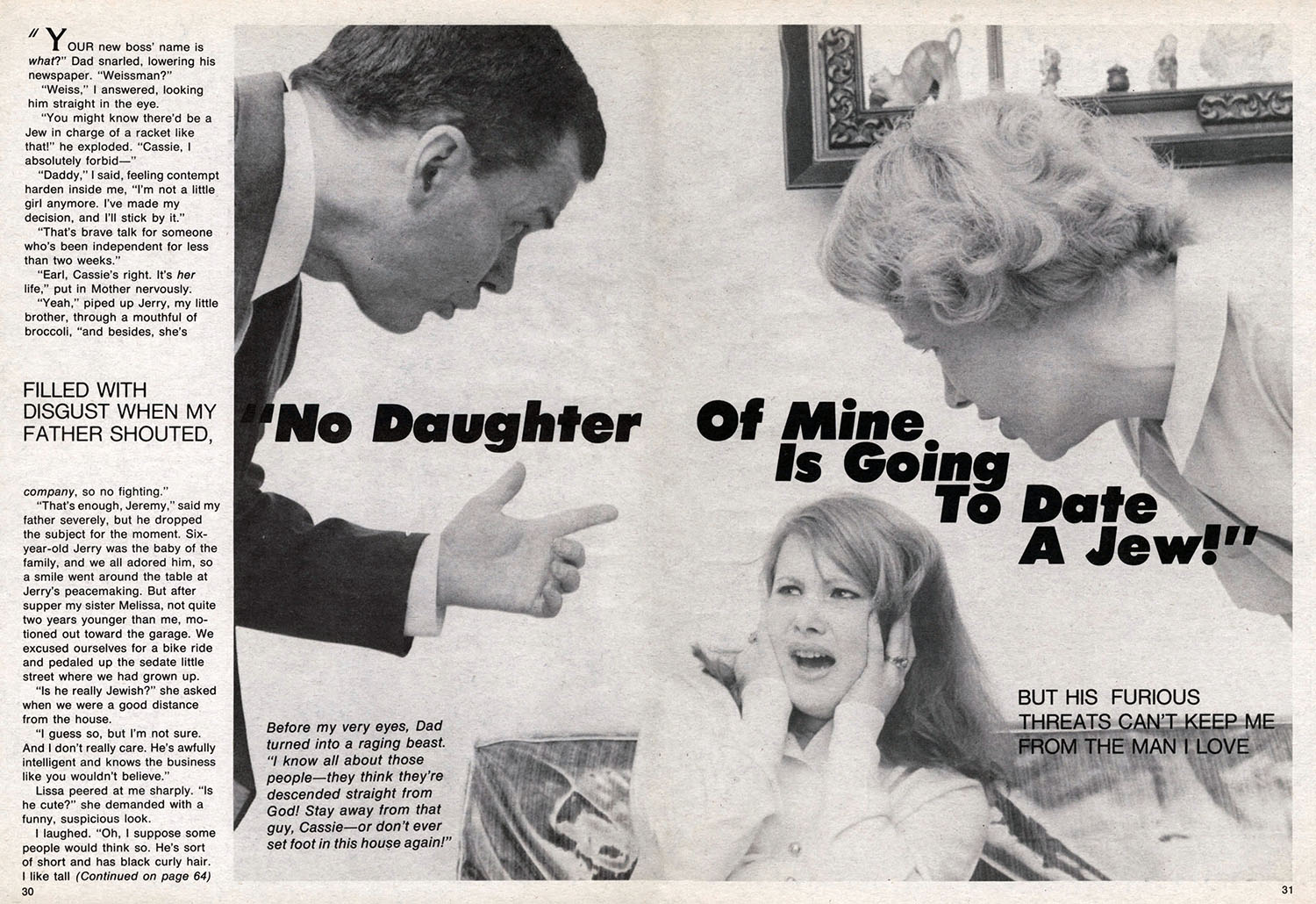 "Before my very eyes, Dad turned into a raging beast.  'I know all about those people – they think they're descended straight from God!'"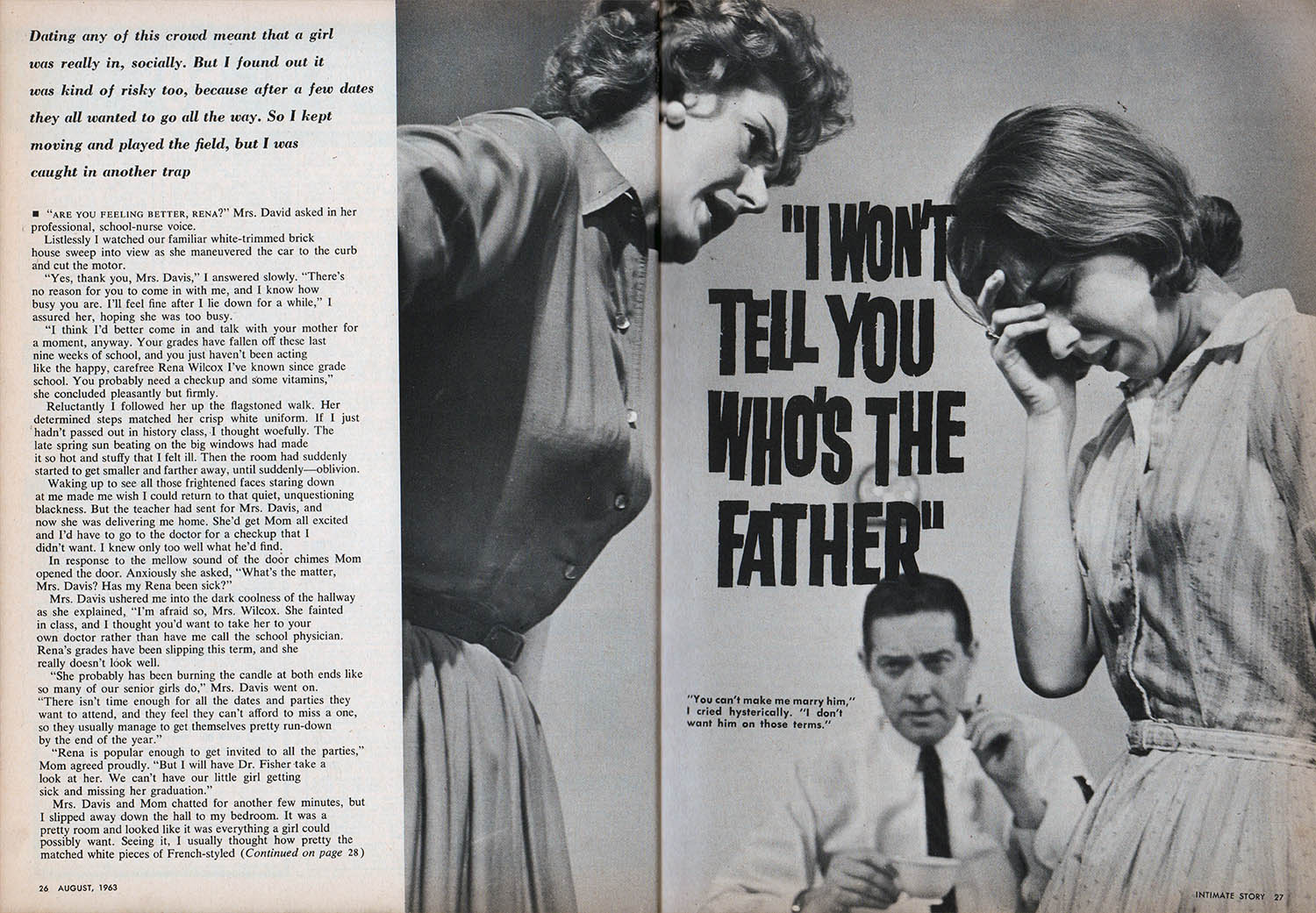 Intimate Story – August 1963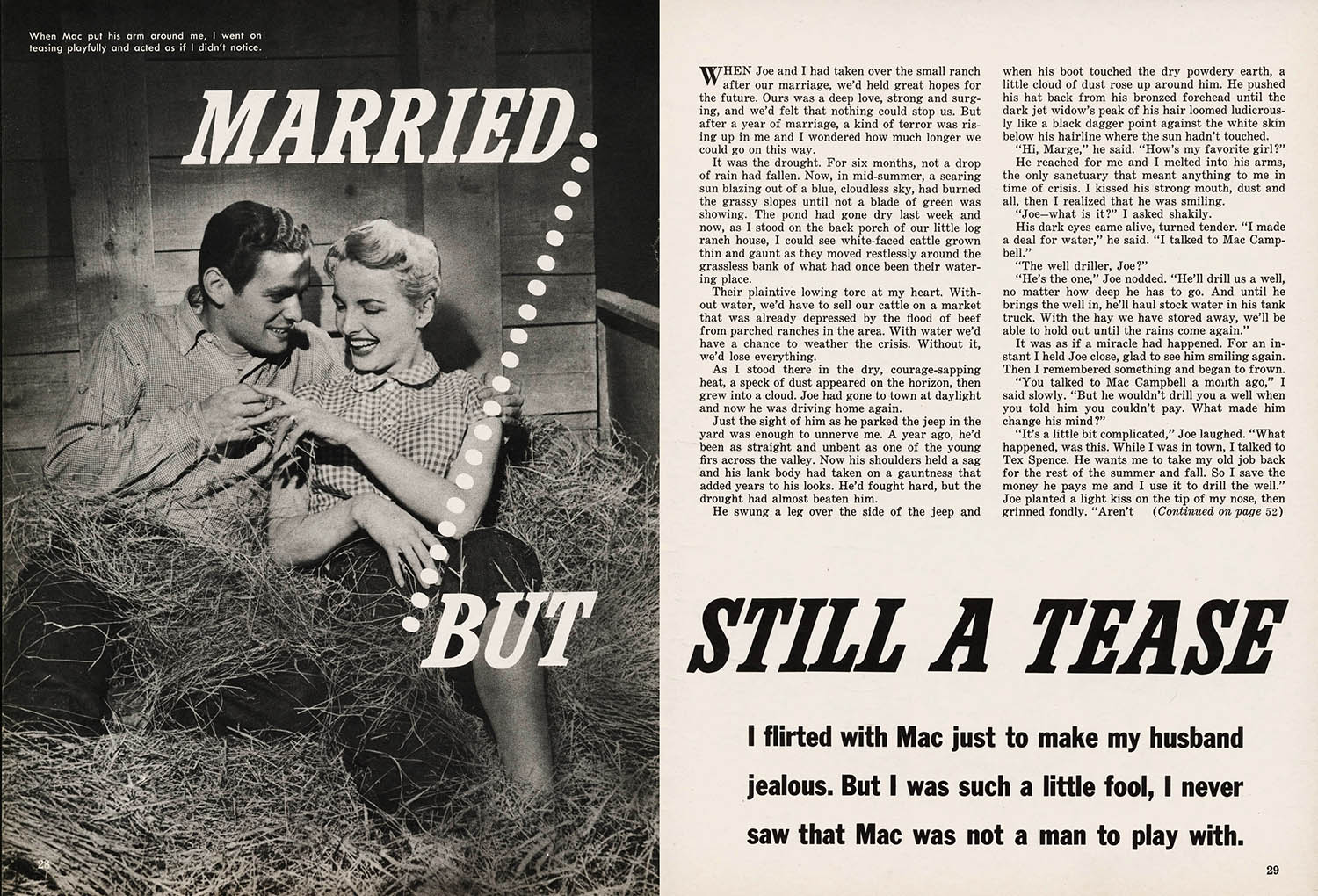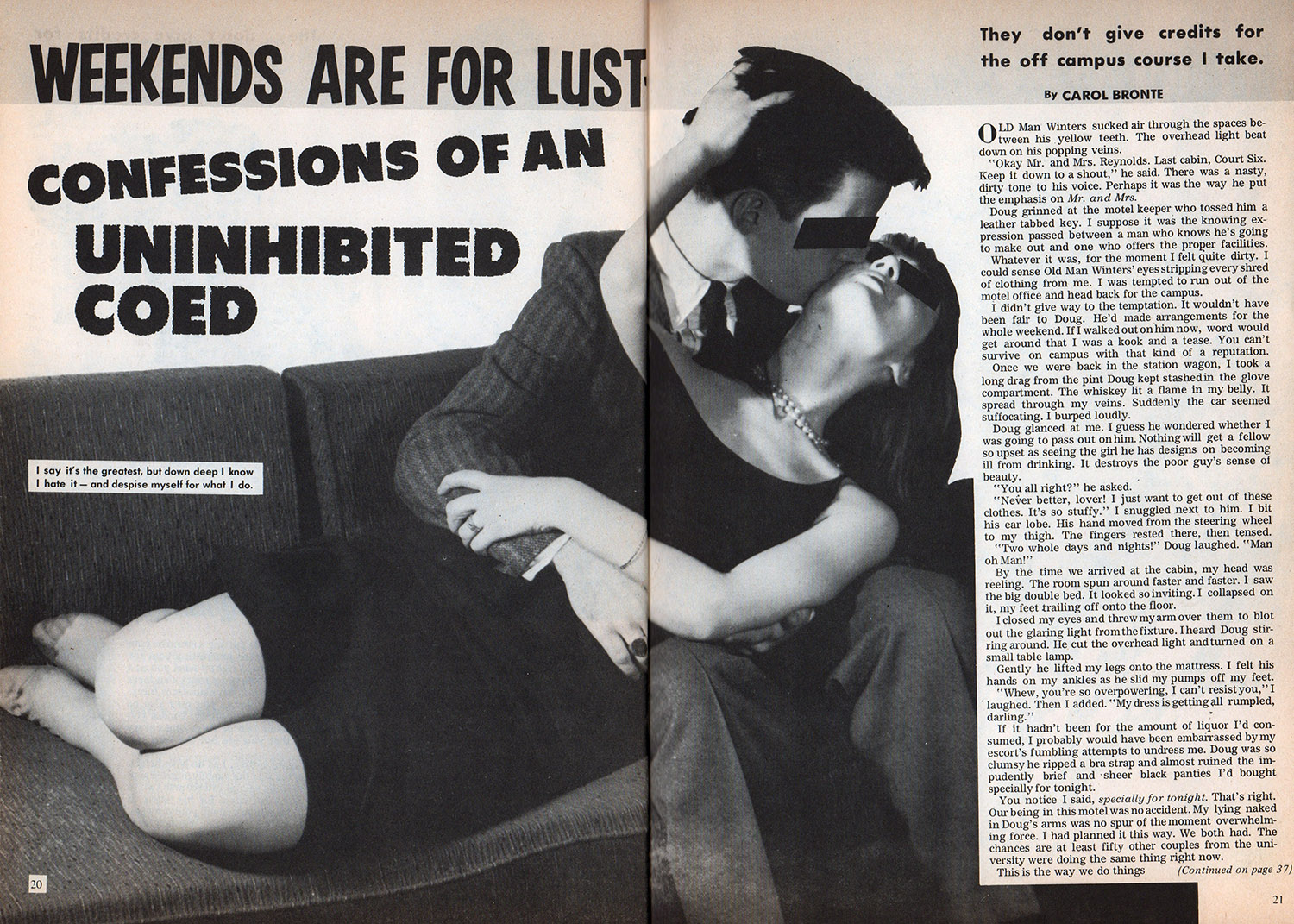 "I say it's the greatest, but down deep I know I hate it – and despise myself for what I do."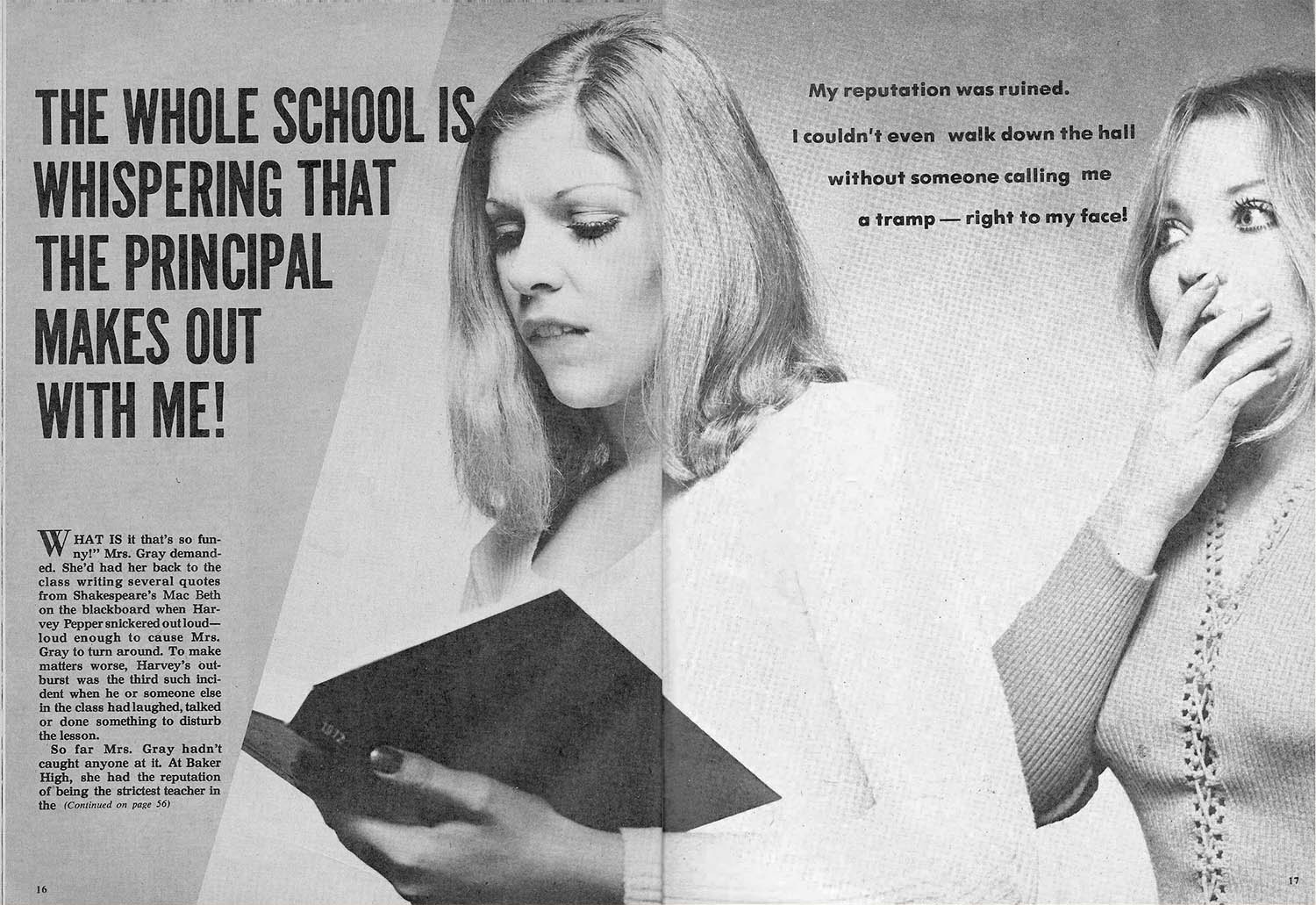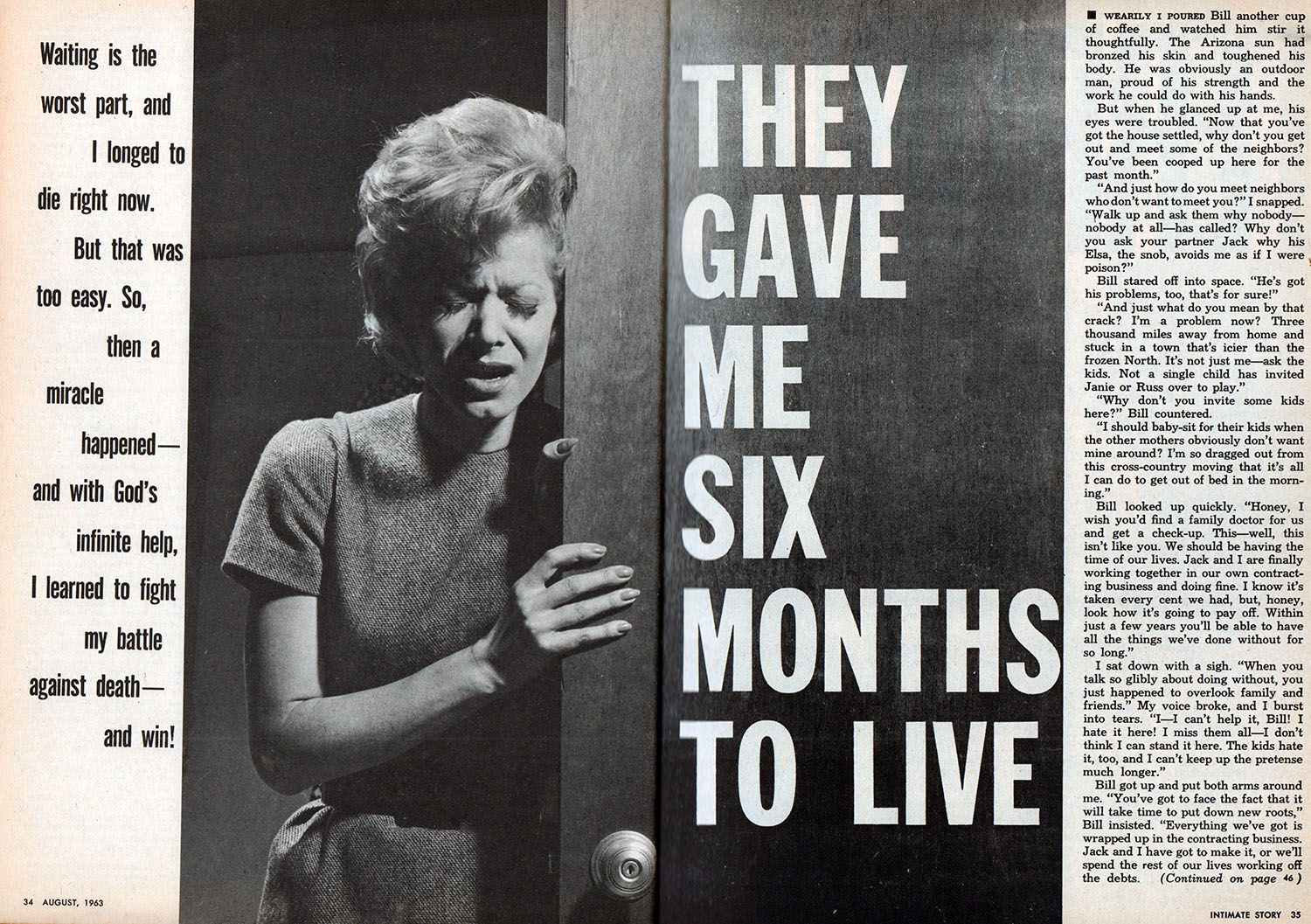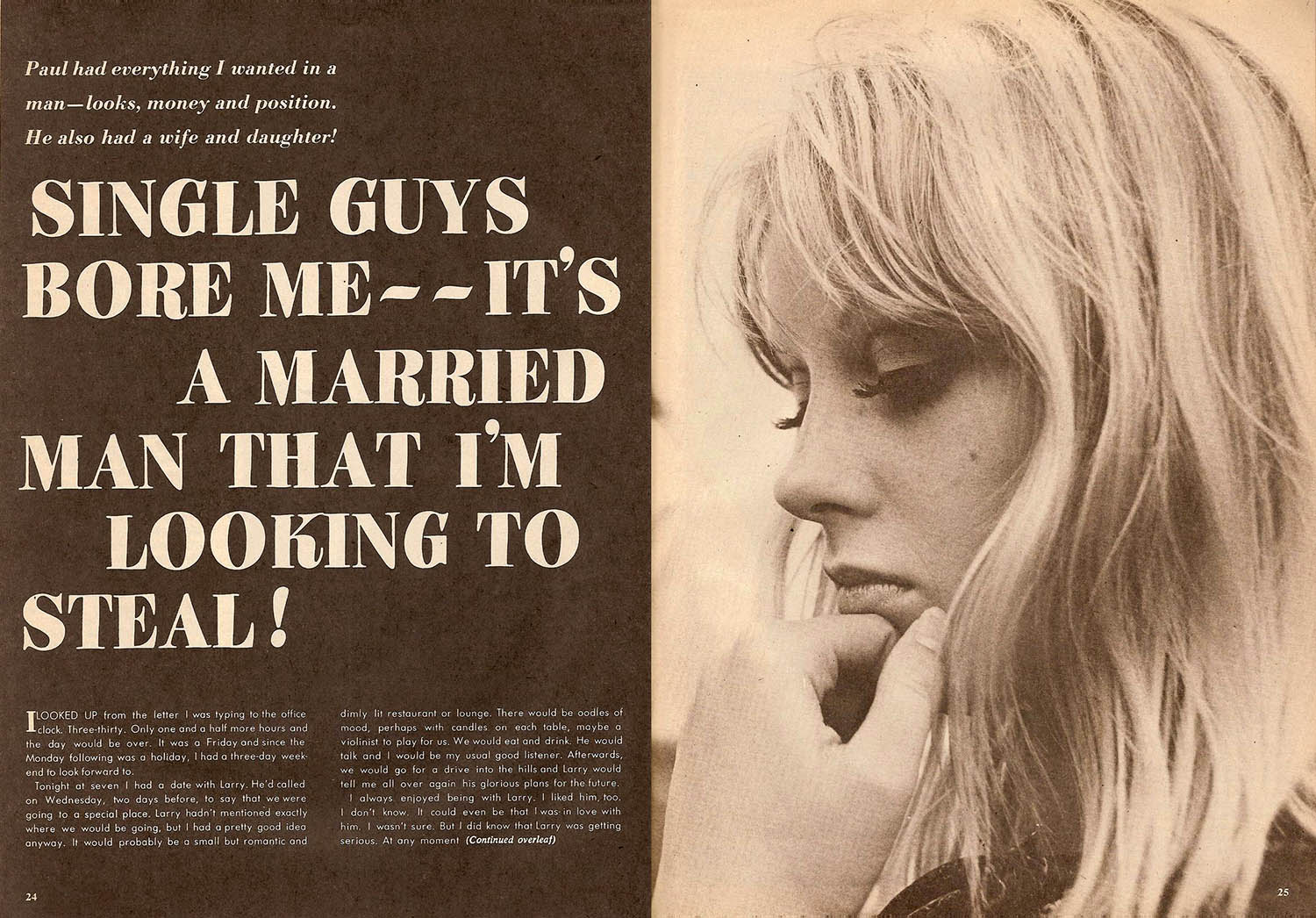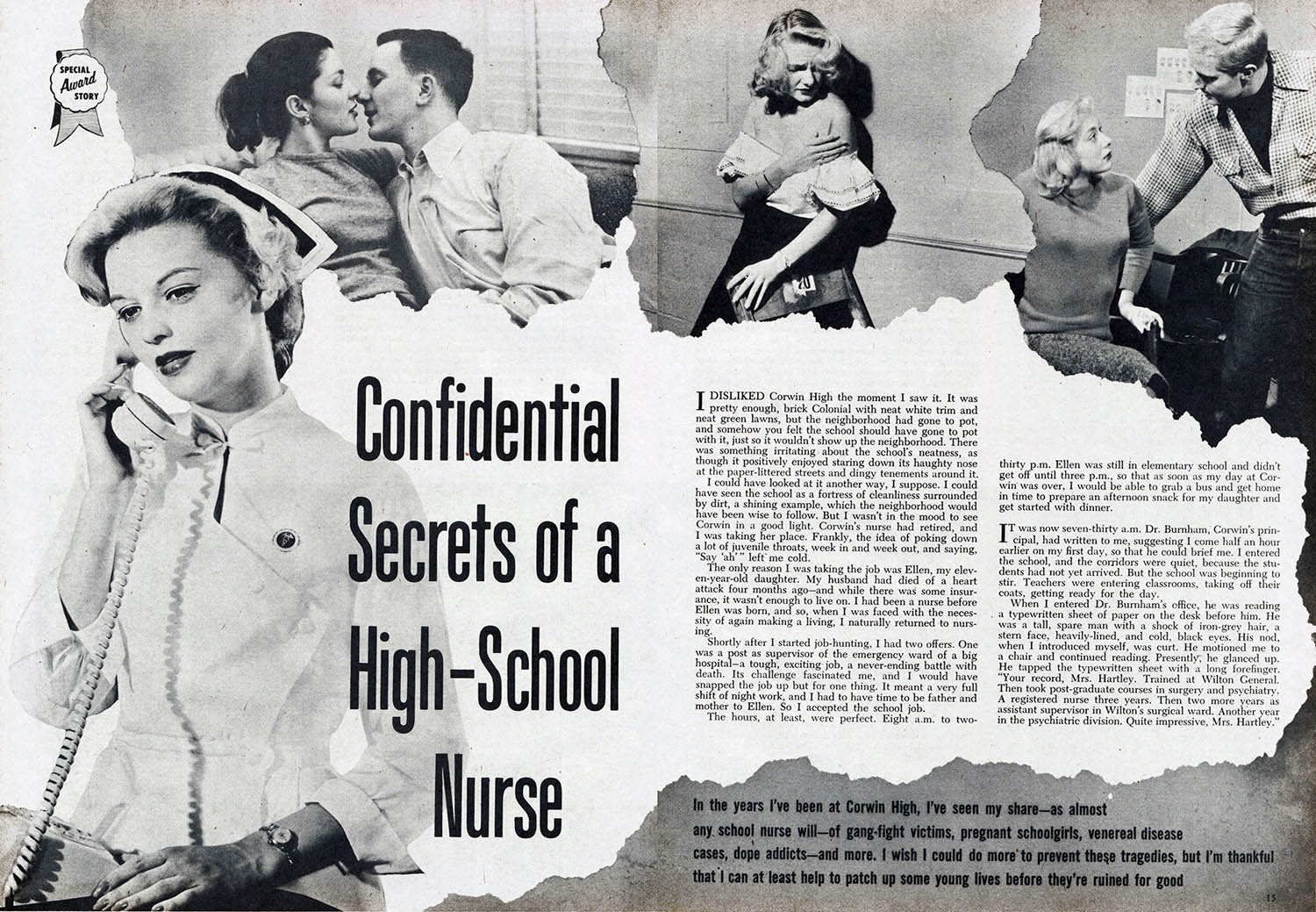 "In the years I've been at Corwin High, I've seen my share – as almost any school nurse will – of gang fight victims, pregnant schoolgirls, venereal disease cases, dope addicts – and more.  I wish I could do more to prevent these tragedies, but I'm thankful that I can at least help to patch up some young lives before they're ruined for good."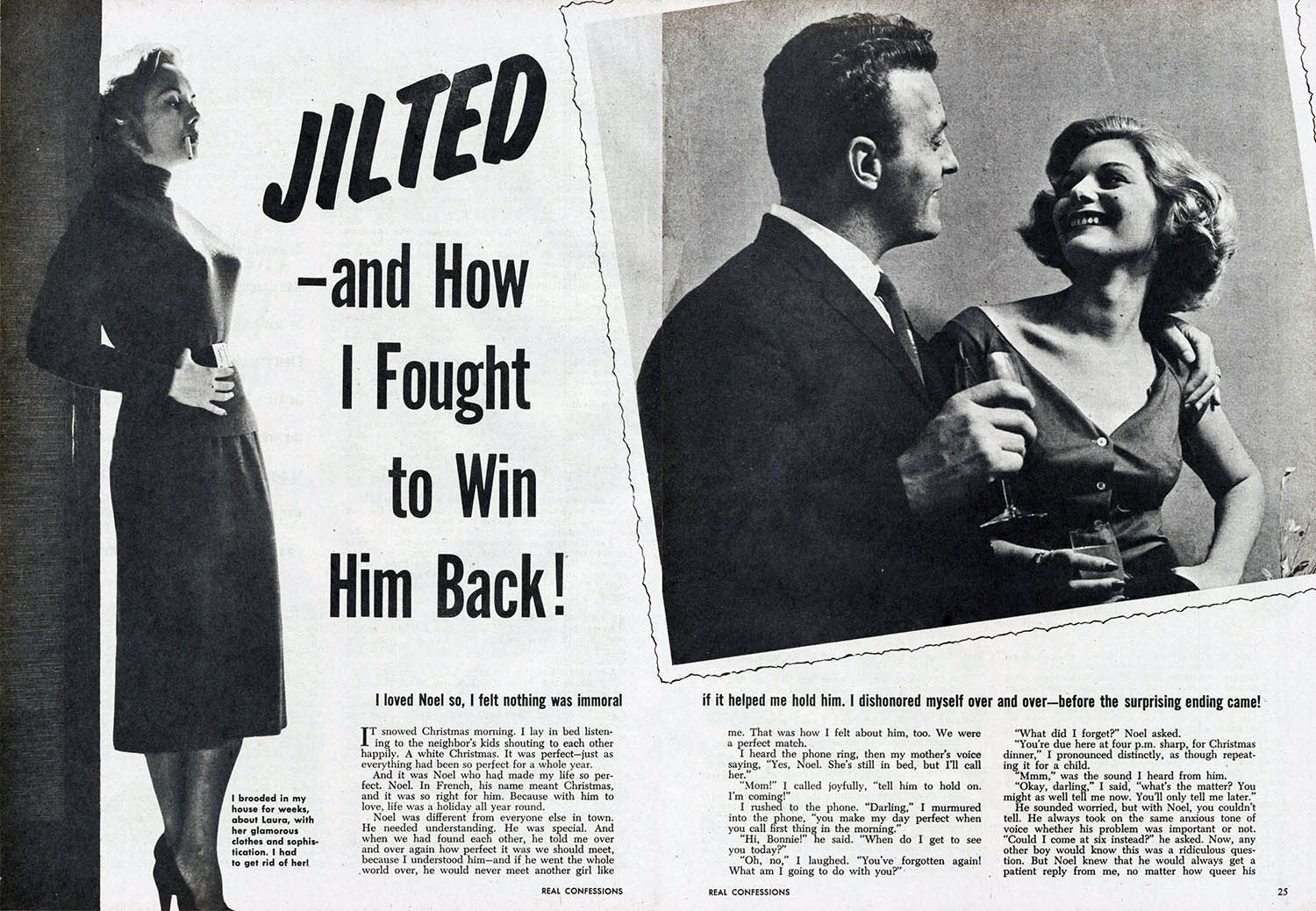 "I loved Noel so, I felt nothing was immoral if it helped me hold him.  I dishonored myself over and over – before the surprising ending came!"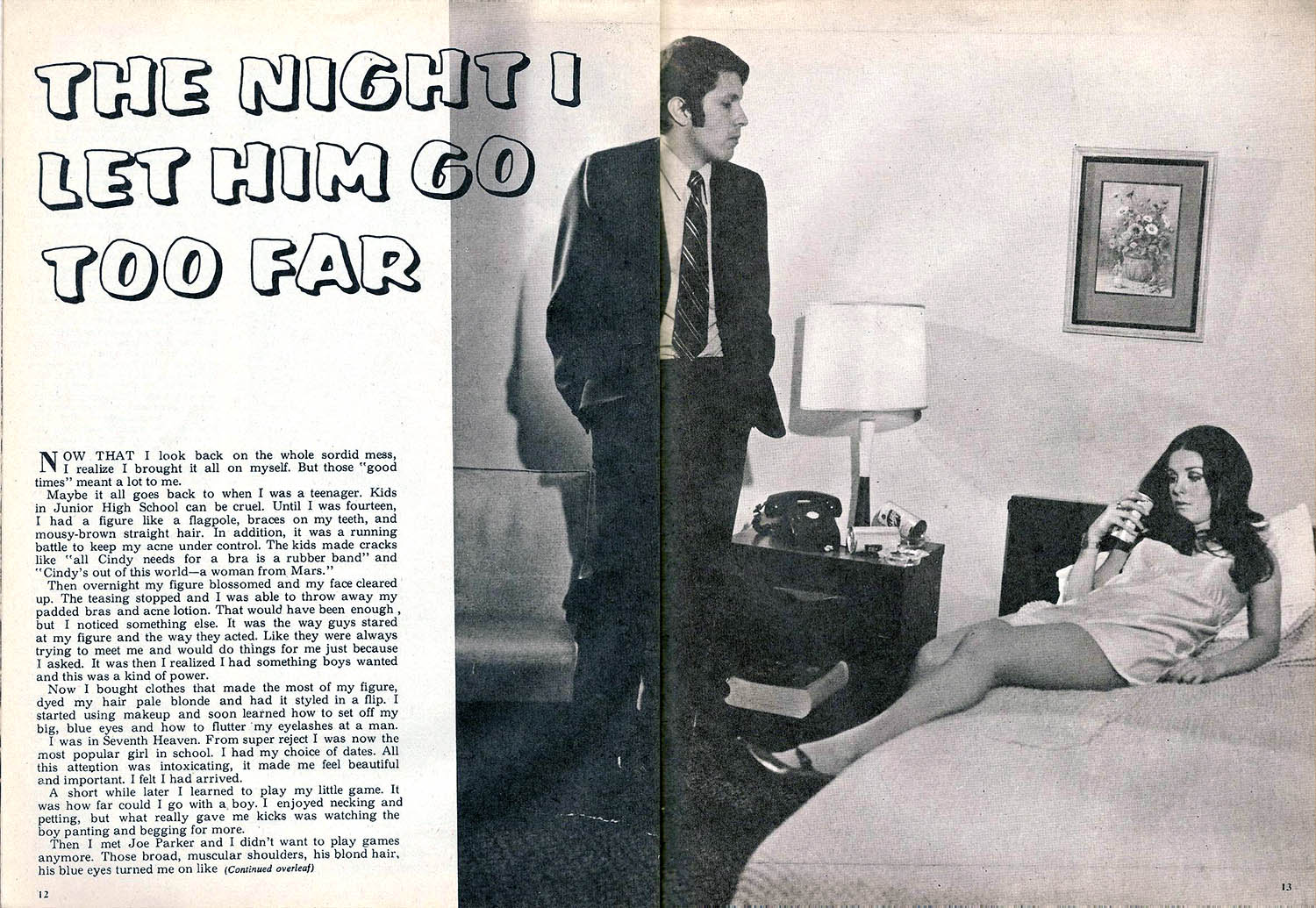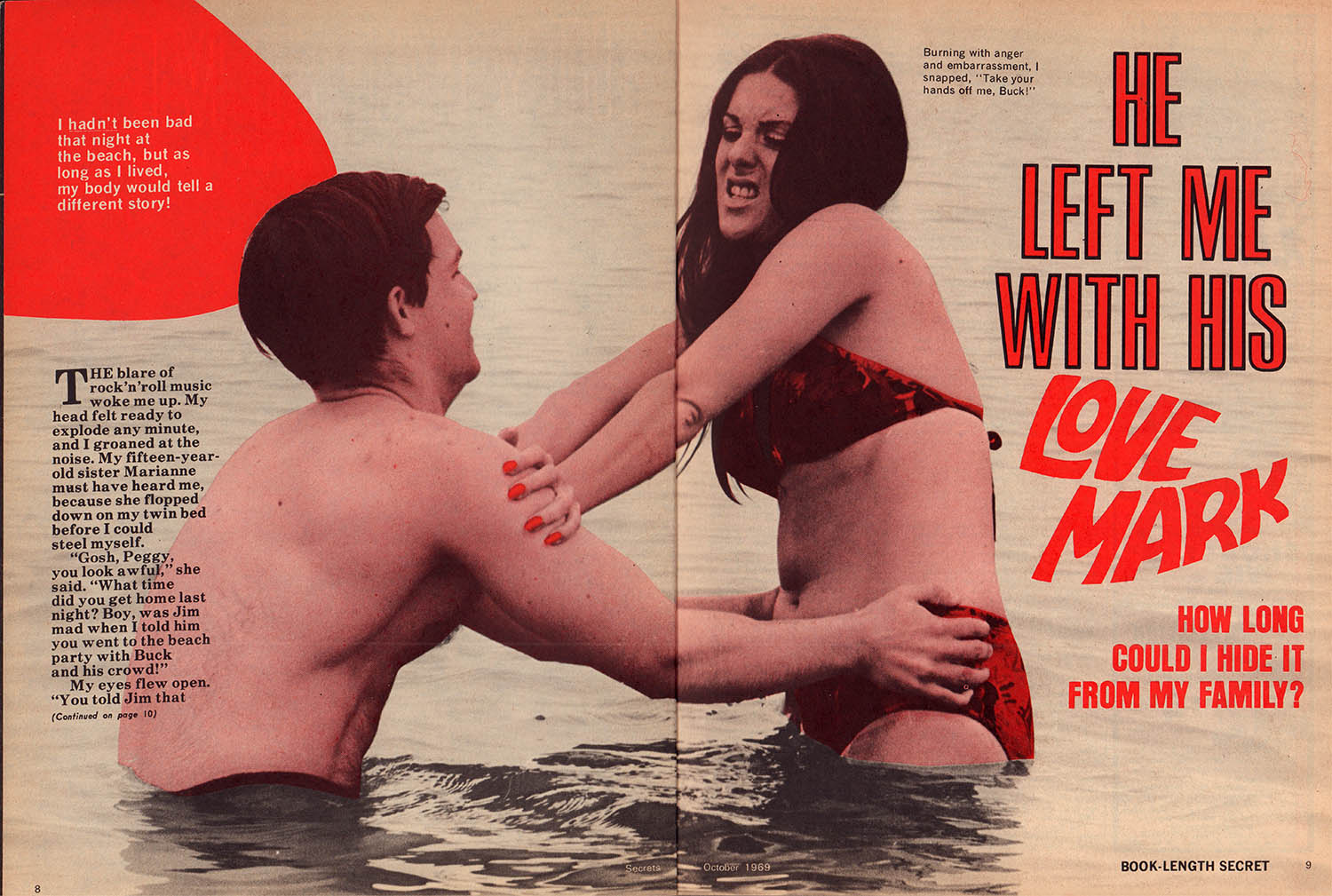 From Secrets – Oct 1969 – "I hadn't been bad that night on the beach, but as long as I lived my body would tell a different story!"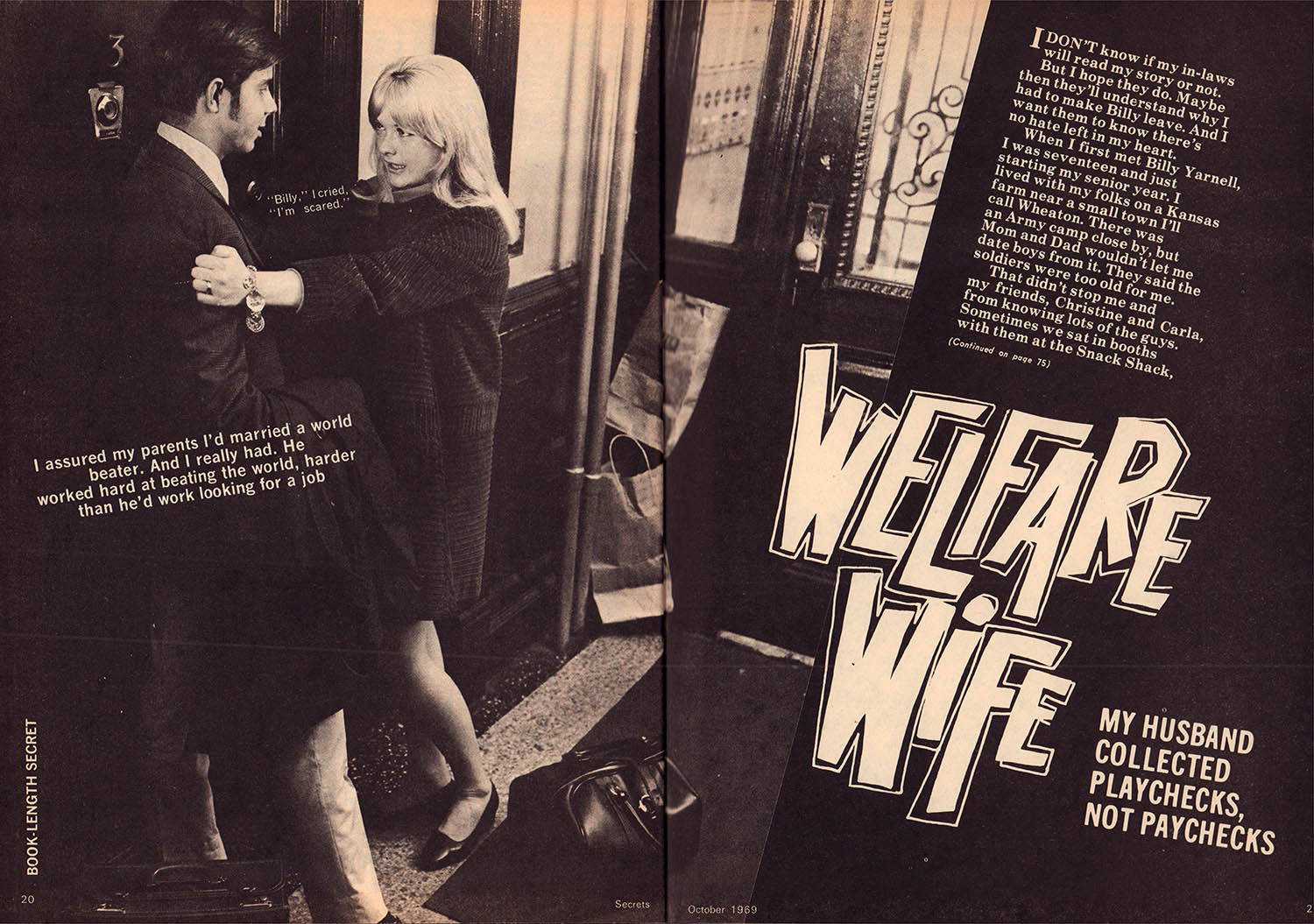 "My husband collected playchecks, not paychecks" – You've got to admit, these tabloid authors were quite the wordsmiths.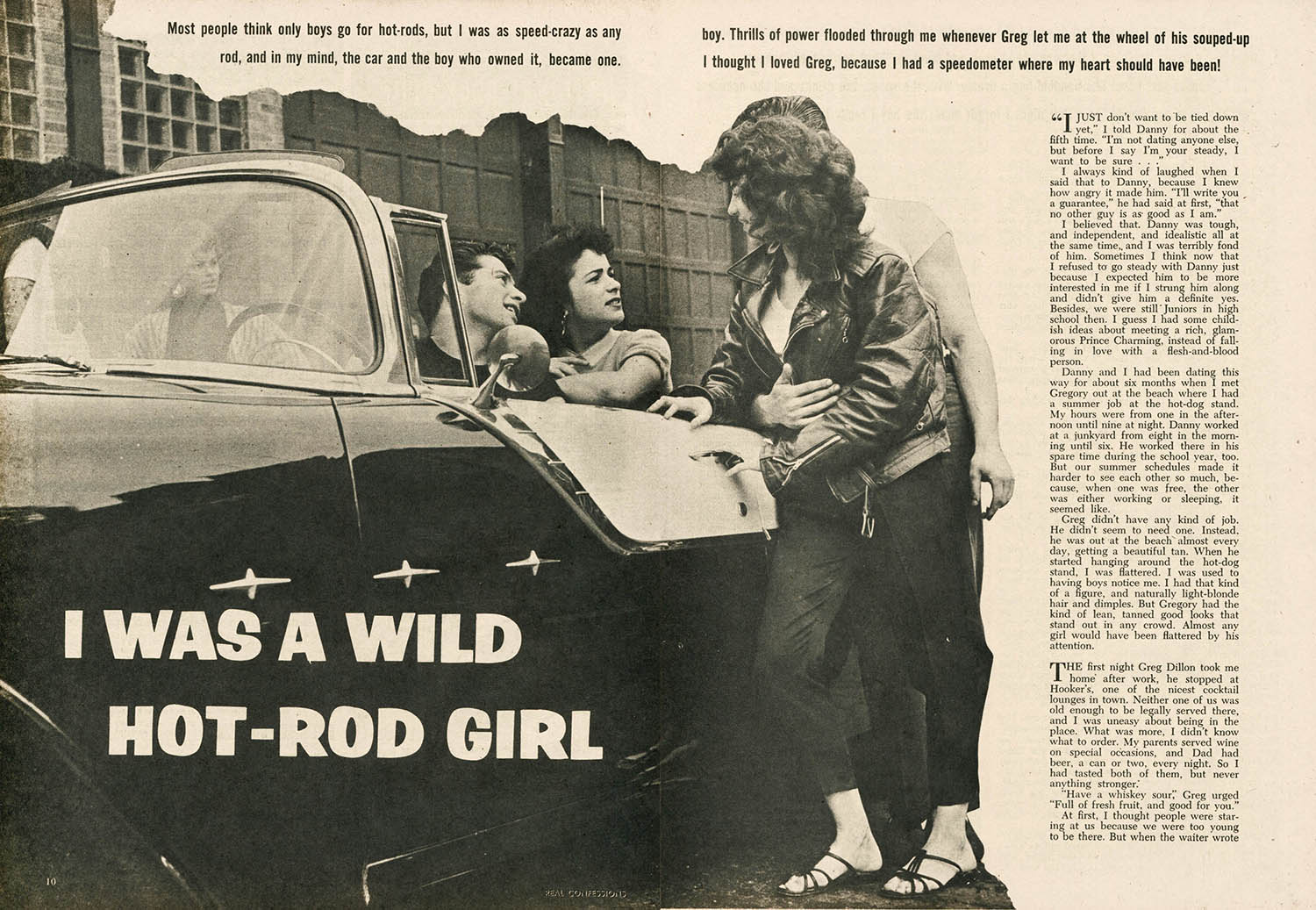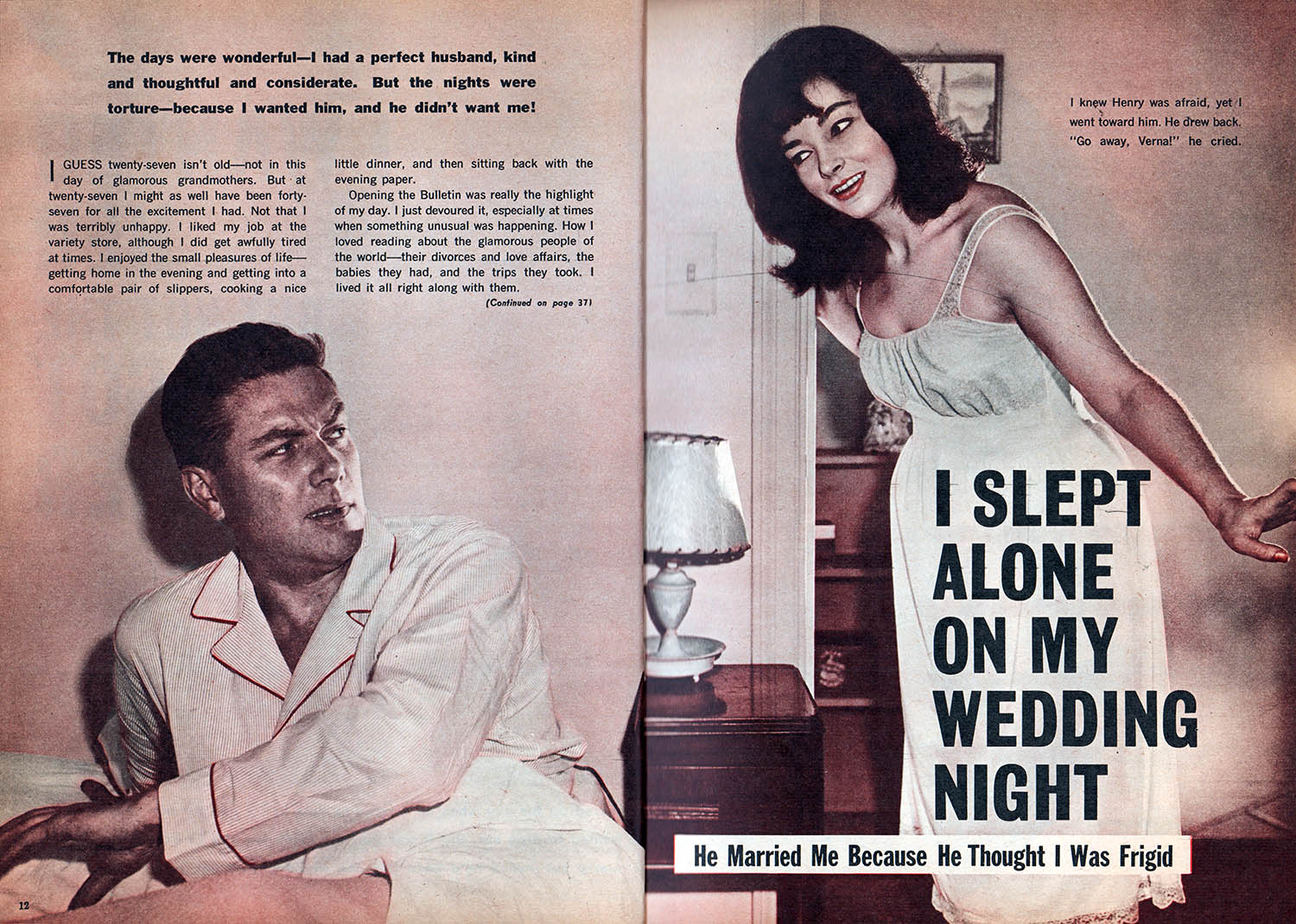 Two very different sorts of wedding bed tragedies pictured above and below.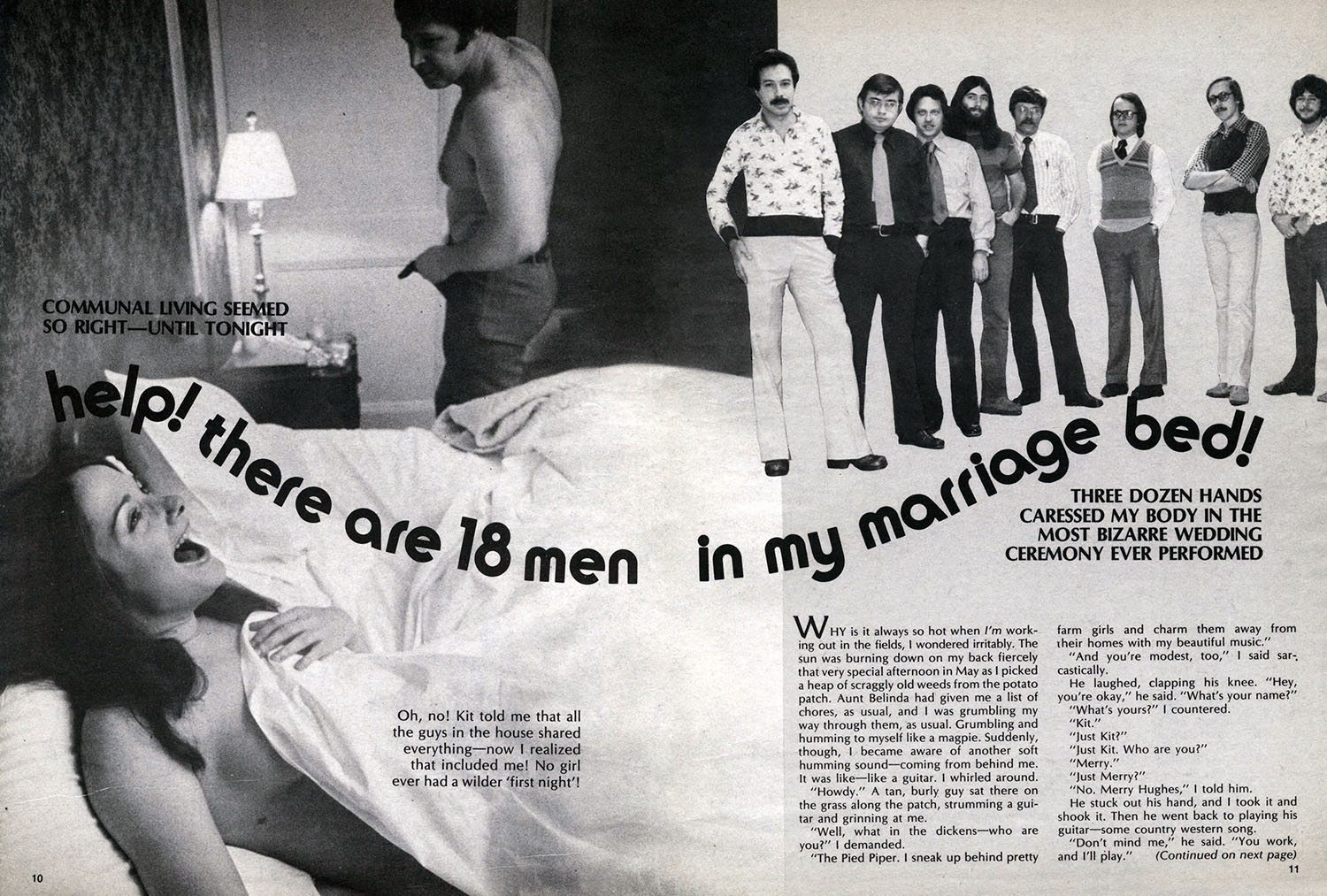 And I've saved the best for last….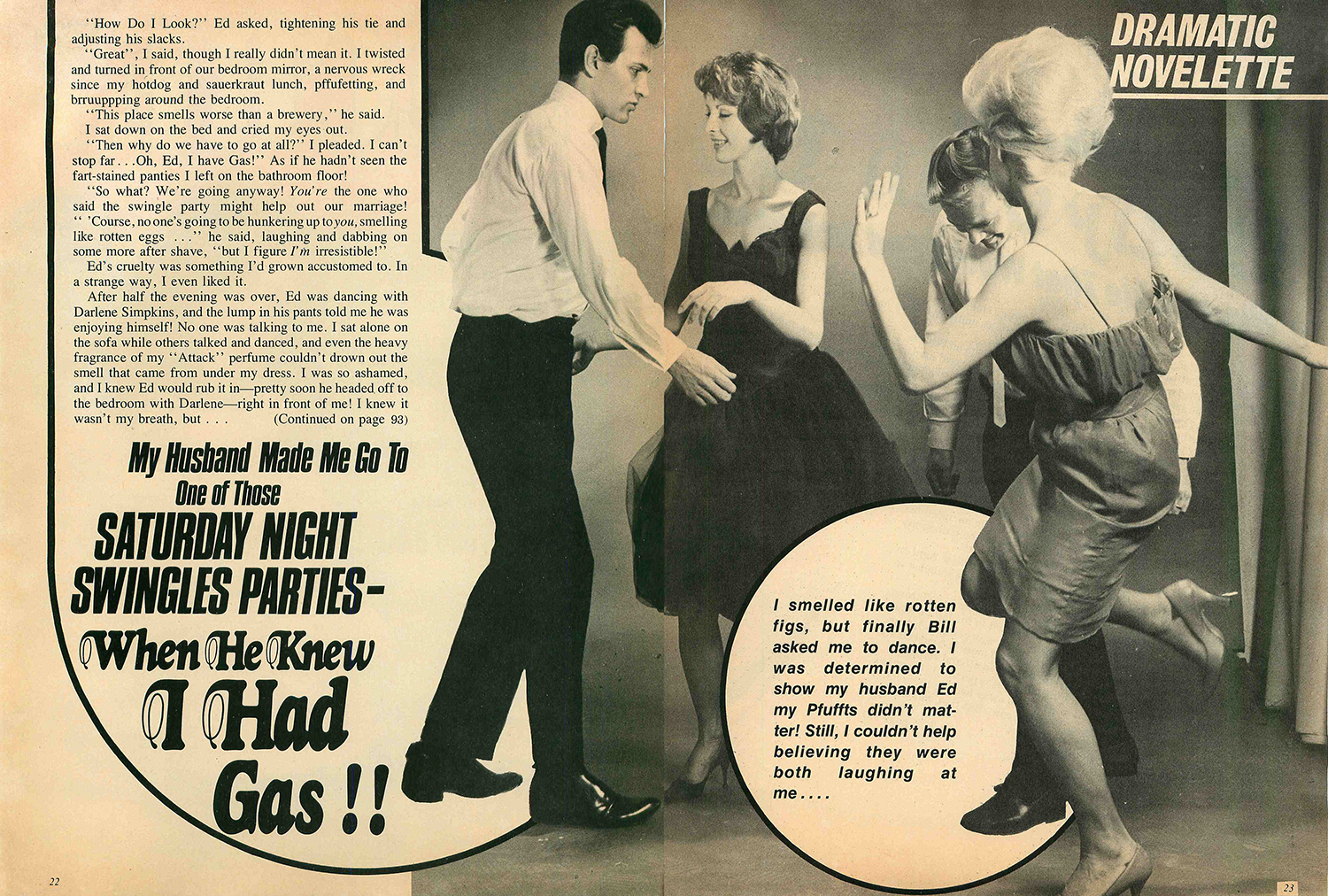 Okay, if you thought this was just too bad to be real, you'd be right.  This comes from Apple Pie (March 1975) a satirical magazine like National Lampoon.  But, as you've seen, it's not that far off from your standard confession story!