"If our heart were large enough to love life in all its detail, we would see that every instant is at once a giver and a plunderer"
– Gaston Bachelard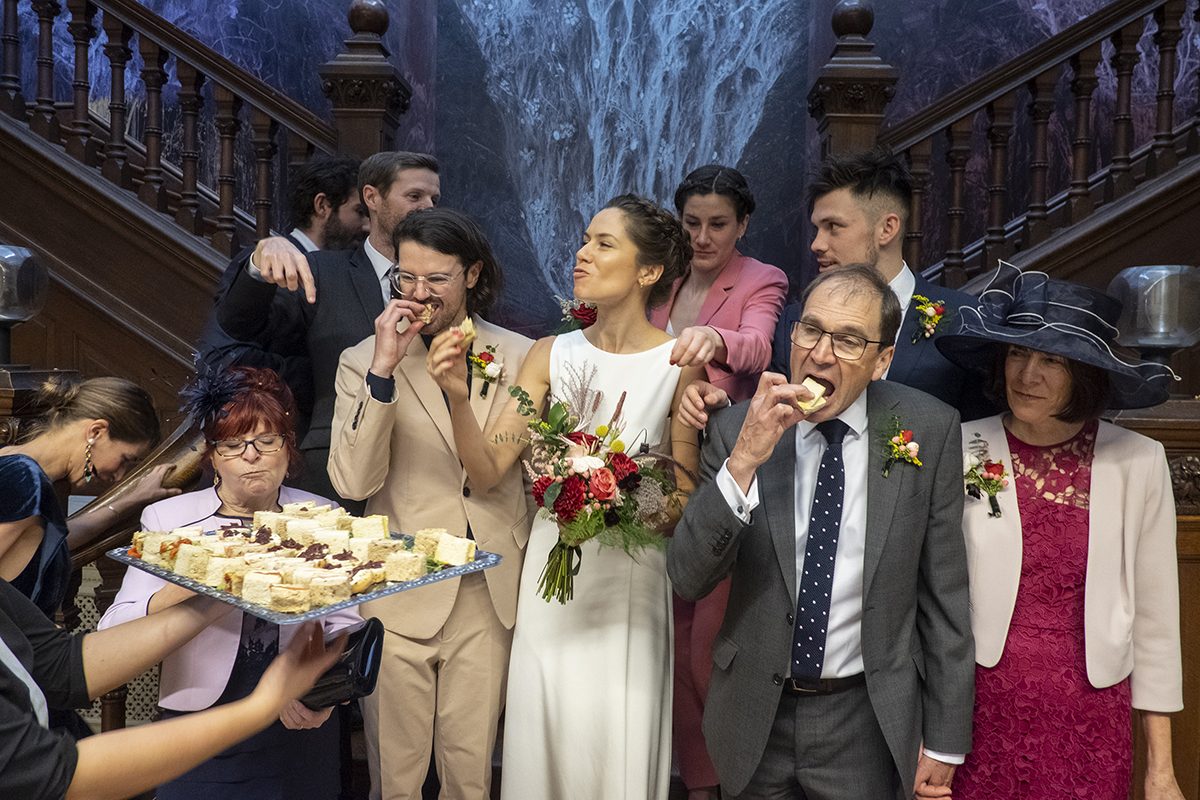 Weddings are plainly the most awful, stressful, over-organised and meaningful cultural moment a free-thinking human being can chose to enter into. And get a load of the entitlement, the demand you RSVP by a certain date, wear a certain look, sit in a certain chair and pay heed to the wedding list, a demand for payment that turns the happy couple into Roald Dahl creations who say you can come to their party but only if you give a satisfactory reply to 'Where's my present?'.
"Weddings are this melting pot of emotions and reality, happiness and sadness," says Ian Weldon, whose pictures of weddings feature a caveat printed large on the cover of his book: 'I Am Not A Wedding Photographer.' "Everything that I could find in many other different projects was all here in one place. And then when you add alcohol to that – it becomes something else, you know? I learned more about photography and myself shooting weddings than I did any other time in my life. And continue to do so."
Weldon's photographs show us the dysfunctional, the awkward bits that went wrong and not the parts we expect to see. His wedding pictures look even better because everyone's dressed in their best clothes and on their best behaviour. But no amount of tailoring can prevent the mishaps and idiosyncrasies escaping. Dull moments, like the bride at home with her family, a woman washing her hair without smudging her make up and the guest grimacing as he sips a drink grab us and hold our gaze.
Weldon has something how managed to get up close and merge with the crowd. Unready for their shy smiles, pouting close-ups and mortuary-stiff poses, the guests are unmasked. Strangers become warm and expressive. We feel a connection to them. There's love in the room.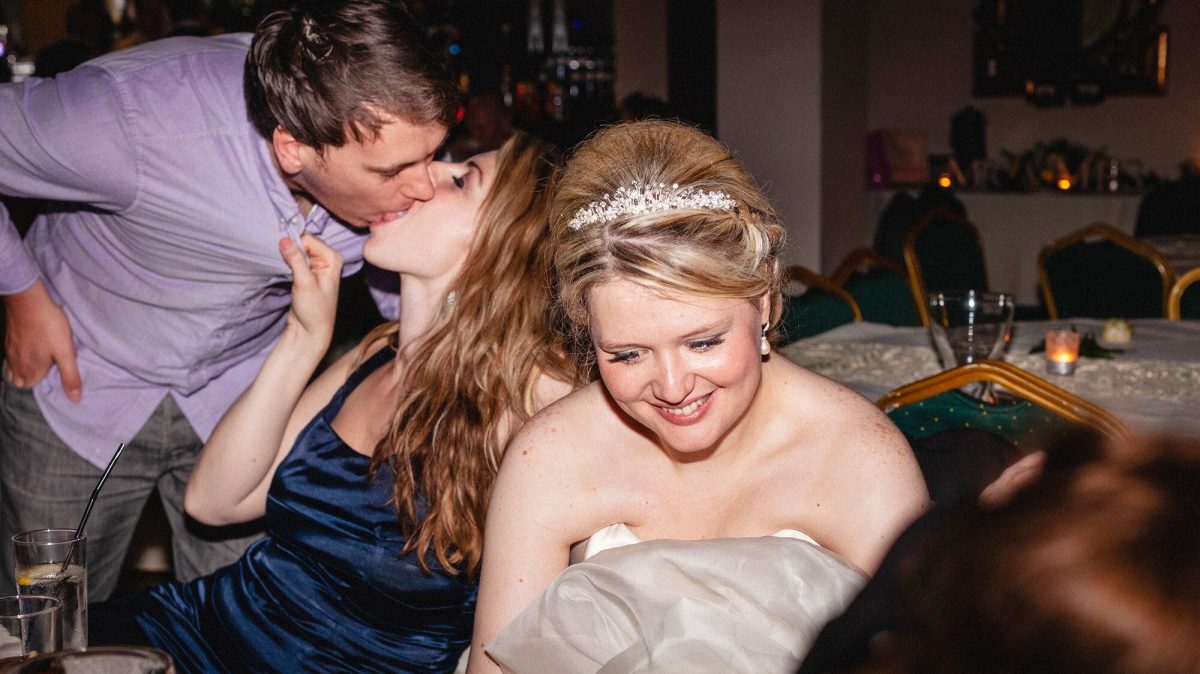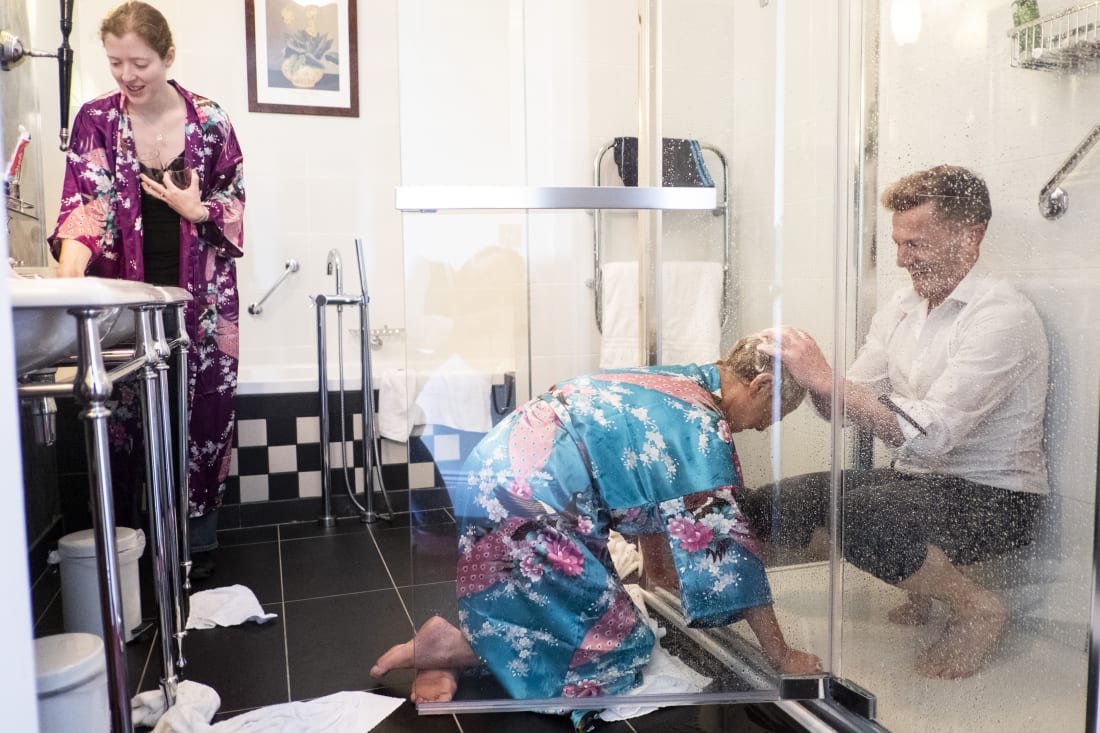 "(Traditional wedding photographers) deem the picture of the ring as an important shot and dismiss the other stuff, like a doorknob, the entrance to the venue or a grandmother with a hairdryer on her head. To me, all the photographs are as important as any other photograph. Everything in that situation will mean something to that couple on the day. So, the kid picking its nose is as important as the bride getting a hug from her father."