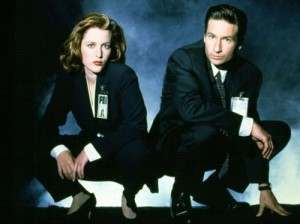 CHRIS Carter's landmark TV series The X-Files (1993 – 2002) proved not only a ratings blockbuster throughout the 1990s, but a cultural phenomenon too…the Star Trek of the Clinton Age, essentially.  The series, which starred David Duchovny and Gillian Anderson proved so popular that its success led to movies, comic-books, toys, and even spin-offs such as The Lone Gunmen (2001).  Chris Carter even had the opportunity to create another masterpiece for the era: Millennium (1996 – 1999).
But importantly, The X-Files also dramatically proved to network executives that horror and science fiction could play well on television if presented intelligently, and with a strong sense of continuity.
Accordingly, the years between 1995 and 1999 saw a veritable flood — a genuine boom — of horror-themed genre programming hit the airwaves.
These series had titles such as American Gothic (1995 – 1996), Strange Luck (1995 – 1996) , Dark Skies (1996), Kindred: The Embraced (1996), Poltergeist: The Legacy (1996 – 1999), Psi-Factor: Chronicles of the Paranormal (1996 – 1999), The Burning Zone (1996 – 1997), Sleepwalkers (1997), Prey (1998), Brimstone (1998 – 1999) and Strange World (1999).
Most of the series above lasted only a season, but nearly all of them involved, like The X-Files, aspects of the police procedural format, and elements of the horror genre, namely the supernatural or paranormal.  Many of the series also involved government conspiracies, or an "Establishment" attempt to hide some important "truth" from the American populace.
Below are my choices for the five best of this post-X-Files pack.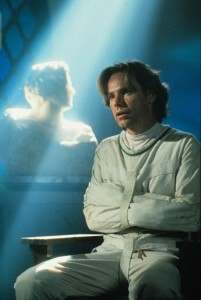 Nowhere Man (1995)
Created by Lawrence Hertzog, Nowhere Man ran for twenty-five hour-long episodes in 1995 and quickly proved a paranoiac's dream.  The series involved Thomas Veil (Bruce Greenwood), a photographer whose very life was "erased" in the premiere episode ("Absolute Zero") by a shadowy conspiracy.
This act of erasure was undertaken because Veil publicly revealed a top-secret photograph called "Hidden Agenda."  Soon even Veil's wife, Alyson, (played by Millennium's Megan Gallagher) claimed not to have any memory of him.  She had been "gotten to."
As the series continued, Thomas began to uncover secrets about the photograph, and about his enemies too, a sinister cabal or conspiracy called "The Organization" (think The Syndicate on The X-Files).
Nowhere Man picks up primarily on The X-Files' conspiracy vibe, but also features a strong if oblique connection to another TV paranoia trip:  The Prisoner (1967).  There, the prisoner, Number Six (Patrick McGoohan), was trapped in a bizarre European "village" for spies and ex-spies; but here Veil finds himself in an Information Age trap where the prison is the global village itself.
Nowhere Man is cleverly constructed, right down to the hero's name — Veil — and so the series' final episode saw the "veil" over his eyes lifted at last.  Today, this series would be ripe for either a movie or TV reboot.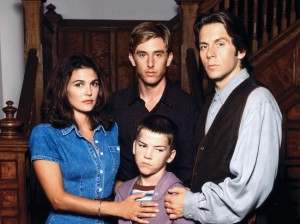 American Gothic (1995)
American Gothic is the tale of Caleb Temple (Lucas Black), a youngster of questionable lineage who lives in the town of Trinity, South Carolina.  In the premiere episode, little Caleb sees his father go stark, raving mad, and his sister Merlyn (Sarah Paulson) murdered by the nefarious sheriff, Lucas Buck Gary Cole).  Then he learns that not only is Lucas Buck Caleb's biological father…he may also be the devil.
But before Sheriff Buck can seduce Caleb to the dark side, the sinister force must contend with two most unwelcome "do-gooders" in Trinity:  reporter Gail Emory (Paige Turco) and a Yankee upstart with a dark past, Dr. Matt Crower (Jack Weber).
Both carpet-baggers realize Buck is up to no good, and take steps to protect Caleb, but must simultaneously deal with their own personal demons. Gail's parents died in Trinity twenty years earlier and Lucas Buck just happened to be the person who discovered their bodies. And Matt is still recovering from a drunk-driving incident in which his wife and daughter were killed.
Created by Shaun Cassidy, and produced by Sam Raimi, this soap opera horror owes as much to Twin Peaks (1990 – 1991), perhaps, as it does The X-Files.  But all the x-trademarks are present, from a focus on corrupt (or actually evil authority figures…), to storylines which involve police solving crimes in a small-town.
American Gothic succeeds in part because of Gary Cole's central presence and enormous charisma as the evil sheriff, a figure who can seduce anyone with a smile, and who is even taken, on occasion, to whistling the theme song from The Andy Griffith Show.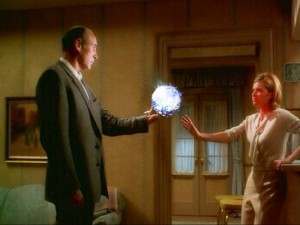 Dark Skies (1996)
Like all the TV series featured on this list, there can be little doubt that NBC's Dark Skies was granted a prime-time berth because of the success of The X-Files.
There's also little doubt, however, that Dark Skies is an original, visually-distinctive, and involving program.   The one-season series showcases a memorable, growling regular performance from the late J.T. Walsh as the leader of a top-secret alien-hunting organization called Majestic, and features rewarding and intricate plotting across the span of the catalog's nineteen hour-long shows.
The series is a period piece, interestingly, that concerns alien abduction — one of the key concepts explored in The X-Files.
Dark Skies opens immediately after President Kennedy is inaugurated and the age of Camelot commences.  Two young Americans who are filled with enthusiasm — John Loengard (Eric Close) and Kim Sayers (Megan Ward) — go to Washington to serve the country and the new president but quickly become disillusioned when they learn that all is not as it seems.  Aliens have infiltrated the highest levels of the American government.
While it's true that Eric Close looks like he was incubated at a David Duchovny Clone Farm, and that matters of conspiracy in Washington were also heavily featured on The X-Files, Dark Skies nonetheless forges its own unique identity.  It does so by replaying key events from human history — the first TV appearance of The Beatles on the Ed Sullivan Show, for instance, or the Kennedy Assassination — through the lens of alien infiltration in human affairs.
That was the "literal" level upon which Dark Skies operated, but the series also, overall, served as a metaphor for politics in the U.S. Naivety and idealism quickly give way to cynicism and dark agendas, and it's a struggle to know who to trust, and who to believe in.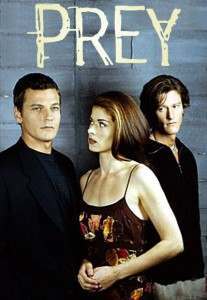 Prey (1998)
The tag-line for the short-lived series Prey on ABC-TV was "We've just been bumped down the food chain," and the series concerned a beautiful geneticist, Sloane Parker (Debra Messing), who learned that a look-alike species — homo dominants — was gaining a foothold on power in North America.
A brilliant scientist not unlike Scully (Gillian Anderson), Sloane came to work with one of the dominants, Tom Daniels (Adam Storke), to help reveal the breadth of the dark conspiracy.
The X-Files often concerned genetic mutants like Victor Eugene Tooms, or other freaks of nature who, in some way could represent one possible future for humanity.  Prey likewise involved a similar scenario, but taken to apocalyptic levels.  Mankind was losing ground to superior beings, yet those beings were not aliens or monsters…but ones created under the auspices of evolution, by Mother Nature herself.  The human race had become outmoded.
So the question became: can man outwit, defeat, and outlive its replacement species?
Over the course of Prey'srun much information was learned about the new species, including the fact that it lacked human emotions but possessed ESP.  Prey was also weirdly prophetic.  One episode involved school shootings — less than a year before Columbine — and the entire premise seemed to forecast the War on Terror.
In particular, the homo dominants looked and sounded like us, and therefore could imitate humans flawlessly.  So your neighbor could actually be a sleeper agent, just waiting for the right moment to strike.  In 2004, this was the premise of the re-imagined Battlestar Galactica.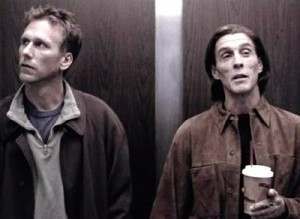 Brimstone
(1998 – 1999)
Created by Ethan Reiff and Cyrus Voris, Brimstone aired on Fox as the lead-in to Chris Carter's Millennium on Friday nights, and ran for just thirteen hour-long episodes before an untimely cancellation.
The series starred Peter Horton as hangdog Detective Ezekiel Stone, a former Manhattan-based police officer who died in 1983…and promptly went to Hell.  Stone did so because he took the law into his own hands and murdered his wife's rapist, Gilbert Jax.  Two months after that act of vigilantism, Stone was killed in the line of duty, and he has been trapped in the Underworld ever since.
As the series commences, however, 113 of the "most vile" criminals in Hell manage a jailbreak and return to Earth to wreak havoc.  The Devil (John Glover) — trying to cover his ass with the Man Upstairs — recruits Detective Stone to pursue the fugitives and send them back to Hell and permanent incarceration.
Ezekiel can do so only by destroying their eyes, the so-called "windows to their souls."  In exchange for his service, Stone gets a much-valued second shot at human life, happiness, and redemption. Each time Stone kills an escaped convict, a strange runic tattoo (representing the convict's "number" or identity) burns off his body.  Stone must also deal with the fact that some of escaped convicts are extremely powerful, with terrifying supernatural abilities
As the Devil informs the detective: "The longer you've been in Hell, the more it becomes a part of you."
The villains featured on the series reflect The X-Files concept of the "monster of the week."  They are literally twisted creatures from Hell, and the roster includes an unrepentant rapist ("Encore"), a shape-shifter with multiple personalities ("Faces"), a lovelorn poet who kills virgins ("Poem,") and even a Bonnie and Clyde-styled pair of thugs ("The Lovers.")
Presented in a kind of de-saturated or silvery-steel color-scheme, Brimstone was another police procedural of the 1990s, like the X-Files, but it proved an original initiative because it worked overtime to diagram a universe of nuanced morality.  Despite the presence of God and the Devil in the stories, Brimstone always explored shades of gray, not the least in terms of Stone's behavior.  Did he deserve a second chance?  Did he deserve to go to Hell in the first place?
In exploring these issues, Brimstone proved more than your average X-Files knock-off and emerged as a memorable supernatural noir.  The series' sense of humor, revolving around a man from 1983 living at the turn of the century, also proved stellar.