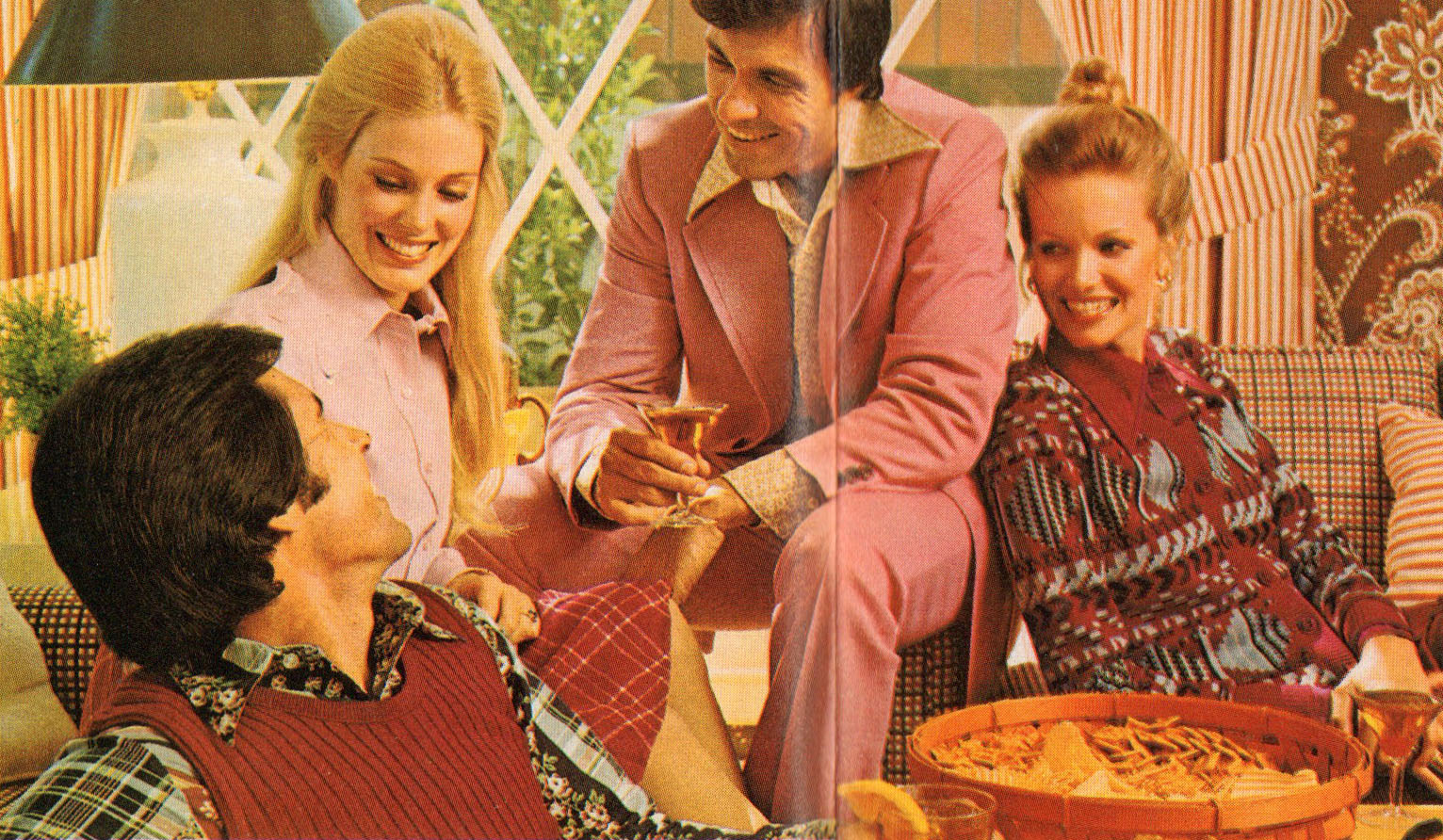 Here's to good friends, tonight is kinda special
The beer we'll pour
Must say something more somehow
So tonight, tonight, let it be Lowenbrau.

That popular jingle was just one of countless advertising tactics from booze producers to provide an association between alcohol and being popular, having friends and fun.  It's common sense, after all.  Should we expect Seagram's gin to show us ads featuring a lonely drunk in his drab living room?  Or Jose Cuervo tequila ads showing us unconscious college students laying in their own vomit?  Of course not.  Alcohol advertising shows us "the good life" – people we want to be like, with lots of friends and gorgeous, smiling partners.
What guy in 1966 wouldn't want to be this guy? A nice home with roaring fire, a doting wife who's a good cook, and friends poking into either side of the frame…  He's living the dream.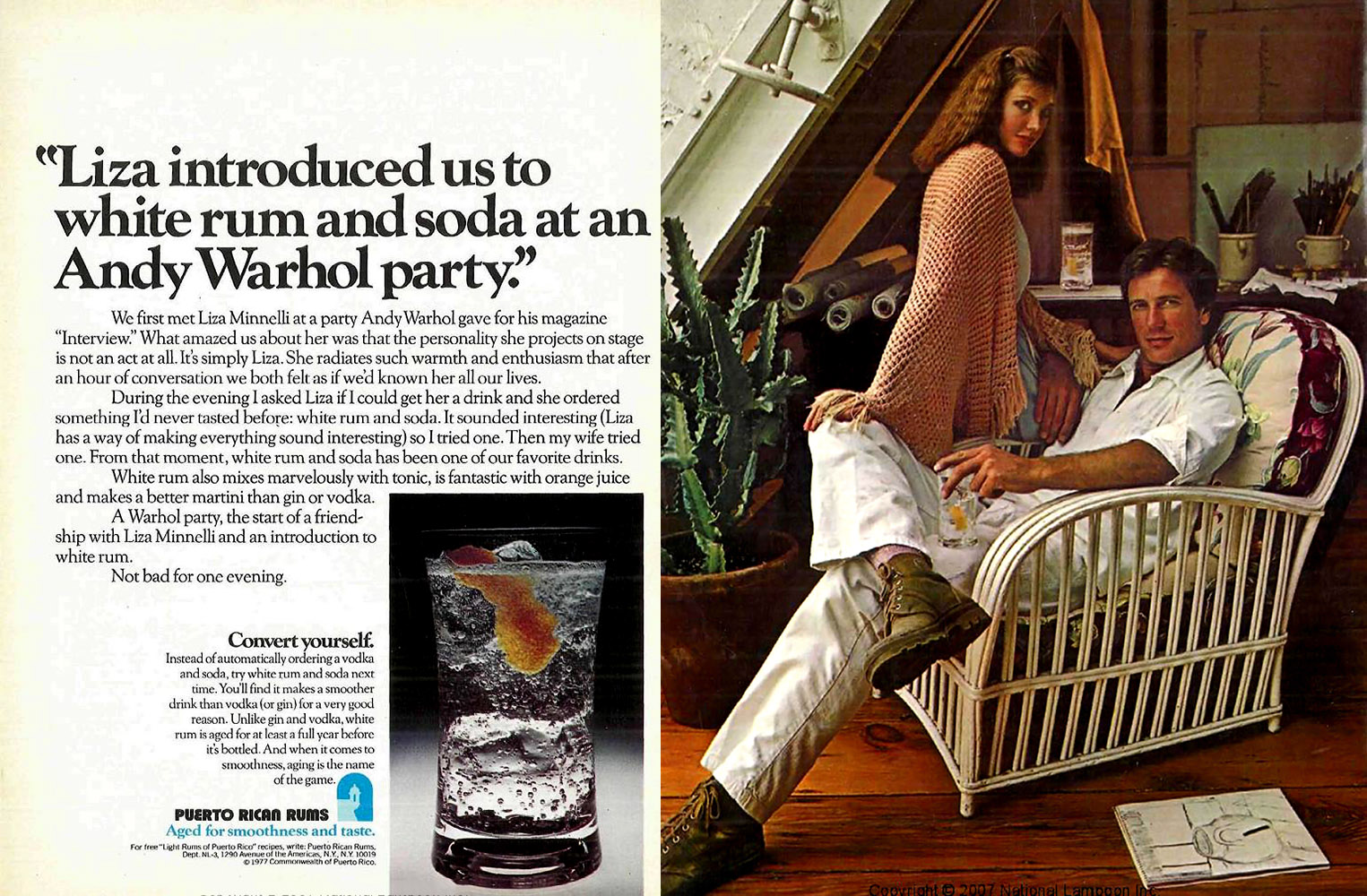 This one from 1978 is just so unbearably pretentious.  It tells the story of this couple who attended a party hosted by Andy Warhol where they met and became fast friends with Liza Minelli.  Oh, brother.  Read ad's text only if you have a strong stomach:
"We first met Liza Minnelli at a part Andy Warhol gave for his magazine 'Interview'.  What amazed us about her was that the personality she projects on stage is not an act all.  It's simply Liza… we both felt as if we'd known her all our lives… A Warhol party, the start of a friendship with Liza Minnelli and an introduction to white rum.  Not bad for one evening."
On a hilarious note, look at that absolutely horrible sketch he's got laying on the floor!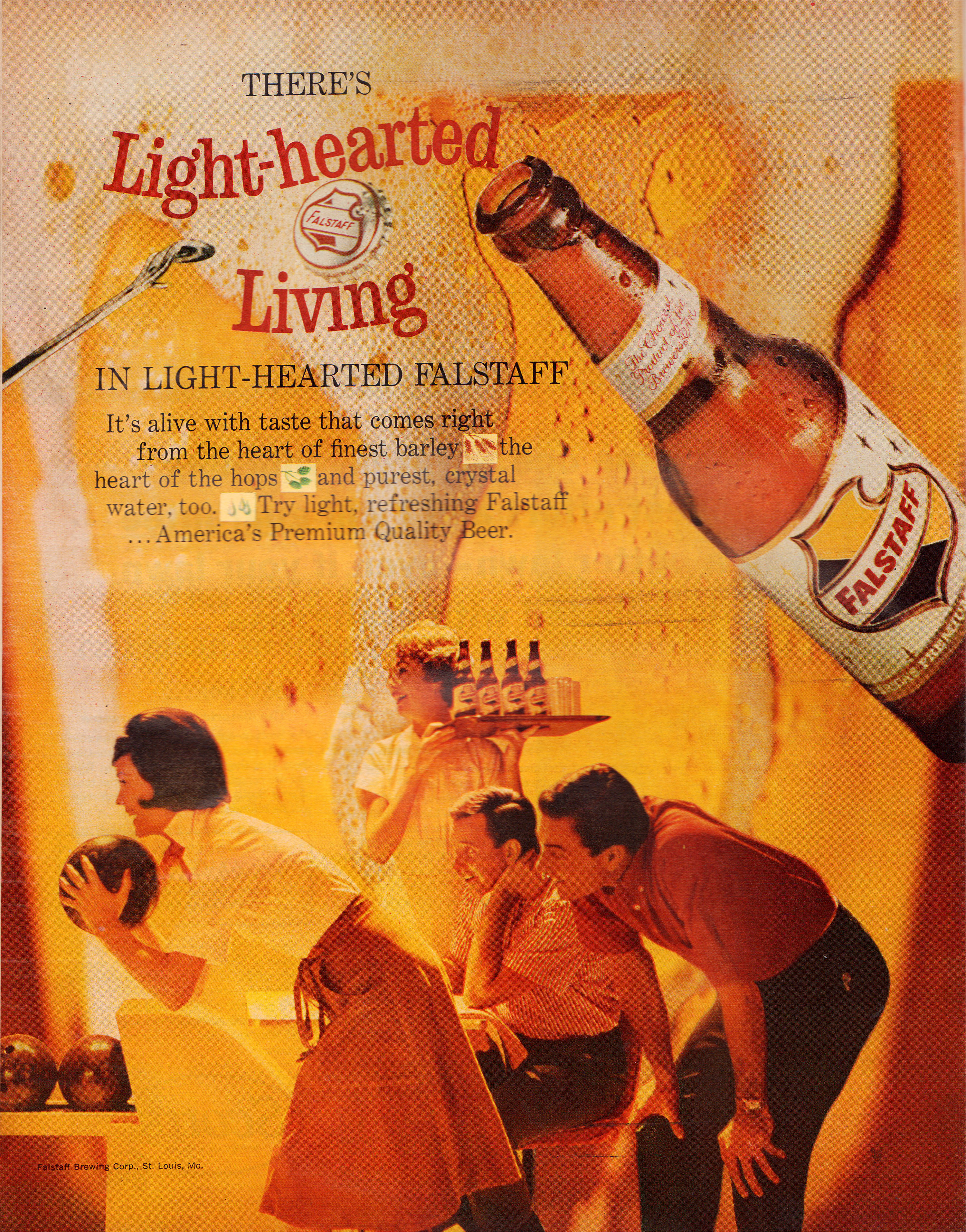 This ad from LOOK magazine (March 27, 1962) shows some friends out bowling.  The guy is clearly sneaking a look at his girlfriend's behind.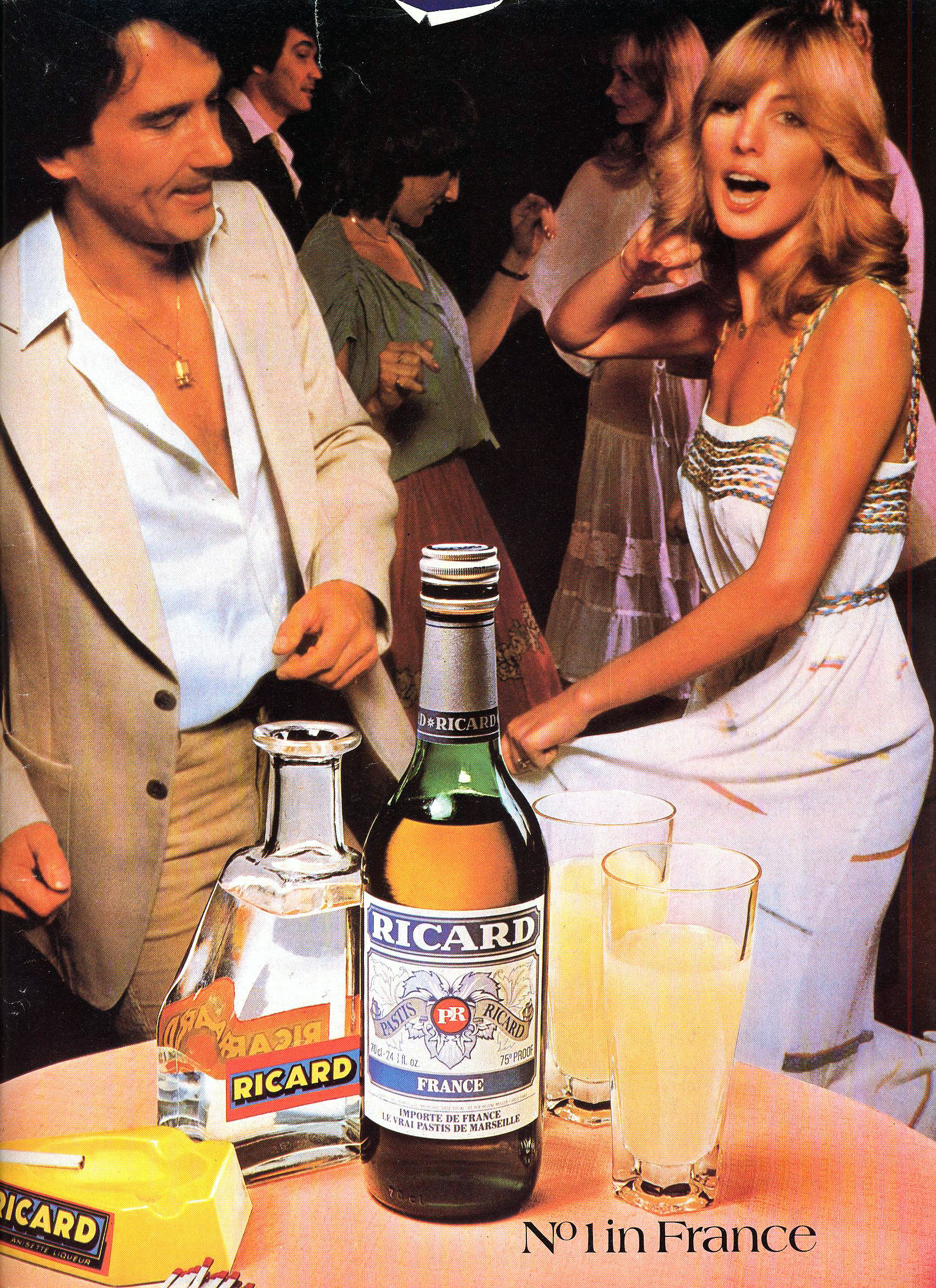 Doing the Hustle at a French discothèque in 1980 – it didn't get much more trendy and hip than this… until just a few months down the road when disco went off the cliff and rapidly fell out of style.  But dig that Ricard ashtray!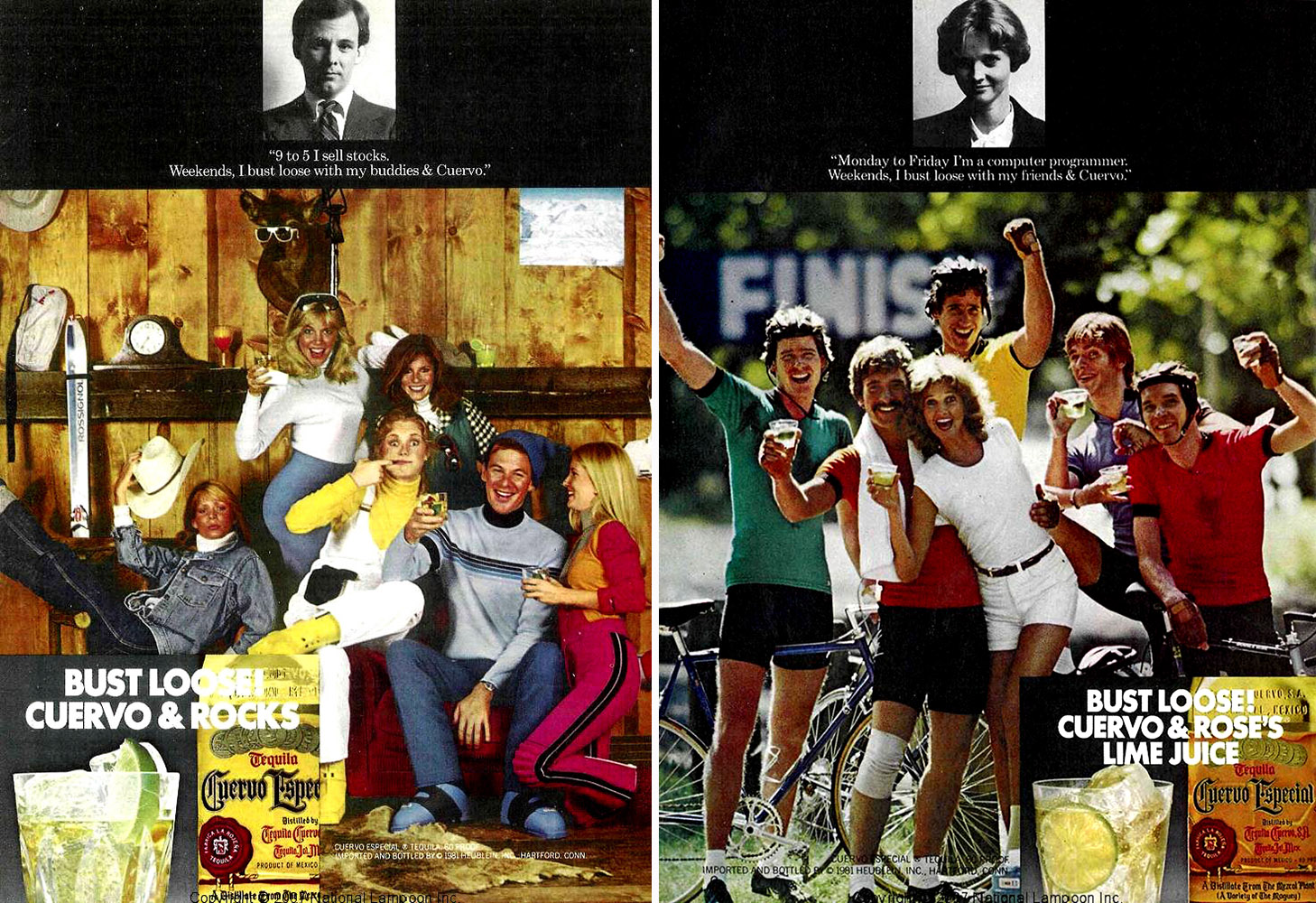 The "Bust Loose" Jose Cuervo ad campaign from 1981 absolutely crack me up. Every ad featured a mild mannered office worker who "busts loose" on the weekends.  What's hilarious is that "busting loose" apparently means finding about five partners of the opposite sex to get drunk with!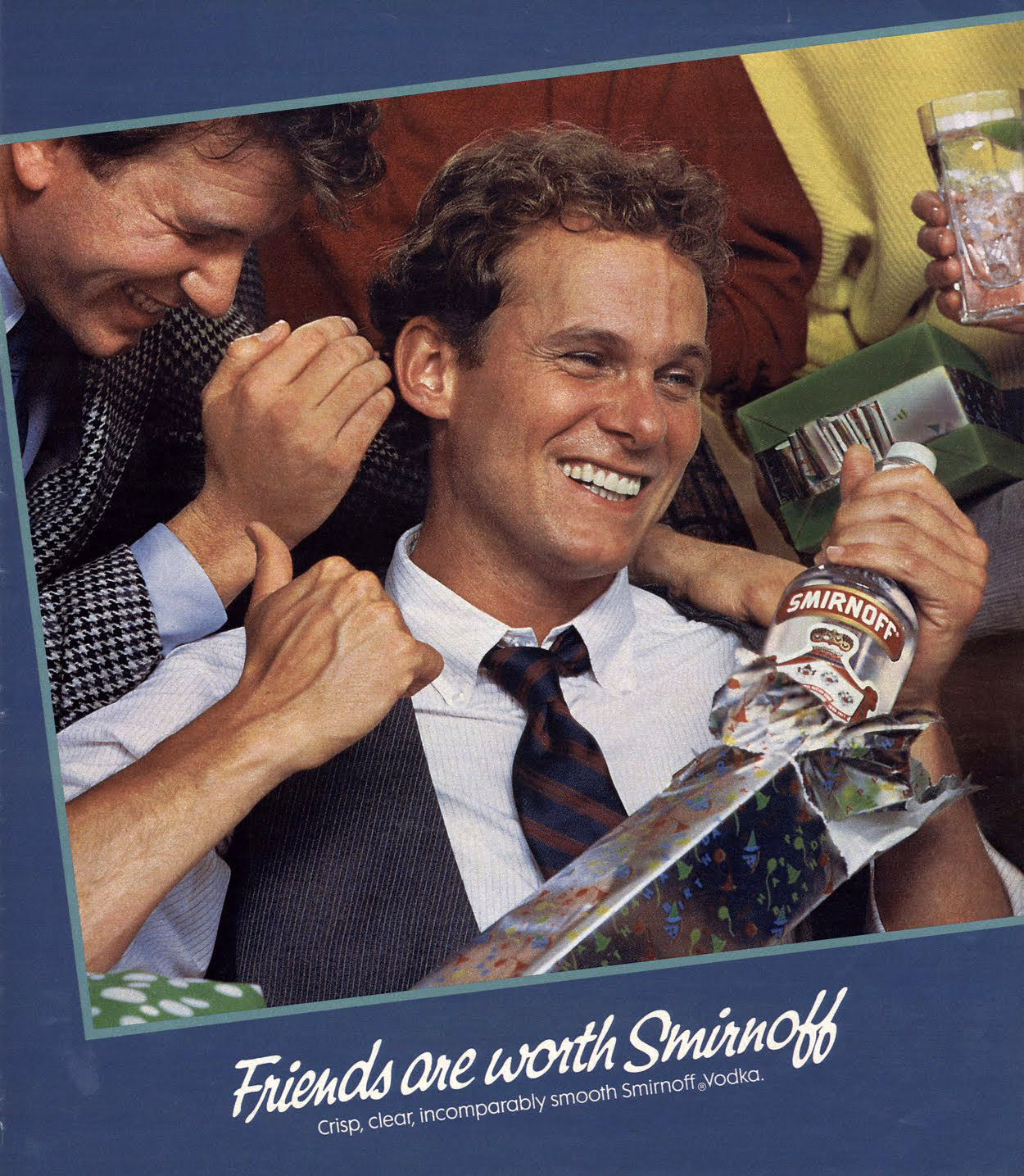 Not sure what these "friends" are doing in this 1986 Smirnoff ad.  One's randomly sticking a "thumbs-up" in his face, the other is… flicking his ear?  No idea.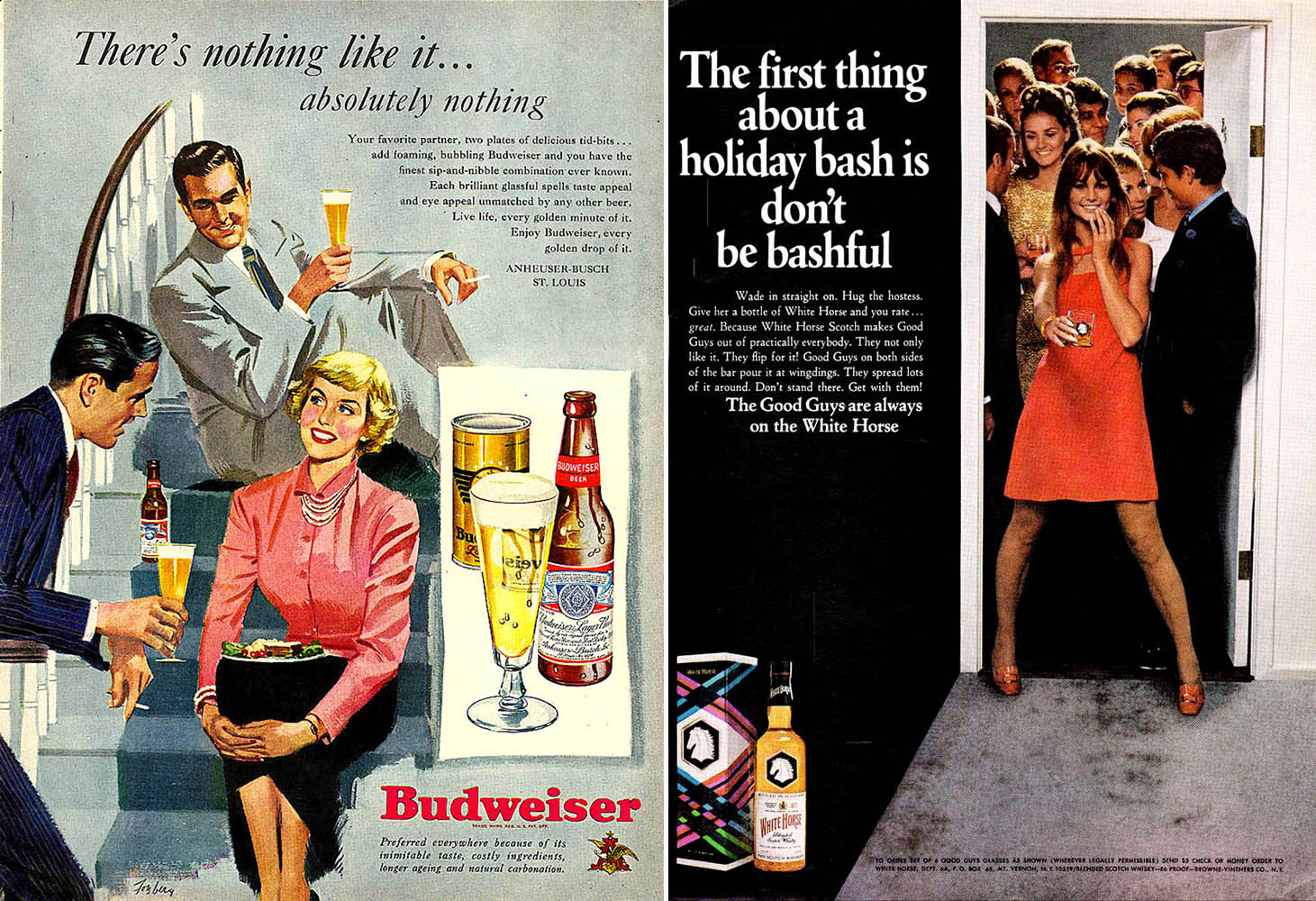 A couple examples where the girl is the center of attention for a change.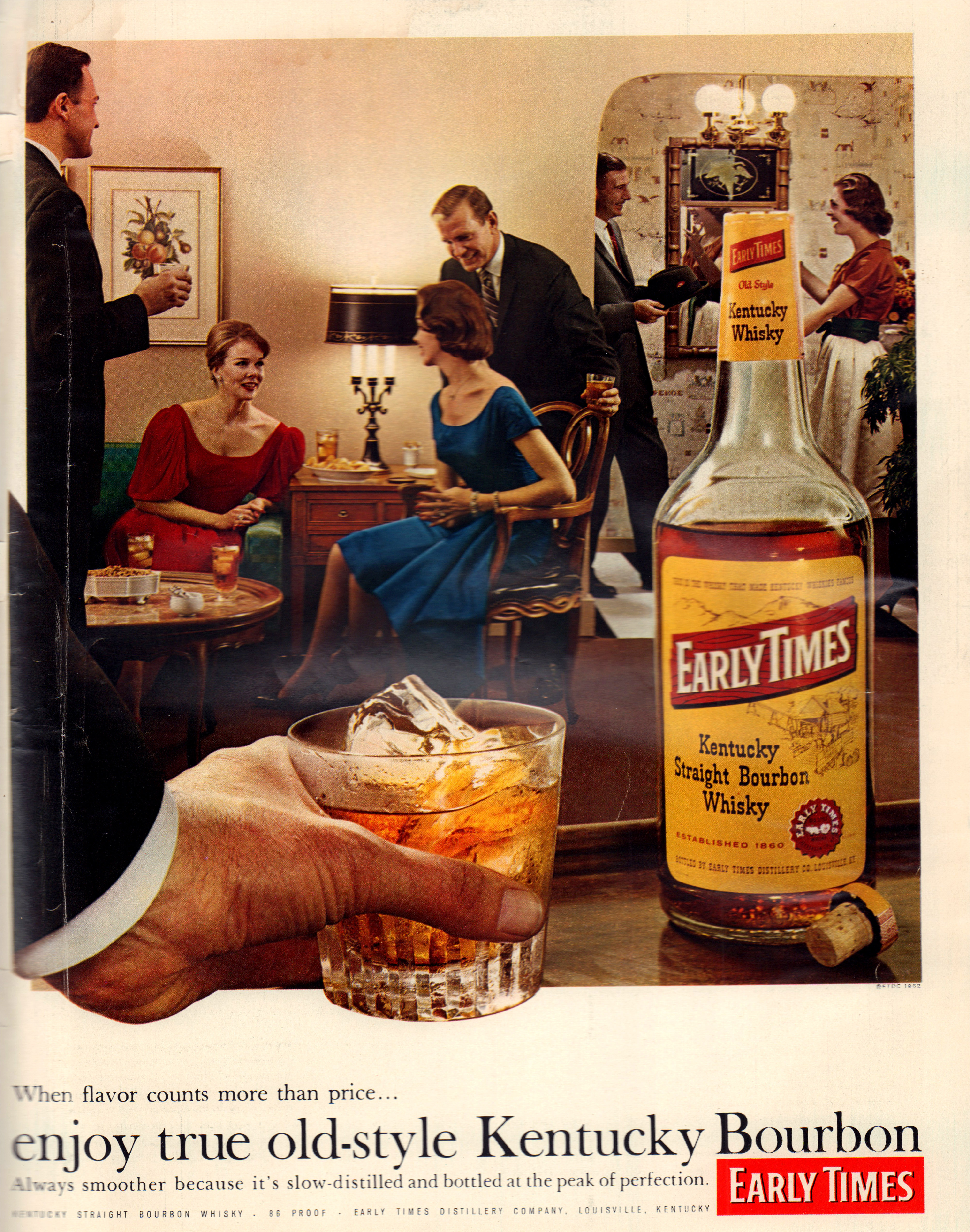 I can't decide if this ad from 1962 is genius or an utter fail.  On the one hand, it puts us right in the perspective of the guy holding the glass of Bourbon – looking out upon this lovely party in first person.  On the other hand, he appears to be alone.  (You've got to look at these ads from a subliminal, gut reaction perspective, folks.)  A truly effective ad puts you in the shoes of the guy who's got the girl at his side and surrounded by adoring friends.  This guy could be a loner, an outsider, a socially awkward guest…. I think it's a fail, and probably why you don't see too many from this perspective.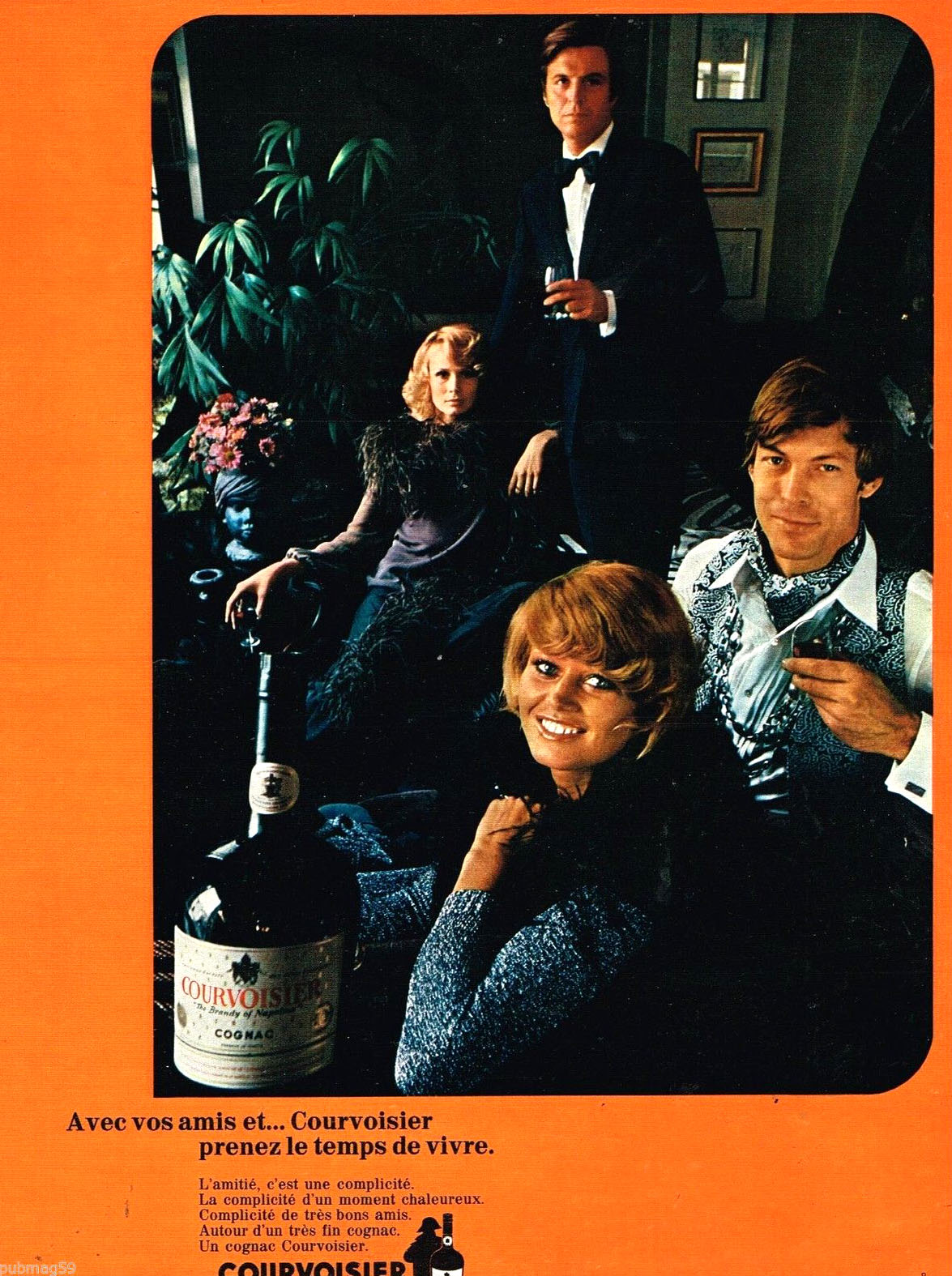 Here's another first-person partygoer from eight years later.  This time the party guests at least acknowledge us… but that couple in the back doesn't seem too thrilled we've arrived.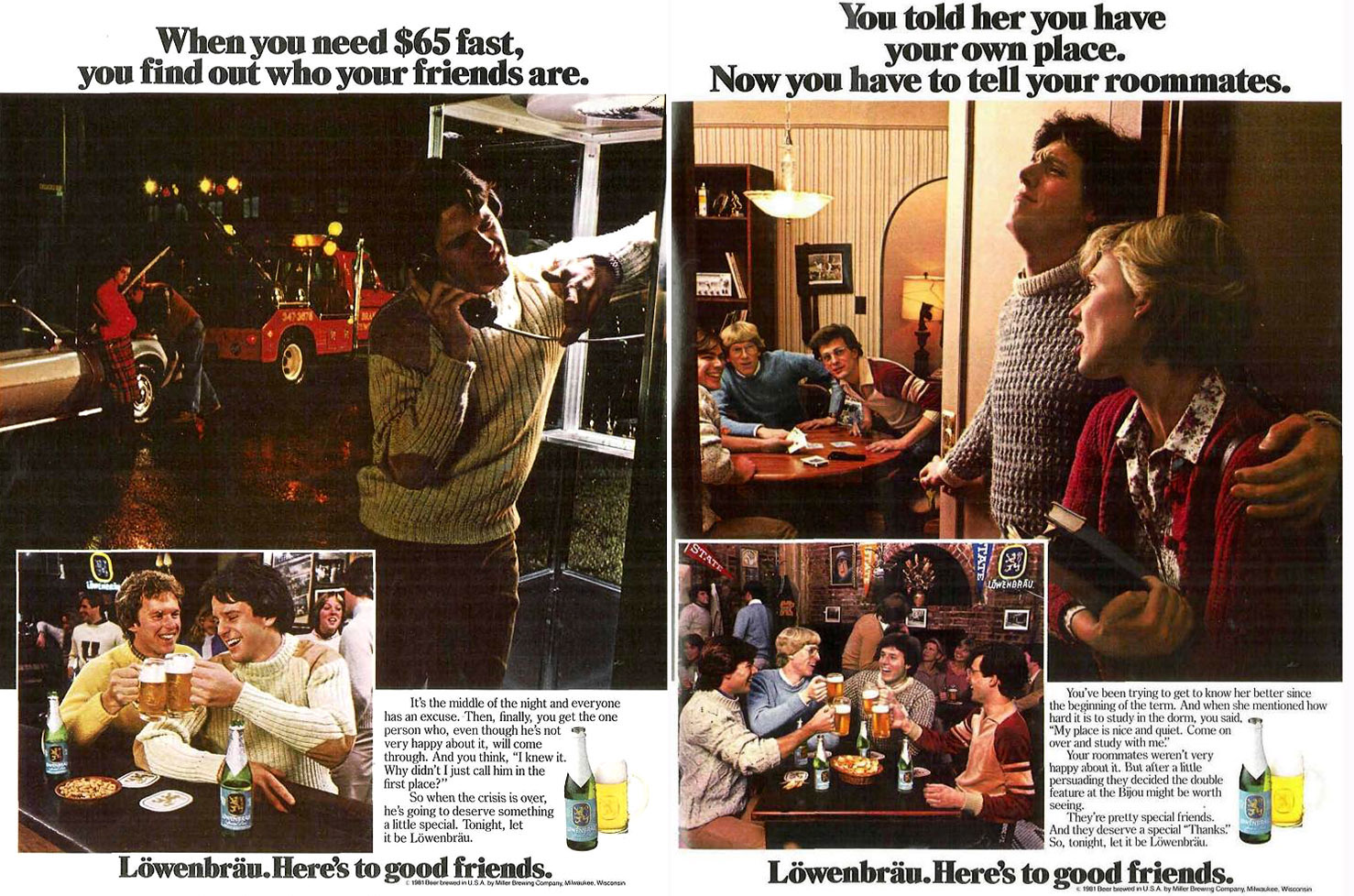 Löwenbräu made it very clear: guys who drink our beverage have lots and lots of friends.  The 1981 ads above demonstrate – your Löwenbräu friends will help you out after a car accident, and they'll evacuate the apartment when you want to screw your girlfriend.  "Here's to good friends!"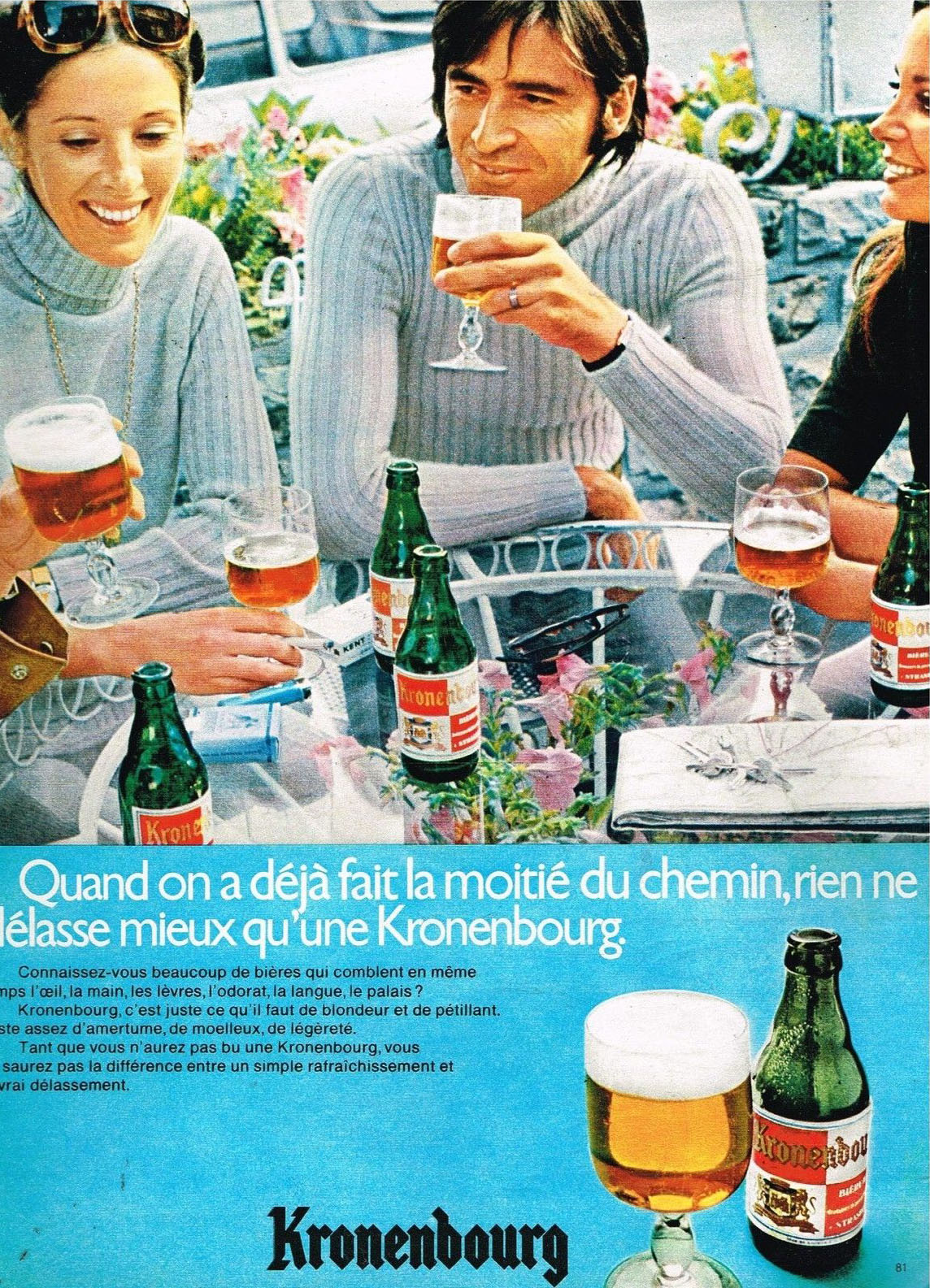 From 1971 – This looks like such a good time smoking and drinking outside – I want to join in.  I find this realism a lot more effective than those Jose Cuervo ads which just seem like a fantasy.
Now, if you really want to socialize like a boss with your alcohol, I'll direct your attention to this little promotional pamphlet from midcentury…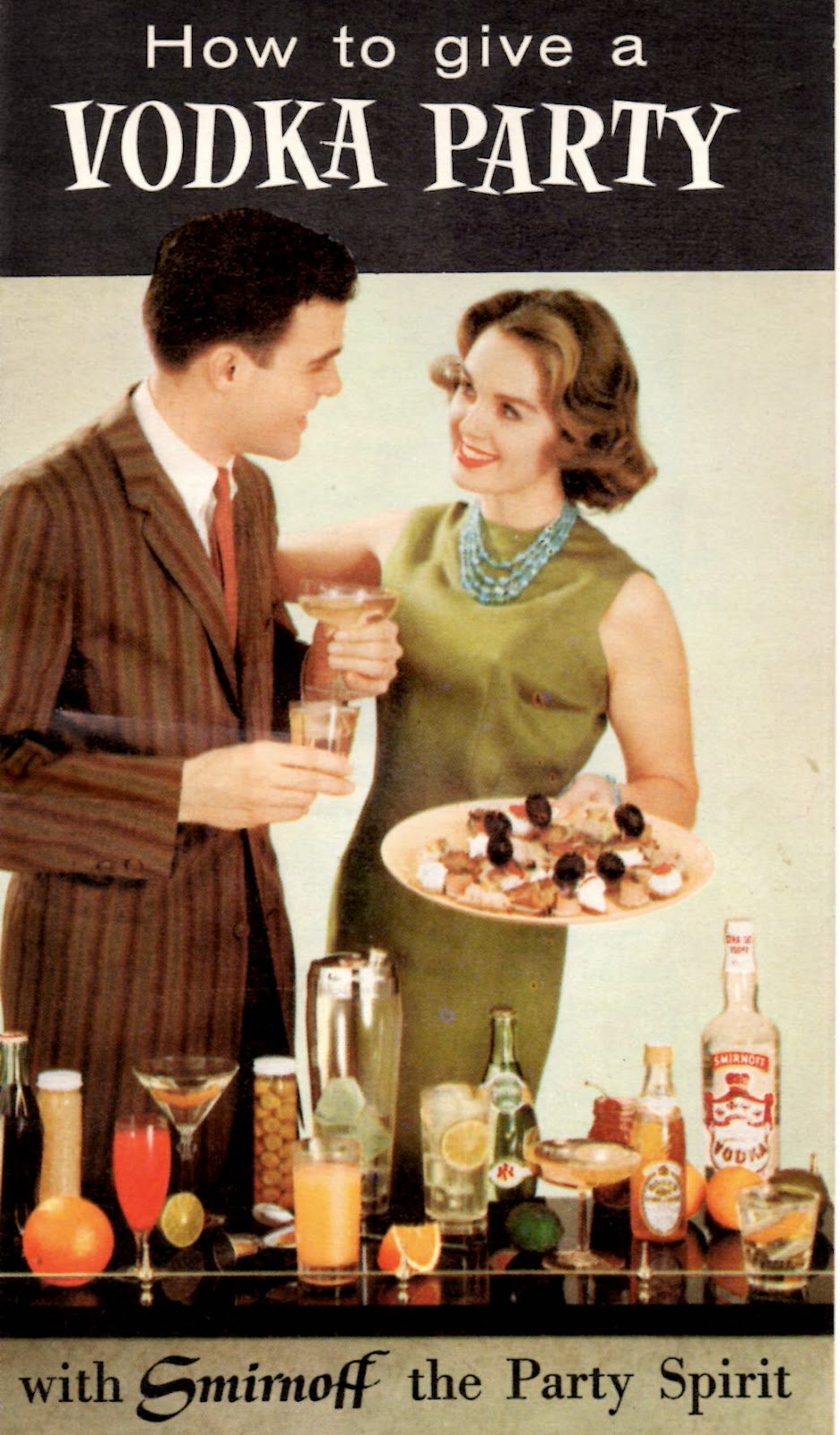 Smirnoff explains how to have a proper "Vodka Party"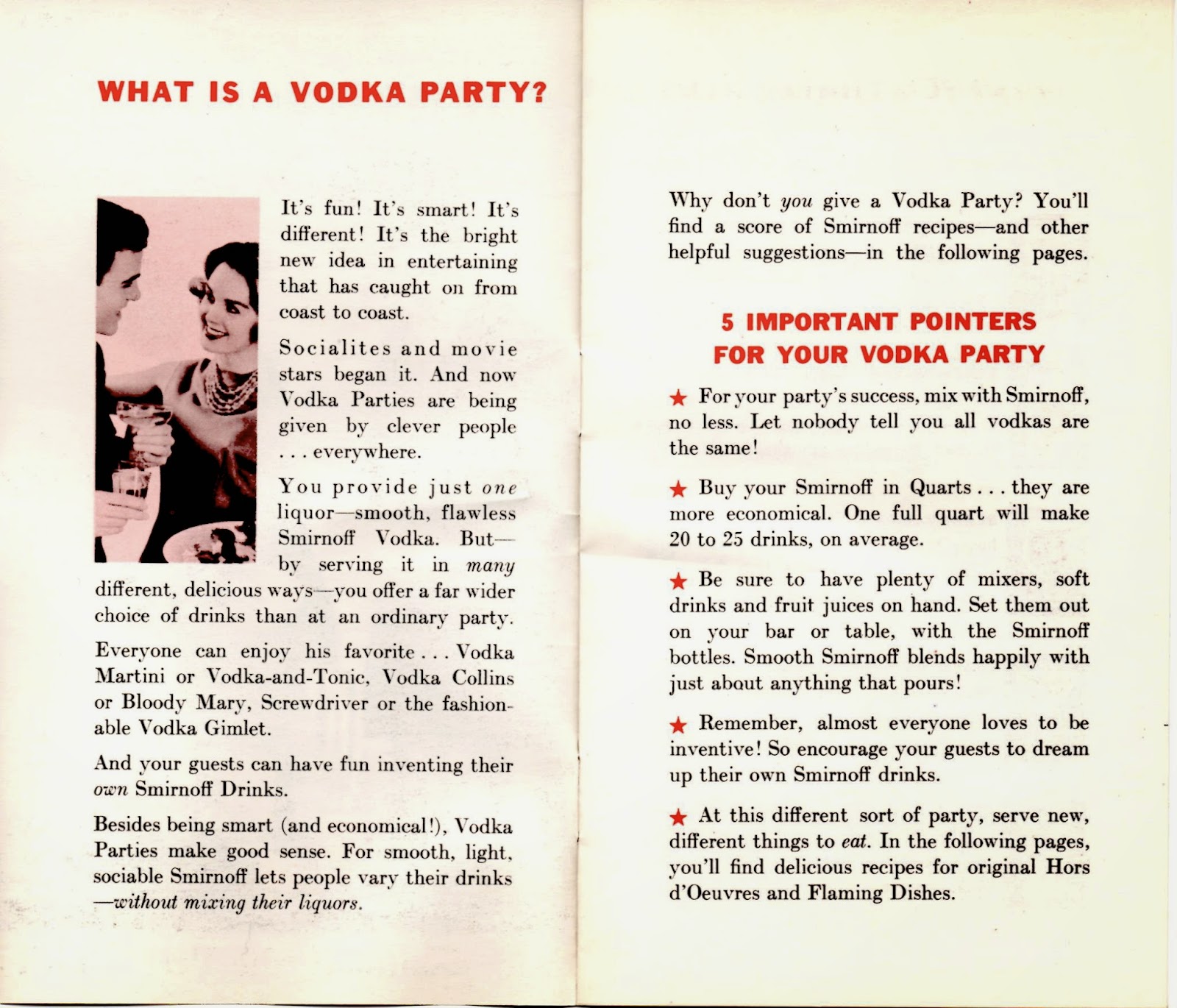 "It's fun! It's smart! It's different! It's the bright anew idea in entertaining that has caught on from coast to coast.  Socialites and movie stars began it.  And now Vodka Parties are being given by clever people… everywhere….."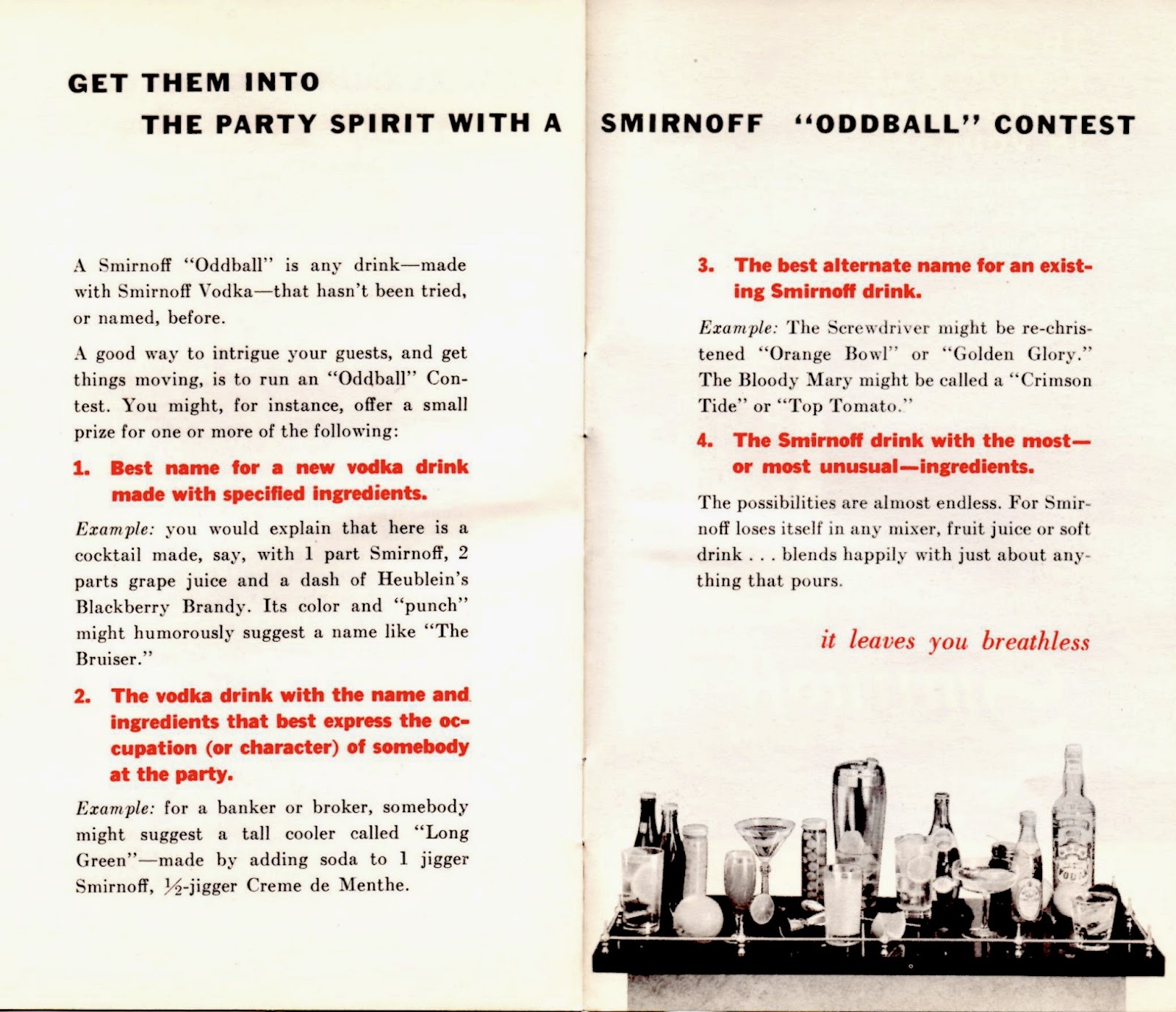 Provided your guests aren't too hammered from this "vodka party", you can play the "oddball contest" – "It leaves you breathless".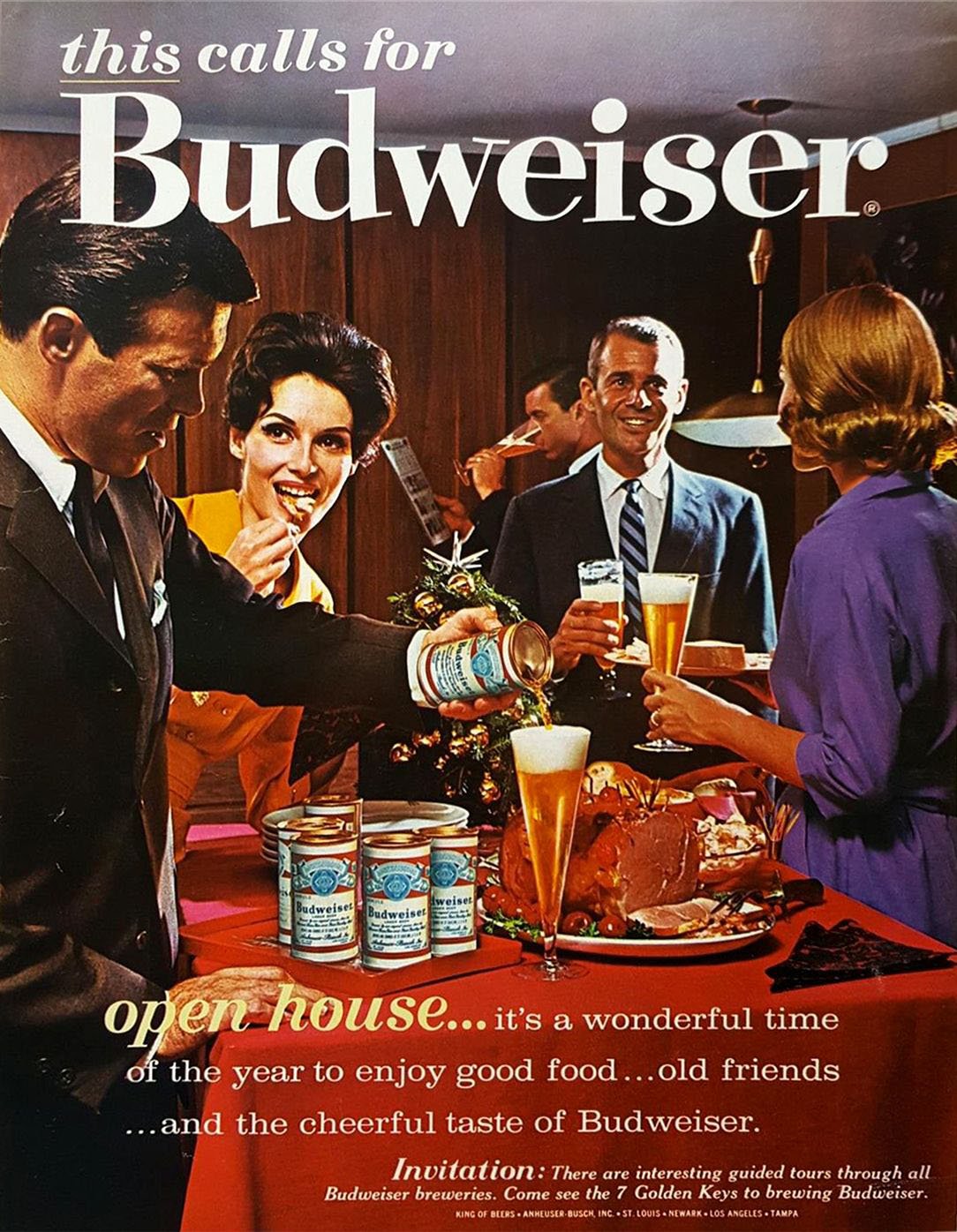 Well, taking things down a notch from the vodka party – let's have a Budweiser party.  I love the guy in the background just looking at records and guzzling alone.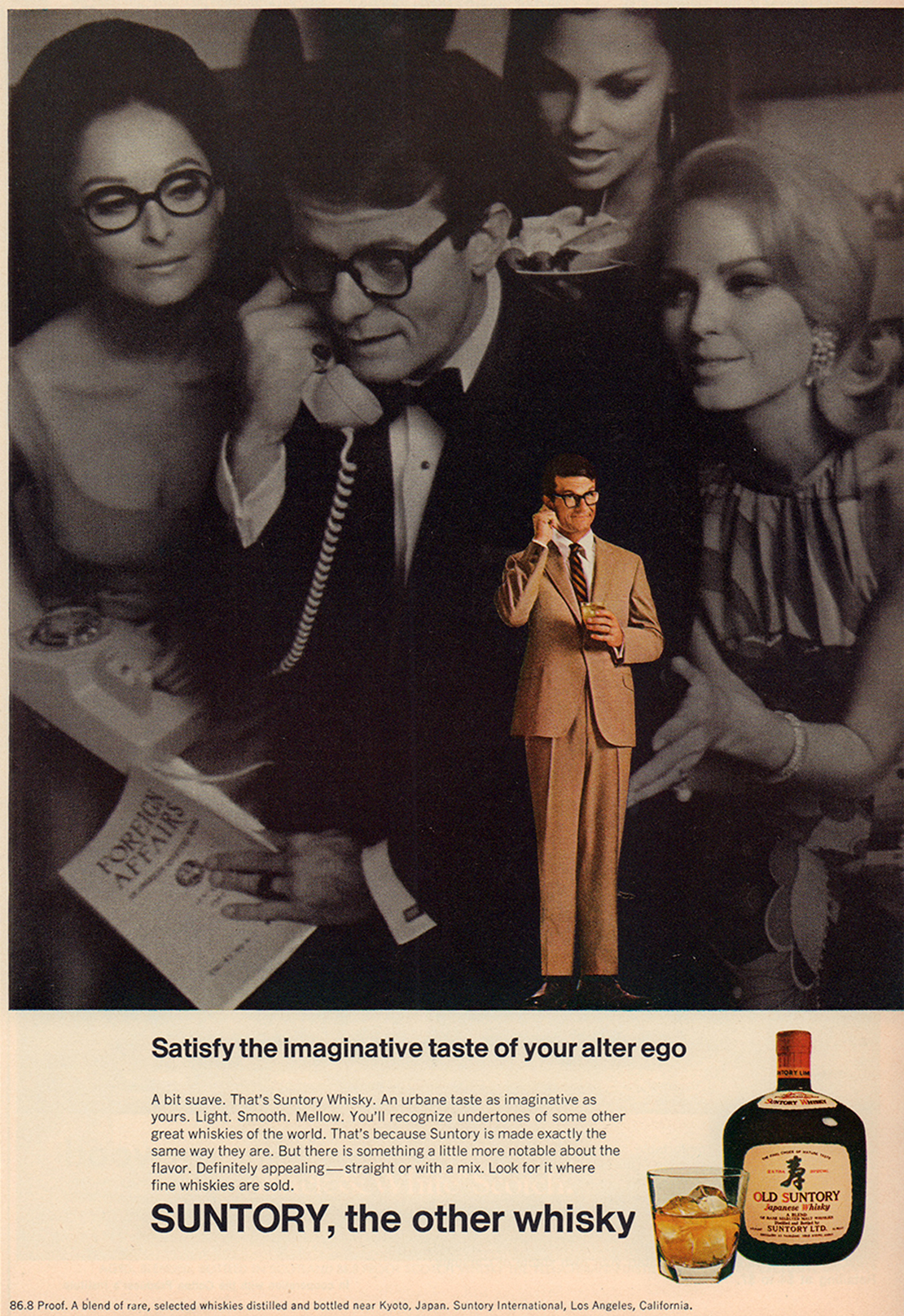 From Esquire, July 1968 – What's going on here?  I suppose we're to understand this guy is a social misfit in real life, but this whiskey somehow allows him to imagine that he's wanted by tons of women?  An odd concept for an alcohol ad to say the least.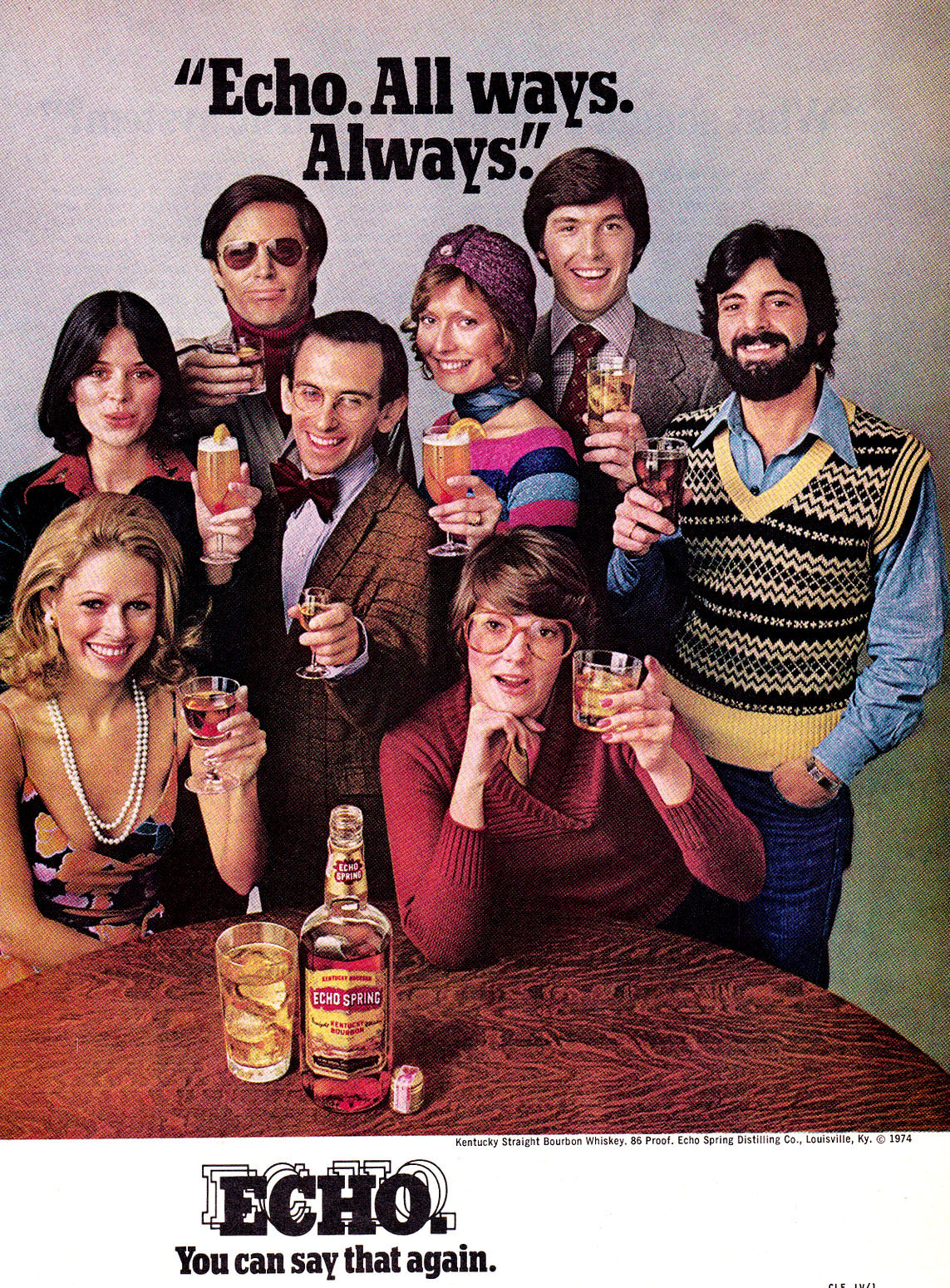 Lord have mercy the fashions were bad in the seventies.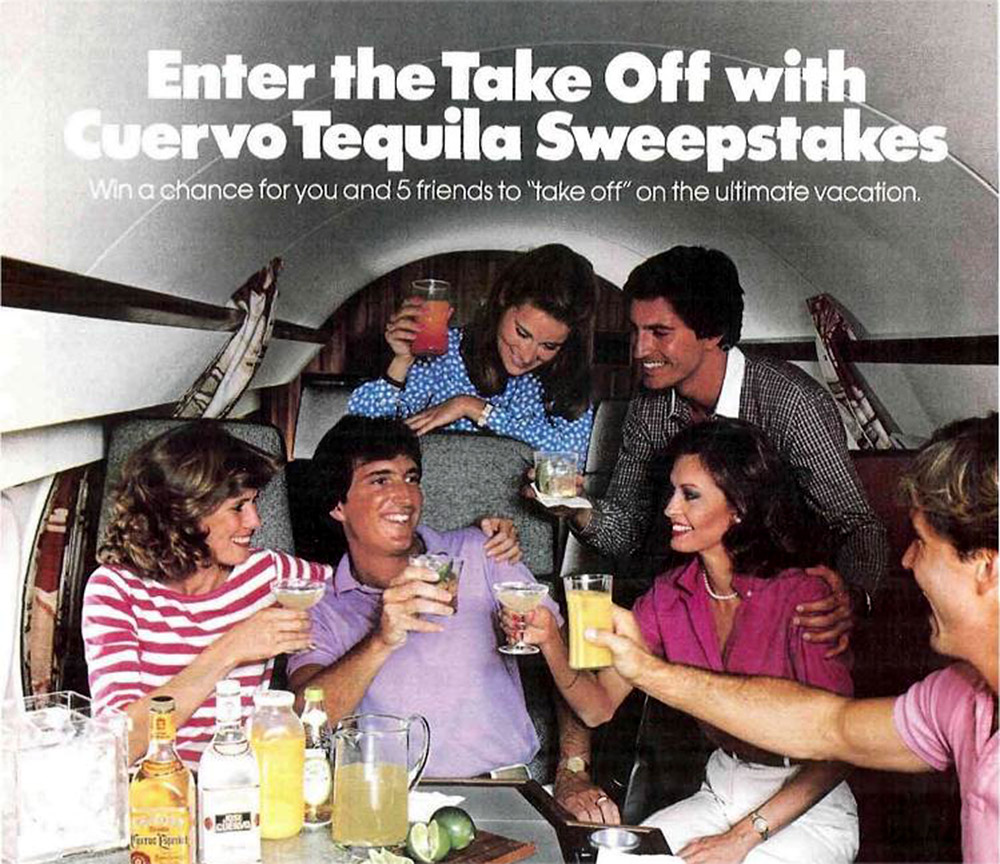 Remember that first ad from 1966?  This is from 15 years later, and not much has changed.  It still has that guy we're supposed to identify with as the focal point.  He's surrounded by his hot girl and adoring friends; still living the dream after all these years.
Cheers!