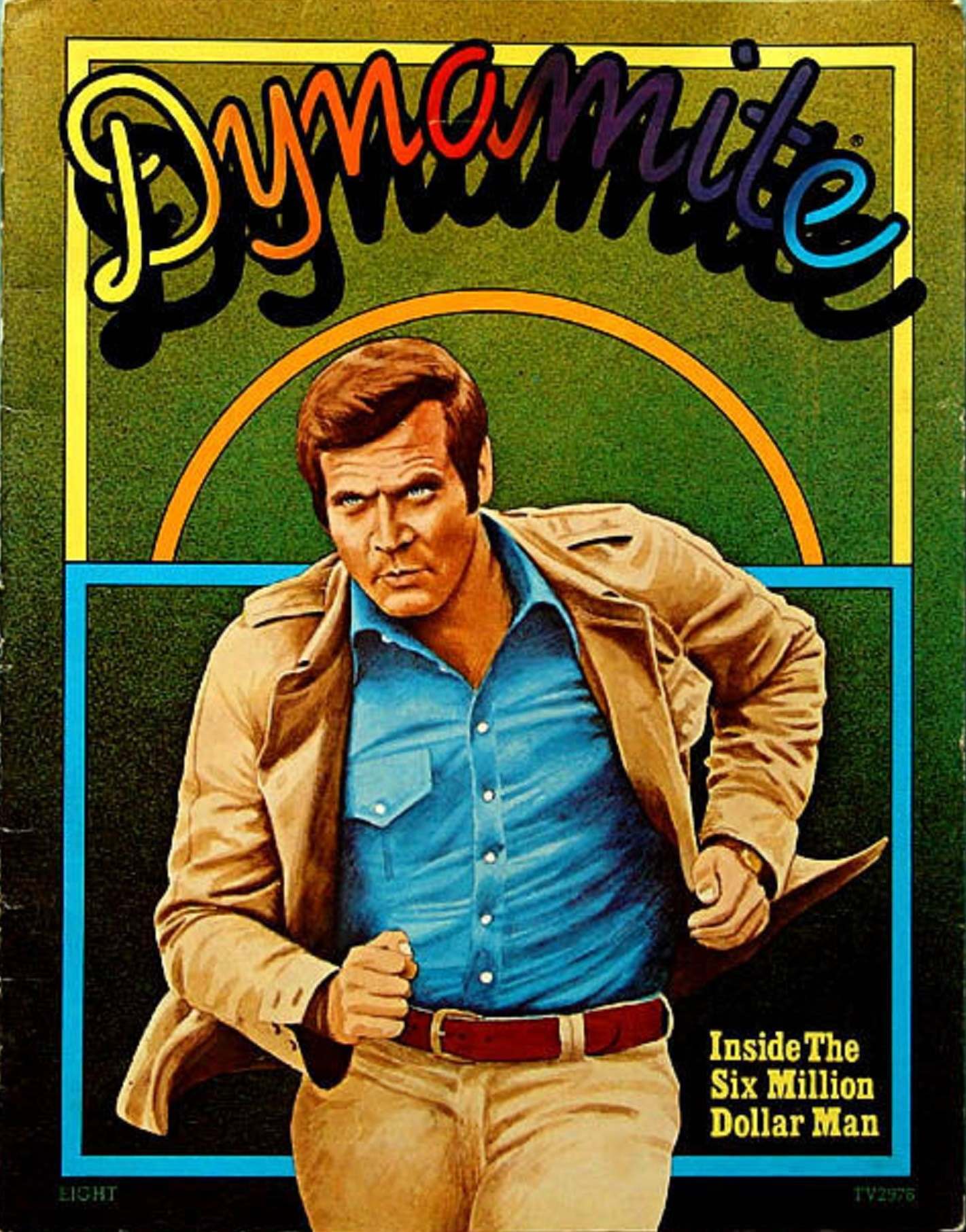 Dynamite Magazine (1974 – 1992) from Scholastic is another great reminder of childhood in the 1970s, an age before the home video and video game revolutions.
The magazine, published out of Englewood, N.J. was described as a "monthly book from Arrow, a Scholastic Book Club," and always included fun features that could help pass the hours on a rainy Saturday.
In the pages of Dynamite magazine, you could find staples like "Bummers," –a reader-selected "things I hate" comic strip — puzzles ("Help, This Puzzle is Driving Me Nuts!"), Marvel and D.C. superhero reprints ("Superhero Confidential"), and the monthly advice/letters column ("Good Vibrations").
The magazine also printed new interviews with the likes of Tatum O'Neal and Shaun Cassidy, to name just two young stars of the era.
But starting in February 1975, Dynamite Magazine began tapping into the burgeoning love of science fiction movies and television among America's young.
The cover that month featured art involving Col. Steve Austin (Lee Majors), bionic protagonist of The Six Million Dollar Man (1973 – 1978).
After that issue of the mag, the floodgates were open, and sci-fi themed covers and articles kept coming.
In July of 1975, the Sid and Marty Krofft Saturday Morning series, Land of the Lost (1974 – 1977) was featured. In particular, the series' breakaway stars — the creepy Sleestaks — were highlighted.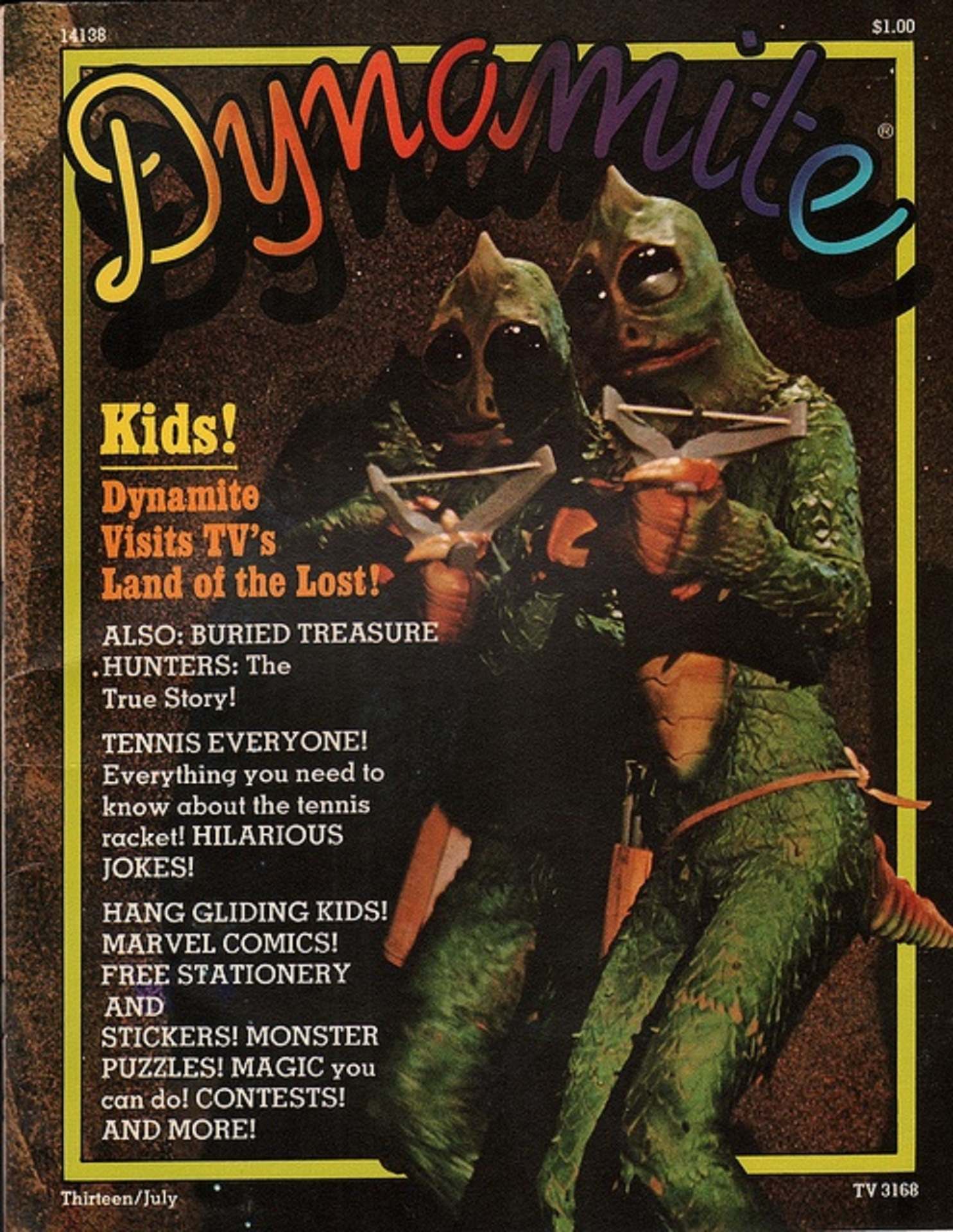 Not every cover story was a hit, of course. David McCallum, star of The Invisible Man (1975) graced the cover in December of 1975, and by January of 1976, the series was off the air, canceled.
It could have been worse for Dynamite Magazine; it might have featured a Gemini Man cover.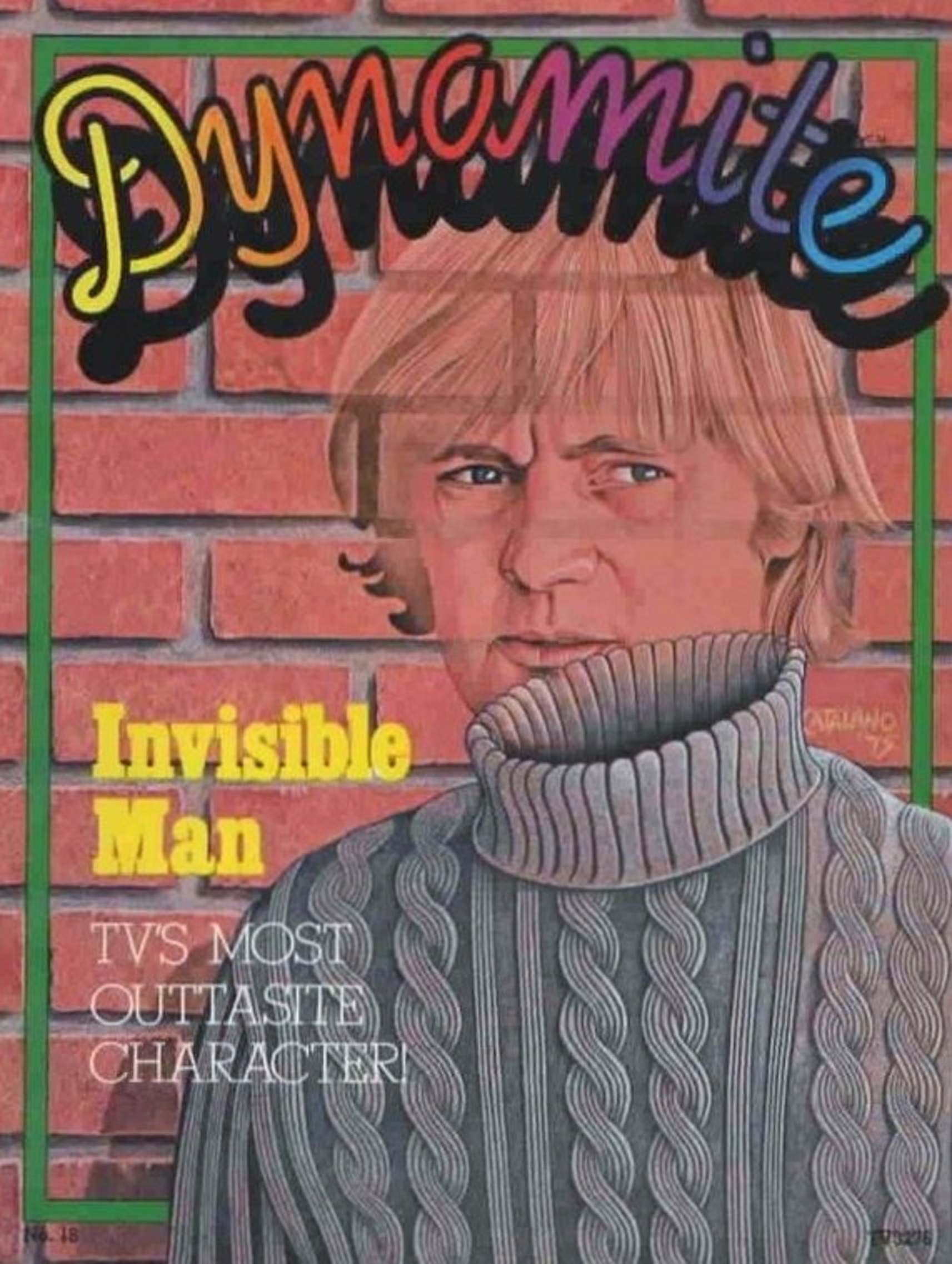 July 1976's cover featured an action pose with Martin Landau and Barbara Bain from Space: 1999 (1975 – 1976) and an article about the Gerry and Sylvia Anderson series that observed, accurately:  "Not since Star Trek has there been so much interest in space doings on TV!"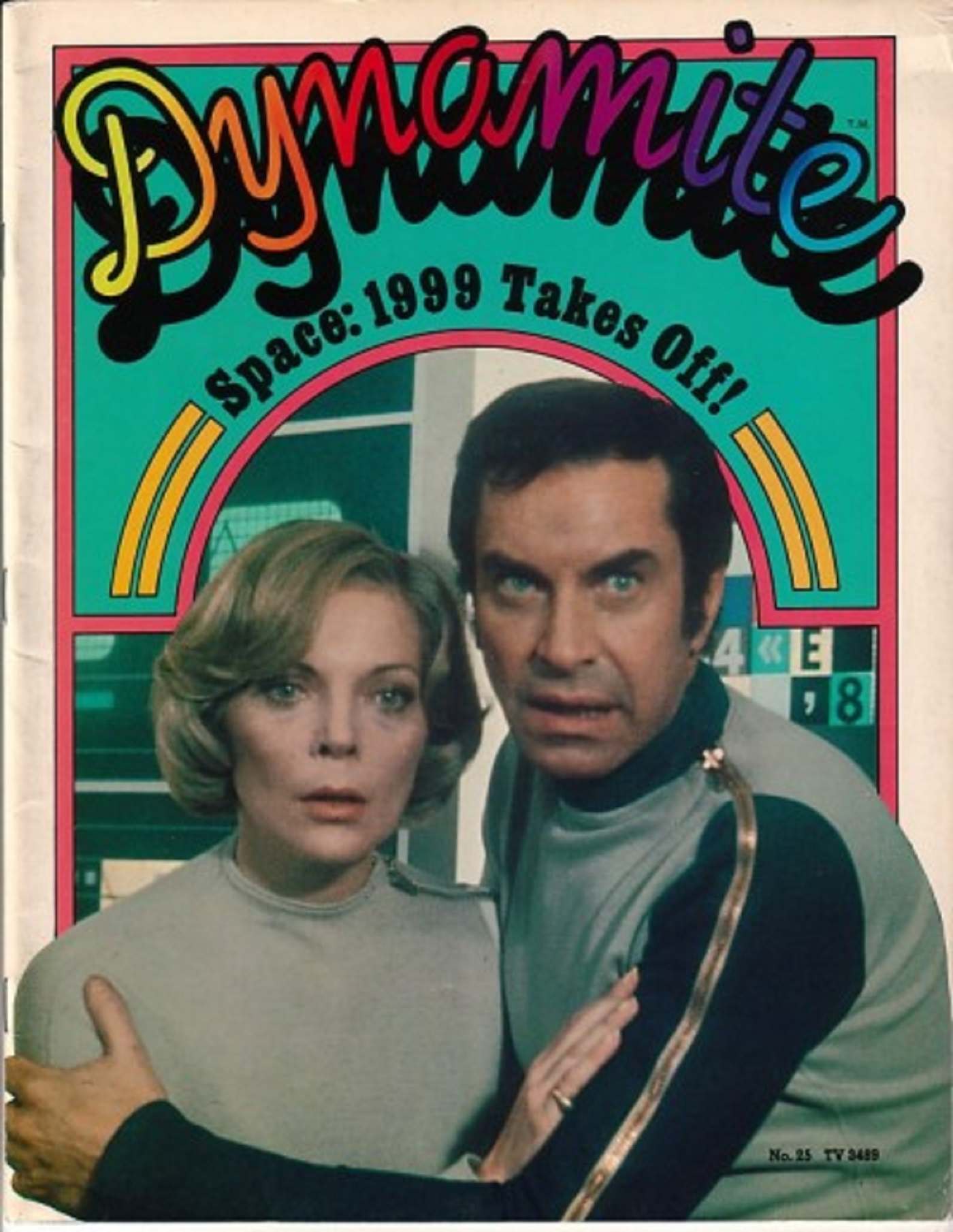 Dynamite continued to explore thegenre on its colorful covers throughout the rest of the decade. Lindsay Wagner, The Bionic Woman, graced the cover in September 1976, and the CBS TV version of Logan's Run was the cover story in December of 1977…ahead of a Star Wars (1977) cover, oddly enough.
In January of 1978, Chewbacca, a wookie, and Shaun Cassidy, a Hardy Boy, shared a cover, and Battlestar Galactica was the cover story of November 1978.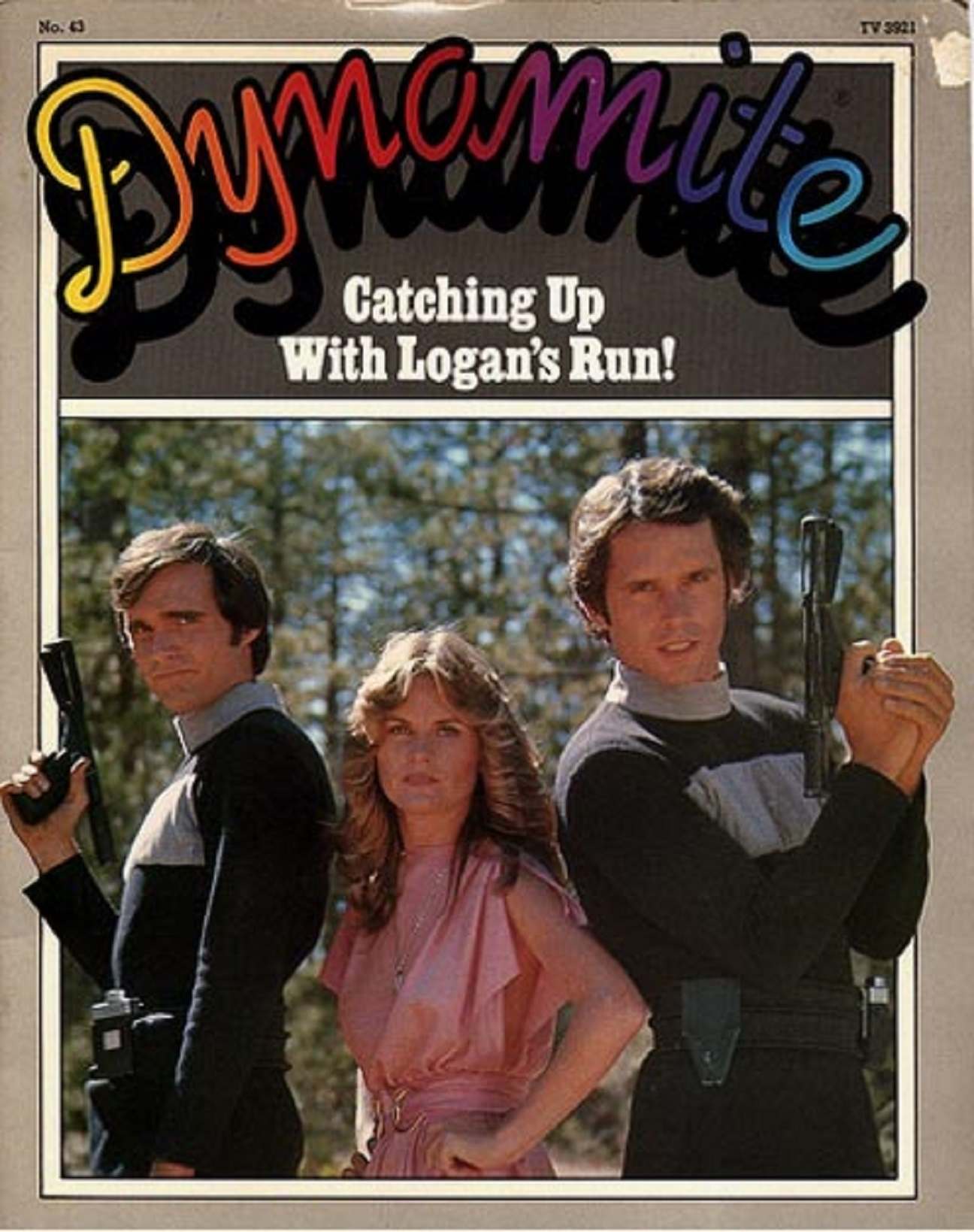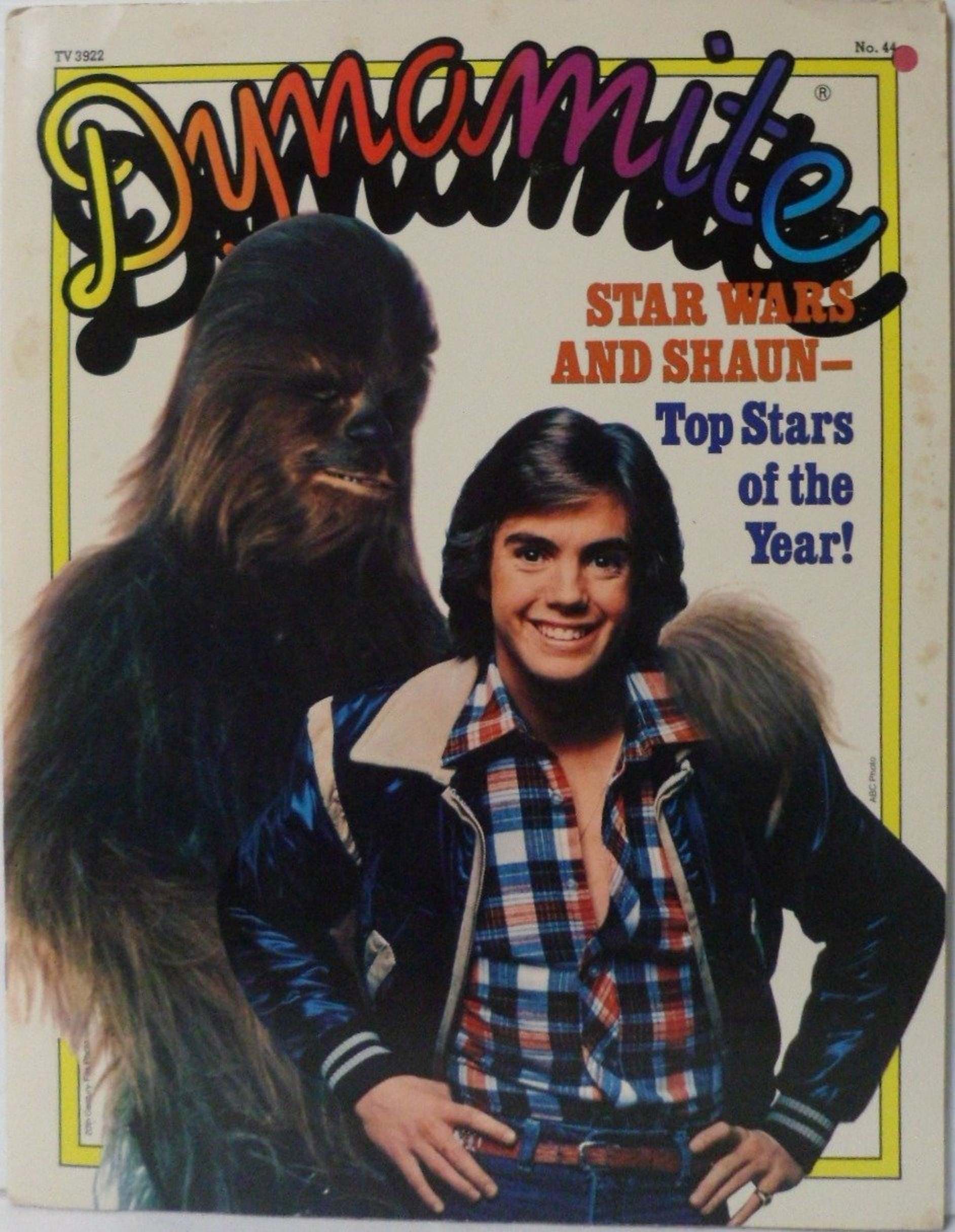 As the disco decade ended and the 1980s commenced, the conjunction of Dynamite Magazine and sci-fi continued with Mork and Mindy and Buck Rogers in the 25th Century covers.
The magazine folded in the early 1990s, but for me it will always be a reminder of the seventies; of the days before Atari, the days before VCRs, and an opportunity to explore upcoming science fiction productions (and solve puzzles) in colorful fashion.
Dynamite indeed.