In 1977, former advertising executive Harvey Rosenberg gave the world Gay Bob,  'the world's first openly gay doll'.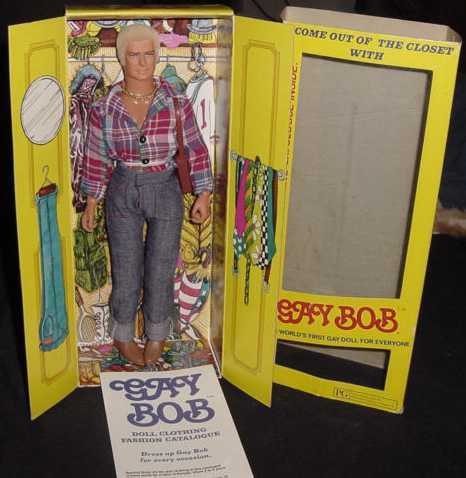 Every Gay Bob came with a message: "COME OUT OF THE CLOSET WITH GAY BOB."
"He sits. He stands He gets into any position… And since he is anatomically correct, he can even play with himself without going blind."
In yer face, Tiny Tears!
Gay Bob is a big 13 inches tall (wow) and made of plastic (or plastique, if you're very elegant)… He comes dressed in mucho macho plaid shirt, blue jeans that open with a smart snap to reveal his private parts, boots and (naturally) one earring. He lives in a closet and has his own storybook / fashion catalogue. Barbie and Ken move over, GAY BOB IS HERE."
Barbie move over. Ken, you can stay.
And Ken can bring his "best friend" Allan. Bob was the first "openly gay" doll. Others dolls were just uncertain:
Rosenberg sold and marketed Bob through his company, Gizmo Development. Gay Bob was bestowed an Esquire magazine "Dubious Achievement Award" for 1978.
And it was an achievement. As The Village Voice reported on Jul 24, 1978 not everyone can make a gay doll. And where Bob led, others would follow:
Who out there in Internetville gave Bob his knob? Is it Harvey's?
Bob was going to be huge. Harvey made 10,000 dolls. This from the Gadsden Times – Aug 2, 1978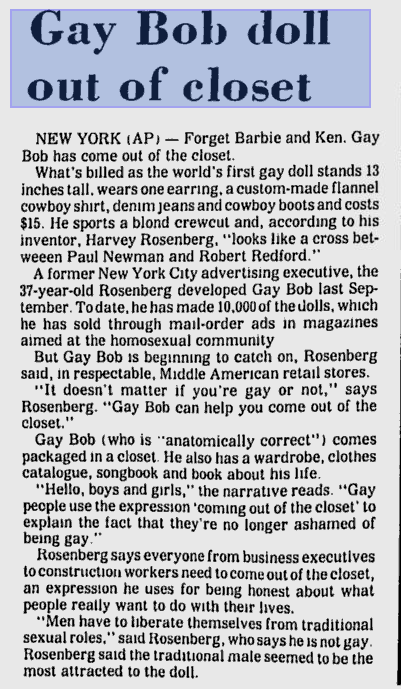 Rosenberg claimed that Gay Bob looks like "a cross between Paul Newman and Robert Redford." Rosenberg – a straight man – also designed Bob's clothing.
And not everyone liked Bob. The Star-News reported on Aug 4, 1978. A group called Protect America's Children was aghast:
But they sold. Rosenberg claimed to have flogged 2000 Gay Bob in just two months: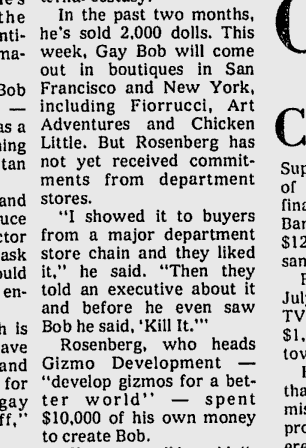 Bob's manifesto was clear:
"Hi Boys, Girls, and Grownups… I'm Gay Bob the world's first gay doll. I bet you are wondering why I come packed in a closet. 'Coming out of the closet' is an expression which means that you admit the truth about yourself, and are no longer ashamed of what you are. Gay people use the expression "coming out of the closet" to explain they are no longer afraid, or ashamed, of being gay, and no longer hide the fact….

"…Gay people are no different than straight people… if everyone came 'out of their closets' there wouldn't be so many angry, frustrated, frightened people… People who are not ashamed of what they are, are more lovable, kind and understanding.. It's not easy to be honest about what you are — in fact it takes a great deal of courage… But remember if Gay Bob has the courage to come out his closet, so can you…"
Let's take a closer look at brave Bob:
"Whether you are gay or straight, Gay Bob can help you come out…"
And, boy, did Bob like to go out.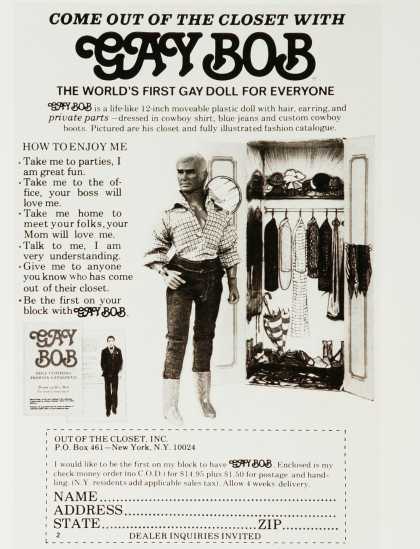 Ok, enough already. He's anatomically correct. No moulded bump, like repressed Ken and frustrated Allan.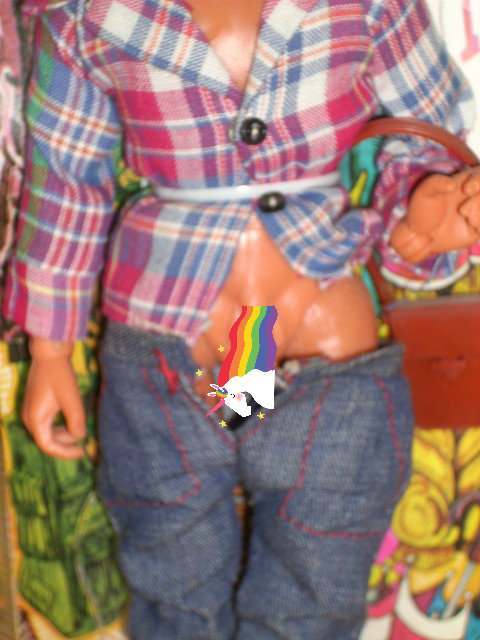 Okay….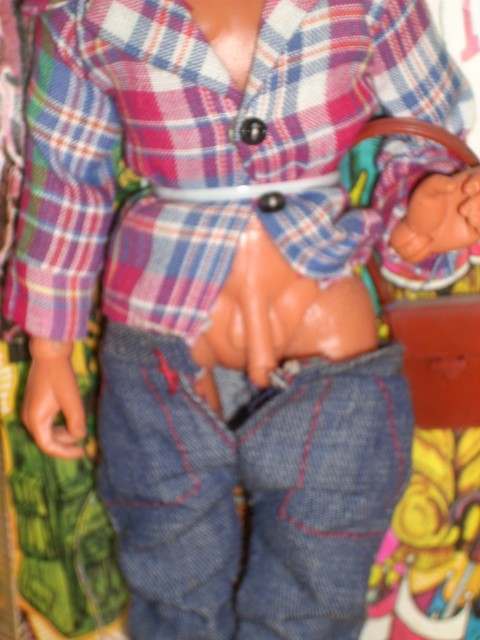 Ends.