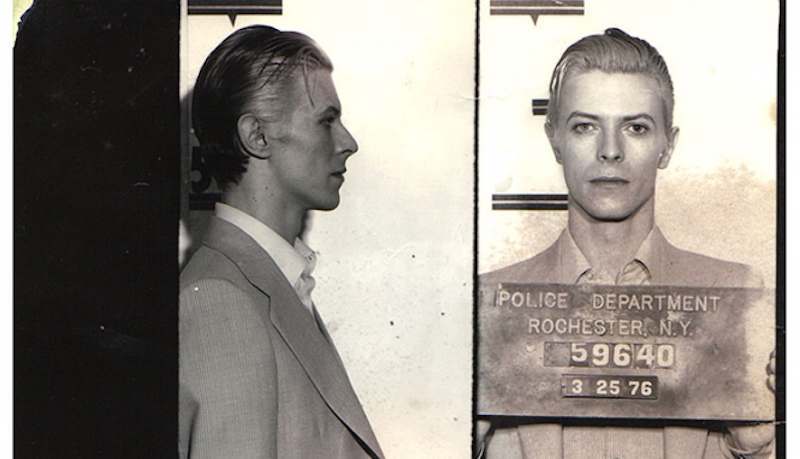 On March 21, 1976, David Bowie was busted for pot. The Democrat and Chronicle reported that Bowie and his pal Iggy Pop were arrested for criminal possession of 182 grams of marijuana.
(It is tempting to think the police didn't look hard enough. In 1976, Bowie was an dedicated user of cocaine. In 1976, he and Pop decamped to Germany in a bid to kick their drug addictions. It was only later Bowie discovered that Berlin was "the smack capital of Europe". That the police found only weed, the dullards drug of choice, is remarkable.)
Bowie was on his "Isolar" tour, performing as the Thin White Duke, a character he described as being "a very Aryan fascist type – a would-be romantic with no emotions at all."
On March 20, he had performed at the Community War Memorial arena in Rochester, New York. Bowie, his bodyguard and karate instructor Dwain Voughns, Chiwah Soo and Pop had retired to the Americana Rochester Hotel. At 2.25am the vice squad arrived.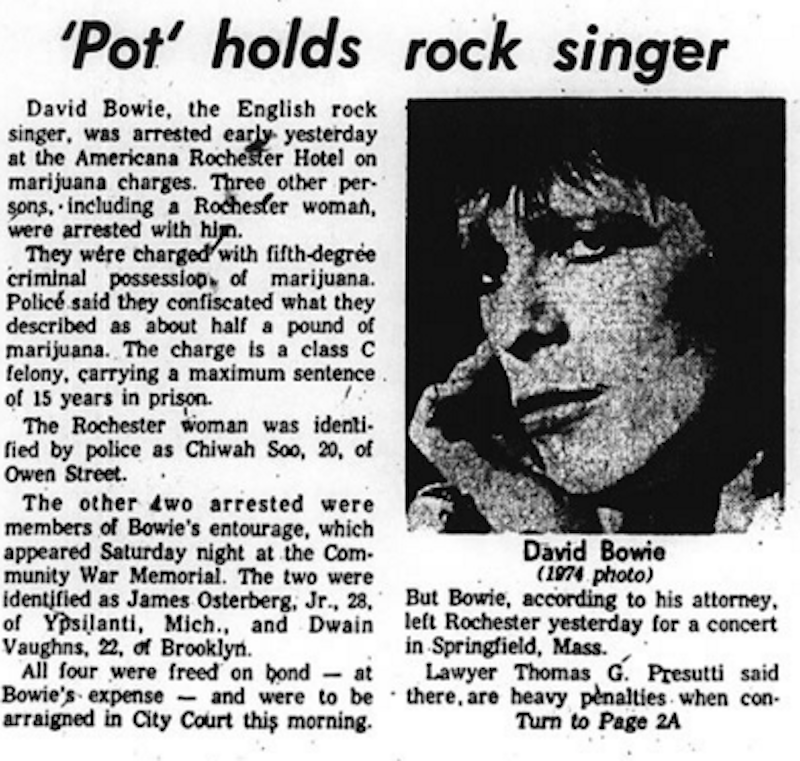 All four were pinched, taken to Monroe County Jail, formerly charged (the singers under their god-given names David Jones and James Osterberg Jr), and released after a few hours on a $2,000 bond each, which Bowie paid for all. 
Bowie then left the area. He had a gig on Springfield, Massachusetts. The fans could not wait.
Lawyer Thomas G. Presutti said there are heavy penalties when concert engagements are broken and he will "request the court's indulgence" for Bowie's absence. Bowie also has a concert scheduled in New Haven, Conn., and should be back in Rochester by Wednesday, Presutti said.
The court agreed.
So, one day later, on March 23, pop royalty arrived at the court for his mug shot and judgement. He came not as a man who who been up most of the night, rather as the Thin White Duke, looking dapper, groomed and camera ready.
Bowie and his group ignored reporters' shouted questions and fans' yells as he walked in – except for one teenager who got his autograph as he stepped off the escalator.

His biggest greeting was the screams of about a half-dozen suspected prostitutes awaiting arraignment in the rear of the corridor outside the courtroom.

Asked for a plea by City Court Judge Alphonse Cassetti to the charge of fifth-degree criminal possession of a controlled substance, Bowie said, "not guilty, sir." The court used his real name – David Jones.

He stood demurely in front of the bench with his attorneys. He wore a gray three-piece leisure suit and a pale brown shirt. He was holding a matching hat. His two companions were arraigned on the same charge…

Osterberg also is a rock musician and performs under the name of Iggy Stooge. Bowie has produced at least one of Osterberg's album in the past..
The judge ruled that this was matter for the grand jury, which cleared the group. All charges were dropped.
Was Bowie bitter about the experience? "They (city police) were very courteous and very gentle," Bowie said. "They've been just super."