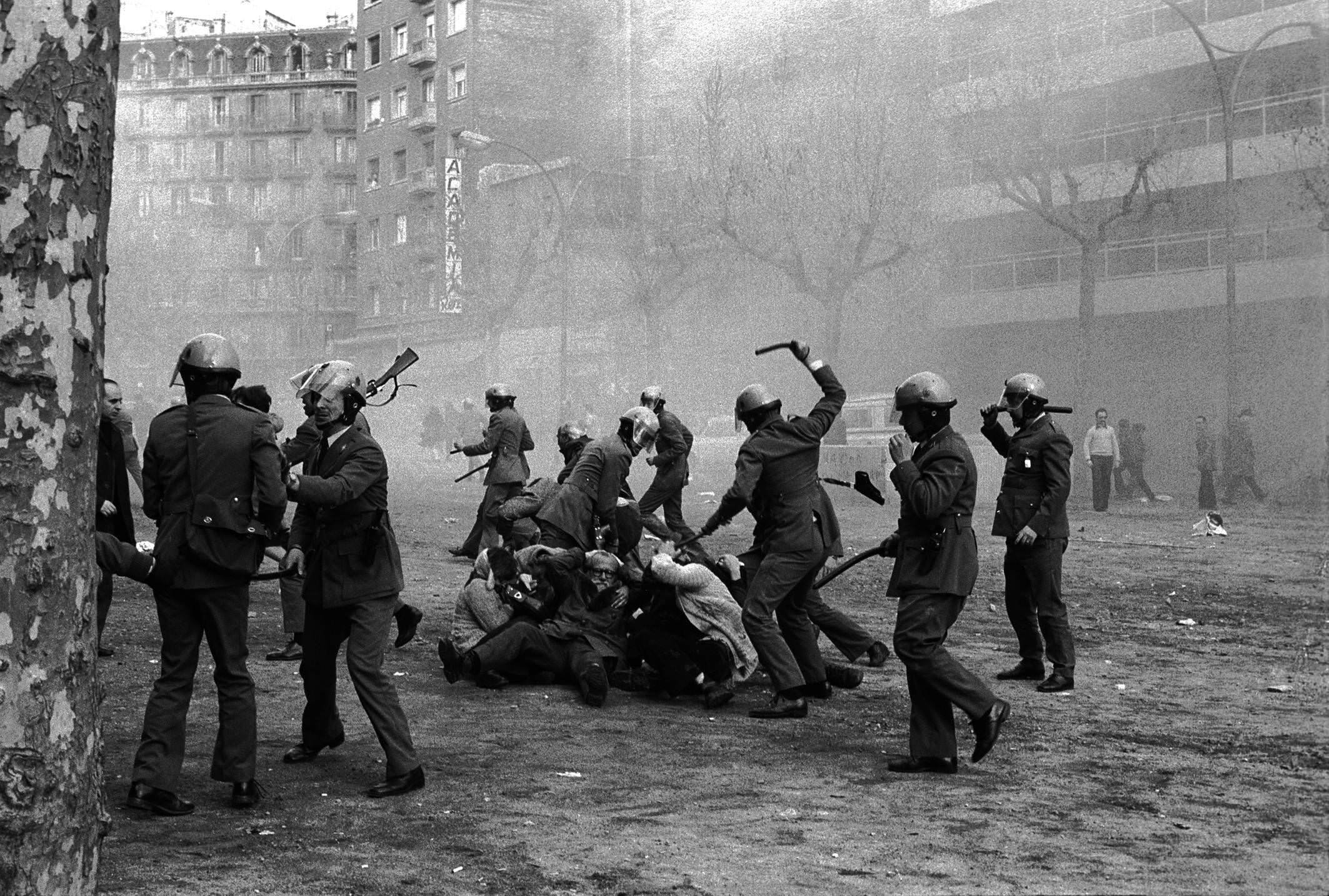 February 1 1976: three months after the death of dictator Generalísimo Francisco Franco (4 December 1892 – 20 November 1975), the Assembly of Catalonia (Asemblea de Catalunya) marched in Barcelona under the banner 'Libertat, Amnesty, Estatut d'Autonomia' (Freedom, Amnesty, Autonomy). Local residents' associations, Trade Unions, political parties (many illegal), along with members of cultural and artistic entities participated. Initially it was peaceful. There was a sit-in on the Passeig de Sant Joan, at the corner of Carrer de Provença. But the Civil Guard and riot police police-threw smoke bombs at the seated protesters and charged them. Later, numerous groups marched through the streets of the Eixample to reach the Modelo prison, where they sought the release of political prisoners. The Civil Guard waited. They were armed with rifles. Manel Armengol had a camera.
The Madrid government, then led by Carlos Arias Navarro (11 December 1908 – 27 November 1989), responded to the protests by agreeing with Manuel Fraga (23 November 1922 – 15 January 2012), the then Interior Minister, that the city should be locked down and detachments of the hated Grises deployed. "The streets are mine!" Fraga boasted.
The Grises — an armed corps of anti-disturbance and traffic police (Cuerpo de Policía Armada y de Tráfico) which came under the command of the Army, were formed in the immediate post-Civil War period. They were known as los Grises (the Greys) because of the colour of their uniform. They were licensed (and encouraged) to maim, torture and kill — which they often did, with glee and swagger. The barbarity with which they suppressed shows of popular dissent is legendary, and remains to be fully documented.
"Democracy was won from below. Plans to extend the regime after the death of its creator were undermined in the early Seventies by the persistent mobilisation of workers, students, residents associations and movements demanding autonomy, among others. […] In practice, social agitation became the driving force of political change".
– Sebastian Balfour: Dictatorship, workers and the city
In two secret police reports from 1973 and 1975 title Neighbourhood Plan, Franco was warned: "At the end of the Sixties subversive organisations used Barcelona as a test bed to develop agitation and later politicisation of working-class neighbourhoods." In this context, and among comparative references between late Francoist Spain and the revolutionary Catalunya of the Thirties, the report "The correct focus for the FAVB" which Martín Villa received in 1975 concluded: "One has to give ground to the people … if not they will be unstoppable."
– Marc Andreu Acebal, Barcelona (1968-1979): Civic Pressure and the Spanish Transition to Democracy
All photos copyright Manel Armengol.