I am a guy from Camden Town
My hair is curly but I gel it down
My clothes are black but my bread is brown
I'm really into early Motown

– The Housemartins, Five Get Over Excited, 1987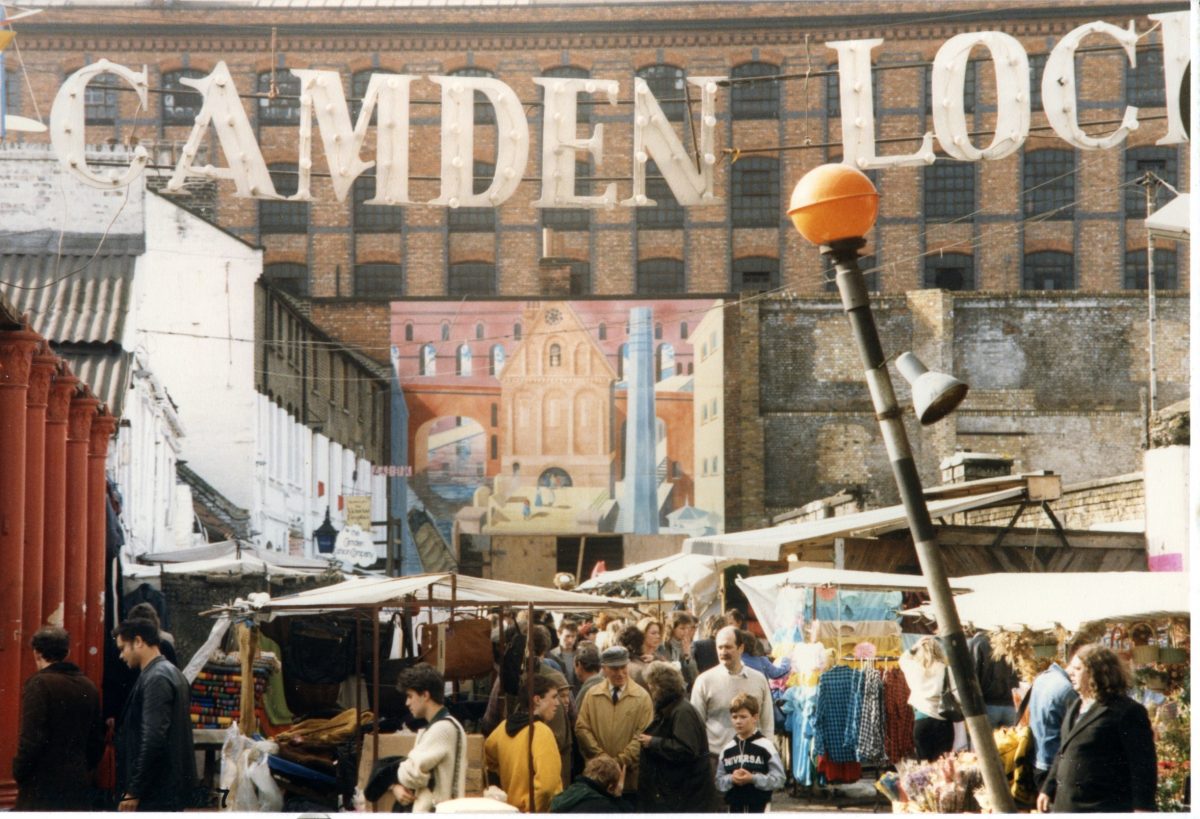 We're picking up the London photography trail in the company of Peter Marshall once more.
It's 1986. Britain and France are signing a deal to build a fixed link beneath the English Channel. The 'soaraway' Sun tabloid leads with news that comedian Freddie Starr has eaten a live hamster in a sandwich.
Sarah 'Fergie' Ferguson is marrying Prince 'Randy Andy' Andrew, kickstarting a tabloid series of kiss 'n' tells, messy divorce, performance weight loss, pimping the ex and al fresco toe sucking (her) that has recently mutated into something deeply sinister (him).
'The Road to Hell', the newly opened M25 Motorway London orbital, creates the 'world's biggest traffic jam' – a record it beats almost daily.
A Soviet Nuclear reactor at Chernobyl explodes with horrendous consequences.
And Wham! are splitting up with a final show at Wembley Stadium on 28 June 1986, when a gloriously brilliant sun heats a sea of massive 'Choose Life' T-shirts and larger blow-dried, whipped heads, and pretty much everyone I knew from my North London village goes to but me because my cousin has given my ticket to a girl he fancies (but I'm over it, or will be over it one day, possibly).
Instead I dodge the crowds, fun, heat, the fabulous George Michael and his lucky mate Andrew Ridley, who'd both been at school with my cousin (get over it, already – ed), to shamble down through the sublime loveliness of Hampstead Heath and watch Mona Lisa starring Bob Hoskins at the Camden Odeon, a film that left me feeling uncomfortable and physically sick.
But let's not turn this into one of those 'I remember when…' cloying nostalgia pieces, which it definitely is, omitting to mention that for a chunk of my formative years I mistook Huston in Texas for Euston in Camden, wondering why NASA managed spaceships from central London, and brighten rheumy eyes with the kind of photographs we all should have taken (and if you did, please let us know – we'd love to see them).
This is what Peter Marshall saw as he mooched around Camden c. 1986:
Walter Gilbey was the son of an innkeeper in Bishop's Stortford, born in 1831 and volunteered with his brother Albert as a pay clerk in the Crimean War. When he returned to England his elder brother Henry who was making a good living as a wine merchant, suggested Walter and Albert start a business importing South African wine, on which import duty was low. Henry lent them the money to open the business in a basement in Oxford St in London in 1857, and it was an immediate success, in part because while traditionally wine was sold by the case (12 bottles) they widened its appeal by selling by the bottle.

Three years later, Gladstone made the duty on South African wine equal to that from Europe and other foreign countries, but also allowed the sale of wine in 'Off-Licences', and the Gilbeys quickly appointed grocers and chemists around the country as agents for their wines, which in less than a year made them Britain's third largest wine importer. They moved to new premises, at first on Oxford St. but in 1869 to more spacious warehouses and offices in Camden Town, eventually occupying 20 acres. In the 1880s they took over two Scottish whisky distilleries, and in 1895 they began marketing 'Gilbey's Gin' from their Camden distillery using their own name. Later well-known products included Smirnoff vodka, Hennesey brandy and Croft's port and sherry.

The company became International Distiller and Vintners in 1962 and moved its distillery to Harlow the following year. It was taken over by Grand Met in 1972.

Gilbey House in Oval Road and Jamestown Road was Grade II listed a few days before I took this picture in 1981. The listing text includes:

"1894 by William Hucks with addition of 1937 by Mendelsohn and Chermayeff; for wine importers and gin distillers Gilbey's." and points out that the 1894 block is an early use of reinforced concrete, and that the later building "incorporates technical innovations by consulting engineer Felix Samuely, e.g. the foundations are floated on cork insulation to protect the wine from the vibration of nearby trains. Air conditioning too was incorporated."

Gilbey House was converted into one of Camden's premier blocks of flats, where a two bed flat will cost you around a million pounds.

– Peter Marshall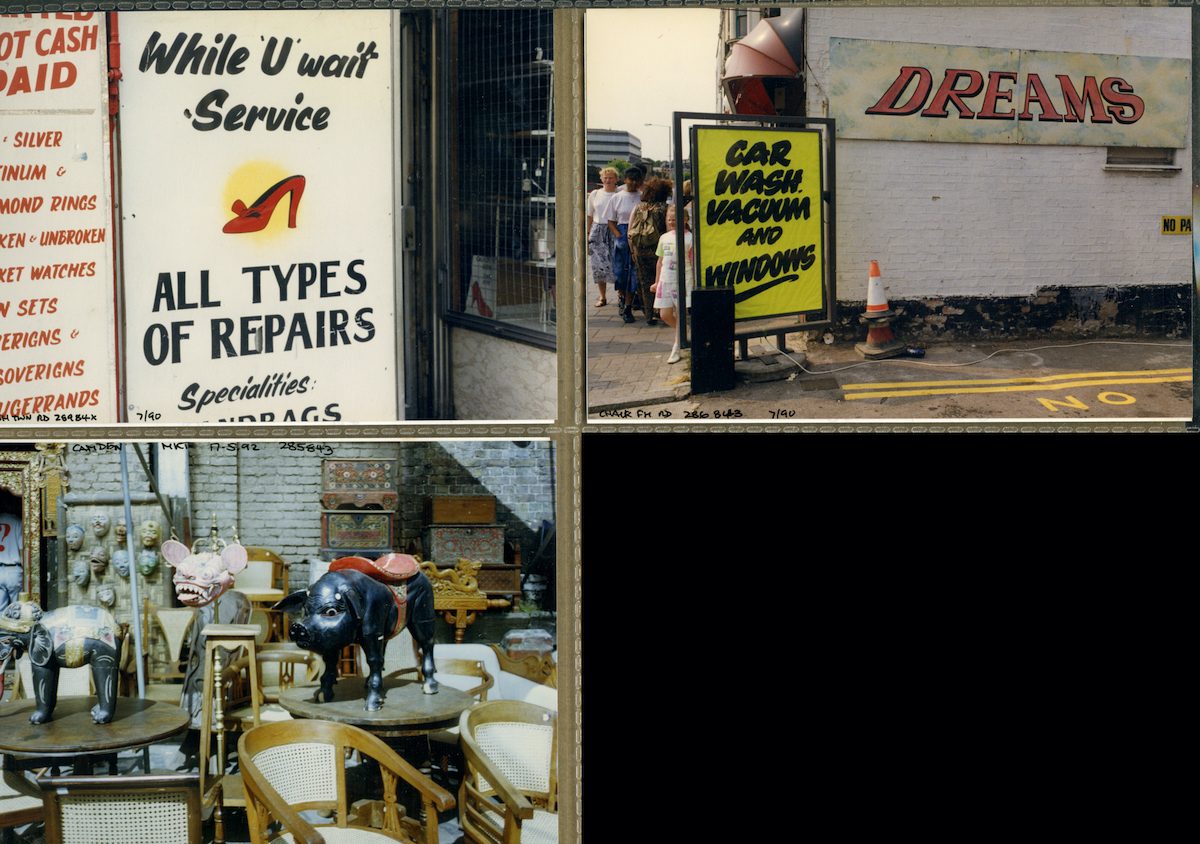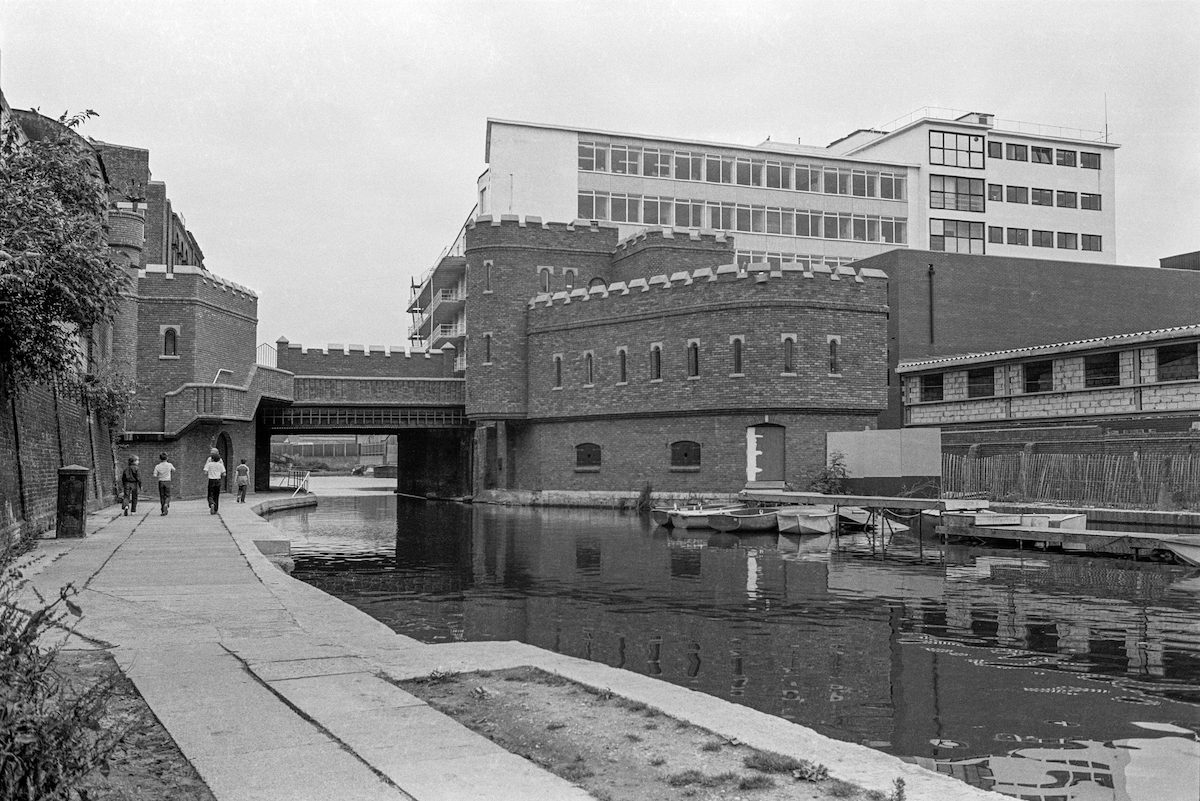 Pirate Castle, Regents Canal, Camden, 1981.

Jestyn Reginald Austin Plantagenet Philipps, 2nd Viscount Saint Davids, 1917-91, educated at Eton and Cambridge, founded a pirate club in the 1960 based on a narrow boat near Camden Lock to give children the chance to muck about in boats.

They became pirates in more than name, making raids on passing boats to raise funds for their charity and holding the Lord Mayor of London to ransom in their club dungeon. Their founder gained the more manageable pirate name of 'Peg-Leg' following an accident when he fell between the boat and its mooring.

Architect Richard Seifert took time off from his less desirable intrusions into the London skyline – Centre Point, the NatWest tower, the Tolworth Tower etc – to design the club its Pirate Castle, built in 1977. It still looks much like it did, though it was extended in 2008 by AAB Architects, providing greater disabled access.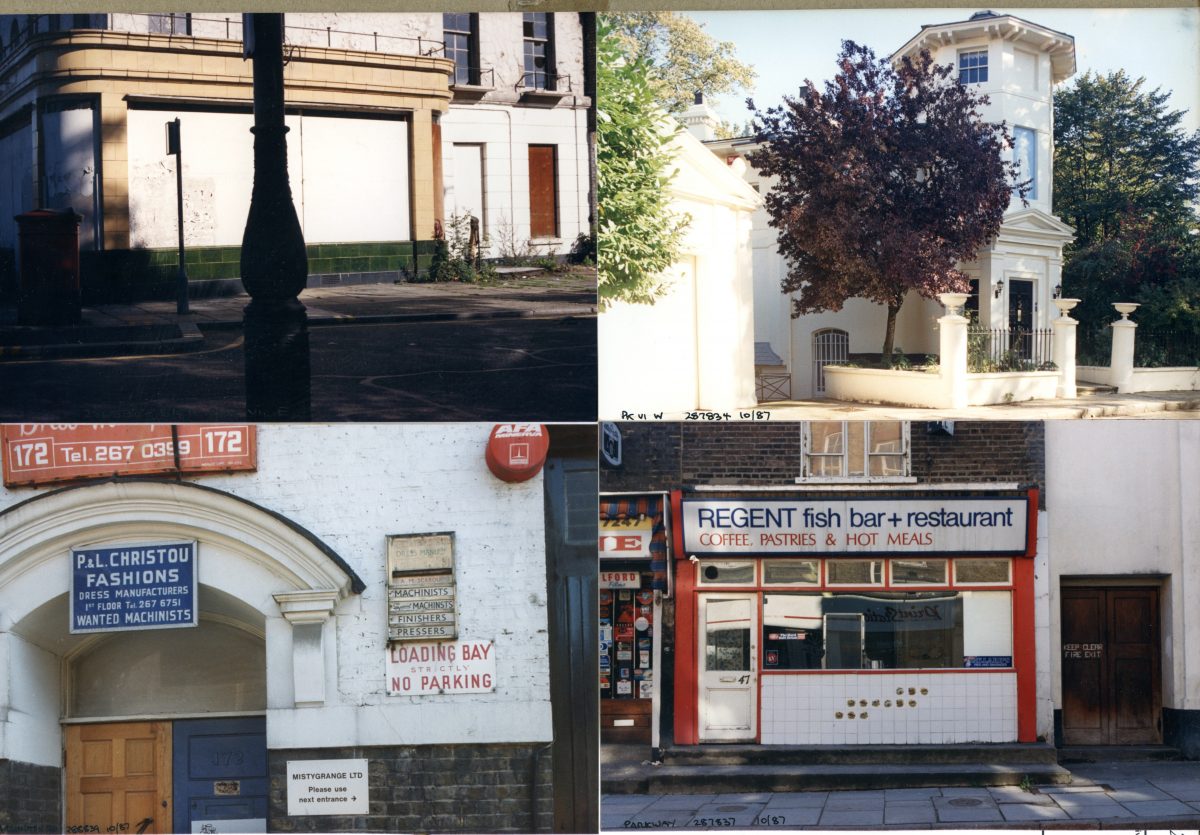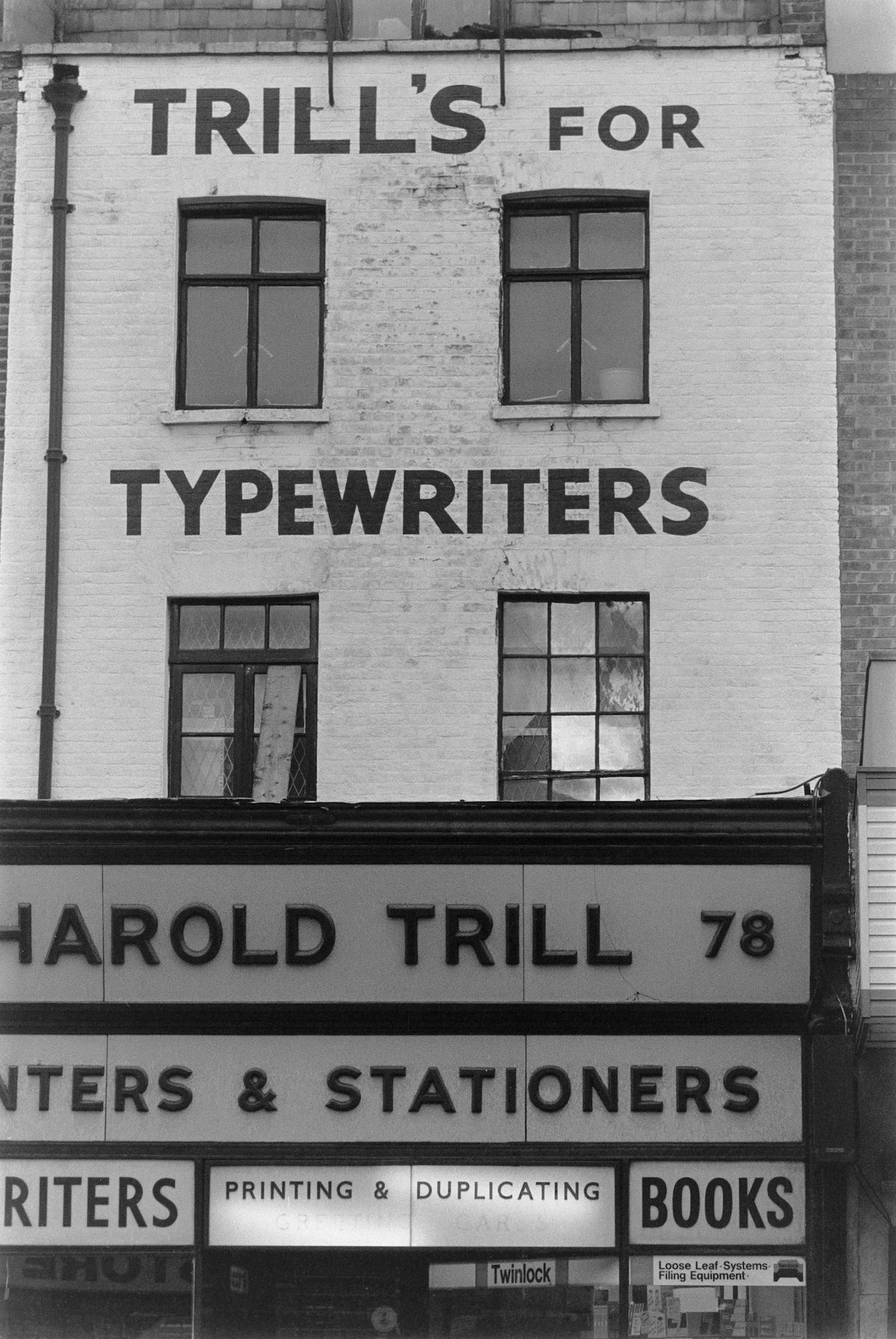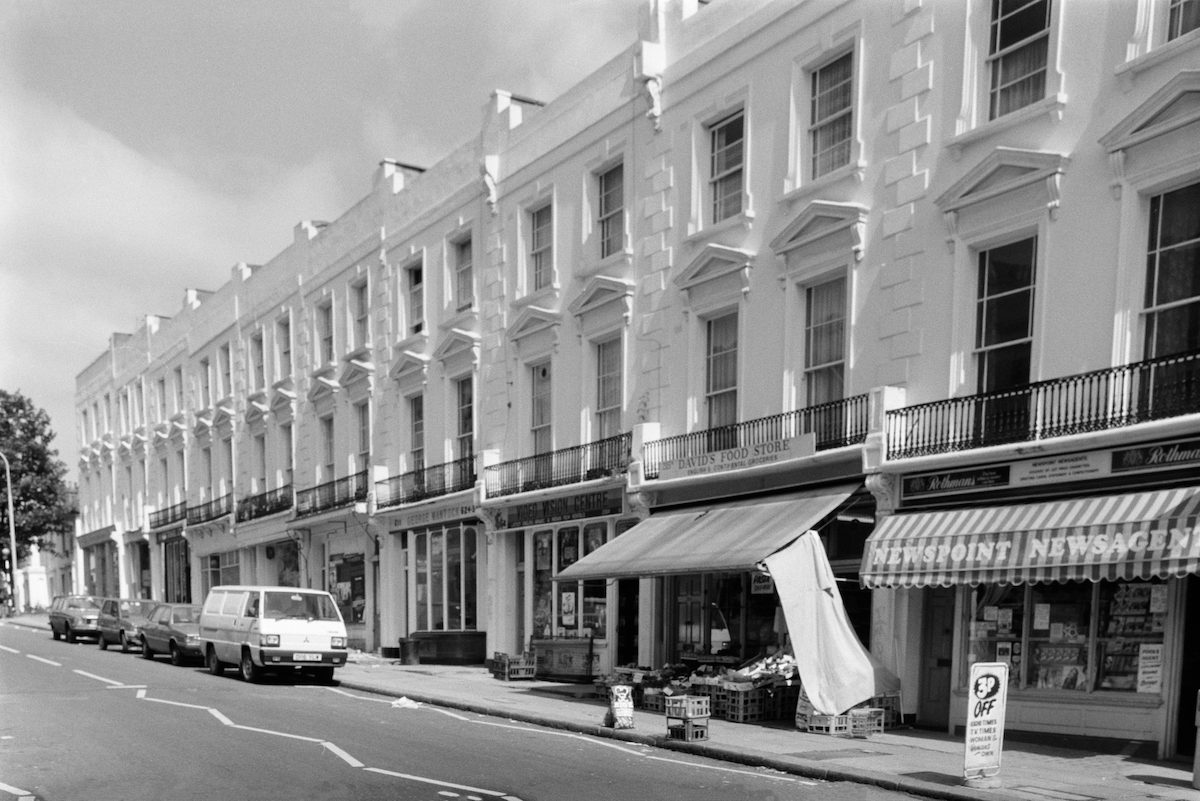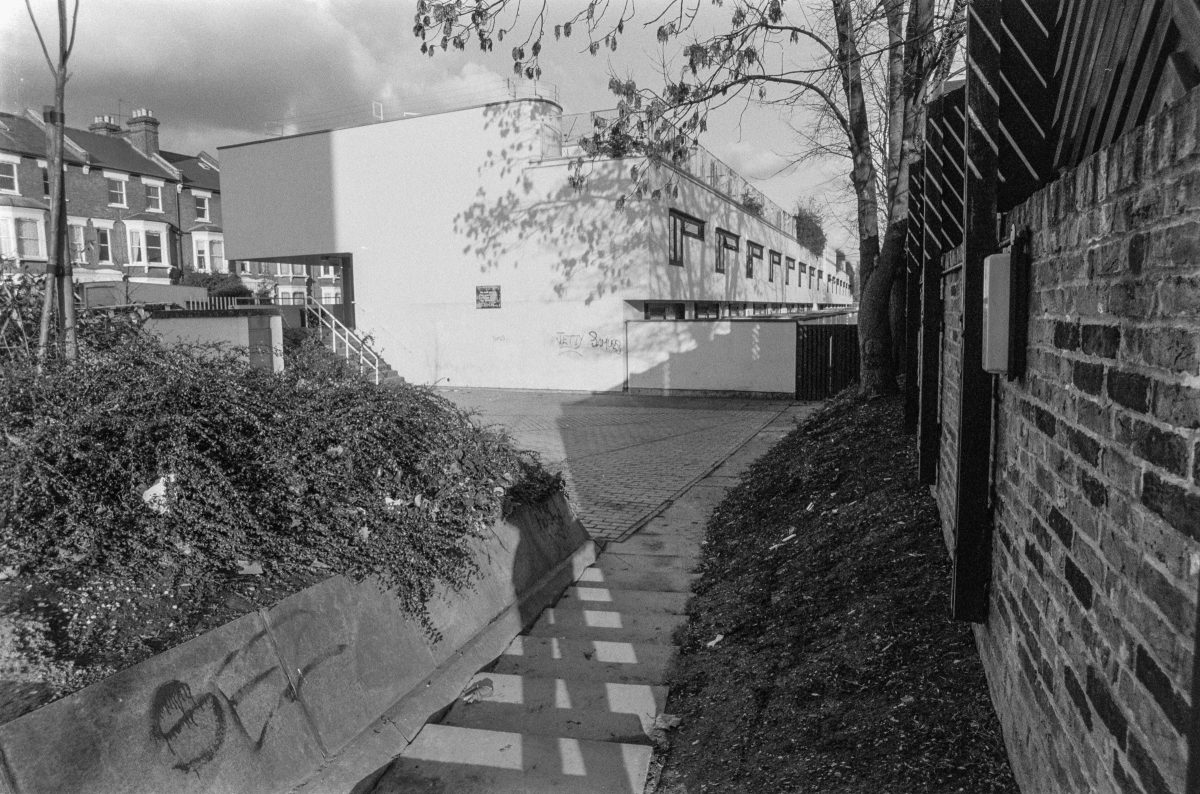 Via: Peter Marshall.