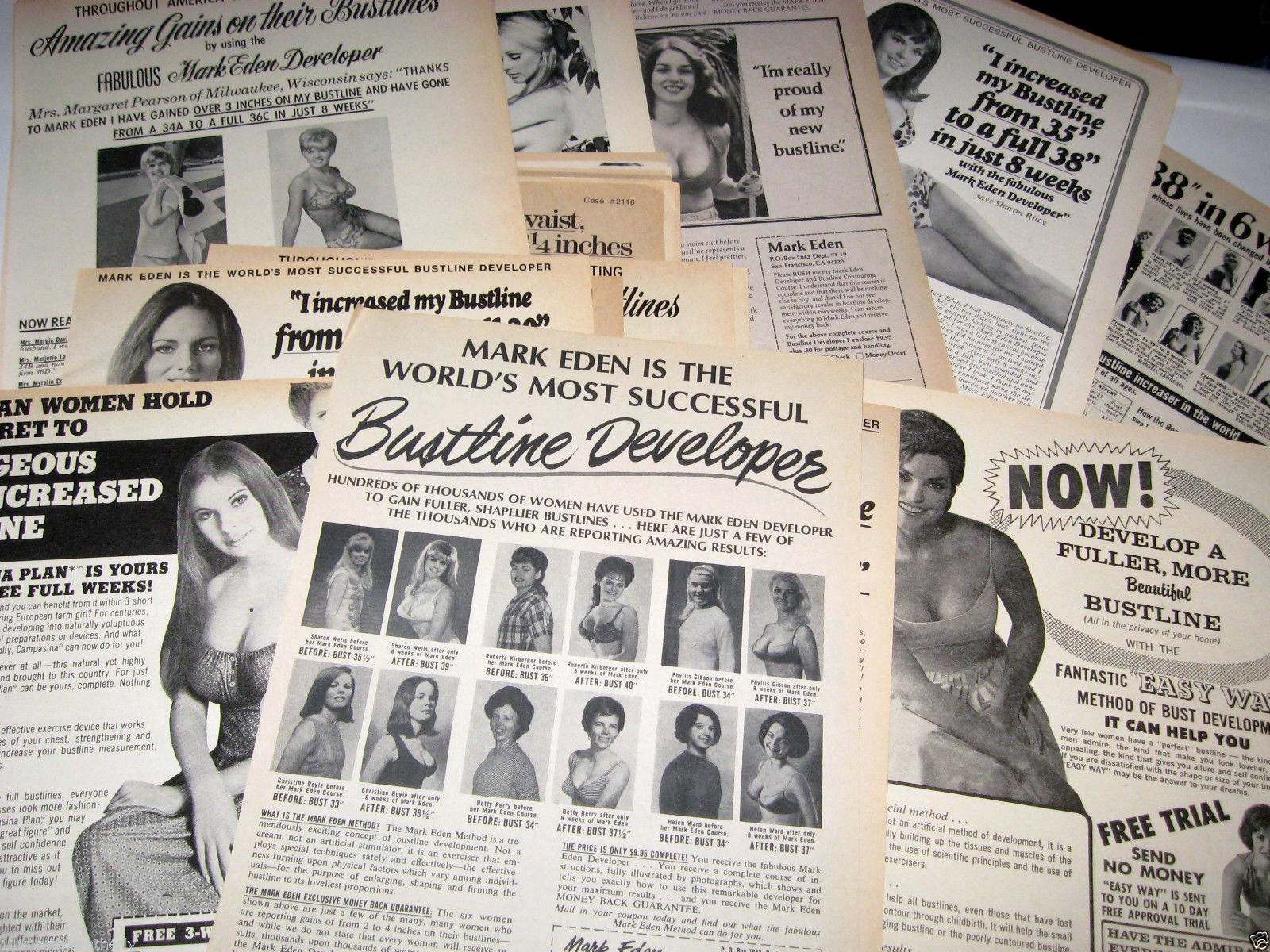 In the 1970s, every romance magazine or tabloid had an advertisement for boob enhancement by some sort of trickery. They promised not only bigger breasts, but also a better life. Let's have a look at some more examples….
This advert for the Campasina Plan asks, "Have you ever seen an unalluring European farm girl?"   The answer from basically any American would be a resounding "no"….. of course, they hadn't seen any alluring European farm girls either (outside of the movies).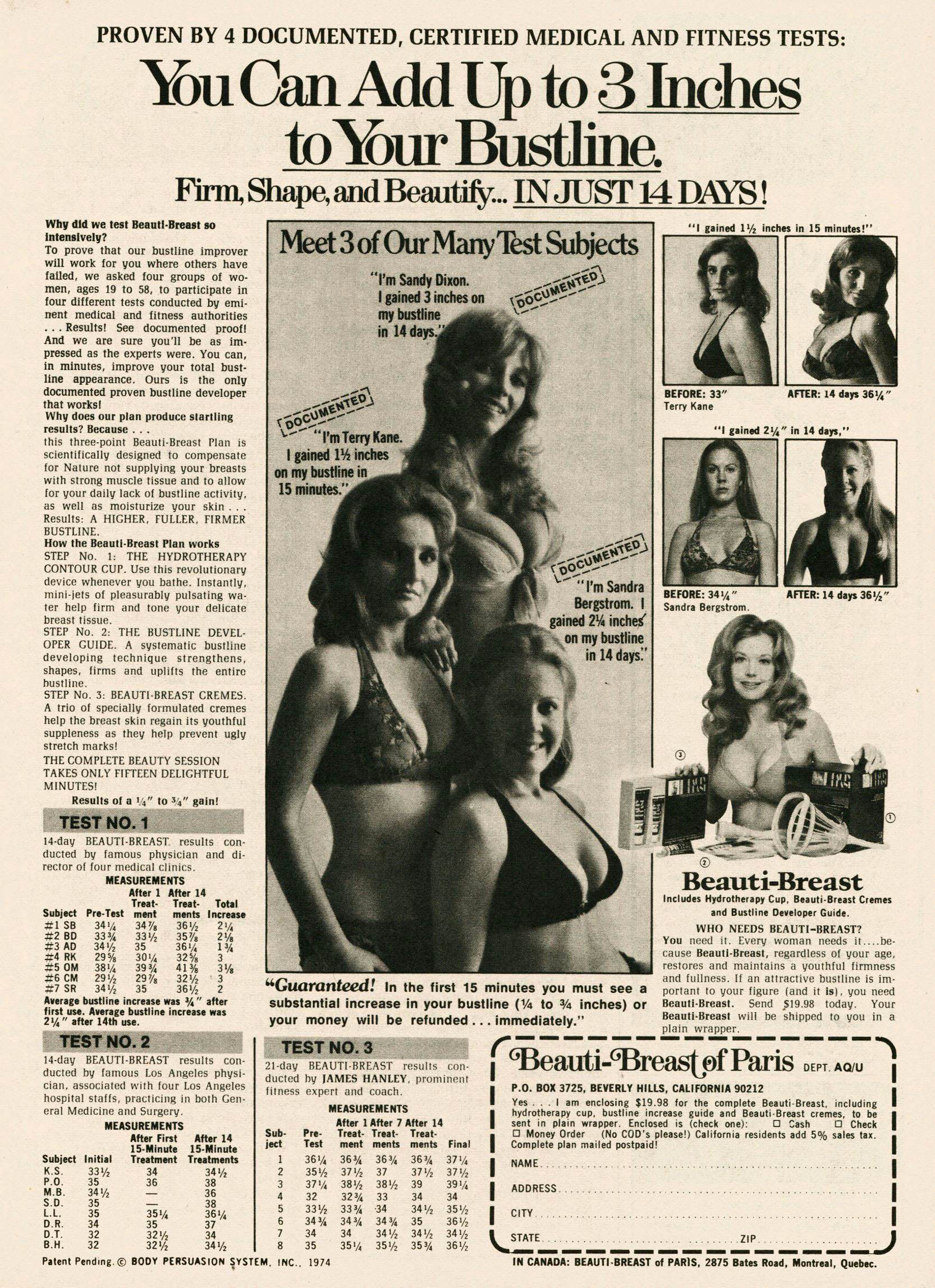 The Beauti-Breast promises its miracle results via a very suspicious contraption called the "Hydrotherapy Cup".  Evidently, you stick it on during a bath, and it sprays your boobs with water magically making them grow.  There's also some miracle creme to prevent stretch marks…. a vital component when you can gain 1 1/2 inches in 15 minutes like Terry!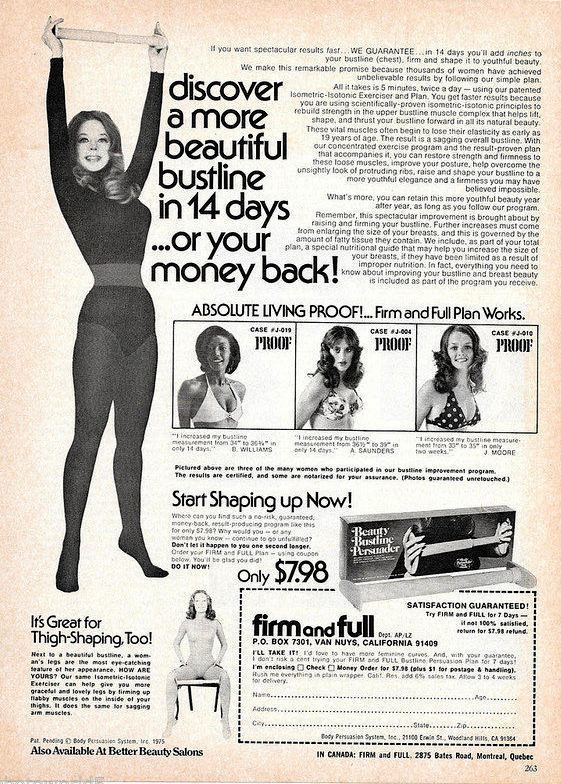 The solution offered by Firm and Full is apparently a plastic stick that you push in and out…. and that somehow makes your boobs bigger?  The advert asks:
"Why would you – or any woman you know – go unfulfilled? Don't let it happen to you one second longer."
Yes, your small breasts are literally preventing you from living a fulfilled life.  Act now!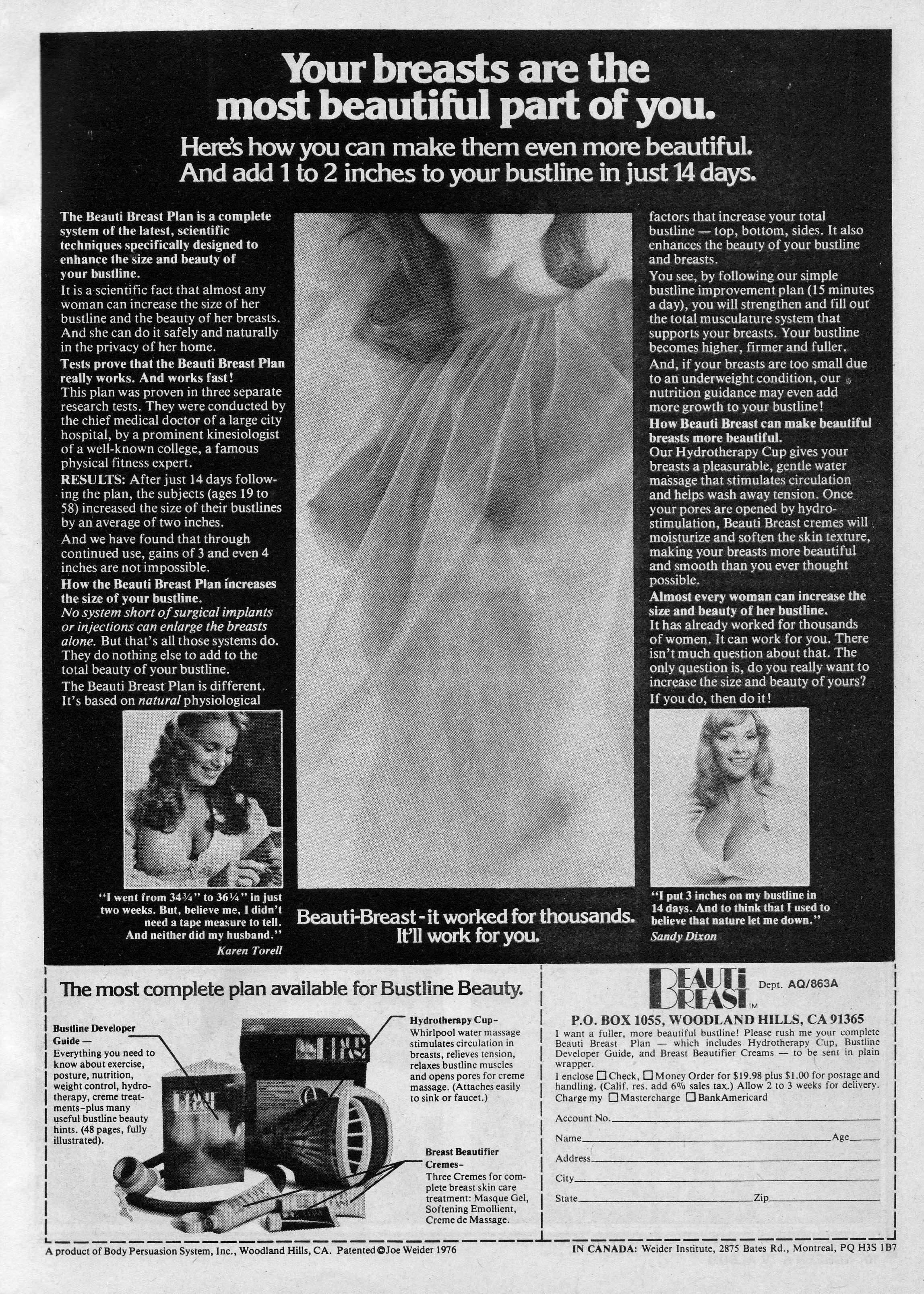 "Your breasts are the most beautiful part of you."
Not your not your intelligence, not your caring personality, not your sense of humor  – nope, it's all about your boobs.  So sayeth Beauti-Breast.  So, best accept this harsh reality and strap on your Hydrotherapy Cups pronto!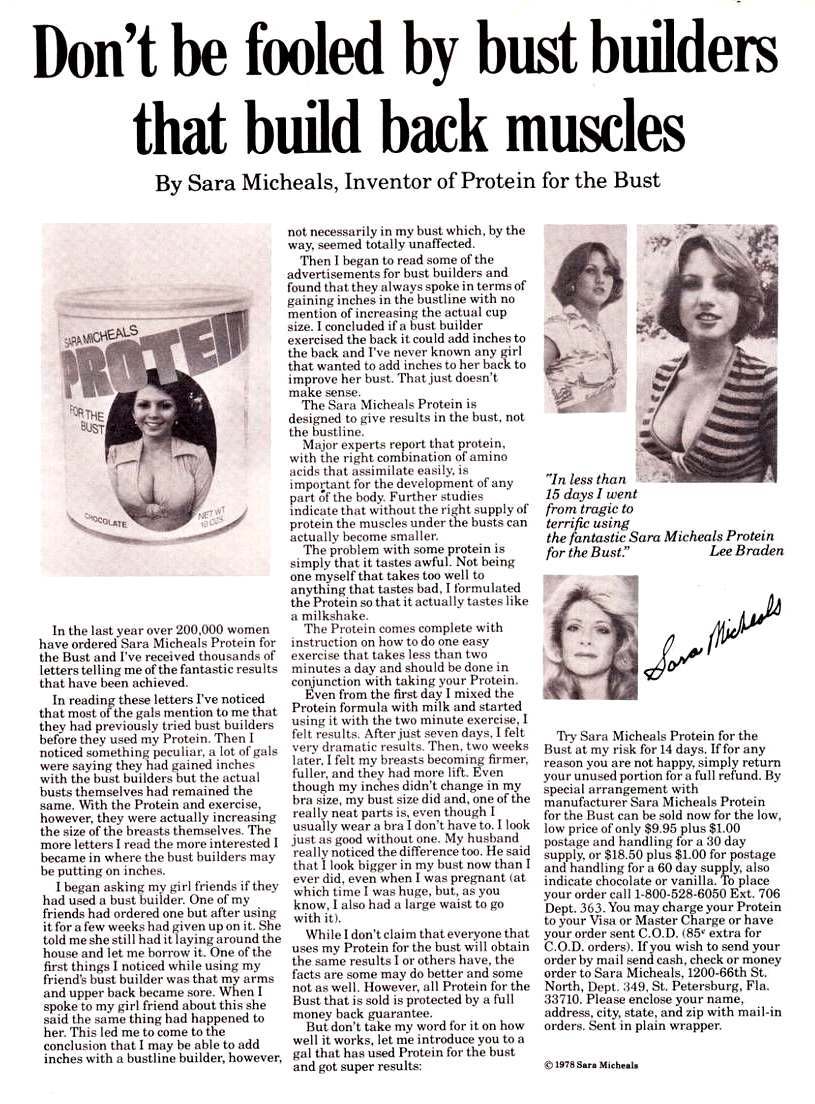 This sly little advertisement disguises itself as an actual article, pretending, at first glance, to be some sort of exposé on bustline improvement scams.  Not this one – this one's legit.  You see, it involves a protein shake that will miraculously increase your cup size just by drinking it for two weeks.  "Just indicate chocolate or vanilla" and you're off to a better life!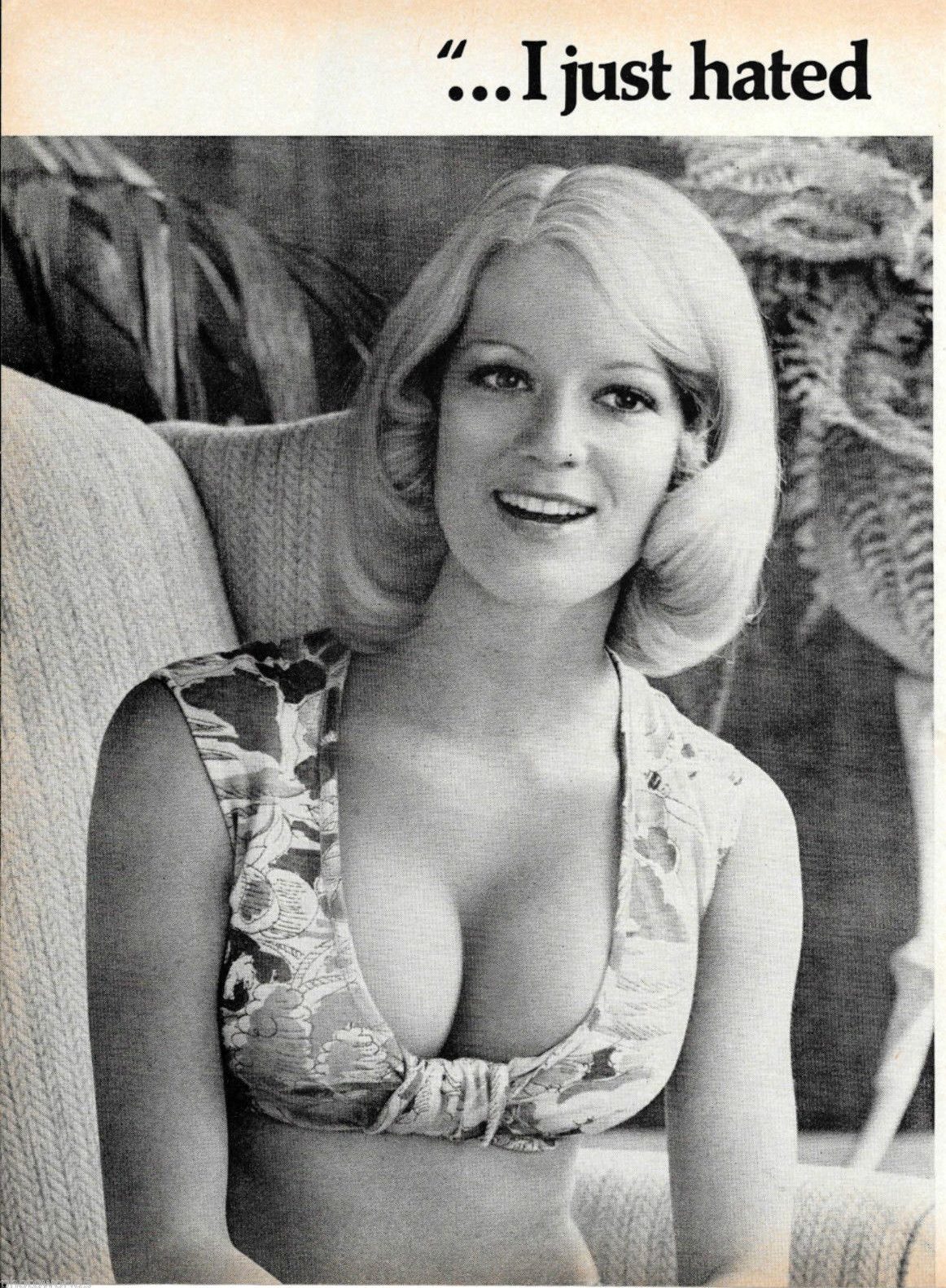 Any guess as to what she just hated?  It's 1975, so perhaps she just hated the rise in crime, the hi-jacking, the inflation, the oil crisis…. what could it be that she just hated?  Wait for it….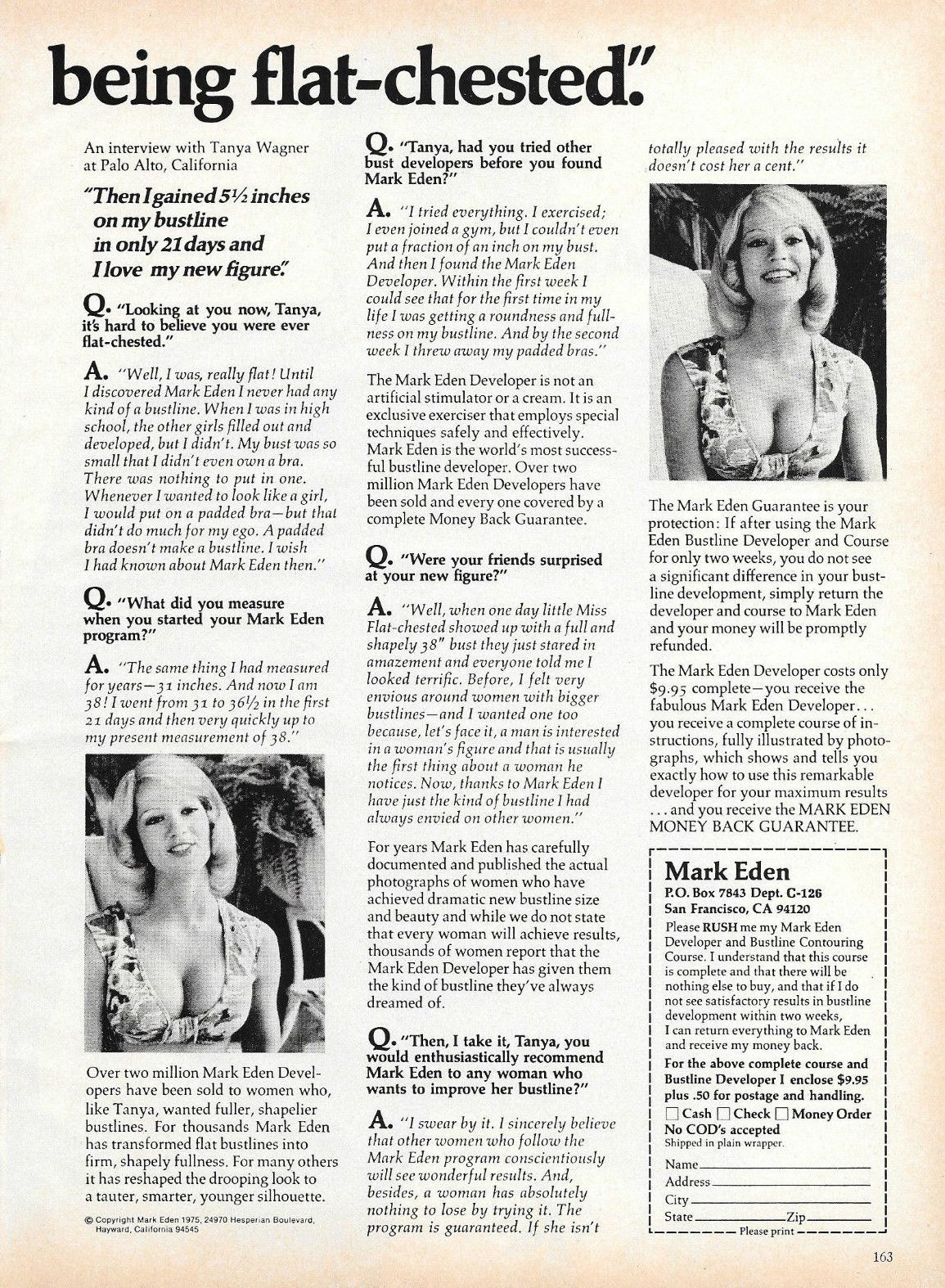 Of course.
Apparently, Tanya was so small that she "didn't even own a bra."  Then along comes Mark Eden and his miracle booklet ("shipped in plain wrapper"), and look at her now!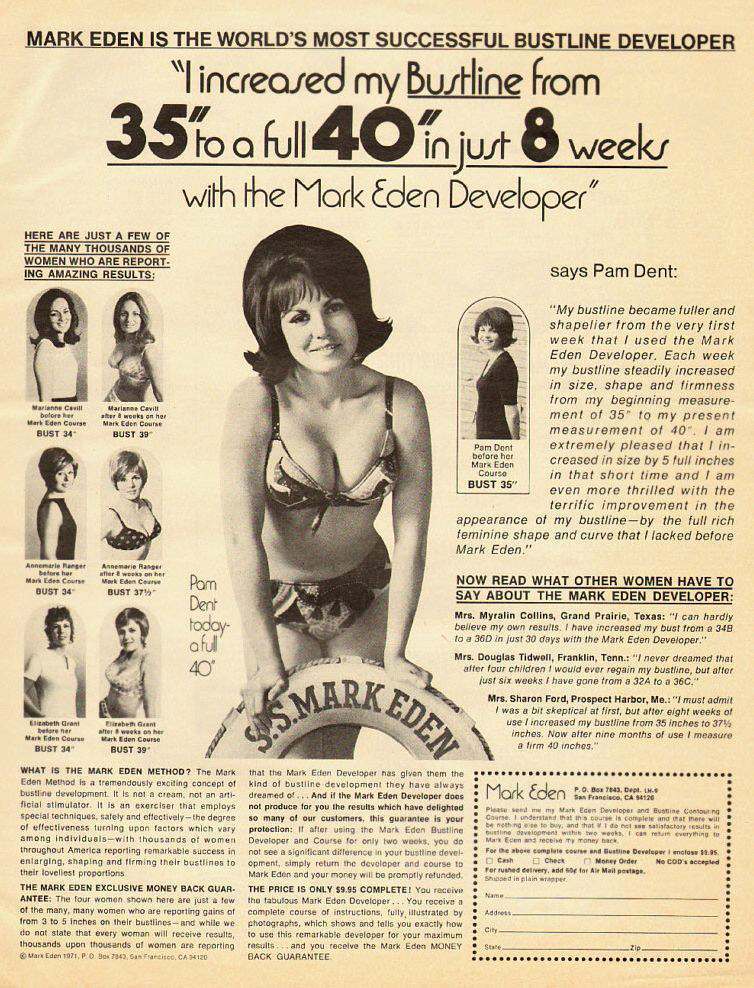 Hop on board the "S.S. Mark Eden", a ship full of happy big breasted women.  Your fulfillment and your very self-worth awaits!