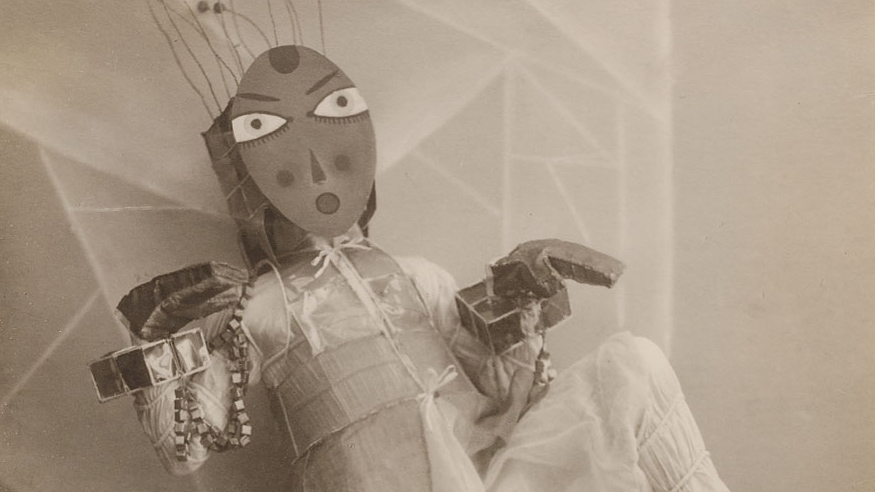 For Lavinia Schulz "art should be…an expression of struggle". Dance must express "the violent struggle of a female body to achieve central, dominant control of the performance space and its emptiness". Together with her dancer partner and husband, Walter Holdt, Schulz went "creeping, stamping, squatting, crouching, kneeling, arching, striding, lunging, leaping in mostly diagonal-spiraling patterns" across the German stage in the 1920s.
And they did it dressed in the most fabulous costumes.
In 1924, the couple were photographed in their self-designed costumes by Minya Diez-Dührkoop (21 June 1873 – 17 November 1929), who had taken over her father Rudolf Dührkoop's Hamburg portrait studio. Thanks to her, we get to see their wonderful photographs of Schulz and Holdt dressed for work.
Karl Toepfer explains:
The couple created dances and costumes together and at the same time, so that bodily movement and the masking of the body arose from the same impulse.

Schulz was a highly gifted artist whose drawings and sketches invariably startle the viewer with their hard primitivism and demonic abstraction, but Holdt assumed much responsibility for the design of the costumes and masks; for most of the costumes deposited in Hamburg, it is not possible to assign definite authorship to Schulz.

The mask portions consisted mostly of fantastically reptilian, insectoid, or robotic heads, whereas the rest of the costumes comprised eccentric patchworks of design, color, and material to convey the impression of bodies assembled out of contradictory structures.
Knowledge of the astonishingly bizarre and tragic art of Walter Holdt and Lavinia Schulz is obscure and largely based on the rediscovery in 1986 of artifacts deposited in a Hamburg museum back in 1925.

The artistic power within this couple apparently lay with the woman, for virtually nothing is known of Holdt. After suffering from a severe ear disease, Schulz studied ballet, painting, and music in Berlin, where as early as 1913 she came into contact with Herwarth Walden's Sturm circle of expressionists. Through this circle she became friends with Lothar Schreyer, who invited her, "my first student, a genial person with violent passion," to perform, apparently nude, in his wild production of August Stramm's Sancta Susanna in 1918.

When Schreyer, disillusioned by his struggle to form an avant-garde theatre in Berlin, moved to his native Hamburg in 1919, Schulz followed him. It is not known whether she met Holdt there or whether they had already met by this time. In Berlin Schulz was a costumer and seamstress for Schreyer's early Kampfbühne productions…

Schulz married Holdt in April 1920, and the couple soon drifted away from Schreyer, for, as Schulz explained in a note, "Expressionism is not a solution; expressionism works with machines and industry." Schulz and Holdt led a fanatically austere existence in a bizarre expressionist cellar apartment without a floor, bed, or hot water. They slept on straw and dedicated themselves religiously to the construction of their strange mask dances, wearing gray tights during the day so that they could work on the dances as they worked on the masks and costumes.

The couple became obsessed with recovering an archaic Aryan-Nordic identity free of Jewish-Christian contamination. According to H. H. Stuckenschmidt, who was their friend, Schulz craved hardship: "Poverty, hunger, cold, Nordic landscape with snow, ice, and catastrophes: that was her world, and with Holdt she found it". The couple put on only a few dance concerts between 1920 and 1924, but these were among the strangest produced by the whole Weimar dance culture, and although Hamburg audiences responded with bewilderment, critics tended to recognize a powerful imagination.

– Karl Toepfer
The romance does not end well. On June 19th 1924, four days before her birthday, Schulz, upset by her Holdt's (suspected) adultery (but some say the trigger was their their dire financial situation – very little is known about them), shot her husband several times at point blank range before turning the gun on herself. The couple were discovered dead lying on their bed of straw with their infant son between them.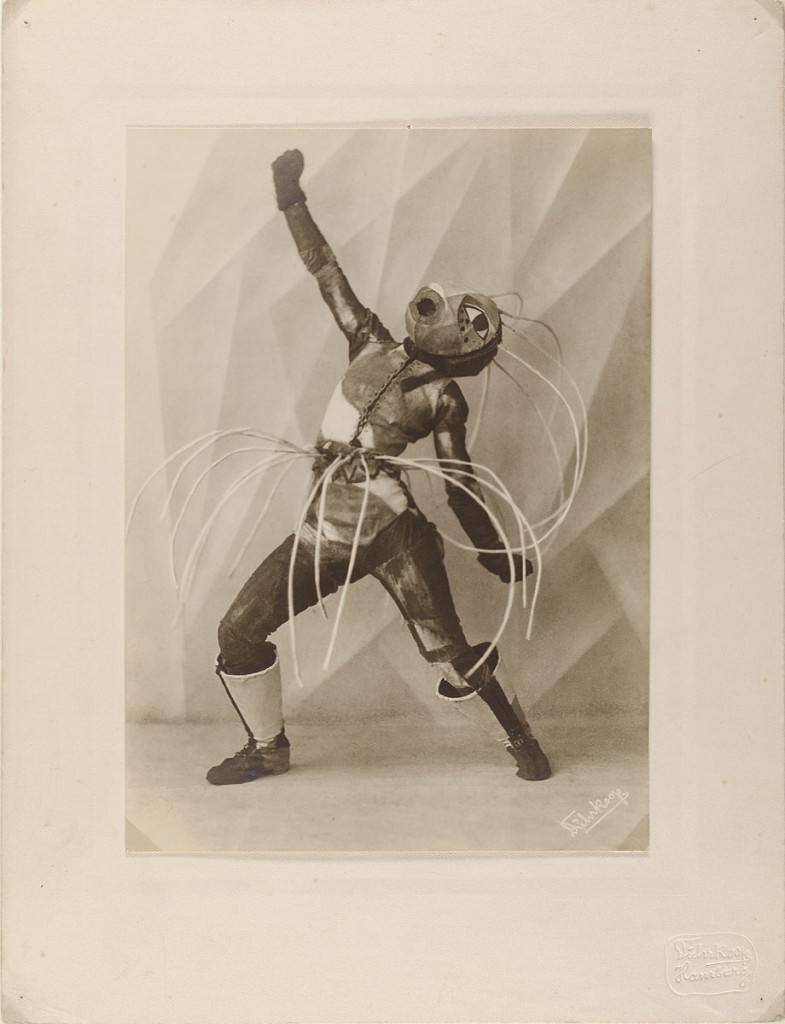 Would it of interest to see these costumes in colour? Perhaps:
Schulz and Holdt's designs and costumes are at the Museum für Kunst und Gewerbe Hamburg (MKG) in 1925.
Lavinia Schulz : 23 June 1896 – 19 June 1924.
Words from: Empire of Ecstasy Nudity and Movement in German Body Culture, 1910–1935 by Karl Toepfer.
Lead image: Minya Diez-Dührkoop, Dance costumes for "Toboggan" (1924), black and white positive on silver gelatin paper.
Via: Dangerous Minds.