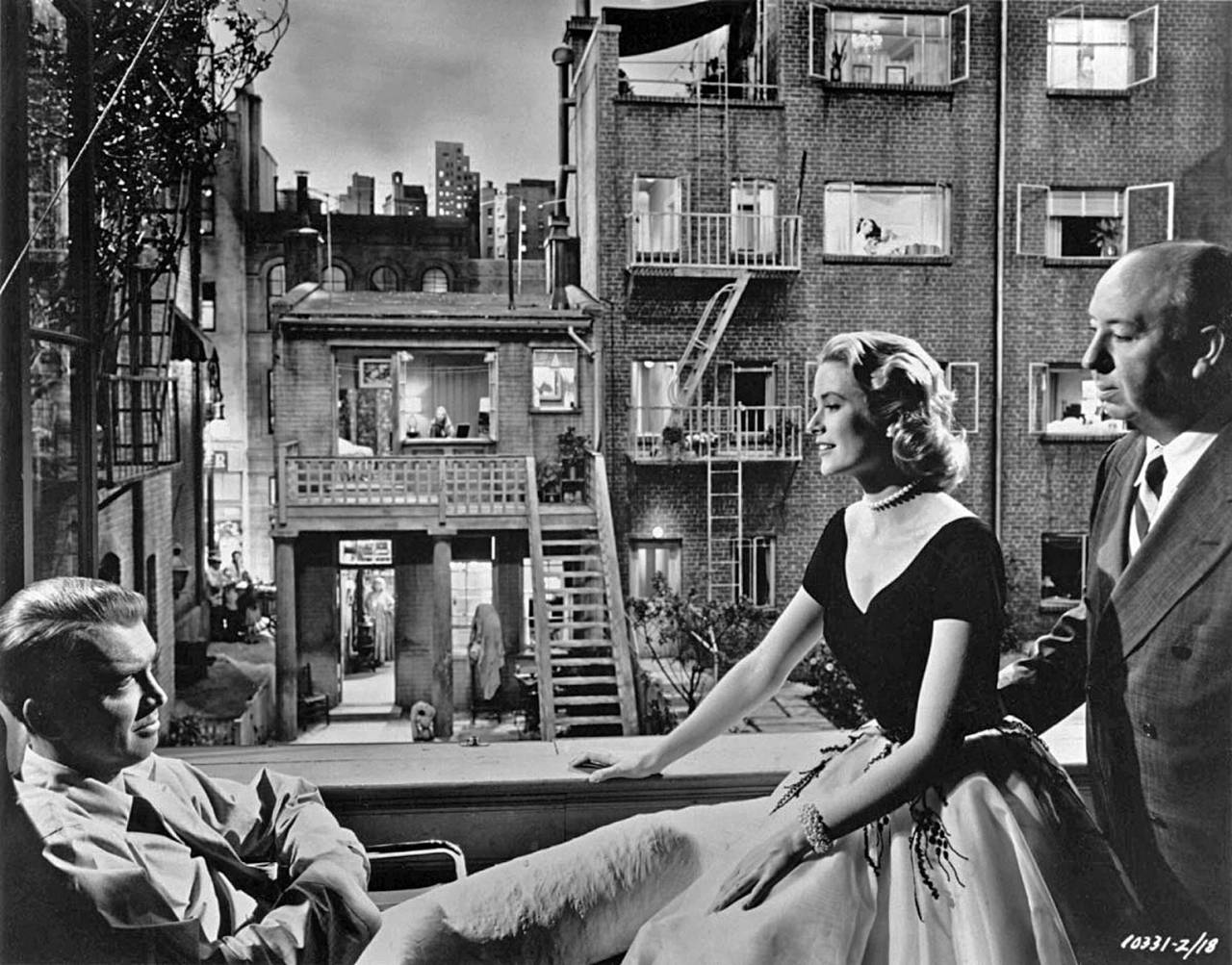 Alfred Hitchcock's Rear Window, one of his masterpieces, was released in August 1954 and based on writer Cornell Woolrich's short story called It Had to Be Murder. In the original story, the voyeur, played by James Stewart in the movie, does not have a girlfriend or a nurse while his leg injury isn't really mentioned until the very last line:
He showed up rubbing his hands, in that way he has. "Guess we can take that cast off your leg now. You must be tired of sitting there all day doing nothing."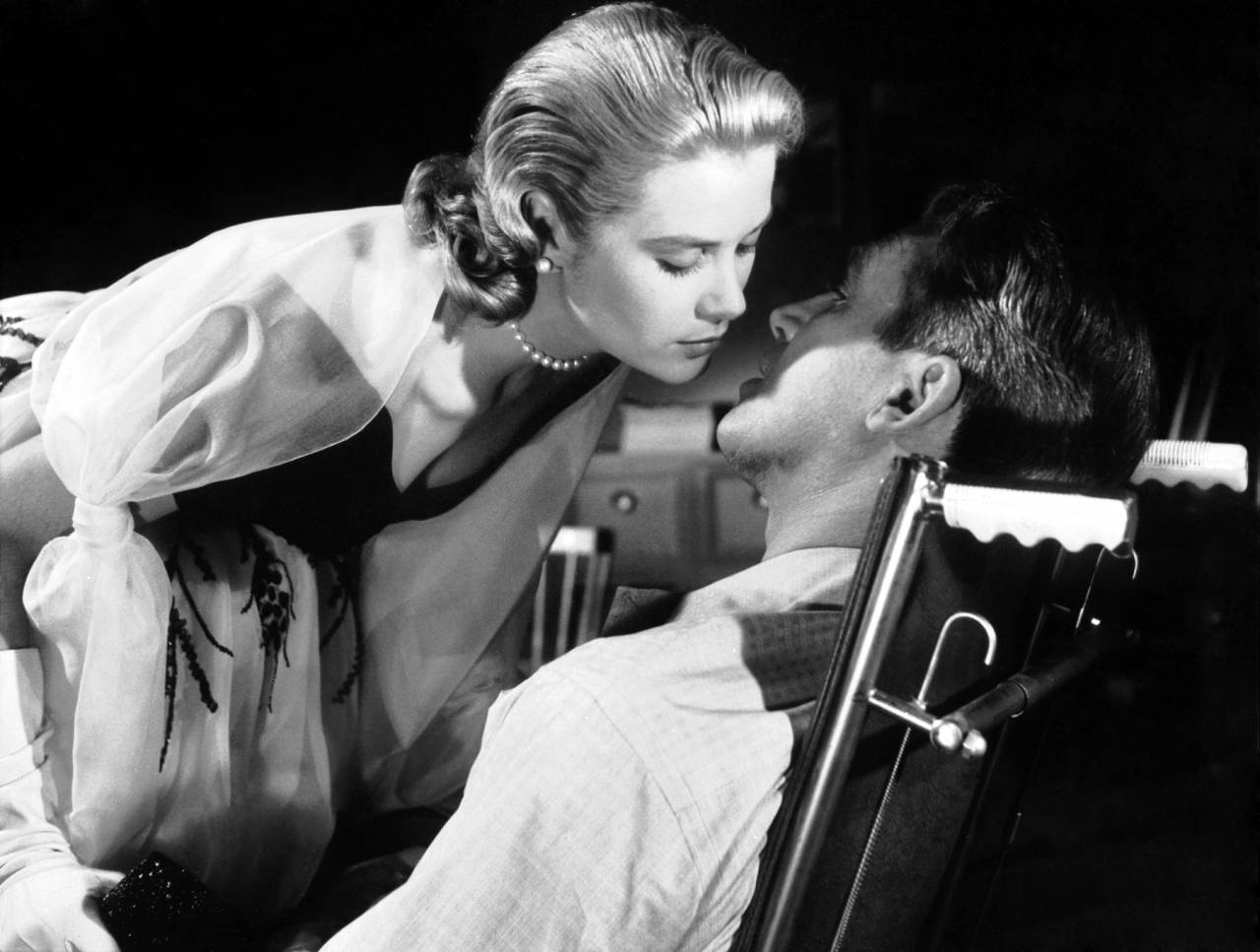 In the autumn of 1953, Grace Kelly was offered roles in two separate movies – both seen as classics today. One was Hitchcock's Rear Window while the the other was Elia Kazan's On the Waterfront. Although Kazan's film would've meant Kelly could stay in New York, which she much preferred to Los Angeles. She still chose to play socialite Lisa Fremont – because of the chance to work with Hitchcock again. The part in On the Waterfront in the end went to Eva Marie Saint, who would later become a classic Hitchcock blonde herself when she starred in North by Northwest with Cary Grant.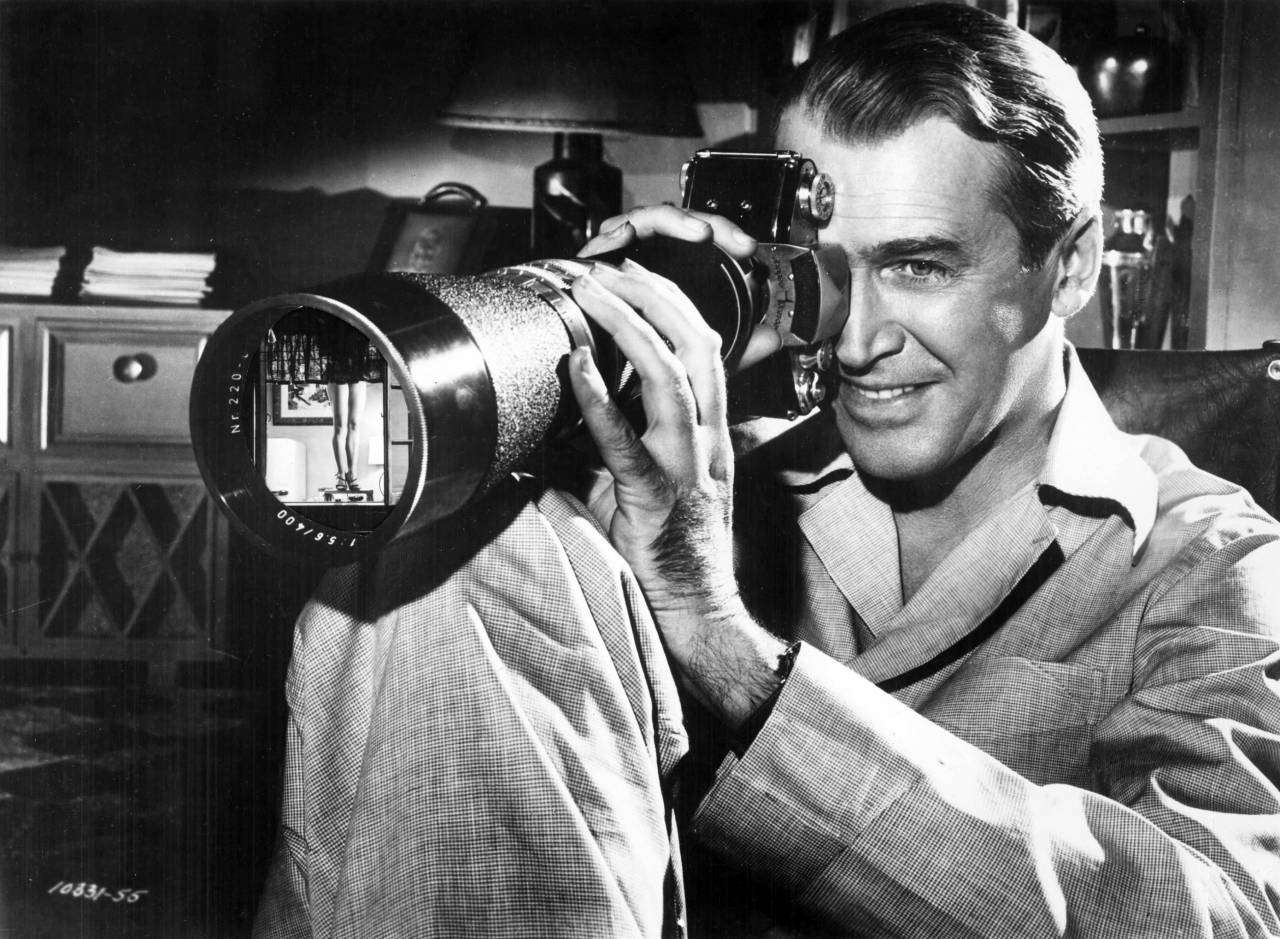 Alfred Hitchcock and James Stewart had a friendship that was oddly intimate while being somewhat proper and distanced. They rarely socialized outside work and didn't talk much on the set but communicated in unspoken glances. Stewart said Hitchcock didn't discuss a scene with an actor but preferred to hire people who would know what was expected of them when he said "action." The most Hitchcock would say to Stewart, according to the actor, was something like, "The scene is tired," thereby communicating that the timing was off. The 35mm camera with the huge telephoto lens Stewart uses is an early 1950s Exakta VX (also known as the "Varex" outside the USA) manufactured in Dresden, (east) Germany. The lens is a 400mm Kilfitt. The Paramount property department purposely covered over the name with black masking tape.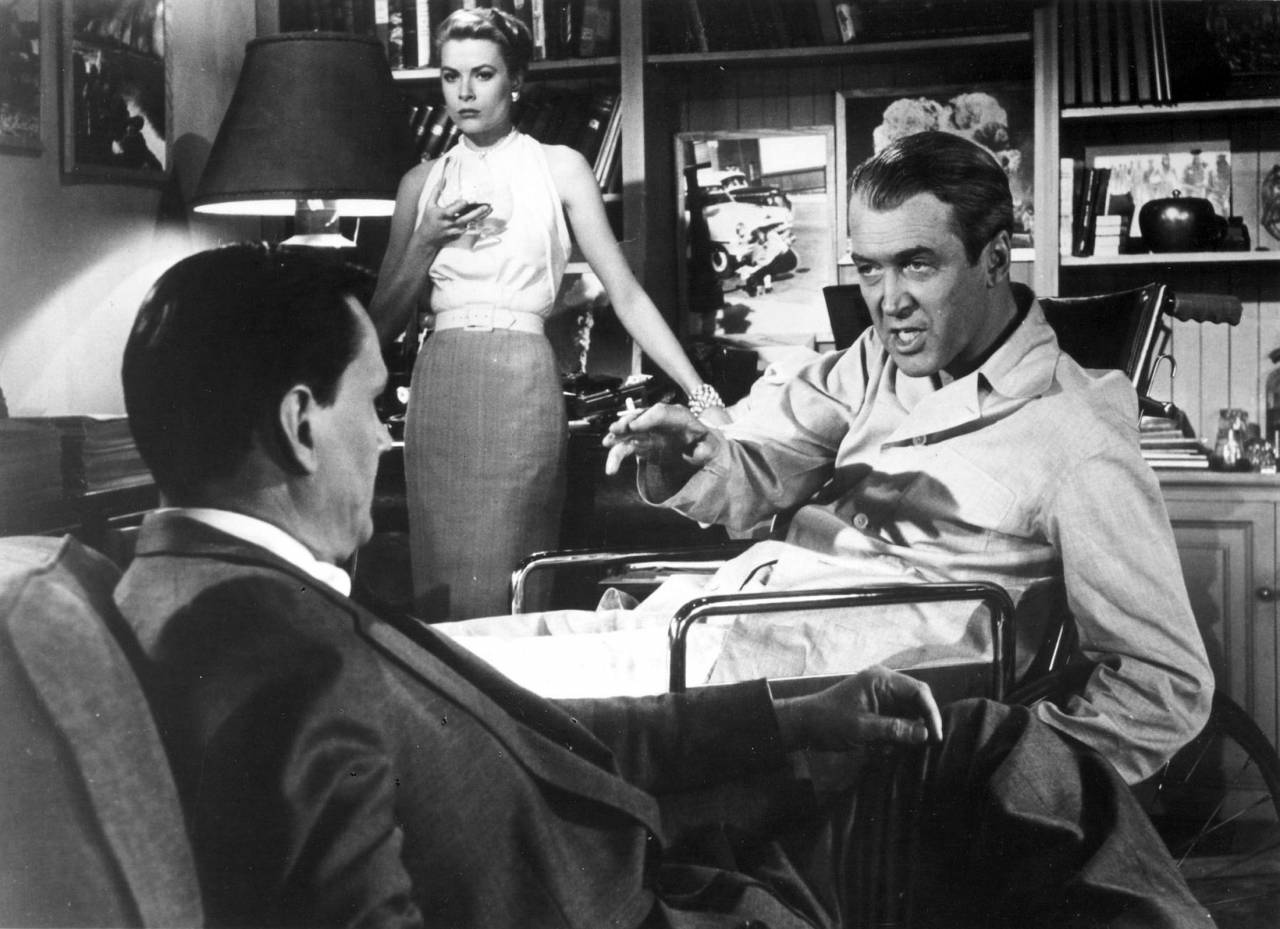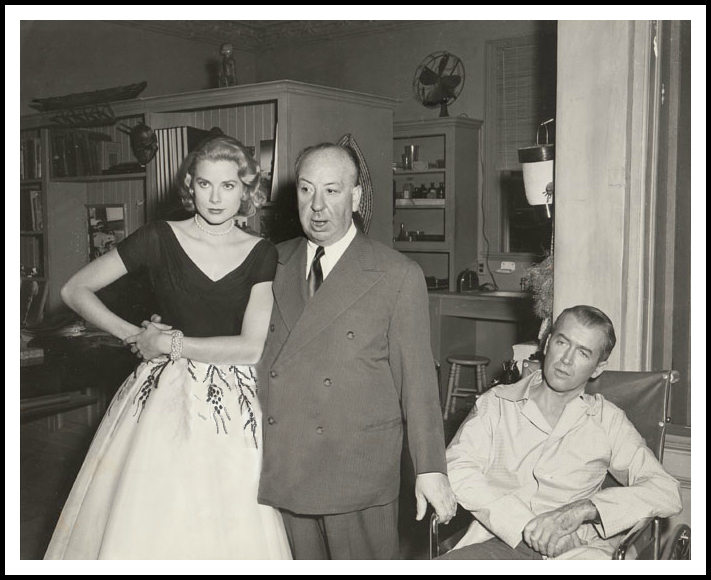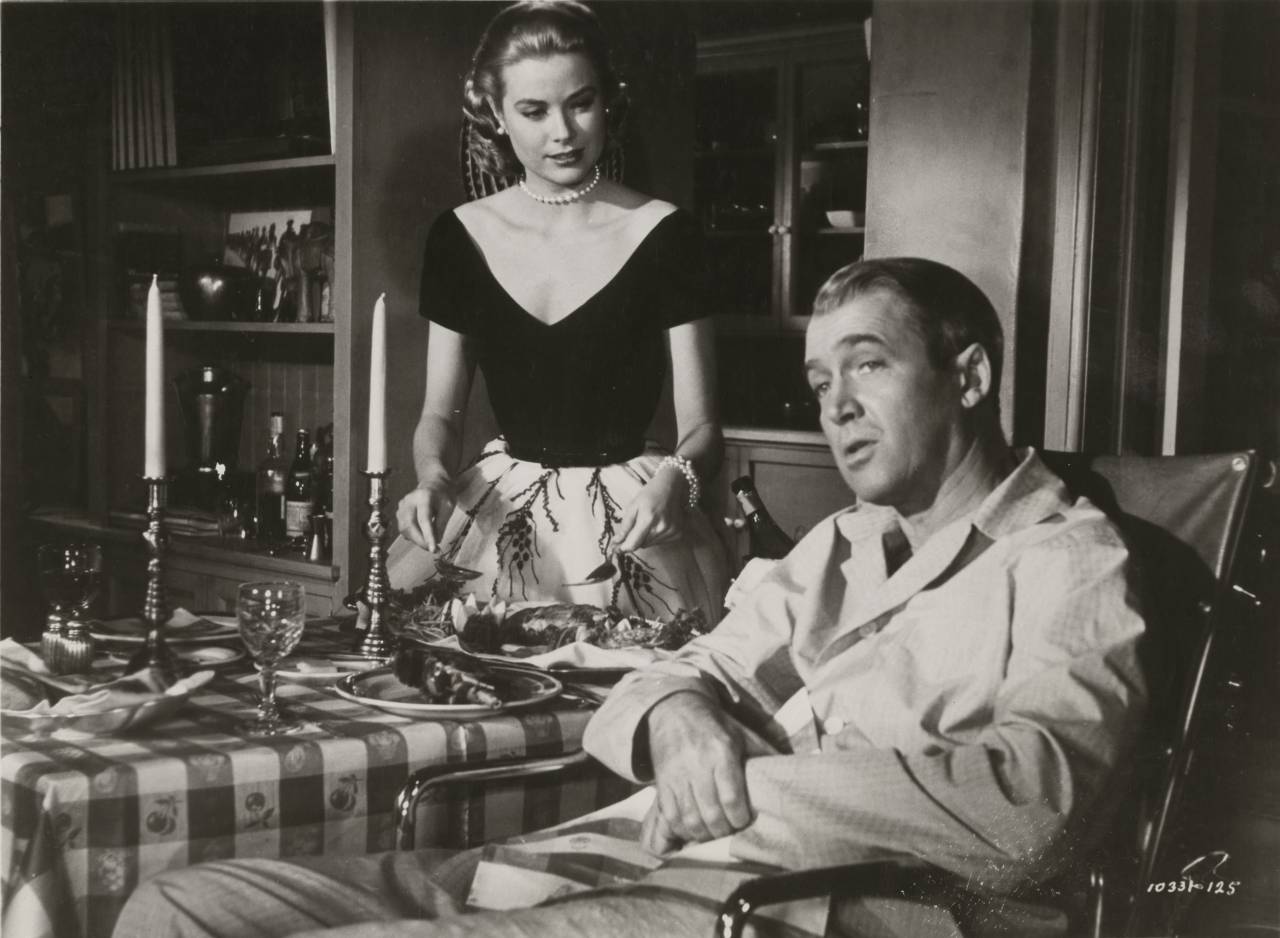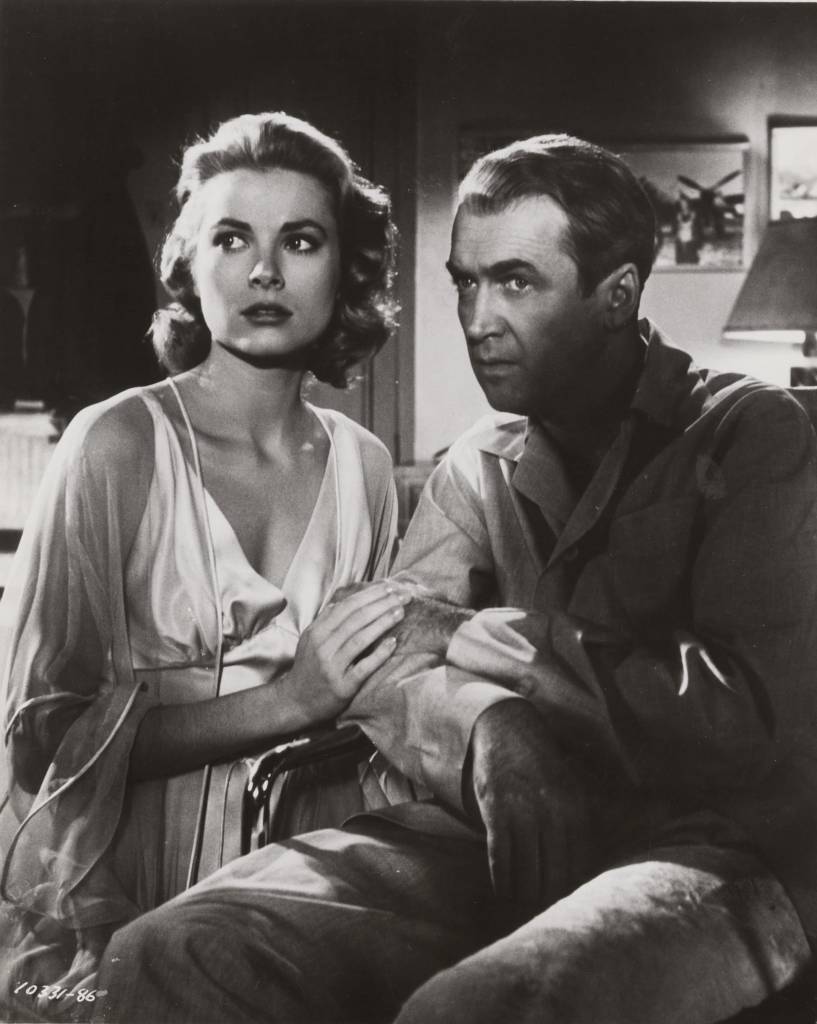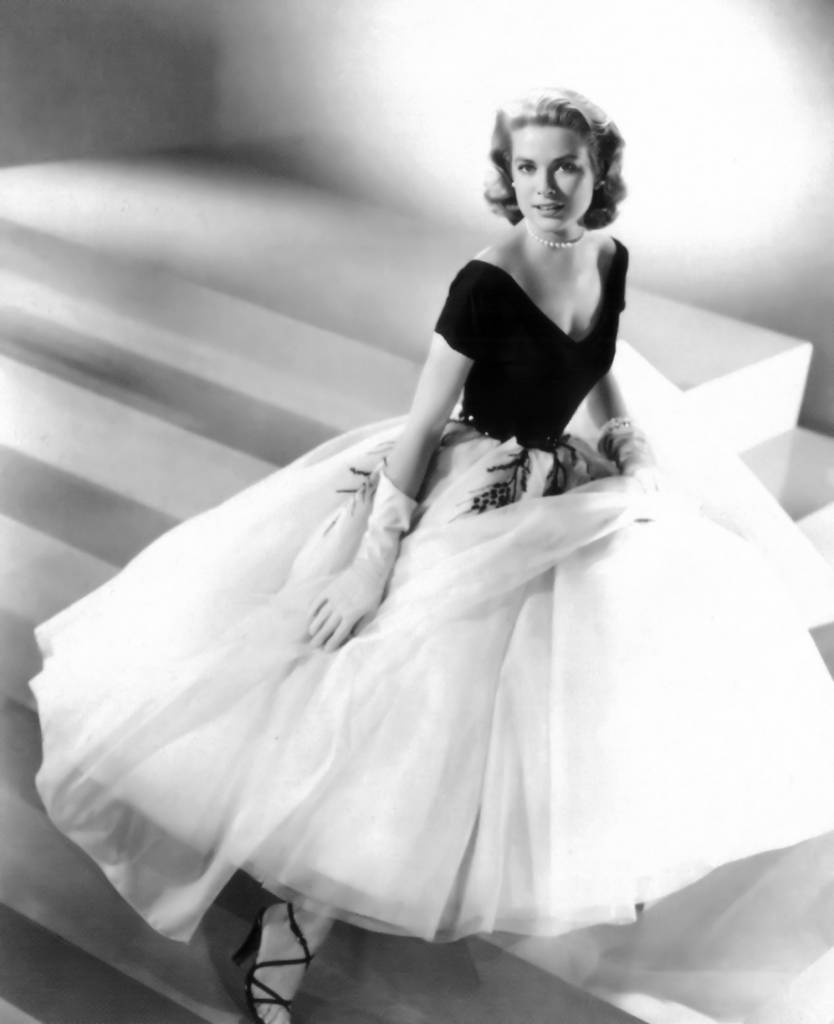 Grace Kelly refused to smoke cigarettes in any of her films, but she made a slight exception for Hitchcock in Rear Window. In one scene, she's seen with an unlit cigarette between her lips. The camera cuts to Stewart, then back to her. She's suddenly holding a lit cigarette, which she soon puts out. This way, Hitchcock got his smoking scene, while Kelly never technically broke her rule.
According to Georgine Darcy, the scene in which the man and woman on the fire escape struggle in their attempt to get in out of the rain can be attributed to a joke by the English director. Each actor in the apartment complex facing Jeff's rear window wore an earpiece through which they could receive Hitchcock's directions. Hitchcock told the man to pull the mattress in one direction and told the woman to pull in the opposite direction. Unaware that they had received conflicting directions, the couple began to fight and struggle to get the mattress inside once the crew began filming the scene. The resulting struggle provided humour and a sense of authenticity to the scene which Hitchcock liked so much he did not order another take.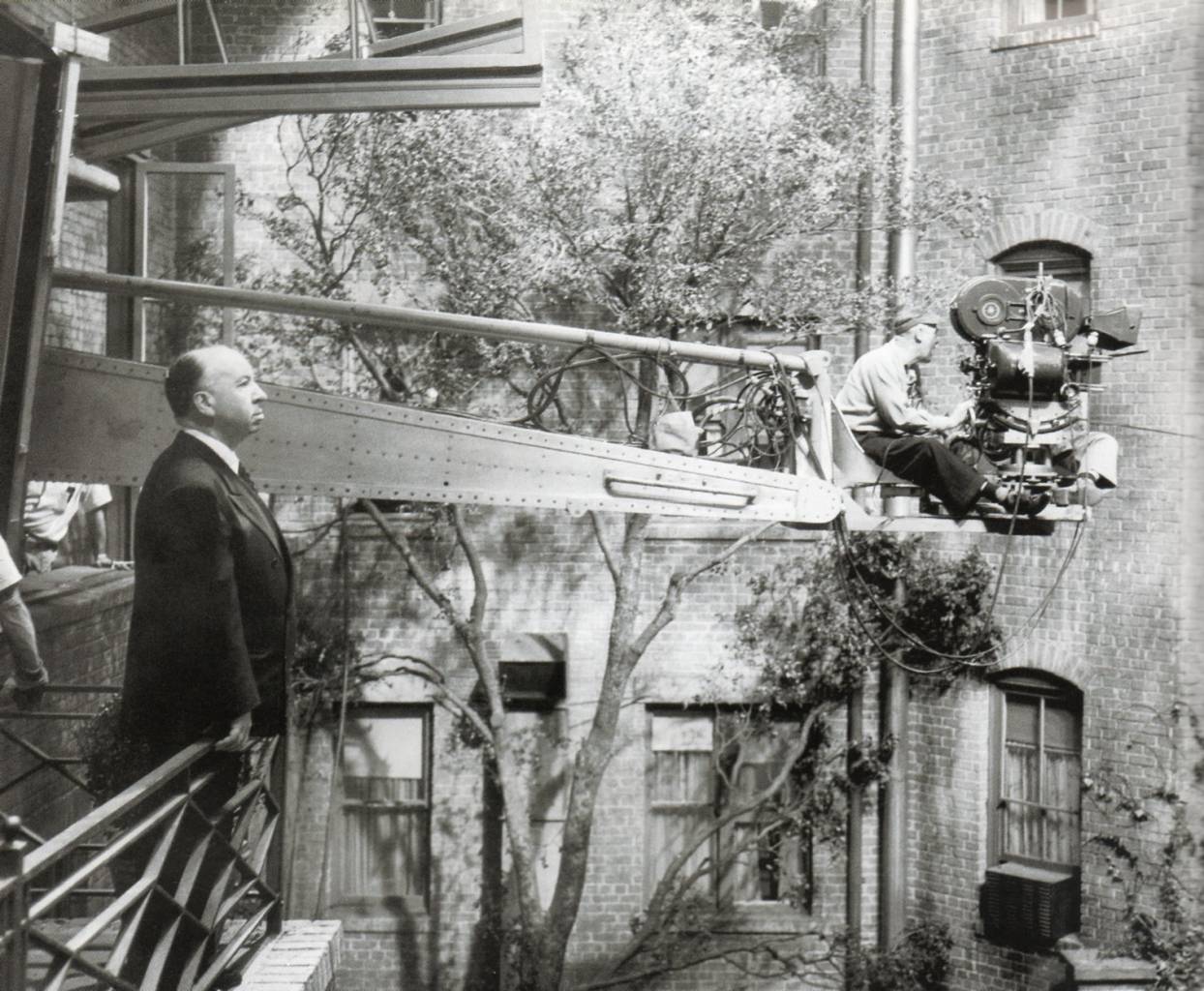 One thousand arc lights were used to simulate sunlight. Thanks to extensive pre-lighting of the set, the crew could make the changeover from day to night in under forty-five minutes.
Ross Bagdasarian played the pianist neighbour who's frequently seen composing new pieces. Credited as "The Songwriter," he was also a pianist and composer himself making his name and lots of money by creating Alvin and the Chipmunks. But before he recorded "The Chipmunk Song" in 1958, he helped Hitch with his Rear Window cameo. In the Songwriter's apartment and you'll see the great director winding-up the clock.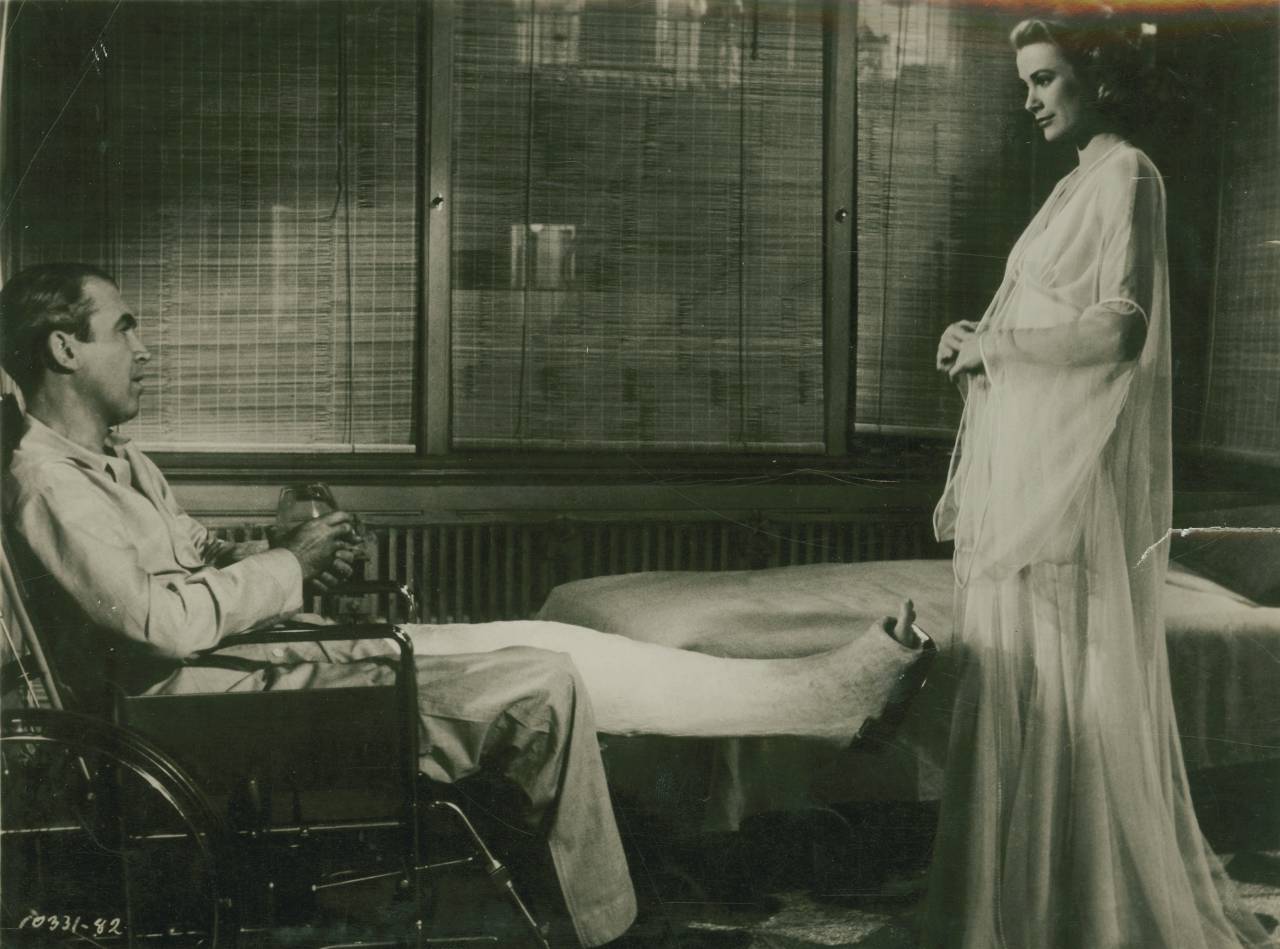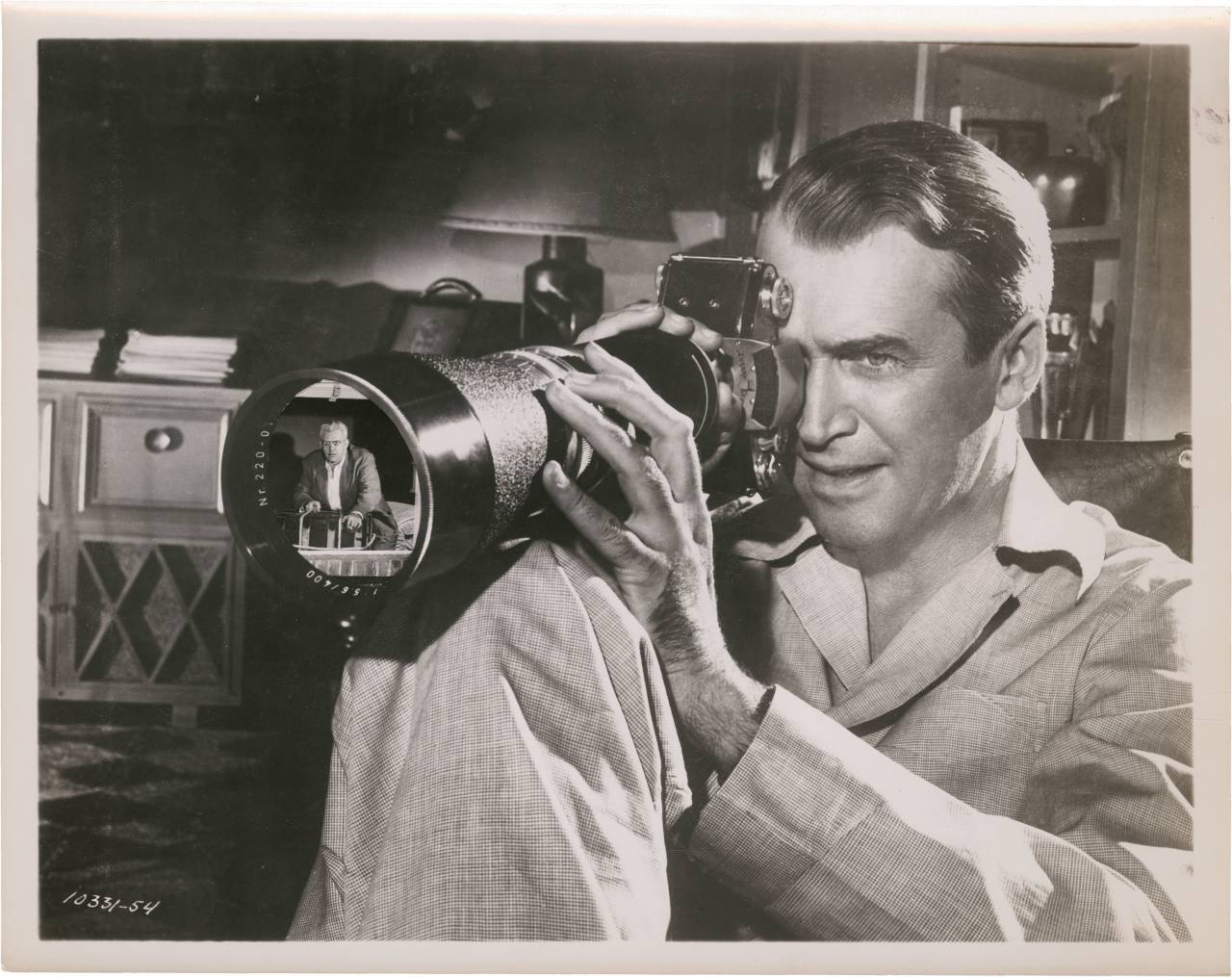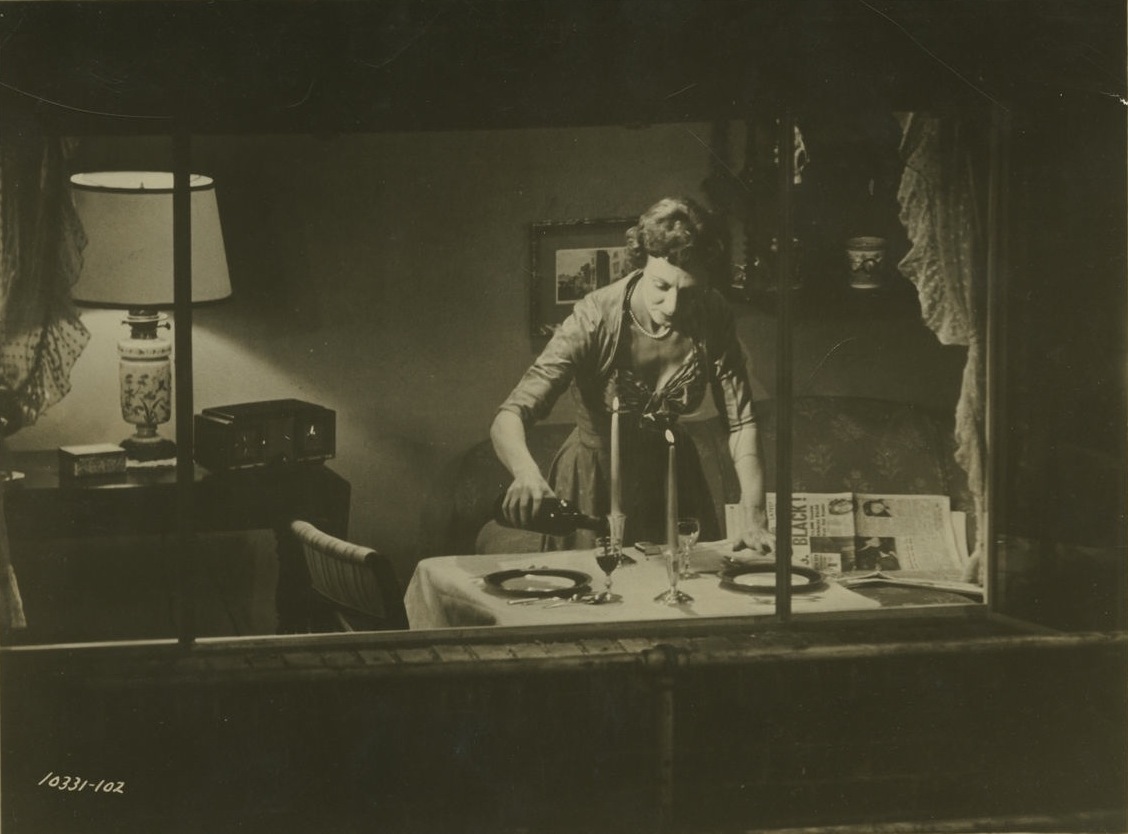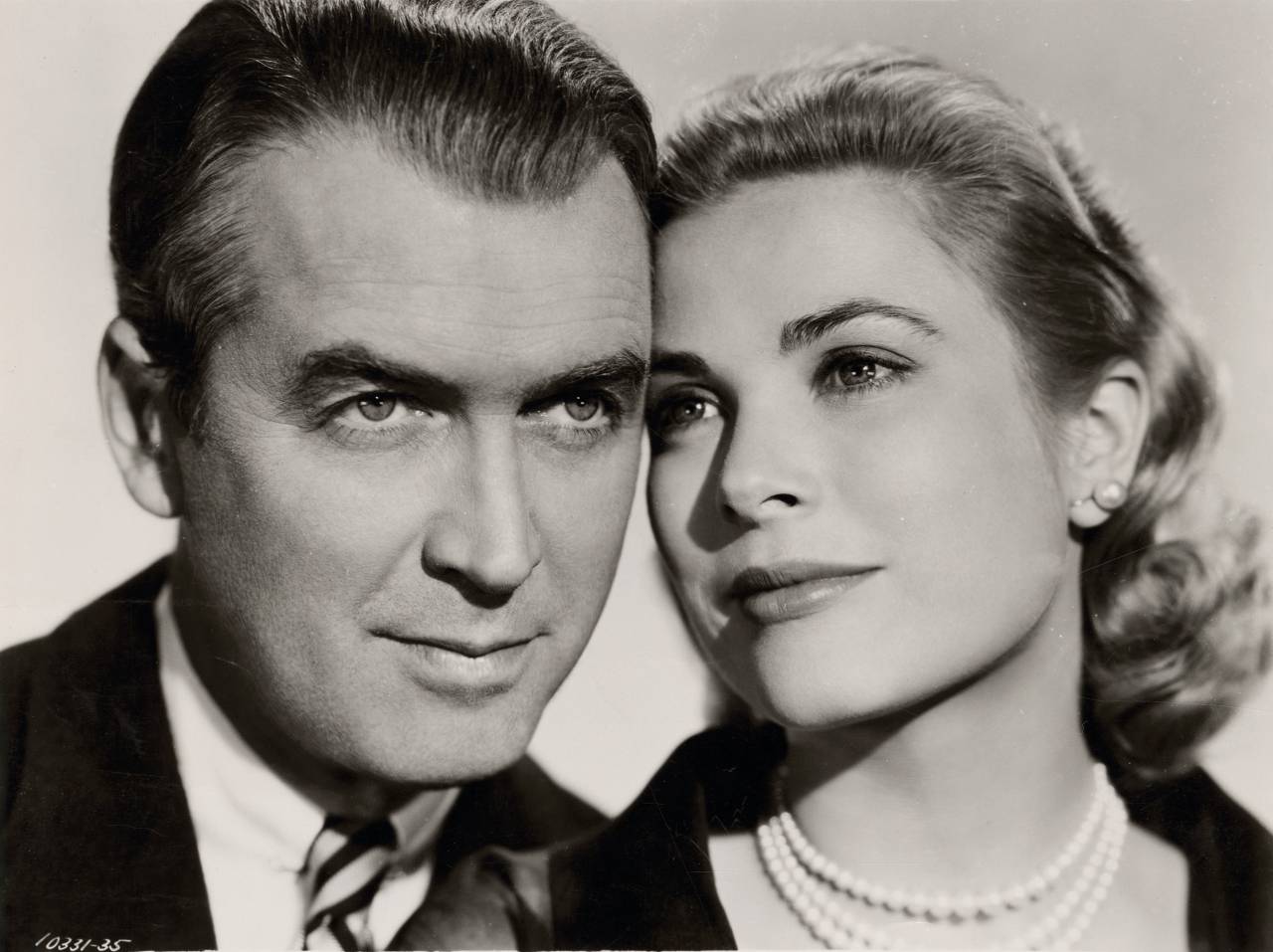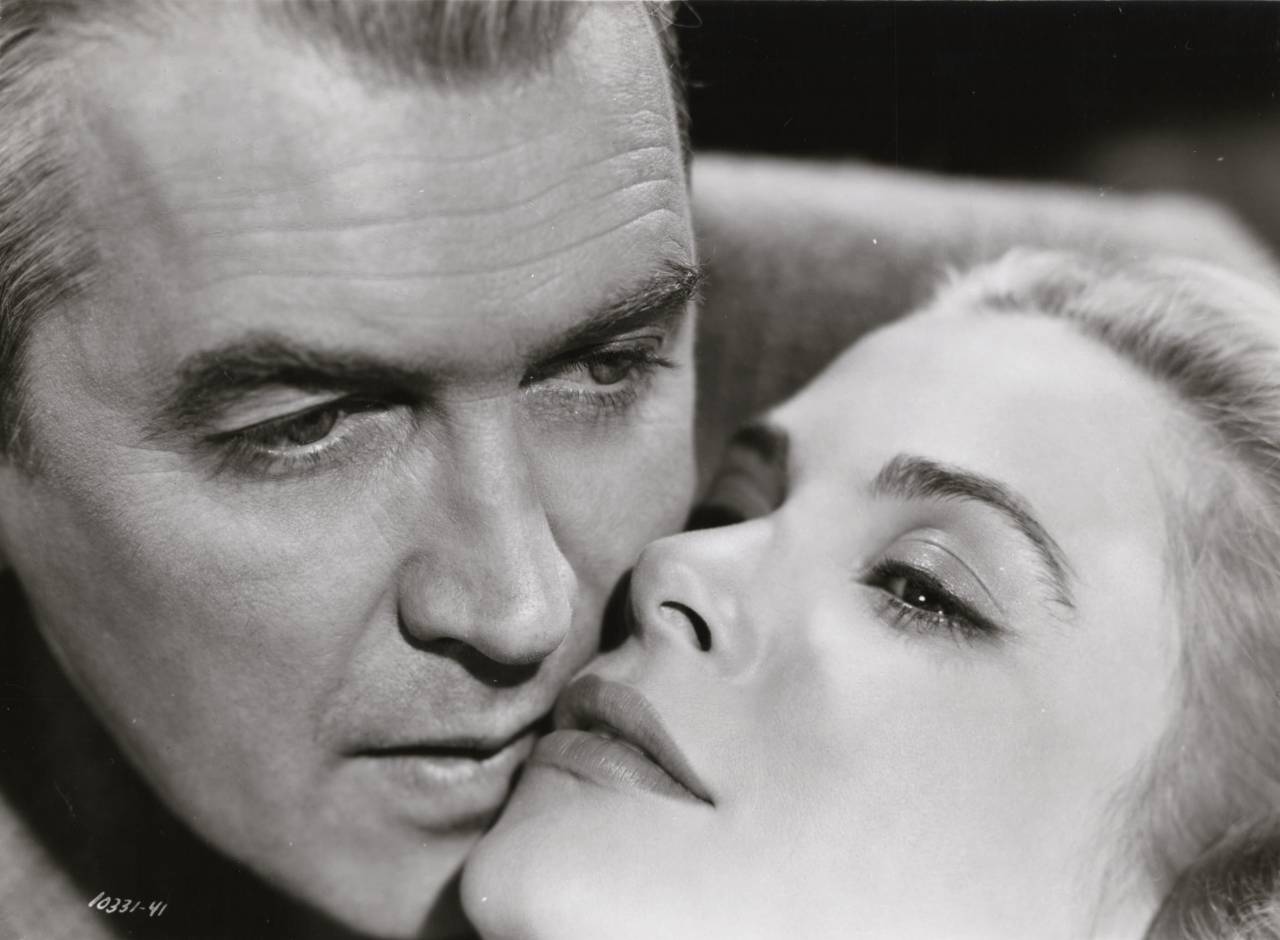 Kristin Hunt at Mental Floss writes about Grace Kelly on the film:
Before she was Princess Grace of Monaco, Grace Kelly had a reputation (whether true or not) for having affairs with her male co-stars—even the married ones. One of those men was Ray Milland, whose spurned wife just happened to be good friends with Jimmy Stewart's wife, Gloria. Gloria was less than thrilled at the prospect of her husband working with Kelly, and developed a bit of paranoia. According to True Grace: The Life and Times of an American Princess, Gloria was on set constantly, watching for signs of an affair. Nothing materialized, although Rear Window cast member Thelma Ritter confirmed that Kelly was a huge flirt. "I think it took [Stewart] back to his fancy-free, footloose bachelor days," she said. "I don't say he flirted, but he didn't seem to mind it, either."
According to James Stewart, "Everybody just sat around and waited for her to come in the morning, so we could just look at her/ She was kind to everybody, so considerate, just great, and so beautiful." Stewart also praised her instinctive acting ability and her "complete understanding of the way motion picture acting is carried out."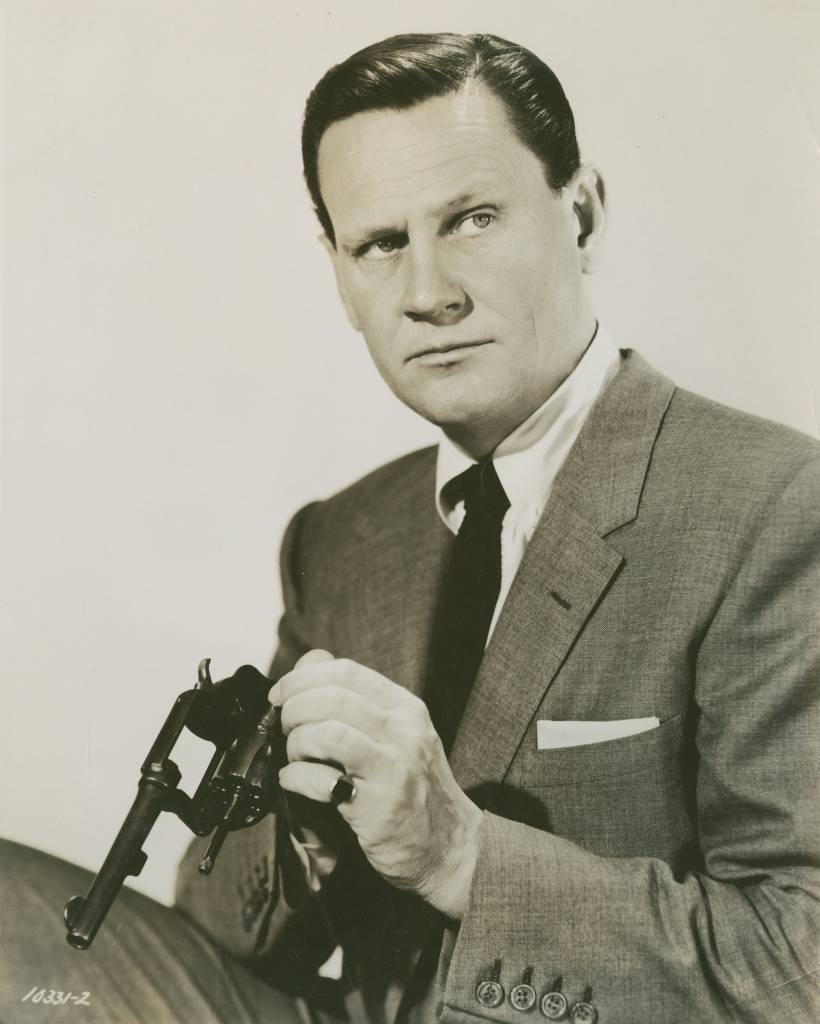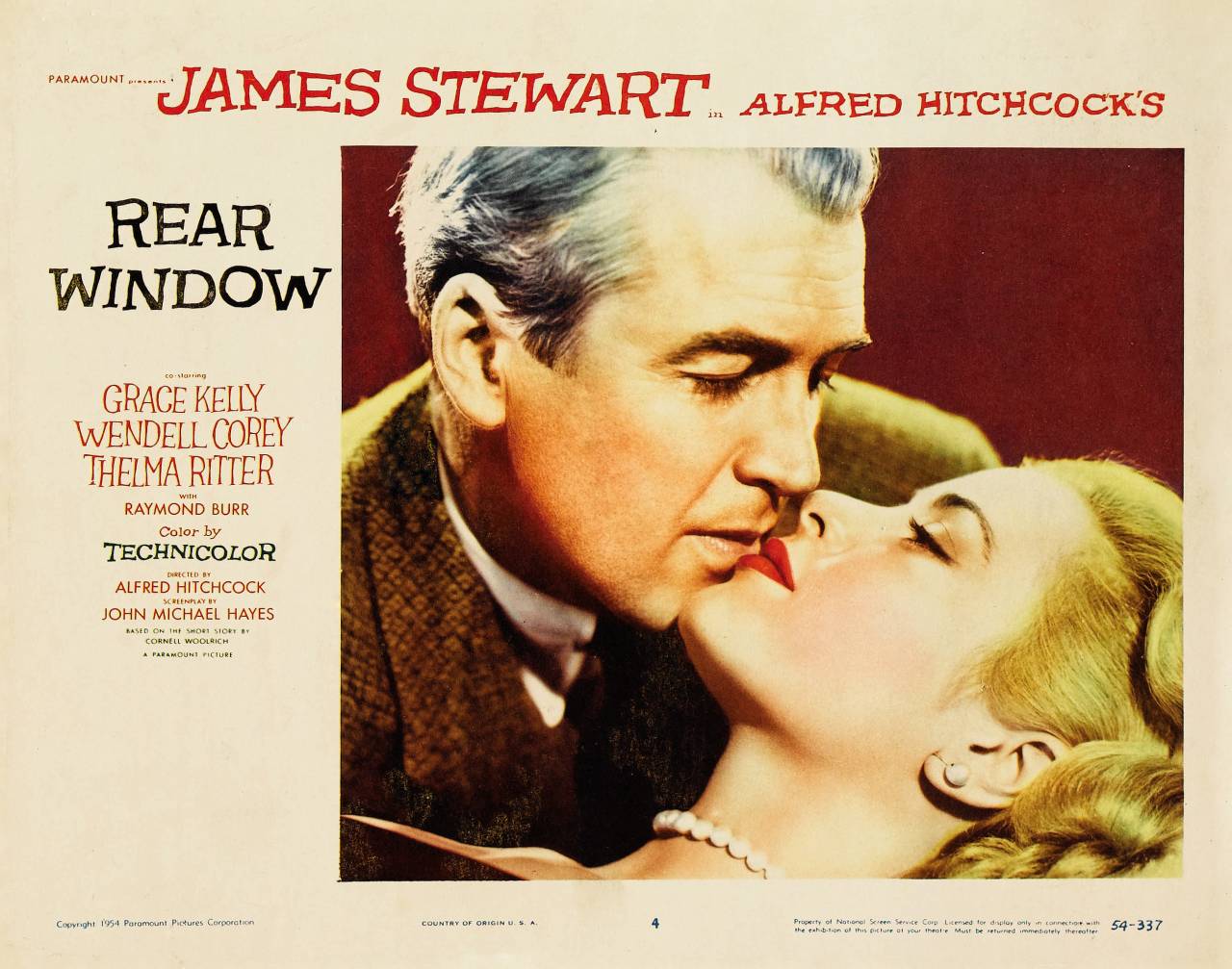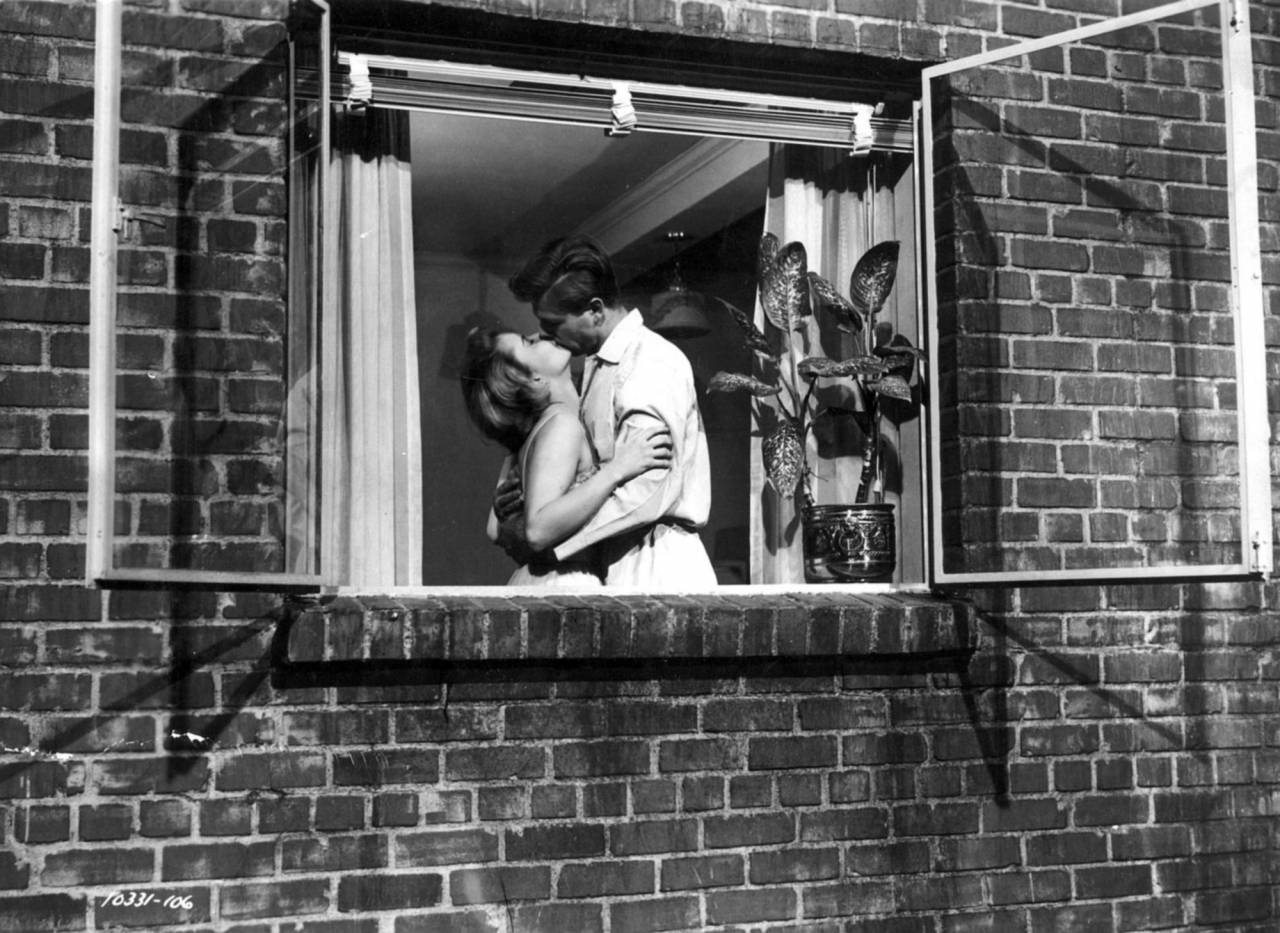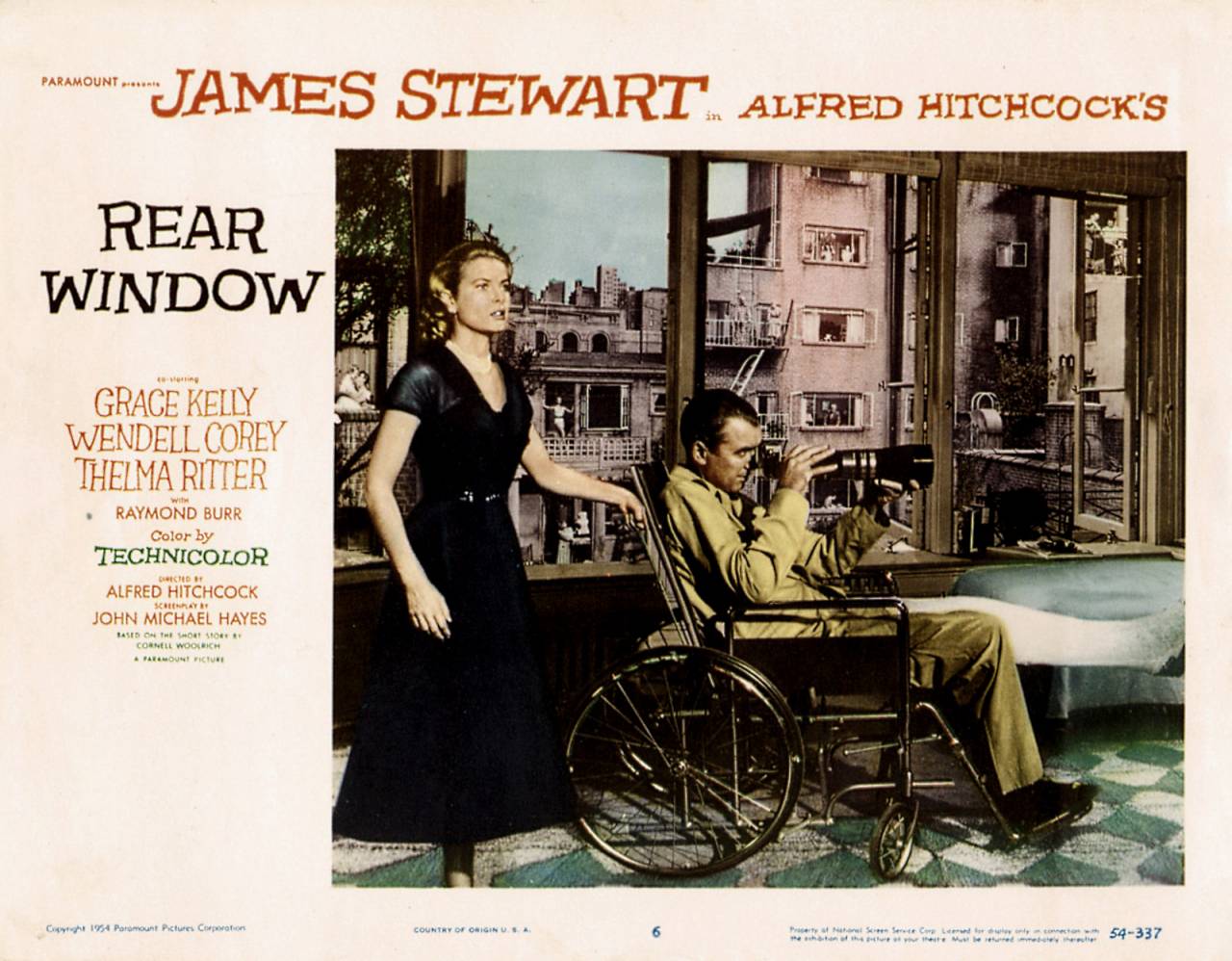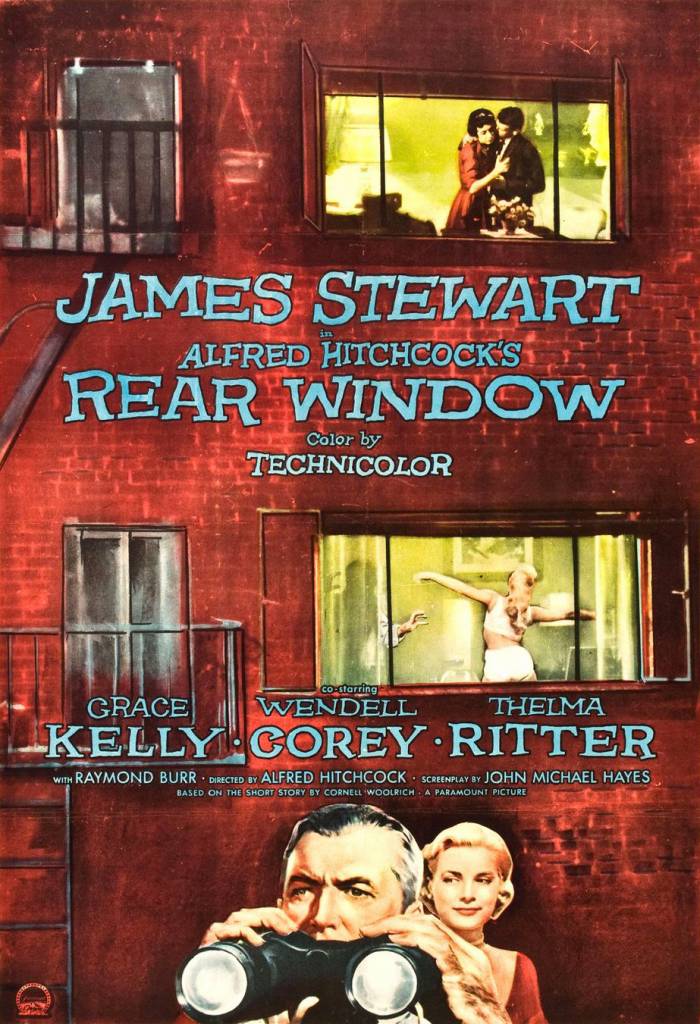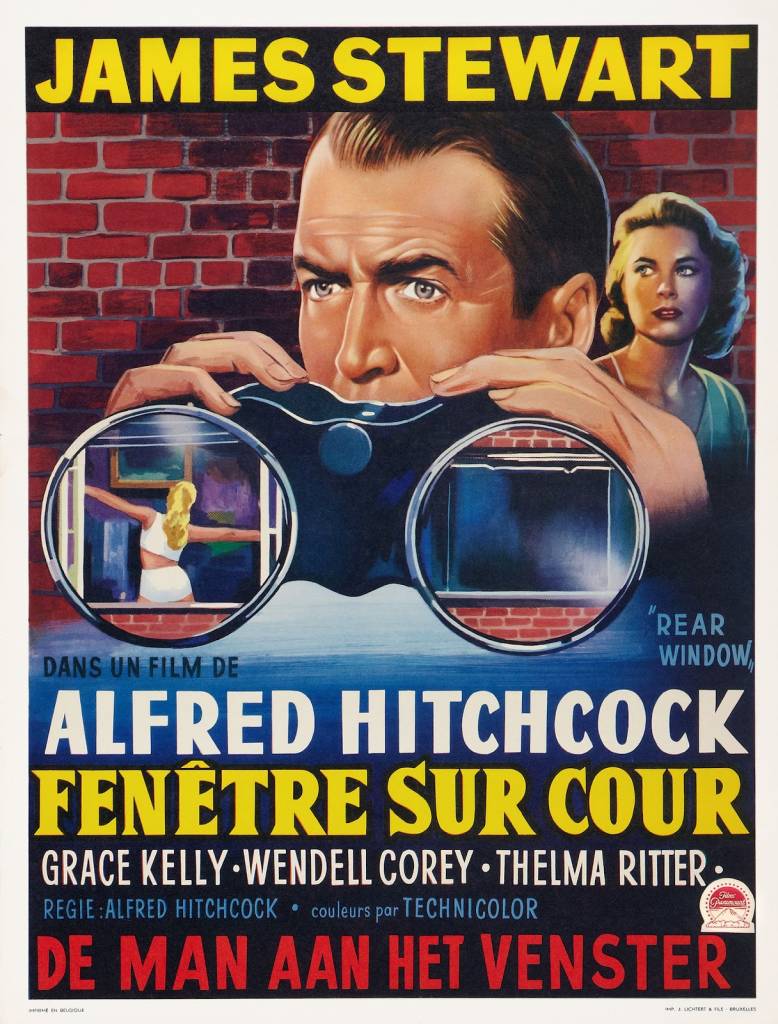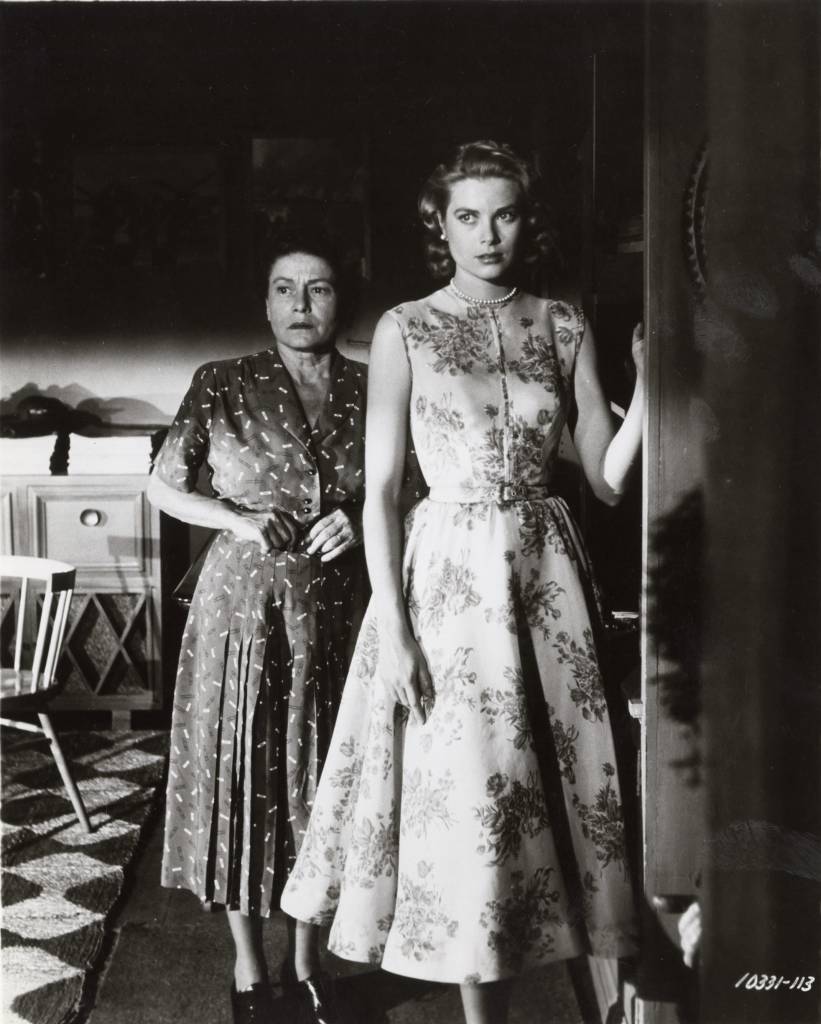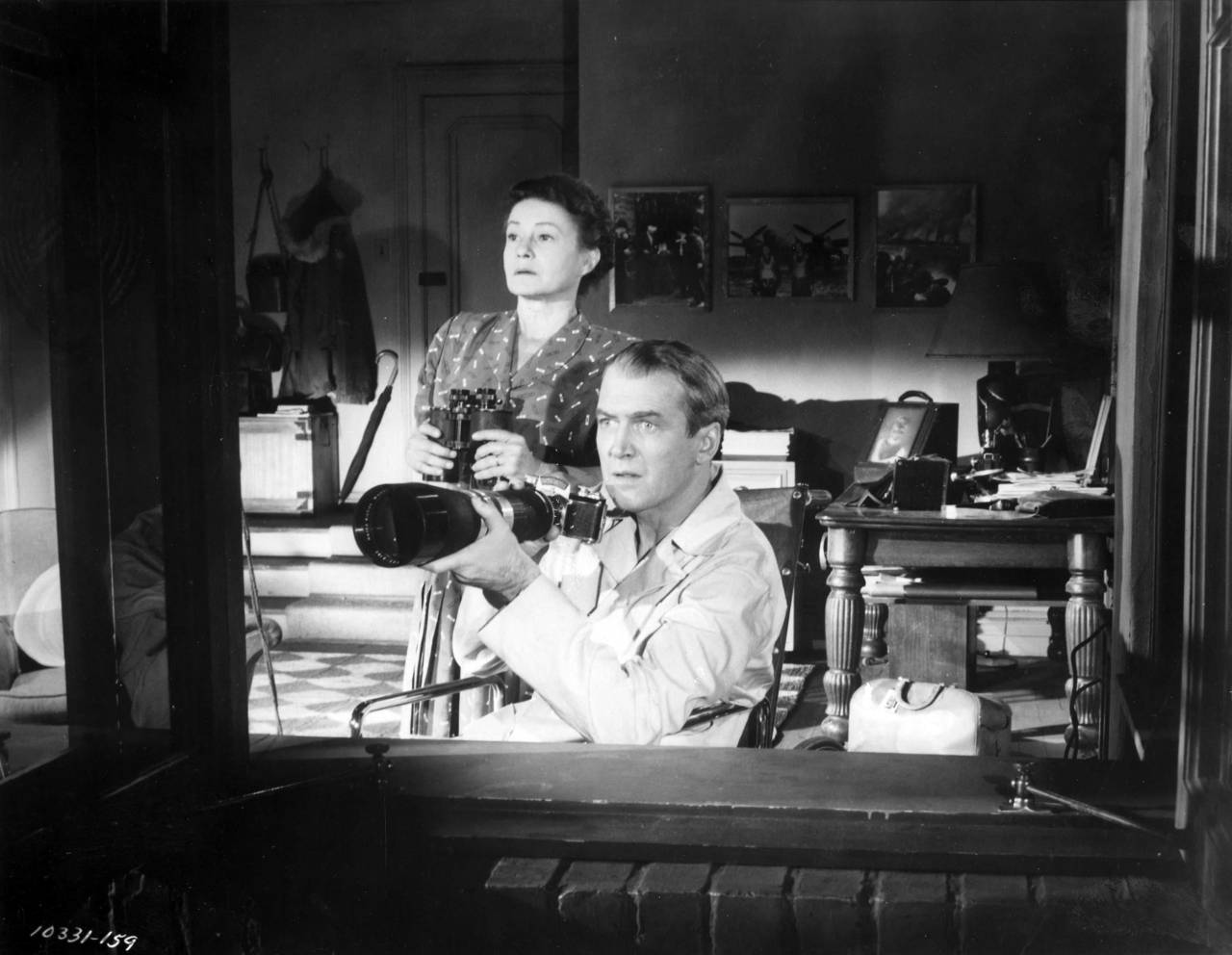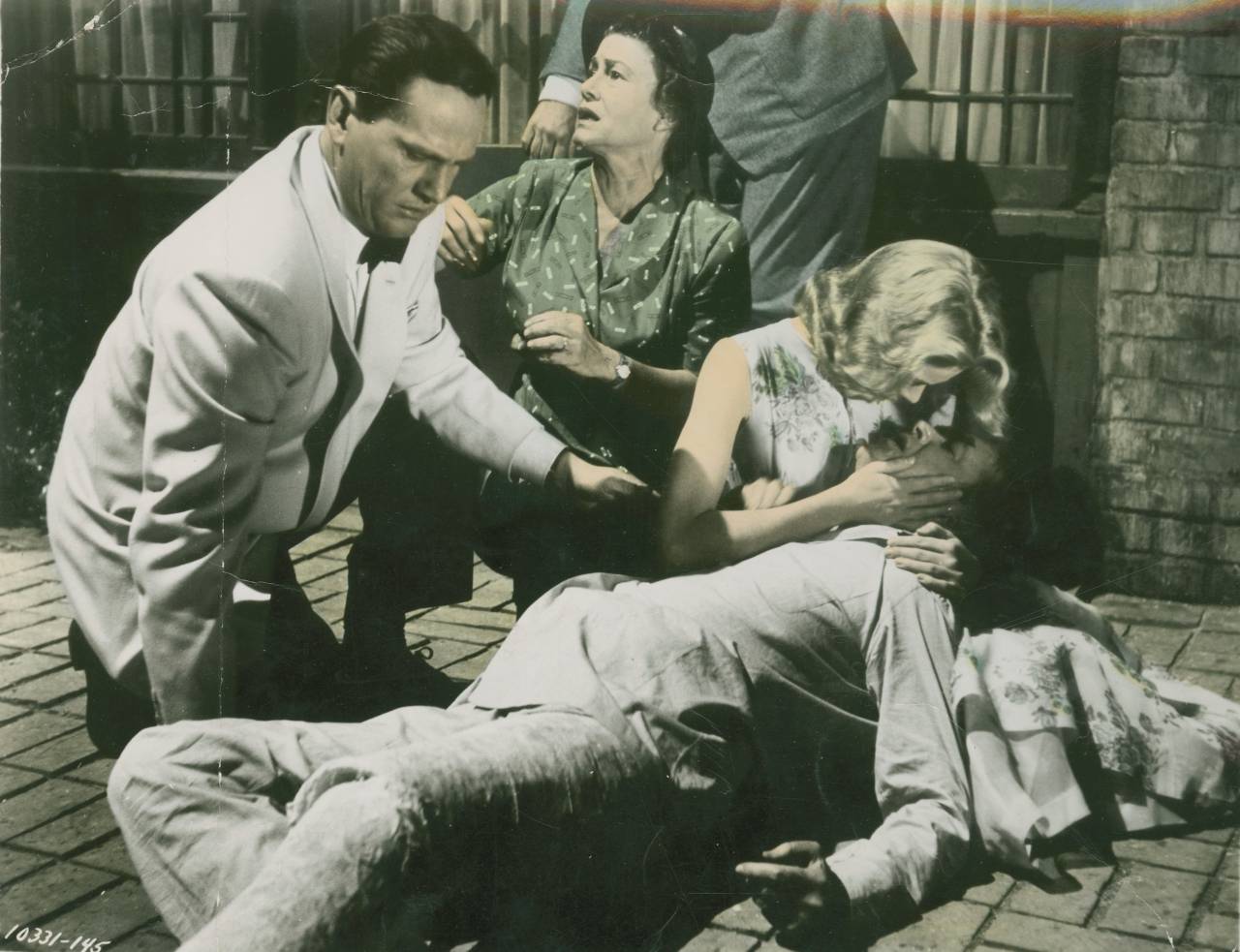 Thank you to IMDB and Mentalfloss.com for much of the information in this piece.