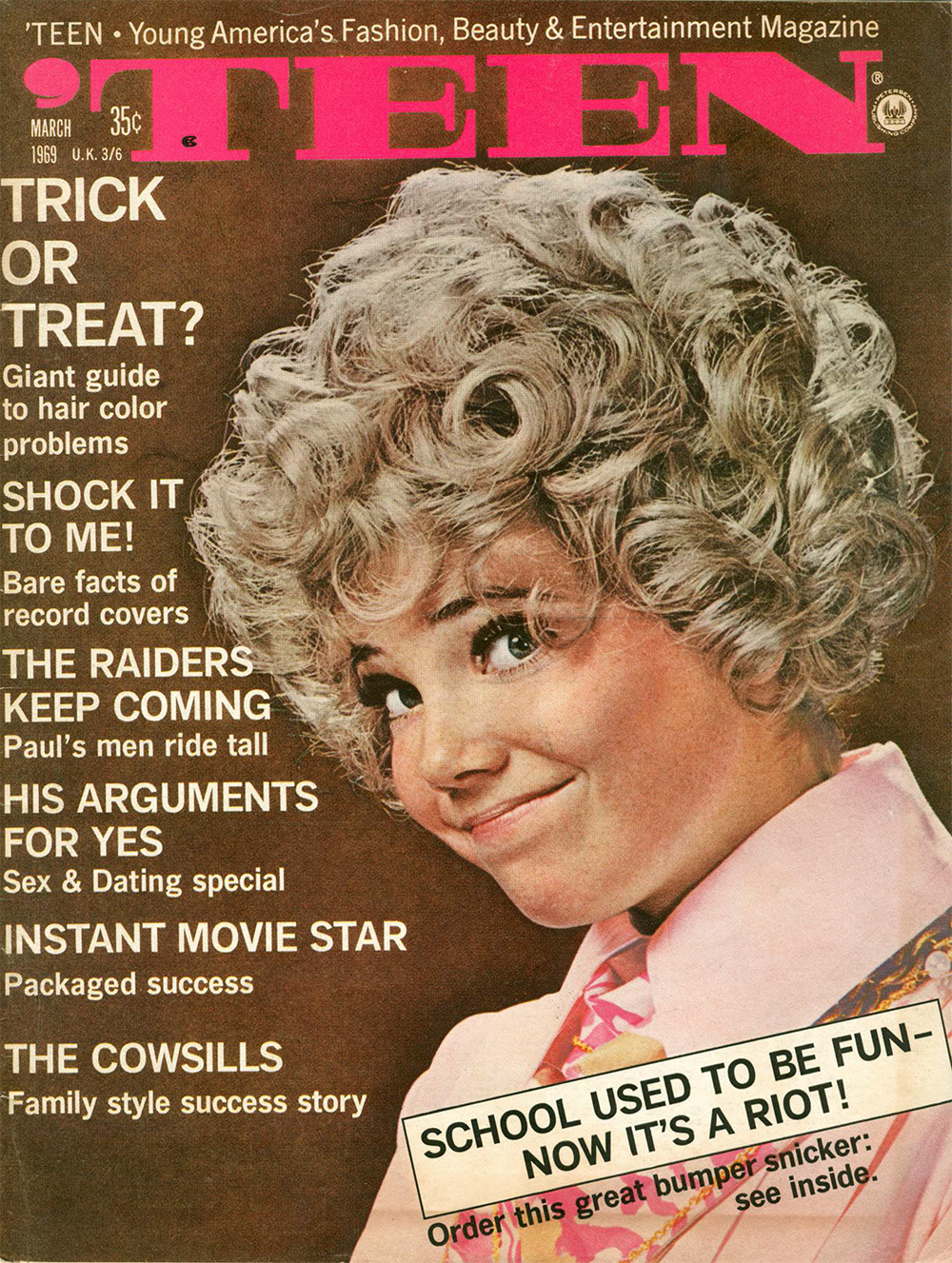 If you're feeling a bit nostalgic for the 1960s and want to stroll down memory lane, you can't do much better than 'TEEN magazine.  Every page is a time capsule of the late sixties teenage girl – from pop bands to feminine hygiene, it's all here.  In this issue: (1) draft card burning bumper stickers, (2) talk of riots over afros, (3) a homeless looking ex-Monkee Peter Tork, (4) a discussion on nudity on album covers, (5) St. Louis inspired fashions, and, of course, tons and tons of fabulous ads.
Let's start from page one, shall we?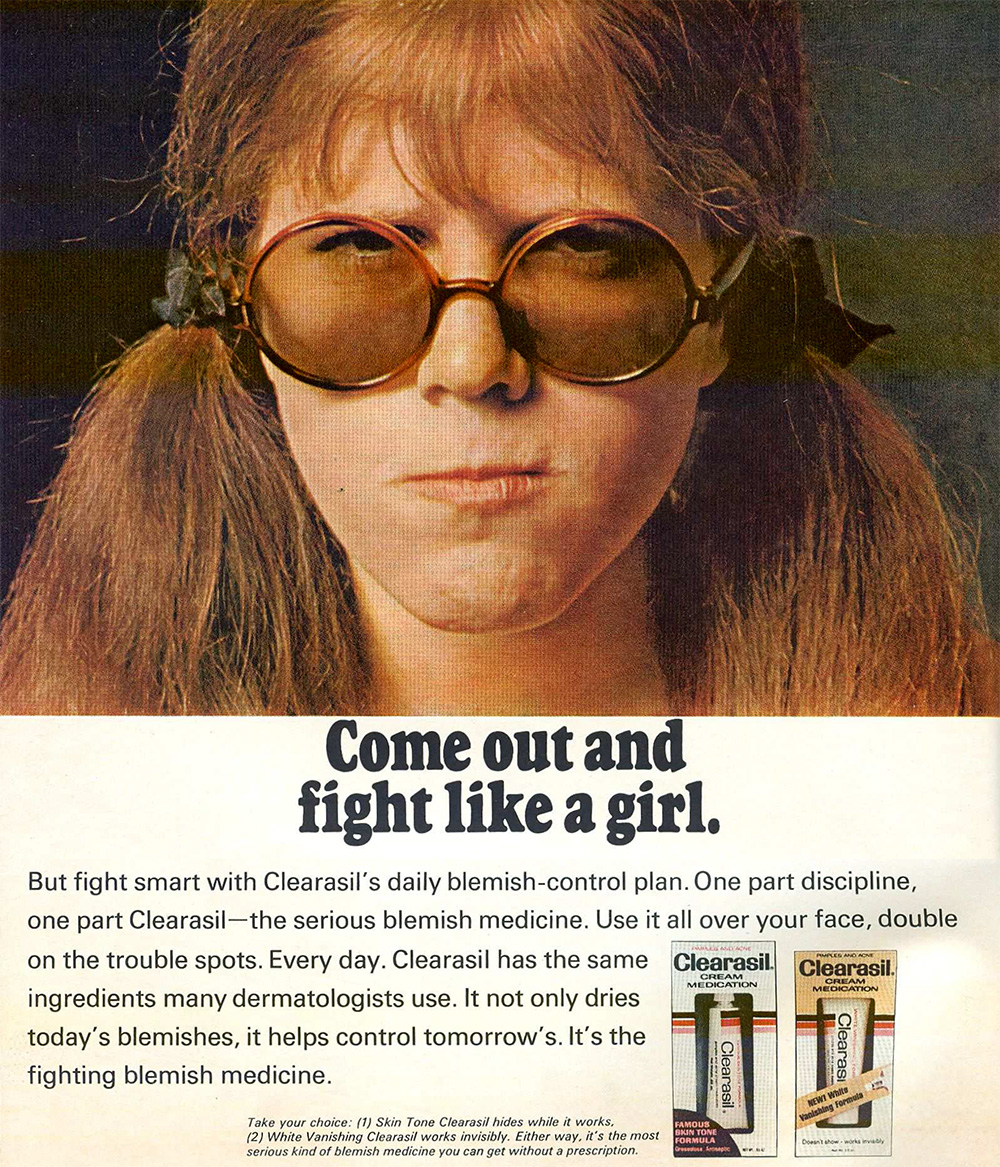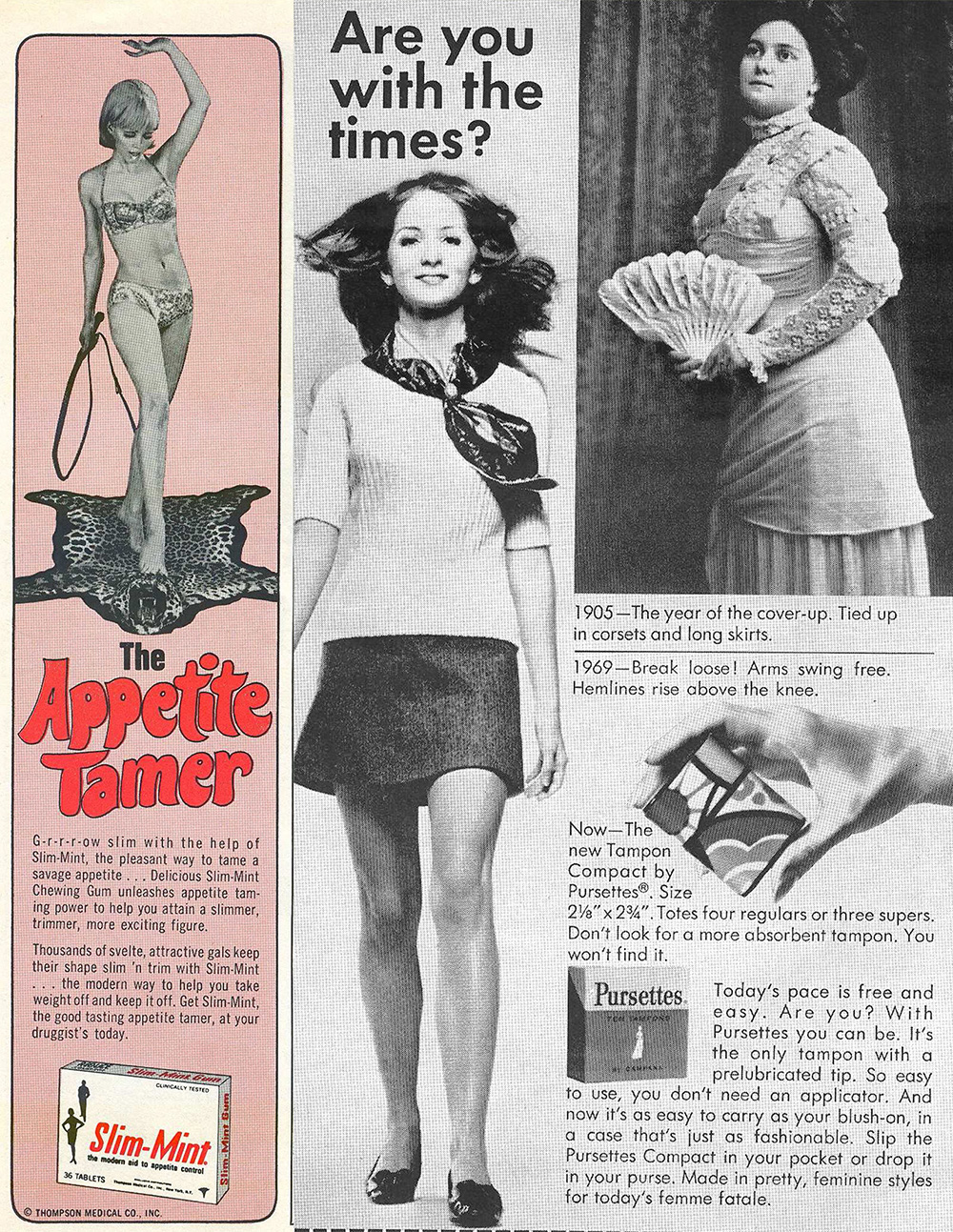 This Pursettes feminine hygiene advertisement is trying the ol' Virginia Slims "You've Come a Long Way Baby" tactic: capitalizing on the women's movement to sell products.  (See You've Come A Long Way, Baby: Virginia Slims Advertising Year By Year)
And I'm going to assume the Slim-Mint is chock full of amphetamines like most appetite suppressants back in the day.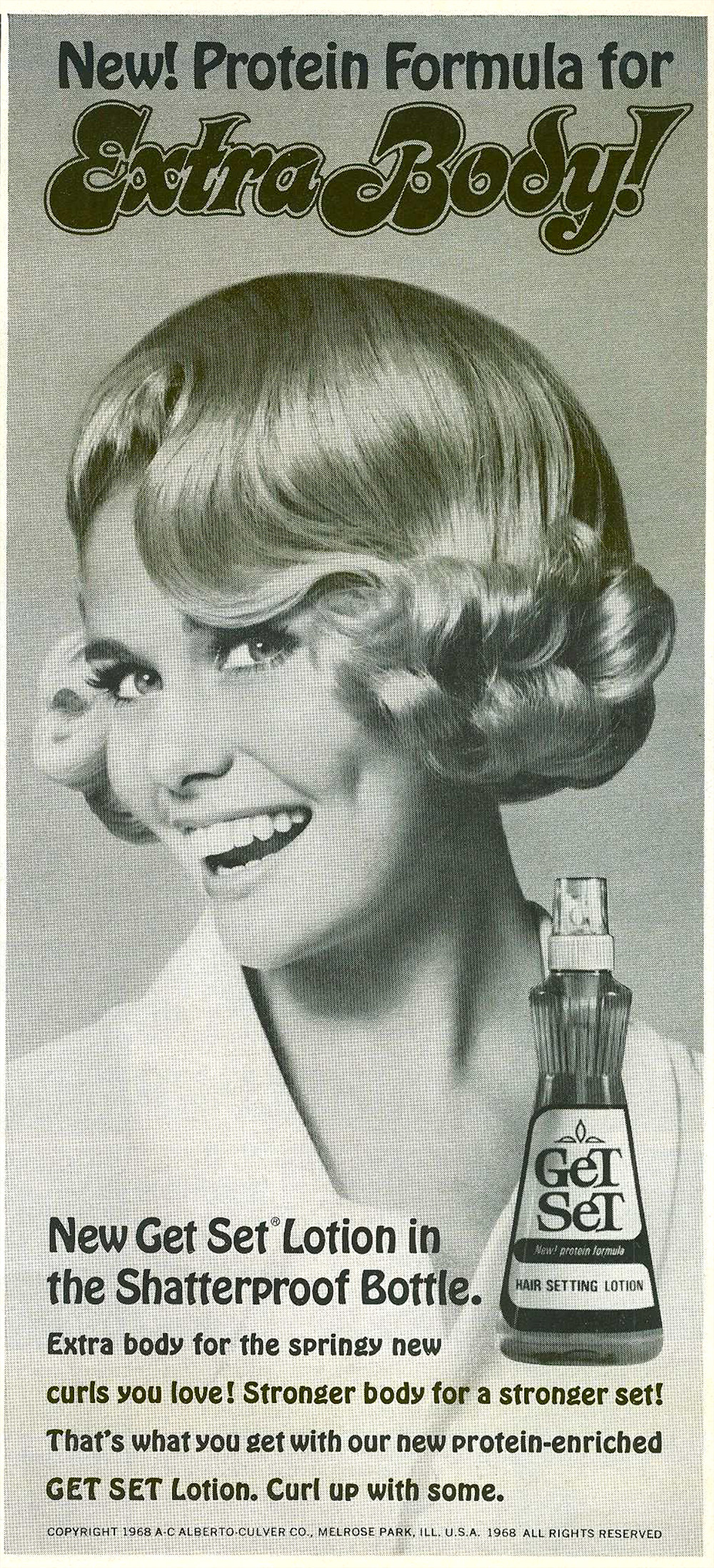 These two advertisements (the one above and the one below) perfectly show the dividing line between the passing sixties, and the oncoming seventies.  The coiffed, classy elegant hair styles of previous decade are quickly going out of style in favor of the more "natural" hippy-look of the counter-culture crowd.  Goodbye Jackie O, hello Carly Simon.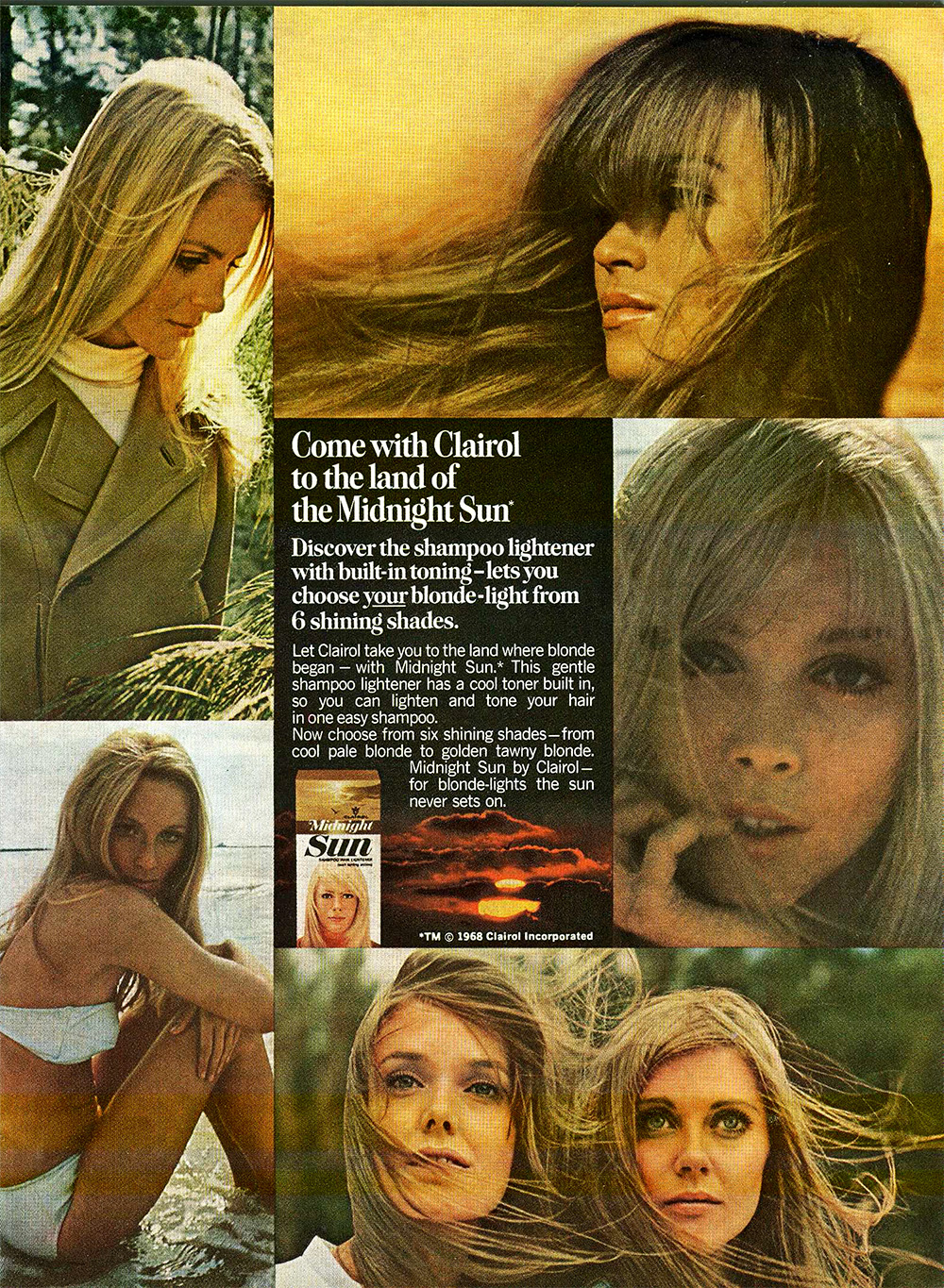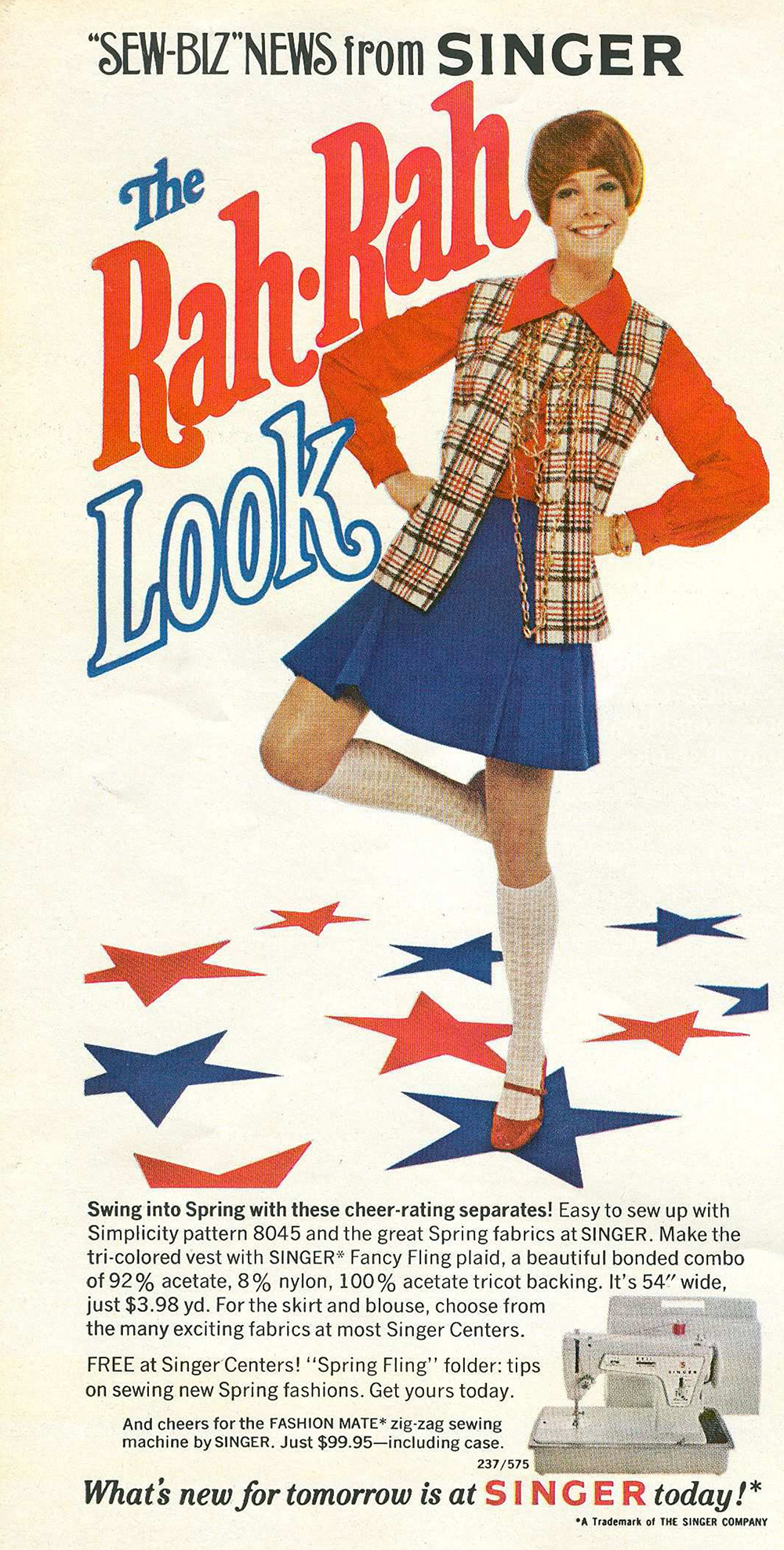 Yes, girls were still capable of making their own clothes in 1969 – a skill that has long since disappeared from young and old.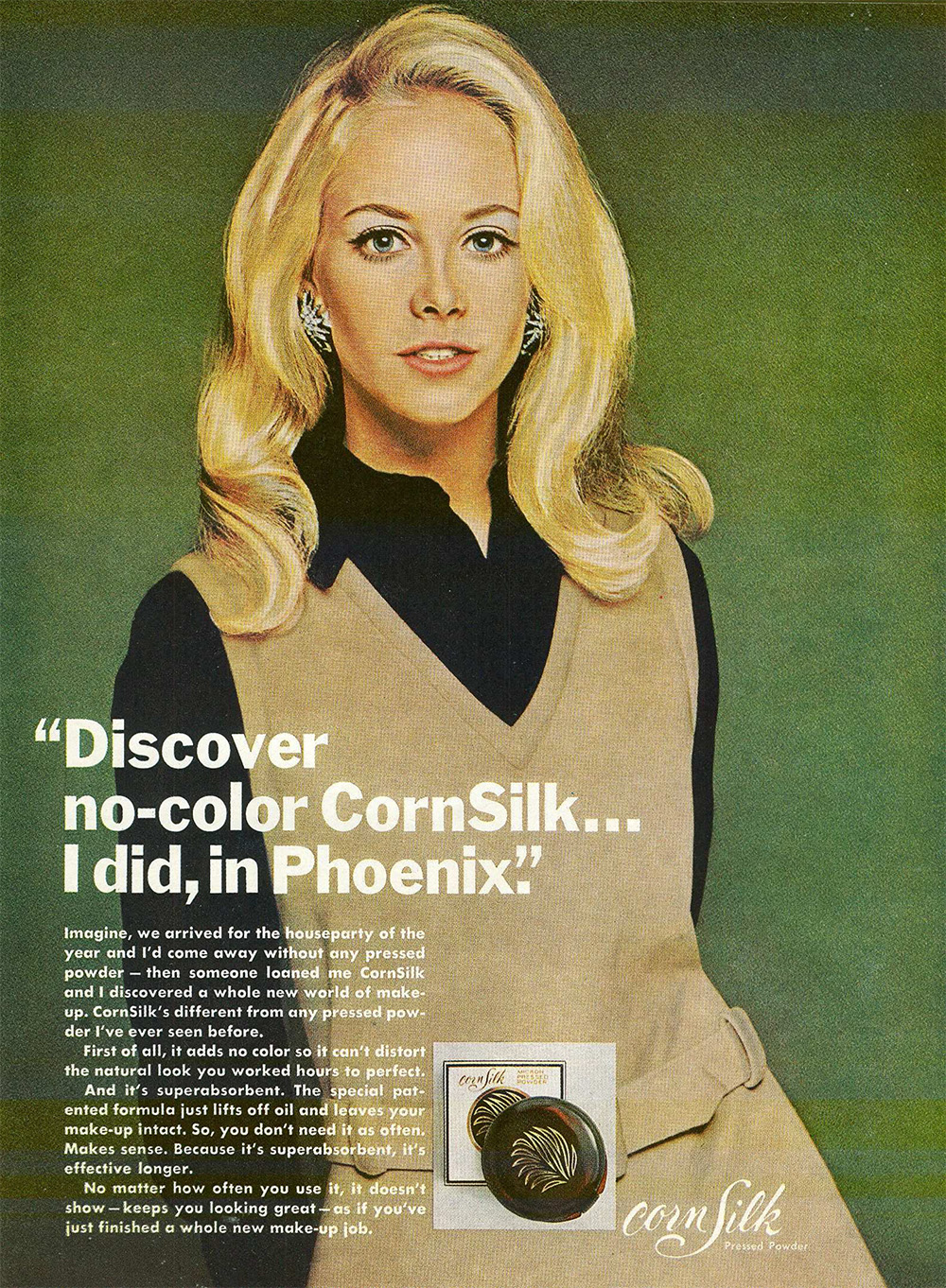 Now, a look at the celebrity scene…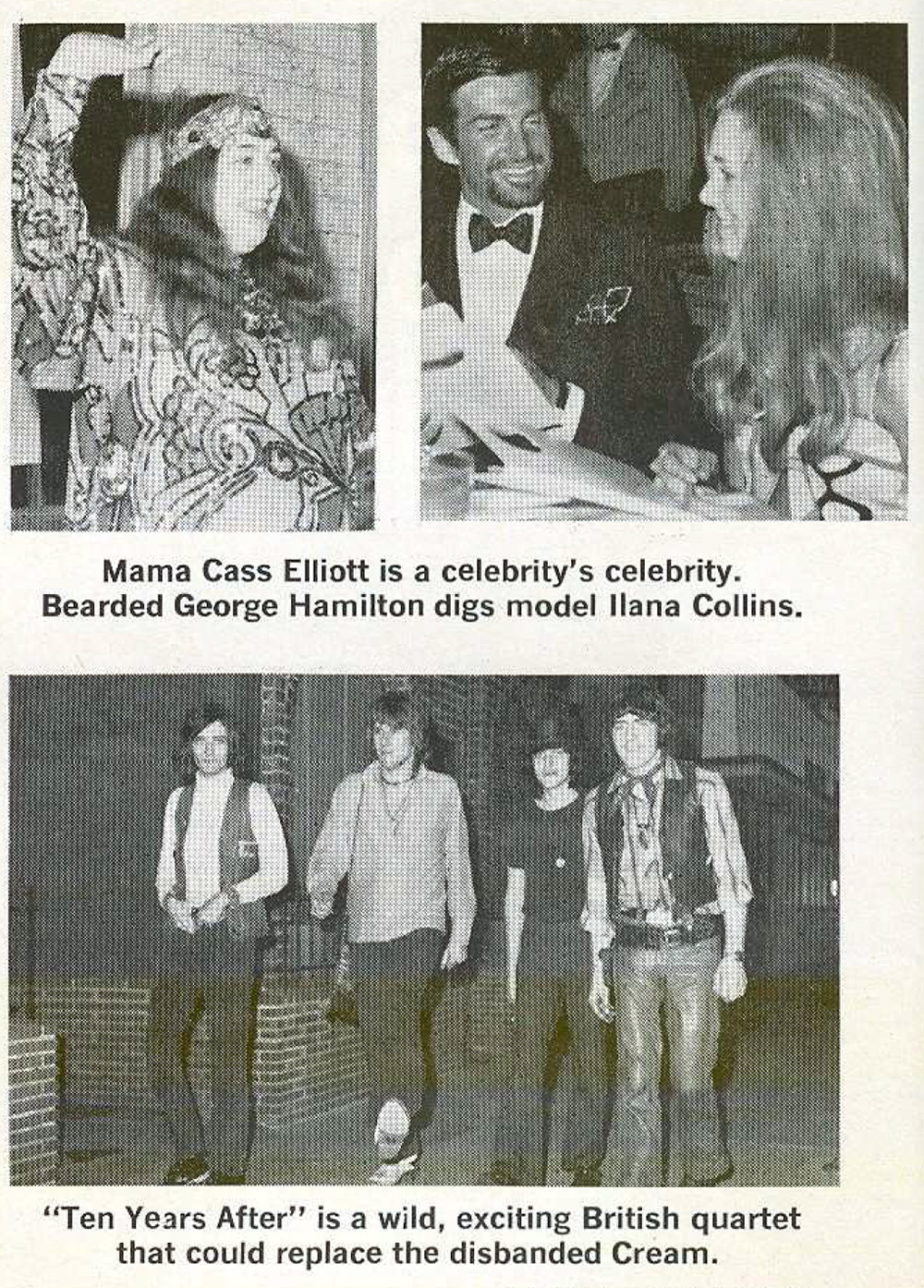 Ten Years After certainly didn't replace Cream, but I've always felt they deserved more fame than they received.  Their 1971 album, A Space in Time is just flat-out amazing.  I suppose breaking up in 1974, right at the top your success wasn't exactly a great business plan.
Sadly, Mama Cass would pass away just about five years after this article.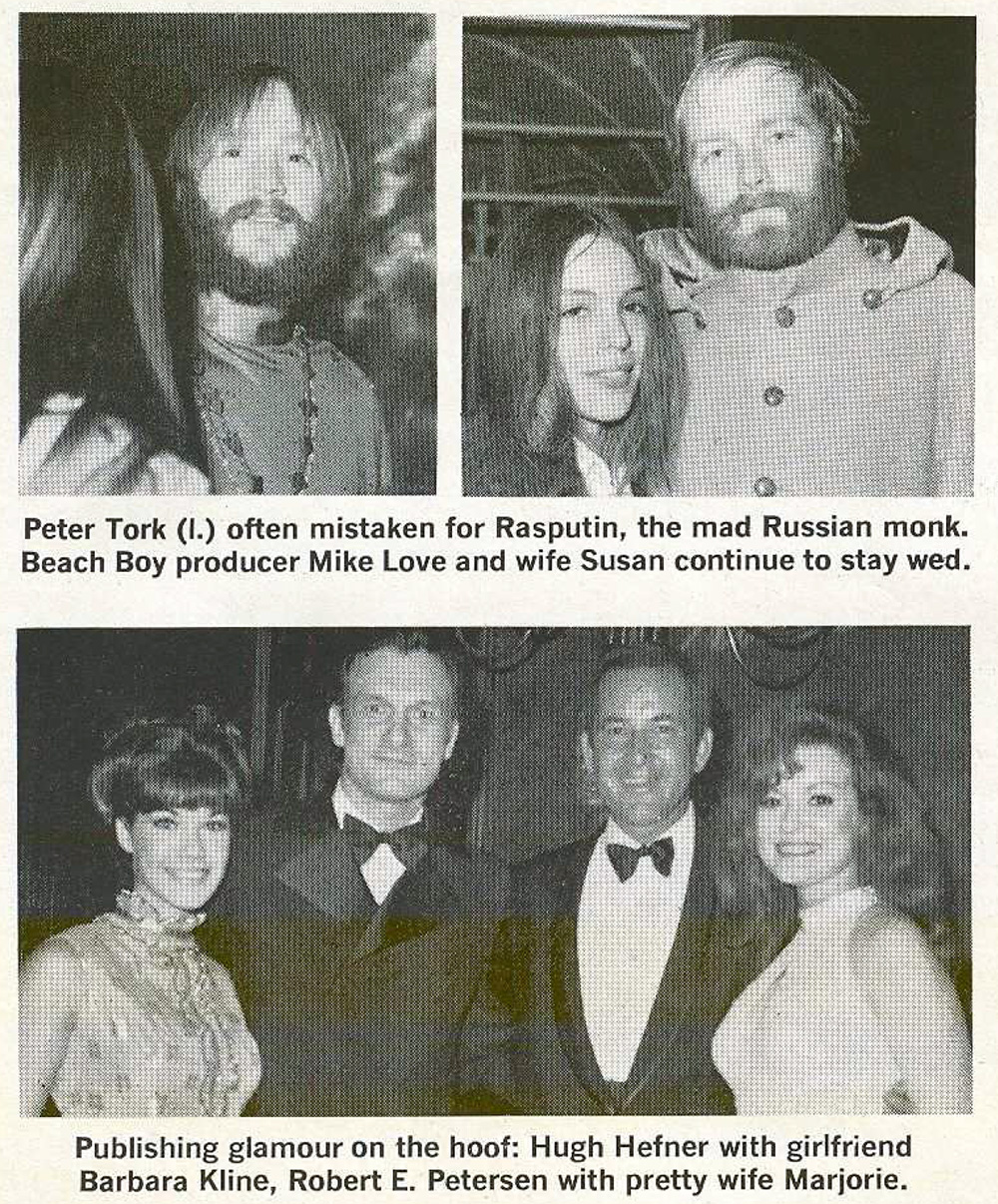 After the Monkees breakup, Peter Tork fell on some hard times.  He didn't have the family fortune of Mike Nesmith whose mother invented liquid paper.  Eventually he ended up teaching music in a small high school… a long, long fall from being a member of the biggest pop group of the late sixties!  And check out Hef with Barbara Benton (Hefner convinced her to change her last name from Klein, to sound more marketable).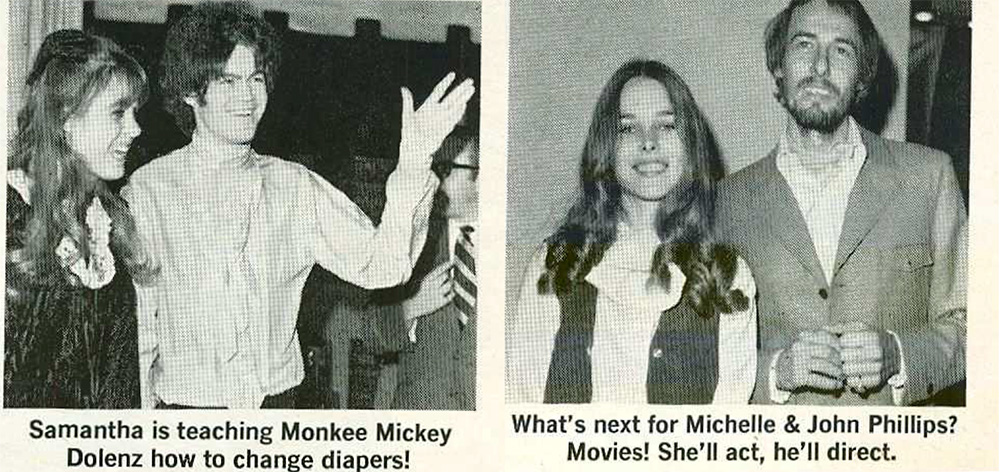 Sadly, Michelle and John Phillips would file for divorce only three months after this article.  She went on to marry Dennis Hopper – a marriage that lasted a grand total of eight days!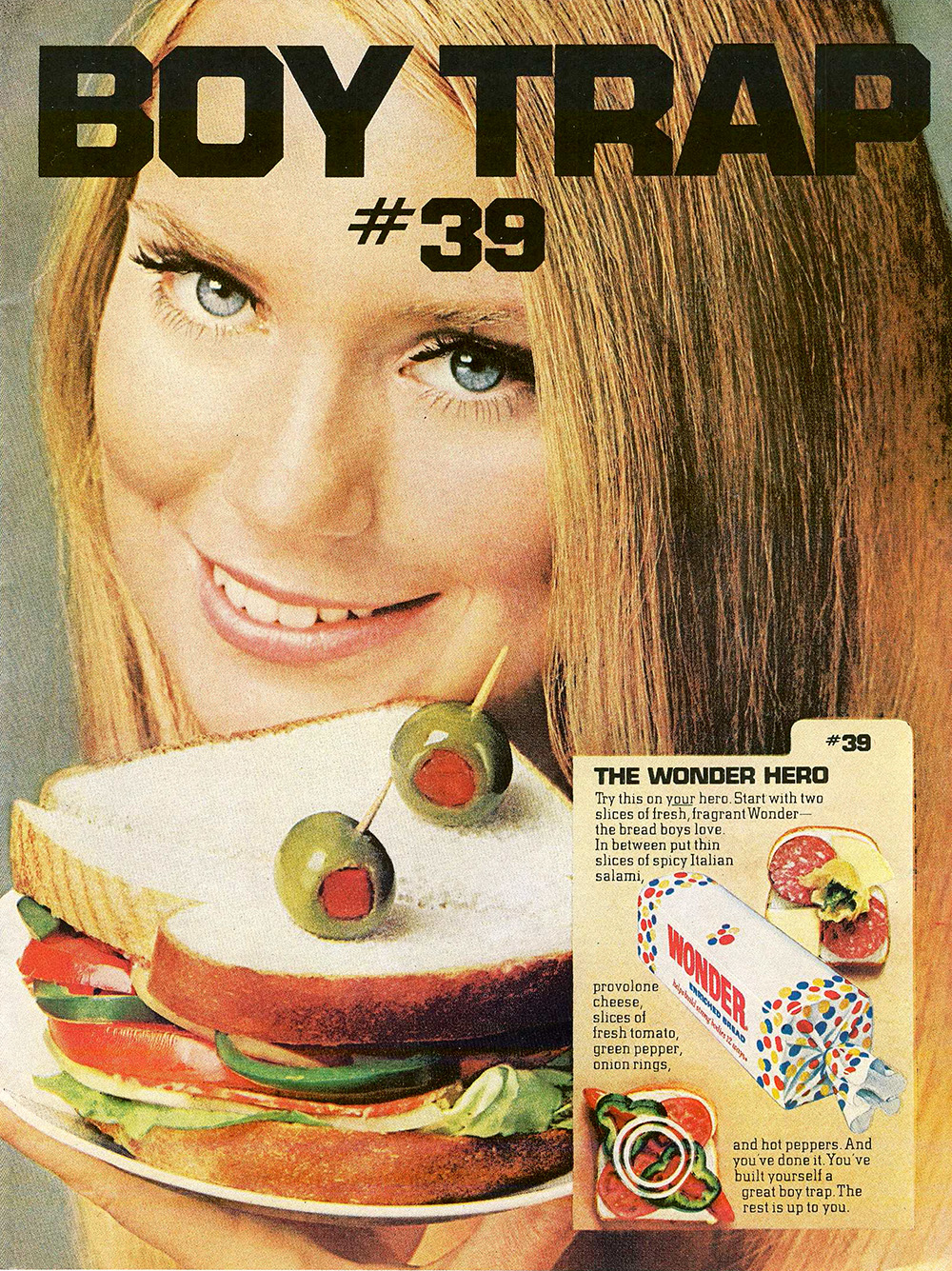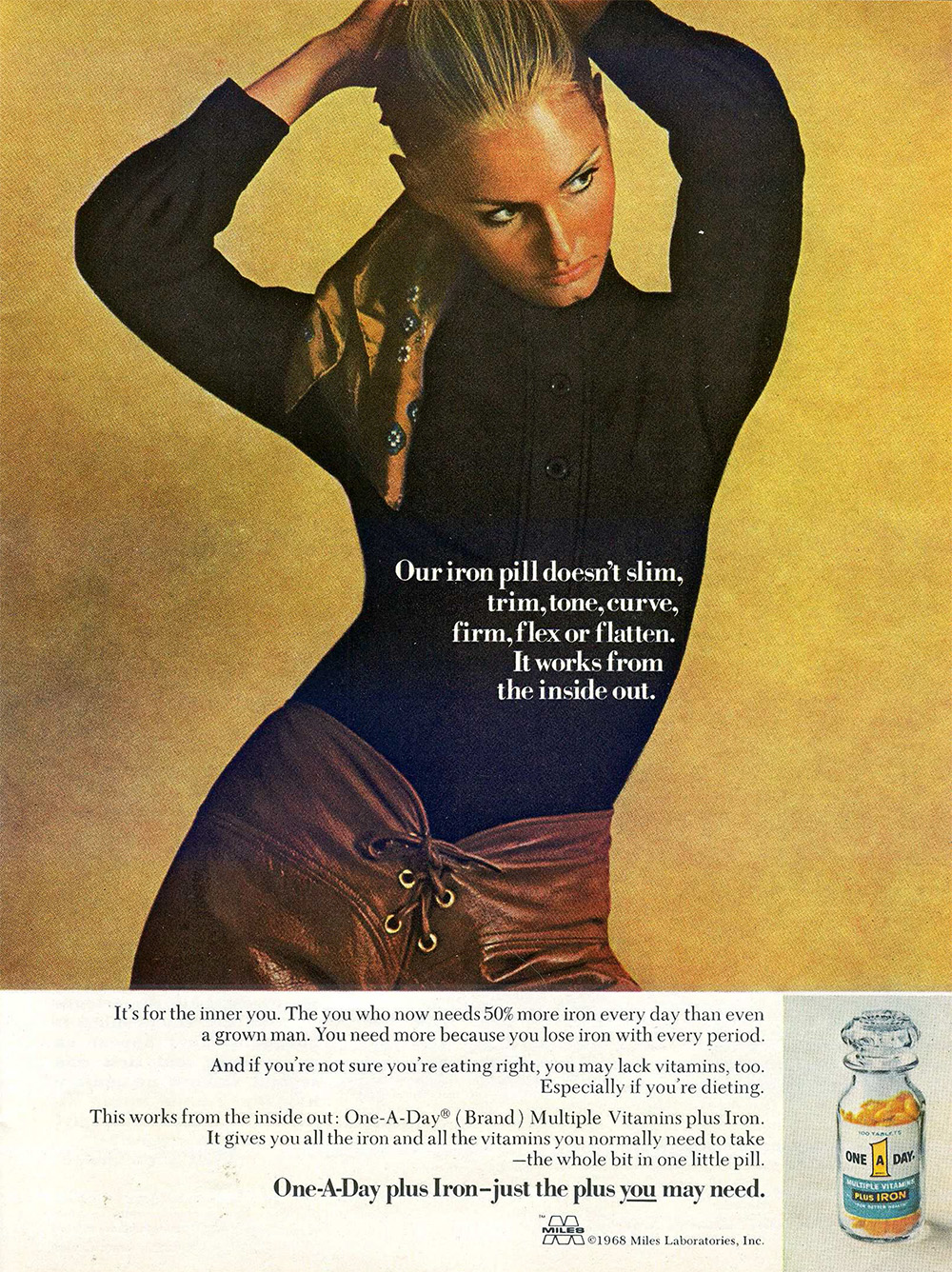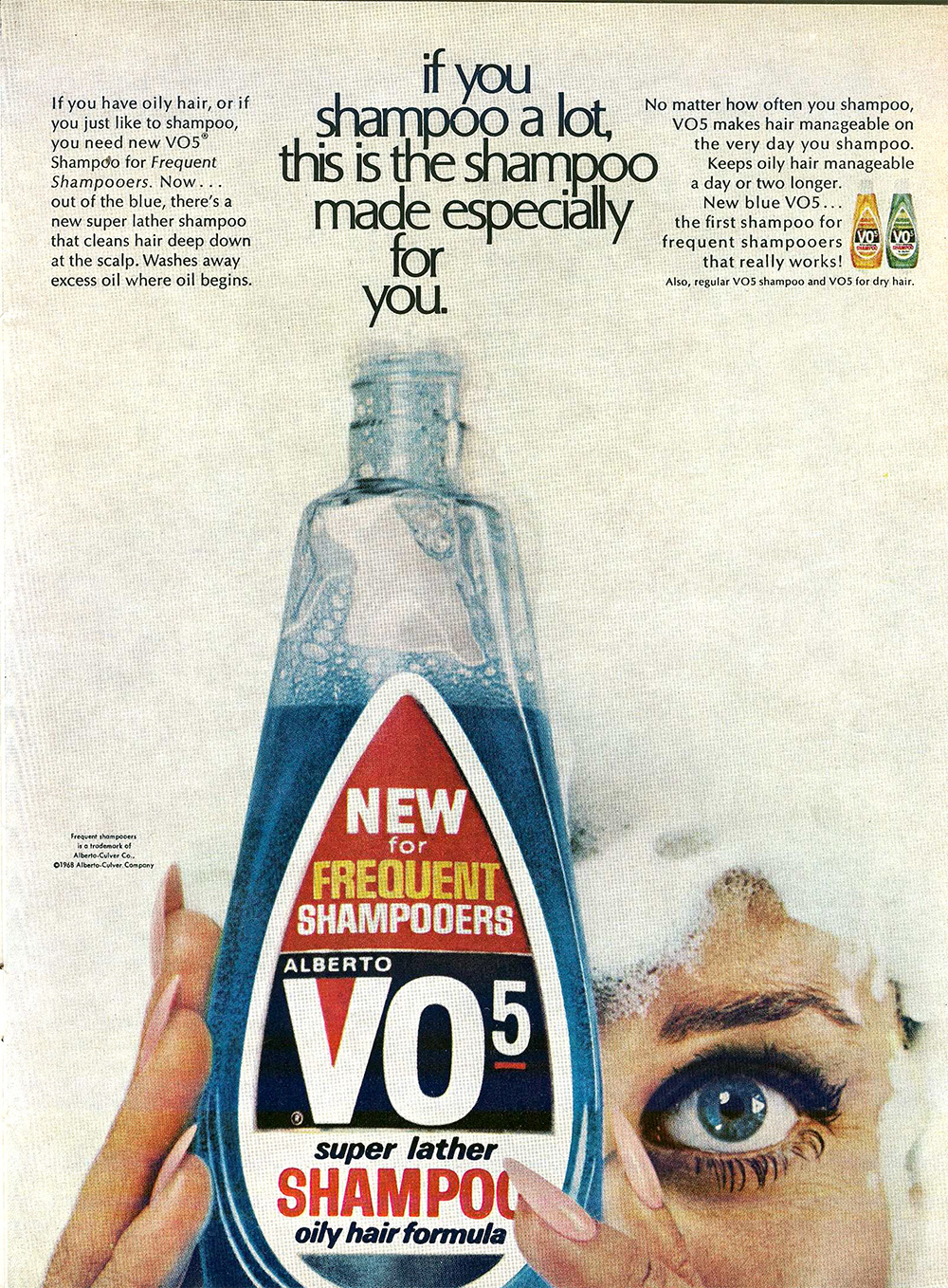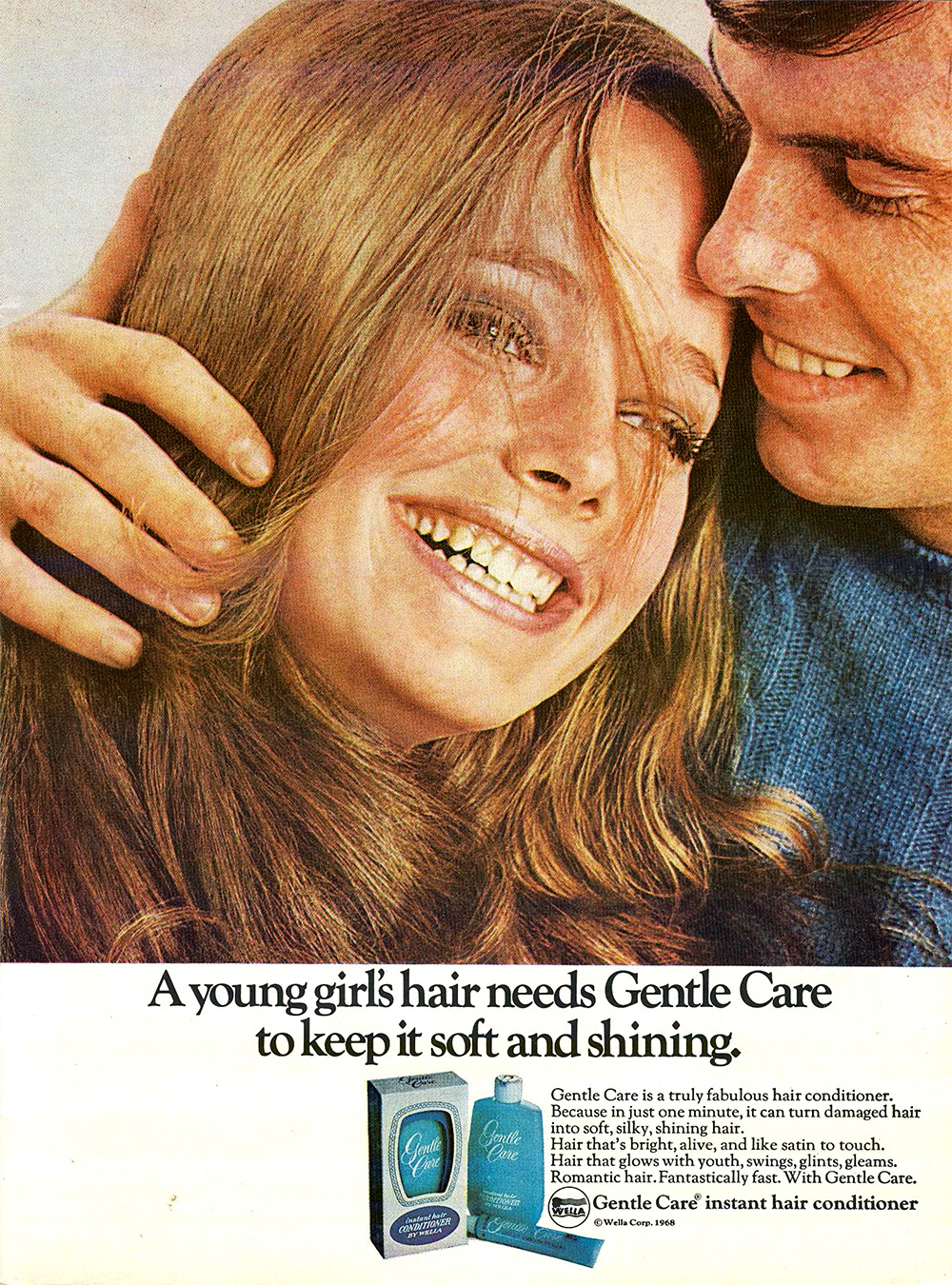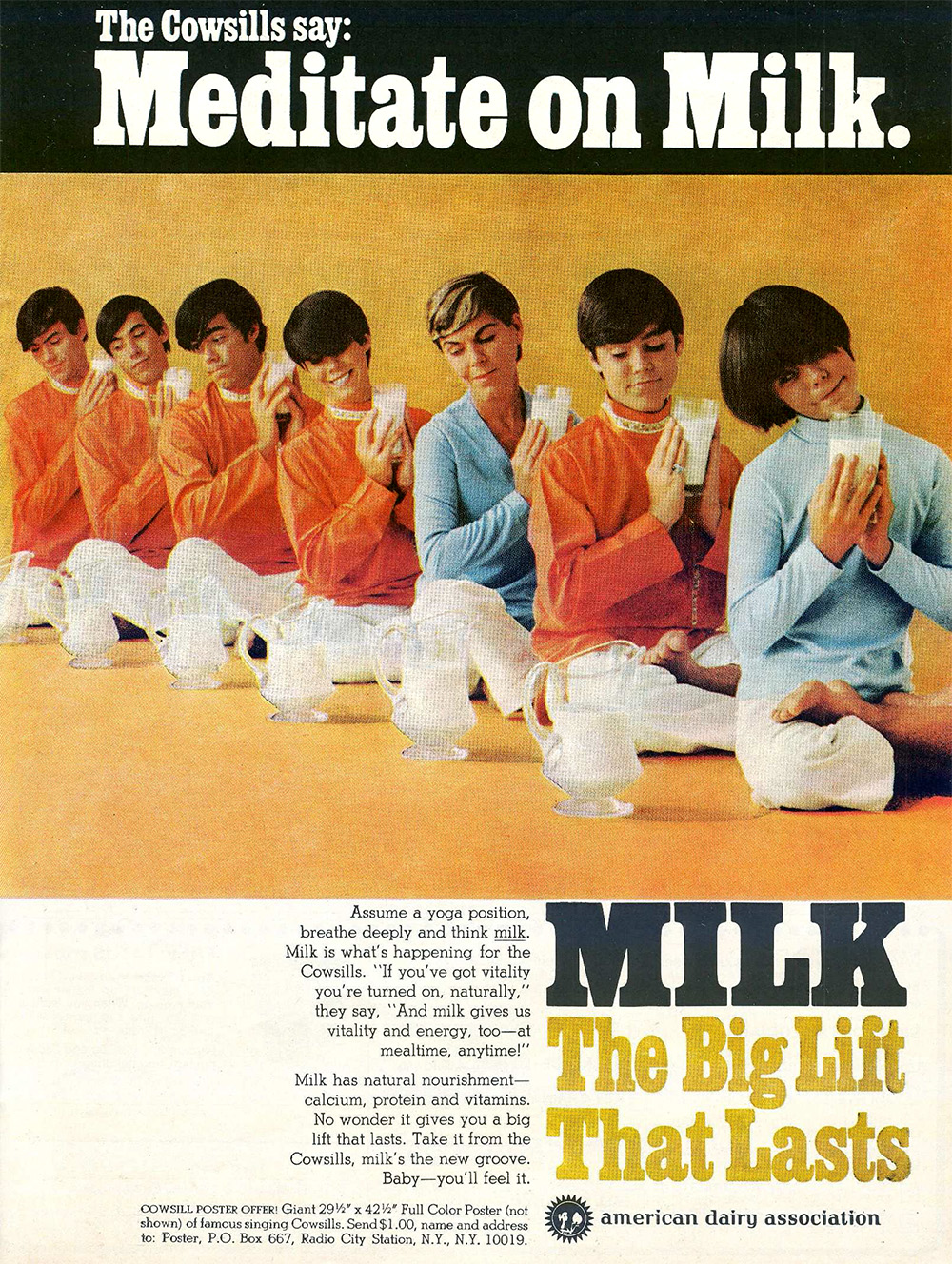 I love the Cowsills, the original family pop group – pre- Osmonds and Partridge.  It was sad to learn how unbearably shitty things were behind the scenes.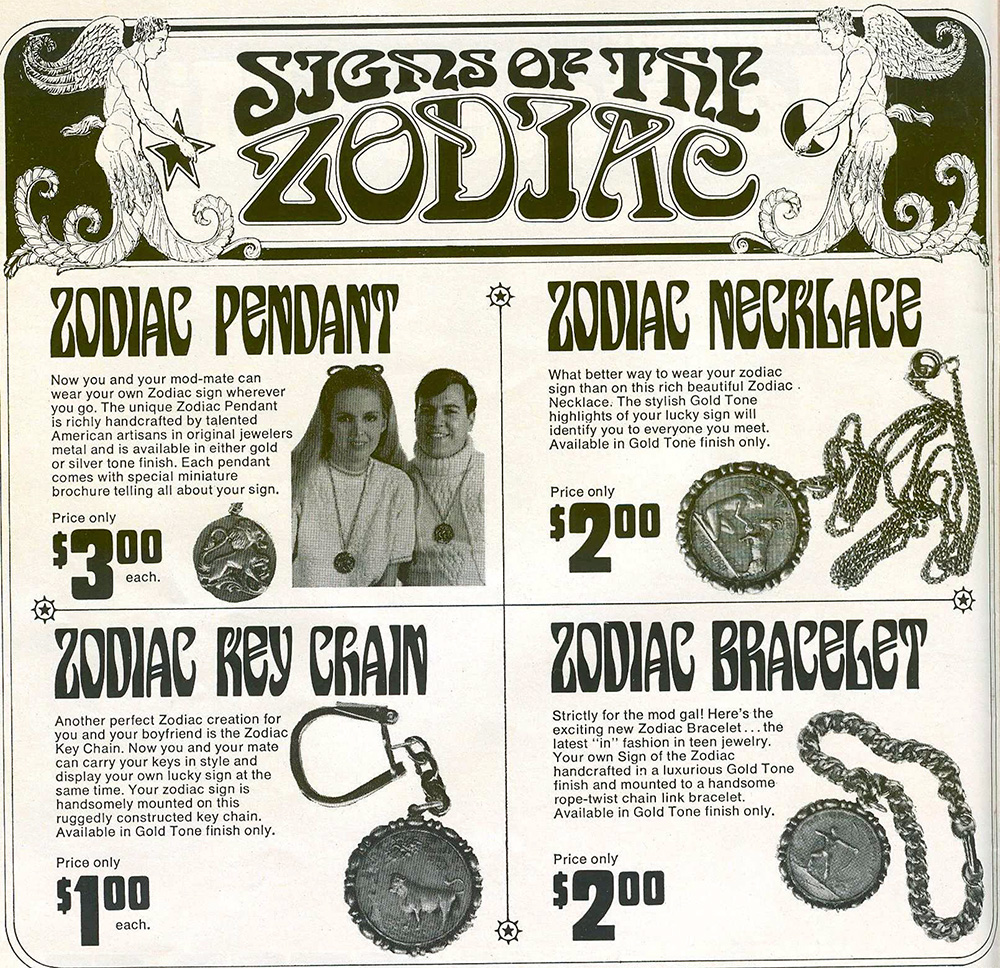 To say astrology was big around this time would be an understatement.  For whatever reason, zodiac symbols were everywhere – from jewelry to posters.  I even had a sleeping bag with zodiac signs.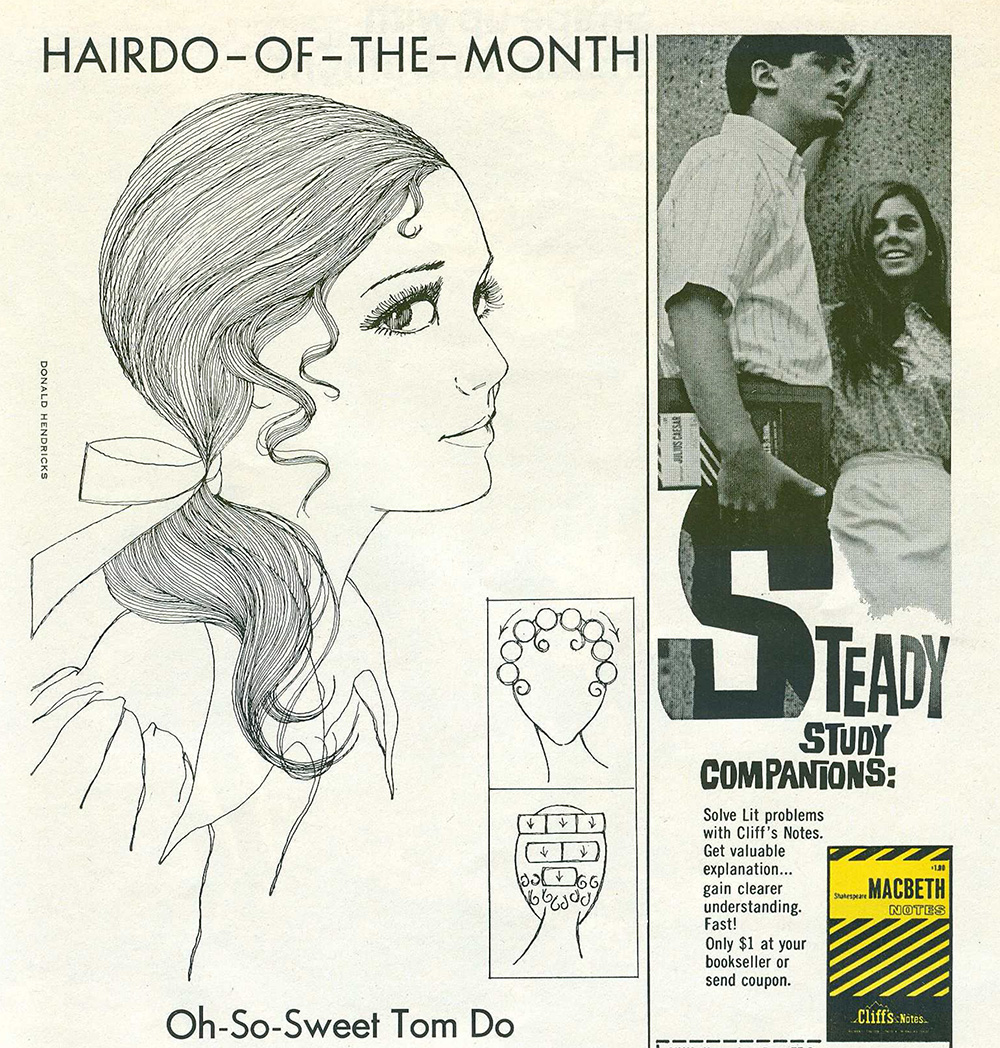 And along comes Cliff's Notes, enabling teenagers to go out and party instead of reading those pesky classics.

A nifty illustration for a hair color guide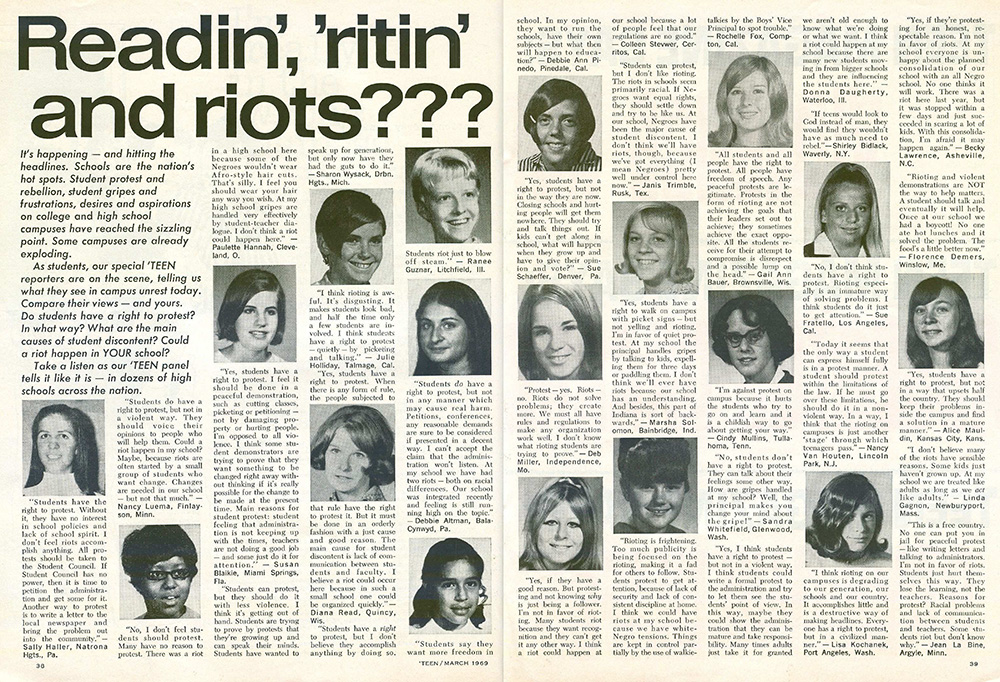 "It's happening – and hitting the headlines.  Schools are the nation's hot spots.  Student protest and rebellion, student gripes and frustrations, desires and aspirations on college and high school campuses have reached the sizzling point.  Some campuses are already exploding."
Pretty much every kids says the same thing: yes, they have a right to protest, but not violently.  Although there are some dissenters, such as Paulette Hannah, an African-American girl from Cleveland…
"No, I don't feel students should protest.  Many have no reason to protest.  There was a riot in a high school here because some of the Negroes wouldn't wear Afr0-style hair cuts.  That's silly.  I feel you should wear your hair any way you wish."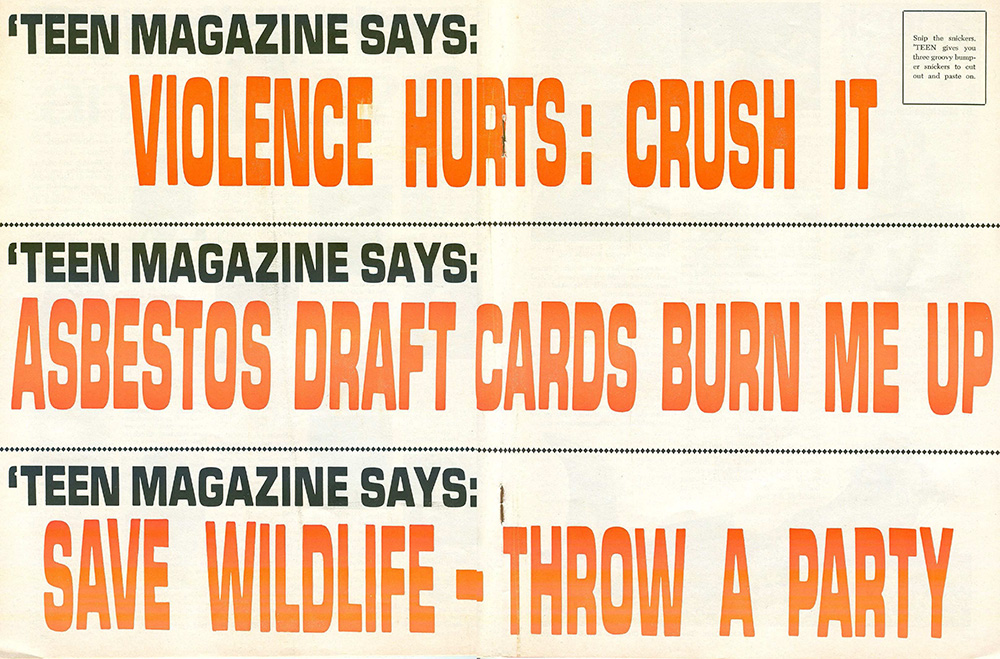 Some bumper stickers offered by 'Teen magazine; all kind of making light of very serious, you might even say "dire", situations.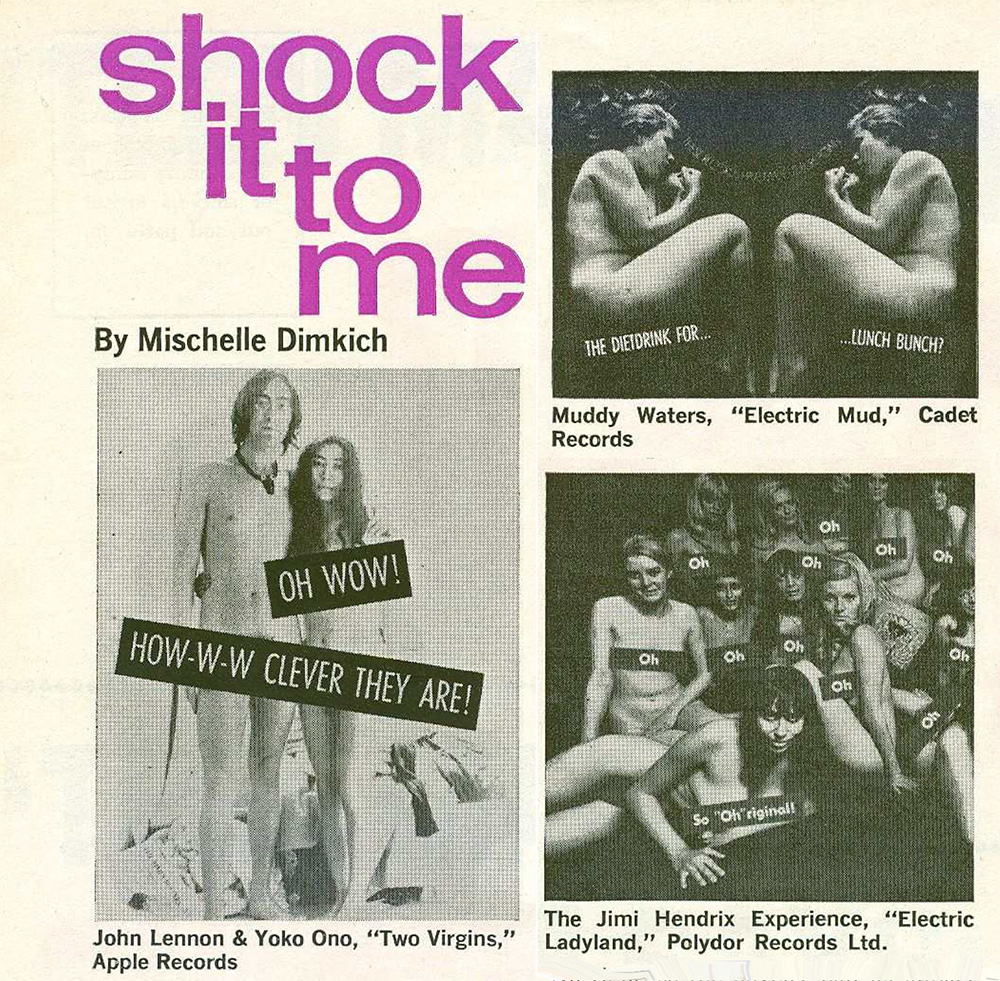 A rather lengthy article on the trend to put nudity on album covers – a trend 'TEEN magazine doesn't care too much for (as you can see from the ridiculing blurbs on the pictures above).  What I've always found interesting is that rock music PALES in comparison to easy listening records when it comes to sexing things up.  We've covered this many, many times on Flashbak – the dirtiest, sleaziest cheesecake album covers are always the easy listening musicians.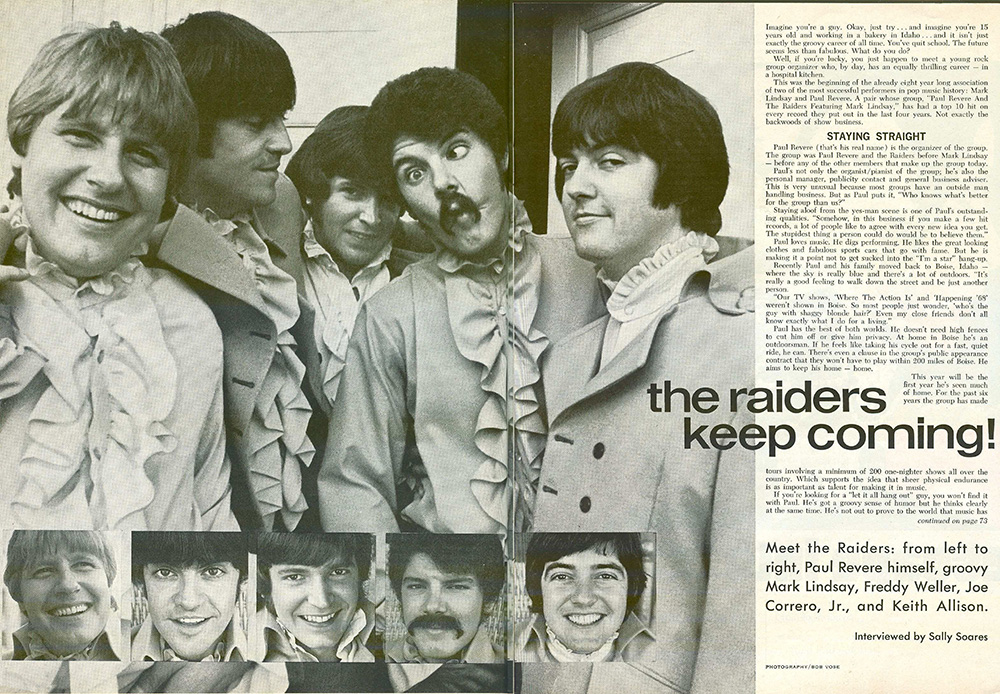 Changing tastes in the late sixties made Paul Revere and the Raiders seem rather unfashionable; with guys like Foghat and Blue Oyster Cult coming on the scene, poppy bands like this with frilly matching shirts looked rather ridiculous.  A year after this publication, they changed their name to just The Raiders and released everyone's favorite, "Indian Reservation".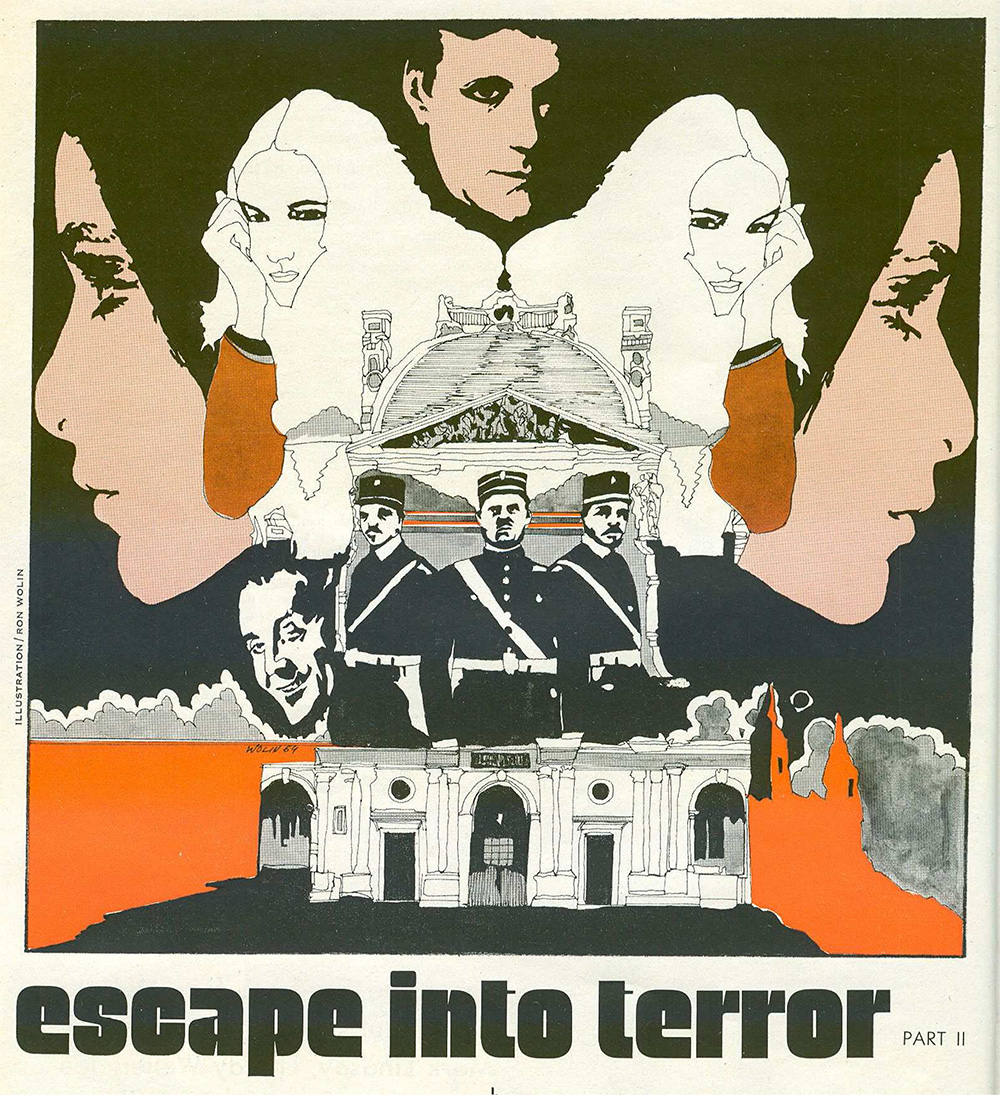 Some pretty cool artwork for this issues fiction piece: "Escape Into Terror (Part II)"
Now it's time for our long-awaited fashion spread…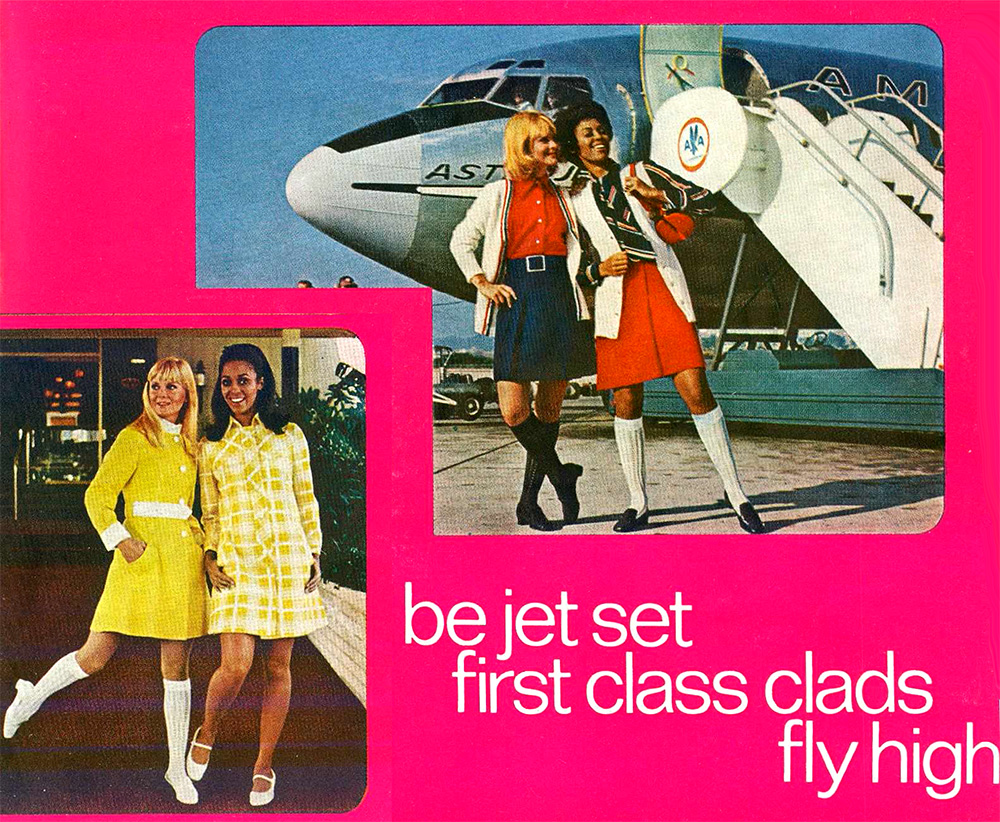 "Take a trip! A one way ticket to a swinging destination has been purchased in your name.  So come on aboard.  The one way is the American way.  And it's the only way to go.  It's a swingy, high flyin' flair for fashion that jets you off in classy clads.  It's the trip of your life to a world of fashion fun.  It's a groove!"
And where is this groovy destination?  St. Louis!  (insert insane laughter)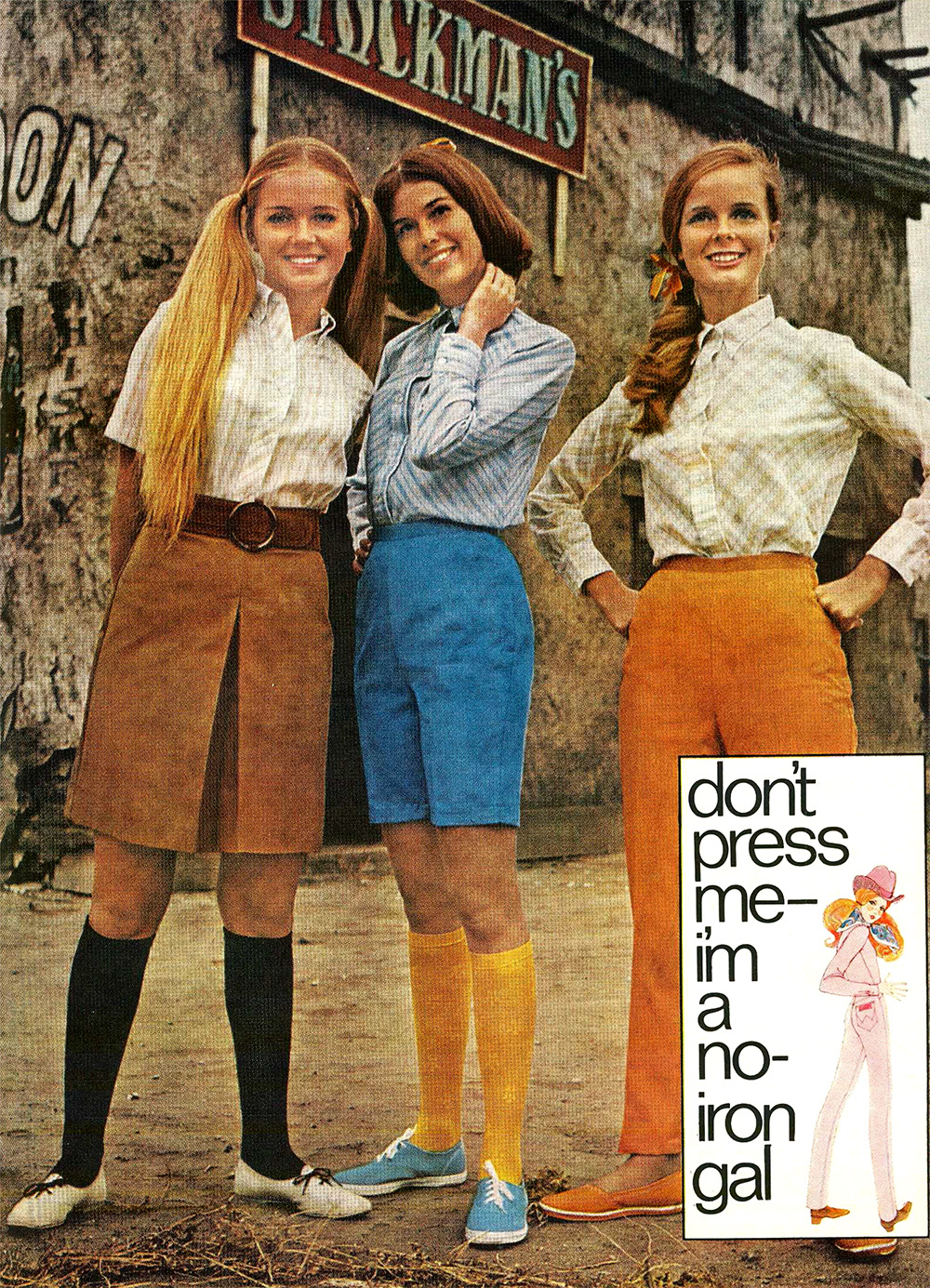 No disrespect to St. Louis, but I was expecting something a bit, well… a bit "groovier".
Anyway, let's have a look at this issue's fashions – and I think you'll agree, they do kind of fit with a St. Louis vibe. … as in a Sears department store in a St. Louis suburb.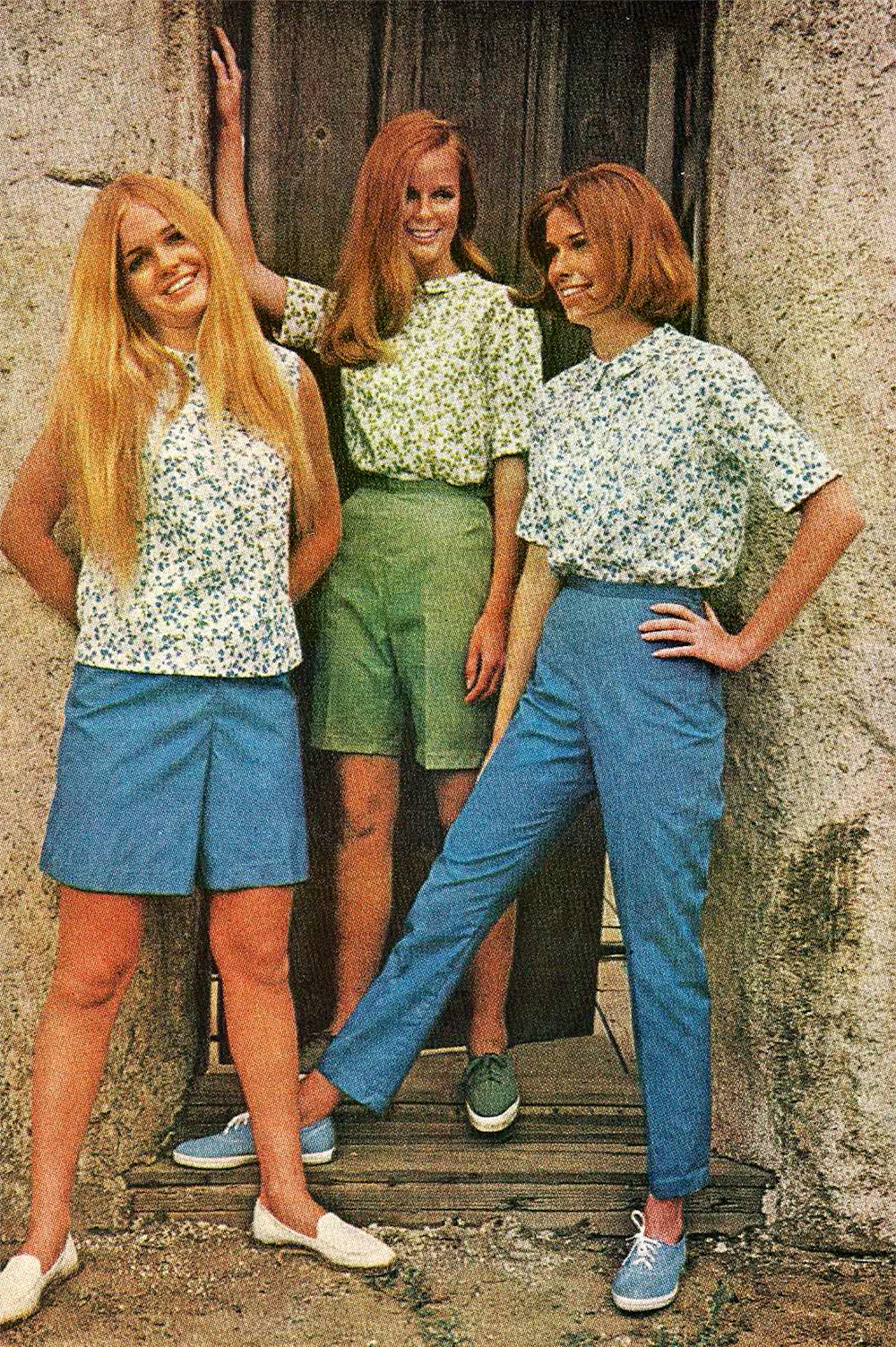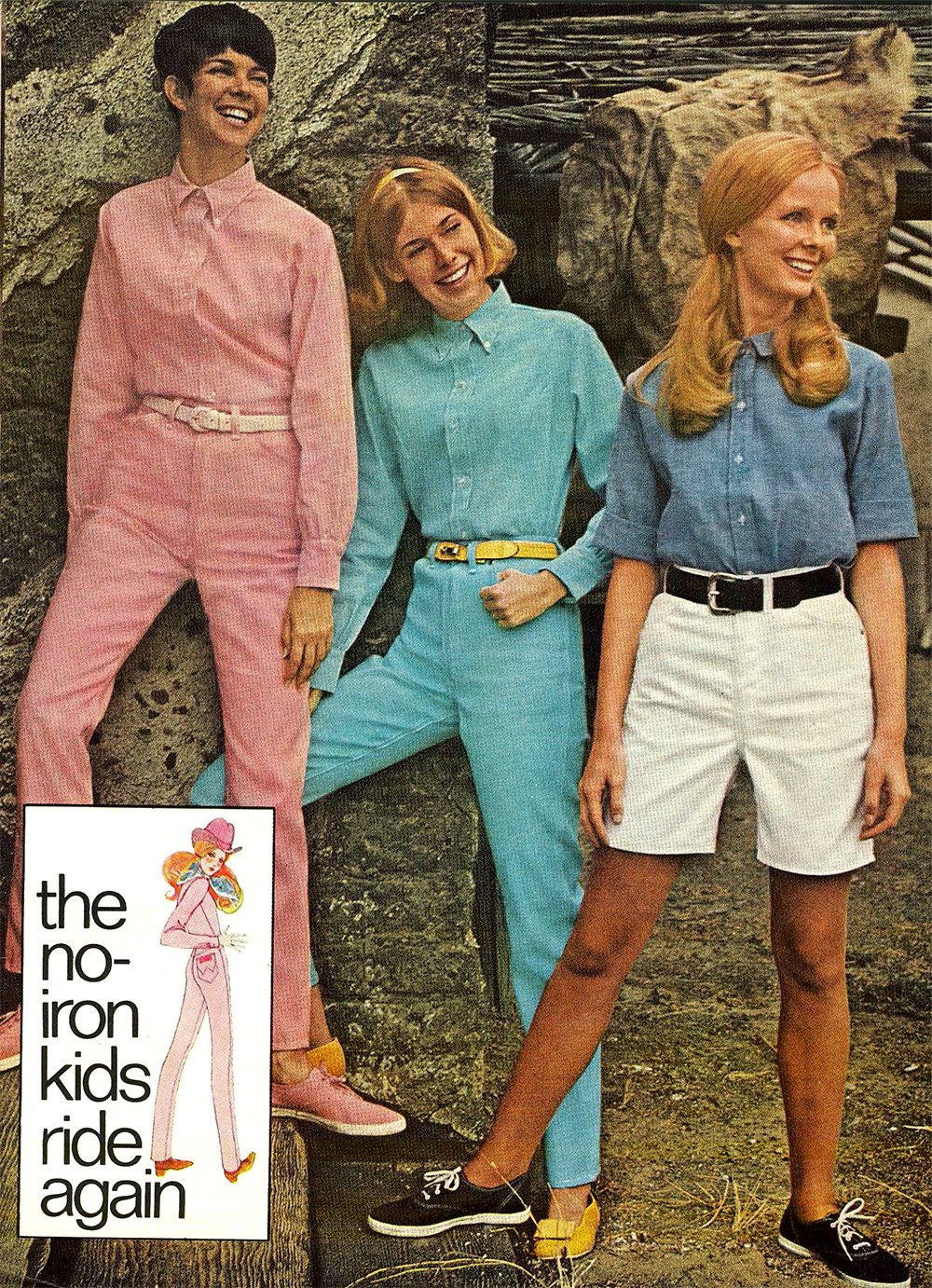 Damn pants were high-waisted back then!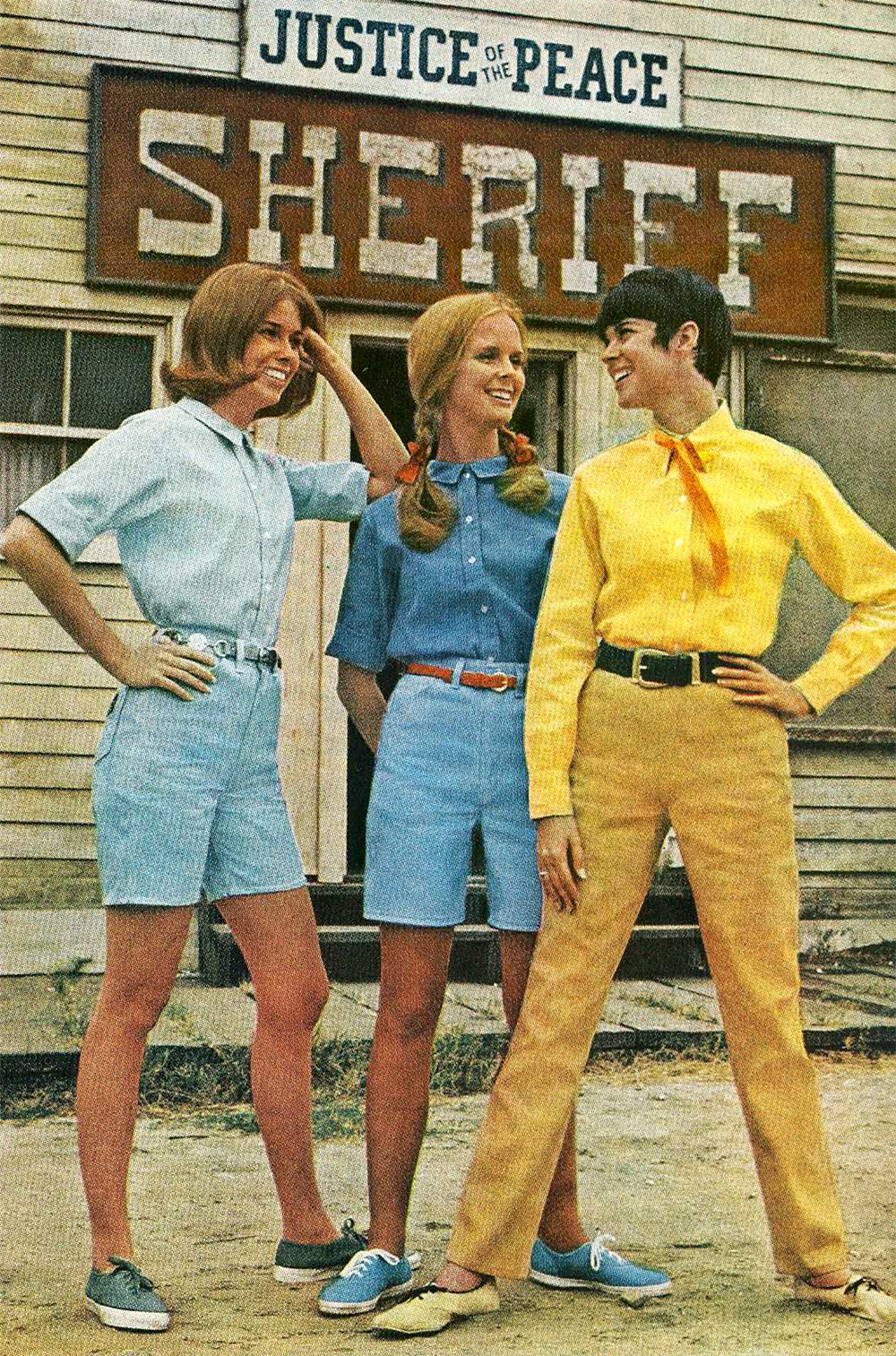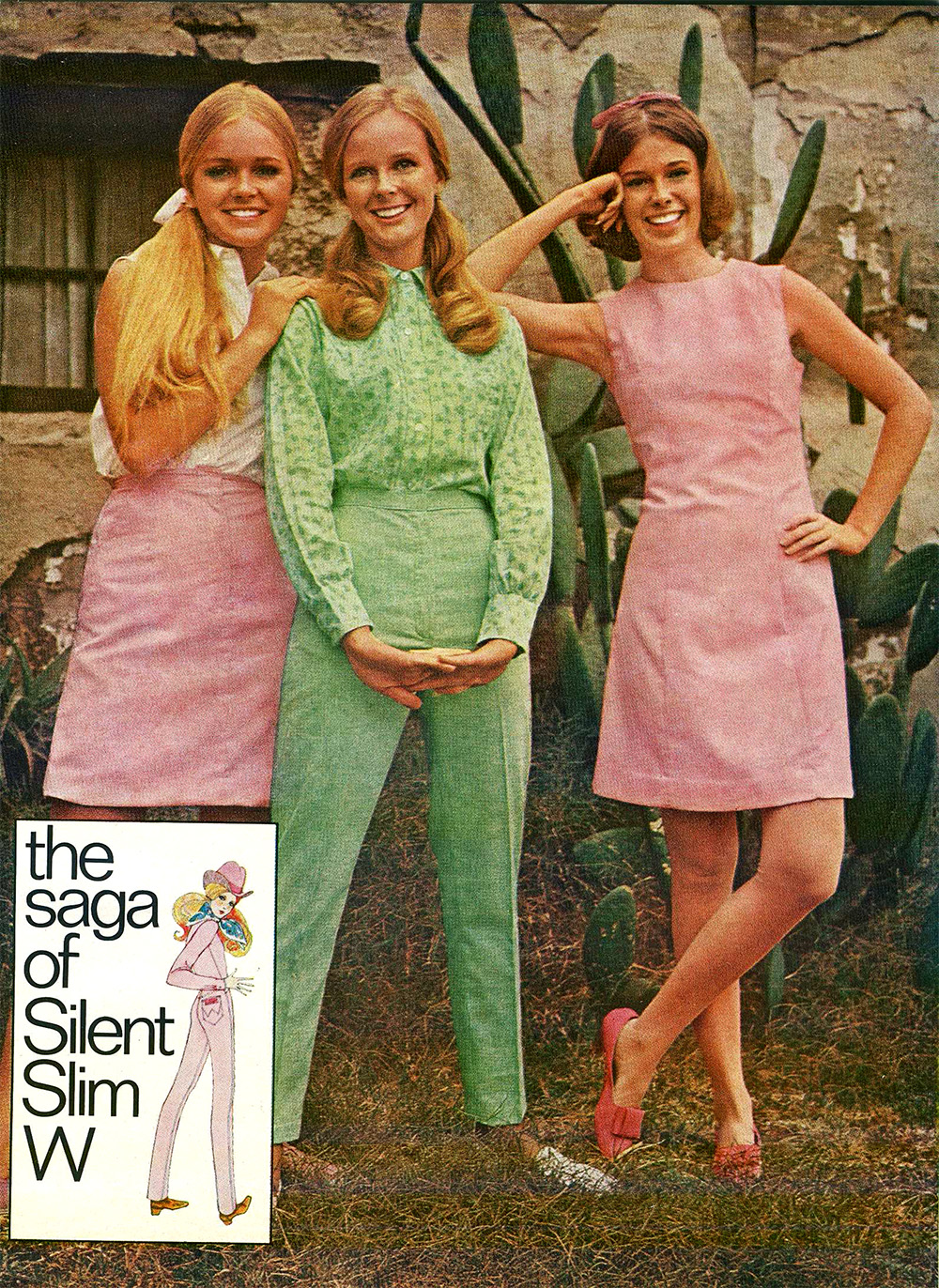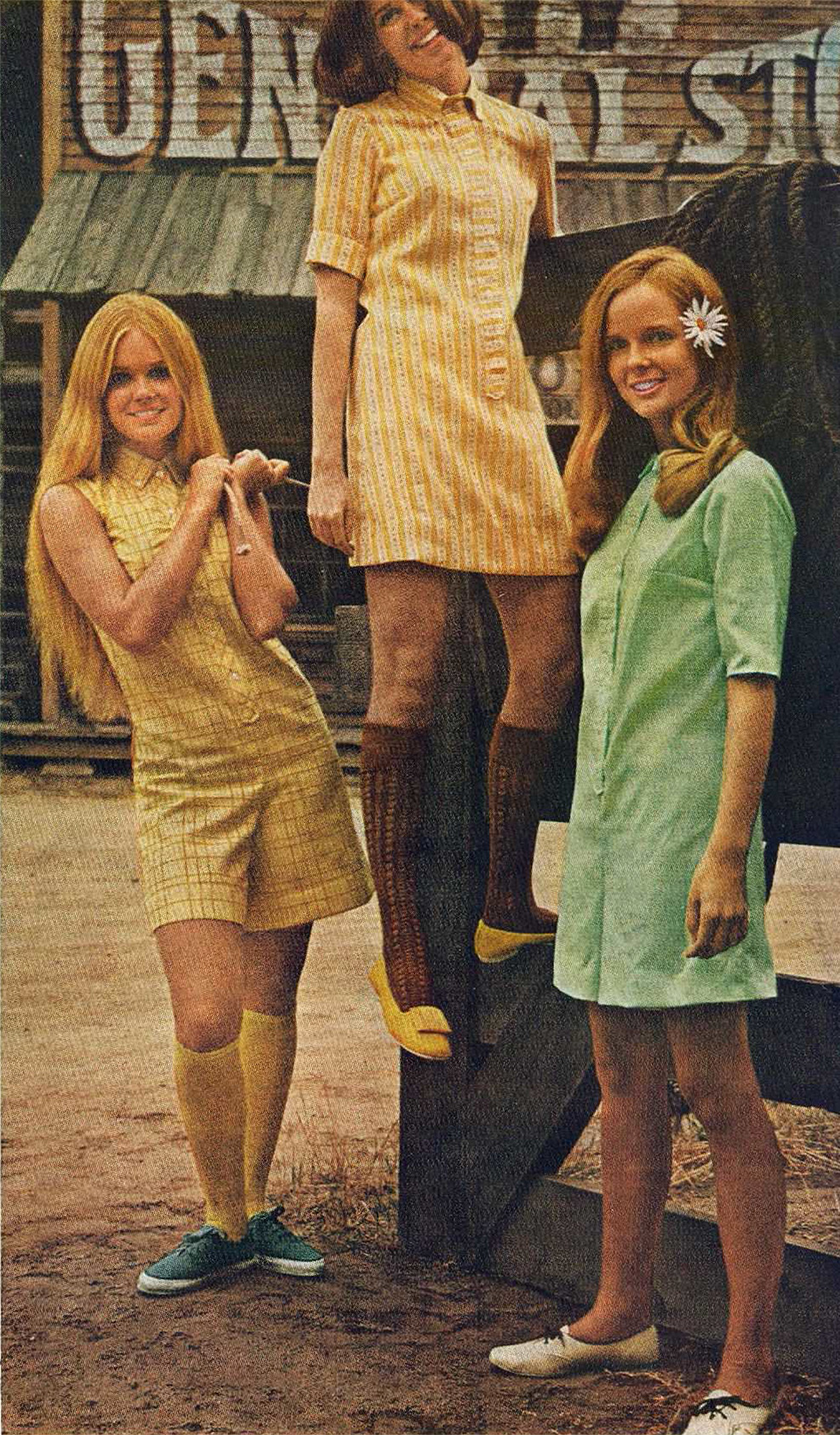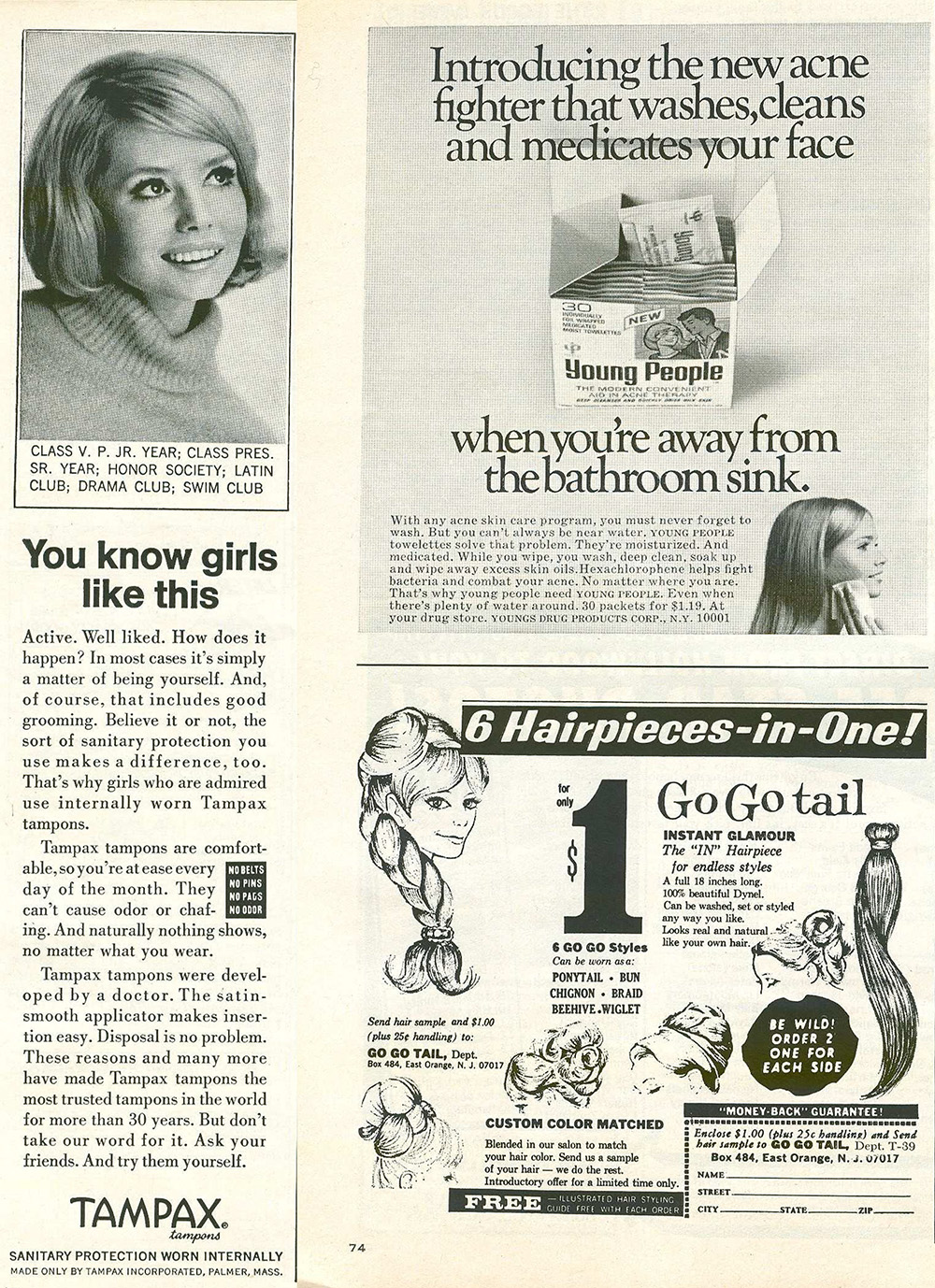 And so we've reached the back cover.  It was an enjoyable tour through the world of a teenage girl in 1969, but it's time to get back to the present.  Cheers.