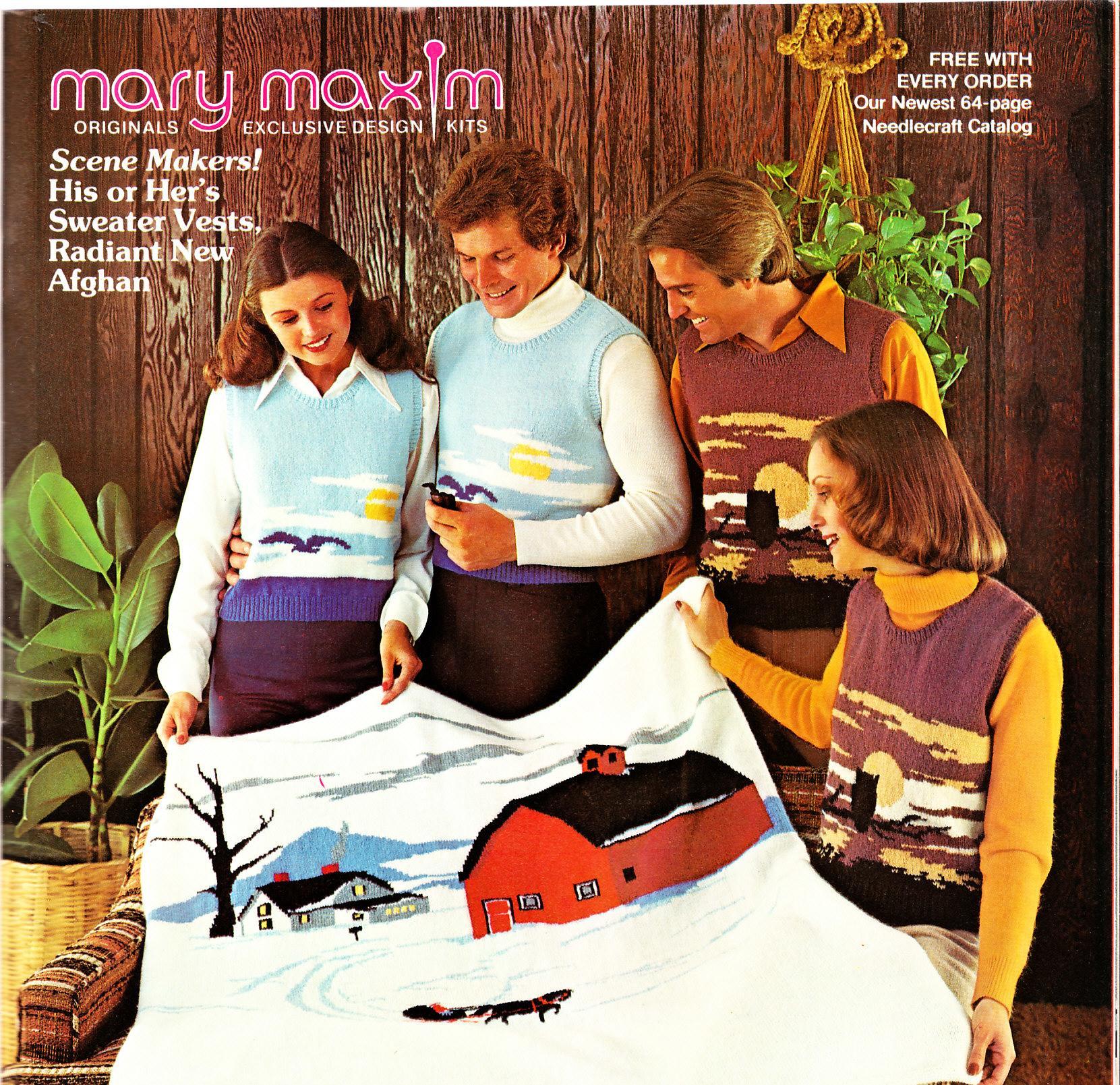 What's this man holding?  It looks like a lighter – I presume to set himself on fire, because that's really the logical thing to do when forced to wear sweater vests like these.
But he was not alone. The 1970s truly was the Decade of the Vest, a veritable vestival of anti-sleeve attire.  So, let's explore the vest-fest that was the 70s. Enjoy.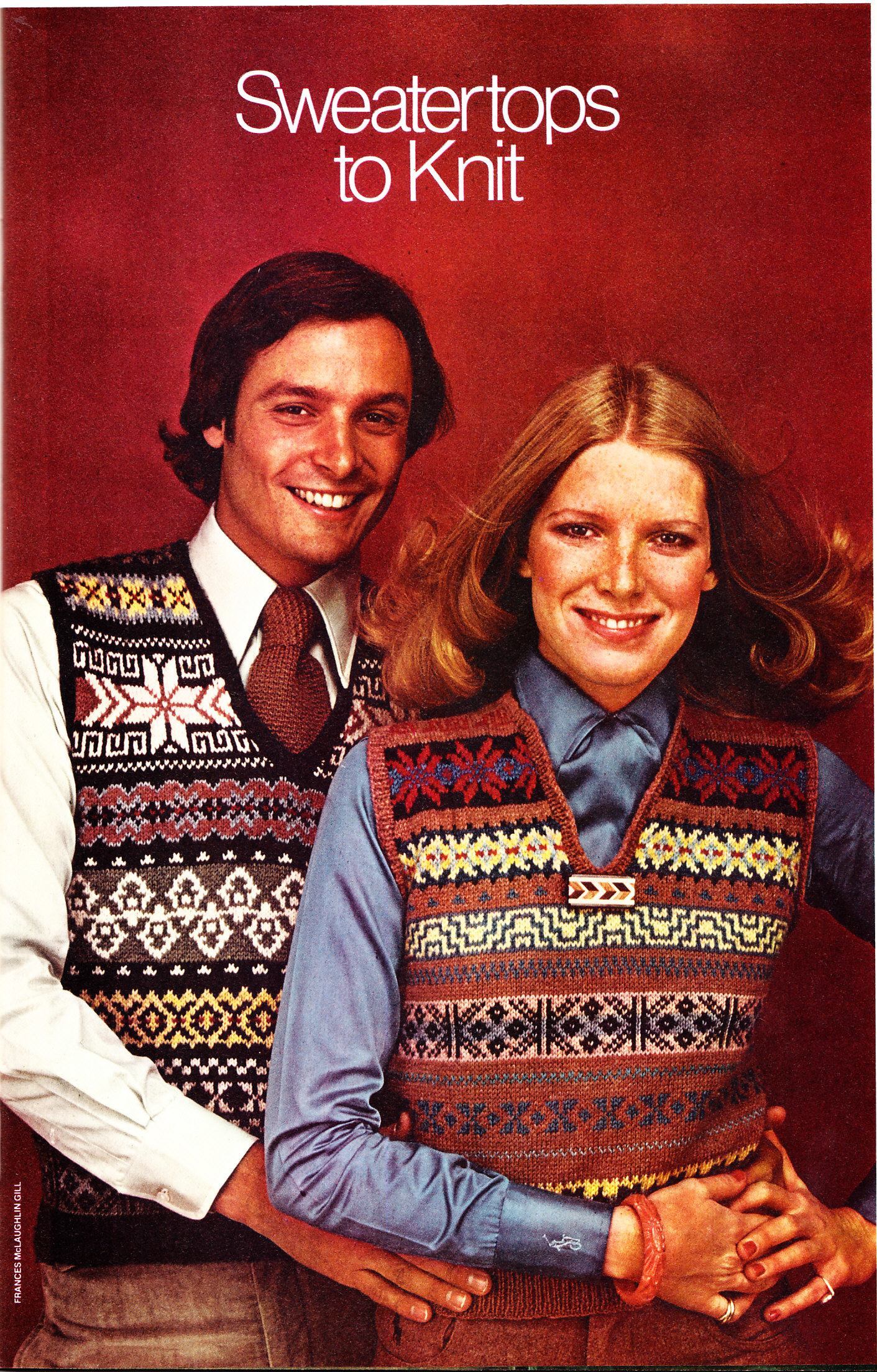 A striking bit of vest-related irony: what was once a 1970s Yuppie uniform is now hipster-wear.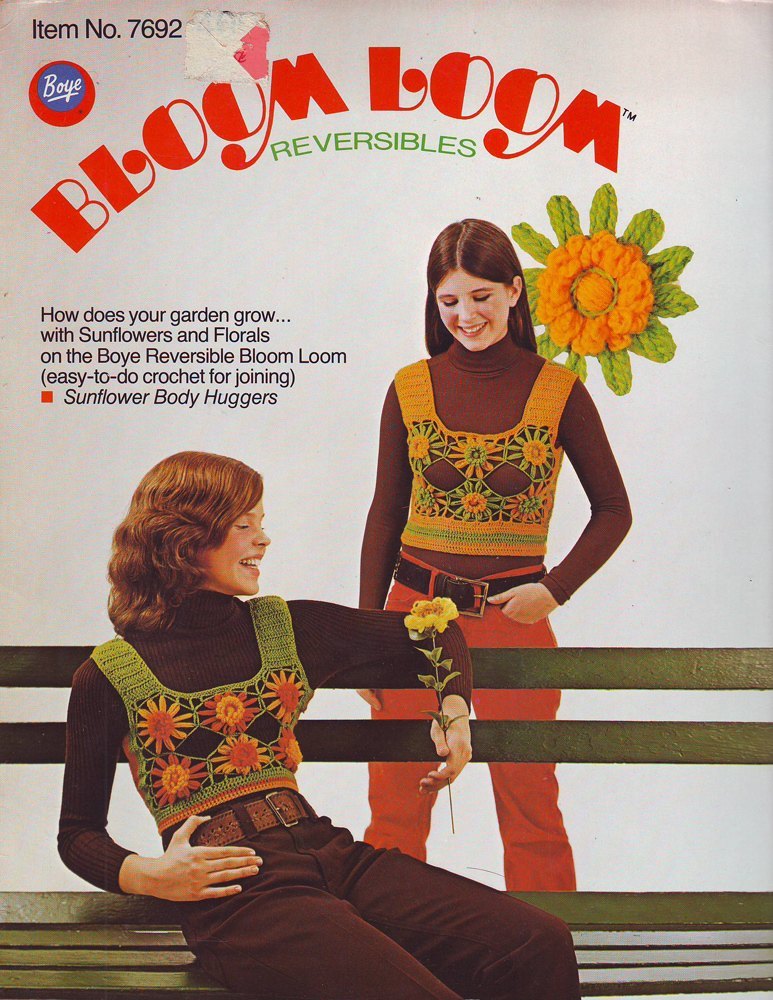 The shrink-top yarn vest was one of the more interesting varieties of 70s vest species.  And "interesting" was written in italics because I'm saying it in the most sarcastic manner imaginable.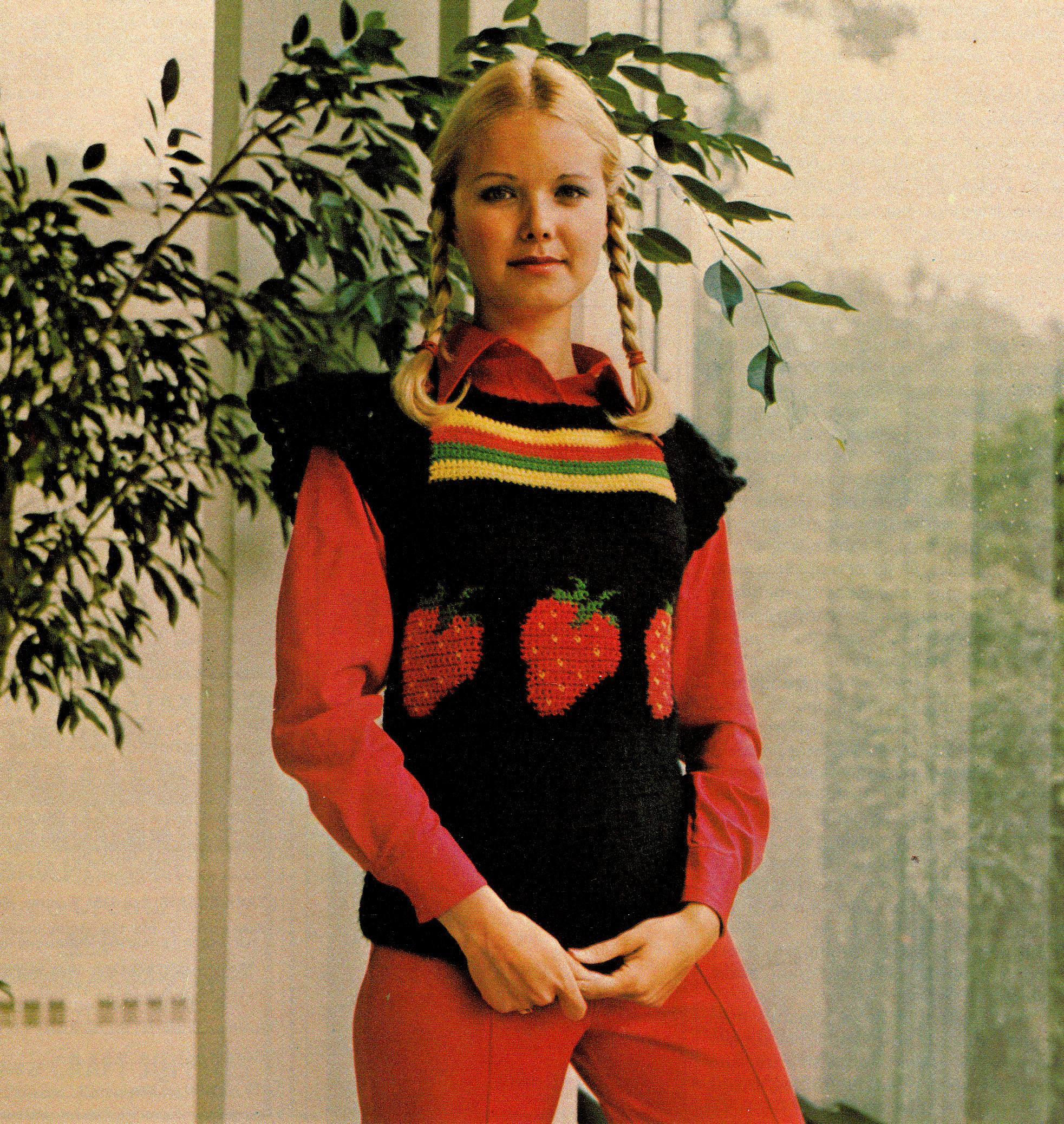 The problem with 70s vests was that vest-makers were always compelled to have some sort of design on the front.  It wasn't enough just to have black vest – you had to have a black vest with massive strawberries on the front.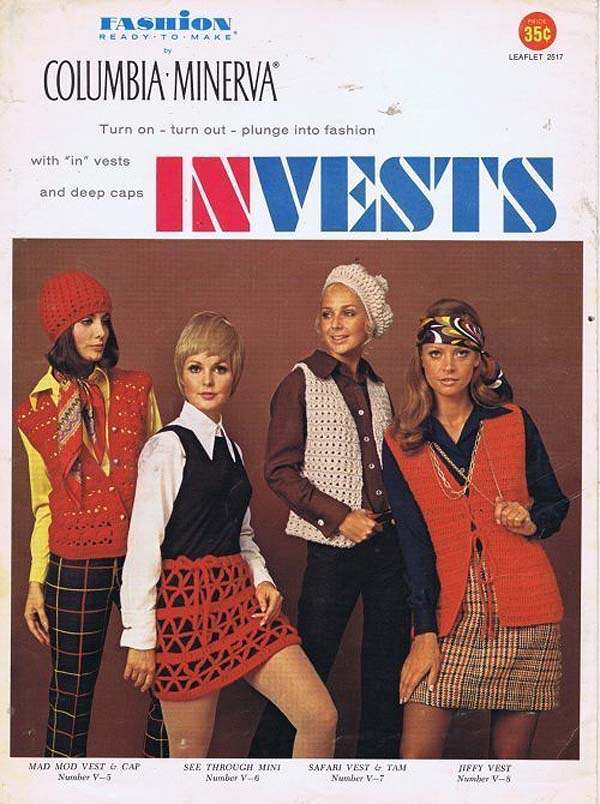 The vestification of the 70s had its origins in the late 60s.  "Turn on, tune in, wear vests"… isn't that how Leary's mantra went?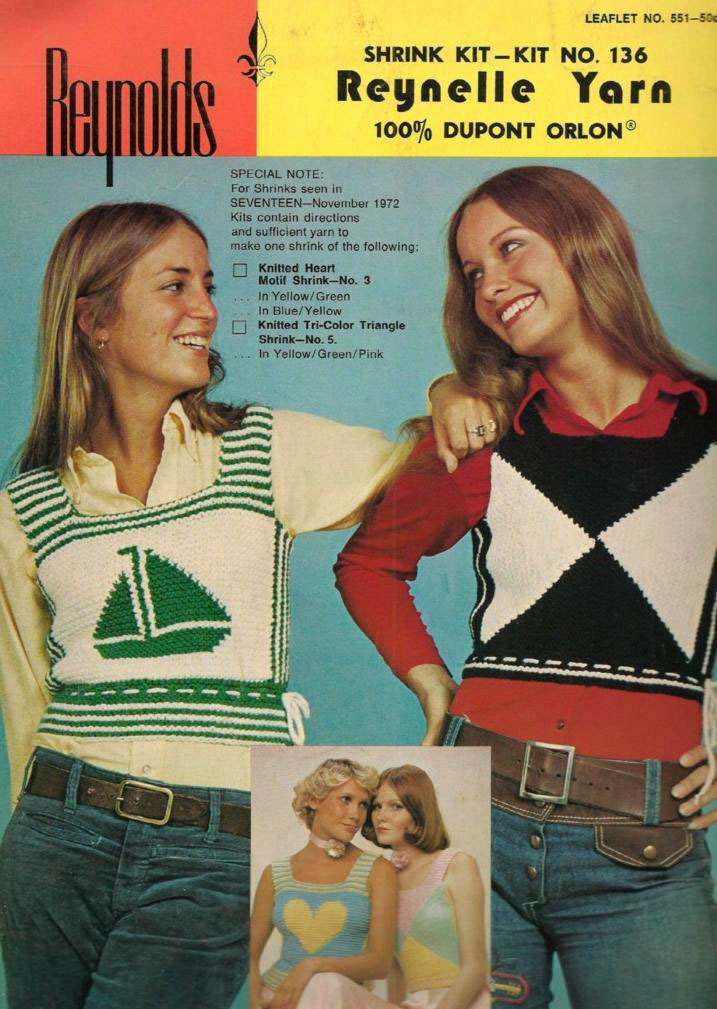 I'm not sure about the top two ladies, but the two women at the bottom are clearly about to make out.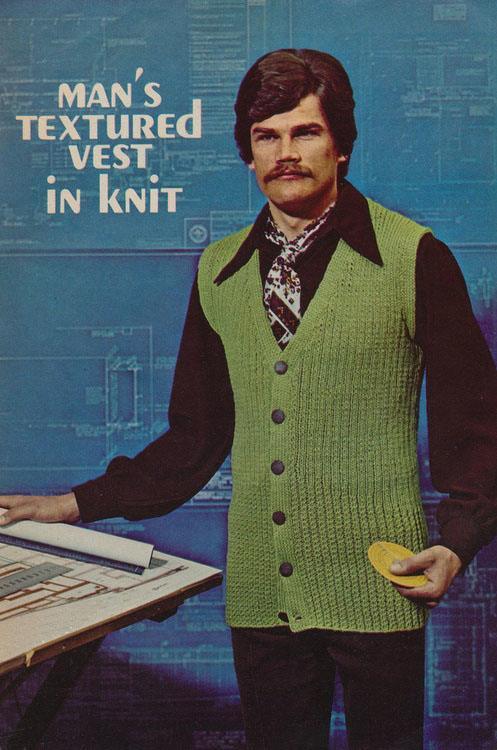 You can stop searching.  The coolest human being who has ever lived has been found.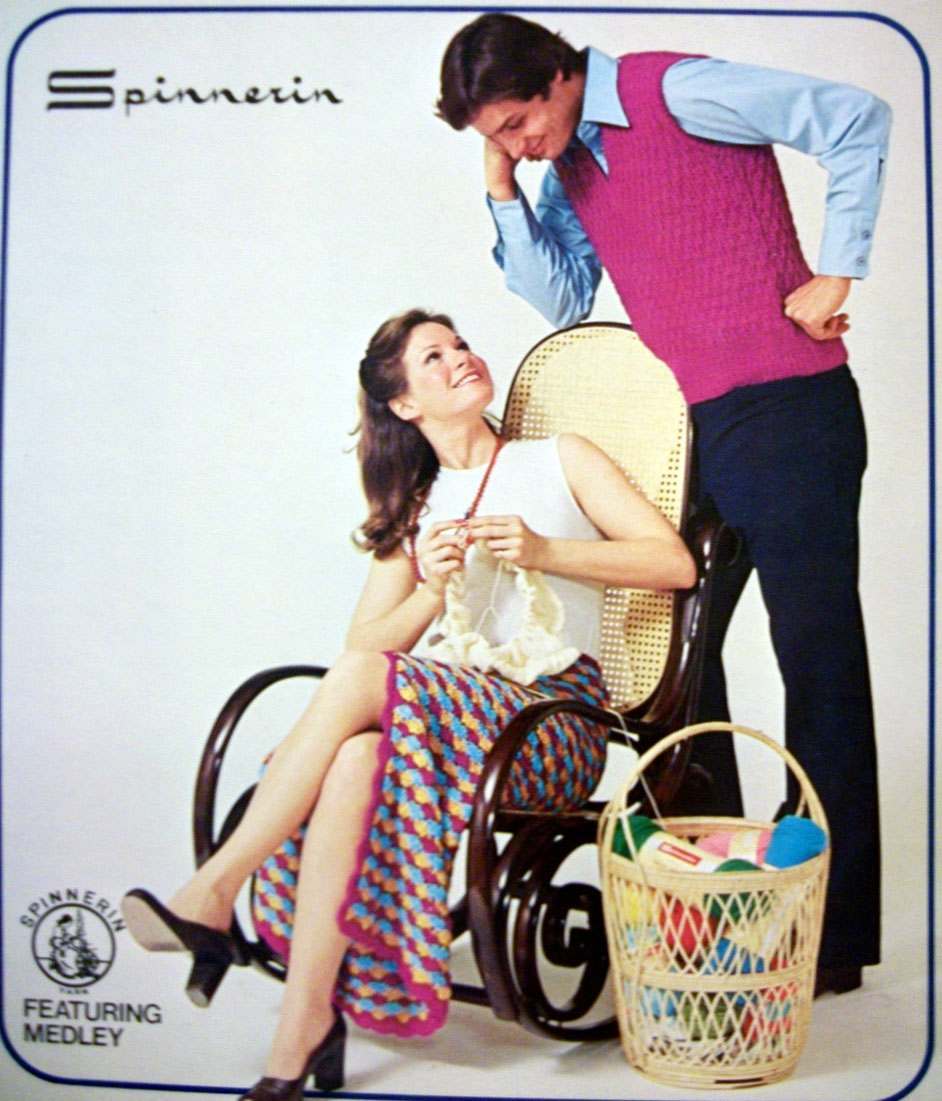 It takes a special kind of guy to feel comfortable in a hot pink sweater vest.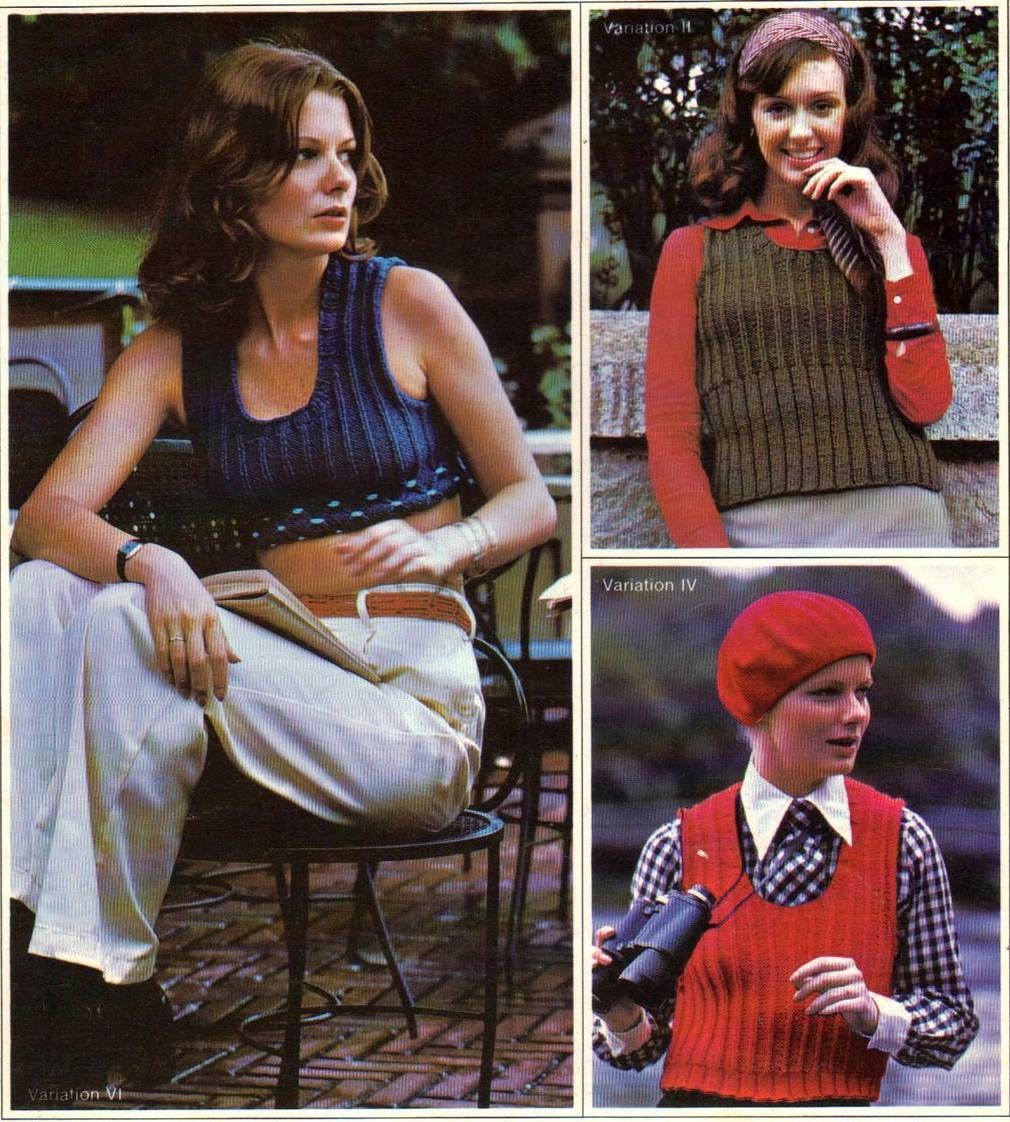 The many variations of the versatile vest.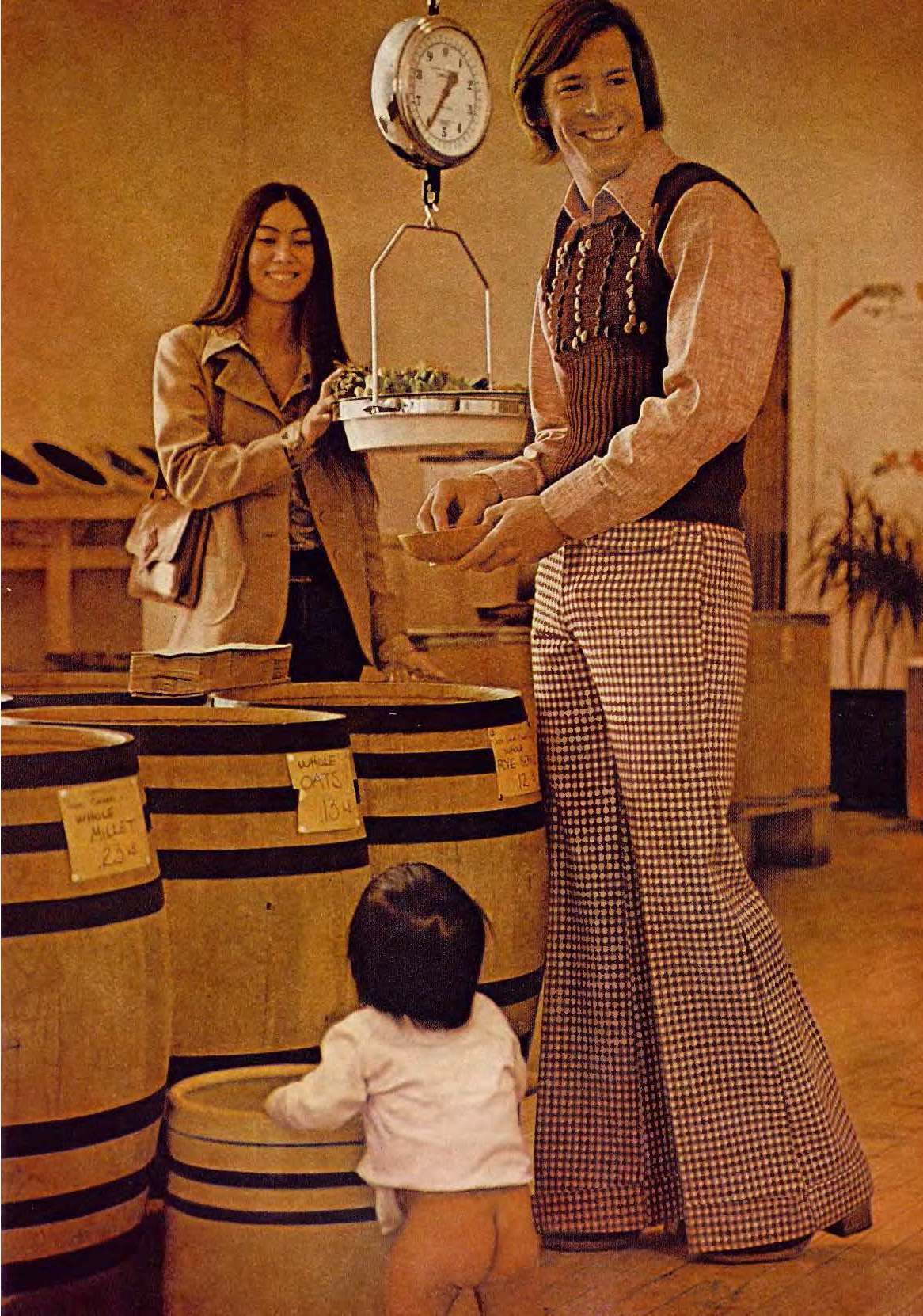 Sometimes, the vest is the least of your worries.  True, this man is wearing a sweater vest bedazzled with little pom-poms…. but his flared houndstooth pants are the center of attention.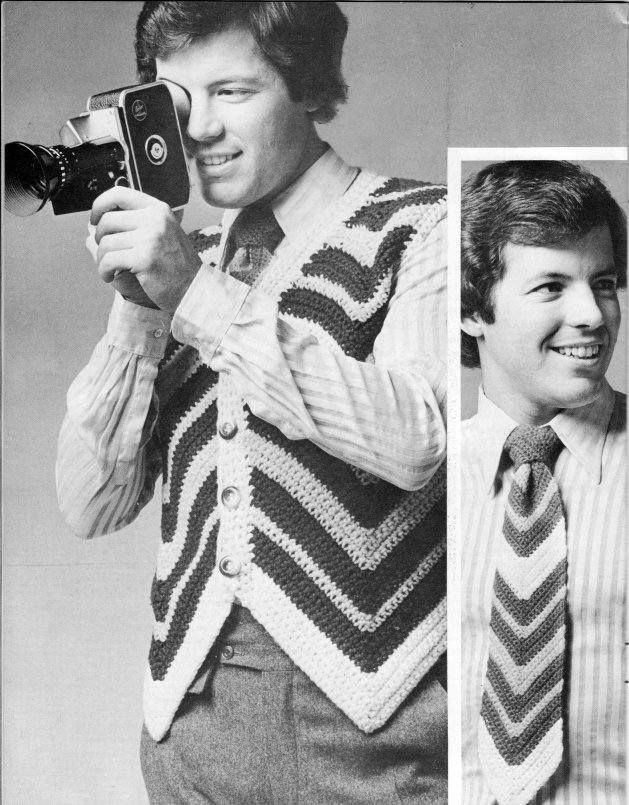 I'm actually okay with his ripple-crochet vest… it's the ripple-crochet tie where I draw the line.  We all have standards.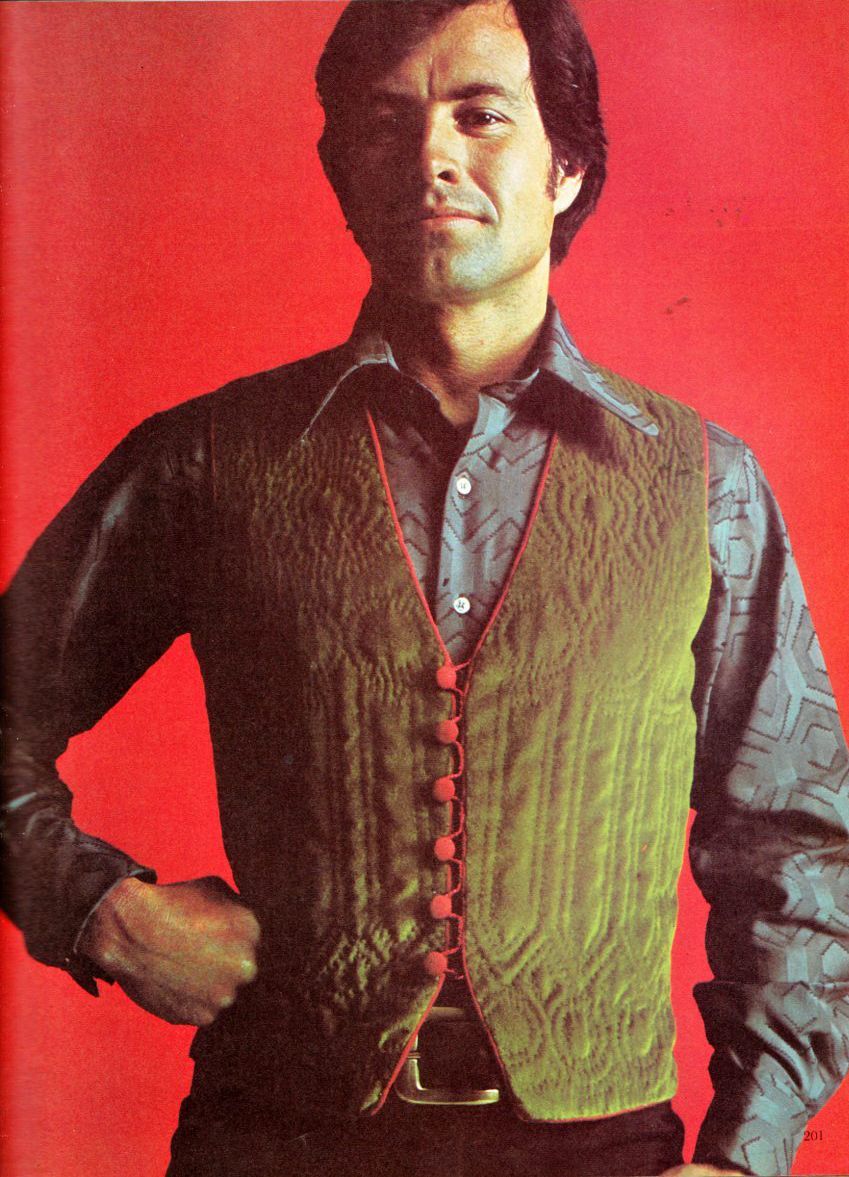 You can cry about it, or you can wear your Vest of Shame with dignity.  This man chose dignity…. he'll cry later.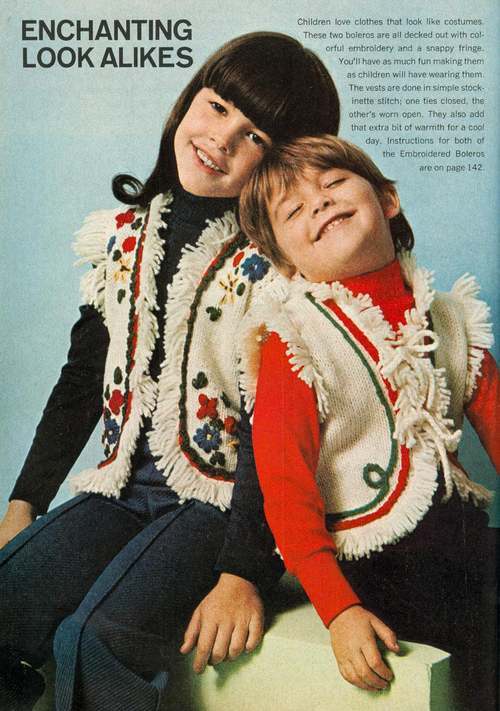 In the Great Vesting of the 1970s, no children were spared.  It was a dark time.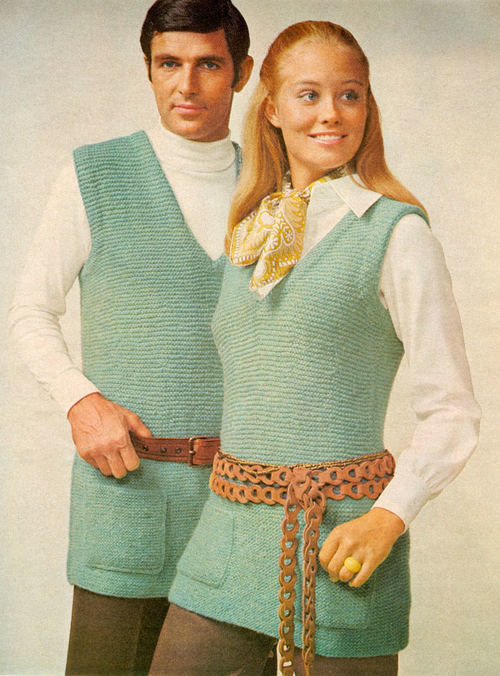 Yes, that's a young Cybill Shepherd.  And, yes, that's a man feeling rather foolish.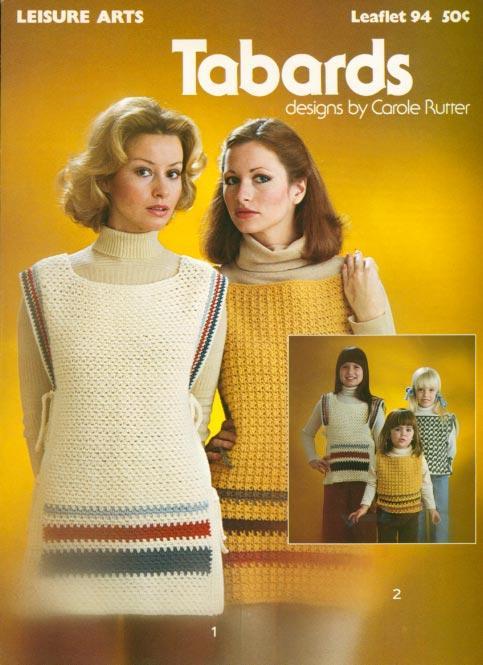 Tabards – Vest's mysterious cousin.  Appropriate attire if you happen to be a squire living in the Middle Ages; not so much today.
More tabard, please…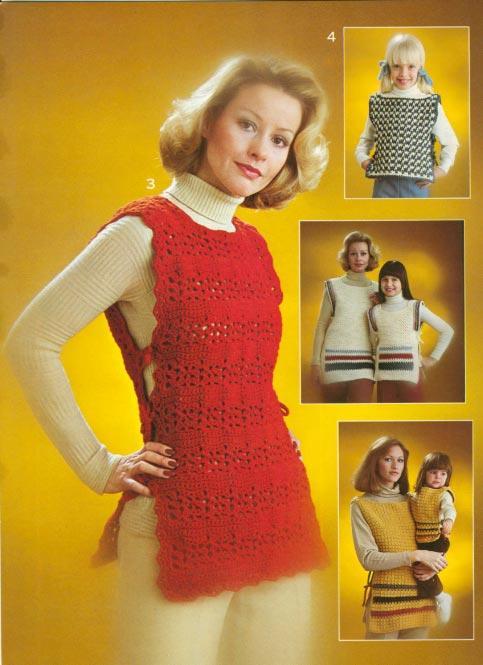 Fact: unless you wear absolutely nothing underneath, it is humanly impossible to make a tabard look sexy.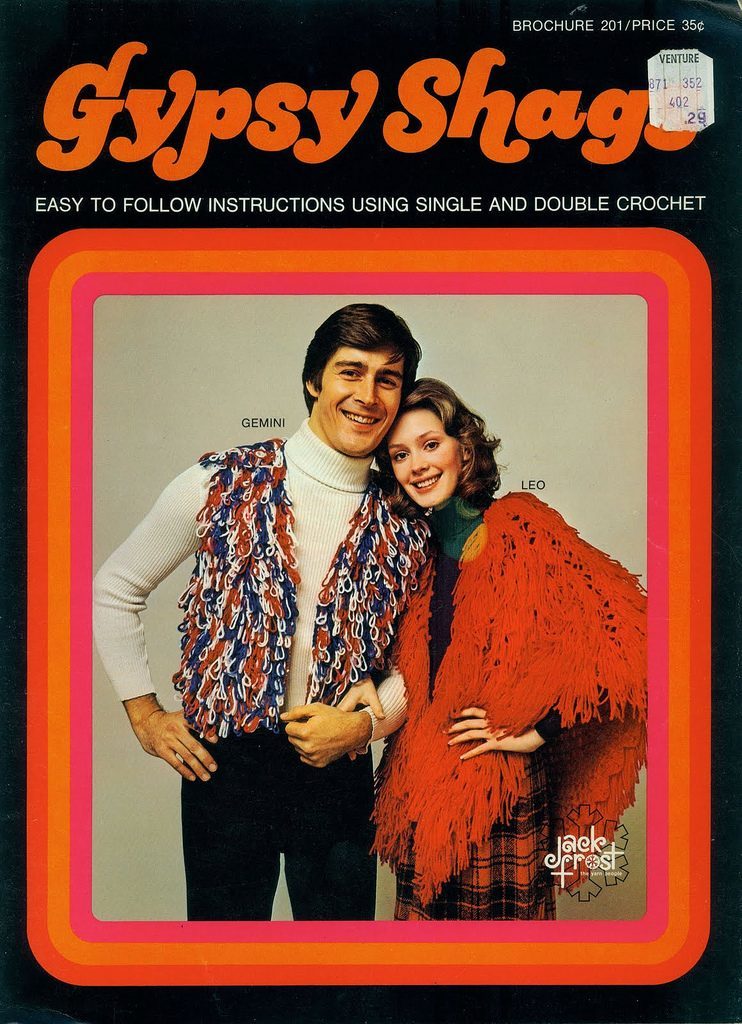 This from a previous post: If you enjoyed exploring the vest, you'll love the shawl.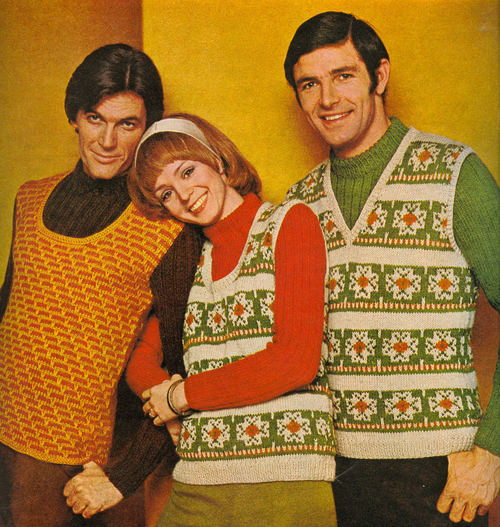 This is an interesting turn of events.  The girl and the guy on the right are clearly a couple with matching vests…. yet she clearly has a thing for the man in brown 'n' mustard.
And what would a post on 70s vests be without an image of the infamous Country Church album cover…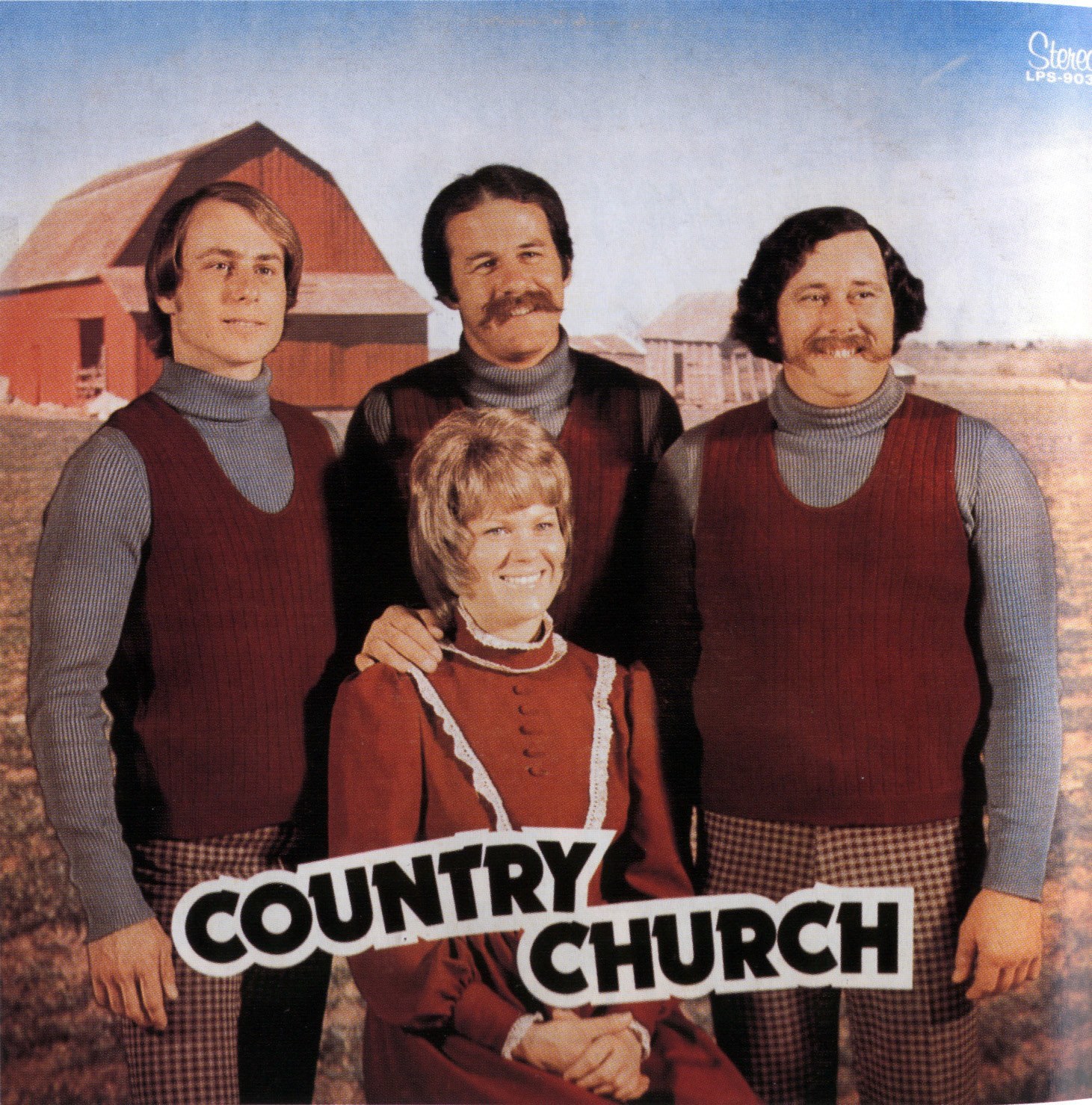 If only Country Church were alone in their vestments; alas, other groups also went with the ill-fitting vest costumes…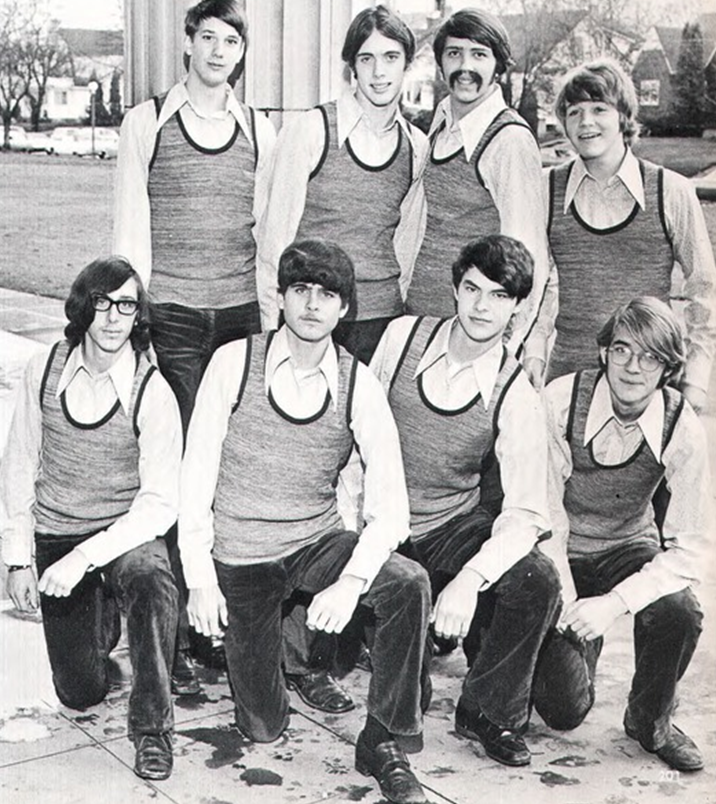 Even more sad than the matching vests is that boy's moustache.  Let's all bow our heads in a moment of silence for the tragedy that is on that poor boy's upper lip.
And before we go, I should mention that the vest was by no means dead in the 1980s.  Truly I say unto you, the Reign of the Vest had only just begun…