A couple of years back I interviewed Anita Pallenberg (6 April 1942 – 13 June 2017) for Mojo magazine.
The subject was the scene in and around the King's Road in 1967. Crisp and funny, Pallenberg was just as buzzed about the present;  visiting Karl Lagerfeld in Paris the next day, her interests in gardening and photography, the bargains to be found in charity shops and the notion of a collection based on the MA show from her studies at Saint Martins in the 90s.
A few months later, with her friend Anna Sui, Pallenberg participated in a rock & roll event I organised at the Port Eliot LitFest; after the show it was an honour to give her a vintage Vive Le Rock tee, which, of course, she wore with her trademark élan.
Here's a refreshed and re-edited chance to appreciate this bewitching figure whose combination of innate style, fashion-savviness and earthy sexuality brought Continental sophistication to Swinging London and turned it on its head:
Gawky gamins and dolly-birds melted into insignificance in the presence of the impressive 21-year-old who arrived in London in 1965 having already studied graphic design in her native Rome, assisted Vogue photographer Gianni Penati and modelled in Paris.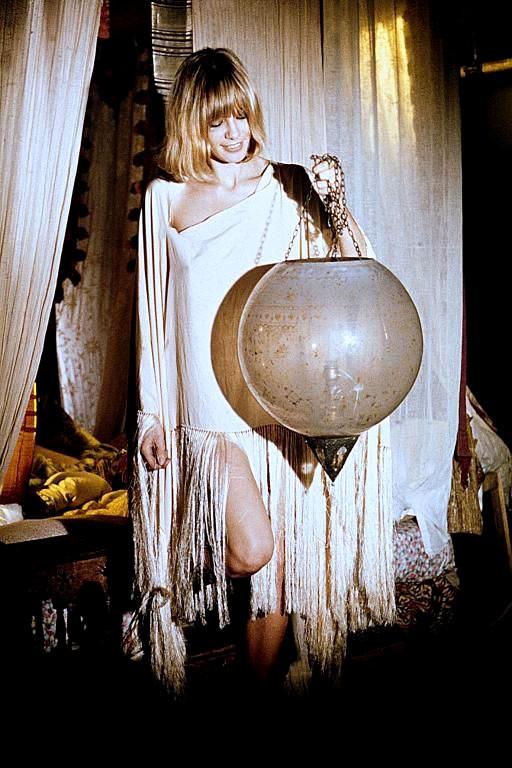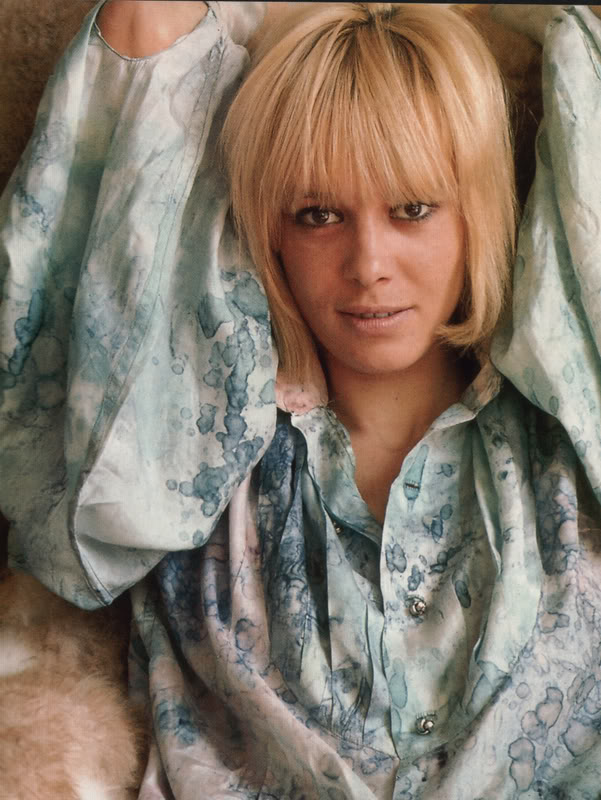 Nobody's pet, Anita Pallenberg's relationships with Brian Jones and Keith Richards added to the allure, as did appearances in such epoch-defining movies as Barbarella and Performance. All the while Pallenberg's natural grace was accentuated by effortless merging of vintage pieces with the work of such giants as Ossie Clark and the crowd around
Through the 70s to this day, Pallenberg embodies rock & roll chic – much emulated, never bettered.
So, where were you in '67?
I was living all over the place, sometimes in hotels with Keith, but I was hardly in London, because I was working a lot. That was my big year as an actress. I was making Barbarella in Rome, and then my German film (Volker Schlondorff's Mord Und Totschlag aka A Degree Of Murder, for which Pallenberg's former partner Brian Jones contributed the score).
Where did you shop for clothes?
We'd go to places like Emmerton & Lambert in the Antiques Market, Hung On You and Granny's. I wasn't into Mary Quant; she was too middle of the road, and that mod, op-art thing wasn't really for me.
And Biba was too big. I wasn't into that very English look. In Italy we'd always had salsa, the mamba, all those Latin dances which gave me a different feel for things, so my style was fedoras, belts, little 20s jackets, lace that I'd collected. If I wore mini-skirts I'd have them made by Granny's. We'd try on clothes and have a joint in the back. Granny's was very small, just two rooms, so everyone knew each other.
How did you feel when your "peasant look" (the rock & roll gypsy style created by Pallenberg's combination of antique clothing and scarves with handmade belts and boots) was revived  by Sienna Miller et al?
I just felt: 'Where we you were all those year ago?!' It all seemed a little late. I was always obsessed with clothes, but of a particular sort. I'd modelled in Paris in 63, 64 and the first time I was paid I went straight out and bought a snakeskin Marlon Brando-style motorcycle jacket in the Champs-Elysees.
The second time I bought the second-hand red fox fur coat which is in Performance. I'd wear that to modelling jobs with just my underwear, boots and a bag because you couldn't leave your clothes lying around. The other models would steal them!
You didn't mind wearing fur?
I had a ratty fake mink coat I wore to a gig by Hendrix somewhere on Chelsea Embankment. I went with Robert Fraser. I couldn't tell Keith; he wouldn't have liked it at all. As we left Robert, gentleman that he was, picked up my coat from the cloakroom. I wore it for a couple of days and thought it was a bit tight before I realised he'd picked up the wrong coat, a real mink!
What was it like going back to college (Pallenberg studied textiles at Central Saint Martins in the early 90s)?
I loved it. One of my favourite fabrics is devore (printed velvet and satin) and so I did my collection for my finals in that. It's really hard work because the process is so intense but I loved it. There's a Michael Cooper photograph of Marianne (Faithfull) in a devore dress, which she probably nicked from me! We used to nick from each other all the time because they were all one-off pieces.
What was Ossie Clark like?
He was a nasty piece of work, a trouble-maker. If he came to Cheyne Walk, he'd be so unbearable we had to throw him out. And he was like that till the end. He was backstage at a Stones concert a couple of years before he died (in 1996, murdered by his psychotic lover Diego Cogolato) and he was so loud, unpleasant and arrogant we had to throw him out again!
What didn't you like about the scene in London in '67?
I remember walking down the Kings Road one time and everybody seemed to be on acid. There were kids running around with no shoes on their feet. I'm Italian; the last thing you'd do is go barefoot. Shoes are a status symbol, the first thing you get. Everybody in Rome walks around discussing shoes. I had my boots made for me back home, so I thought it was very weird.
You weren't a hippie then?
No. Definitely not. Even though I was away in America for much of the 70s, when punk came along and Vivienne (Westwood) and Malcolm (McLaren) were making those wonderful rubber clothes I felt much more in tune with them.
Thanks to Eva Vermandel – evavermandel.com – for permission for use of her portrait of AP + HK.