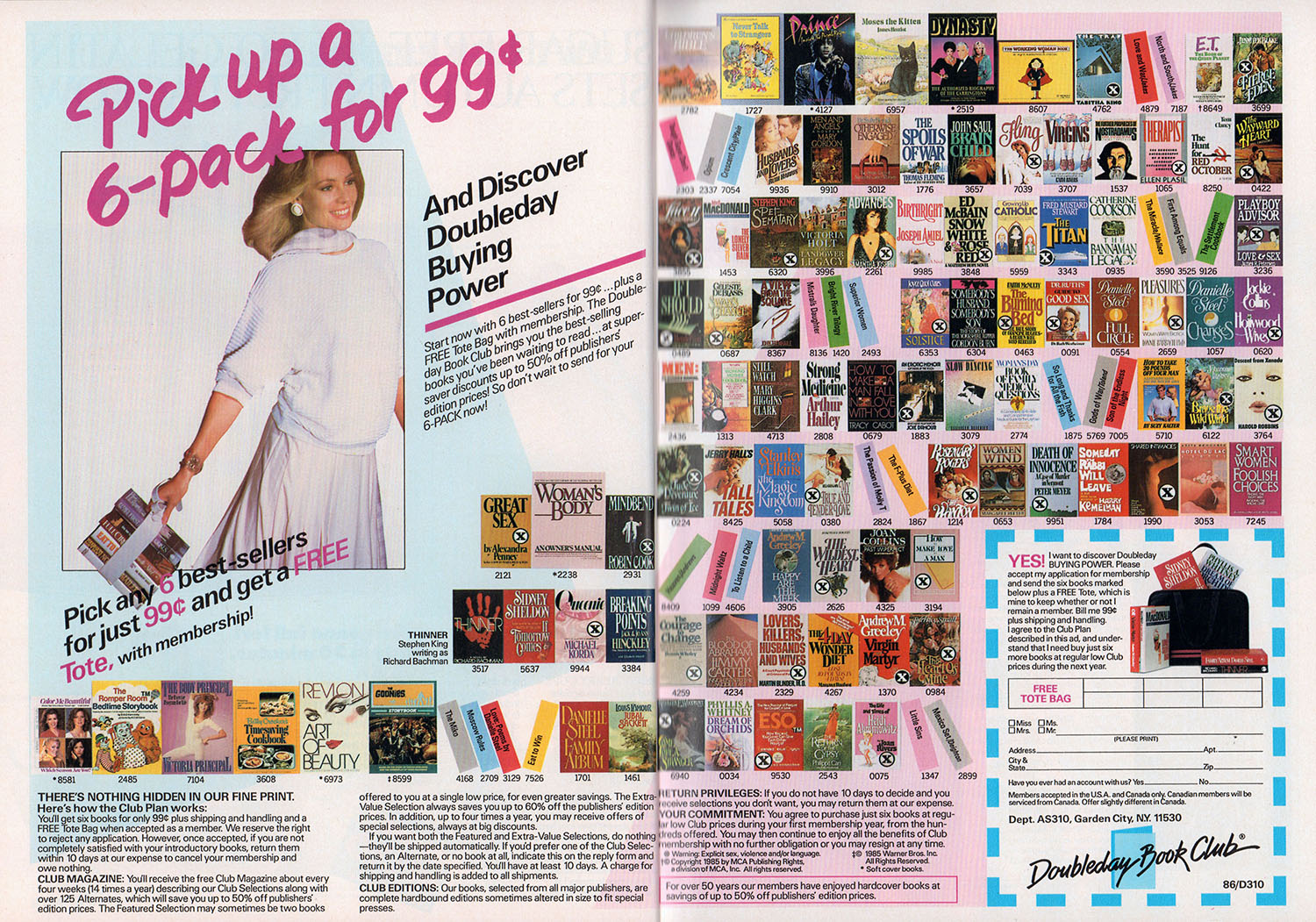 This book club advertisement from 1985 lets us pick six for 99 cents… plus a free tote!  I pick Stephen King's Thinner and Pet Sematary, The Goonies Storybook, Prince: Inside the Purple Reign, Shared Intimacies Rated X!, and E.T. The Book of the Green Planet.
Let's have a look at a few more book club ads from the past and see what we can order for around a dollar.  I'd be interested to hear your selections, and recommendations as well!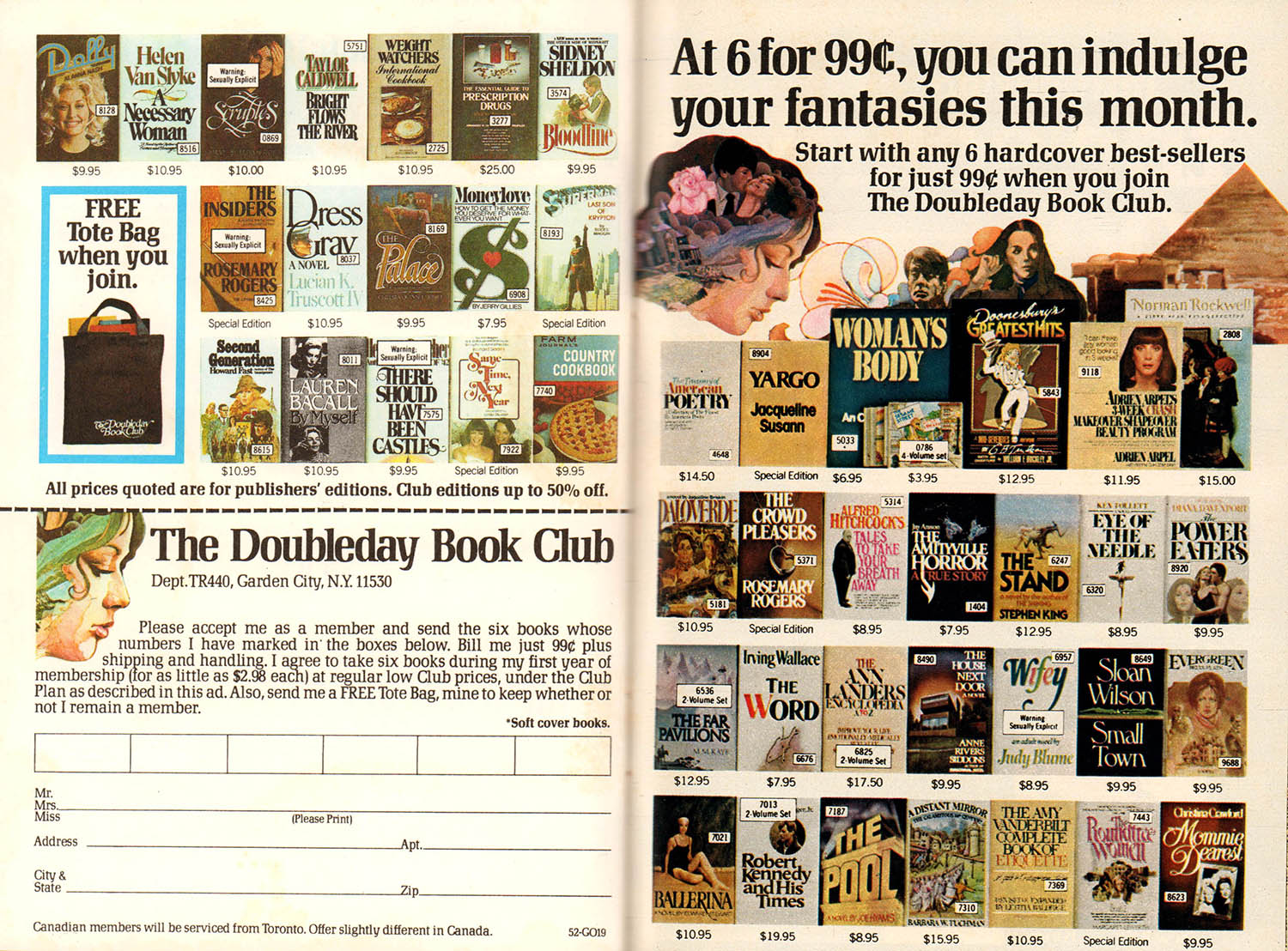 From approximately six years earlier, we still get six books for 99 cents by joining the Doubleday Book Club.. and, yes, they were still giving away the free tote!
I'll take Superman: Last Son of Krypton, the Dolly Partion bio, Stephen King's The Stand, Doonesbury's Greatest Hits, The Amityville Horror, and one of the best history books I've ever read: A Distant Mirror by Barbara Tuchman.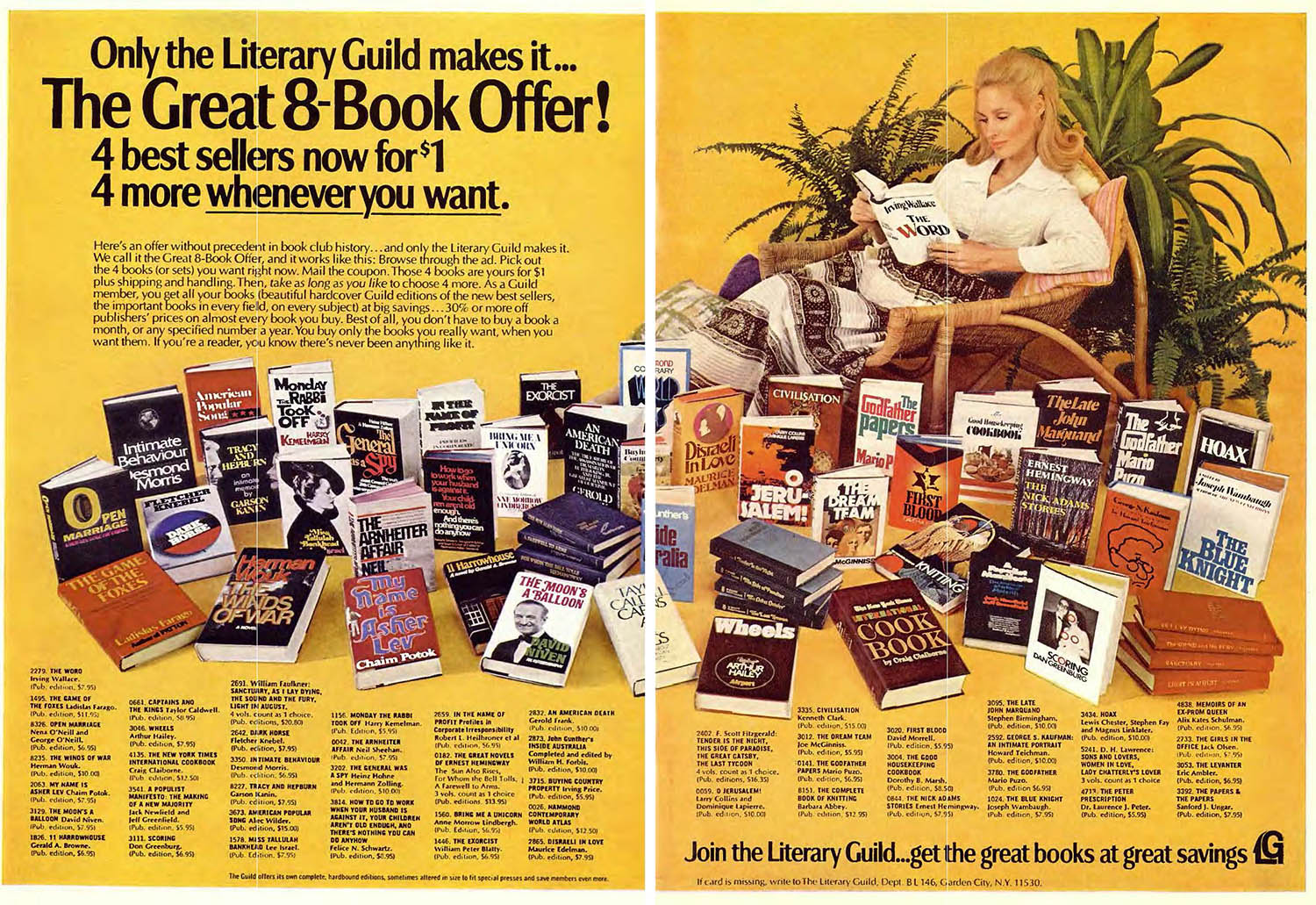 The 1972 Literary Guild lets us get four books up front for a buck. I choose The Exorcist, Memoirs of an Ex Prom Queen, and a couple books as intriguing cultural artifacts: Open Marriage and How To Go To Work When Your Husband Is Against It, Your Children Aren't Old Enough, And There's Nothing You Can Do Anyhow.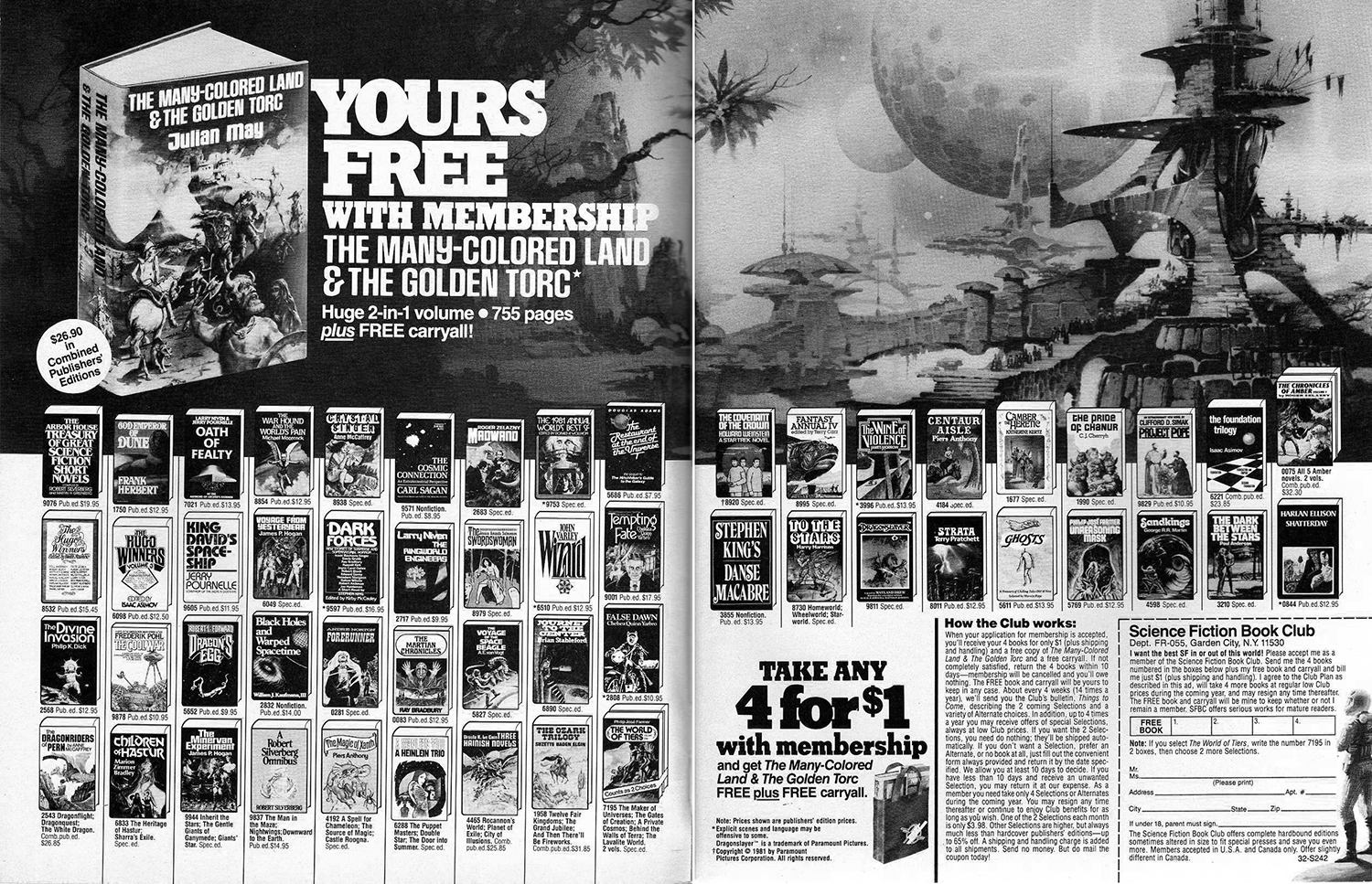 This 1981 Sci-Fi/Fantasy book club offers four for a buck… plus a free tote!  Danse Macabre is my all time favorite non-fiction book on the horror genre.  For the other three: the Sagan book, Cosmic Connection, Asimov's Foundation series, and The Chronicles of Amber.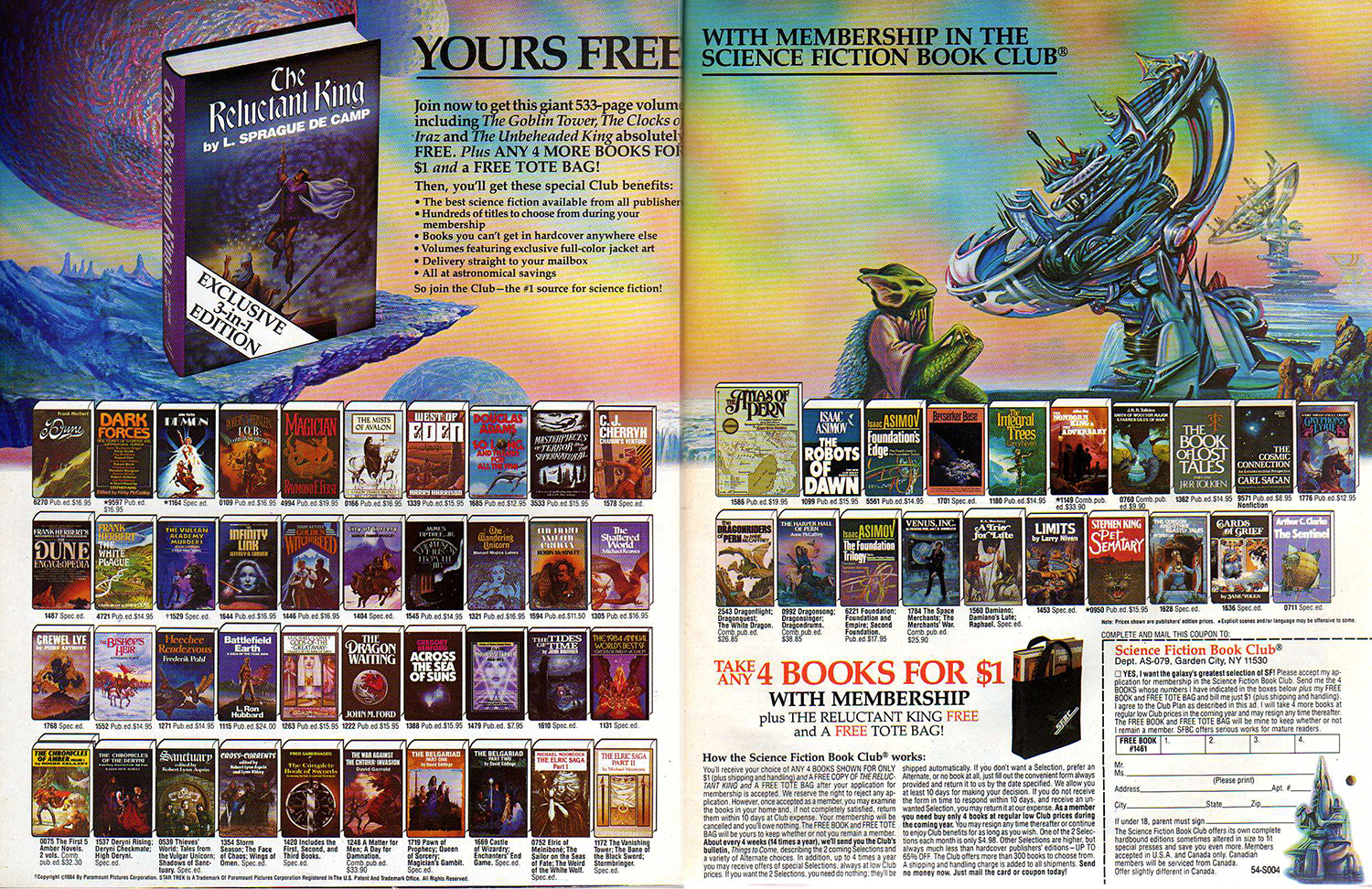 It's 1983, and they're still offering four books for a dollar, plus a tote.  Admittedly, I'm not much of a sci-fi or fantasy reader.  I'd choose the two Elric books, a Dune book, and the horror anthology Dark Forces.  I'm sure there are some gems here that I'm not aware of.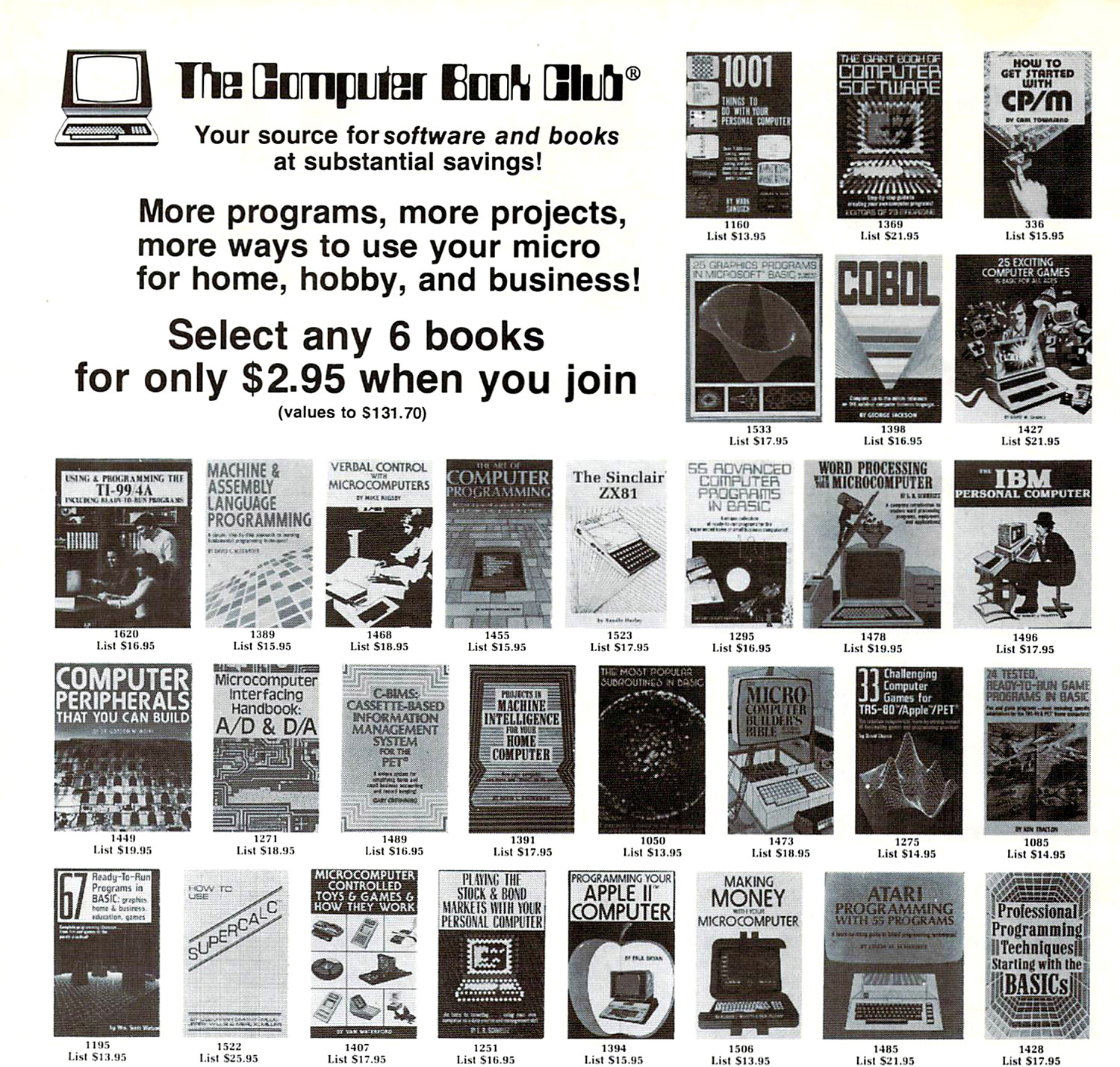 This Computer Book Club ad from 1983 asks us to select six for $2.95.  I'll take 25 Exciting Video Games, and the rest I can live without.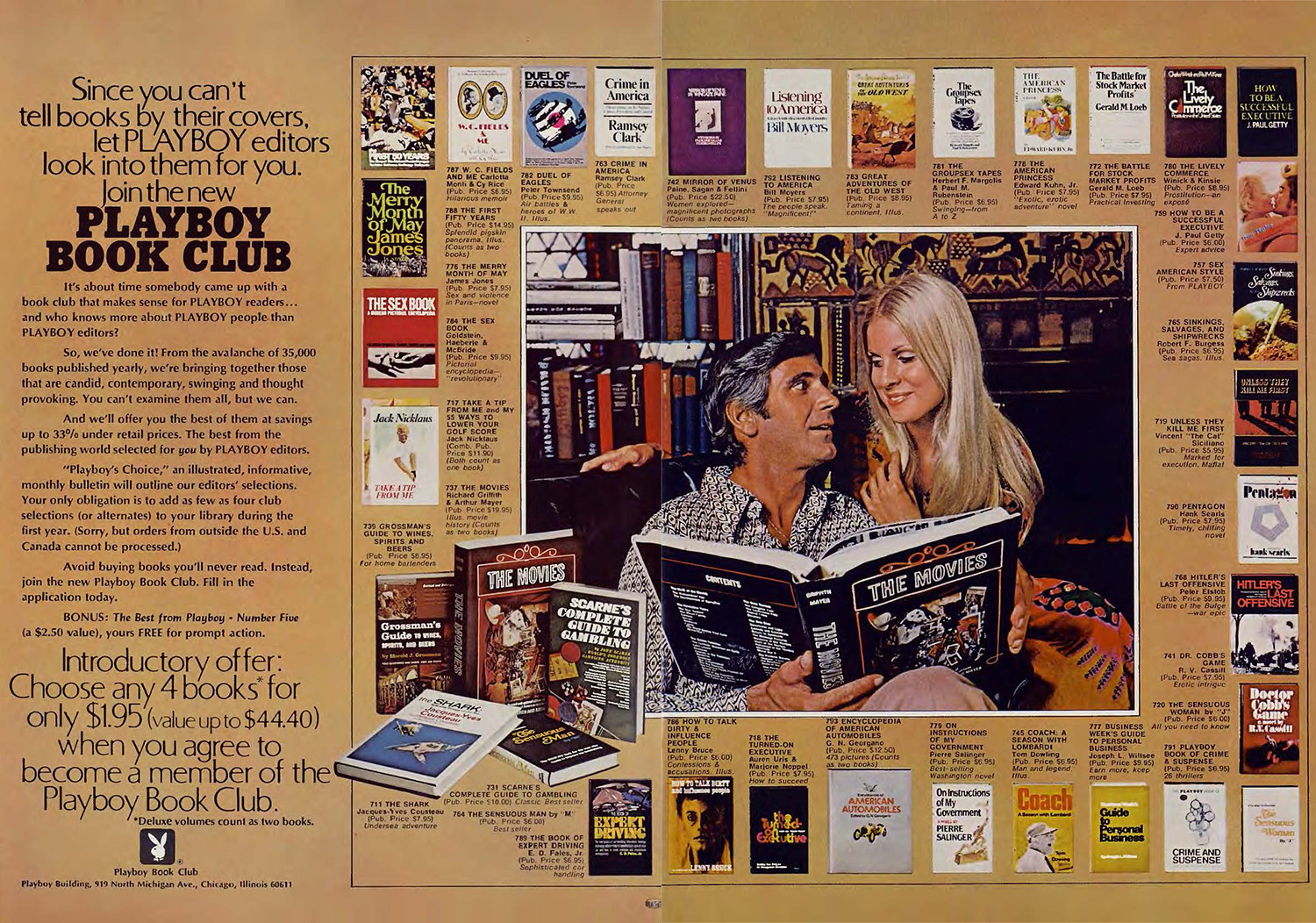 The 1971 Playboy Book Club offers us any four books for $1.95.  I'll take Lenny Bruce's How to Talk Dirty and Influence People, The Turned-On Executive, The Groupsex Tapes, and Sex American Style.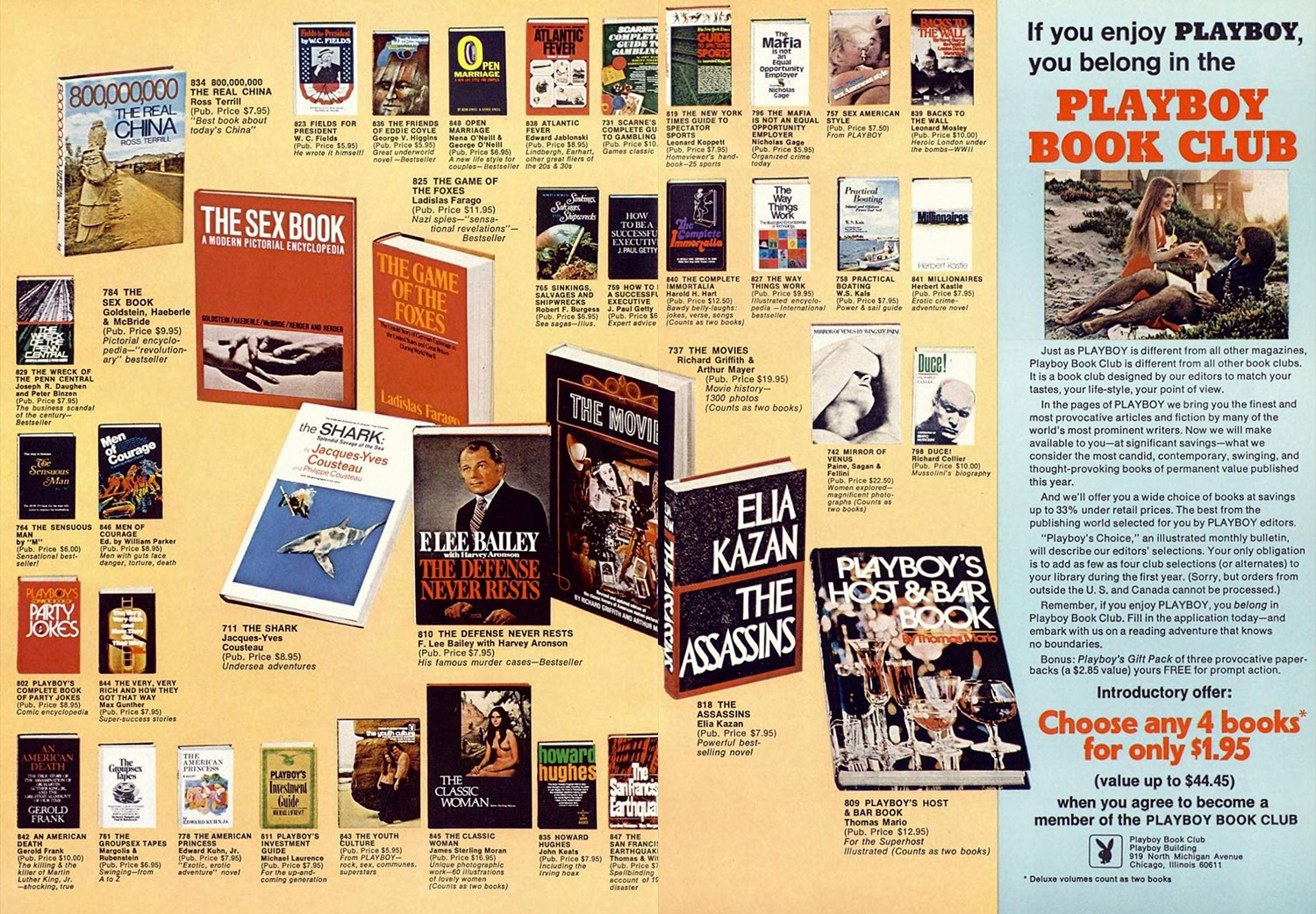 The following year (1972) Playboy's selection hasn't changed much.  I choose: The Youth Culture, Playboy's Host & Bar Book, The Complete Imortalia, and Mirror of Venus.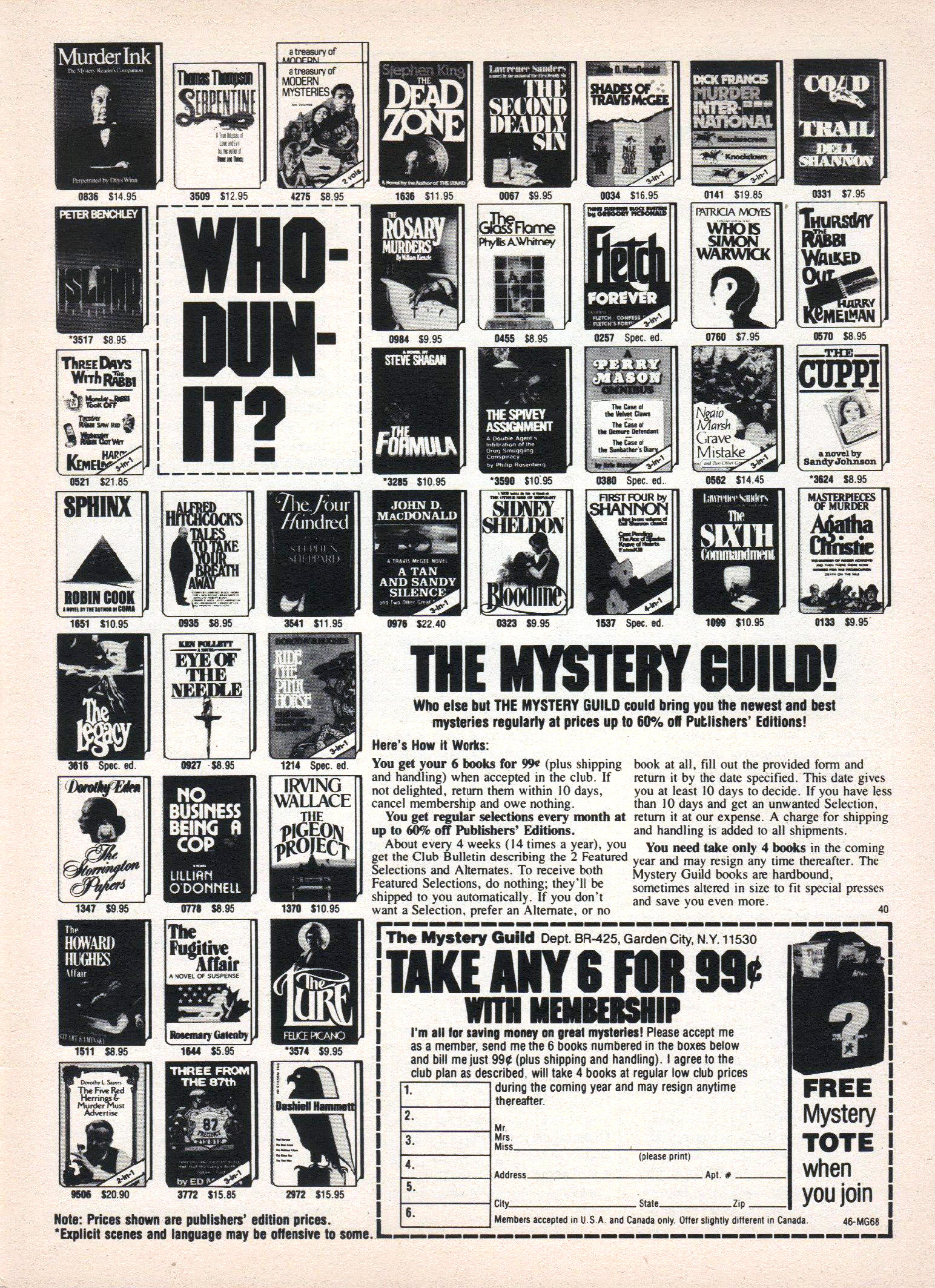 In 1981, The Mystery Guild offers six for 99 cents… plus a tote!  I see four I might want – The Legacy (an underrated movie), Robin Cook's The Sphinx, Fletch Forever, Peter "Jaws" Benchly's Island. 
I'll leave you with a couple more book club advertisements, and I look forward to reading your selections.  Cheers.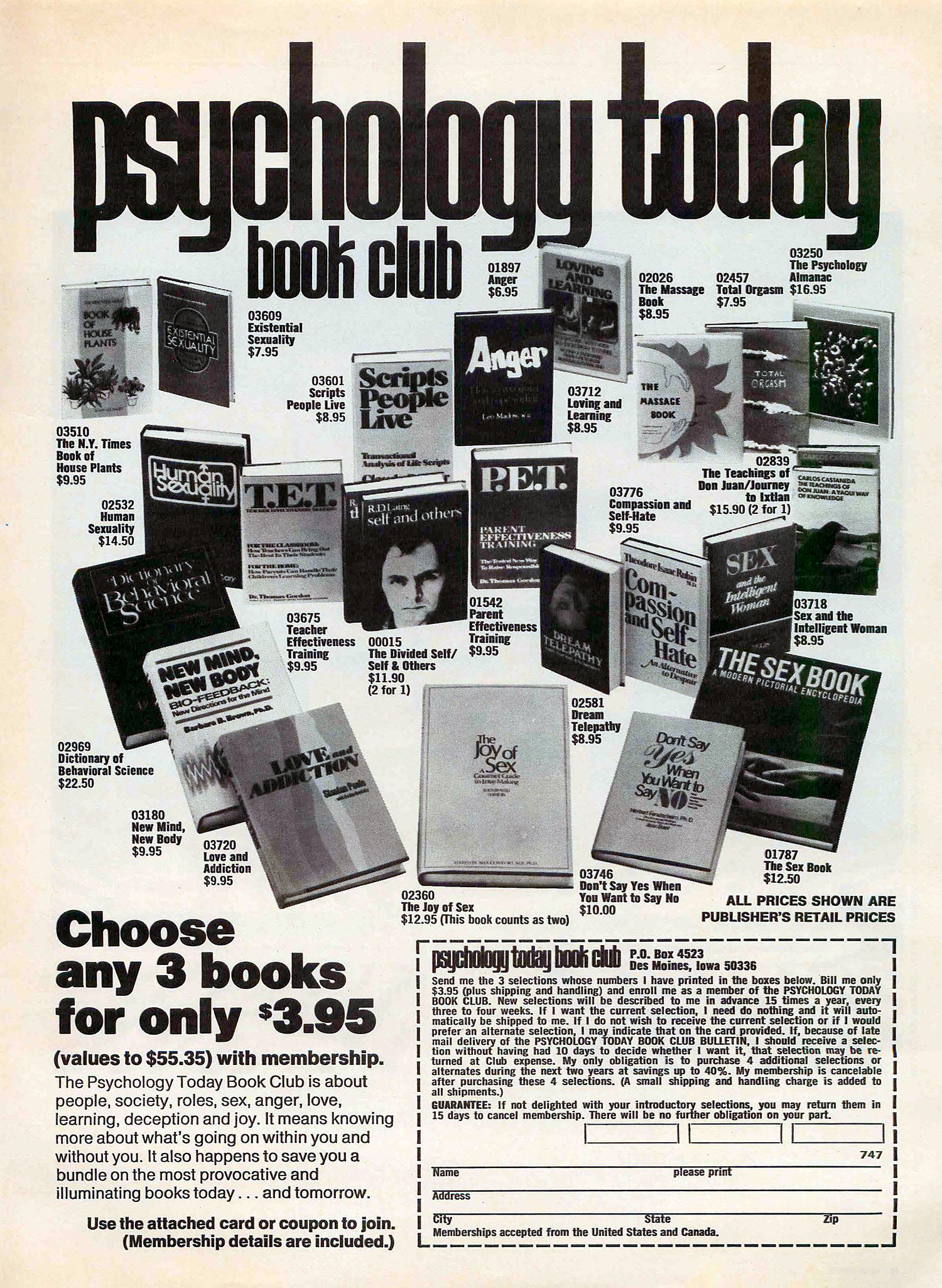 1975 Psychology Today Book Club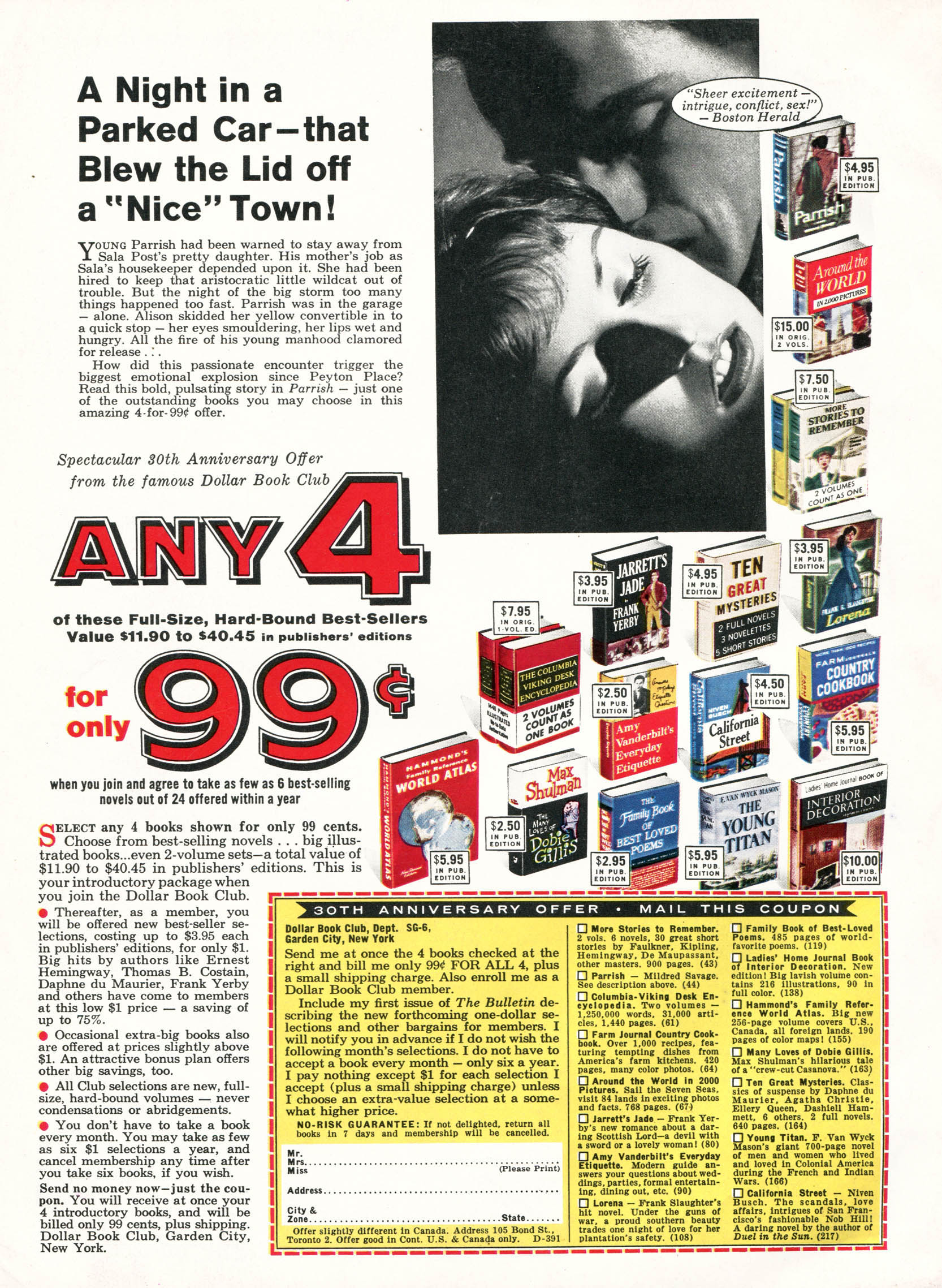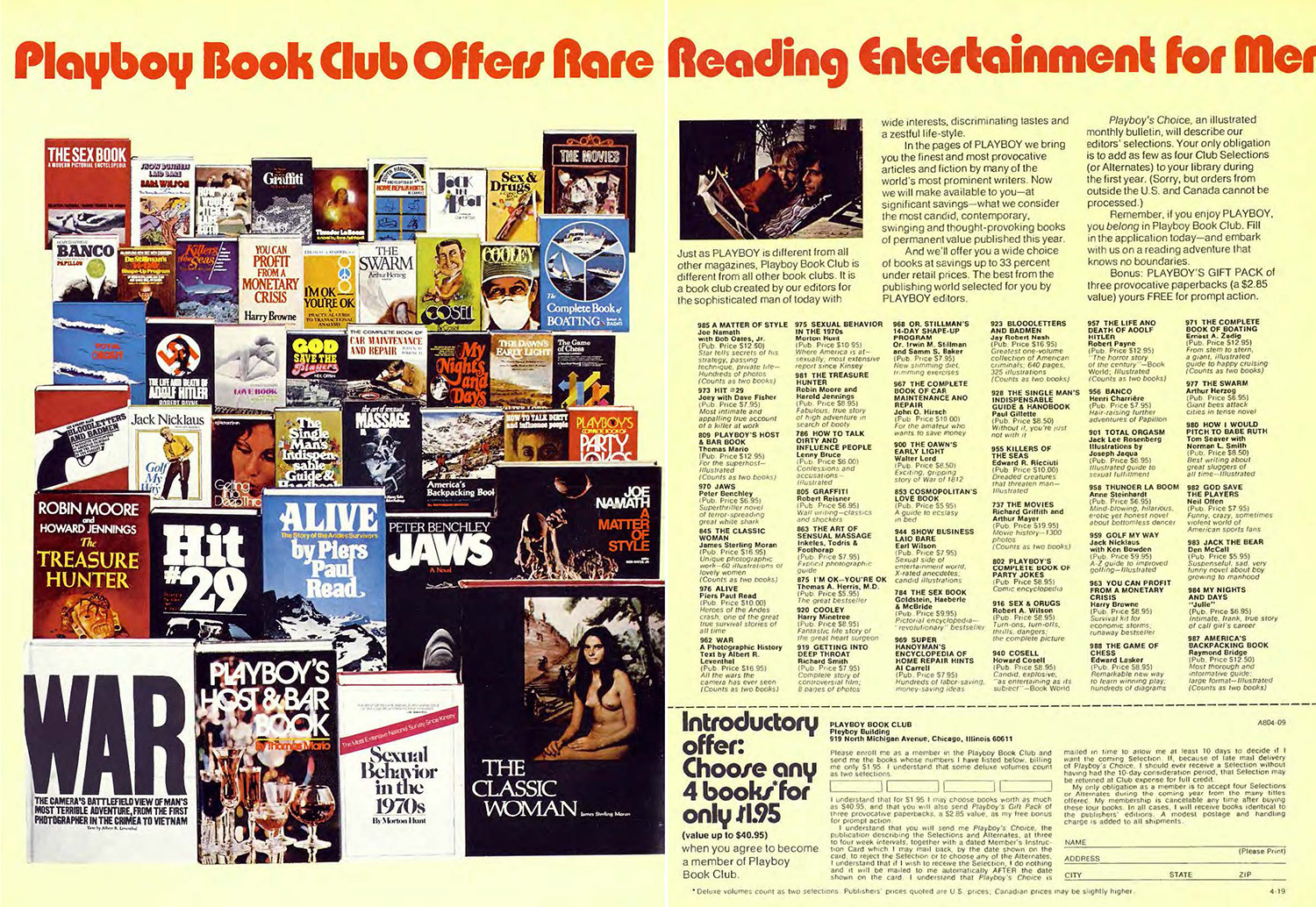 The 1974 Playboy Book Club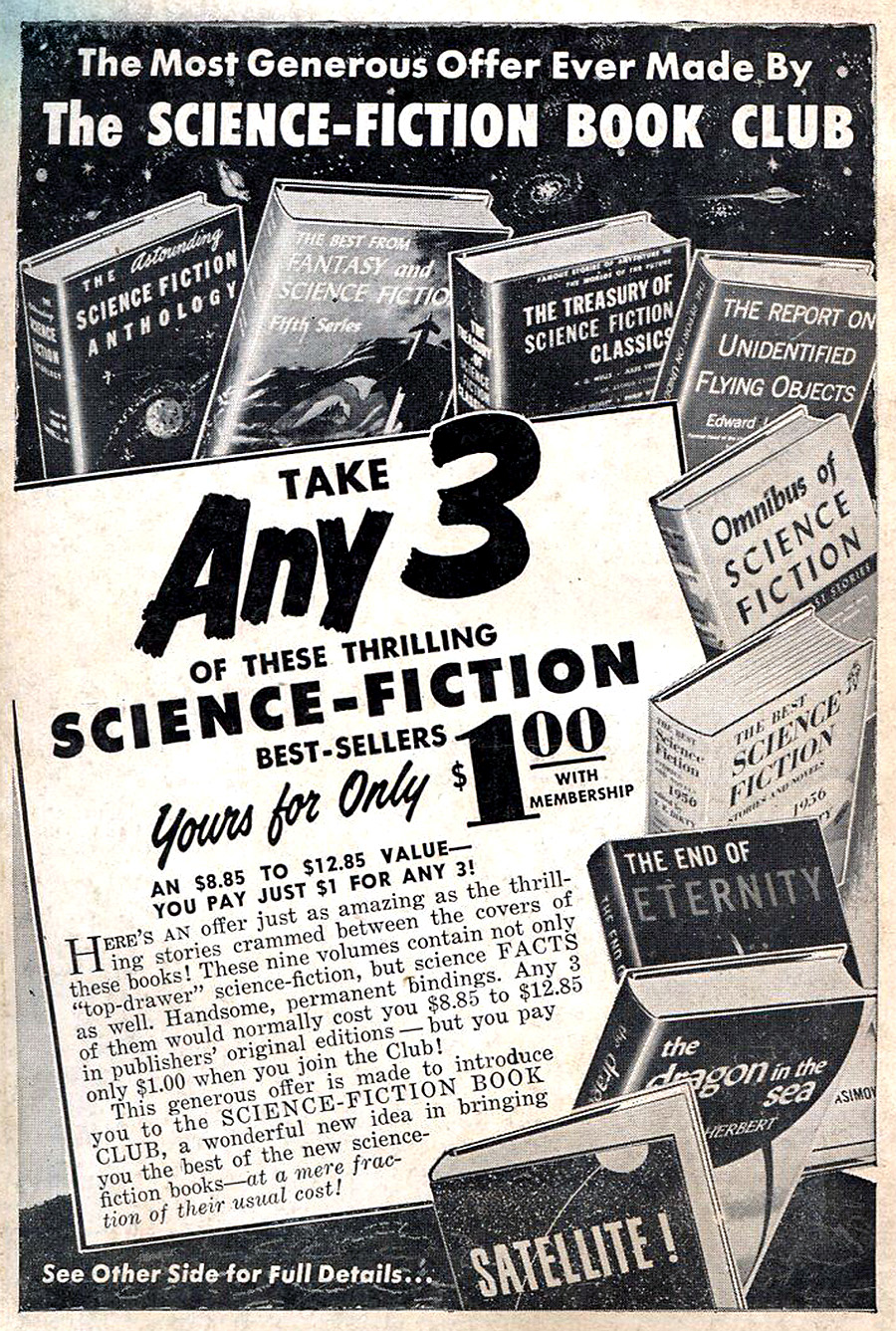 Science Fiction Book Club 1958