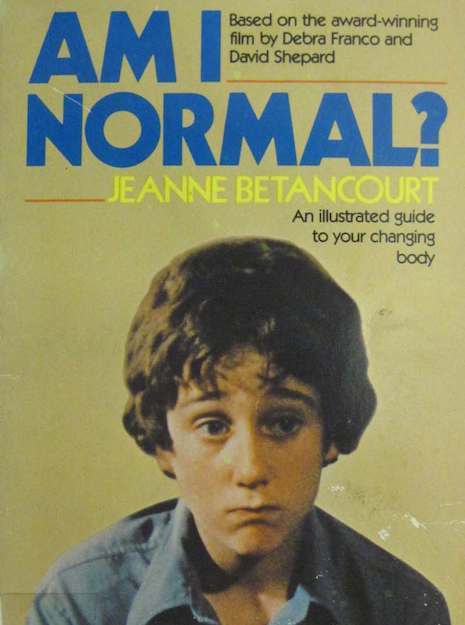 Children raised in the 1970s will remember the excruciating, well-intentioned sex education films that made us giggle, shrug, squirm and afeared. Let's look at one: the 1979 polemic Am I Normal?: A film about male puberty, brought to you by the Boston Family Planning Project and the Department of Health and Hospitals, and later (1983) adapted into a book.
Jimmy (Joel Doolin) is in his early teenagehood. He looks at his body and goes about asking adults, "Am I normal?"
His best pal doesn't talk to anyone. Sure he reads – but it's the wrong book. Young Tony studies a work called "Great Moments in Sex". No author's name is visible but my money's on Woody Allen.
In another scene, Jimmy wakes up with a spacey clanging noise in his ears, decorated sheets and a pressing desire to find out where the hell mom keeps the laundry stuff. Oddly, he doesn't speak to his mother about it, preferring to douse the soiled sheet with talc, stuff it into a massive hamper and lie.
But he does talk to other adults, like his father (an ancestor with a shared ignorance of laundry matters), who expresses an unsettling kink for baseball mitts and bats; a female librarian stood on a stool, of whom he asks, "I'd like to know about the male penis, please"; the eager school nurse; and the, er, local zookeeper, who assures Jimmy, "You've come to the right man. Let's face it, in this job I see a lot of penises… one's as good as another – just like noses."
We never get to know what Jimmy whispers into the 'keeper's ear, but the book tells us:
For a second I try to think up a different question, like what do you feed the monkeys, or something. But my courage comes back when I open my mouth. "Does the size of a penis tell you how much of a man a guy is?"
Armed with knowledge, Jimmy delivers a rousing speech to his doltish pal Tony (David Carr) and another young buck named Barry (John Perrigo). It's so good that zoo visitors stop and applaud, lining up to shake the lad's hand.
Then it's off to the cinema to see a movie with the girls and the guys. The film is apparently titled 'THE END'.
But there was a sequel. Dear Diary: A Film About Female Puberty aired in 1981. It featured the same cast and production team in what, for nearly all of them, was their last foray into the movie biz: