Laurence Alwyn looks a healthy lad. He was, says the original 1937 caption to the above photograph, "considered by some to be advanced for his age". It's the kind of idle boast you hear by the gates of any school. But not every mother was like Laurence's.
The captions on these old photos tell us more about Madame Lauri Alwyn "one of the foremost authorities on health education", who advertised her business as a "psycho-physical culturalist".
In December 1937, Laurence was a nine month old baby boy. He was, we read, "regarded by doctors to be physically a year in advance of his age…. His mother gives Laurence five minutes of special exercises per day in her flat in Wigmore Street, London, to help develop his body; he now weighs 28 lbs."
One special exercise involved swinging Laurence about by his advanced feet:
The 1930s were an interesting time for women's fitness. On March 7 1939, a few months before the beginning of the Second World War and just nine days before Germany invaded Czechoslavakia, a German woman called Gertrud Scholtz-Klink arrived at Croydon Airport. Described by Hitler as 'the perfect Nazi Woman', she was met at the aeroplane by the wife of the German Ambassador Frau von Dirksen. A few hours later Scholtz-Klink was introduced to Lady Douglas-Hamilton, more well-known as Prunella Stack, who, as leader of the 200,000 strong Women's League of Health and Beauty, was at the time one of the most famous women in Britain. Coincidentally the 25 year old Prunella Stack was also known as perfect and called 'Britain's Perfect Girl'.
You can read more about how close the UK came to being overrun by fascists in Two 'Perfect' Women. But this is about New Zealand's Madame Alwyn, a less dictatorial illiberal idealist than Hitler's uberfrau and any number of British aristocrats. Although Alwyn was inspired by the German fashion for "building a fine national physique, particularly in young women" (see the above newspaper extract).
We can learn more about Alwyn the health expert and baby swinger from newspaper clippings. She was behind The Alwyn Physical Culture Club, a women's only health group. Such clubs in the US, Britain and Australia involved regular meetings on the topics of healthy diet, exercise and beauty.
The Madame was an avid self-promoter, the personification of her own ideals.
A report in The Mail, South Australia, July 1, 1933, assures us that Madame was the embodiment of her methods:
Madam Lauri Alwyn Demonstrates Why She Looks as Young as Her Daughter
With the Alwyn way, children grew fast – adults reached an ideal and stopped.
An extremely interesting demonstration of modern physical culture was given at The Australia on Thursday evening by Madame Laurie Alwvn, world famous for her perfect figure, and her beautiful daughter, Miss Evie Alwyn. Madam Alwyn spoke convincingly on the necessity for scientific daily exercise. The Alwyn system of physical culture emphasises the importance of relaxed effortless movement, as opposed to the general method of jerky, fatiguing, tense movements.

Alwyn first demonstrated erect health and slimming exercises, which were extremely graceful. Next we were shown medical and remedial exercises for the correction of functional disorders. Madam Lauri Alwyn gave a series of self-expression movements which clearly indicated the suppleness of her youthful figure. "Muscles were made for movement," said Madam Alwyn. She explained that inactive muscles were responsible for sagging facial contours.

Two expressionalistic dances from Central European Schools gave Miss Alwyn a further opportunity at displaying her talent and vitality.
On Saturday 17 February 1934 Australia's Newcastle Morning Herald and Miners' Advocate had more on the health advocate, who was both 'Madam' and 'Madame'. Why she was either is something that's not easy to discover. Was the title a marketing ploy, a dash of calculated Continental mystique to entice provincial women to join her mission? She knew how to sell herself, advertising her wonderment in the Aukland Press:
Madame Lauri Alwyn, who has arrived in Newcastle with her daughter, Miss Evie Alwyn, to deliver a series of addresses on health and happiness, said in an interview yesterday that the ideal of beauty was within the reach of everyone, because it had to do with charm, personality, and efficiency. Personality was more powerful than good looks, and more effective than intellect.

Referring to the youth of any nation, Madame Alwyn said that after middle age most people developed an antagonism to youth, but in her opinion the youth of today were much better and had a saner outlook than they had 20 years ago. This was her impression after travelling in almost every country in the world. Through out these countries she has delivered addresses, and established health centres. England had become health conscious, and everyone there was taking a common sense diet, Madame Alwyn declared. She does not advocate a meatless diet, but states that attention paid to diet will remove many health faults.

Foods produce moods, she says. Some have a tendency to optimism, and others are depressing.

Her repertoire includes business efficiency, psychology, dietetics, philosophy, child welfare, maternal welfare, sex instruction. She is recognised as a fashion expert, and is able to "type" people and change them, as is done in Hollywood, if necessary.

Madame Alwyn is a native of New Zealand, and for the last 11 years has spent her time in visiting other countries, seeking additional information, delivering addresses, and establishing centres. She has worked in the west part of Australia with the Country Women's Association and Fresh Air Leagues, and given instruction on how to prevent disease, and how to prevent that condition of hopelessness which, she says, overtakes married women when they reach middle-age.

Madame Alwyn avers that Australian women are remarkable. No women in the world except peasant women work as hard as they do. and appear as fresh as they do at parties at evening, she states. She is at present giving instruction in Court procedure to a group of girls in Sydney, so that when Prince George arrives in Australia they will be able to feel that they are actually doing the right thing.

The object of her talks is to interest men and women in the health cultural movement and to interest them in themselves, their families, and their homes, thus enabling them to get the best out of life.

Yesterday she addressed the members of the Happiness Club in Newcastle. Her next address will be given at the Central Hall on Sundays night. Addresses will also be given during the week.
Those Fresh Air Leagues were not all that wholesome by today's mainstream standards of what constitutes a sound mind. Light Therapy, once all the rage, was going out of fashion. The growing trend was for sunbathing in the great outdoors. In 1927, New Zealand's First Sunshine League club opened in Aukland. In 1931, the organisation held a conference in Christchurch, chaired by Anglican Archbishop Churchill Julius with the Minister of Heath and League instigator Cora Wilding in high-profile attendance.
As Caroline Daley writes in Leisure and Pleasure, the Sunshine League was Inspired by Dr Caleb Saleeby's Sunlight League in England. The aim of both outfits was clear: fresh air and sunlight were good for you and good for the country. It was your civic duties to strengthen your bodies through sunlight.
In 1924, eugenicist and clean-air campaigner Saleeby wrote to The Spectator:
Very late in the day, but not too late I hope, we are remembering that " In the beginning, God said, Let There be Light." The protests of John Ruskin, so long ago, against the " plague cloud," are found to understate the truth. Smoke and slums and brick and even window-glass–opaque to ultra-violet rays—are seen to immure and stifle, to bleach whilst they blacken, the children whom Heaven meant to be children of light. The lifelong arguments of some few of us have been verified by the laboratories of a dozen countries during the last few years. Everywhere medical men are ordering lamps of various types for the practice of artificial phototherapy upon patients who cannot go to Switzerland, New discoveries, certainly epoch-making, have already been made by the Committee on Light, the first in the world, appointed by the Medical Research Council, at my suggestion, early in 1922.
The sunlight is our common heritage and our common need. The nation's children, our future, all need it even more than the fortunate few who can repair to their villas on the Riviera when the " November particulars " return. The restoration of sunlight to our malurbanized millions is the next great task of public health in our country.

The Sunlight League has been formed to point to the light of day, to advocate its use for the cure of disease— "helio- therapy" ; and, immeasurably better, for preventive medicine and constructive health, the building of whole and happy bodies from the cradle and before it, which we may call helio-hygiene. Many distinguished persons have joined the movement, which is being inaugurated at Carnegie House this week. It is national, and aimed against no party nor class, nor interests but such as rob us of our sunlight, turn our cities in winter into cold hells, and call the process industry, or imprison children in shadow and call the process education. We ask you, Sir, and your readers, to support a campaign for sunlight and for education about it. We have not forgotten, in our zeal for the light of the sun and our hatred of the diseases of darkness, that Shakespeare said "There is no darkness but ignorance."—I am, Sir, &c., C. W. SALEEBY The Sunlight League, Temporary Office, 20 Park Crescent, London, W.
Also in attendance at that Aukland meeting in 1931 was Professor John MacMillan Brown, Chancellor of the University of New Zealand and a keen eugenicist.  Those "unfit to breed" the Prof. wanted sterilised. Such a view positioned Brown on the side of Saleeby and other fans of the "science of improving a population by controlled breeding to increase the occurrence of desirable heritable characteristics" (OED) – people like Marie Stopes, HG Wells, Helen Keller (a "weeding of the human garden that shows a sincere love of true life"), Adolf Hitler, Jacques Cousteau and Winston Churchill.
The Sunshine League vowed to "exchange racial deterioration for racial improvement".
All unpleasant stuff. And all very mainstream in the 1930s. Hitler and Mussolini did not win popular support by force alone. They were of their time. They represented accepted doctrine.
And so to the prolific Madame Alwyn, author of such tomes as Lauri Alwyn's diet chart: for perfect health and figure contour (1930) and What Shall We Eat for Health and Beauty?: A Book on Common Sense Diet Tested Recipes.
She called the English breakfast an "appalling meal" – "I say scrap the frying pan. I do not like food cooked in a frying pan, and it does not encourage beauty. The only nourishment in this ordinary breakfast is in the fat of the yolk of the egg, the butter on the toast and a little fat from the bacon." Her day began with a lemon drink without sugar, oranges, figs, dates apples "and, if I were a manual worker, some fish. Never meat."
Adding that "one should never count butter. Butter is most necessary in a growing child."
Alwyn was prolific. She had a range of clothing for your new figure. In 1935, she gave a fashion 'Vision' parade in Perth, Australia. Madame opined: "Everyone should be educated in selecting their clothes, and above all, to know when to wear them when they have been bought." The show also featured go-ahead fashions for dogs.
She had spoken on fashion numerous times, not least in the Kalgoorlie Miner (May 1933):
"A dress sense," says MMame Alwyn, "is equally important with means when purchasing clothes"… This season she has chosen royal navy and grey as her colour scheme… A peep at a few items in her wardrobe trunks reveal, new ideas from London and the Continent. Among them a black evening gown of Japanese plush with chromium plated chain shoulder straps and buckle shows the tailored lines of the newest mode. A parma violet gown of watered silk (from Berlin) has panniers and a definite train. One striking evening gown of white, angel skin lace and georgette shows the new ruching of taffeta on arm hole and skirt, and has the high neck line decreed by Dame Fashion to take the place of the backless frocks of last year.

A coat of white fur for evening wear has 'angel wing' sleeves, wide and slashed under arm to form a capo effect and reveal the wearer's beautiful arm in passing. Necklets of tiny beads threaded in 'foam' effect' match black and white crystals in a smart magpie effect – achieved with a white angel skin gown and lovely feather fan of black ostrich.
The local miners must have gone wild for the Alwyn look.
As for Alwyn's private life, we know that she married. The West Australian announced her wedding to a local man on Saturday 9 November 1935:
MADAME LAURI ALWYN MARRIED

Madame Lauri Alwyn, the physical culture lecturer, was married in Perth afternoon yesterday to Mr John Cameron Doyle, a Queensland pastoralist. The ceremony was performed at the Perth Registry Office by the District Registrar. Mr. Doyle arrived in Perth yesterday morning from Brisbane by the Great Western Express. Doyle is engaged in physical culture lecturing work in Perth, and it is understood that she and her husband will remain here until after Christmas.
We also know her life was not without controversy:
Alwyn's career survived scandal and the war. In 1945, The Palm Beach Post advertised Alwyn in typical humble fashion. She was the 'Lecturer of the century":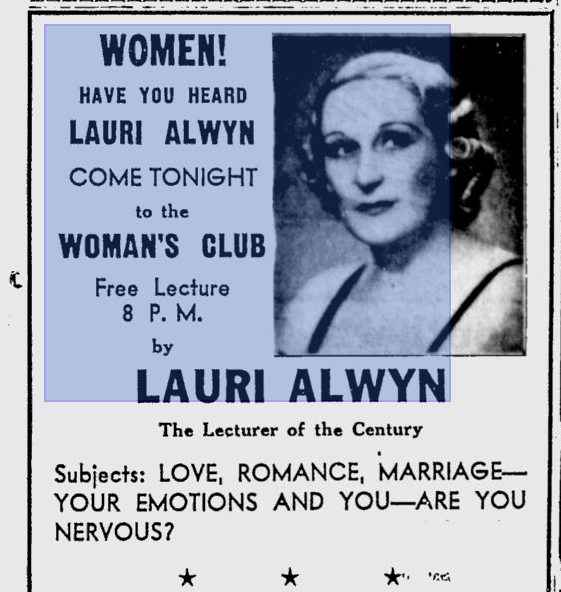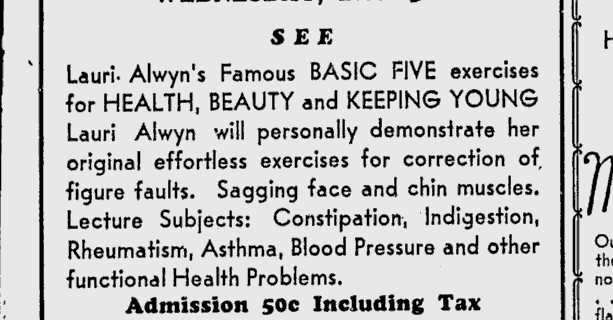 The Miami News reported on Jan 6, 1946: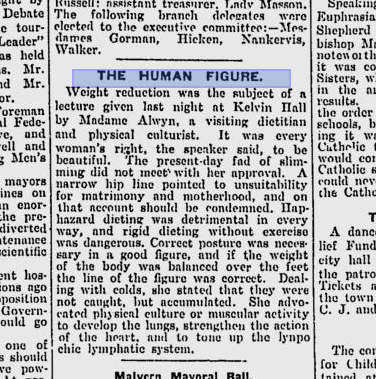 The trail then goes a little cold. In 2006 The Manuwatu Journal of History profiled the great instructor, harking back to her enduring influence on the lives of New Zealand's women: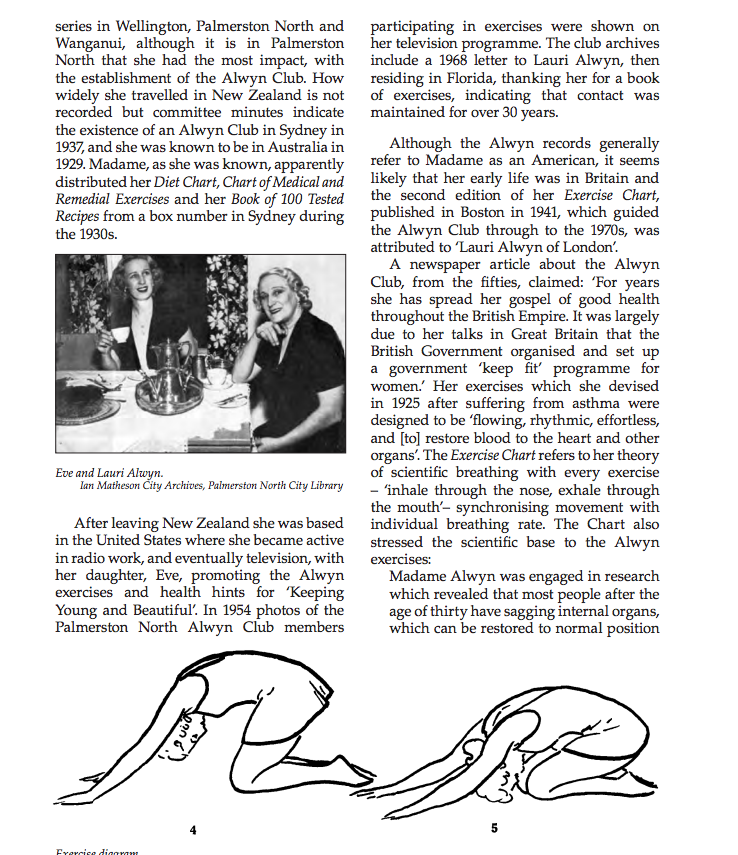 The New Zealand library service tells us that Alwyn moved to Florida, and there no records held there of her death in New Zealand.
We've already seen a hint of working life in Florida.
But we have a few clues as to what became of her.
We know that Evie went with her mother to the USA. Before emigrating, in 1933 Evie Awlyn graduated London's RADA with a Diploma in acting.
In 1973 Alwyn's husband John Cameron Doyle died in South Africa. He was married at the time to his second wife Iris De La Porte.
And we have found, after no small searching, that Laura Alwyn Doyle died in 1998 – and that she had been born Laura Alwyn Exton in 1902.
So over to you, the readers. Did you know the great Madame and her family? Do you have any copies of her manuals and books? It is odd that a woman so in the public eyes should have slipped away.