The art and artfulness of crying lik a politician:
Ken Livingstone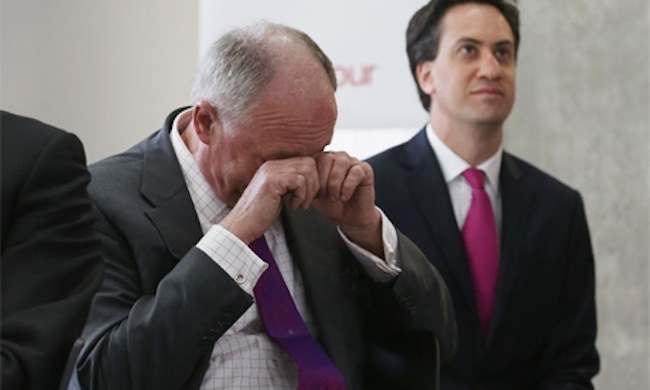 NORMALLY, one would feel sympathy for anyone reduced to tears by a Ken Livingstone campaign video. But when the blubber is Ken himself, and the tears are in full public view and in the presence of his own party leader, the response is likely to be rather different.
But Ken – who as Mayor of London once broke down while apologizing for the city's role in the slave trade – is merely the latest in a long line of politicians who have broken down in the glare of the spotlight.
Ken's illustrious weeping predecessors include men such as Abraham Lincoln and Winston Churchill – the latter crying openly and frequently in the House of Commons.
Here we celebrate that familiar, and not always honourable, tradition…
Ed Muskie
Back in 1972, crying was a big deal. When Democratic candidate Ed Muskie was reported to have broken down while defending his wife form accusations of drinking and bad language, it dealt a fatal blow to his presidential aspirations. We say "reported", because Muskie claimed that the alleged tears were in fact melted snow flakes. Watching the footage, he seems to have a point…


Bob Hawke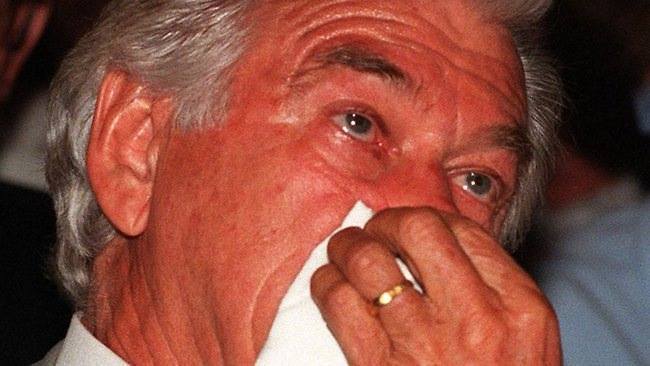 The hard-drinking Aussie Prime minister (and self-styled "Australia's mate") was something of a groundbreaker down under when it came to public blubbing. He shed tears on national TV as far back as 1984 when speaking of a drug problem in his family, and in1989 when admitting to being unfaithful to his long-suffering wife Hazel. But things weren't always so sad…
President Bush
George Bush junior was not averse to quivering his lip in public, but his daddy was the daddy…
President Clinton
The Clintons are a famously lachrymose couple, but some tears seem more genuine than others. Judge for yourself as Bill, attending the funeral of former colleague Ron Brown, appears to switch from laughter to tears at the precise moment that he notices he is being filmed…
John Boehner
As the new speaker of the US House of Representatives, serial blubber John Boehner celebrated victory in the only way he knows – by turning on the waterworks.
"I spent my whole life chasing the American dream. I put myself through school… working every rotten job there was and every night shift I could find," he wailed. "I poured my heart and soul into running a small business – and when I saw how out of touch Washington had become with the core values of this great nation, I put my name forward and ran for office."
And as we know when America calls, Boehner's tears are sure to fall…
Gordon Brown
And finally back to Britain.
No one blamed Gordon Brown for welling up at the thought of his daughter's death. But some might criticise his choice of venue – a TV studio containing Piers Morgan. Sadly for Gordon, his subsequent election campaign ended in tears too.
Note: These pictures are taken from the web. They contain no copyright details. If they are yours, please get in touch and we will remove them