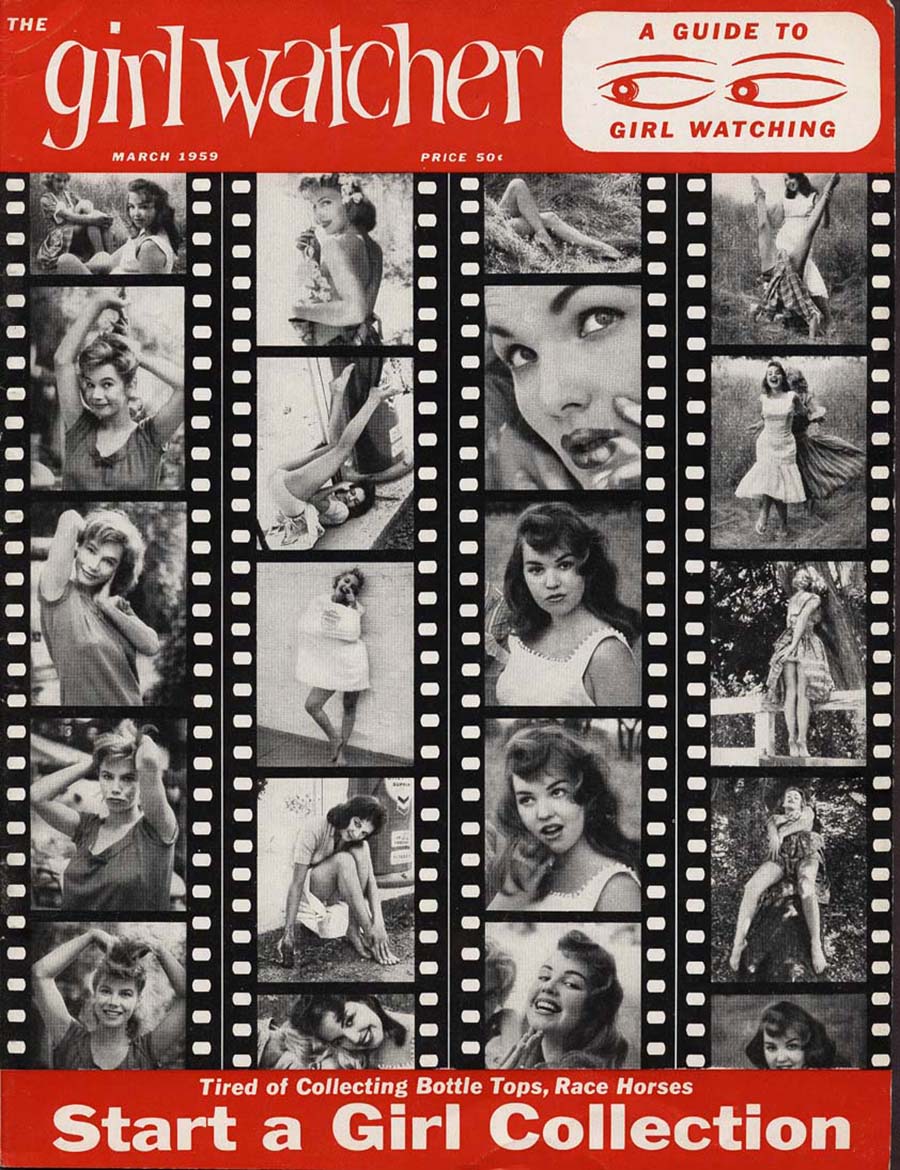 Are you a perverted stalker who likes to take pictures of your unsuspecting victims? If so, then I highly recommend The Girl Watcher: A Guide to Girl Watching. 
What exactly is The Girl Watcher: A Guide to Girl Watching? The first page explains all:
"Official International Journal: A Handy Handbook for GIRL WATCHING Dedicated to all Serious Scholars and Connoisseurs of Beautiful Women. Latest Reports from Enterprising, Ardent Devotees Throughout the World."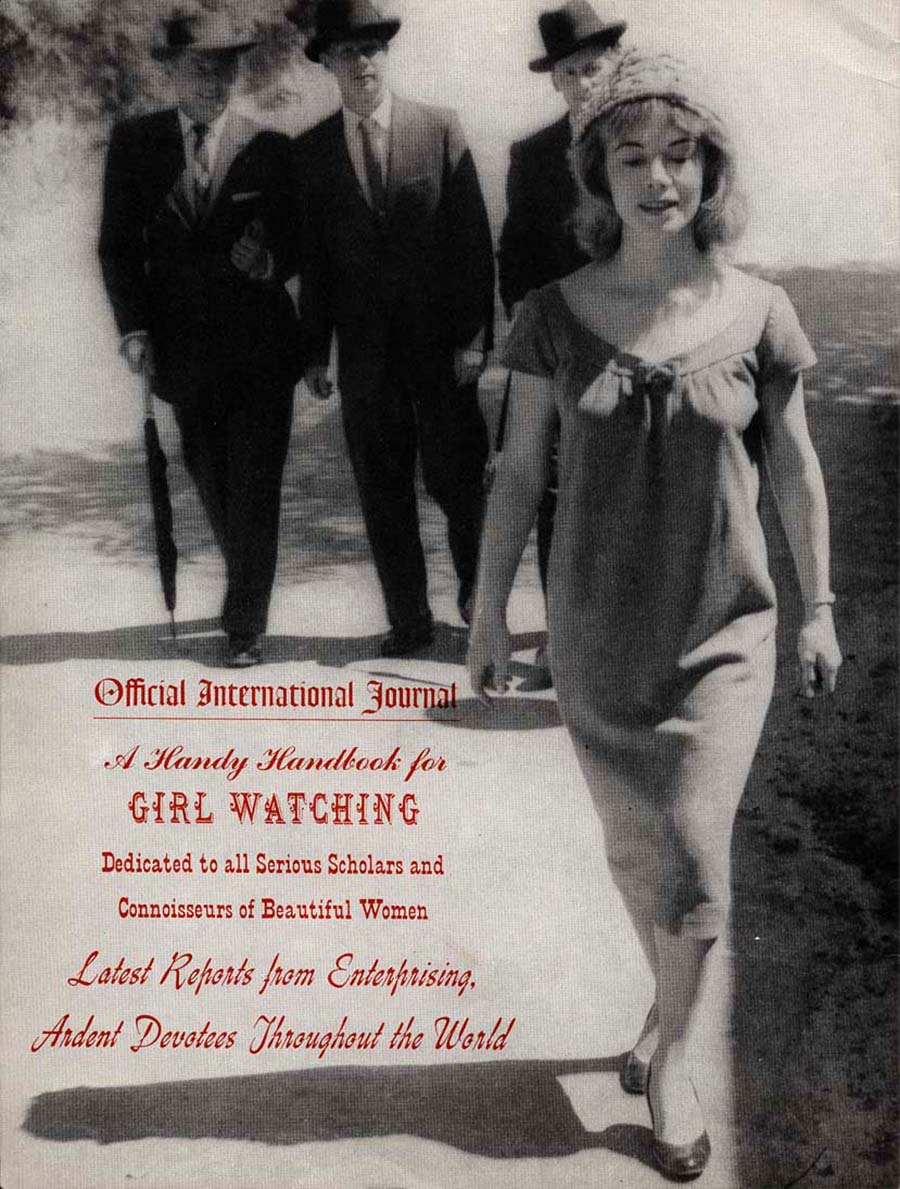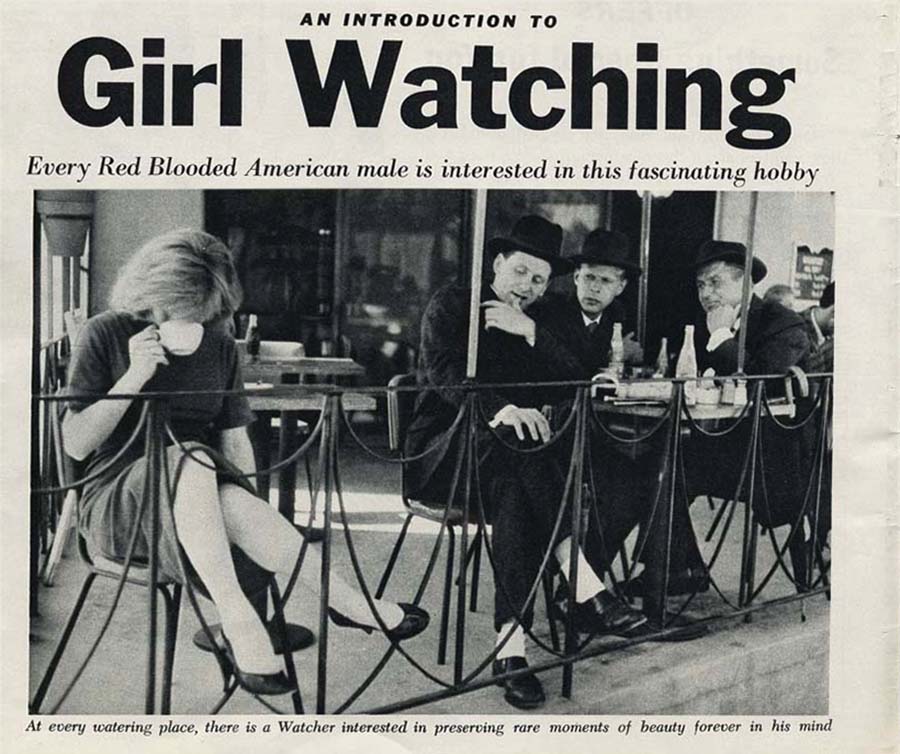 Our adventure begins with an introduction to Girl Watching.  The authority which provides our intro is Christopher C. Tinker, national president of AGWA (Ardent Girl Watchers' Association).  According to Tinker: "Applications for membership are pouring in by the mail bag."  Indeed, "Girl Watching Clubs are spreading like a brush fire across the nation."

"They overlook the day's news to look over the day's girls.  Some take samples home to laboratory for further study."
According to the article, "Girl watching is edifying, transporting and fulminative. Today's girl watcher is the connoisseur of the day, of the female figure come to its fruition."
Clearly, the authors of this tome, The Girl Watcher: A Guide to Girl Watching, have their tongues firmly planted in their cheeks.  That being said, while they are being light-hearted about it, this isn't satire – this is really a read for a girl-watchers.  Let's read on…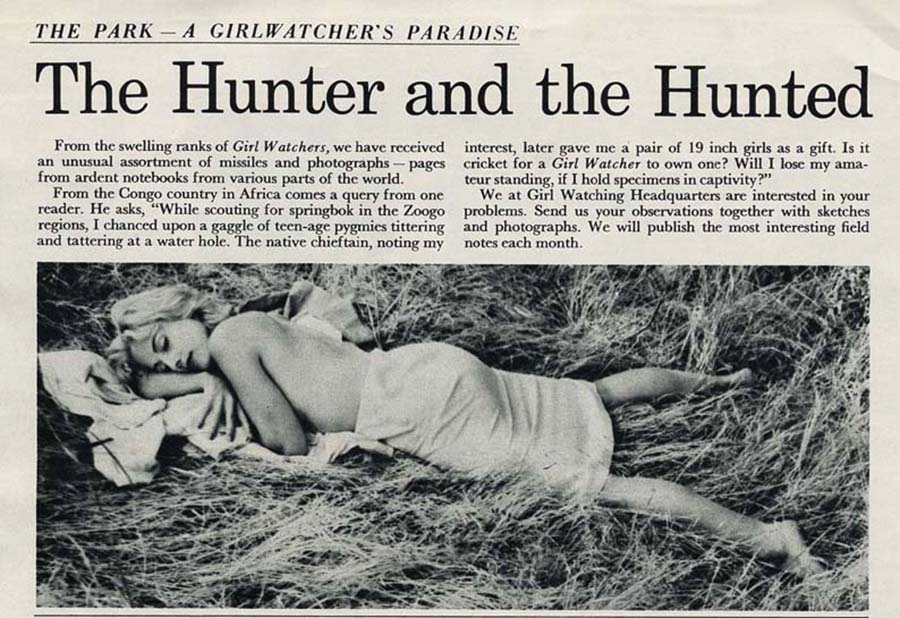 Apparently, the local park is a girl watcher's paradise.  Presumably, the girls are "the hunted" and the guys are "the hunters".  A bit concerning, wouldn't you say?
The next section asks: What Kind of Girl Watcher Are You?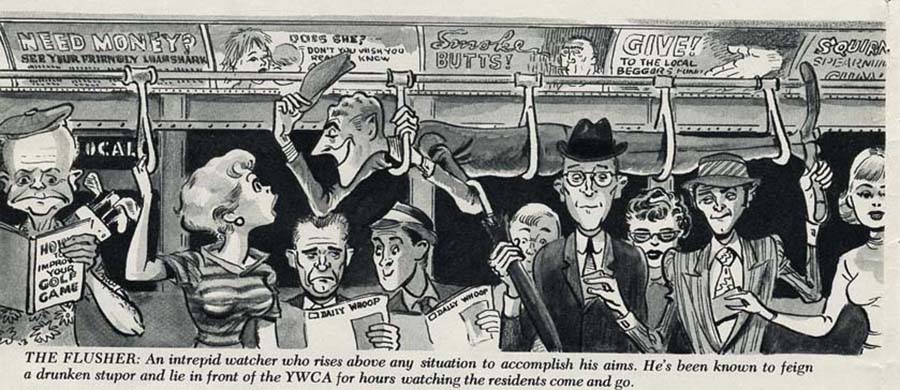 THE FLUSHER: An intrepid watcher who rises above any situation to accomplish his aims.  He's been known to feign a drunken stupor and lie in front of the YWCA for hours watching the residents come and go.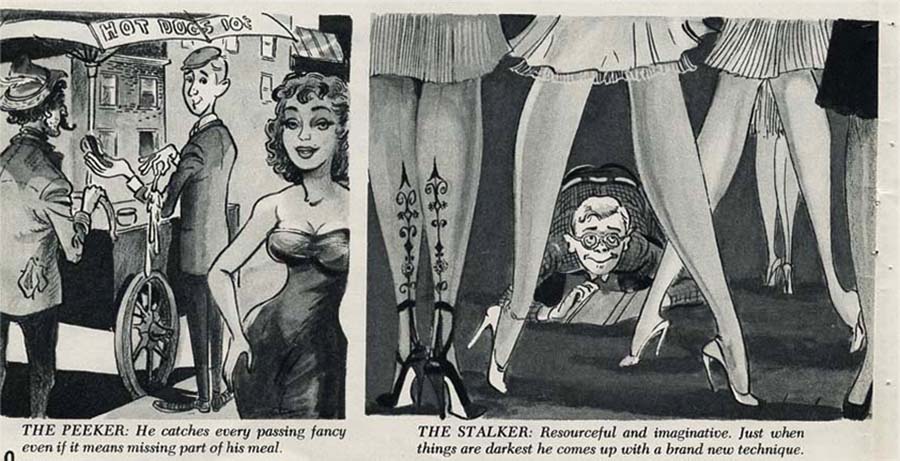 THE PEEKER: He catches every passing fancy even if it means missing part of his meal.

THE STALKER: Resourceful and imaginative.  Just when things are darkest he comes up with a brand new technique.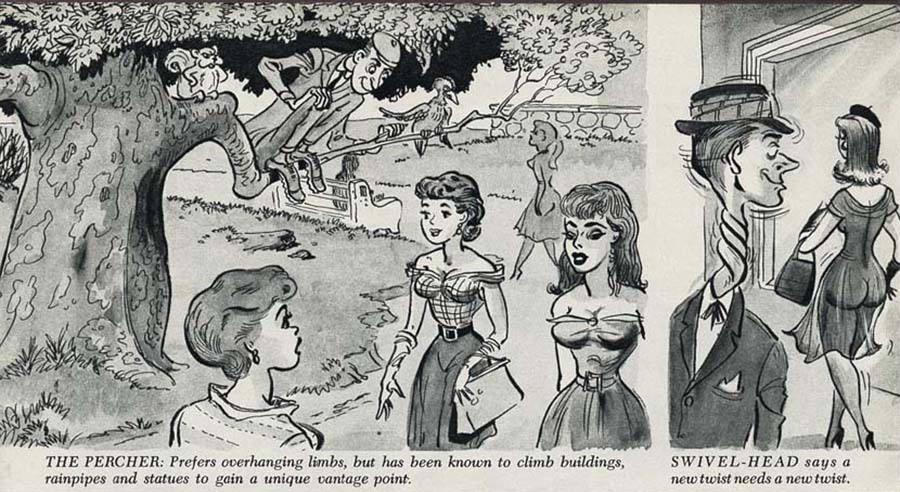 THE PERCHER: Prefers overarching limbs, but has been known to climb buildings, rainpipes and statues to gain a unique vantage point.

THE SWIVEL-HEAD: says a new twist needs a new twist.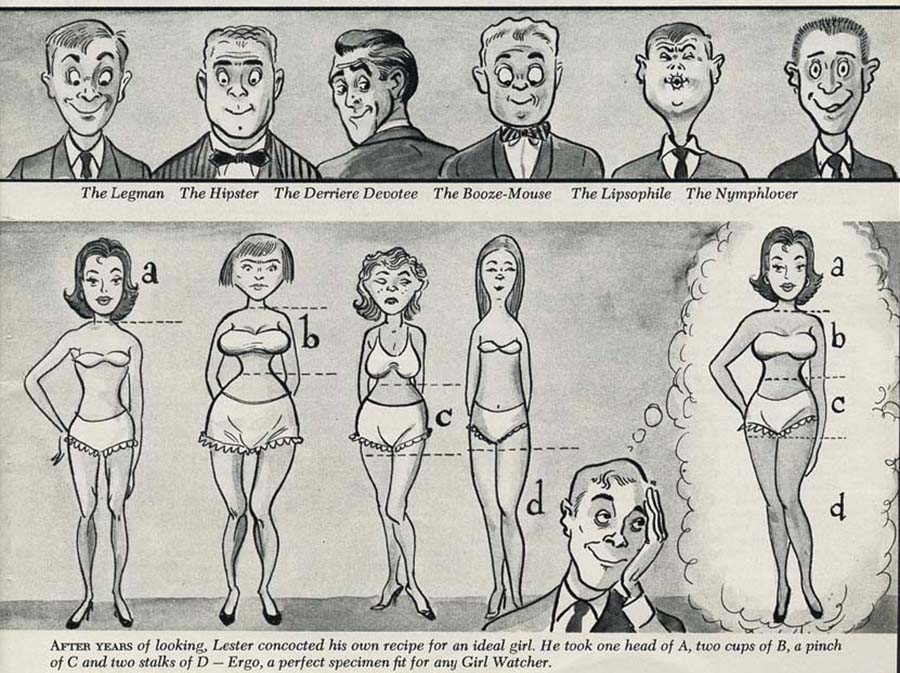 The many varieties of girl watchers:
The Legman, The Hipster, The Derriere Devotee, The Booze Mouse, The Lipsophile, The Nymphlover
Which is creepiest? It's hard to say, but for some reason, if I were a woman, I'd be most afraid of the Booze Mouse.
"After years of looking, Lester concocted his own recipe for an ideal girl.  He took one head of A, two cups of B, a pinch of C and two stalks of D – Ergo, a perfect specimen fit for any Girl Watcher."
If you weren't disturbed before, that ought do it.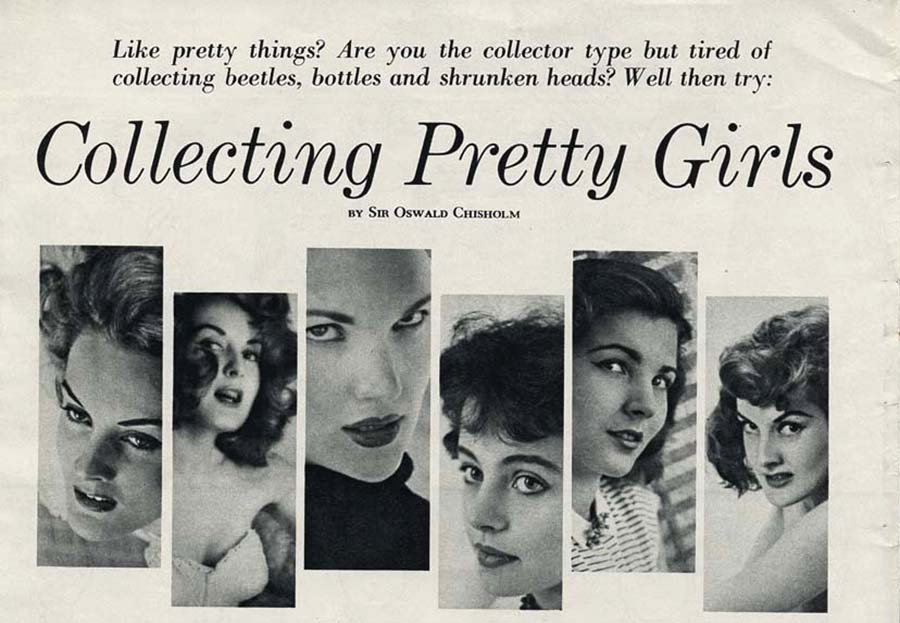 Dear God, just when you thought it couldn't get any creepier, they come at you with this article:
"Like pretty things? Are you the collector type but tired of collecting beetles, bottles and shrunken heads?  Well then try: Collecting Pretty Girls"
In this article we are told of a perverted girl watcher who pretends to be a millionaire and goes to an orphanage (for young nubile girls, apparently) and picks his bride from a lineup.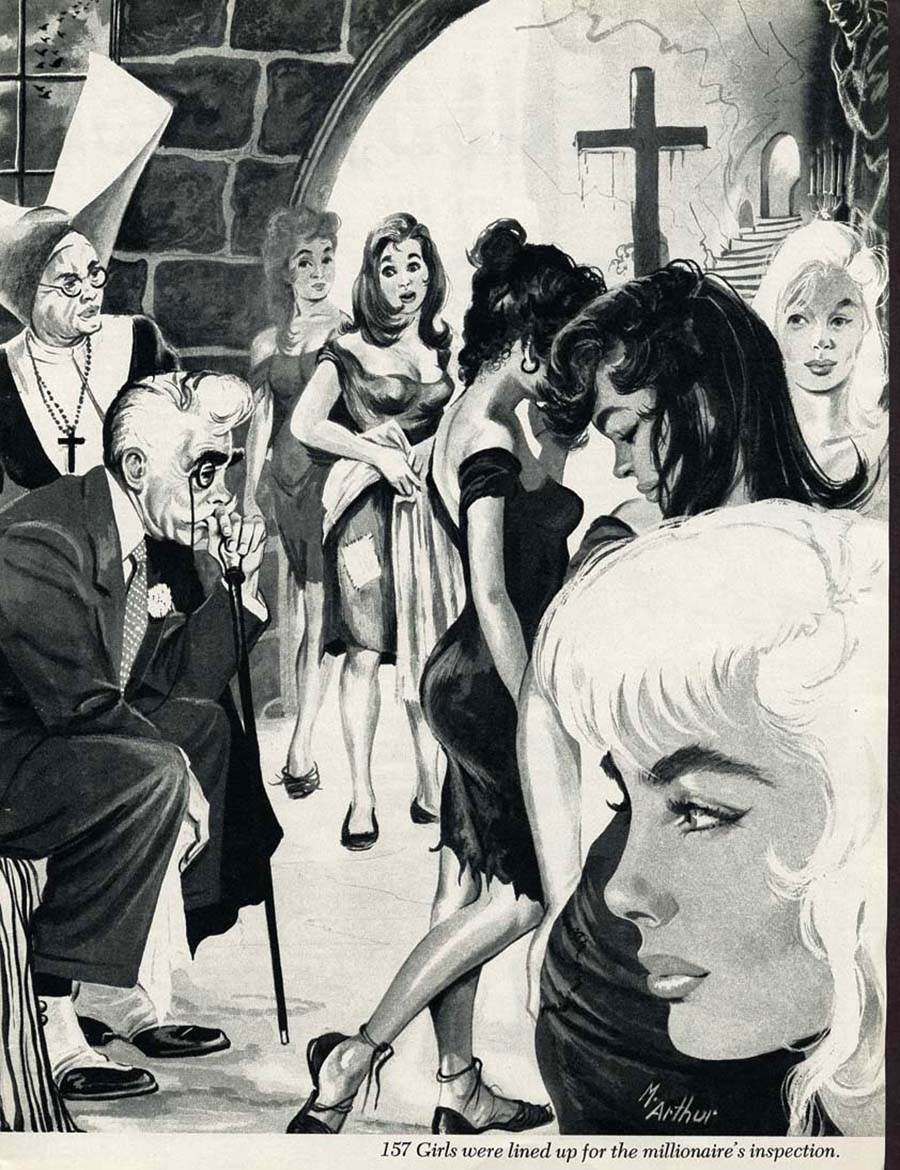 Next, we are treated to a charming little tale called "The Bobbysoxer and the Loaded Gun"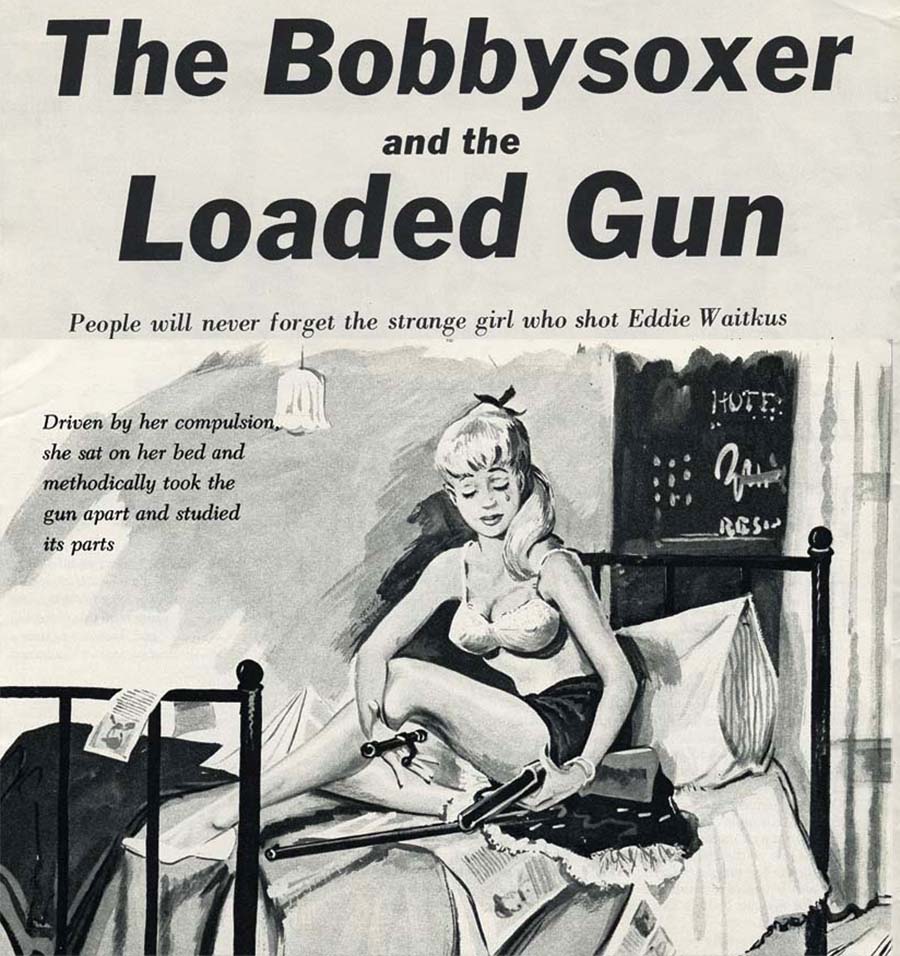 It's actually a bizarre story which has nothing whatsoever to do with girl watching.  It's just about this mentally deranged teenager who shoots her sweetheart because she's nuts.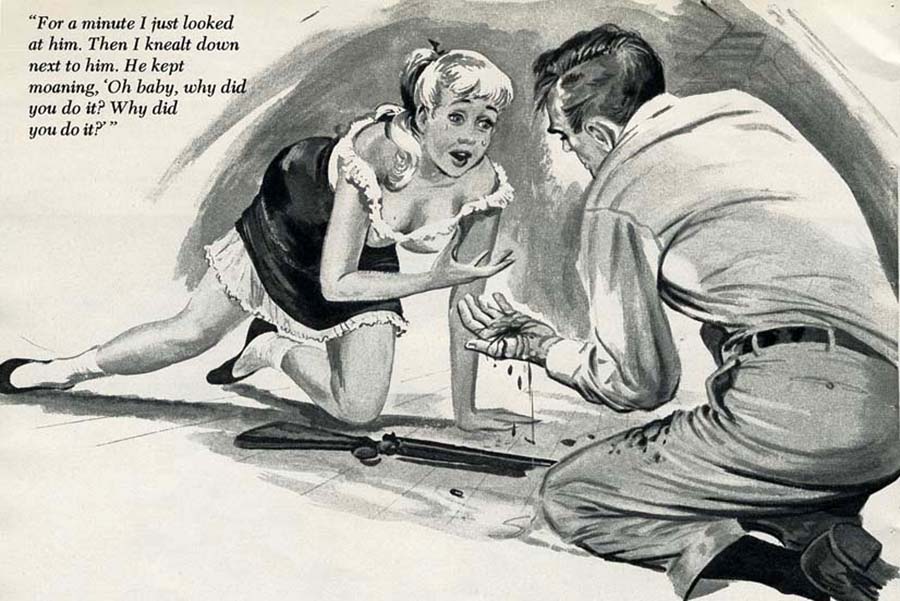 Next, an article on Earl Leaf (AKA Loose Leaf), the photographer who helped launch Marilyn Monroe's career.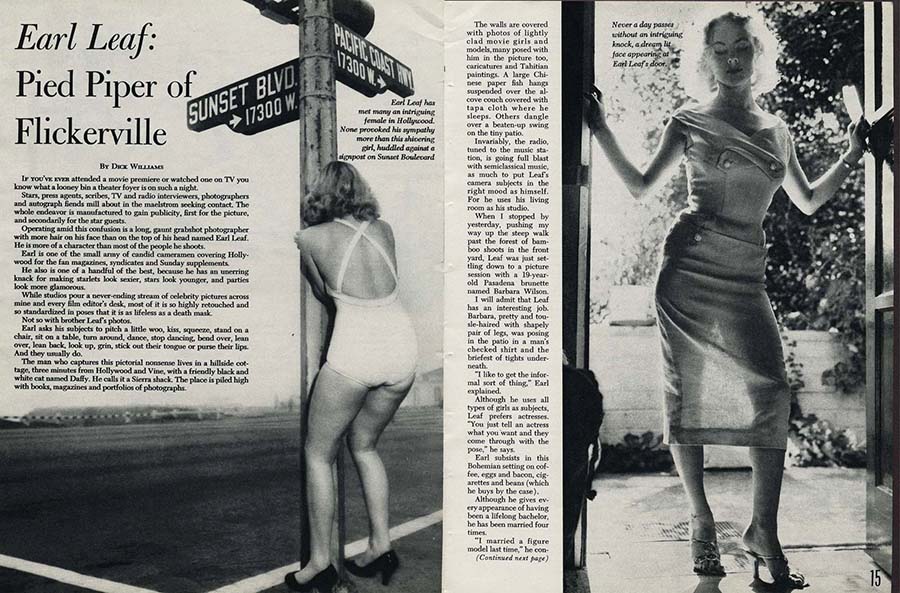 An article on Leaf is right at home in Girl Watchers, as Leaf was famous for taking photographs of starlets in their bedrooms.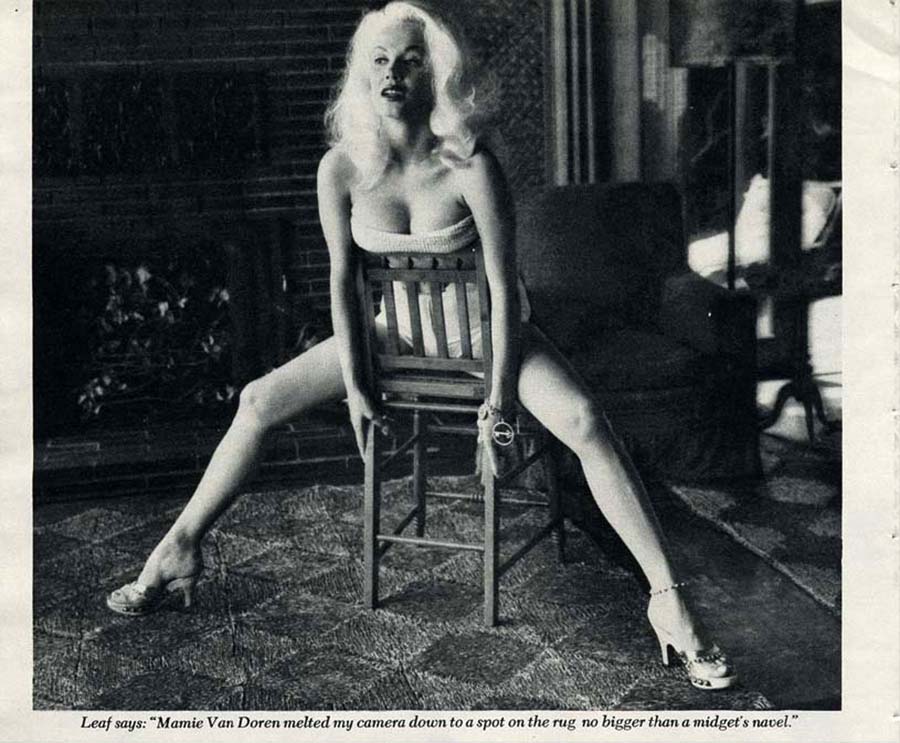 "Mamie Van Doren melted my camera down to a spot on the rug no bigger than a midget's navel."
Leaf had quite a way with words.
THE ANSWERS TO ALL YOUR GIRL WATCHING PROBLEMS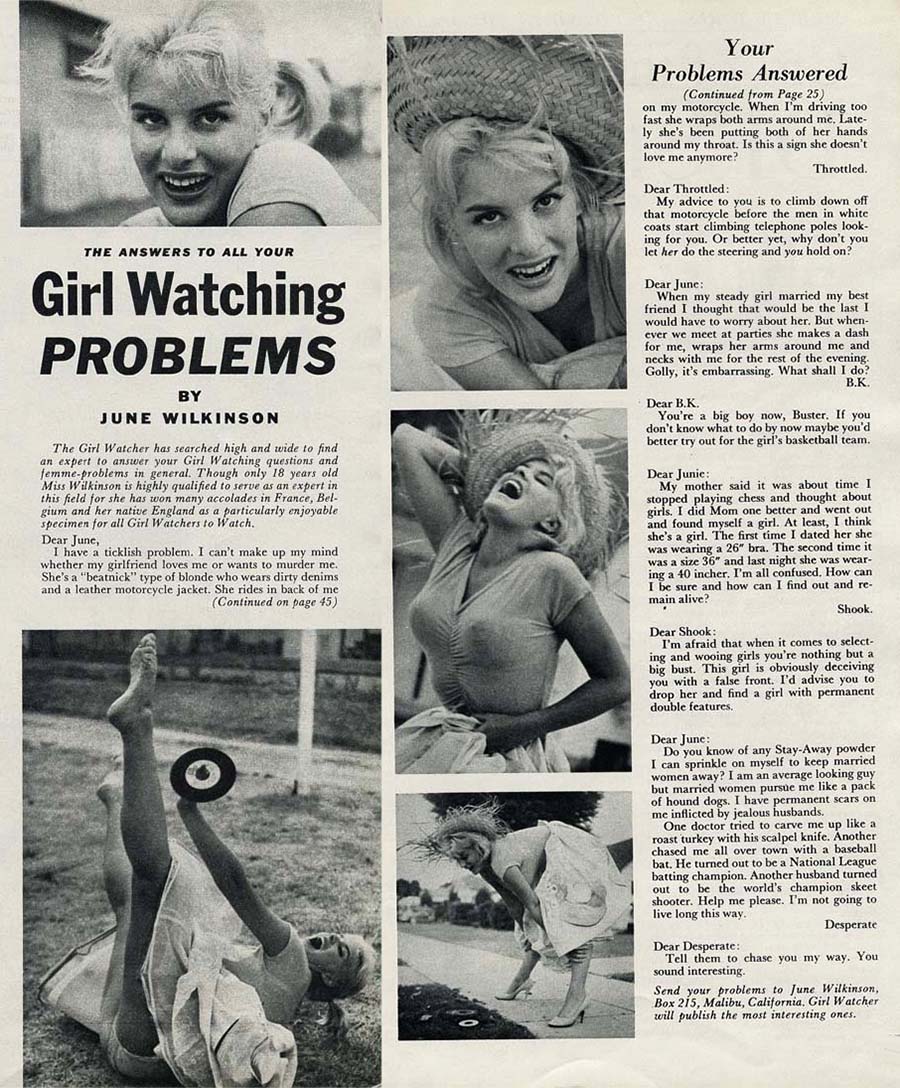 Dear June: When my steady girl married my best friend I thought that would be the last I would have to worry about her.  But whenever we meet at parties she makes a dash for me, wraps her arms around me and necks with me for the rest of the evening.  Golly, it's embarrassing.  What shall I do? B.K.

Dear B.K.: You're a big boy now, Buster.  If you don't know what to do by now maybe you'd better try out for the girl's basketball team.
Gee, thanks June.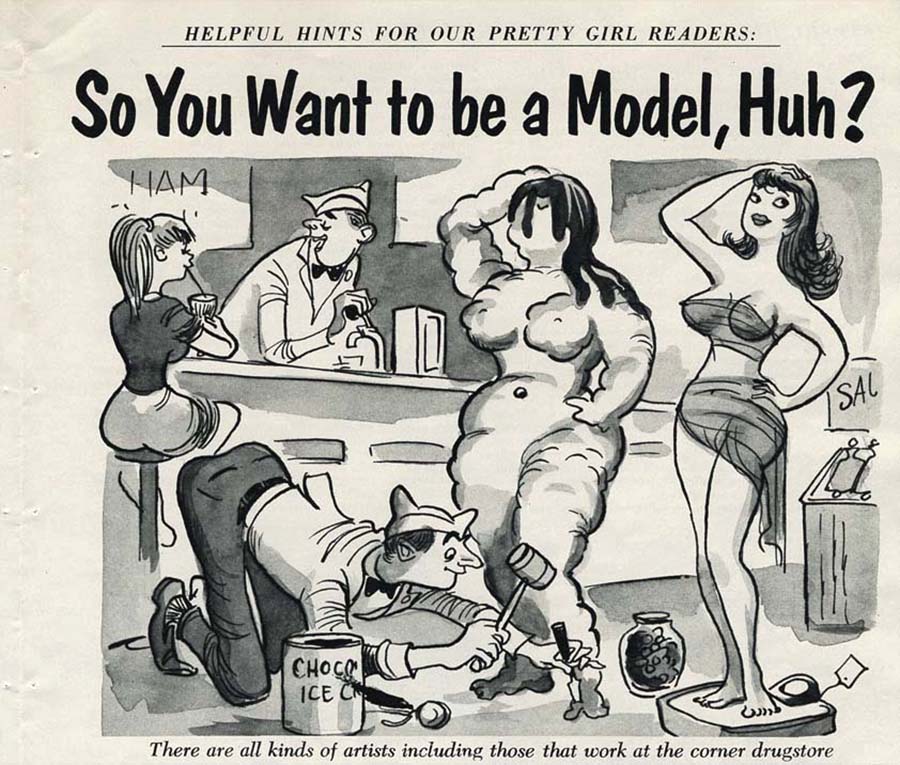 In which the author lays out the "catalog of qualities model agencies are looking for today":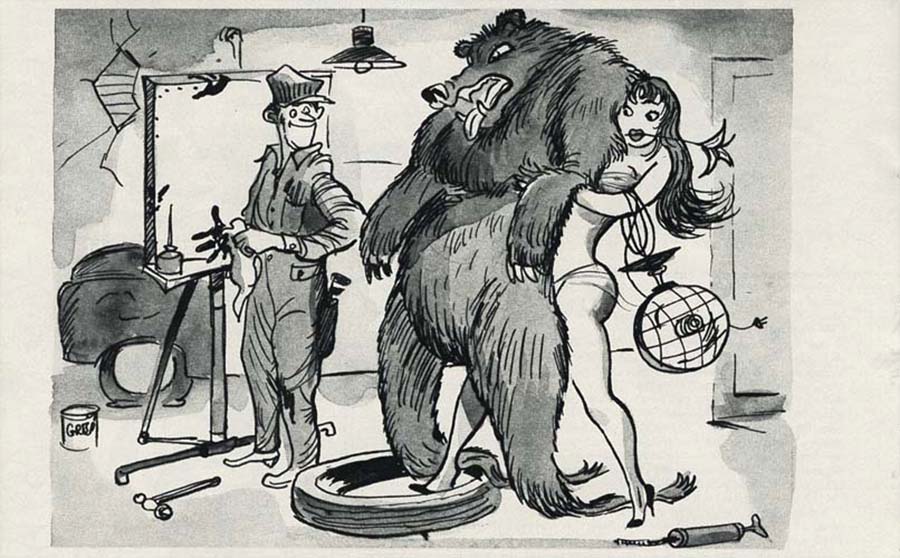 As you might imagine, it's full of the silliest, sleaziest instructions you could imagine.  I'll spare you the details.
Next, is one of the strangest things I've ever seen – an 1899 short story by Russian writer Maxim Gorky called "26 Men and a Girl".  What the hell is this doing in a girl watching guidebook?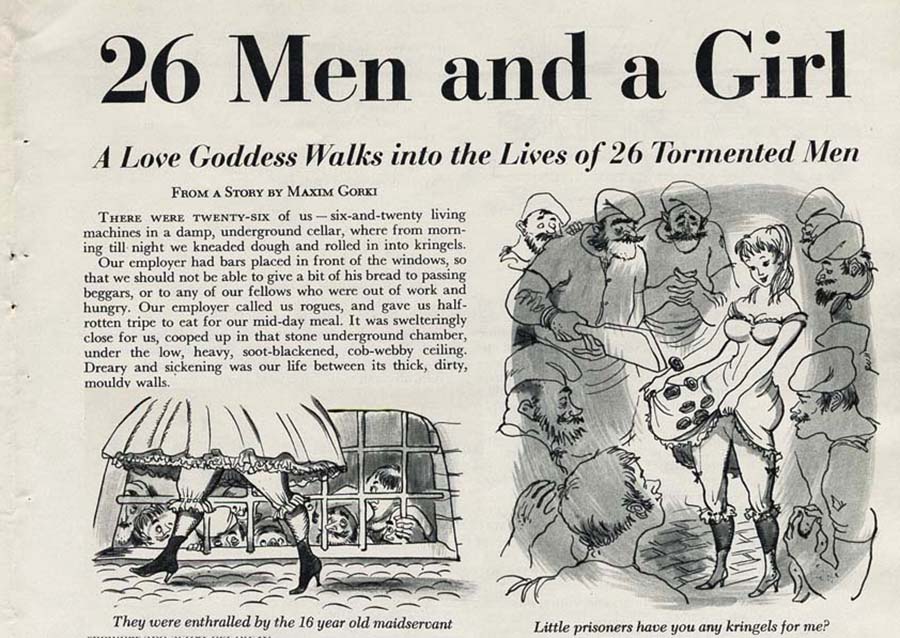 Naturally, they put the most degenerate spin on the story imaginable.  The original tale is a story of lost ideals, a pioneering story of Social Realism.  It is the story of a 16 year old girl who becomes idealized by these pathetic kringle makers.
One day, a soldier joins the ranks of the bakers and seduces the girl; the bakers can't handle the harsh reality of their idealized girl getting deflowered, so they surround her….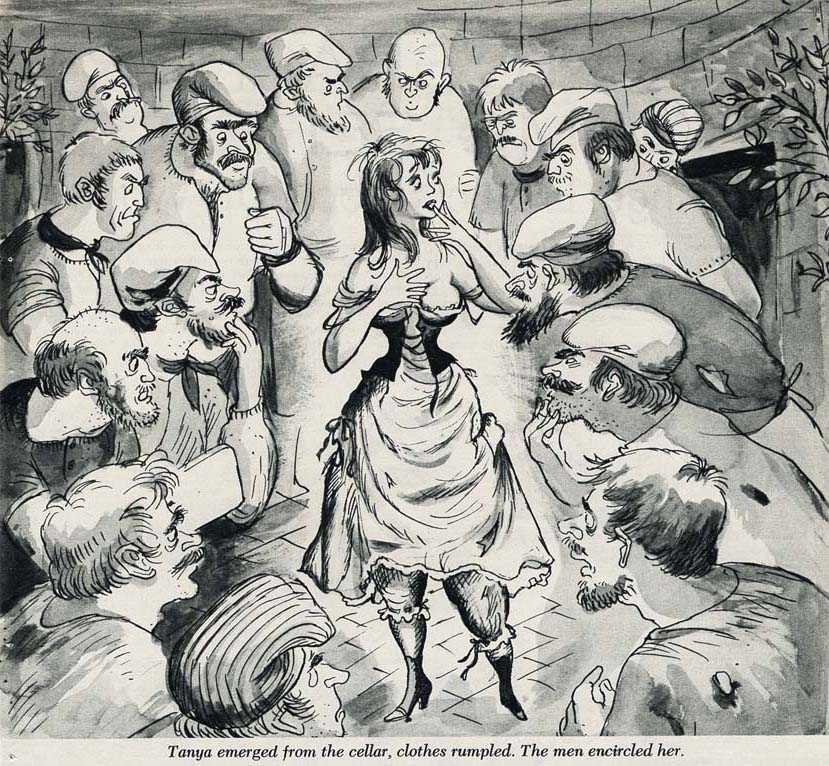 The story isn't really changed from the Gorky original.  However, given the illustrations, and title "A Love Goddess Walks Into the Lives of 26 Tormented Men", we can begin to see the sly spin Girl Watchers is putting on this classic story.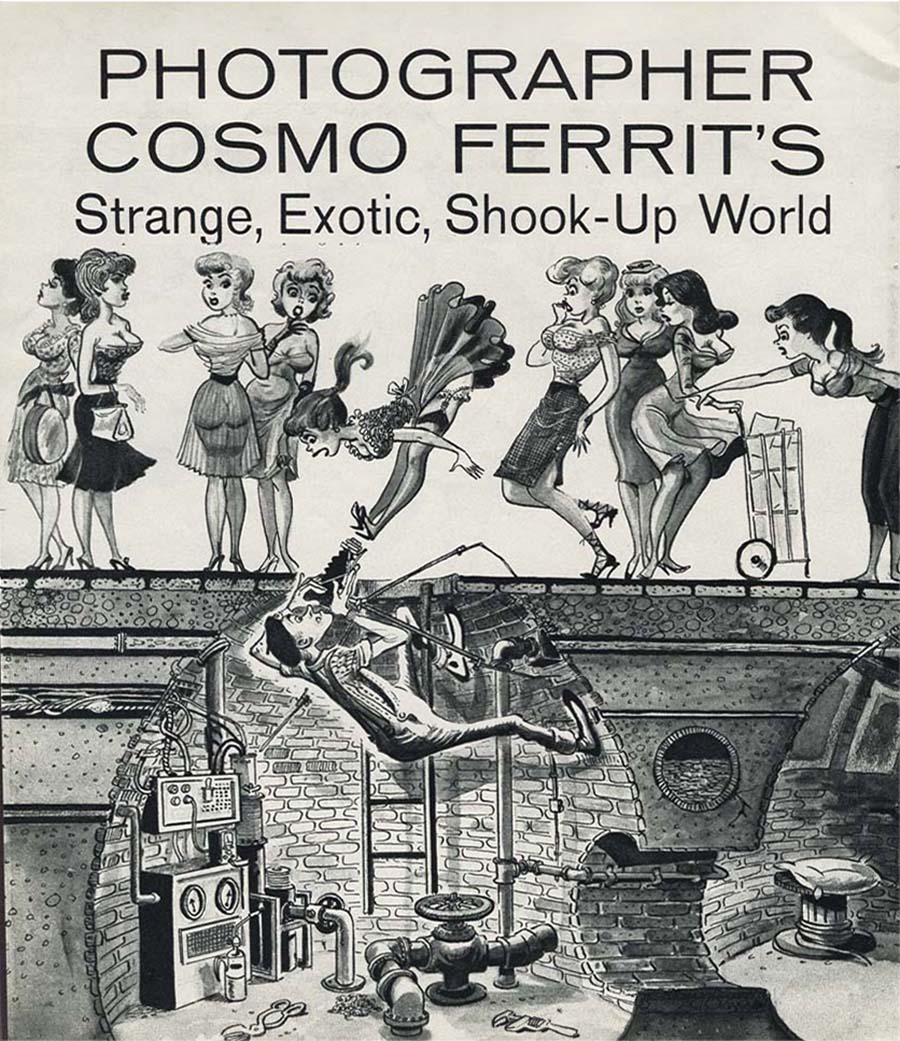 Say what you will about this bizarre little periodical, you have to admit – there are some damn good illustrations within.  Who cares if this article is about a photographer with a creepy basement studio – the artwork is worthy of a look.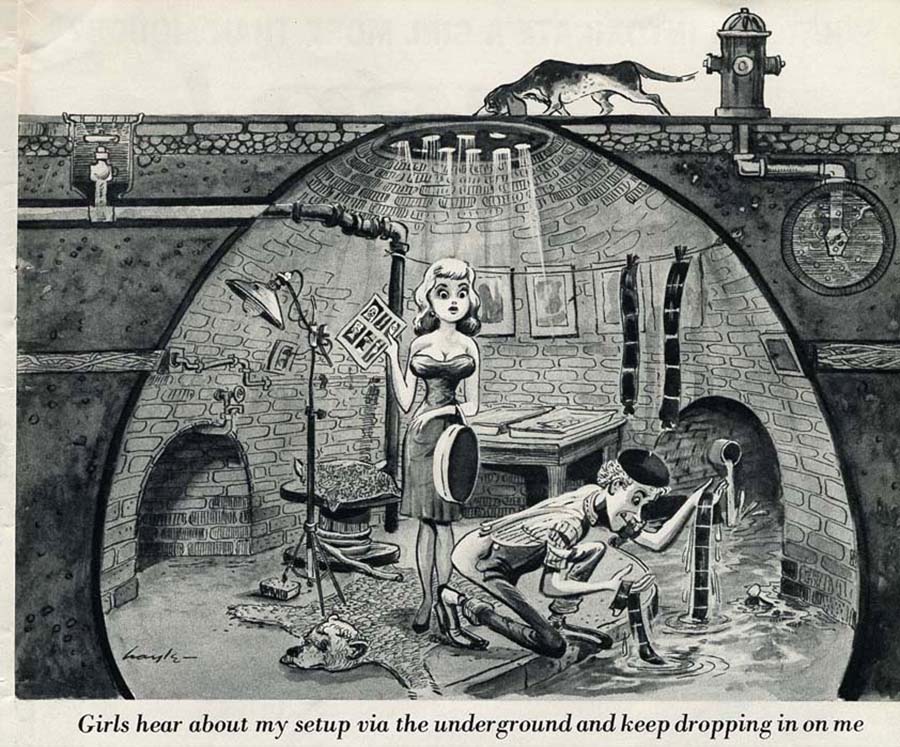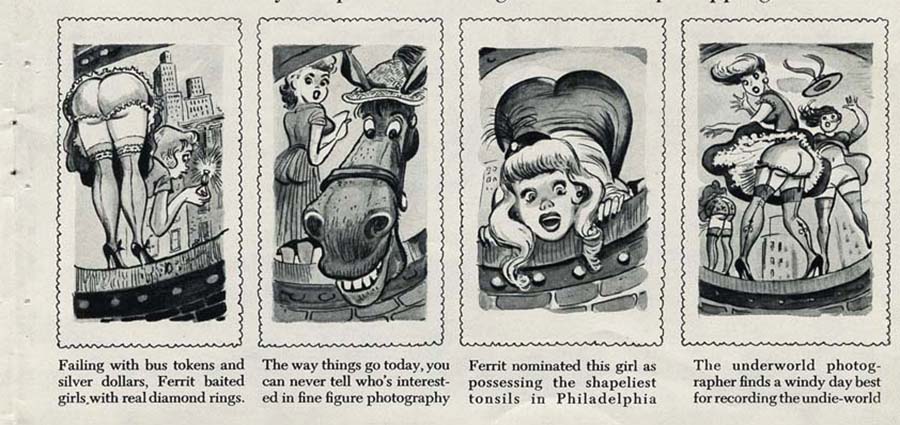 This photographer literally camps out under a manhole and takes pictures up girls' dresses.  And this is after a story by Russian novelist Maxim Gorky! (I'm still trying to process this.)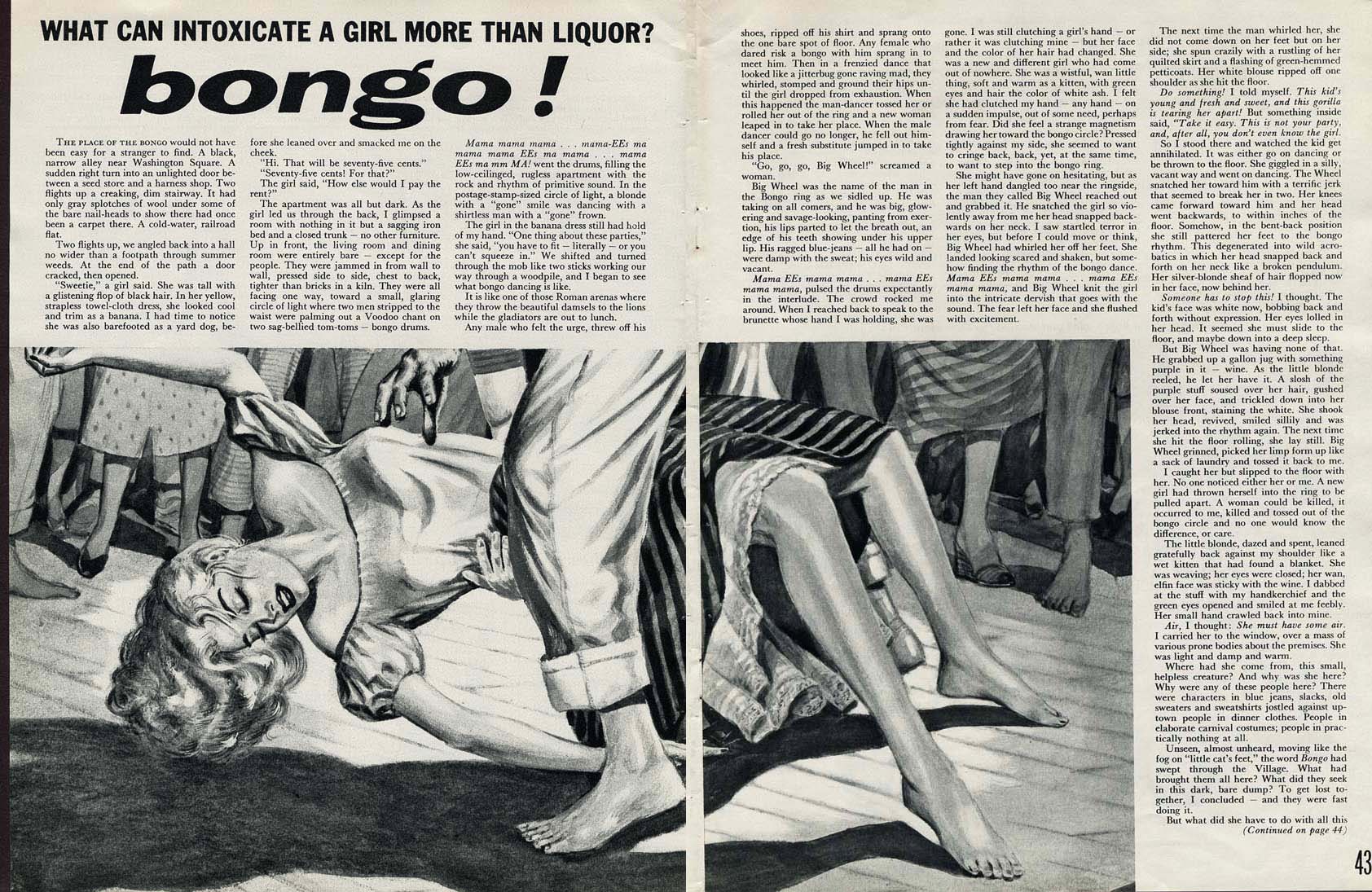 And just when you think it's safe to read again, there's a story called "Bongo" which is simply about a chick who goes buck wild to some bongo music.  Nothing really to do with girl watching – but it's sleazy enough to blend into the surroundings.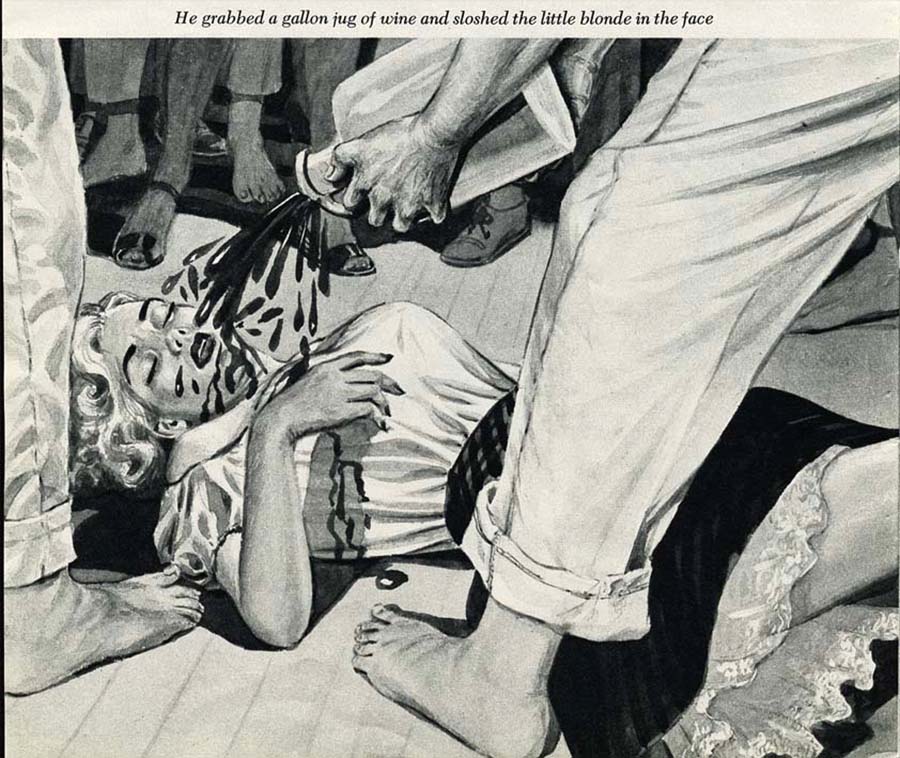 Well, I think we've reached rock bottom, folks.  I hope you enjoyed our tour through this Girl Watchers Guide as little as I did.  Until next time.