WE'VE trawled the archives to bring you these great photos of faces and places from December 1965. Warning, the final photo is graphic. The Vietnam War – as with all wars – was hideous: All captions are original.
Rolling Stones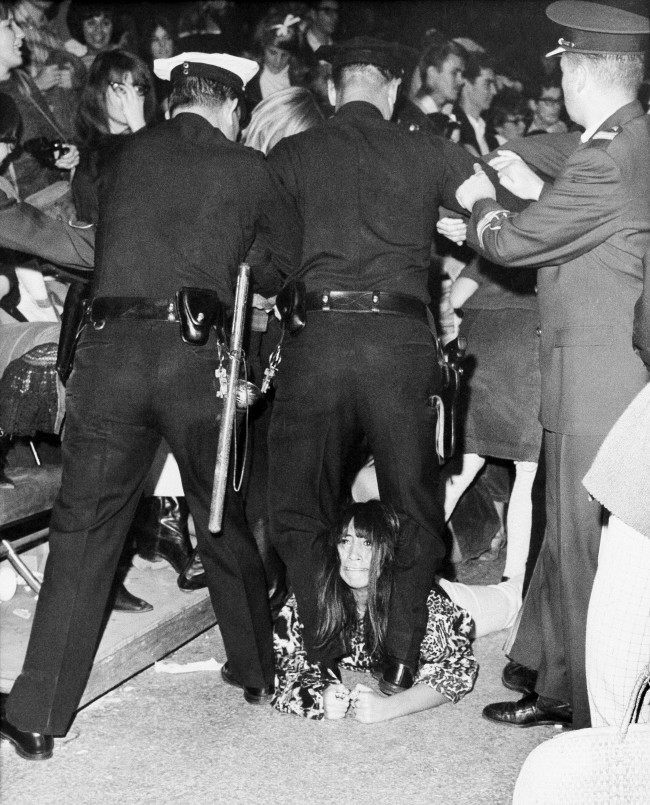 A girl tries to crawl between a policeman's feet to get a glimpse of the Rolling Stones, British singing group, as they left the Los Angeles Sports Arena following an appearance there on Dec. 6, 1965 in Los Angeles. She pounded the floor with her fists screaming "Come back, please come back." Eighty-seven policemen were on duty trying to keep order among 15,000 in attendance.
James Lovell III 1965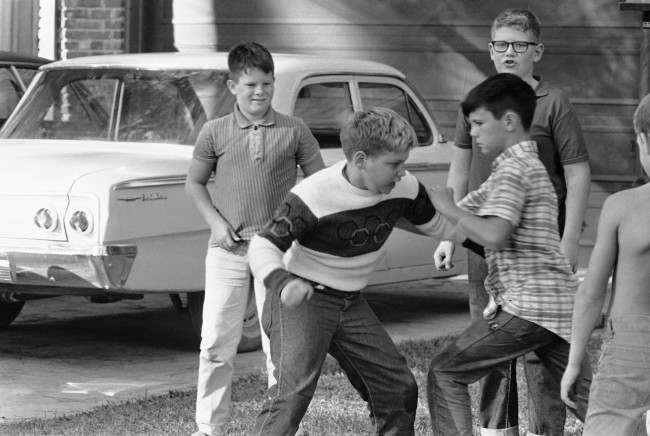 Shortly after the launch of Gemini 7 spacecraft on which his dad is pilot, James Lovell III, 10, engaged a neighbor lad in a round of fistcuffs, Dec. 5, 1965, Houston, Tex. James orders Andy Miracle to leave the Lovell yard and when Andy refused the battle began. The fight ended in a draw when the contestants tired out.
SHARIF HAMAMA AND SON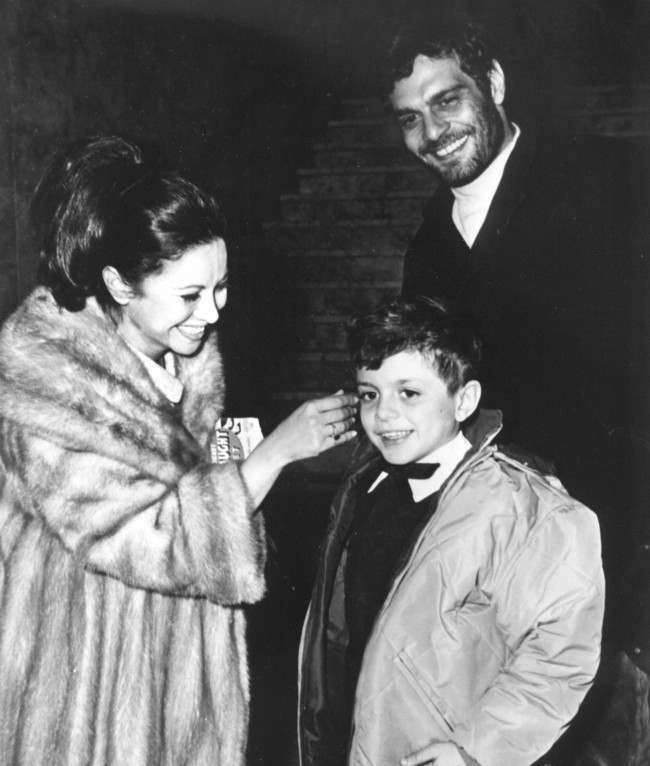 Egyptian actor Omar Sharif is seen with his wife, actress Faten Hamama, and their eight-year-old son, Tarek, as they get together for New Year's Eve celebration in Madrid, Spain, on Dec. 31, 1965
Steve McQueen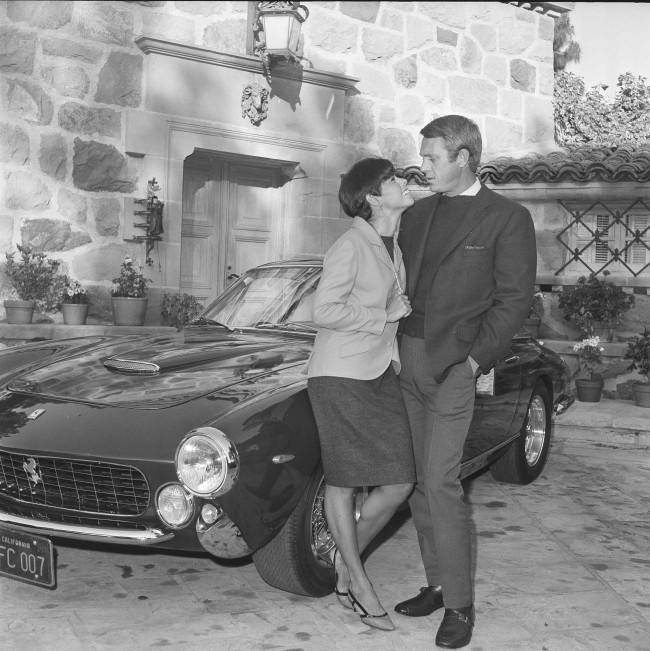 Film and TV star Steve McQueen and his wife Neile stand by his sports car in front of their home in Los Angeles, Calif., Dec. 30, 1965. The couple has two young children. (AP Photo/Harold Filan)
Royalty – The Queen – Liverpool Street Station, London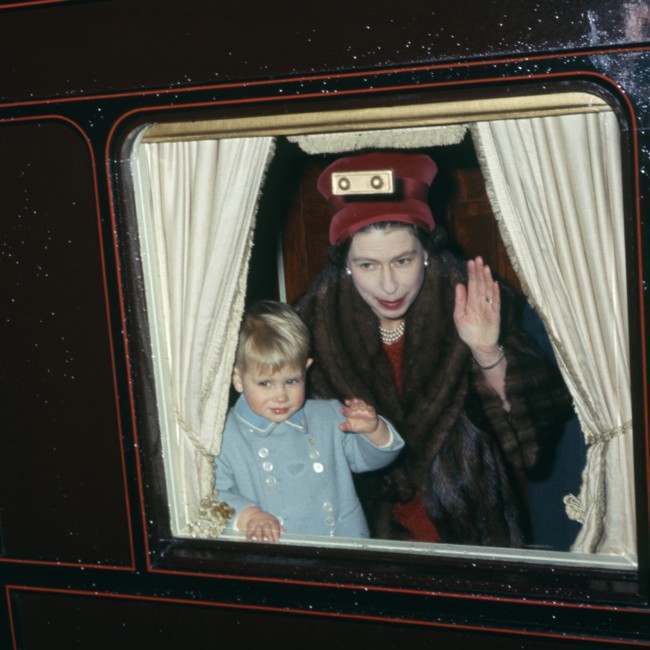 The Queen waves from a carriage window with Prince Edward. Date: 29/12/1965.
Obit Svetozar Gligoric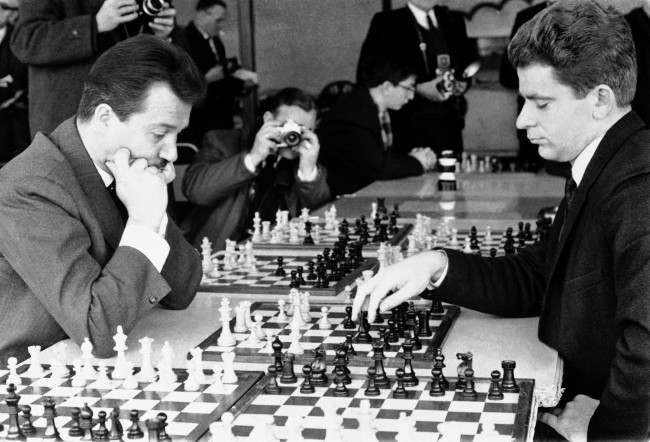 Svetozar Gligoric, left, of Yugoslavia, and Boris Spassky, of the USSR, are shown during a game on the opening day of the 41st annual International Chess Congress, in this Dec. 29, 1965 file photo taken in Hastings, Sussex, England. Gligoric, a legendary Serbian and Yugoslav chess player and one of the world's top players in the 20th century, died Tuesday Aug. 14, 2012 and was buried in the Serbian capital on Friday. He was 89.
Japan Protest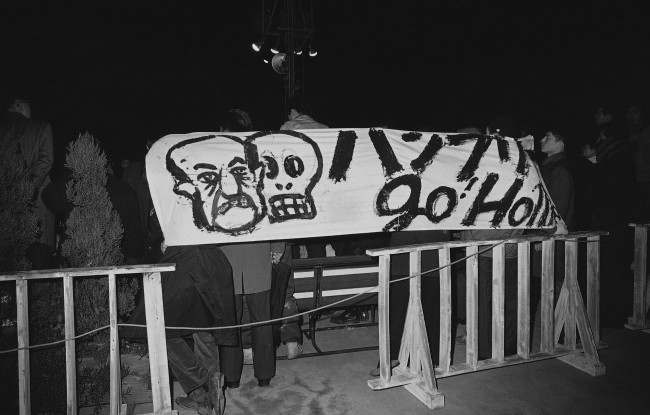 A huge "Go Home Humphrey" banner is displayed by student demonstrators at Tokyo International Airport, Dec. 28, 1965 as U.S. Vice President Hubert H. Humphrey arrived. There was no disturbance as demonstrators were dispersed shortly after Humphrey left the airport for U.S. Embassy in downtown Tokyo. Japan was Humphrey's first stop on Asian tour.
Vietnam War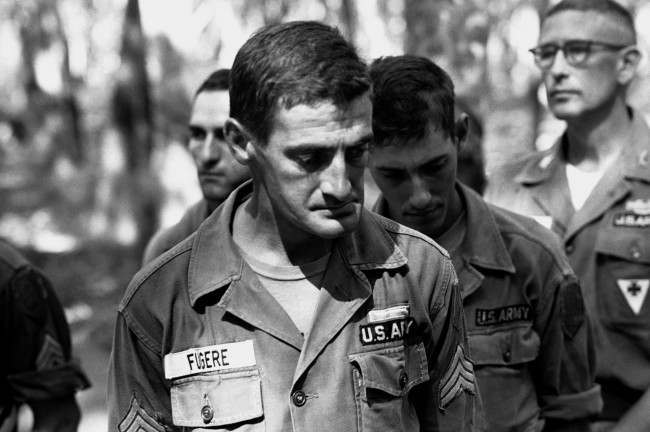 This sergeant and a young soldier behind him have lost a comrade during a nine-day sweep operation in the jungle 40 miles north of Saigon, South Vietnam, Dec. 27, 1965.
WALT DISNEY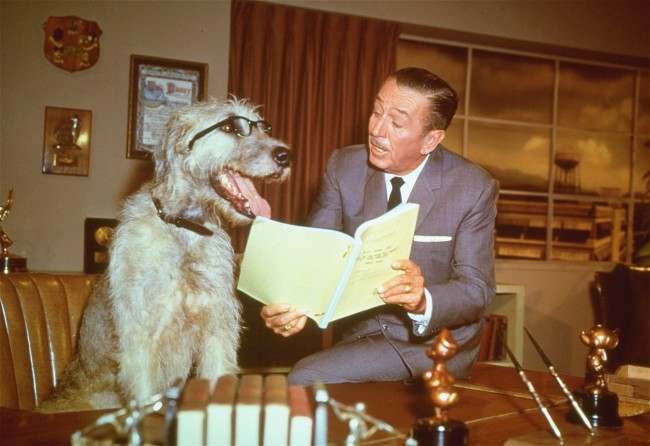 This is a December 23, 1965 photo of film animator and producer Walter Disney, in his office pretending to read a script with a dog, seated behind Disney's desk.
Animal Stars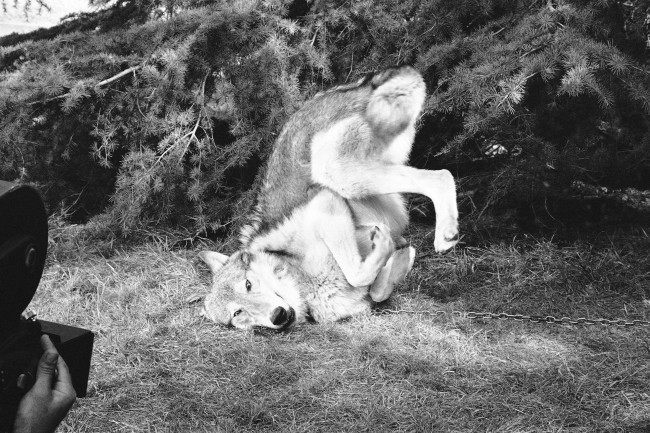 A trained wolf is held on a chain as it shows its fighting spirit for the camera in scenes for a "Lassie" episode, Dec. 22, 1965. Shots of the real wolf and the real Lassie were cut in for realism during a fight in which two dogs, one sprayed with paint to look like the wolf, do the actual fighting.
Transport – Breathalyser – 1965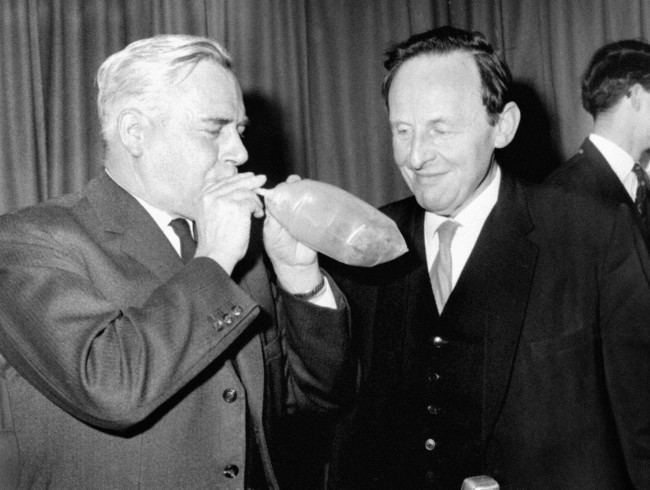 The then Transport Minister Tom Fraser being watched by Home Secretary Sir Frank Soskice as he demonstrates a breathalyser. 31/12/1995 Ministers in Harold Wilson's Labour government were deeply worried about the effect on public opinion of introducing roadside breath tests, 1965 documents released today reveal.
Beauty Culture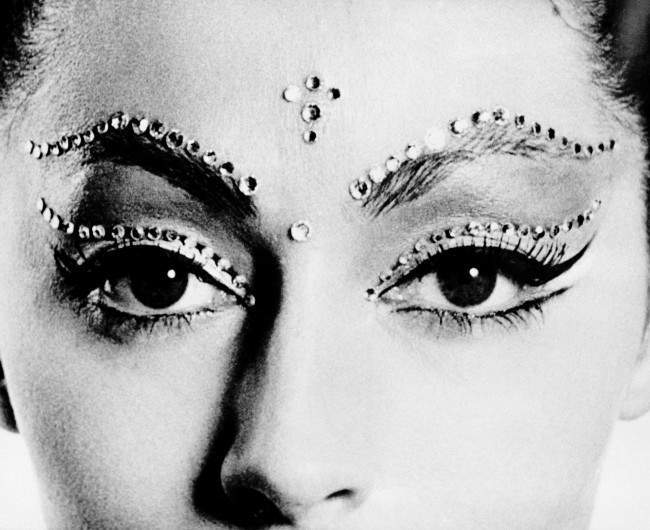 French esthetician Fernand Aubry created this special and expensive make up for Claudine Auger, the latest James Bond girl, starring with Sean Connery in "thunderbolt." The eyebrows and eyelids are decorated with tiny pieces of strass, and the eyes are underlined by a black pencil shown Dec. 22, 1965. Location unknown.  Date: 22/12/1965.
France Paris Georges Pompidou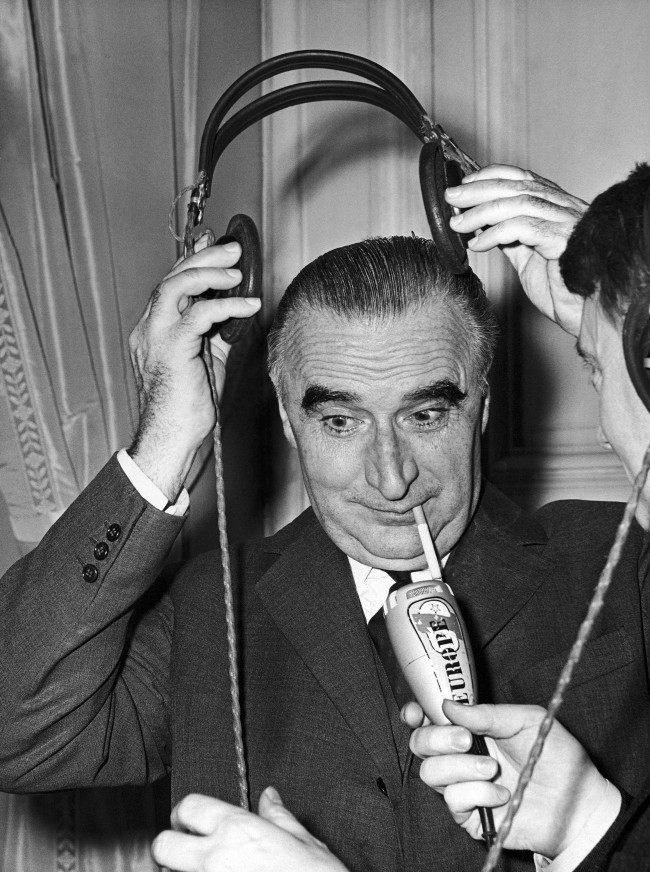 French Prime Minister smokes a cigarette and puts on headphones while being asked by a journalist to comment on the presidential election results on December 20, 1965 in Paris, France. (AP Photo/Jean Jacques Levy)
Prince of Wales as Macbeth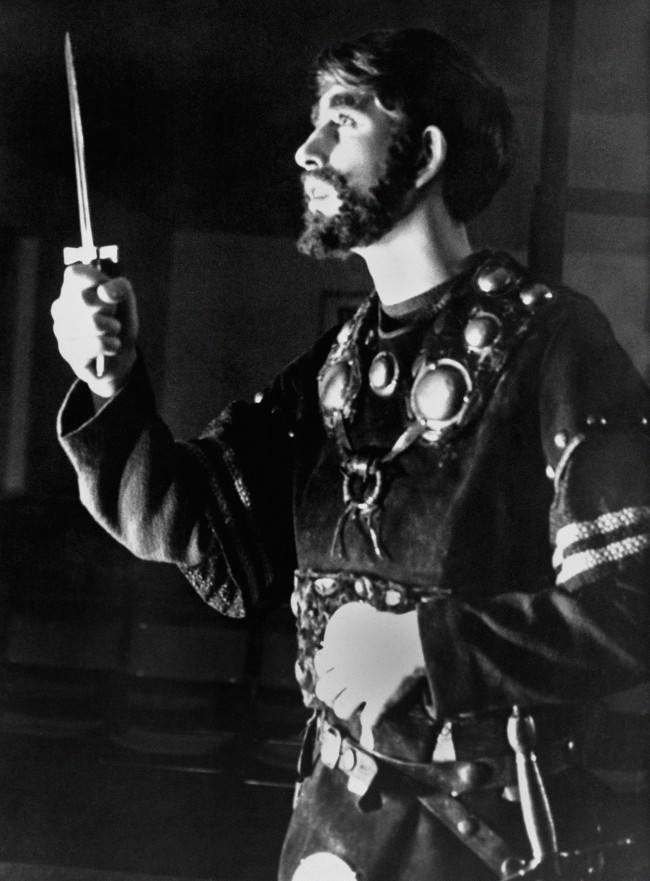 An exclusive picture of the Prince of Wales acting in the dagger scene as "Macbeth" in the Gordonstoun School production of the Shakespeare play. The Queen and Duke of Edinburgh joined other parents of the boys to watch the final performance. * Prince Charles' performance as the king, it has been reported, was outstanding by schoolboy standards. Date: 30/11/1965
Goodbye from the "Z-Cars" team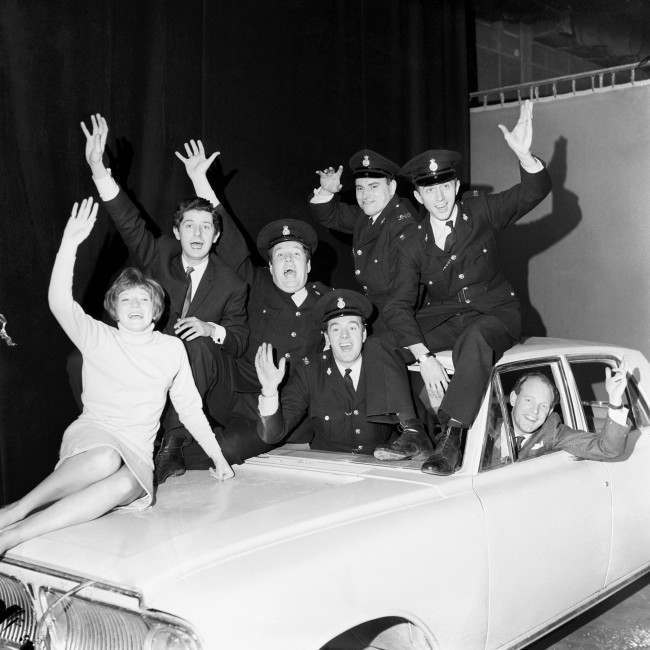 A piece of television history passes into the record book. Its goodbye to the "Z-Cars" series after the 170th. edition. (From left to right) Sarah Aimson, James Ellis, Colin Welland, Joseph Brady, Brian Blessed, Donald Gee and Frank Windsor, wave goodbye while rehearsing for the last programme which is transmitted tomorrow.
Mrs. Marilyn Lovell and Mrs. Susan Borman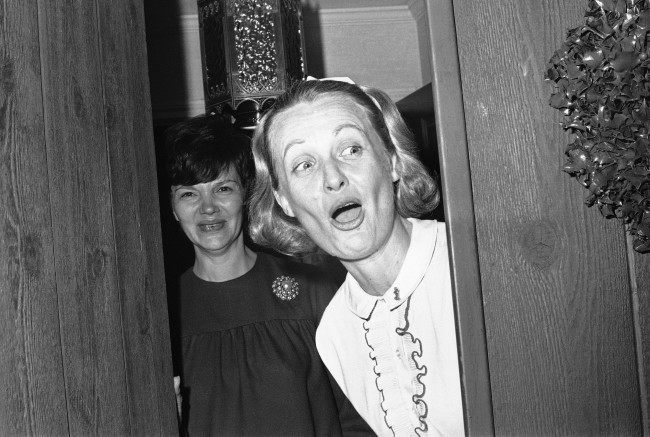 Mrs. Marilyn Lovell, left, and Mrs. Susan Borman, wives of astronauts James Lovell, Jr., and Frank Borman, are a happy pair at a party celebrating the successful completion of Gemini 7's 14-day mission in space. Wives of other astronauts and relatives joined the wives for the party at Mrs. Lovell's home near the Manned Space Center in Houston, Texas, Dec. 18, 1965.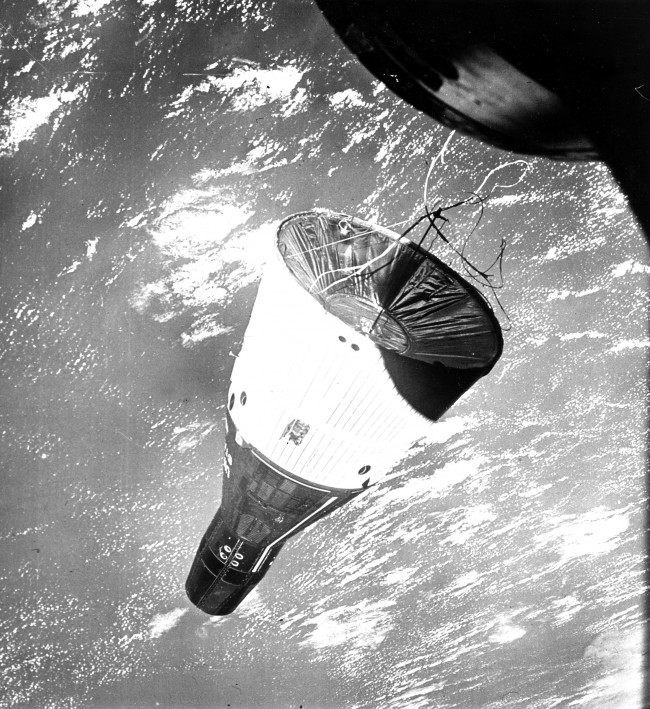 Gemini 7, piloted by Frank Borman and Jim Lovell, and Gemini 6, in partial view, piloted by Wally Schirra and Tom Stafford, are shown as the two aircrafts meet in orbit, 160 miles above earth, Wednesday, Dec. 17, 1965. It is the first time in history that two vehicles have manoeuvred to meet in space.
Theatre – Twang – Shaftesbury Theatre, London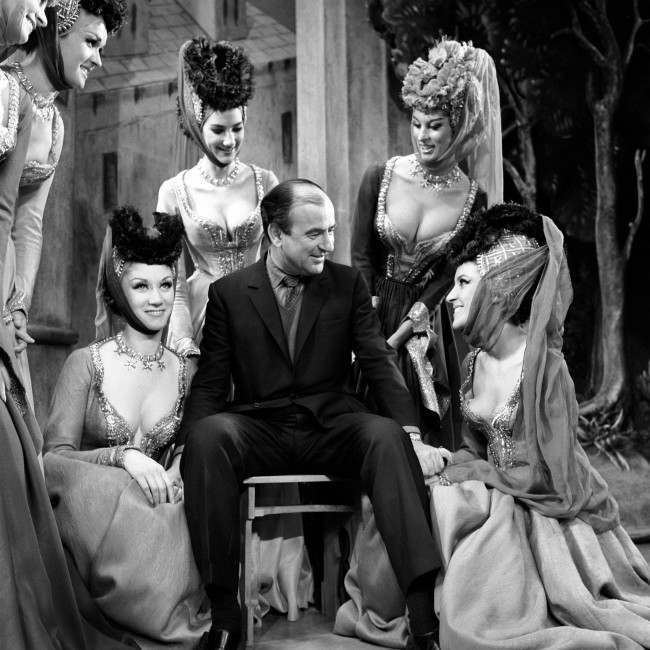 The dress rehearsal of Lionel Bart's Robin Hood musical "Twang", at the Shaftesbury Theatre.
Joseph Mobutu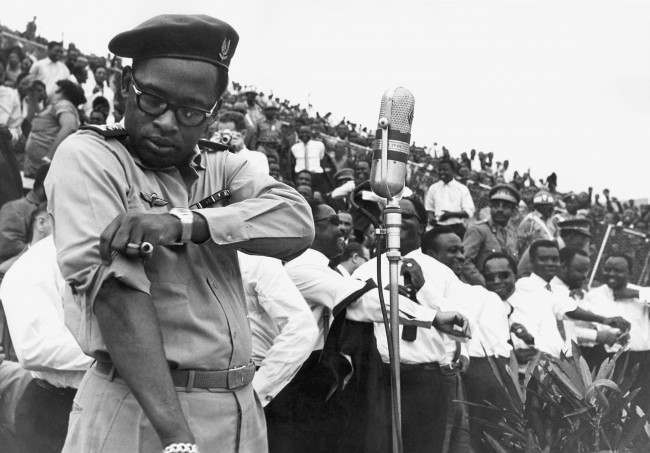 Congolese President Joseph Mobutu rolls up his sleeves during a speech in Leopoldville, Dec. 14, 1965. He was dramatizing his appeal to his people to roll up their sleeves, discard their neckties, and work for the welfare of the Congo. Neckties symbolize the easy life in this African nation
Transport – 70 mph Road Sign – 1965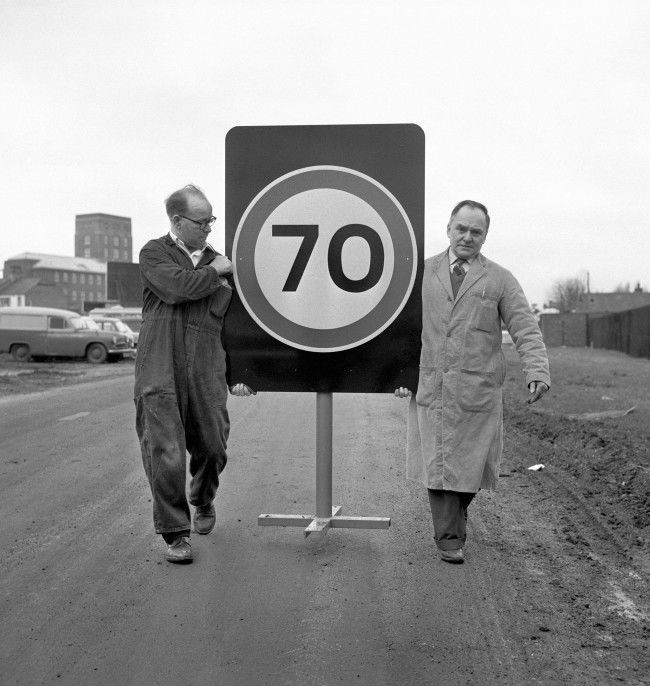 A 4ft by 3ft 70 mph speed limit sign from Franco Signs at Hendon, London.
Cher and Sonny Bono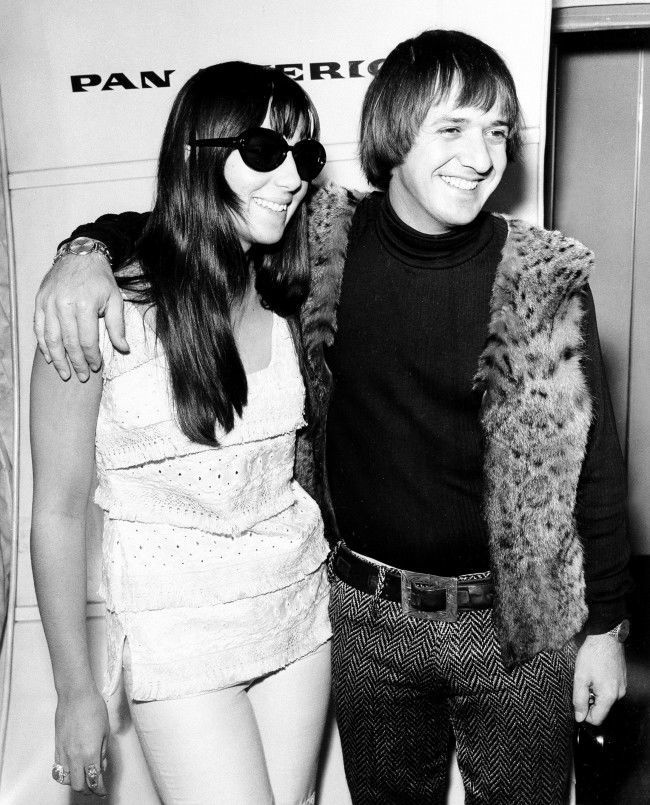 Pose before boarding a Pan American flight to Hawaii at Los Angeles airport, Ca., on Dec. 7, 1965.
Gemini 7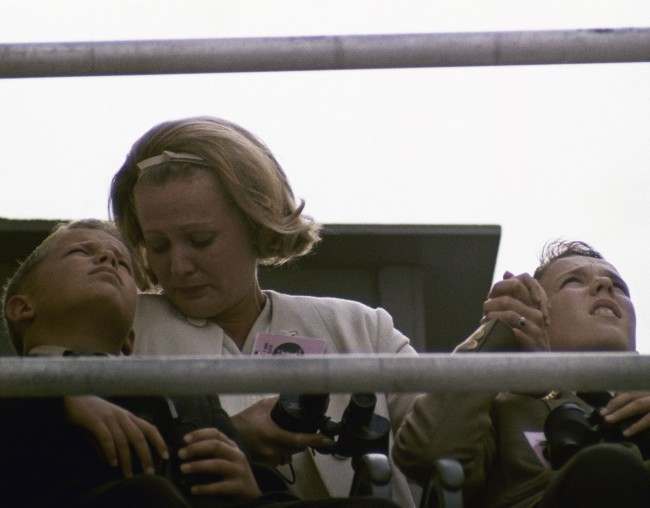 Wife of astronaut Frank Borman holds onto sons at launch of Gemini VII, Dec. 3, 1965 which her husband and James Lovell were the pilots.
Tony Hancock marries Freddie Ross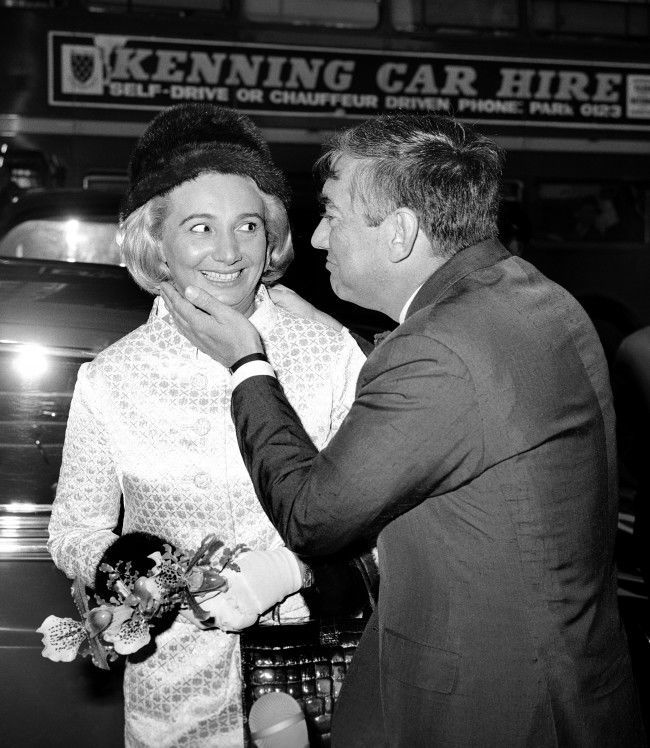 Forty-one-year-old cmedian Tony Hancock has a kiss for his bride, publicity agent Miss Freddie Ross, when they married at St. Marlebone Register Office, London.
Vietnam War Viet Cong Dead (Graphic – NSFW)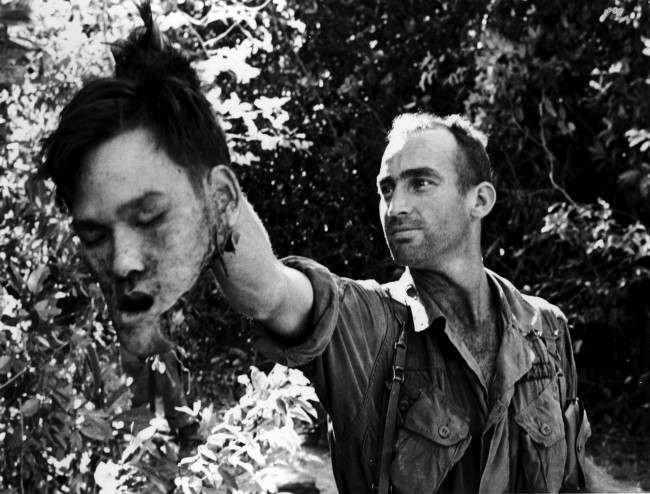 A U.S. paratrooper of the "hatchet team" of B Company, 502nd Battalion, 101st Airborne Division, holds the severed head of a Viet Cong guerrilla who was killed in hand-to-hand jungle fighting 12 miles northwest of Ben Cat during the Vietnam War, Dec. 12, 1965. The company had chased a squad of Viet Cong guerrillas, one of whom dropped a grenade that wounded several soldiers. Soldiers jumped the the guerrilla and beheaded him by hatchet. His head was buried in the jungle.