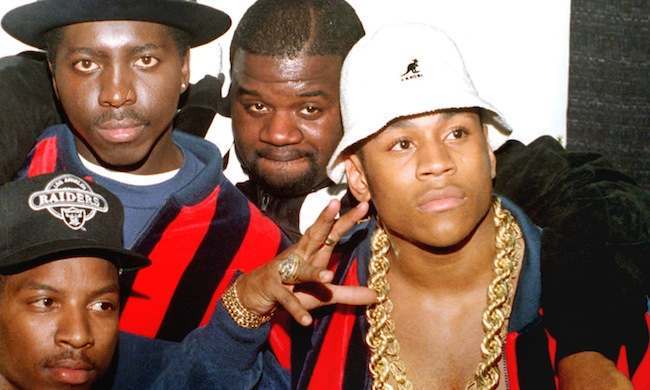 Before he was mega, LL Cool J was a 17-year-old who could for $500 could be booked to played Colby College in Waterville, Maine. It was June 1985, when LL Cool J and his co-star DJ Cut Creator rolled into that venue. Were the crowd up for scratching? LL Cool J was cool enough to realise his audience. He did not play the Birdie Song and invite the kids and mums lolling about the place to clap along. He invited DJ Cut Creator to show them what scratching was.
Says someone who was there:
LL was paid $500 for the show. Since he was the only rap act, he was worried it would a be short performance, so my dad suggested he fill it in with the scratching and beat boxing. LL was signed to Def Jam. My dad tried to get RUN DMC, but could not afford them, so Def Jam told him he should bring up LL Cool J.
It's good to know your crowd. The Sex Pistols could have done with dose of LLCJ's nous.
Photo: Bobcat, E. Love, Cut Creator and LL Cool J pose at the Soul Train Music Awards in Santa Monica, Ca. (AP Photo/Bob Galbraith). Date: 30/03/1988.
Spotter: href="https://twitter.com/sampotts">@sampotts, Kottke