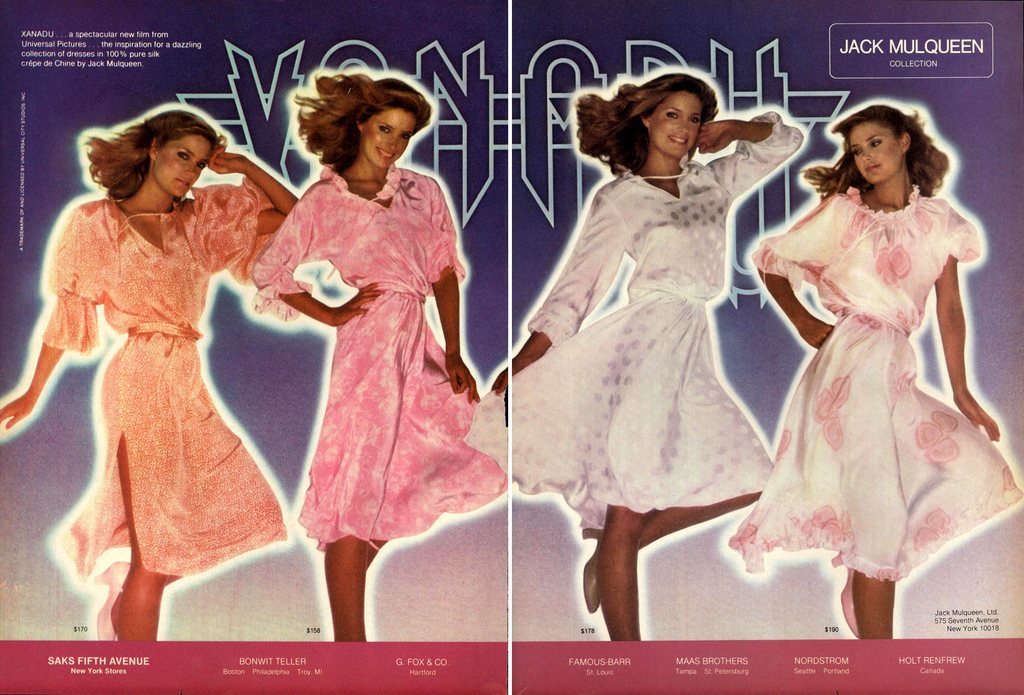 There was actually a Xanadu clothing line? Who knew? The movie can be enjoyed now for its kitsch appeal, but at the time it was considered a woeful mistake – despite the awesome ELO and ONJ soundtrack.  The plot: A Greek Muse inspires a guy to open a roller disco…. It doesn't exactly have "blockbuster" written all over it. Still, this clothing line is an interesting find. Here's some more pages from early 80s Vogue magazines I think you'll enjoy…
People often associate the 1980s with a  neon sparkly, New Wave Cyndi Lauper-esque style  (you can tell I'm struggling for a description here).  However, the first few years of the decade looked very much like the late 70s.  These Xanadu inspired dresses would have easily been at home on a 1978 disco dancefloor.   The transition from styles we associate with the 70s to distinctly 80s fashions didn't happen overnight.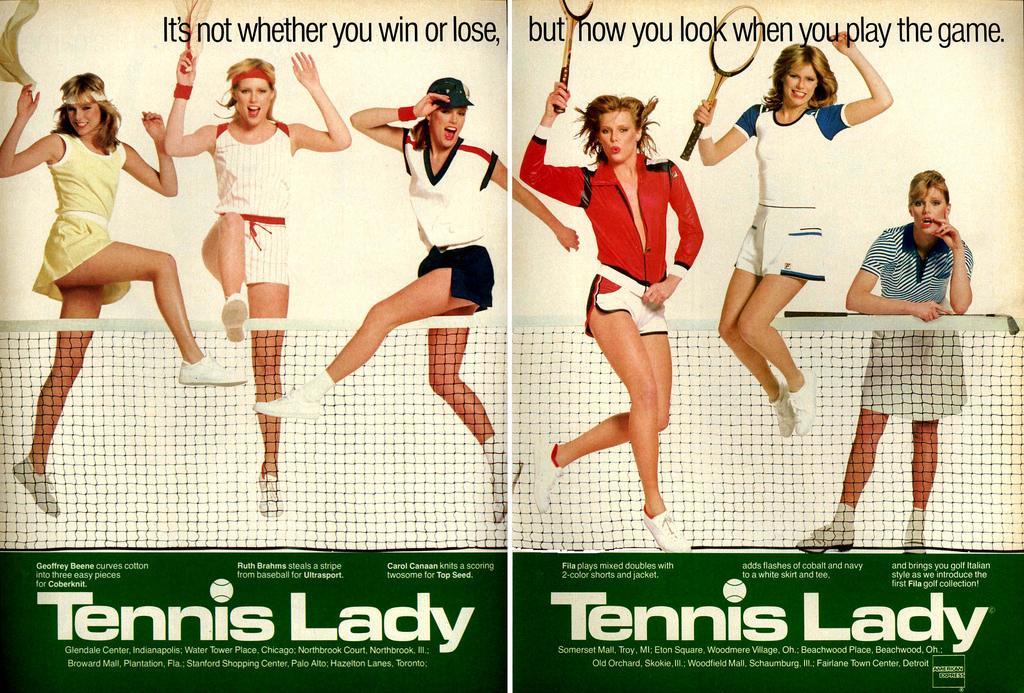 Even though you'd never held a racquet in your life, it was still cool to dress for tennis.   Many have forgotten this brief but, sadly, very real fad of the early 1980s.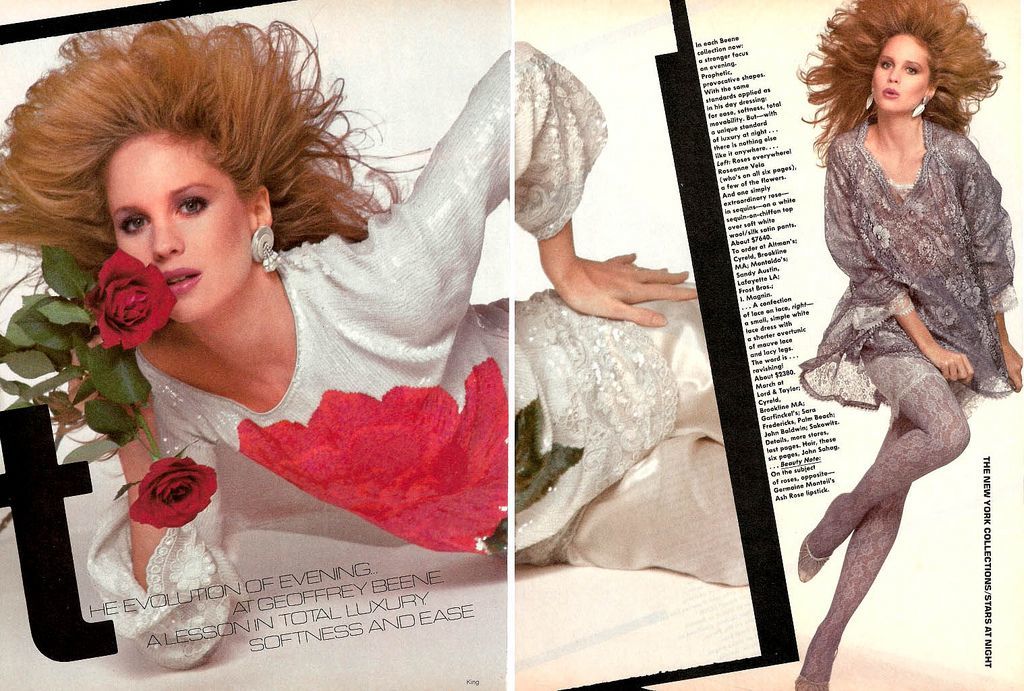 This fashion spread is from 1983.  Although you can sense hints of the disco, things are getting that distinctly 80s vibe with the big-ass hair and intense makeup.  It always takes a year or so for the fashions in magazines to become fashions on Main Street; so, it would be mid-decade before this look would be the norm…. for rich white people, of course.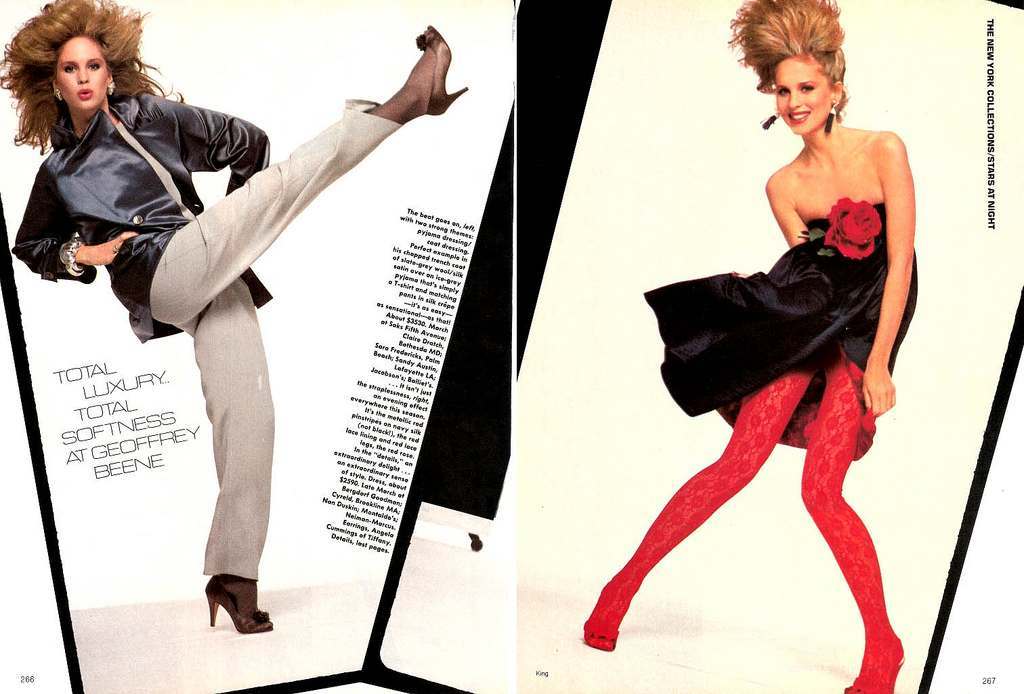 Personally, I prefer the earthy and often funky fashions of the 70s over the bedazzled 80s clothing… and they both beat the fashions of today (said the old geezer typing this).  There's just something to be said for having a very distinct style associated with a time period. You can spot a 70s or 80s garment a mile away, but can the same be said for the fashions of the 2010s?  Or do they look a whole lot similar to the 2000s?  Talk amongst yourselves.
What in God's Holy Name is happening here?  Is this some disturbing prelude to… something even more disturbing?  This (and the next) are part of a longtime Christian Dior ad campaign featuring the exploits of three high society bon vivants called, collectively, the Diors. The older gent is noted theater director and co-star of the classic My Dinner With Andre (1981) Andre Gregory.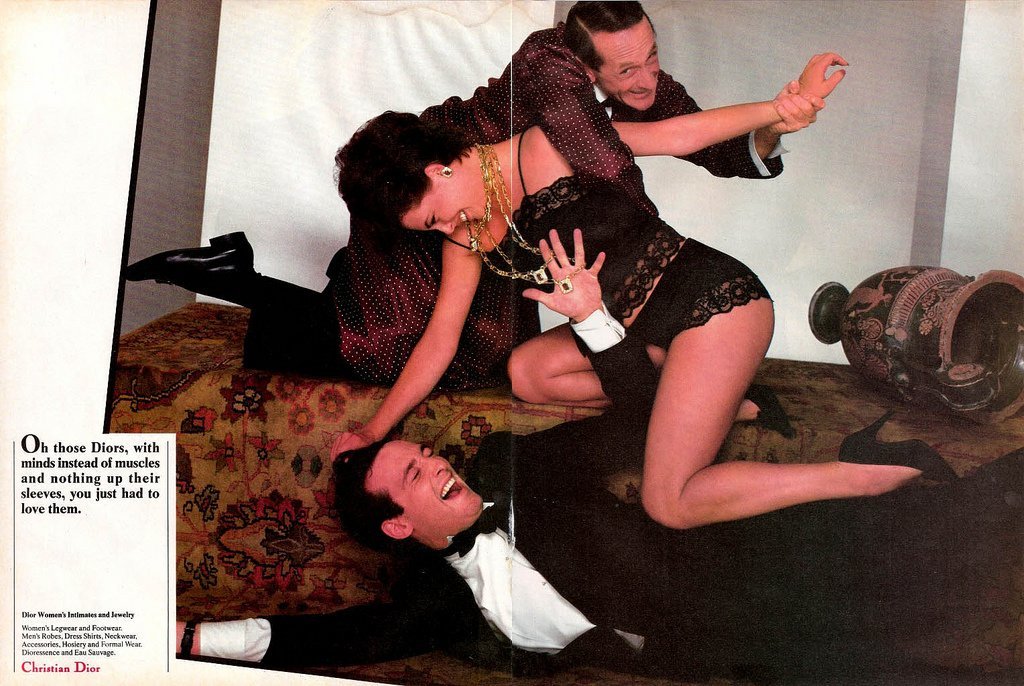 Oh, 1980s.  You're so silly with your manic excess and your soul shattering materialism.  Until next time.