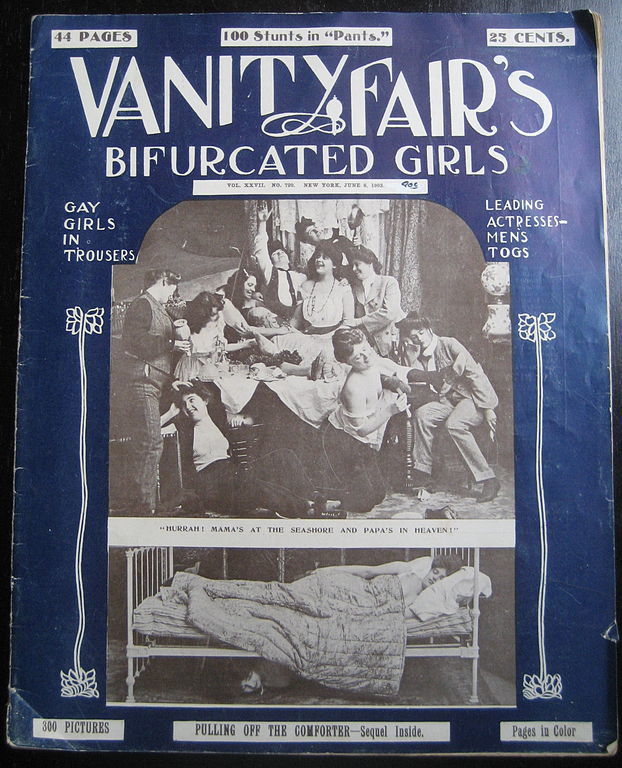 IN 1903, The Commonwealth Publishing Company of New York City's magazine Vanity Fair (no, another one; this one ran from February 1902 to April 1904) produced the article on The Bifurcated Girls: Gay Girls In Trousers.
Dian Hansen notes inHistory of Men's Magazines:
While France had a well-established men's magazine industry by 1900, America was just showing its ankles in 1903. A magazine called Vanity Fair (unrelated to the current incarnation) was the raciest thing around, and rooming house loozies the hotties of the time. In this New York, tabloid girls who drank like men might strip down to their petticoats and fall into bed together, exposing their corset cover and stockings to peeping male boarders. The famously loose morals of stage actresses made them popular subjects for these shenanigans, but the biggest thrill of all was bifurcation. "What?" one may well ask. Bifurcation, meaning "split in two", referred to the contours of a woman's legs revealed by her donning men's trousers. Bifurcation was a regular and very popular feature in Vanity Fair, it's popularity leading to Vanity Fair's Bifurcated Girls.