Back in June we presented the 10 Reasons Aerobics in the 1980s Was Crazy Awesome (should have won the Pulitzer that one); well, here's its spinoff.  Indeed, there is nothing more quintessentially Seventies than the roller skating/roller disco phenomenon that swept the US in the latter half of the decade.  It had it all: gaudy styles, godawful music, and an air of uninhibited sexuality that made the whole mad affair seem a bit seedy.
1. ROLLER PLAYMATES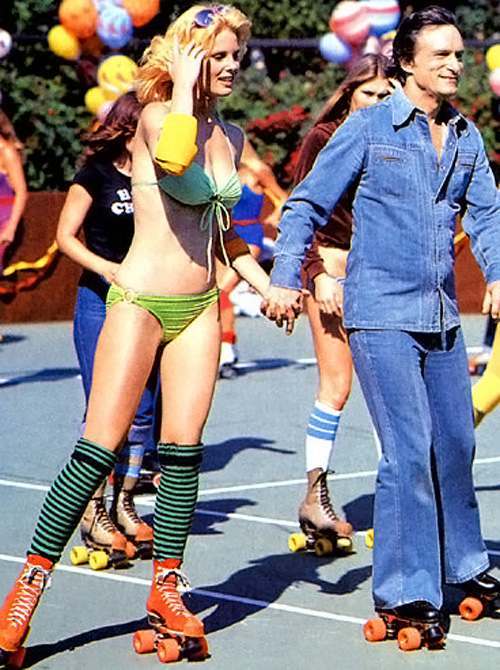 Before her slimy husband murdered her, Dorothy Stratton was Playmate numero uno.
Thankfully, we still have footage from the most epic roller event in history: the 1979 ABC-TV Primetime Special: "Playboy's Roller Disco and Pajama Party".   If this doesn't make you a true believer, nothing will.
2. ROLLER FASHION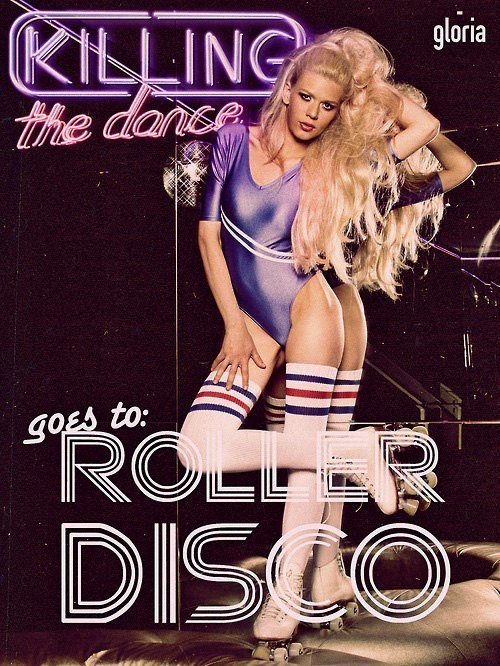 Roller skating brought with it a whole new brand of fashion, which just happened to arrive just when Seventies fashions were at their gaudiest.  Combine athletic attire with the sleazy glitter of discothèque fashions, and you get an unholy alliance of Seventies fashion at its most extreme.
3. ROLLER CELEBS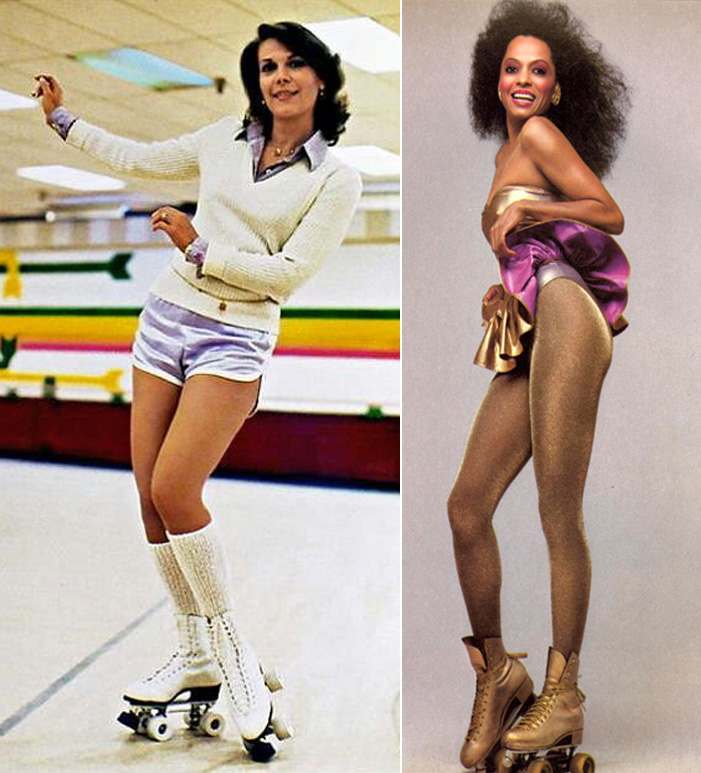 If the most successful female recording artist in history is roller boogying, then why aren't you? As always, when the celebs started embracing the fad, the unwashed masses had to follow suit.
At left: Natalie Wood, shortly before Robert Wagner and Christopher Walken killed her.  (Purely speculation, of course.)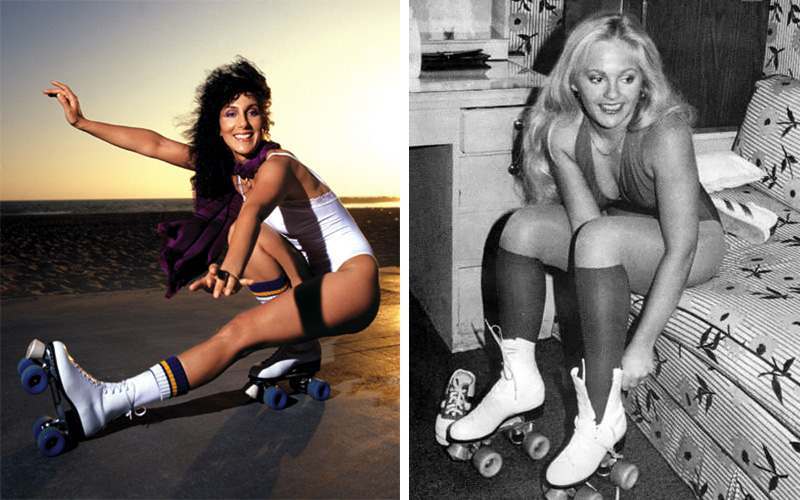 Cher (left) and Charlene Tilton (at right) reminding us why many of us tuned into Dallas.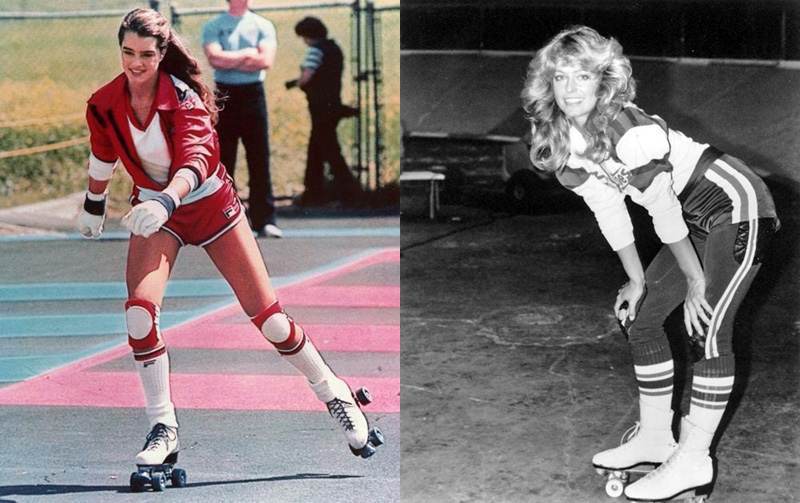 Brooke Shields and Farrah Fawcett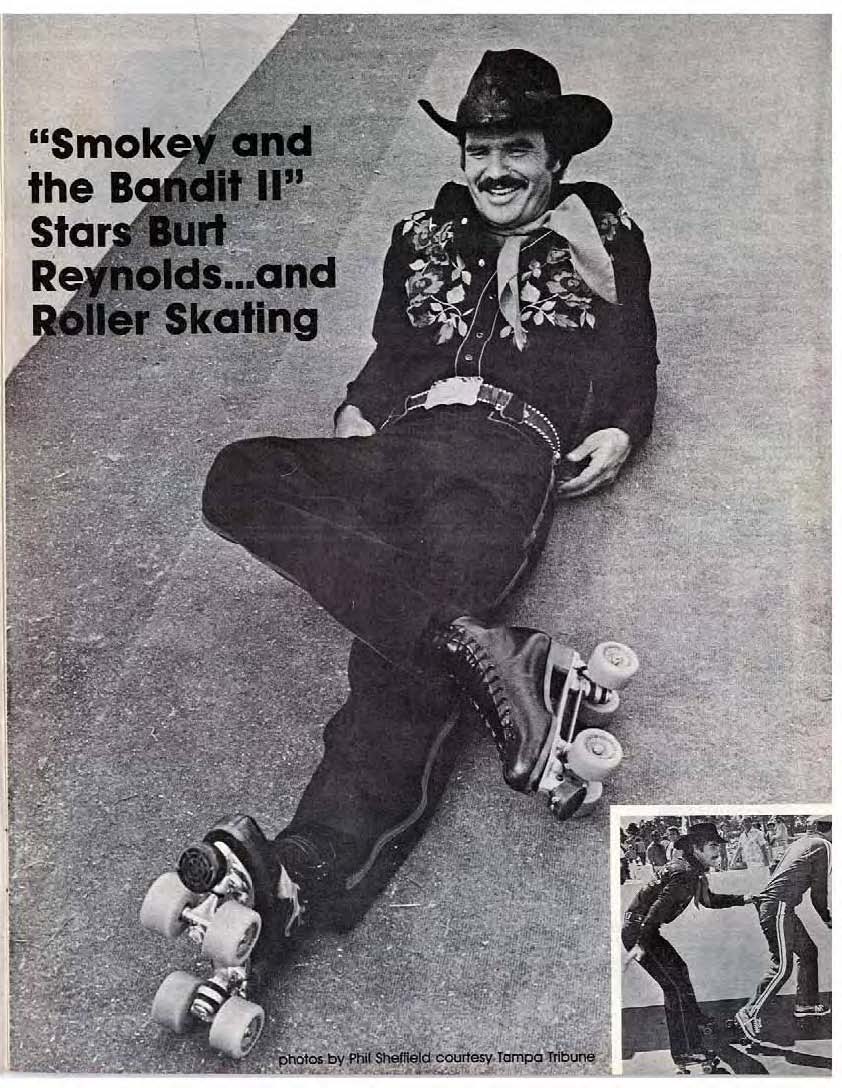 Yes, the who's-who of 70s Hollywood were all endorsing this new obsession.  Is it any wonder we flocked like lemmings to roller rinks?
4. ROLLER DERBY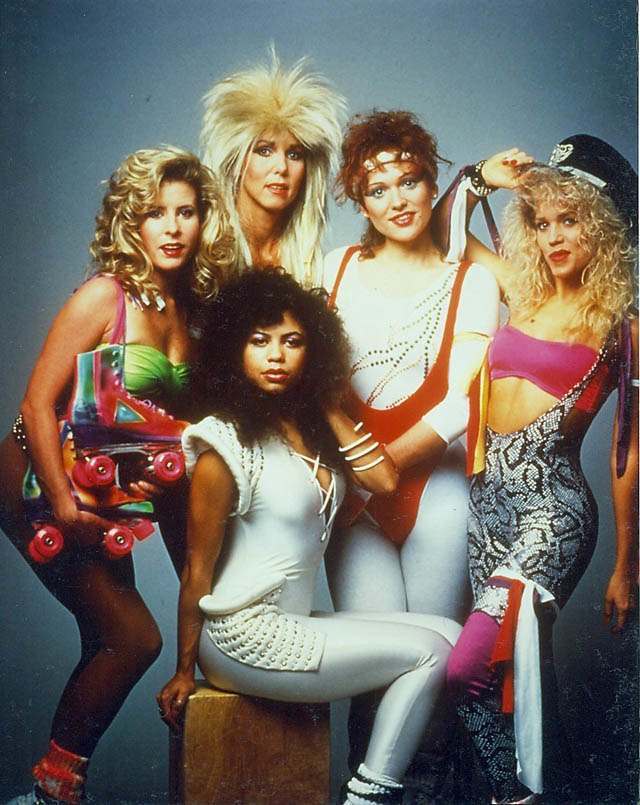 Cast photo for Roller Girls
Take note that it wasn't all Roller Disco; the "athletic" aspect of skating also was big in the Seventies – namely Roller Derby.  Raquel Welch had starred in The Kansas City Bomber(1972), which was more or less a docudrama of a dying sport… but by decade's end, it was more popular than ever.
There were even a few songs about it:
"Queen of the Roller Derby" by Leon Russell
"Roller Derby" by The Challengers
"Roller Derby Star" by Copperhead
"Roller Derby Queen" by Jim Croce
Which brings us to number five…
5. ROLLER MUSIC
There were some amazing roller-inspired songs to come out of the Seventies.  We have hand selected a couple that must be shared…
Arabesque – "Roller Star"
Arabesque hit "Roller Star" has some amazingly (you fill in the blank) lyrics.  Truly a delight/terror (circle best answer).
He looks like a god,

He has wings on his feet
You won't see him walking
He's gliding the streets

As quick as an arrow
Without any noise
That's how the passes by
You hear people say:
"Did you see what I saw,
There's a man who can fly"

Come on teach me how to skate
Let me be your roller mate
Dolly Dots – "Rollerskating"
Other roller tunes of note:
Bicycles, Roller Skates and You – The Archies
Roller Rink – Trooper
Roller Skating Child – Beach Boys
Roller Skate Rag – Barbara Streisand
Roller Skatin' Mate – Peaches and Herb
Also check out "Roller Boogie" by Dutch girl group Bisquit.  Trust me.  You won't be disappointed.
6. VENICE BEACH ROLLER GIRLS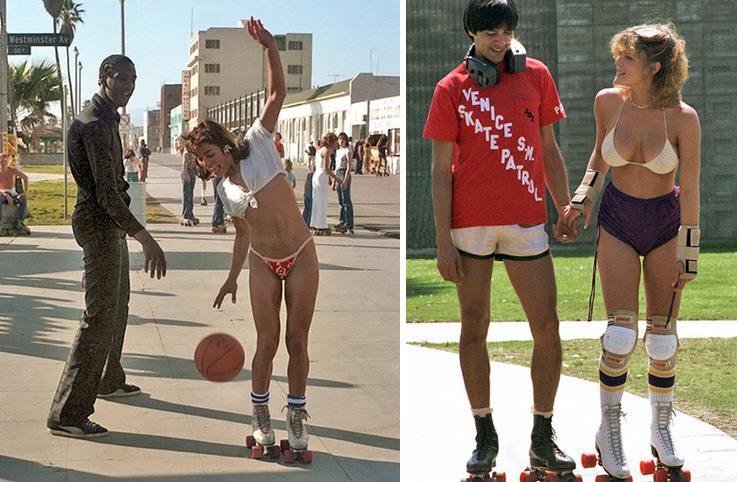 In 1979, the mayor of Los Angeles declared Venice Beach "the rolling skating capital of the world."  The few pictures that exist from those days would seem to support this assertion.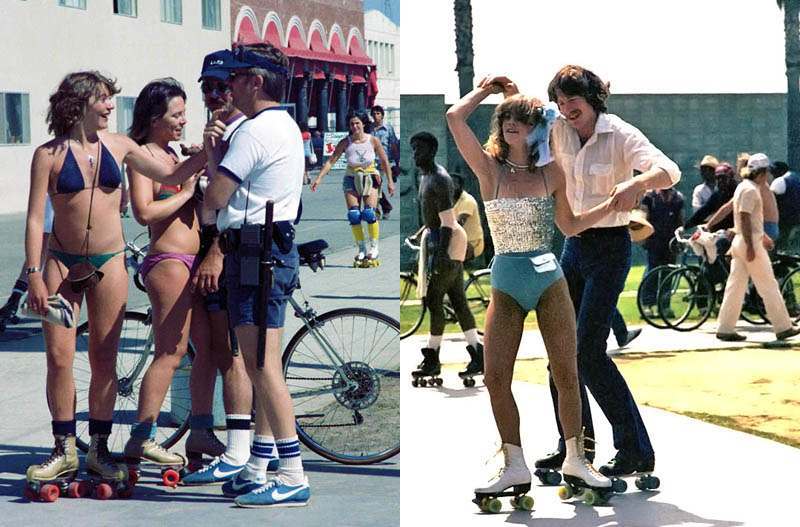 Legend has it that, in the late Seventies, the boardwalks of Venice Beach, California overflowed with scantily clad roller girls.  Whether this claim has become embellished over the years is uncertain; however, the tall tales of the Venice Beach Roller Babes live on.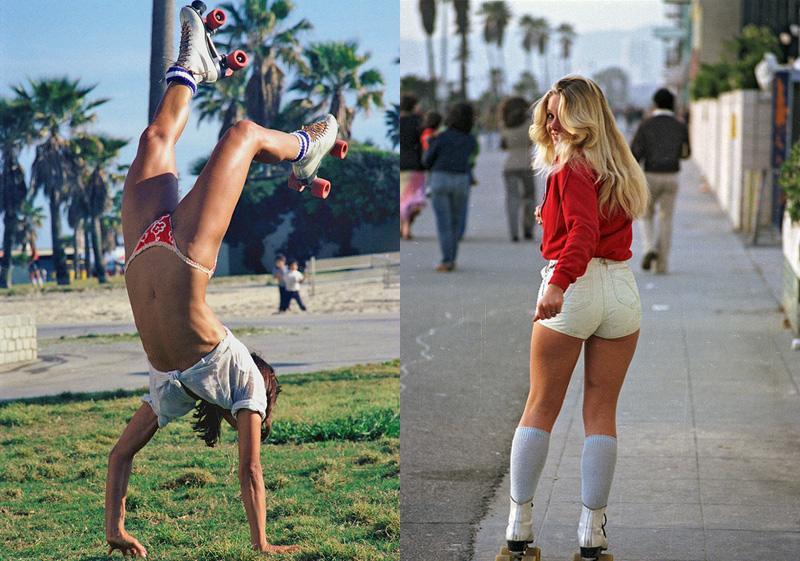 7. ROLLER FOXES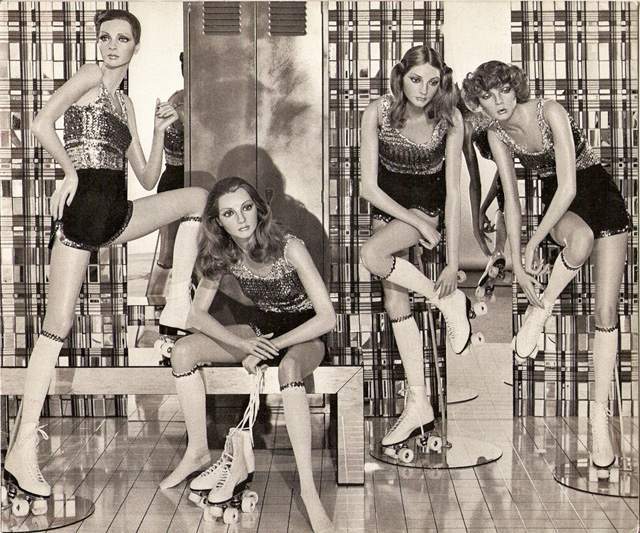 Just wanted to see if you were paying attention.  This is giving me the creeps.  Let's move on quickly.
8. ROLLER CINEMA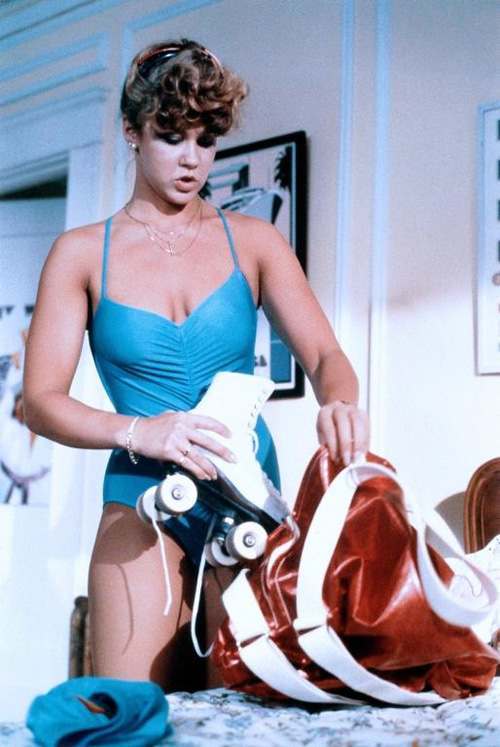 Linda Blair in Roller Boogie. Shortly thereafter, Linda would start "dating" Rick James and things went downhill from there (as you can easily imagine).
The Roller Movie Trinity, as everyone knows, is Skatetown U.S.A., Roller Boogie and Olivia Newton-John's Xanadu.  Which one is the best of three is a debate philosophers and scholars will be debating for ages.
Other great roller films:
The Unholy Rollers (1972) starring Claudia Jennings
Kansas City Bomber (1972) starring Raquel Welch
Rollerball (1975) starring James Caan
Rollerblade (1985) starring scream queen, Michelle Bauer
9. ROLLER VINYL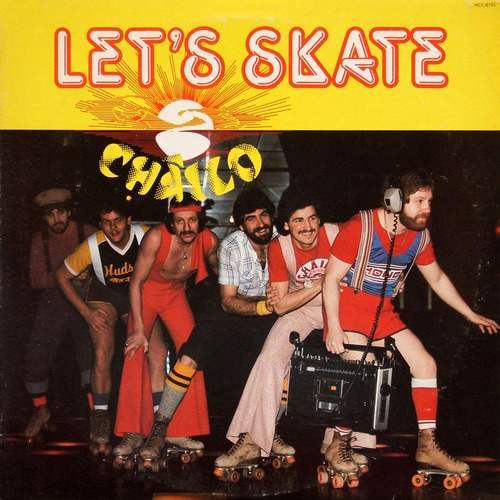 Young readers take note: this is the 70s version of the iPod.  Back then, lifting your portable music devices could cause back injury.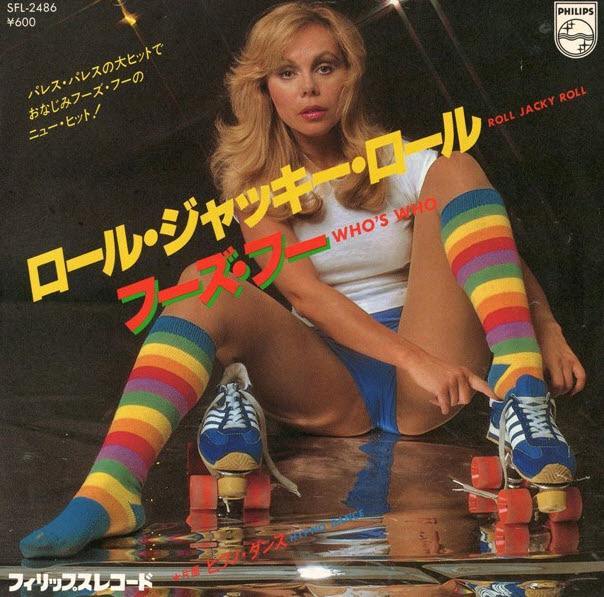 Remember those rainbow socks and tennis shoe skates?  Given the view, I know it's hard to concentrate, but please try to focus. We're only on number nine.
We could list fabulous examples of roller-vinyl all day; but, we've more ground to cover.  Onward.
10. ROLLER TELEVISION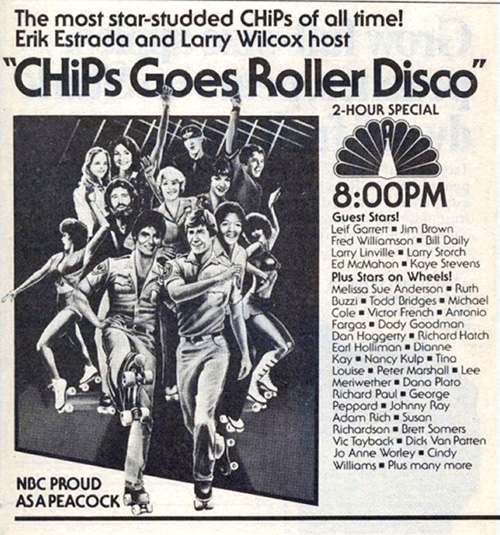 There was many a TV show to ride the roller-gravy train.  Even the Brady Bunch variety show gave it a spin; however, the ultimate roller episode has to be the CHiPs episode "Roller Disco" (1979).  The story:
A gang of criminals rob stores and make their getaway on pop wheel skates. Only Ponch and Jon can catch them on their motorcycles. Jim Brown plays one of the skatin' bad guys.
Here is a list of some of the stars that made cameos in this outstanding episode:
Ed McMahon (The Tonight Show), Leif Garrett, Larry Linville (M*A*S*H), Melissa Sue Anderson (Little House on the Prairie), Nancy Culp (Beverly Hillbillies), Lee Meriweather (Barnaby Jones), Cindy Williams (Laverne & Shirley), Todd Bridges (Diff'rent Strokes), George Pepperd (The A-Team), Dan Haggerty (Grizzly Adams), Dana Plato (Diff'rent Strokes), Antonio Fargas (Starsky & Hutch), Vic Tayback (Alice), Jo Anne Worley (Laugh In), Tina Louise (Gilligan's Island), Ruth Buzzi (Laugh-In), Dick Van Patten (Eight is Enough), Adam Rich (Eight is Enough), and Brett Sommers (Match Game).
Now that is an all-star cast!
11. ROLLER READS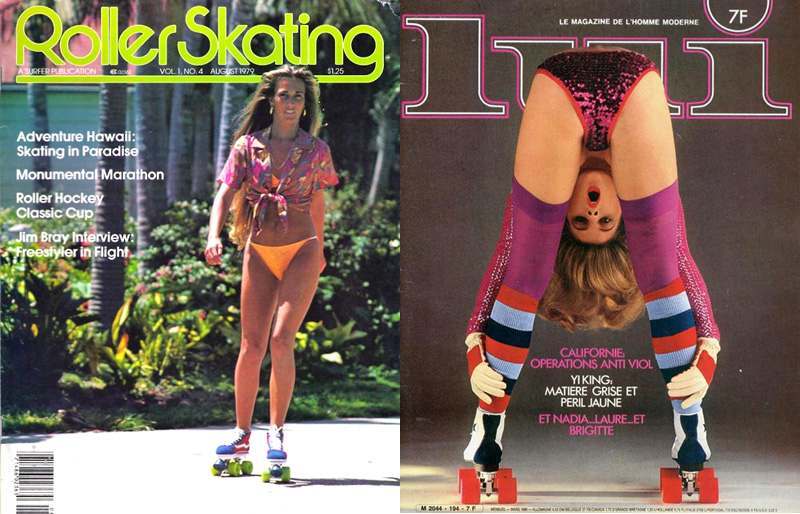 When you weren't watching roller skating on television or at the movies, you could always read about roller skating.  Nothing was done in moderation in the 70s and 80s; so, any fad had to achieve total and absolute saturation before dying off (i.e. disco, aerobics).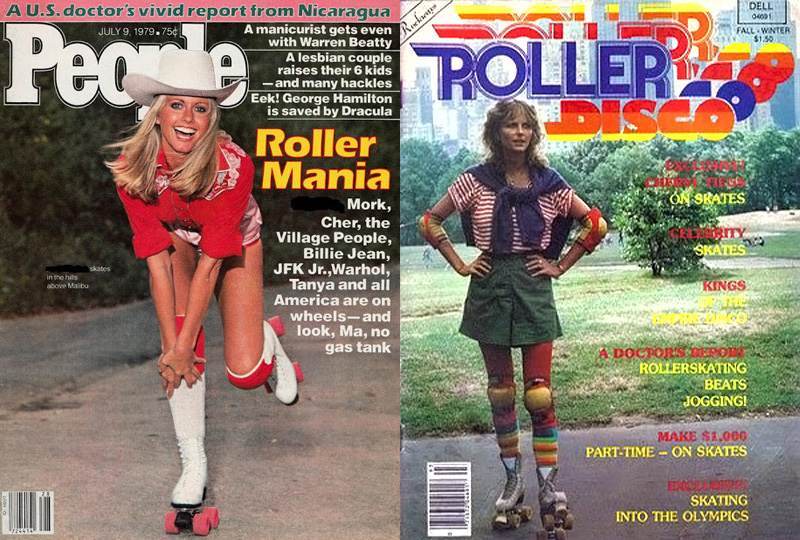 Olivia Newton-John and Cheryl Tiegs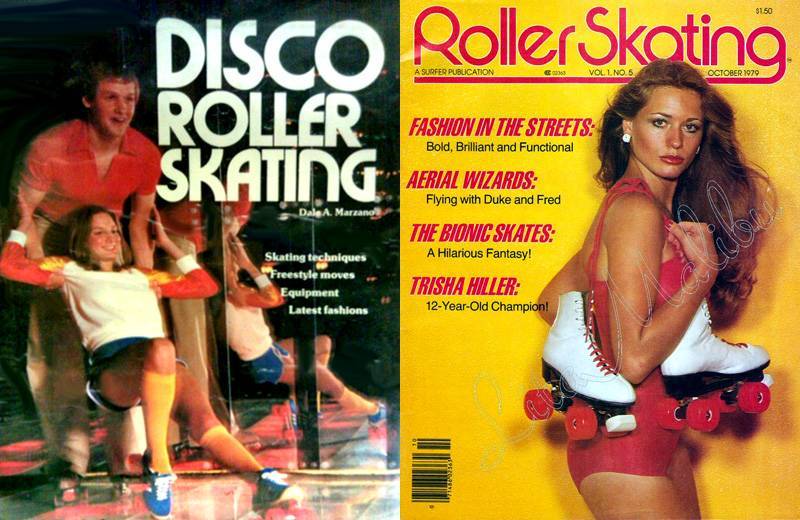 You'll note that a lot of these images feature the roller skate that looked like a tennis shoe.  This brings us to our next item…
12. ROLLER SHOES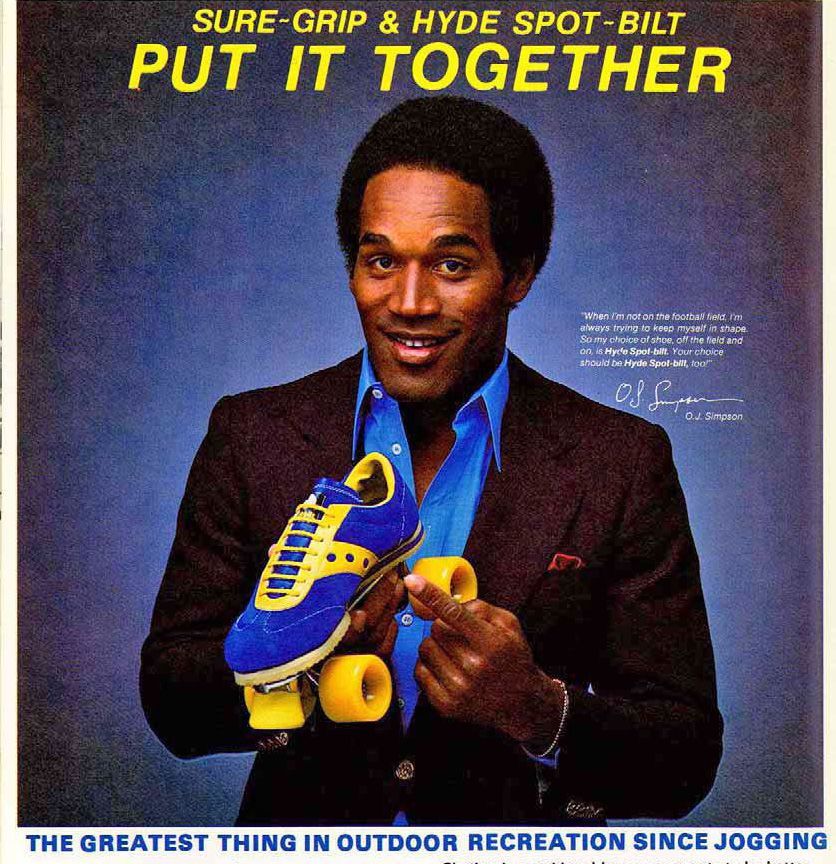 "The greatest thing in outdoor recreation since jogging" – so sayeth O.J. Simpson.  I wonder if Bruno Magli made roller skates.
The pop wheel skates  sidewalk skates were extremely popular, despite the fact that they provided zero ankle support and most roller rinks wouldn't allow them.

Suzanne Somers at right, and I believe Barbie Benton at left.

Of course, the ankle-snapping sidewalk skates were a step up from the kind that simply buckled over your shoe.  It would be another decade or so before the rollerblade and the in-line retractable roller shoe would come along to make these skates look oh so very antiquated.
13. ROLLER WAITRESSES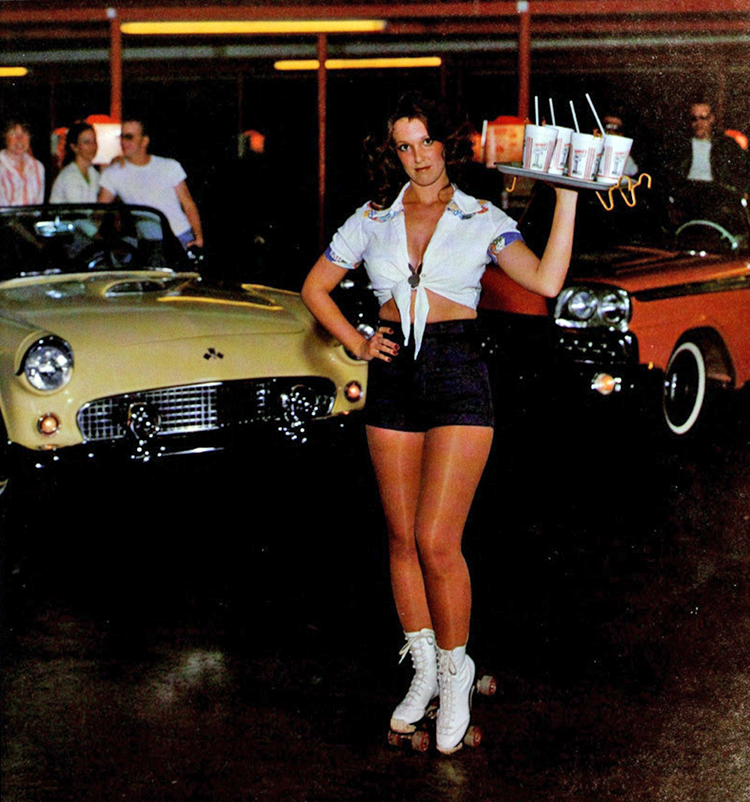 Yes, I know.  Carhops had been around for decades prior to the 1970s.  So what?  There were still plenty around compared to today; it wasn't until the 80s that they became completely anachronistic. Plus, this list is worse without them.
14. ROLLER SLEAZE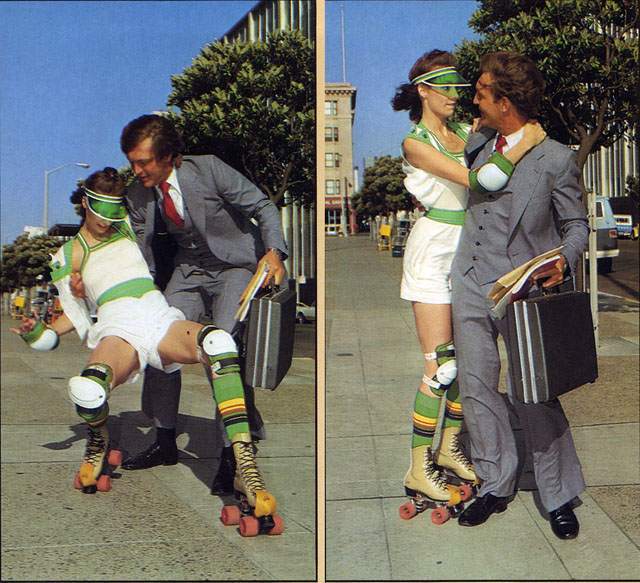 Ever wore some nice clothes to a smoke-filled bar and have them ruined because they forever smell like a filthy ashtray?  The Seventies is that smoke-filled bar, but instead of contaminating everything with smoke (which it actually did), it seasoned absolutely everything with sleaze.  It was the Sexual Revolution, and its "second hand smoke" infiltrated every nook and cranny of the Seventies landscape… including roller skating.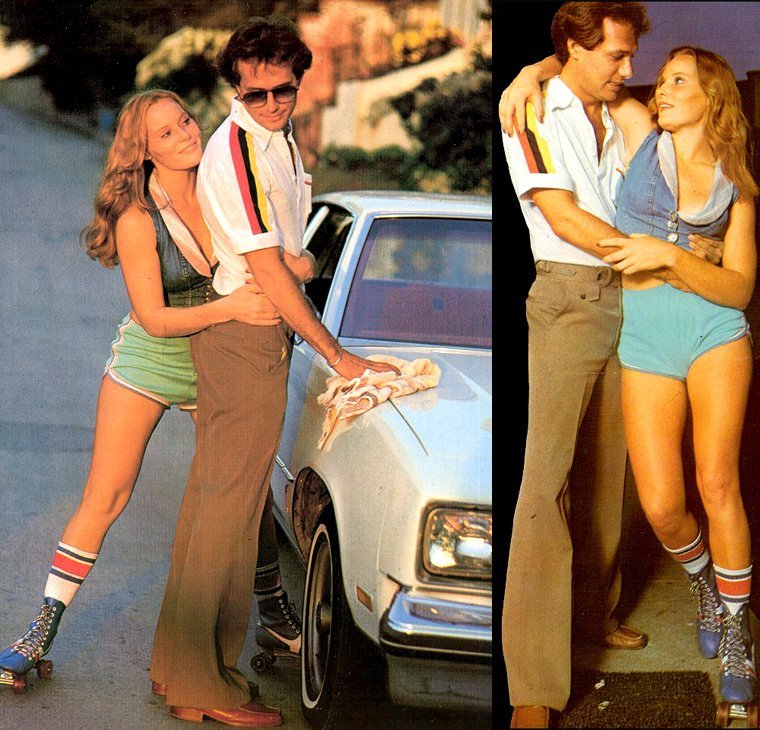 This seediness translated to the roller disco and various nether regions of popular media, but thankfully there was still a bastion of good old fashioned teenage fun, unsullied by Boomers… the rink.
15. ROLLER RINKS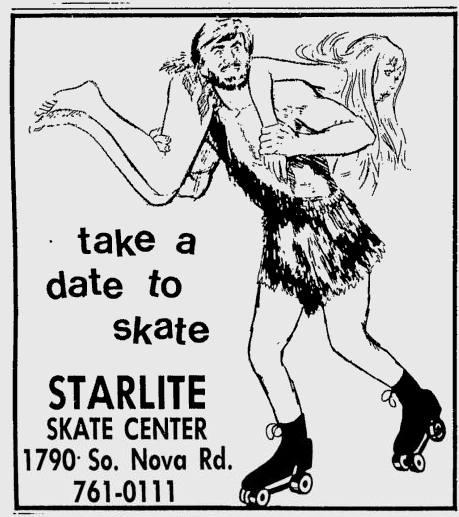 Grown-ups had their discos, bars and pool halls, but the children of the 70s had the roller skating rink. They were around long before the 70s – in the 50s and 60s they were often enormous and featured live organ music.  In the 70s,  they metamorphosed into a disco themed haven with everything a teen could want – loud music, pinball, poor lighting, and an equal measure of girls and boys.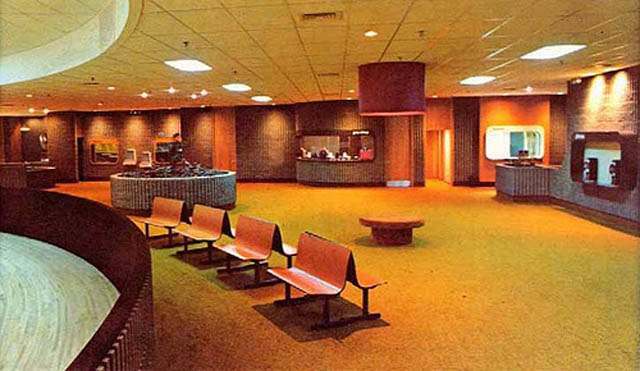 Before you head to the rink, remember: When you hear the initial sounds of "Apache" by The Sugarhill Gang,  put down your hot dog and get your ass on the rink and get down.  The power of the roller-gods compels you.