BY THE 1980s, the Baby Boomers, who had enjoyed the Sexual Revolution as trim youth, suddenly found themselves with a little extra weight as they entered their thirties. The alarm was sounded, and what followed can only be described as a cocaine-fueled mania. One manifestation of this fitness assault was an aerobics explosion. I don't think anyone really knew what they were doing, but they looked wonderfully insane doing it.
1. AEROBICELEBS
Of course, this whole maniacal phenomenon would've never gotten off the ground were it not for the necessary endorsement from celebs. Jane Fonda made a mint off her workout video, but other famous names were only too quick to jump on the new trend.
Let's not forget, even the young Brian Cranston was game.
2. AEROBIVIDEOS
On live television or VHS, it didn't matter – 80s aerobics videos were nuts, and the decade was awash with them. On the one hand, they were useful tools to getting in shape. And with the other hand, they were useful to getting your tool in shape. I'll leave it at that.
3. AEROBIFAILS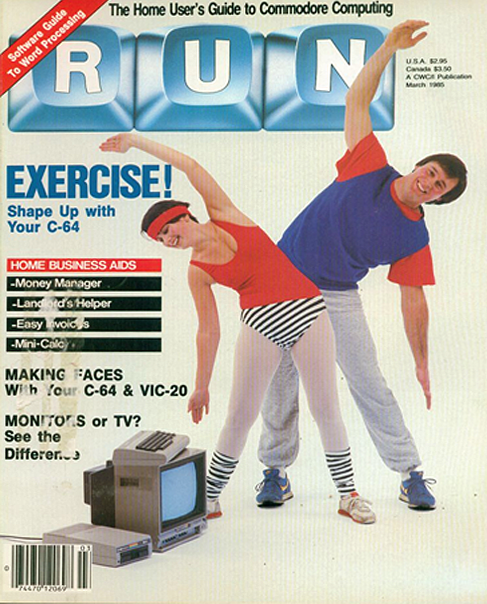 As I said, we were still in the learning stages. Up until the 80s, keeping fit in America meant only having one pack of cigarettes after supper. Subsequently, most of the aerobics material that came out during this decade just looked awkward, and all the more reason to love it.
4. AEROBI-LEGWEAR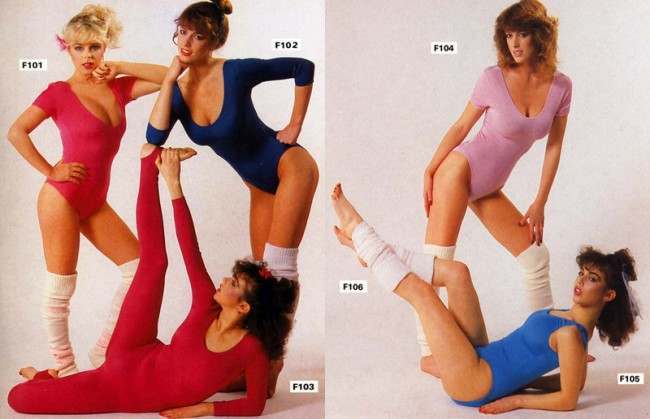 When else in the history of mankind could you sport a leg warmer and not be pointed and laughed at? Look at cave paintings to ancient hieroglyphs; no leg warmers. Look at statues of Ancient Rome to Renaissance frescoes; no leg warmers. This was truly a historic moment in the history of leg coverings.
Of course, what looked good on women, didn't necessarily translate for men…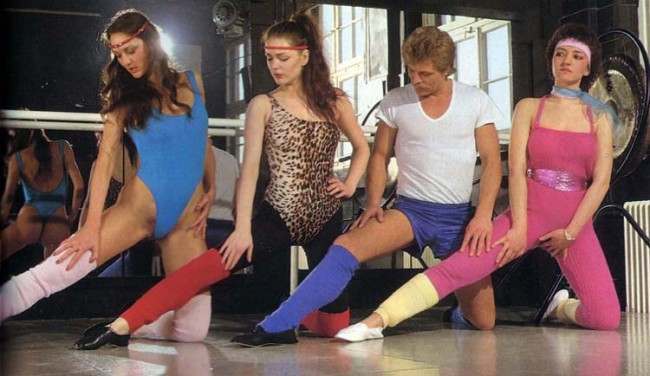 5. AEROBINSTRUCTION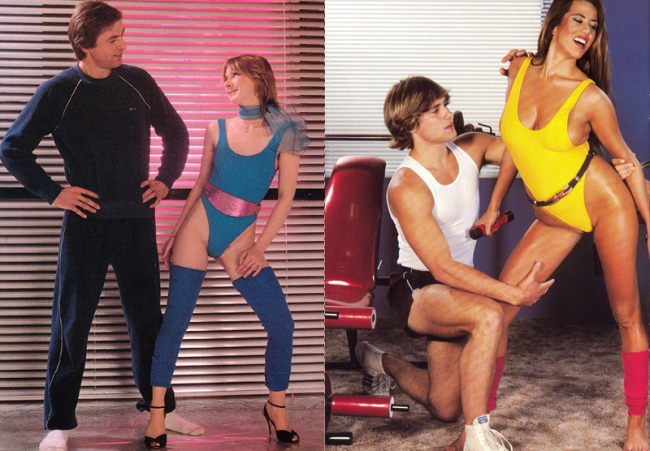 As mentioned in a previous article, being an aerobics or fitness instructor would have been a dream job once the fitness explosion first hit. You'd be surrounded by flocks of beautiful women equally clueless, but desperate for help.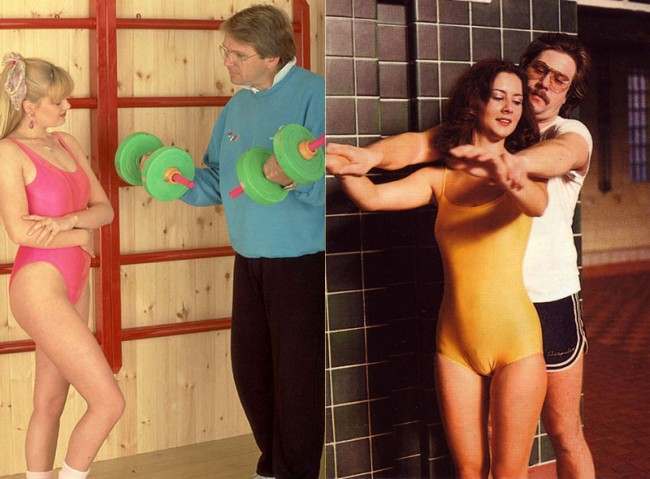 It didn't matter that you had no idea what you're doing – when it came to physical fitness, no one did. We're fresh out of the Seventies – they don't even know how to pronounce "jogging" –
"Veronica and I are trying this new fad called uh, jogging. I believe it's jogging or yogging. It might be a soft j. I'm not sure but apparently you just run for an extended period of time. It's supposed to be wild."
– Anchorman: The Legend of Ron Burgundy (2004)
6. AEROBEROTICA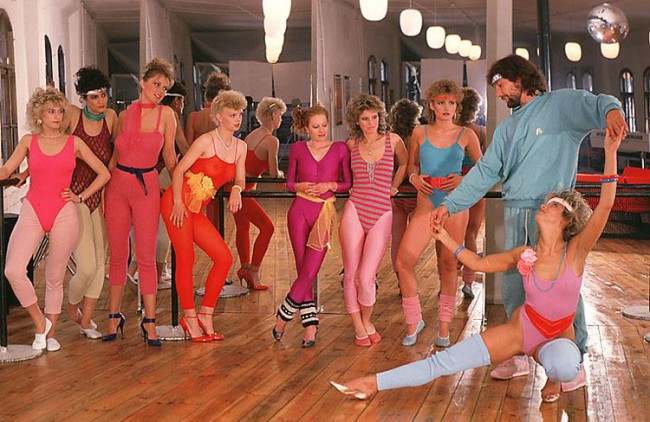 Let's not forget, we are fresh off the Sexual Revolution; Boomer libidos were still in overdrive. In many ways, the fitness centers were just the 80s version of the discothèque: scantily clad babes, sweaty guys, terrible music, and lots of sexual tension.
7. AEROBIVINYL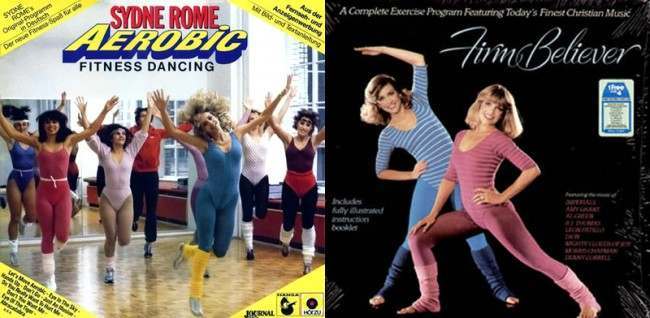 As mentioned in an earlier article, there was no shortage of aerobics records hitting the turntables. How effective they actually were is up for debate, but they were plentiful and often more than a little bit strange.
Plus, you had a tidal wave of aerobics-oriented music hitting the airwaves luring us to the health clubs.  If Olivia Newton-John wanted to Get Physical, the only possible answer was "Let's".
8. AEROBICONSUMERISM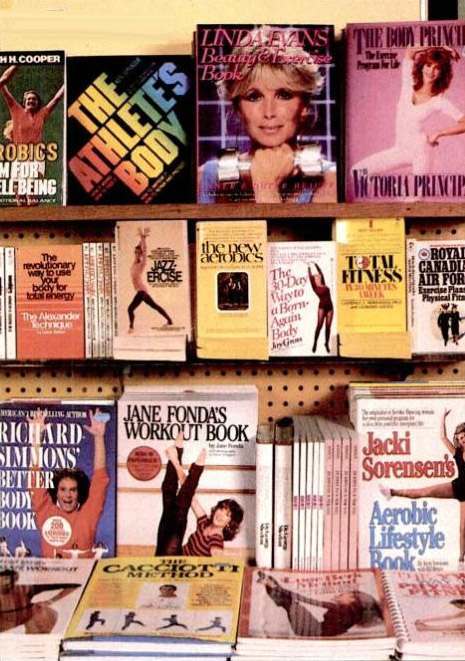 The bookshelves were stocked for the "Me Generation" who gobbled up anything and everything that might return them to their former slenderness. This was before liposuction and gastric-bypass surgery made things easier (and more than a little troubling). Boomers no longer fit into their tight polyester bellbottoms they wore to the disco…. something had to be done – books had to be bought, videocassettes had to be purchased. This was war!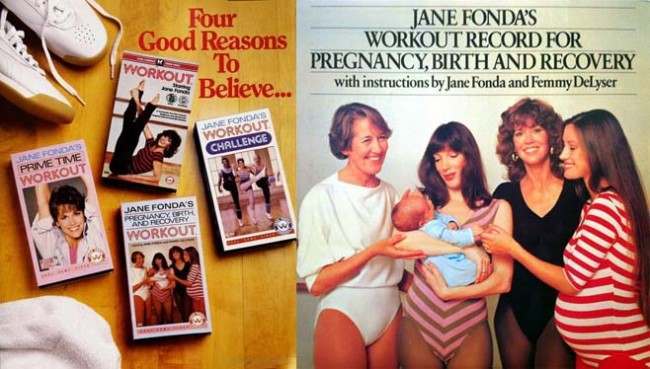 Naturally, Jane milked her aerobics cred to the fullest extent. She had a variety of books, videocassettes and records – a veritable empire built on fit Jane's exercise routine.
8. AEROBICINEMA
Aerobics oriented movies are always a treat; Heavenly Bodies (1984) and Perfect (1985) being the big ones. But aerobics scenes popped up in 80s films on the regular: Night of the Comet (1984), Staying Alive (1983), Death Spa (1988), and my favorite – Aerobicide (1987).
You must check out this shameless aerobics scene from Ninja III: The Domination (1984). This is not a request; it's an order.

9. AEROBICWEAR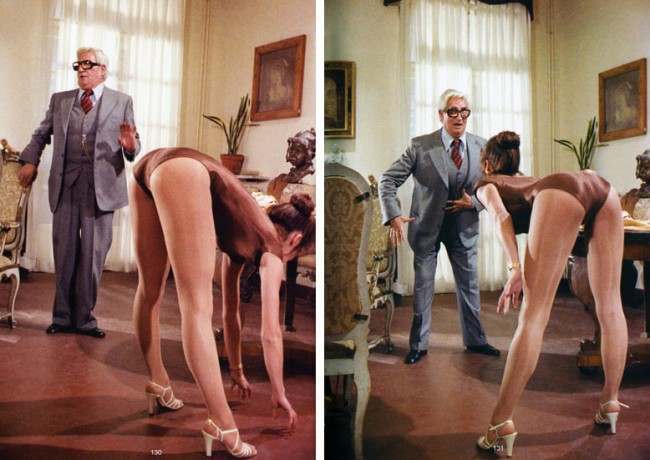 Sure, the female aerobics uniform was more than a little bit tacky, but is there a man alive who will deny the awesome power of the leotard?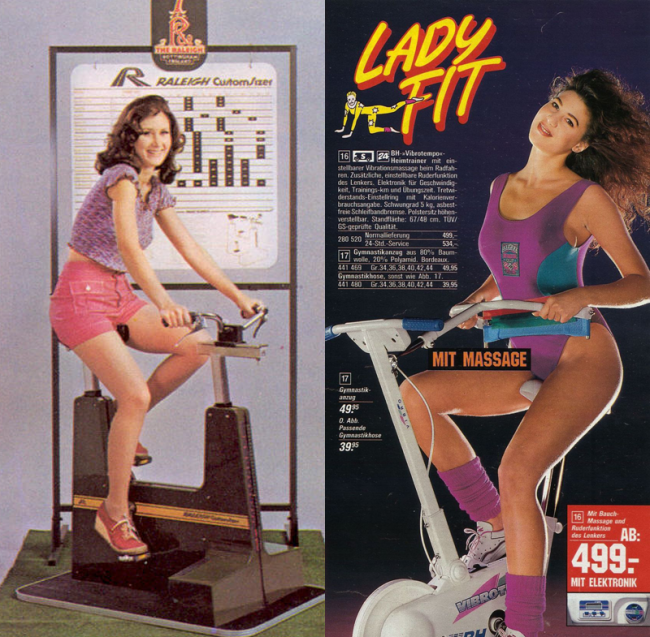 As the image below illustrates, what a difference a decade can make when it came to workout attire!
10. AEROBAWARENESS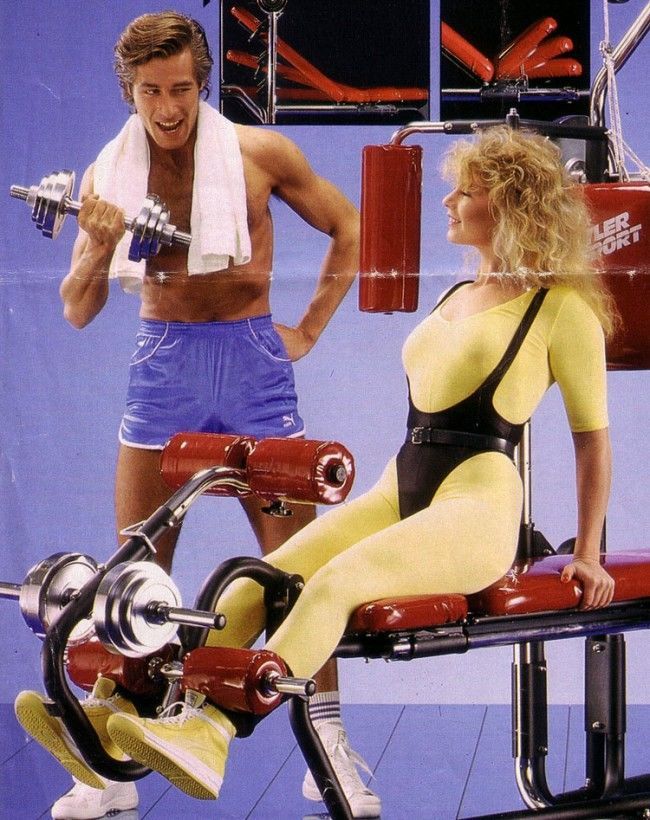 Truthfully, the 80s aerobics craze was more than just kitsch, sleaze, and vanity run amok. It brought to the fore the importance of health and fitness, and that's always a good thing.
I'll leave you with this brilliant montage before we depart…