I SUPPOSE I could have compiled a list of the "best and greatest Christmas album covers" and sound like less of a Grinch, but that wouldn't be near as fun.
Truth is, a "best and greatest" list really isn't possible for Christmas albums which come in only four varieties: dull, unimaginative, bland and terrifically awful.  I'm simply choosing to focus on the fourth category.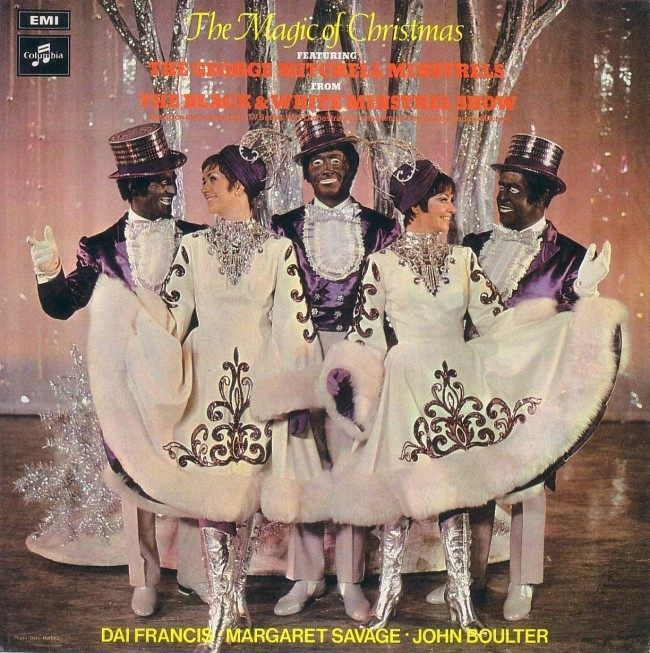 Ah, the magic of Christmas.  Stockings hung by the fireplace, pretty holiday lights aglow, presents under the tree, racist minstrel shows…. Wait, what?
Okay, on the one hand this is an offensive, tragic accumulation of bad choices and racial prejudice.  On the other, these gals seem positively smitten by their black escorts.  Could this be a groundbreaking interracial romance cleverly disguised as a racist Christmas album?
You're right.  Probably not.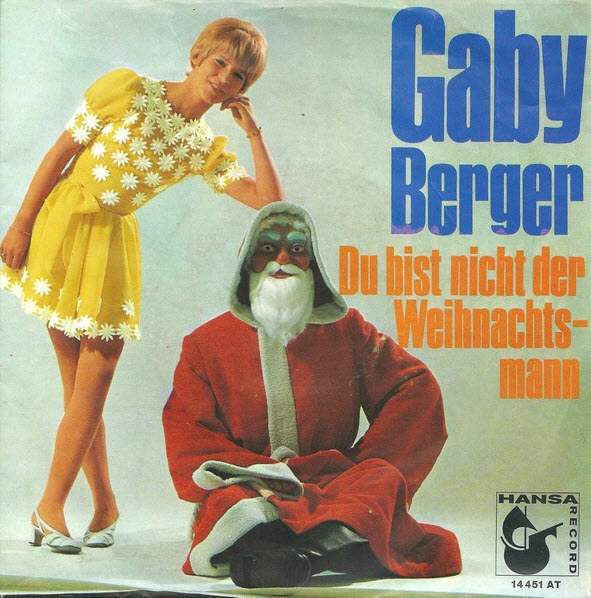 Okay, technically this is a single not an album, but Gaby Berger still wins the prize for having the most frightening Santa ever created.  This is the stuff nightmares are made of.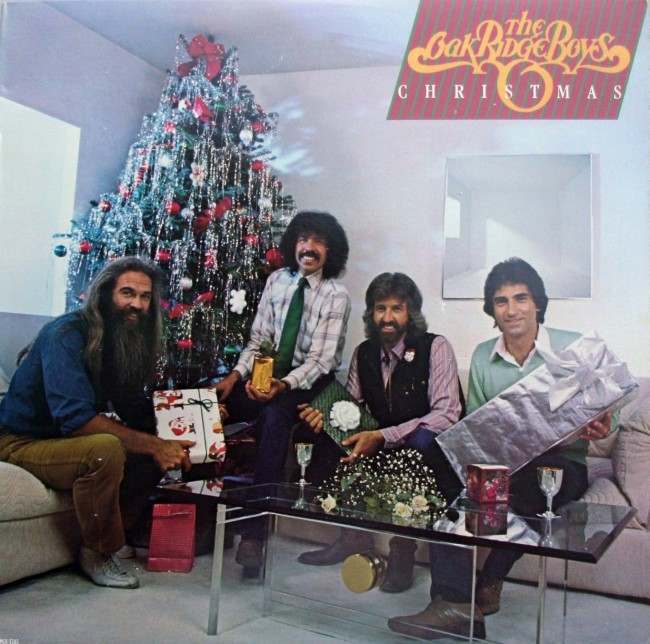 Three of these guys belong in either a seedy bus station or a rustic log cabin – not a tacky eighties living room.  Like matzo balls in clam chowder, they do not belong.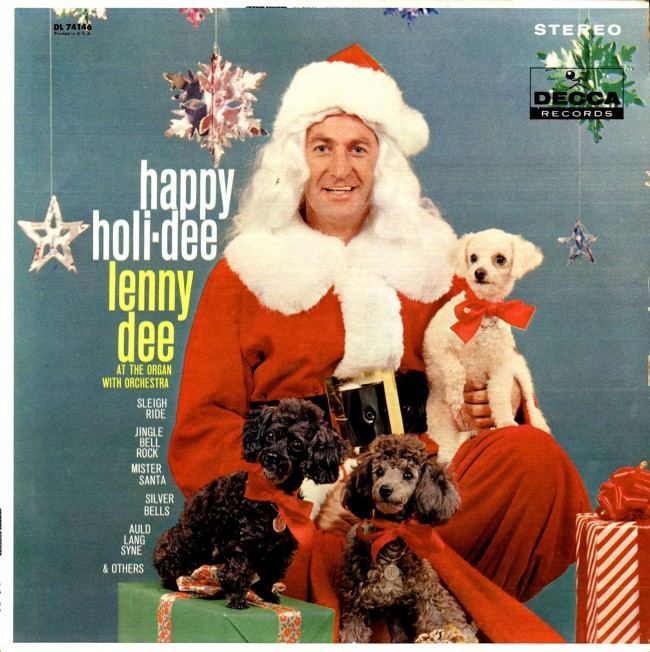 If you're going to dress up as Santa for an album cover, my advice would be to either don the wig AND the beard, or wear neither.  The wig alone makes you look mentally unwell.
And speaking of the mentally unwell…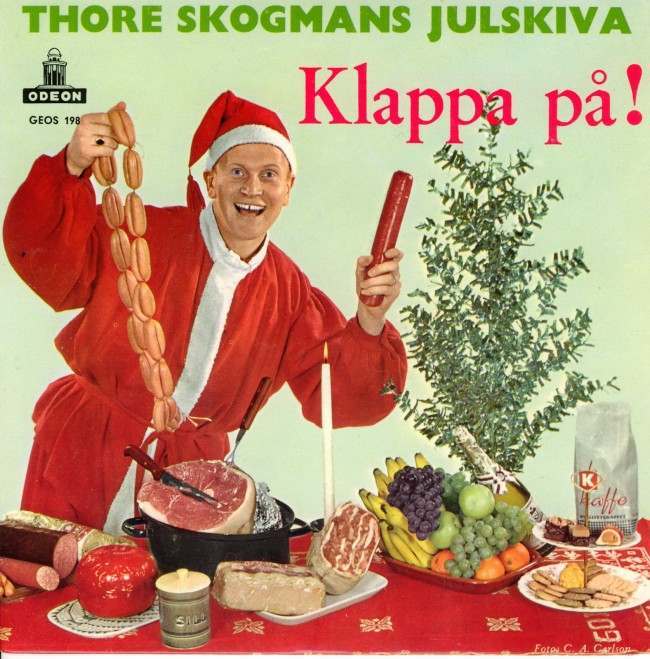 YEEIKES! Am I imagining this, or is there really a man dressed as Santa deliriously happy about his meat?  Thore is obviously insane; normal humans don't behave this way.  We shouldn't laugh – this poor man needs our help.
Has Santa abducted a woman?  Is he telling us to put the camera away and step off? Clearly something odious is going on…. Should somebody call the police?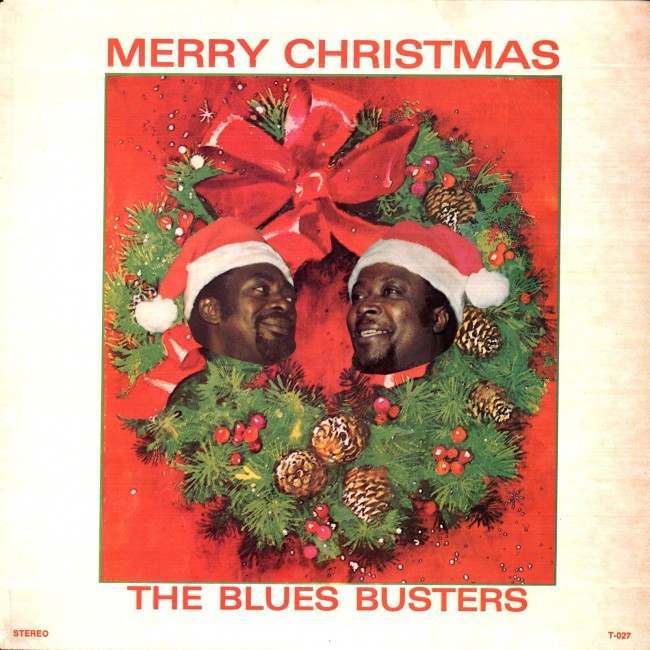 A wreath adorned with the disembodied heads of the Blues Busters does not make for a good album cover.  (This sort of thing should not have to be said.)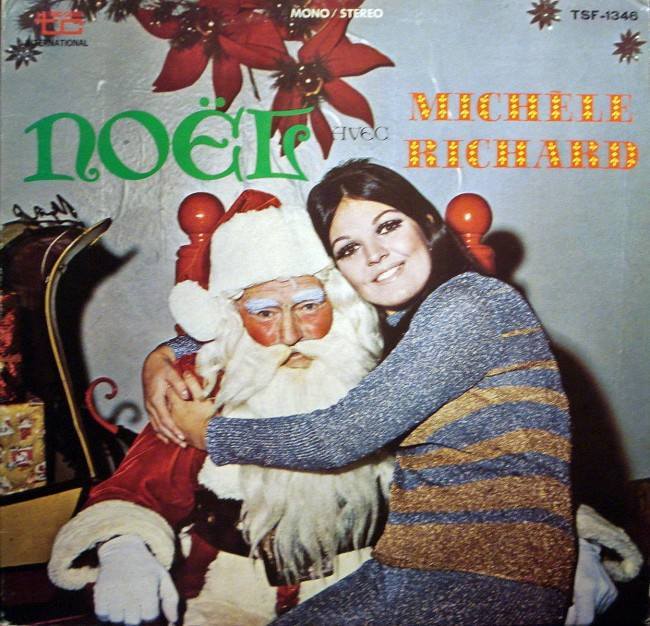 Somebody get Santa his blood pressure meds, he does not look well!  It seemed like a good idea at the time to have the lovely Michele nestle in Santa's lap. Evidently, his five hundred year old ticker wasn't up to the sudden rapid flow of blood.  Hindsight is 20-20.
It is interesting to note that so many vintage album covers consisted simply of a crummy photograph with typeface.  No editing, no staging, no artistry.  It certainly makes for some lackluster cover art, but it's also rather refreshing to see in comparison to today, where everything is so heavily manicured and Photoshopped.
With a traditional German Christmas album there's so many options for a cover.  Perhaps, a rustic hamlet covered in snow, or maybe Nikolaus giving sweets to children.  With so many great choices, one wonders why they decided upon grandpa making young Jürgen cry.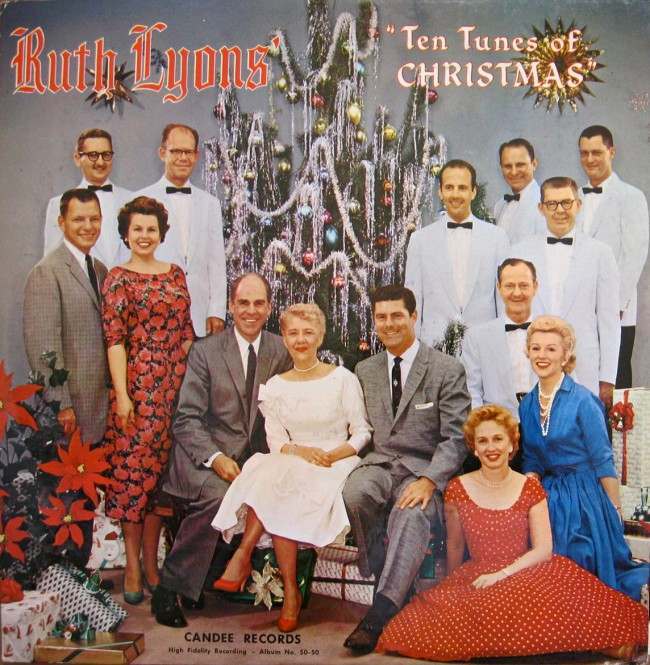 This album is clearly past its legal limit of Caucasians.  Not to mention, this has to be the saddest Christmas tree ever photographed.
I'm not fluent in French, but I'm pretty sure "joyeux" translates to "merry" here… and this chick is about as depressed as they come.  Are they trying to be ironic?
And, finally, I present Sherwin Linton's cover as a favor to you.  You will always have it as a reference in case someone says your outfit or decorations are tacky.  After seeing this, you'll look like high society.
You're welcome.