THE OCCULTISM explosion which overtook North America and Europe in the 1970s ushered in a level of national fascination that is hard to understand if you weren't there.  But, as with anything that experiences a surge in popularity, it becomes sabotaged by the Johnny-come-lately offerings riding the gravy train.  In the blink of an eye, the wild taboo becomes irredeemably cheesy.   Such is the territory we shall cover today…
10. THE KNEE OF LISTENING/ SHAVE WHILE YOU HALLUCINATE 
I'm familiar with The Elbow of Hearing as well as the Coccyx of Feigning Interest, but The Knee of Listening is a new one.  Whatever it is, Frank Jones is the master, and he'll explain it to you for $7.95.
Personally, I'd rather spend my money on something more practical…
While you are enjoying the parade of "geometric pyramid structures" altering the flow of time, why not get a good shave in?  These occultists may have been wacky, but they valued multi-tasking.
9. ZODIAC COMPUTING
Short of actually taking cash and lighting it on fire, I can't think of a more useless way to rid yourself of money than the "Zodiac Astrology Computer".  From the description in the 1979 Sears Christmas catalog:
In the Advice Mode, the Zodiac computer can offer its opinion about some of the many questions you ask yourself each day: "Should I travel today?", "Is this a good time to start saving money or to spend it?", "Should I see my former boyfriend tonight?"

 
If you're using this piece of junk to dictate your travel plans, financial future, and love life… I have an astrological prediction of my own to give you:  "trouble ahead"
8. BECOME THE DUMBEST WITCH EVER
How disappointing.  Become a certified witch and all it does is get you jobs, relieve stress, and bring more money? What happened to the murderous curses and evil enchantments? And what self-respecting witch has a spotted white cat?   Hecate would be hanging her head in shame.
7. THE NECROMANCY OF BOOZE
The zodiac was so popular in the late sixties/ early seventies that there were a series of magazine inserts devoted to zodiac mixed drink preparation.
Yes, I know the zodiac was ubiquitous at this point in time.  Its symbols popped up on everything from bath towels to lunch boxes, but these "mixology" inserts seemed to push the limits of cheesiness.
How do you know when something trendy and hip is about to become painfully uncool? Answer: When it winds up as an insert in your mother's homemaking magazines.
6. ELEVEN WORDS TO RICHES
Let me get this straight.  I fill in the eleven blanks correctly and I'll get rich? Let's see…. how about "STOP BEING SO EFFING GULLIBLE AND PUT YOUR MONEY IN SAVINGS"?
5. HALL & OATES…. & BEELZEBUB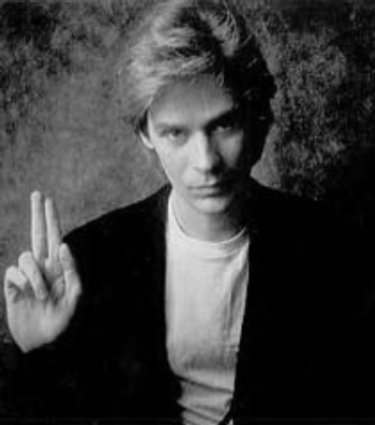 I think no one would be the least bit shocked to hear that Jimmy Page, Jim Morrison, and David Bowie dabbled in the occult. It's when family-friendly musicians get in on the act that things get lame. Daryl Hall had this to say:
"Around 1974, I graduated into the occult, and spent a sold six or seven years immersed in the Kabala and the Chaldean, Celtic, and Druidic traditions … I also became fascinated with Aleister Crowley, the nineteenth-century magician who shared these beliefs."

(Penthouse Magazine, March, 1987, pp. 60,62)
4. WHO LOVES YA, BABY?…. PROBABLY NOT SATAN.
Lisa and the Devil (1974) was one of many "hexploitation" flicks that flooded cinemas in the 70s.  Following the success of The Exorcist (1973) and Rosemary's Baby (1968), studios around the world saturated the market with satanic stories and tales of possession.  Some were good, some were unspeakably bad.  This film falls squarely in the latter category.
Cult film buffs hail Mario Bava's brilliant cinematography; but there's just so much wrong here.  Elke Sommer spends the entire film bewildered, lost, or unconscious.  Meanwhile, Telly Savalas is only too happy to manhandle her as the supposed devil character.  It's all a big sloppy mess; if you enjoy train wrecks, this may be for you.  Otherwise, I feel comfy including this as a prime example of cinematic occult lameness.
3. FUN WITH BLACK MAGIC
From the back of the box:
"Please read carefully. You have in your possession a kit that allows you to simulate the magic circle accurate with all the specifics needed for the hour of casting according to traditional rituals…. Use the kit in fun and stay within the confines of the spirit indicated. These spirits are good and will serve you well. And, you may have fun as your mind and spirit relate to these forces."
Hey, isn't black magic the bad kind of magic? But the back of the box assures me that I will be summoning only good spirits.   If I happen to summon Baal or Astaroth, will they give me a refund?
2. DEMONIC ARCHIE COMICS
In 1972 there was an issue of Sabrina the Teenage Witch that contained a rather horrifying story of demonic possession.  Naturally, one can expect some occult themes in a Sabrina comic, so no surprises there.  However, s**t gets outta hand quick like.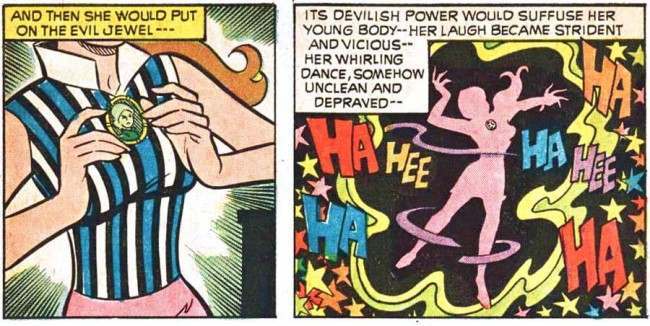 I'm sorry, but the words "unclean and depraved" do not belong in an Archie comic.  Once this girl puts on the jewel, it becomes abundantly clear that this comic book chick has been possessed by the "Father of Lies, Prince of Darkness, Bringer of Death" or whatever infernal name you want to call him.
Now, we all know there was a line of Christian Archie comics (Spire comics); however, this isn't it. This has no relation to those Spire Archies – this is a normal Archie comic influenced by the popularity of The Exorcist and the prevailing occult fanaticism of the day.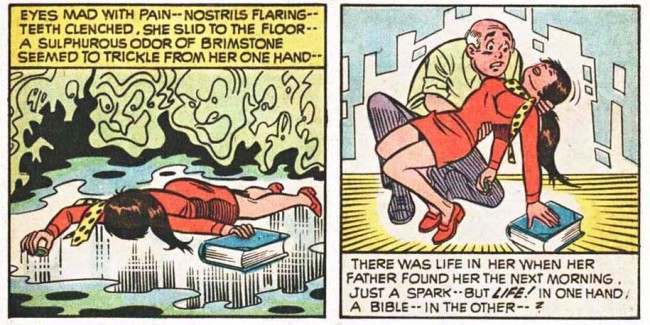 Thankfully,  things turn out okay.  Even so, this is quite the wild satanic ride compared to the typical Archie comics fare.  I'm sure some children were left permanently traumatized.
BUT THIS WASN'T THE ONLY DEMONIC ARCHIE COMIC…
Archie comics are at it again with Josie & the Pussycats #72, October 1973.  As much as I hate to include two on this list, it simply must be done.  This one literally has Josie scratching and growling like Linda Blair. If I had read this as a kid, I would have rolled up into the fetal position and crapped my pants.  This just serves as another example of how nothing, I repeat NOTHING, was off limits in the seventies.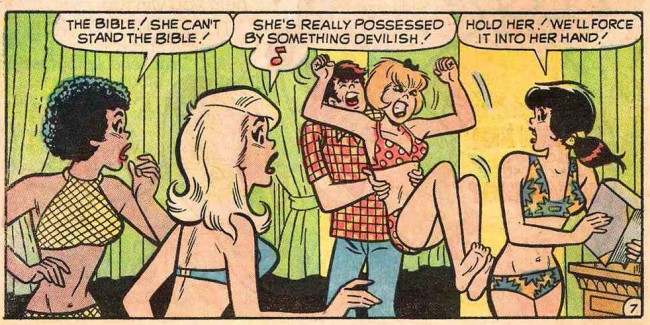 What makes these so hard to digest is that the cutesy art of Dan DeCarlo superimposed on this Exorcist storyline.  Dan DeCarlo's young women are adorable even when their faces are "contorted into masks of indescribable evil."
1. THE CANDY MAN CAN… STEAL YOUR SOUL TO HELL
It's well known that Sammy Davis, Jr. didn't just dabble in Satanism – Anton LeVay considered appointing him a senior official of the church.  Sammy's decadent Seventies lifestyle was the stuff of legend before he even took the Mephisto Waltz. In retrospect, perhaps it makes sense: he'd taken decadence to an extreme that would make even Caligula blush – where else to go but Satanism?
In 1972, Sammy D began filming the first Satanic Sitcom called "Poor Devil" starring Jack Klugman, Christopher Lee, and himself.  The Church of Satan upon seeing the pilot called it "magnificent commercial for the church."
Unfortunately for Anton LeVay and his little buddy Sammy, the pilot was an abysmal flop.  The project was deposited in the dustbin of history, and a  proper release has still not become available.  However, terrible 9th generation VHS transfers do exist, but are hardly watchable.  Regardless of the quality, it stands as the crowning achievement in the history of occult lameness.
Amen.