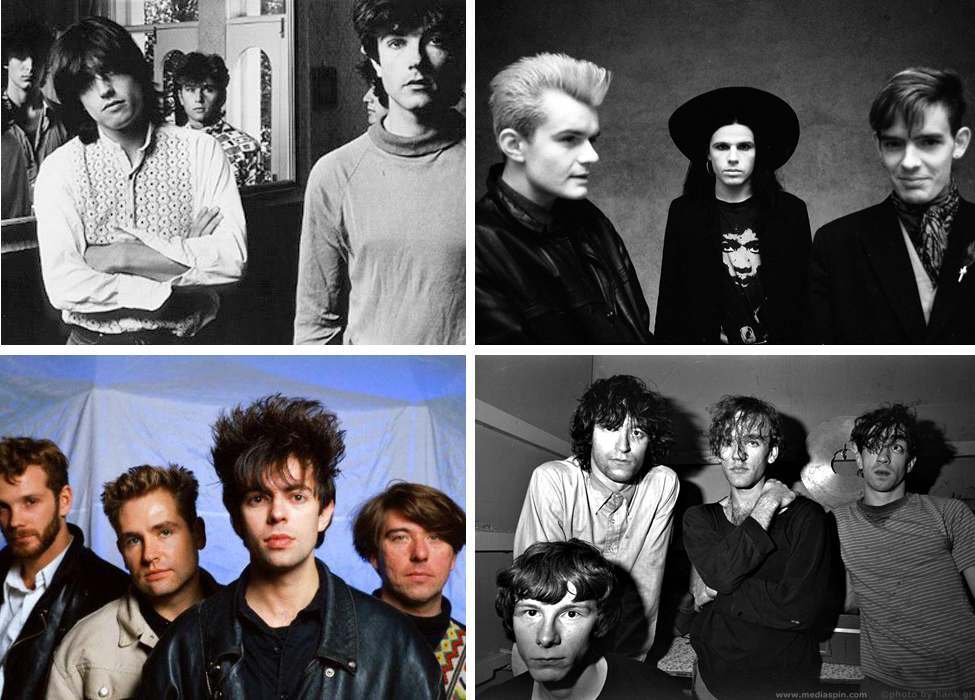 As we all know, the internet is overflowing with lists (including Flashbak – hey, for a quick read, there's nothing better). Lately, there's been a few sites compiling the greatest guitar riffs of all time, which naturally had me thinking of what Flashbak's version of this list would like….
Unfortunately, it ends up looking quite the same as everyone else's. "Smoke on the Water", "Back in Black", "Whole Lotta Love", "Money for Nothing", "You Really Got Me", "Layla"…. etc. etc. yada, yada, yada. (yawn)
The way to make things interesting is by diving in deeper, getting more specific – which is right up our alley. We love to play in the less traveled recesses of the pop culture landscape. So, here we go….
10 Great Guitar Riffs of 1980s Alternative/New Wave
Wait – what? Didn't guitars take a backseat in 80s New Wave to synthesizers and fancy schmancy keyboards? Yes and no. While Depeche Mode and Erasure wweren'texactly cranking out epic guitar licks, there still was a respectable amount of great guitar work during this period. The guitars weren't as center stage as they were in the 1970s, with long solos and endless guitar noodling. So, while, the guitar presence may have been overshadowed by new gadgets and fancy hair, it was definitely alive and well in 80s new music scene.
"She Sells Sanctuary" by The Cult
The memorable opening riff is dynamite on its own; but, when the rest of the band jumps into this huge sonic explosion, things are just taken to another level entirely.  Note that guitarist, Billy Duffy, was a veritable riffmaster – check out "Love Removal Machine" for more proof.
"Out of Hand" by The Mighty Lemon Drops
Once the ringing Rickenbacker kicks and that delightful riff takes over, I get the chills. It's the Byrds meet Echo & the Bunnymen, creating a glorious fusion of psychedelia and new wave.
"How Soon Is Now?" by The Smiths
My understanding is that Johnny Marr was shooting for a Creedence Clearwater Revival sound when this other-worldly riff suddenly emitted. It favors perfectly the feeling of loneliness and isolation conveyed by Morrissey's standard moans of despair.
"Just Like Heaven" by The Cure
Robert Smith had been delivering tremendous riffs for years, but this is where he finally broke through in the US. Before, his brand of quirky Goth was just a little too inaccessible for mainstream America – but this riff was too damn good to deny. He'd follow it up with another fantastic hook in "Fascination Street".
"Der Kommisar" by Falco
This is the one you'll hate me for including, but a riff doesn't have to be complicated. Some of the Riff King's (Keith Richards) best were really basic, but still really powerful. This falco riff is cotton candy compared to, say Steely Dan or Led Zep, but no less effective.
"Under the Milky Way" by The Church
You could argue The Church's "Reptile" has the better riff, but this one is just a little more sublime. Where other bands from this period like House of Love and My Bloody Valentine were prone to a 'wall of noise' sound, this simple, quiet riff is more digestible, and damn near transcendental.
"Here Comes Your Man" by The Pixies
This riff had all the makings to be the breakout hit of the Summer of '89, but America wasn't quite ready to embrace a band this 'unusual'. Sure, much of California was lapping it up and begging for more; but, for the most part, the US wouldn't accept music this different into the fold, even with riffs this infectious.
"The Killing Moon" by Echo & the Bunnymen
"Bring on the Dancing Horses" and "The Cutter" would have been fine choices as well, but you it's hard to top the titanic intro to "The Killing Moon".
"Save It for Later" by The English Beat (The Beat, UK)
The music video was in heavy rotation during the early days of MTV, but "Save it for Later" never made it past 58 in the US dance charts. Still, the riff here is nothing but brilliant.
"The One I Love" by R.E.M.
I could have gone with "Gardening at Night" or "Talk About the Passion", but I had to be Mr. Obvious and go with their breakthrough hit.  You might say it's the song that ushered in alternative music into the US mainstream, paving the way for The B-52s, Faith No More and a tidal wave from Seattle.  All thanks to this mighty riff.